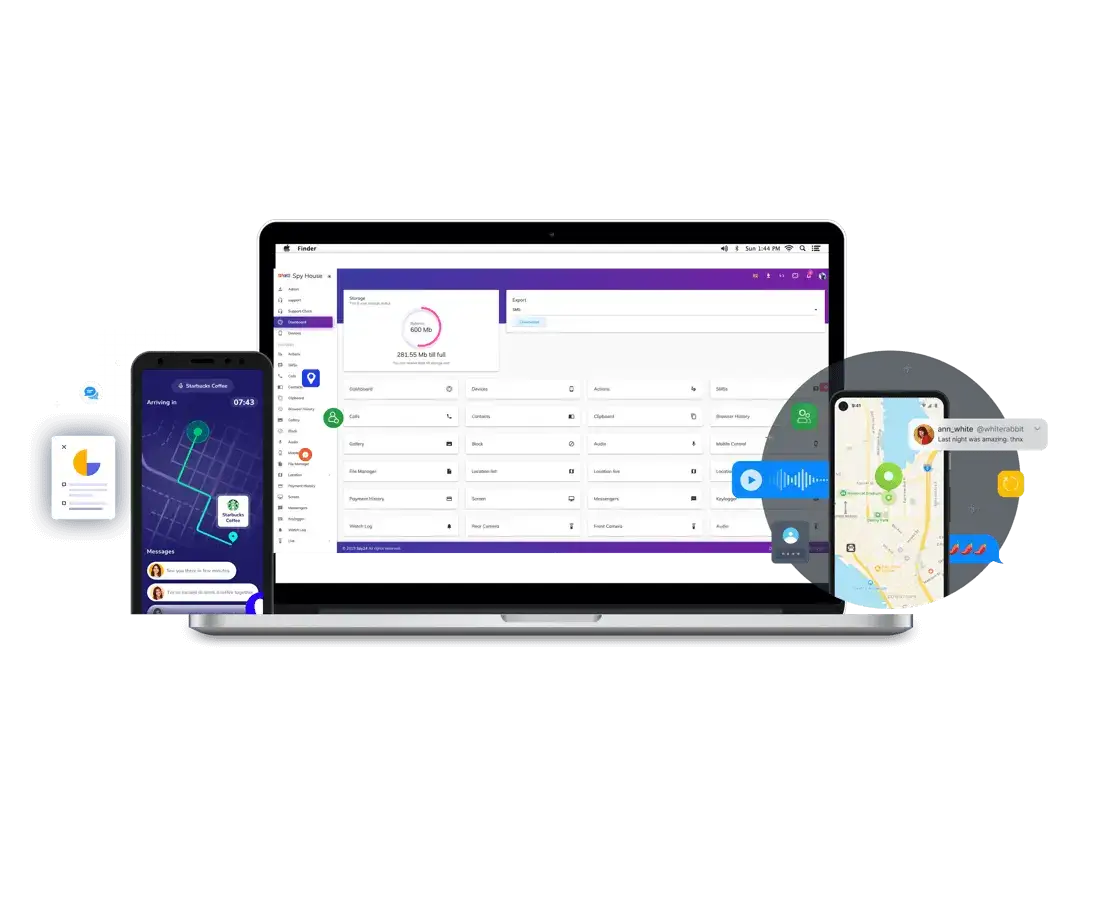 The Best Phone Tracker for Parental Control SPY24™
SPY24™ is a surveillance program for controlling or tracking employees, family members, and children, which will always keep you informed of their online activities, and they will never know that you are using this program on them, take your worries away for SPY24™ has come to your aid. SPY24 is the best monitoring and phone tracking application, Monitor the online contents that your parents, children, and employees watch or make anywhere, anytime with SPY24 app.
Features: SPY24 the World's Most ​ Advanced Parental Monitoring App
Remotely Control a Cellphone:

If you want to know how you can control a phone from afar, SPY24 phone tracking can help. With this feature, you can change how things work on the targeted phone and send commands to it from a distance.

KEYLOGGER:

Instant Messaging apps like WhatsApp, Telegram, Instagram, Messenger, etc. can have their Keystrokes watched. (You can see what they are typing on their keyboard before they send it out).

24/7 Instant Alerts:

Get instant alerts whenever certain words are being sent by the targeted device through any social media. This can be for protecting ppl we care about from both online and offline abuses.

SPY24 Analytics:

Get a summarized history of your most repetitive activities in a specific time period also includes call time activity punch cards for each time a call has been made through the device in a certain hour or a day of a week.

Emails & Online Activities:

Keep an eye on your targeted person's emails that they send or get, and the websites they visit via this amazing feature. You can also check their bookmarks and find out how often they visit them.

Record Phone Calls & Surroundings:

With this feature, you can find out about people's ambitions and purposes whenever they have their phones around them. You can hear them talking live or listen to their phone call recordings without them noticing.

Multimedia Files & Appointments:

Check all photos and videos they have saved on their phones and tablets. Also, monitor all appointments scheduled on the target devices.

SMS/MMS

This feature allows you to read all the messages sent or received on the targeted device. Learn more about this feature by clicking on the following links: Track Text Messages Learn more by clicking on the following features: SMS & MMS tracking, SMS alert

Calls:

This amazing feature lets you view all incoming, outgoing, and missed calls of the targeted device; Not only that, but you can see the duration, the date, and the time that they happened. Learn more about this feature by clicking on the following links: Monitor Calls, Call Recording, Monitor Phone Call, Learn more by clicking on the following features: Tracking Call Logs, Call Recording, Blocking calls

GPS Locations:

This Feature lets you track the position of the targeted device LIVE and you can keep track of the places that the targeted person visits anytime. Learn more about this feature by clicking the following links: Cell Phone Location Tracking, Geo-Fencing App.

Photos:

This feature lets you view all the pictures taken and images received by the targeted person. Learn More: View photos and images

Remote control:

With this feature you can fully control the phone, like, deleting data, making it vibrate, taking pictures, and many more. Learn more about this feature by clicking on the following links: Live Camera-Surround, Remotely Android & IOS, Monitor Alerts, View Installed Apps, Remote Data Wipe, Remote Lock.

Live viewing:

With this feature you can view whatever happens on the screen and around the phone without being noticed. Learn more about this feature by clicking on the following links: Live Camera-Surround, Record Surrounds Live.

File Manager:

With this feature, you can browse the file manager application of the targeted device freely and view all the existing files without being noticed. Learn more about this feature by clicking on the following links: View Installed Apps, Remote Data Wipe.

Schedule restriction:

This feature forbids the targeted person from using their phone by blocking access to all the applications.

Applications

This feature grants permission of giving or taking access to applications installed on the targeted device. Learn more about this feature by clicking on the following links: View installed Apps, Blocker App.

Web sites:

This feature lets you view all the websites the targeted person has visited, and block those you want. Learn more about this feature by clicking on the following links: Blocker App, and Internet History.

Calendar:

This feature lets you check out the events added to the calendar and alerts you whenever a new event is added to the targeted device's calendar. Learn more about this feature by clicking on the following links: Monitor Alerts.

Contacts:

This feature lets you view the targeted phone's contacts, edit, or even delete them and you get alerted whenever a new contact is being added. Learn more about this feature by clicking on the following links: Monitor Phone Contacts.

Analysis tools:

This feature lets you generate a PDF or Excel report about the targeted person's activities. You should know whom your targeted person is talking to, which games do they play the most, etc. Learn more about this feature by clicking on the following links: Monitor Phone Calls, Monitor Phone Contacts, Internet History, View Installed Apps.

Instant messaging:

SPY24 grants you access to the targeted phone's incoming and outgoing messages and from many Instant Messaging Applications (Facebook, Instagram, WhatsApp, Telegram, etc.) without the targeted phone needing to be rooted or noticing your presence.

Track WhatsApp Calls:

With this feature, you can check to whom your targeted person did call in WhatsApp when did the call was made, the type of the call (Voice or Video Call), the duration of the calls, and the number of missed calls accurately. You can export the call logs as well.
The Best Cell Phone Spying App & PC Monitoring Software In The World
You can use the links below to get the software for iPhone Spying Application & Android Spying Application that lets you keep an eye on your targeted person.
Computer Monitoring Software:

SPY24 computer monitoring software grants you access to cutting-edge features that let you spy on any Computer or Laptop from anywhere with any distance you desire. SPY24 MAC & PC spying software is able to do stealth operations without your targeted person noticing. For example, you can see the exact time for each activity on a PC or MAC computer to happen online.

Spy Phone Software ( Spying Software ):

SPY24 App also called "Spyware App", is software that lets you spy on a phone. You can track incoming and outgoing phone calls, messages, and locations with this kind of app. This app is hidden so that the targeted people can't notice it. This software also tracks GPS locations, browser activities, and messages from apps like WhatsApp, Facebook, Snapchat, etc.

Android Monitoring:

Instant Messenger chats can be viewed on Android right away! SPY24 is a powerful Android monitoring app that can help you check on call logs, chats, and multimedia. Mobile Spying Apps, also called Spyware Apps, are software that let you spy on smartphones.

iPhone Monitoring:

SPY24 is the only iPhone Spying application that lets you listen to the targeted device's surroundings, live phone calls, track the location of the device, and view chats. iPhone Spying App is a monitoring app that keeps track of what iPhones and iPads are doing online. You can spy on an iPhone with SPY24 iPhone spying application.

Mobile Spying App Free:

SPY24 cell phone monitoring software lets you keep track of what the targeted person does on their Android-based smartphone or tablet. What is a spying app for phones? Phone Spying Apps let you track incoming and outgoing phone calls, messages, GPS locations, browser activities, and messages from Instant Messaging Apps like WhatsApp, Facebook, Snapchat, etc.

Call Log Tracking App:

Do you get calls from unknown numbers, which make you feel very uncomfortable? Want to stop that and have more control over the calls that come in? The answer is SPY24 and its call log tracking feature. We made a completely easy-to-use Call tracking software package that you can use to keep track of callers and even find out where they are calling from. SPY24 lets you check the full call history of the targeted phone right away. Check the time and details of the targeted person's phone calls.

WhatsApp Spying App:

You can see all of the messages sent and received through the WhatsApp Tracking feature of the SPY24 App. Block contacts that are adults hiding behind children's profiles. Track all WhatsApp chats, including the date, time, and length of every call, message, and other WhatsApp activity.
How SPY24 Protects your beloved people and your business assets in 3 steps
You can download the parental control software for iPhone spy and Android spy PC - MAC through the following links.
Subscribe to SPY24:

Choose your mobile monitoring subscription plan and the payment option that meets your needs.

Download and Install SPY24:

By going through our emailed instructions step by step, you can easily Download and install the SPY24 application on your desired device.

Go Monitoring:

It only takes a few minutes to get started with the SPY24 application. Finish the last step of setting the application up by logging in to your SPY24 dashboard using the provided account information.
Why Choose SPY24 Mobile Monitoring App
A complete cell phone monitoring package for parents and business owners.

A safe and reliable smartphone tracking software with the most innovative features.

Most affordable packages and different payment options for more convenience.

Non-intrusive and stealthy spyware, and amazing for surveillance.

Acknowledged as one of the best parental control and employee monitoring apps.

Intuitive and user-friendly interface that is simple to get started with.

A 24/7, helpful customer support with 100% guaranteed customer satisfaction.

Works on all Android and iOS devices easily.

Ranked First amongst the best "Android spying apps" for its 40+ innovative features.

Crowned no. 1 in the best "iPhone spying apps" category for its iCloud spying feature.

Included in the best "iPhone spying apps" category for its install spying feature.

The best value for your hard-earned money with the best Monitoring features for any spyware currently available.
What Our Satisfied Customers Have to Say About Us
Thomas

Bonn, Germany

I've heard a lot about the victims of online predators but never thought my daughter would become one of them. SPY24™ helped me to bust a man who sent my 14-year-old daughter inappropriate texts and disgusting photos. I could not believe my eyes! He was trying to lure her into meeting him and running away together. I don't want to even imagine what would have happened if we hadn't found out about it on time.

Jennifer

AZ, USA

"I have a business and need to keep track of my trucks. The best feature for me is definitely the GPS. It shows the location and is constantly updating to new locations, making it easy to track my employees. I would definitely recommend using this product if you are trying to keep track of someone or something! Paige

an.

Bonn, Germany

ersonally, I have used other tools before like Mobile spy but I have to say SPY24 is the best among all these. The customer service is very efficient and always ready to answer all the questions and this was my motivation in the first place to subscribe. I would recommend SPY24 at any time. 10/10 for me.
Why SPY24 is the Best Mobile Tracker
SPY24 has what it takes to be the most trusted parental control and employee monitoring software. It works in complete stealth and works on the targeted device's background so that your targeted device holder never notices it. What's more: SPY24 mobile spying software is so simple to use; even your grandfather can use it with no effort!
Android Monitoring (No Root)

User-Friendly Control Panel

Around-The-Clock Support. Our Multilingual Support Team Has Got Your Back 24/7.

Easy Installation & Remote Monitoring. It Takes Less Than 10 Minutes to Install.

Works in Background Mode. The App is not Visible on the Targeted Device.

The Most Affordable Solution. Monitor Your Children's Devices for Less Than $1 Per Day.

Secure and Reliable. All Data are Encrypted and Protected. Only You Have Access to It.

Up-To-Date Information. Data About the Targeted Phone Activities Update Every 5 Minutes.
FAQs SPY24
Can I keep an eye on my kid's phone?

Yes, SPY24 is a monitoring tool that lets you keep track of almost everything on your child's phone. You will also be able to limit how apps or websites work and block calls that you don't want them to have.

What happens when I pay for the Subscription?

You will get a confirmation email once your order has been sent and your payment has been approved. If you haven't gotten the email in a couple of minutes, check your Spam folder. If you received the email, click on the link in the email to log in to your Control Panel and open the Installation Wizard, which will help you setup the application.

How do I install SPY24 application on IOS Devices?

Only if the iPhone has its 2-step authentication turned on, do you have to install the app directly on it. In other cases, SPY24 can get linked to the device through iCloud. If you put the iCloud login information into your Control Panel, the software will automatically connect to the device.

How do I install SPY24 application on Android Devices?

Use the login information sent to you in the confirmation email to get into your Control Panel, and then follow the instructions in the Installation Wizard. Please keep in mind that Android devices need to be "rooted" to use Premium features on them. If you don't know how rooting works, you can get more information by contacting our supports.

Is it possible to track a phone number from afar?

No matter what the online articles say, you can't use a phone number to find out where a phone is. Even if you find a way to get information from a phone number, it won't help once the person changes their sim card. But with SPY24, you don't have to think about how to track a person with their cell phone number, because it doesn't need the sim card information to work. So, even if the devices' phone numbers change, you can still use the software to its fullest without having to reinstall anything. Stay up-to-date with SPY24 Hidden Cell Phone Tracker: With the best phone tracking software, you will never have to worry about anything. With the SPY24 tracking app, you can see who your child is talking to on Facebook or WhatsApp, track their GPS routes, or block dangerous websites from afar. One-click will take you to a new level of safety online.

Is SPY24 the best Tracking app that stays hidden?

SPY24 is one of the most well-known phone tracking apps. It has more than 30 monitoring features, such as limiting calls, tracking social media, tracking GPS location, blocking websites, and much more. We also offer multilingual support 24/7, so feel free to get in touch with us at any time.

Does SPY24 track cell phones in real-time?

How often the data gets updated depends on how well the targeted device is connected to the Internet and how often you set it to update. The shortest time period, between updates, that you can choose is 5 minutes.

Can I listen in on a phone just by knowing its number?

As we have already said, you can't use someone's phone number to spy on them. To keep track of what they do on their phone, you would have to install tracking software on them.

Can a person's phone get tracked without them noticing?

You have to ask the user's permission before you can put software on their device. SPY24 does not want the software to be used illegally in any way. But you can monitor someone's device without telling them if it has to do with the safety of your children who are underage.

Is using SPY24 on others legal?

Yes, it is perfectly legal to use software like SPY24 to keep an eye on your kids. But it's up to you to decide if you have the right permission to put it on someone else's device. If you're not sure if this kind of software is legal in your country, you should talk to a lawyer.

Can I track phones by IMEI or Phone Number?

No. Installing monitoring software on the device is the only way to keep track of what the targeted device is doing or where it is.
You Can Totally Rely on SPY24 – We've Got Your Back
SPY24 won't leave you alone with your subscription, because for us, your satisfaction is on top of everything else, and with that, we promise to deliver only the best mobile spying app experience that you will never have like it again!
100% Secure Satisfaction Guaranteed

24/7 Live Chat

Stealth Mode 100% Invisible
Monitoring Software by SPY24 PRO
Monitoring Software by SPY24 PRO Free: Yes
Are you looking for reliable and powerful monitoring software for your business? SPY24 PRO is a monitoring solution that offers a range of features and services to help you keep track of your employees and your data. With SPY24 PRO, you can monitor your staff's activities, view system performance and more, all with the free version. Discover the benefits of SPY24 PRO and see why it's the perfect monitoring solution for your business.
Monitor Your Family's Online Activity with SPY24 PRO
With the rise of technology, it's more important than ever to monitor and protect your family from the dangers of cyberbullying and online predators. SPY24 PRO is a parental control app that gives parents peace of mind while providing their families with the freedom to explore the internet safely. Let's take a look at how this comprehensive monitoring software works.

How Does SPY24 Pro Work?
SPY24 PRO provides you with an all-in-one solution for tracking, monitoring, and controlling your family's online activity. This monitoring software uses advanced algorithms to capture user data, allowing parents to gain insights into their child's digital behaviour. Parents can also block inappropriate websites and restrict access to specific apps on mobile devices.

The app also features GPS tracking capabilities so parents can locate their children in real-time and receive notifications when they leave or enter certain areas. Lastly, SPY24 PRO has a special "Geo-Fencing" feature which will alert parents if their children enter any restricted zones such as unsafe neighbourhoods or schools. It's the perfect way for families to stay connected while still maintaining security and privacy on the web.
What Are Some Other Benefits?
Aside from its robust parental control features, SPY24 also offers an array of other helpful benefits. For example, users can use its email monitoring feature to view incoming emails sent to or from their child's device—perfect for catching any suspicious activity right away! Additionally, users can access detailed reports of all text messages sent or received by their child's device—allowing them to keep track of conversations without having to pry into private matters.
Is it possible to track a cell phone for free?
Welcome to SPY24 – the ultimate parental control app for free!

If you're a parent and looking for a reliable and free way to monitor your kids' activities on their mobile phones, then SPY24 is the app for you. It provides parents with powerful monitoring and tracking capabilities so they can be sure of their children's online safety.

SPY24 offers a unique set of features to protect your kids' online privacy and security. With this app, you can track the location of your children's phones, monitor their calls and text messages, block apps and websites, and set time limits and content filters.
For parents with iPhones, SPY24 provides parental controls that are easy to set up and manage. You can block apps, control app usage, restrict access to certain websites, and set time limits and content filters.
For parents with Android phones, SPY24 also offers parental controls that are easy to install and use. You can block apps, restrict access to certain websites, and set time limits and content filters.
If you want to track a cell phone for free, SPY24 can help. This app can track your children's phones and provide you with detailed reports about their activities. You can also set up alerts that notify you when your kids are accessing certain websites or apps, so you can take immediate action.
With SPY24, you can be sure that your kids are safe online. With its powerful parental control features, SPY24 is the ultimate app for keeping your children safe while they use their phones.
Conclusion:
With SPY24 PRO monitoring software, you can ensure that your family is safe online while still enjoying the freedom that comes with using technology responsibly. The app's comprehensive suite of features ensures that you are always in control—whether it be tracking where your children are in real-time or blocking inappropriate websites and apps on mobile devices—this parental control app does it all! So why wait? Try it out today and put your worries at ease!