WhatsApp Spy App: Monitor All Calls, Chats & Multimedia
WhatsApp has exceeded 1 billion users worldwide, Do you have a loved one who can't seem to live without WhatsApp? Are you worried about what they're messaging other people? A WhatsApp spy app could be the perfect solution for you! With this app, you can see all of the messages that your loved one is sending and receiving. You'll be able to rest easy knowing that they're not talking to anyone they shouldn't be. Check out our list of the best WhatsApp spy apps to find the right one for you!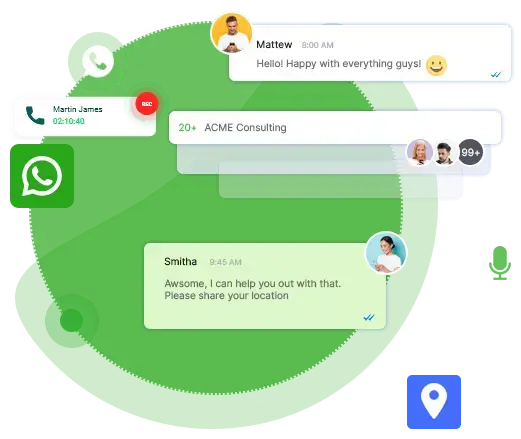 How to Monitor WhatsApp On Android & IPhone Via SPY24?
Watch a tutorial to learn how SPY24 not just monitors WhatsApp chats and group chats but also all shared photos on the target device.
View & Save All Media Types on WhatsApp
SPY24 WhatsApp monitoring online
WhatsApp Photos

Photos exchanged in WhatsApp chats or uploaded to Status can be easily viewed on the SPY24 online dashboard. This feature allows you to seamlessly track WhatsApp remotely.

WhatsApp Videos

You can view someone's WhatsApp videos without knowing. However, please note that SPY24 will only show a video's thumbnail to prevent additional data charges.

WhatsApp Voices

You won't miss out any WhatsApp voice messages, either. You are able to check all incoming and outgoing WhatsApp voice notes and restore conversation details.

WhatsApp Documents

All types of WhatsApp compatible files (PDF/DOC/Excel/TXT/PPT/Etc) can be downloaded and printed off where necessary. This feature includes recovering previously deleted files.

WhatsApp Screenshots

Automatically takes screenshots when WhatsApp's in use. WhatsApp screenshots can be previewed online or download-ed into your local files.

WhatsApp Activities

Data type includes screen time usage, using frequency, and exact login date & time. WhatsApp activity records can be exported.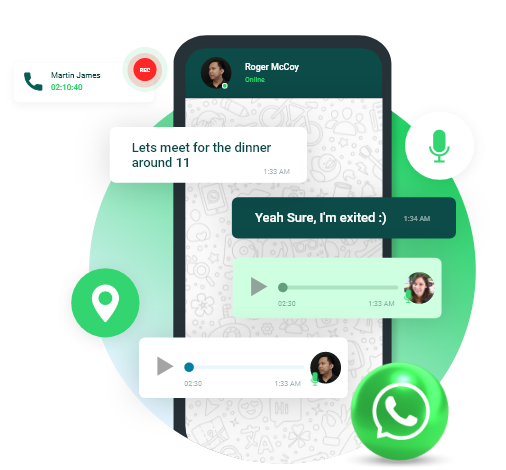 What is SPY24 WhatsApp Monitoring?
With SPY24, you can remotely monitor WhatsApp messages, calls, and multimedia sent and received on the target phone or tablet. Instantly check the names and numbers of senders and other details like time and date stamps. SPY24 is the best WhatsApp spy app that you can trust; all you need is a download on the target device to start spying on WhatsApp logs. View Whatsapp call logs. Read all chat threads. View all pictures with WhatsApp photo tagging. View time and date stamps. rack and Monitor WhatsApp Messenger for Covert Cross-Platform Communication Over the course of its history, WhatsApp has amassed an astounding one billion or more users in every region of the world. If a member of your staff, your children, or your spouse has a smartphone that runs Android or iPhone, then it is highly likely that they use the instant messaging service WhatsApp. It enables the user to not only send text messages and multimedia files but also to engage in other activities such as making phone calls. If you are considering spying on social apps in order to listen in on chats and conversations, then you need to figure out how to get around the authentication requirements of the instant messaging app. Behave like a magician by installing and getting the SPY24 app tracker to spy on WhatsApp on the device you want to monitor, whether it's an Android or an iPhone.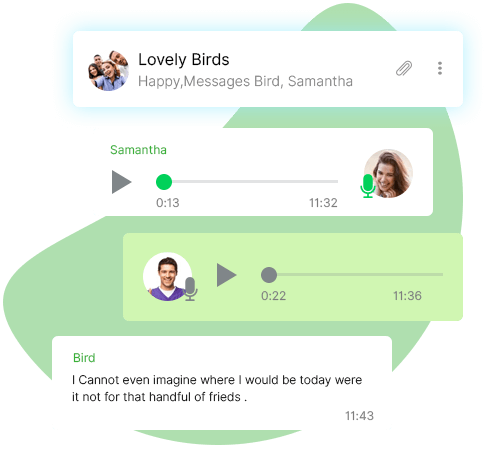 Best Call Recorder App for WhatsApp to Covertly Listen to and Record WhatsApp Audio and Video Calls
The WhatsApp call recording app can covertly listen to any and all voice conversations taking place on the phone it is installed on. It gives you the ability to record any and all audio or video VoIP calls, both incoming and outgoing. As a result, you are able to listen in on the voice conversations and determine, using the timestamp, who your targeted individual is chatting with on WhatsApp.
Not every WhatsApp Spy App is Created Equal!
If you have always wanted to spy WhatsApp remotely and couldn't find a solution for that, it's time that you finally put your trust into SPY24. With our WhatsApp spy tool, you can spy WhatsApp conversations, monitor WhatsApp messages and do more. But not all apps track WhatsApp activity the way we do it.

WhatsApp spy iPhone without Jailbreak

If you want to spy on WhatsApp messages on iPhone, then remember, not many WhatsApp spy apps work without jailbreaking iOS devices. Which means, your WhatsApp conversation spy app will only work with iPhones or iPads that are jailbreak-able. Even after then, not all such apps will provide compatibility with the latest Jailbreak versions.

But when you use SPY24, you don't have to worry about that. Our WhatsApp spy app works without jailbreaking on iOS devices.

No Download & Installation

SPY24 lets you monitor WhatsApp activity on iPhone and iPads without any download or installation. The No-Jailbreak version doesn't require you to download or install SPY24 on the target iOS device.

WhatsApp Spy Online from Anywhere

Spy WhatsApp conversations from anywhere using a computer or your smartphone. SPY24 even comes with a "Dashboard App" that can be downloaded on Android devices, so you could monitor a phone without having to rely on a plugged-in desktop or laptop.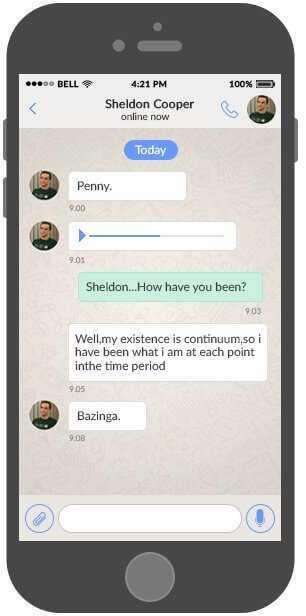 Frequently Asked Questions:WhatsApp chats Spy App
How Can I Track WhatsApp Chats Remotely?

WhatsApp chats can be tracked remotely using Spy24. The app requires one-time installation on the device you wish to monitor. After that, you can remotely track all WhatsApp chats, call logs and multimedia. Alternatively, you can also remotely spy on WhatsApp chats without requiring any download or installation using the iCloud version of WhatsApp spy for iPhone.

Which Devices Are Compatible With Spy24 WhatsApp Spying App?

Spy24 works with all Android and iOS devices. To use Android WhatsApp Spy app, the target device needs to be running Gingerbread 2.3 or above; for WhatsApp spy iOS, the target iPhone or iPad needs to be running iOS 6.0 or above. However, to avoid any hardware- or software-related discrepancies, we recommend you to visit our device Compatibility Page.

How To Spy WhatsApp Chat On Android?

Using Spy24 WhatsApp spy Android, you can spy on not just WhatsApp conversations, but also call logs and photos. You can try out the Spy24 Demo to find out more about how the app works.

How To Spy On WhatsApp iPhone Via Spy24?

Using Spy24 WhatsApp spy iOS, you can spy on WhatsApp chat and photos. Click here for more information on how to spy WhatsApp on an iPhone.

How Can I Spy On WhatsApp Conversations?

You can spy on WhatsApp conversations using your Spy24's web account/online dashboard. Accessing WhatsApp chats is easy; all you have to do is to open Spy24 Dashboard and navigate to "WhatsApp" from the "Messenger" drop-down menu. Here is a link to the demo that you could use.

How To Spy On WhatsApp Texts Using An Apple ID?

To spy on WhatsApp texts using an Apple ID, you will require Apple ID and password of the person whom you want to monitor.

What's The Difference Between WhatsApp Spy IPhone And WhatsApp Spy Android?

With WhatsApp spy Android, you can also monitor WhatsApp call logs while in addition to chats and photos.

Can I Hack Someone's Phone Using Spy24 WhatsApp Spy?

Spy24 is a monitoring app and not a hacking tool and should only be used after taking a legal consent of the parties involved.

How Spy24 Is The Best App For Parents To Track WhatsApp?

Keeping it short, Spy24 is available for as little as $/month. For $/month, you get access to all the premium features of Spy24, including full access to the WhatsApp of your kids. Spy24 allows you to track their WhatsApp call logs, photos, and chats. Additionally, you get over 35 other features with your Spy24 license.

SPY24 is the best WhatsApp monitor?

It's a non-rooted, secret cell phone spy app. It's undetectable on mobile apps like WhatsApp. Spying on messaging apps is undetectable. Parents and employers can use secretly monitor children and employees.

Best WhatsApp spy app?

SPY24 is the best WhatsApp spy. Install it on the target Android or iOS phone to monitor message logs, chat conversations, VoIP call logs, and voice messages. The spy app's web control panel lets users download the monitored app's data.

Can WhatsApp be monitored remotely?

Yes! SPY24 monitors WhatsApp chats remotely. Remote WhatsApp spying requires one-time device access. Users can remotely view text messages, call logs, photo-video sharing, and more. Every monitored activity feeds the SPY24 dashboard. WhatsApp logs are downloadable.

Can WhatsApp be monitored remotely?

Yes! SPY24 monitors WhatsApp chats remotely. Remote WhatsApp spying requires one-time device access. Users can remotely view text messages, call logs, photo-video sharing, and more. Every monitored activity feeds the SPY24 dashboard. WhatsApp logs are downloadable.

WhatsApp phone spying legal?

Yes, you can monitor WhatsApp on your phone. You can monitor WhatsApp on your child's phone and on business devices given to employees. Legal WhatsApp spying protects minors and businesses.

SPY24 monitors WhatsApp secretly?

SPY24 is one of the few cell phone tracking apps that can hide its icon. During installation, spy software hides the app icon on the target device and monitors social messaging apps.

Is social messaging dangerous?

Social media apps are dangerous for users. Therefore, social media apps must be regulated.

How to secretly record WhatsApp?

SPY24 can secretly record WhatsApp on a target phone. It lets you record phone screen videos invisibly.
Why Choose SPY24 WhatsApp Spy App?
64 billion messages and 1.6 billion photos are shared every day on WhatsApp that are incentivizing various types of cybercrimes. WhatsApp chat spy-like SPY24 can help reduce down such crimes.
There is a growing trend of cyberbullying on WhatsApp; a spy software for WhatsApp could help parents take care of it.
An average WhatsApp user spends around 27 minutes daily with the app. If your employees have WhatsApp on their phones, they could be spending their valuable office time on non-work related socializing. SPY24 WhatsApp spy will help you take care of that.
Even with end-to-end encryption, WhatsApp is still prone to a variety of security threats that could lead to data dissemination on your kids' or employees' devices.
SPY24 WhatsApp spy software can watch over your kids and employees' WhatsApp use and can encourage safe instant messaging behaviour.
By spying on WhatsApp chats, parents could minimize the risks of online abuse that their kids are vulnerable to.
Paige
w.s

Adam
s.s
andre
n.n
Monitor Social Communication on WhatsApp
SPY24 WhatsApp monitoring online dashboard is finely classified, and enable users to access to all types of WhatsApp data without hassle.
You Can Totally Rely on SPY24 – We've Got Your Back
SPY24 won't leave you alone with your subscription, because for us, your satisfaction is on top of everything else, and with that, we promise to deliver only the best mobile spying app experience that you will never have like it again!
100% Secure Satisfaction Guaranteed

24/7 Live Chat

Stealth Mode 100% Invisible
WhatsApp Tracker app
What exactly is the WhatsApp Tracker app?
The instant messaging service WhatsApp was initially developed as an alternative to text messages (SMS). It currently has over 1 billion users, who are located in more than 180 countries across the globe. The Messenger app is generally free to use (although there may be some costs associated with using it depending on the data plan you choose), and it provides straightforward and dependable features such as messaging, calling, sharing multimedia, and location. End-to-end encryption is used to keep the calls and chats private and safe.
The name WhatsApp is a pun on the phrase "what's up," which is quite an interesting aspect of the name. People of any age, gender, or nationality are able to connect with friends, family, colleagues, or basically any other user of the same messenger app. It is compatible with all cell phones and can be used to communicate with one another.
Anyone who wishes to access information and conversations that were carried out through WhatsApp messenger on an android mobile phone can make use of an application called WhatsApp Tracker, which, as the name makes abundantly clear, is an efficient tool. It is essential to keep in mind that the WhatsApp Tracker does not function properly on Apple iOS-based devices.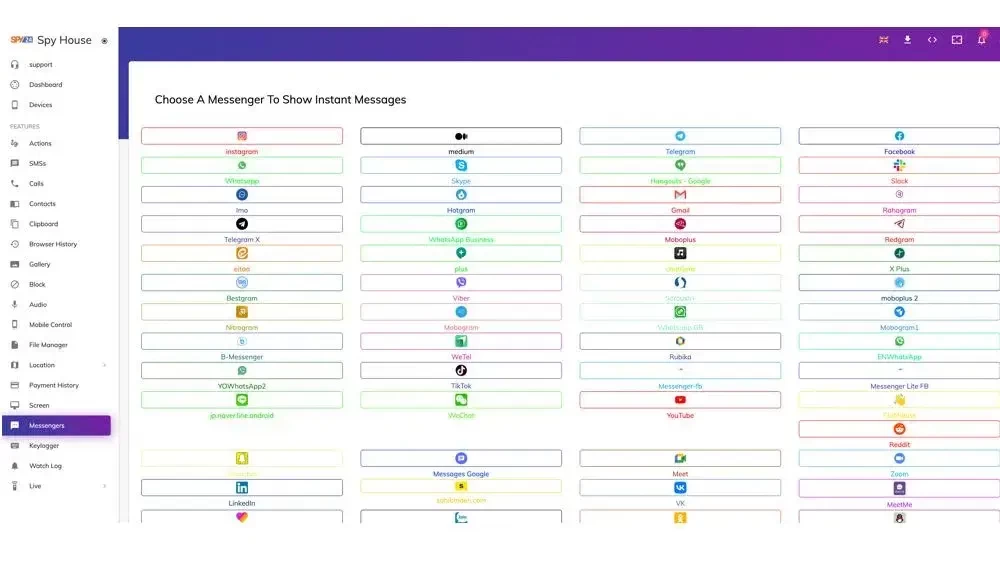 The benefits of utilizing the WhatsApp Tracker App
SPY24 is a phone application that meets all of your requirements for cell phone monitoring in one convenient package and presents it to you on a silver platter. One of its most useful features, WhatsApp Tracker, is included in SPY24. It is a comprehensive tool that gives you the ability to track WhatsApp chats in a way that is both covert and dependable. The use of WhatsApp Tracker software comes highly recommended for families with children in their teenage years. People who run businesses with employees who are given a separate cell phone for official purposes will also find that it is to their advantage to make use of this feature for a number of reasons.
An employer will have access to any and all conversations that are being initiated on WhatsApp messenger by an employee through the employee's mobile device if the employer uses WhatsApp Tracker online. The employer will be able to evaluate and monitor the employee's conversation with a potential or existing client with the assistance of WhatsApp Tracker if the employee in question is a sales executive. Any company or corporation has the potential to experience exponential growth if they make effective use of WhatsApp Tracker.
In a similar vein, both young and old people are able to benefit from using Spy WhatsApp in the same manner. If you are aware of the activities that your children are participating in—activities that can be easily monitored by WhatsApp Tracker Online—you will be able to ensure that your home is a safe and secure place to live. Parents and guardians now have the ability to protect their young children from predators and pedophiles who may lurk on the internet. If you are concerned about the activities and friend circle that your children participate in, SPY24 would be an excellent investment for you to make. It is always best to err on the side of caution, and having WhatsApp Tracker will ensure that your loved ones are protected at all times.
Other Features That Come Standard With the Online WhatsApp Tracker
You can simply read all of the WhatsApp messages that are stored on the Android device you want to monitor with WhatsApp Tracker. If you purchase the SPY24 WhatsApp Tracker App, you will have access to a number of additional features that are both appealing and helpful. Because of these features, you should be able to access an unlimited amount of data using stealth technology that is resistant to detection and is tailored to meet all of your requirements.
Some of those additional features include the following:
It is possible to track the cell phone of any Android user by using spy photos, which include images, audio files, and other types of multimedia files. You only need to click a single button in order to gain access to all of SPY24's features, which are outlined in the previous paragraph.
Hidden Call Recorder The SPY24 spy app comes equipped with a hidden call recorder that allows you to listen to and download recordings of all incoming and outgoing phone calls made on the target device. The recording of the conversation is double-sided, so you will be able to hear both parties in the exchange very clearly. This feature has a very low data footprint and delivers excellent results.
Outstanding Customer Care and Support - Here at SPY24, our clients are extremely important to us. As a result, the company offers chat support throughout the entire day. Problems of any kind, including those of a technical nature, will be resolved in a prompt and efficient manner during phone conversations dedicated to customer service.
It is possible to track the cell phone of any Android user by using spy photos, which include images, audio files, and other types of multimedia files. You only need to click a single button in order to gain access to all of SPY24's features, which are outlined in the previous paragraph.
Skype Messenger Spy - With the help of the SPY24 cell phone spy app, the process of monitoring all Skype conversations, including the transfer of multimedia files over the devices, has become much more straightforward.
You can easily access all text messages and multimedia messages like images and GIF files that have been exchanged through WhatsApp messenger with the help of a tool called WhatsApp Tracker. WhatsApp Tracker is a component of WhatsApp messenger.
Hike Messenger Tracking - Hike is a well-known social media app that can be downloaded by users all over the world. This app allows users to share both text and photos with one another. All of your Hike chats can be spied on by using the SPY24 call tracker app.
The Location Tracker feature of the SPY24 cell phone spy gives you real-time information about the location of the android smartphone you're monitoring.
Monitoring of e-mail messenger services such as Yahoo Mail, Outlook Mail, and Gmail, which are among the most widely used forms of business communication around the world. People make use of these email services to exchange a variety of emails, including spam, with one another. With the assistance of the SPY24 mobile spy app, you can keep your loved ones safe while also protecting yourself from any potential dangers.
Where Can I Download SPY24?
Simply going to the SPY24 website is all that is required of you in order to reap the benefits of using SPY24. You can get a general sense of how the application functions by browsing the site and reading about the various topics that are discussed there.
If your mobile phone is one of the devices that are compatible with the service, you can navigate to the "buy now" section of the website and select a plan that best meets your requirements. After you have completed the purchase, you will be able to easily download and install the SPY24 app on any device you choose. The entire procedure will only take about five minutes of your time, after which you will be finished. You will be given a one-of-a-kind username and password by the company in order to gain access to the information regarding uninterrupted monitoring. You can access this information on a personal computer or a laptop, or on a smartphone. You and only you will have access to the information that has been made available.
We hope that everything works out for you. Happy monitoring!
Monitoring Software for WhatsApp
Snooping on WhatsApp Check out your complete WhatsApp conversation history. Avoid communicating with adults pretending to be children online. You can keep tabs on every WhatsApp conversation, along with the time, date, and duration of every call, message, and more.
WhatsApp Tracker For Family The GPS feature of our Spy Whatsapp, which records the device's GPS coordinates invisibly and without the target knowing it, plays a crucial role in our Parental Control software. The GPS tracking feature of Spy Whatsapp allows you to see exactly where your child has been and where he or she is right now using the mobile device you provided them with.
Spy Whatsapp allows you to relax and see if your child is doing what he says he is doing, going to the places he says he is going, and even seeing if he went to the house of his regular colleague.
Family WhatsApp Tracker - WhatsApp Tracking Software
The Best WhatsApp Tracker Software on the Market. Not Necessary to Undergo Root! Find out who you've been talking to on WhatsApp, when, and where.
Use on any Android device with a few simple taps.
There is no requirement for a WhatsApp account or password. There are no login notifications. SPY24 for WhatsApp is compatible with Android versions 4 through 11.
Keep Tabs on Someone's WhatsApp: By using SPY24, you can secretly view the user's WhatsApp chats.
Get the lowdown on their WhatsApp activity with the help of SPY24. SPY24 allows you to eavesdrop on both individual and group chats. View the media they have shared with one another. Take a look at their contact information, including names, numbers, and pictures. It is possible to keep an eye on WhatsApp from afar using a web browser.
Free Download WhatsApp Tracker
With the WhatsApp Tracker app, you can secretly record their chats, any attached media, and phone calls, use the phone's camera to snap photos, and monitor their SMS, MMS, and Facebook messages.
Facebook video and audio attachments are also archived. Consequently, monitoring Facebook chats is a breeze. The software can track a user's every move, including their geolocation, calendar entries, and contact details.
The Top Spy App for WhatsApp
The Free and Easy Way to Monitor WhatsApp Messages Examine all of their WhatsApp chats in one convenient location.
The functions of WhatsApp Tracker are: Location
You can always know where the Android device you installed WhatsApp Tracker on is by using WhatsApp Tracker. Also, this program's energy-efficient algorithms stop the GPS function from using up the battery too quickly.
Call Recording: WhatsApp Tracker keeps track of all phone calls, including who called and how long the call lasted. Then, all of this info is sent to your online account.
Even on a device that hasn't been rooted, the user won't be able to find WhatsApp Tracker unless they know what to look for.
SMS, MMS, Facebook, and WhatsApp Messages Are Being Kept Track Of
Even if the user tries to delete a message, picture, video, or audio file that was sent through the device, the app will keep a record of it.
With one account, you can keep an eye on up to 5 Android phones and tablets.
Front Camera Photos: Every time you unlock your phone, a picture will be taken and sent to your account's Reports section.
Even if the user tries to use their browser's Incognito mode, everything they do online will be tracked.
Changing SIM Card: Whenever a user changes their SIM card, their online account will be notified.
Even though a smartphone is a great way to stay in touch with your kids, many parents are still hesitant to give their child or children one.
The good thing is that a cell phone is the only way to get in touch with your child whenever you need to. On the other hand, a smartphone can also take your child's attention away from schoolwork and even put your child's safety at risk. Before WhatsApp Tracker and other android keyloggers were made, there was no way to stop these dangers, so parents were afraid to give their kids devices that could be used to spy on them.
Everything has changed, though, and now you can stop your child from playing video games during school hours or telling strangers personal information that could put them and their families in danger.
Parents aren't the only ones who will benefit greatly from using a WhatsApp Tracker program.
Keeping an eye on your employees can be hard, especially if there are a lot of them at your company. Almost every worker will do less work if they think they can get away with it. No one likes to work hard, and it's even worse when no one is watching.
The WhatsApp Tracker app will keep your employees on their toes the whole time they are at work. When you know that your every move is being watched and compared to those of other employees, it makes you work harder. As long as you don't make your employees follow crazy rules, everyone will be happy if you install this app on everyone's corporate mobile device (except for slackers and freeloaders).
If you searched Google for "track WhatsApp" or "track WhatsApp messages" to find a free WhatsApp Tracker, you've found what you were looking for.
One of the most advanced apps that you can get for free is WhatsApp Tracker. Even though this program is free, you can use all of its great features, such as a "hidden" mode and call recording.
When you start using WhatsApp Tracker, you'll find that it changes your life in every way. When it's time to extend your account, you'll be happy to do it right away.