Facebook Messenger Spy App - Spy on Facebook Chats
Have you ever wanted to spy on someone's Facebook chat? Well, now you can with the help of a new app called SPY24. With this app, you can see all of the conversations that are taking place on Facebook, and even read what is being said! This is a great way to keep an eye on your kids or Employee, or just to see what everyone is up to. So you can track Facebook messages with no problem Best Facebook messenger spy app How to spy on Facebook messages free Access all their Facebook chat messages online.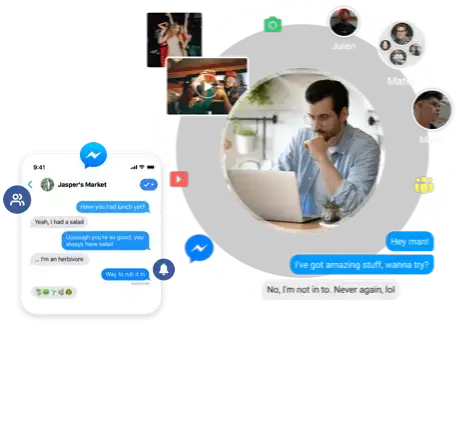 How to Monitor Facebook Messenger chats via SPY24?
Watch the video and find out how you can monitor Facebook Messenger chats in just under 5 minutes.
Facebook Tracker – Try Best Facebook Spy App
It's easy to monitor Facebook messages without them knowing. Just install SPY24 for full access.
Facebook Messages

Get an access to the Facebook conversations on a target phone. Keep track of your kids` phone to read their Facebook messages. Monitor your kids` Facebook messenger to be sure they don`t fool around during the school time.

Multimedia

View all pictures, videos and text messages sent and received via Facebook messenger of your kid remotely. Keep track of multimedia files of your child with Facebook spy feature to make sure they are not involved in sexting.

Why Monitor Facebook

Modern parenting requires digital supervision. Facebook being one of the most popular social media for teens requires constant attention. By monitoring Facebook you protect your kid form cyberbullying and online predators.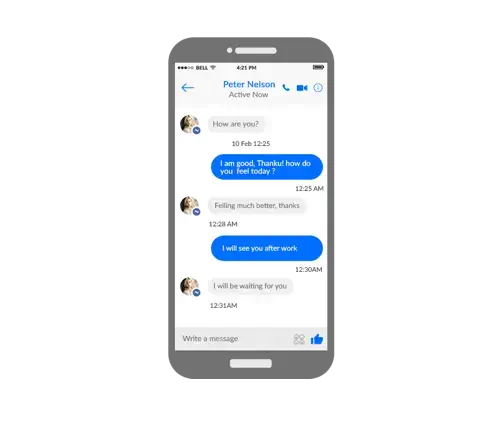 What is SPY24 Facebook Messenger spy?
With SPY24, you can remotely monitor Facebook Messenger conversations along with relevant time and date stamps. Track Facebook Messenger chats. Access multimedia files saved on the target device from Messenger. View time, date, and contact stamps. Export Facebook chat data as a spreadsheet to an off-server location.Facebook Spy Feature can Track: SPY24 can track the targeted cell phone's Facebook activity and enable the user to covertly & remotely observe it. In order to know what the targeted person is doing, it enables the user to remotely monitor chats, VoIP calls, screen recordings, and voice messages. It is a fantastic social media activity tracking programme that works with both Android and iOS mobile devices. Facebook Monitoring App for Child & Business Security: The best-hidden tracker app, SPY24, has been developed for social media monitoring. It is effective for business protection as well as for all worried parents toward their children. Users will be well aware of the targeted person and safe from online dangers with the Facebook surveillance app.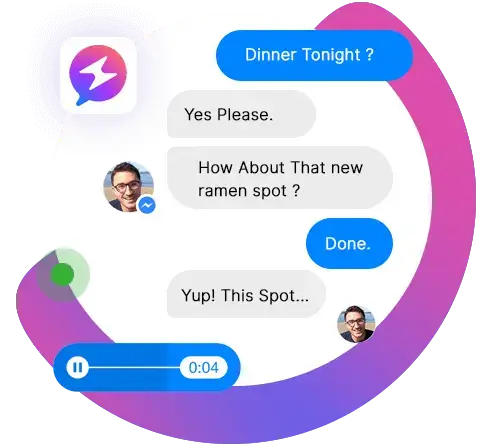 Track Facebook Chat with a Spy App for Facebook Messenger
The Facebook Messenger app is a great piece of software for hiding Facebook Messenger activity. The app's end user can view all activity, including shared multimedia files, voice messages, and offline chats and messages. It functions with the targeted, rooted devices to covertly track their live online performance. The Best Facebook Spy Software for Remote Monitoring in the World: You must pick one of the top spying programs that satisfy you. So save your time and learn about the best app instead of wasting it on other useless ones. With the help of SPY24, you can track a target's Facebook activities and remotely spy on their social media apps.
Not all Facebook Messenger spy apps are created equal
Spying Facebook messenger could reveal what spying on other messengers many not. Unlike other IMs, a much bigger population of users interact with strangers on Facebook. This is risky, especially when you have kids on social media. With SPY24, however, you can take care of that and prevent your kids from going into conversations with anonymous people.

And if you have a child or employee to monitor, make sure that you do spy on their Facebook messages, because of Facebook users' notorious reputation for oversharing.

FB spy app connects the dots!

Find all your answers when you download SPY24 FB spy on a phone or tablet. With our spy app, you can track Facebook messages and can even access photos or videos downloaded from the Facebook Messenger app on your phone.

Facebook Messenger spy Android

Our spy app for Facebook has extensive compatibility with every Android device. Be it a Gingerbread 4.0 tablet or a Nougat 7.0 smartphone, you can spy FB messenger with SPY24 pretty easily.

Facebook Messenger Spy iPhone

You can spy on Facebook Messenger on jailbroken iOS devices while the Facebook spying mechanism is similar to how you spy Fb Messenger on Android. You get to track Facebook messages, plus any multimedia saved from the app on the monitored device's storage.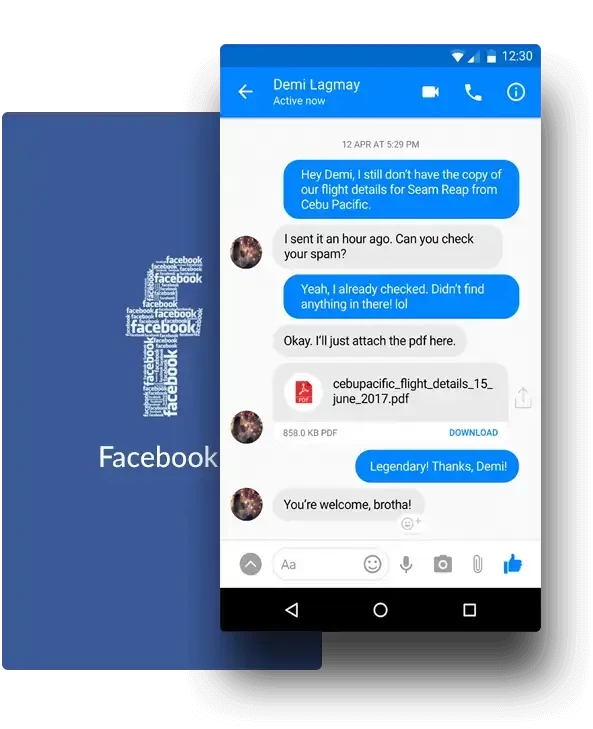 Frequently Asked Questions-Facebook Spy
How To Download Facebook Chat History Using SPY24?

Using SPY24, you can export Facebook chats or other monitored data to your computer or any off-site location quite conveniently using your SPY24 web account.

How to spy on Facebook Messenger chat with SPY24?

SPY24 automatically uploads all Facebook Messenger chats to your web account, so all you need is a valid SPY24 subscription to get started.

Can I Monitor Facebook Messenger Chats Without Accessing The Target Phone?

SPY24 requires a one-time access to the target device to setup the application; after which, you can remotely spy on Facebook Messenger chats from anywhere using SPY24's webpage-based control panel.

What are the prerequisites to spy on Facebook Messages?

To spy on Facebook Messages of your children or employees, you will need to setup SPY24 on the target cell phone or tablet. You will also need a working internet connection on the monitored device for the Facebook chats to upload on your web account.

Can I spy on Facebook chats when the target device isn't connected to the internet?

SPY24 keeps working in the offline mode even when the monitored device isn't connected to the internet. You can access those Facebook chats once the target device connects to the internet.

Which is the best app for parents to track Facebook messages?

SPY24 is a great way to track Facebook messages of your children. Our easy installation and 24/7 help from the support makes it very convenient to get started.

What's Facebook Spy?

Facebook spy software monitors messenger's activities. It remotely accesses the targeted device to monitor chat conversations, VoIP calls, screen recordings, and voicemails.

SPY24 for Facebook?

SPY24 is one of the best spy software for targeting devices. This app lets you track someone's activities. All users should use this tracking software.

Why sneak Facebook?

The most popular social media app is Facebook. Millions of people use it. With the app's popularity comes many risks. This app can harm kid's and business privacy. SPY24 Facebook app prevents these problems.

Is Facebook secretly trackable?

Yes, Facebook can be secretly tracked. Secretly follow Facebook activities. End-user remotely fined target's social messenger activity. so the user can see the target's activities.

How does it work?

With the SPY24 app, it's easy to keep track of what the targeted device does online. But to sign up, you have to go to the website and get credentials. After that, you have to physically get into the device you want to hack. You can then go to the web portal.
Why spy on Facebook Messenger?
With its chat bubbles and quirky nuances, Facebook Messenger is turning out to be a huge success, but not for our kids' focus or employees' productivity.
Kids are engaging in inappropriate chats online while employees are killing their time quite conveniently using Facebook and other social networking apps using their office-owned phones.
Over 1 billion messages are sent every month using Facebook Messenger; one of those could an online predator's text to your child.
Facebook Messenger has seen an 89% increase in its popularity amongst teens since 2013.
Social media is turning out to be a significant hub for child cyberbullying and online harassment because of its popularity amongst young people.
When you spy on FB messenger, you provide a better digital space to your kids.
With its interactive interface, Gif keyboards and stunning emojis, Facebook Messenger is employees' favorite pastime at work.
Paige
w.s

Adam
s.s
andre
n.n
Facebook Spy: How to Spy on Facebook Easily and Remotely
Want to spy on someone's Facebook without them knowing? That's easy! With SPY24 Facebook Spy, you can easily check other people's Facebook Messenger messages.
You Can Totally Rely on SPY24 – We've Got Your Back
SPY24 won't leave you alone with your subscription, because for us, your satisfaction is on top of everything else, and with that, we promise to deliver only the best mobile spying app experience that you will never have like it again!
100% Secure Satisfaction Guaranteed

24/7 Live Chat

Stealth Mode 100% Invisible
Facebook Tracker as a Way to Spare Your Nerves
1. Facebook Messenger is a great way to stay in touch with friends and family
2. You can use Messenger to send messages, photos, and videos
3. You can also make voice and video calls
4. Messenger is available on both Android and iOS devices
5. To use Messenger, you must have a Facebook account.
6. You can download the Messenger app for free from the App Store or Google Play Store.
7. Once you have downloaded the app, open it and log in with your Facebook credentials.
8. To start a conversation, tap on the "Chats" tab and then tap on the "New Message" icon.
9. Then, select the person or group you want to talk to from your list of Facebook friends.
10. To make a voice or video call, tap on the "Calls" tab and then tap on the "Voice Call" or "Video Call" icons.
11. You can also use Messenger to play games with friends, send money, share your location, and more!
12. To learn more about how to use Messenger, tap on the "?" icon in the app or visit the Facebook Messenger Help Center.
13. Thanks for reading! We hope this guide was helpful.
14. If you have any further questions, please feel free to reach out to us anytime.
What is Facebook Messenger tracking and why should you be concerned
Facebook Messenger tracking refers to the practice of collecting data about users' activity within the app in order to serve them targeted ads and content. This has raised concerns among privacy advocates, who argue that it violates users' privacy rights.
How to track Facebook Messenger on your iPhone or Android phone
There are a few different ways to track Facebook Messenger on your phone. One is to use a third-party app like mSpy, which will allow you to see all the data that is being collected about your usage. Another way is to simply check the permissions that Facebook Messenger has access to on your phone. If you see that it has access to your location, contacts, and text messages, then it is likely tracking your activity.
How to stop Facebook Messenger from tracking you
To stop Facebook Messenger from tracking you, you can either disable the app's access to your information or delete the app entirely. If you delete the app, you will no longer be able to use it to message your friends.
Alternatives to Facebook Messenger that don't track your activity
There are a few alternatives to Facebook Messenger that don't track your activity, including Signal and Telegram. These apps are designed with privacy in mind and don't collect data about their users for advertising purposes.
What is Facebook Messenger spy and how does it work
Facebook Messenger spy is an app that can be used to monitor and track the activities of a person on Facebook messenger.
Benefits of using Facebook Messenger spy
It can be used to keep track of messages, calls, and other activities on the messenger app.
How to use Facebook Messenger spy
The app can be used to monitor the activities of your employees or kids.
The top 5 Facebook Messenger spy tools are:
SPY24: It is a paid tool that offers a 30-day trial. It can be used to monitor both Android and iOS devices.
mSpy: It is a paid tool that offers a 7-day trial. It can only be used to monitor Android devices.
Spyzie: It is a paid tool that offers a 3-day trial. It can be used to monitor both Android and iOS devices.
Highster Mobile: It is a paid tool that offers a 7-day trial. It can only be used to monitor Android devices.
TheTruthSpy: It is a paid tool that offers a 3-day trial. It can be used to monitor both Android and iOS devices.
Comparison of the top 5 Facebook Messenger spy tools
The abovementioned are the top 5 Facebook Messenger spy tools. All of these tools offer a trial period so that you can try them out before deciding to buy them. All of these tools are very effective in tracking the activities of a person on Facebook messenger. Choose the one that suits your needs the best.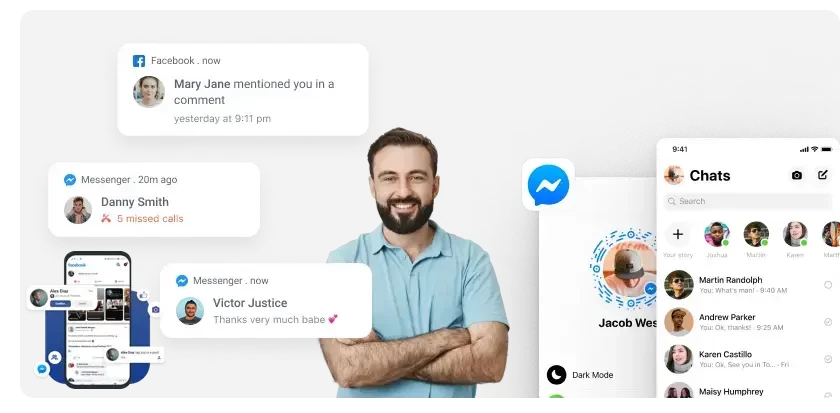 Why Every Parent Must Understand Facebook Messenger Tracking
Facebook markets itself as a platform for communication and connection. Additionally, there is a good chance that your child is one of the more than 2.8 billion monthly active users. We don't blame them, either. Facebook is a fantastic platform for keeping in touch with friends. Additionally, communication is made incredibly simple by the Facebook Messenger platform.
However, not everyone is chatting in an innocent and cordial manner. A platform like Facebook Messenger is rife with security risks. Not a good nightmare, is it? Not to worry. Every parent's dream is a Facebook Messenger tracker.
What Is a Spy App for Facebook Messenger?
It is a straightforward tool used to watch Facebook Messenger and is frequently referred to as a Messenger tracker. Once it is set up, you will have access to every message sent or received through your child's Facebook Messenger account. each text. every image. You can see it all there.
How to Hack Facebook Messenger Conversations
Purchase a Messenger tracker app subscription as the first step.
The great thing about SPY24 is that you can look into their general Facebook activity as well as what they're saying on Facebook Messenger. Simply enter your email address and select your subscription to get started. You can quickly begin monitoring Facebook Messenger after making a payment.
Check your inbox in step two.
An email to the address you provided when opening your SPY24 account will be sent to you once your SPY24 subscription has been paid for. Instructions on how to spy on Facebook Messenger chat, or more specifically, how to set up and use SPY24, are included in your Welcome email. Your Control Panel login credentials are the first step.
Comply with the guidance you were given.
You can find instructions for setting up so you can monitor Facebook Messenger in a matter of minutes, whether they use Android or iOS. Never forget that a SPY24 representative is ready to assist you at any time if you need them.
Access your Control Panel for SPY24.
After everything is set up, you can log into your SPY24 account to view all of their Facebook Messenger chats, including messages sent and received as well as images, videos, emojis, and other types of media.
The Top 5 Online Predators Kids Face on Facebook. It's frightening to consider, but there are always online predators lurking, just waiting to pounce on a new victim. Kids run the risk of meeting someone who isn't who they think they are because anyone can send a friend request on Facebook. A Facebook Messenger tracker is crucial because of this. With one installed, you can quickly and easily pop in and view someone's Facebook Messenger chats.
Cyberbullying. Bullying only occurred in the schoolyard when you were a child. However, it now goes much further, following kids home and into their digital world. It's crucial to be able to keep an eye on Facebook Messenger because of this. You will be able to tell if your child is being bullied with this kind of direct access. Keep in mind that when children experience cyberbullying, they typically do not run and tell their parents. The possibility that your child is being bullied is terrifying, but there is a way to find out for sure.
Sexting. Sexting is more widespread than you might realize, with over 30% of teenagers sharing nude or semi-naked photos through social media apps like Facebook Messenger. Even if you don't think your teenager is involved in this kind of activity. To make matters worse, many people are ignorant of the negative effects sharing these kinds of photos can have on their mental health and legal standing. Using a Facebook Messenger spy, you can stop that from happening.
social exclusion It's ironic that an app meant to foster community can instead promote isolation. Children who spend too much time using social media apps like Facebook Messenger to chat are at risk of becoming socially isolated. This might prevent them from developing. You can identify these risks and take steps to address them if you can keep an eye on Facebook Messenger.
Waste of time. Although it may not appear to be a big deal, children who spend hours chatting with friends on Facebook Messenger or leaving comments on their friends' pictures and status updates are wasting precious time that they could be spending time with their parents and siblings, doing their homework, attending to chores, or pretty much anything else. You can gain insight into how much time someone is spending using Facebook Messenger by using spy apps.
Purchase a Facebook Messenger spy app that allows for group conversations.
Making plans is easy with group chats. But they're also very effective at depressing people. Because Facebook Messenger makes it so simple to create a group chat, kids frequently use the app to bully kids they know. Group chats are where many instances of cyberbullying take place. It's crucial to pick a tool that enables you to keep an eye on Facebook Messenger from all sides, including group chats. One of them is SPY24.
Including Disappearing Messages, How to Spy on Facebook Messenger Chat
Did you know that Vanish Mode is now available on Facebook Messenger? You can configure your chat to delete messages after they are read by swiping up while in a conversation. This is a major barrier for the majority of Facebook Messenger monitoring applications. However, SPY24 comes with a number of cutting-edge tools that enable you to view all messages, even those that have been deleted or lost.
The ability to record your computer's screen is one such tool. It takes a picture each time the screen changes, allowing you to see what they've been saying visually. You can access your Control Panel by logging into your SPY24 account and viewing all of the chat's sent and received messages.
Additionally compatible with their other preferred applications, such as WhatsApp, Snapchat, Instagram, Telegram, and Skype is the screen recording tool for Facebook Messenger. The same tool you use to monitor Facebook Messenger will allow you to listen in on whatever social media platform they choose to connect through.
How to Spy on Facebook App: Facebook and Messenger Spy?
With SPY24's Facebook and Messenger spy app, you can monitor all text messages sent and received via the Facebook Messenger app as well as other Facebook activities on the target device.
Messenger and Facebook Spy App Features
With SPY24, you have access to the best Facebook and Messenger spy app feature, allowing you to remotely monitor the Facebook and Messenger usage on your target device. This application works best on Android and iOS devices and includes all multimedia files sent or received to the target devices in its activities. The Facebook and Messenger spy app includes the following features, among others:
Messenger Spy - Facebook Message Spy
Obtain access to every text message sent or received on the target device in a private or group chat. Look through the chat history to find audio and video messages as well.
Notification Spy for Facebook
With SPY24, you can even track the timestamp of notifications that your target user receives on their Facebook and Messenger apps. So, use the Facebook and Messenger spy app to find out who has liked, commented, sent a friend request, and more on the Facebook account of the target user.
On their Facebook account, the target user's posts are all accessible to you. Keep tabs on all Facebook activities as well, including sharing comments and posts. Even the target device's news feeds and notification information can be tracked.
How does the spy app for Facebook and Messenger operate?
You can easily monitor the Facebook activity of your target device while it is in stealth mode with SPY24. Create an account on SPY24 by logging in to do so. Install the app on the target device after selecting a subscription package. then take the actions listed below:
Enter valid login information to access your SPY24 account.
Choose the Social Media option from the selection panel on the left side of your dashboard.
Select Facebook or Messenger from the menu now.
Additionally, you can see the precise time of their conversation as well as any multimedia that was exchanged. The GPS tracking feature can also be used to determine when and where the target was accessing Facebook. The person's precise information, including name, profile photo, and phone number, is also made available by SPY24.
Why do we need a spy app for Facebook and Messenger? Parents Can Benefit From Facebook and Messenger Spying
With more than 1.69 billion active users sharing some information and responding to other users' information shares, Facebook is one of the most widely used social media platforms. Additionally, they use Facebook Messenger to talk on the phone or have chats with one another. Since it is quite simple to use, a lot of people use it.
Risk also comes with the extensive use of this platform. This app may greatly divert your child or employee, which may in turn cause them to encounter risky situations. Your child might use the application a lot and fail to complete the intended task.
Even if they delete the messages, you can log into your SPY24 account and see every conversation your spouse has with other users. You can detect your spouse's infidelity in this way.
Additionally, your employee might divulge some of the private information to some outside parties, which would spell doom for the company. Therefore, the Facebook and Messenger Spy by SPY24 will assist you in keeping tabs on all of these activities and averting any undesirable outcomes.
You will be aware of the kinds of data the employee exchanges with company-owned gadgets. You'll also be able to tell if they're using Facebook unnecessarily during work hours, which is impairing their ability to complete the task that has been given to them.
What can the Facebook and Messenger Spy App be used for?
Once on your child's, spouse's, or employee's (company-owned) device using Facebook, you can then carry out the following actions:
secretly monitor their device without telling them
Receive access to their Messenger chats
Track every Facebook activity, such as every call, every piece of media shared thus far, and many others.
Remotely access your dashboard and get all the data.
Find out where Facebook was used while tracking the GPS location.
Do I have to jailbreak or root the device in question?
No, you do not need to jailbreak or root the target device when using SPY24. With just a few clicks, you can remotely access all of the data, and both Android and iOS devices are fully compatible.