View Apps Monitored Android and iOS Devices
Do you know that your kids could be hiding apps on their phones that might not be good for their age or health in a secret vault? With SPY24, you can look at the list of apps on the cell phones and tablets of your kids or employees to make sure they aren't using their phones too much.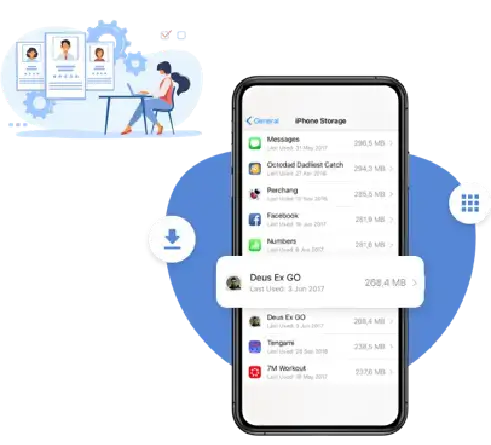 How to Remotely View Installed Apps On Monitored Android And iOS Devices?
Find out how SPY24 lets you remotely view apps installed on monitored Android and iOS devices.
View Installed Apps - Phone Monitoring
Detailed Call Logs for your iPhone, Android, mobile and cell phone, including time, duration, number of calls made and phone number or contact's name. Works with all smartphones and providers, like: T-mobile, Sprint, Verizon, Boost mobile, etc.
PHONE CALLS & CONTACTS

Remotely access call recordings, incoming/outgoing/missed or rejected calls and contacts on target device.

SOCIAL APPS

Track conversations, shared attachments and more activities on social apps like WhatsApp, Facebook, Snapchat, etc.

CREENTIME & APPLICATION

Get screen time reports and know all installed applications on target device to block harmful apps or games for kids.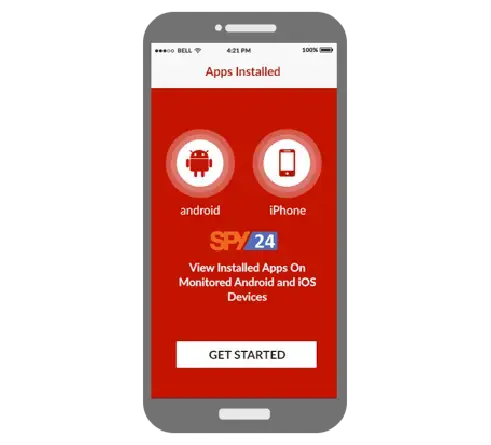 Why do you need to monitor your kids' installed apps using SPY24?
Most adults think their kids tell everyone about everything they do online. But a McAfee study found that 70% of kids (teenagers) hide what they do online from their parents. If kids are keeping something from their parents, that's not good for their relationship with them. Many kids hide adult apps that could be very dangerous for them on their phones. With SPY24, you can not only see all the apps that are installed but also everything that is done with those apps. Your employees could also be hiding apps that they are not allowed to use on the company phones you give them. Many apps don't have very good security, and installing them on a device could leave it open to attacks from the outside. Using SPY24, you can keep your valuable business information safe from different types of digital theft by making it impossible for people to use them at work. Track Apps Installed To keep kids from being influenced by inappropriate apps, stop smartphone addiction, and help them get more focused, SPY24 can not only track installed apps and monitor how often they are used, but it can also set time limits or downtime for apps and even block them.
Track Installed Applications List
Spy and Monitor the Applications That Are Already Installed on the Smartphone You Are Targeting: You can monitor the logs of installed applications and spy on virtually any mobile device in a matter of minutes. It is possible to obtain a list of applications that have already been installed on the target device. You are able to view the total number of apps stored on the mobile phone device, and you are also able to classify the apps that have been installed on the device into various categories, such as social media, online gaming, VPNs, and many more. Users are able to make assumptions about the types of applications that the target individual prefers to put on their mobile device. It is possible to View Applications That Have Been Installed on the Phone! With just a few clicks, the SPY24 spy software enables you to monitor, organize, and obtain a list of the applications that are installed on any android phone. You will be able to view the list of applications on the phone after installing the spy software on the phone you want to monitor. Spy on android and remotely monitor the applications that have been installed: Concerns have been raised by parents regarding their children's use of the internet. They want to have full control over every social media and dating app installed on their Android phone. The dashboard of mobile device monitoring software can provide you with a comprehensive list of all applications currently installed on the target device. Continue to check the list to determine whether or not your child is using any potentially harmful applications.
You can set SPY24 monitoring preferences using its dashboard
Parents and employers can choose how much monitoring they want to do with Android spying software. The parental control and employee monitoring solution give you the option to monitor the target phone, and you can sync the data from the target phone to your dashboard. You can change the settings for tracking where the phone is, recording phone calls, and spying on social media.

With the SPY24 spy app for Android, you can choose how you want to be watched.
An Android tracking app is a tool that lets you choose how you want to monitor the target device and how you want to upload the data from the target device. You can access the settings and change the data upload settings by going to the web control panel of the mobile surveillance software. It lets you change the settings for the app, how it syncs, and, last but not least, how it tracks your location.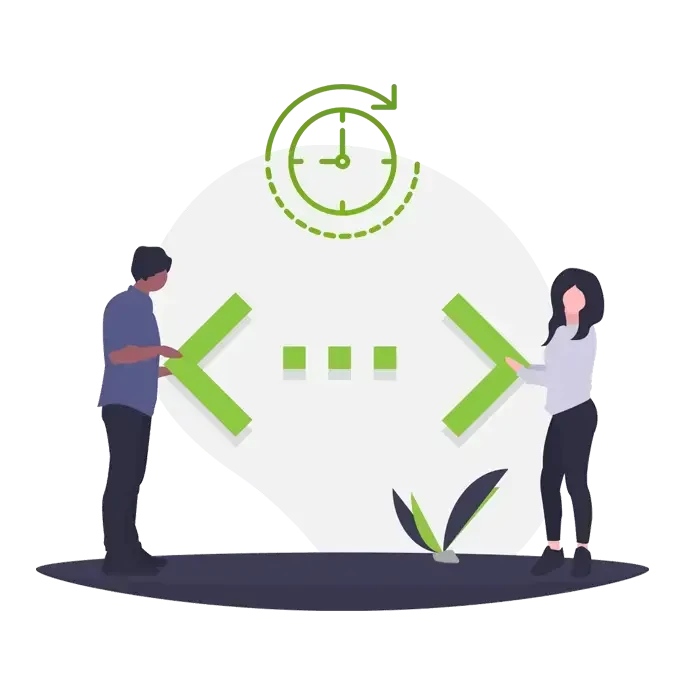 Frequently Asked Questions - rack Installed Applications List
Can I View The Entire Installed Apps List From The Monitored Device Using SPY24's Installed App Monitoring Software?

With SPY24, you can view all the apps that are installed on the monitored device, including stock and third-party apps.

I Think My Child Is Using A Vault To Hide Apps, What Can I Do?

With SPY24, you can view all the apps installed on the cell phone or tablet of your child. Not only you can view the hidden installed apps but also the vault that your child would be using to hide those apps.

Which Devices Are Compatible With SPY24 Installed App Monitoring Software?

Using SPY24, you can view the installed apps list on both Android and iOS devices of your children or employees. However, make sure that the target Android device is running Gingerbread 2.3 or above, and the target iOS device is running iOS 6.0 or above. We would encourage you to visit SPY24's Compatibility Page to avoid any hardware or software-related discrepancies.

What Are The Prerequisites To View Installed Apps From A Device Using SPY24?

To remotely view the apps installed on a cell phone or tablet, make sure that SPY24 is installed and running successfully on the device you wish to monitor. You will also need a working internet connection on the monitored device for the app to upload data to your SPY24 web account.

How Can I Access The Installed Apps List From A Monitored Device Via SPY24?

To view the installed apps list via SPY24, go to "Dashboard" on your SPY24 web account, and look for the "Installed Apps" tab. Click on it to view all the apps installed on the monitored device.

Which app shows phone apps best?

SPY24 is the best web app. It offers cell phone monitoring and app viewing on the target device. Phone tracking software is affordable and reliable. You can use it to see dating apps, social media, online gaming, and gambling on a mobile device.

How does SPY24 view install apps?

SPY24 has several features for viewing a device's installed apps. On the target phone, it's hidden. Users can view and monitor phone apps without the target's knowledge. Apps include social messaging, dating, porn, anti-virus, and live broadcasting.

Did android install apps?

You can monitor apps on Android phones running 4.4.0 to 11.0. Android monitoring software can spy on app lists. It lists installed apps on any android phone.

Can phone apps be viewed recently?

Yes. SPY24 is the best phone monitoring app to see recently installed apps. You can install the app on the target device and use an online dashboard to monitor and view the installed apps list.

How do I view installed IM apps?

SPY24 lets you view every instant messenger on a target phone. Users can see installed apps like Skype, Facebook, Snapchat, Line, Viber, WhatsApp, and more.
What is SPY24 Installed App monitoring?
With SPY24, you can remotely check all the apps that have been installed on the target phones or tablets of your employees and children. SPY24 lets you: Check all apps installed on the target device. View details like app version and download date.
SPY24 Installed application list tracking designed for:
For Parental perspective: Digital parenting is as important to traditional parenting in a current scenario where children are tech-savvy and have become obsessed with the digital world. In a situation like this, parents can use SPY24 android tracking software to monitor the installed application list on teen's phones and tablets remotely.
It empowers parents to prevent teens to use apps like dating apps, social messaging apps that could lead teens towards strangers and blind hookups. Parents can get to know about all the installed applications on teen's phones.
For Business perspective: The use of malicious and disapproved applications by the Google play store on the company's digital devices could harm your devices and well as the confidential data stored on devices. Moreover, installations of entertaining, social, and online shopping applications enable employees to waste too much time in working hours.
Paige
w.s

Adam
s.s
andre
n.n
Three Ways to Track Installed Apps on iPhone and Android Devices | Phone Track| Phone Monitoring
This article shows you how to track installed apps on iPhone or Android devices. You can easily know what apps has installed on the target devices and block those you don't wish someone to use.
You Can Totally Rely on SPY24 – We've Got Your Back
SPY24 won't leave you alone with your subscription, because for us, your satisfaction is on top of everything else, and with that, we promise to deliver only the best mobile spying app experience that you will never have like it again!
100% Secure Satisfaction Guaranteed

24/7 Live Chat

Stealth Mode 100% Invisible