SPY24 Android Spy App Free
Discover the Top-Rated Android Spy App for Phone Monitoring and Parental Control.
Which Is the Best Monitoring App for Android Free? Are you in need of a monitoring solution for your employees or children? An Android spy app such as SPY24 might be the answer you're looking for it. With SPY24, you can keep track of all the activity on an Android device and ensure that your loved ones or employees are safe and productive.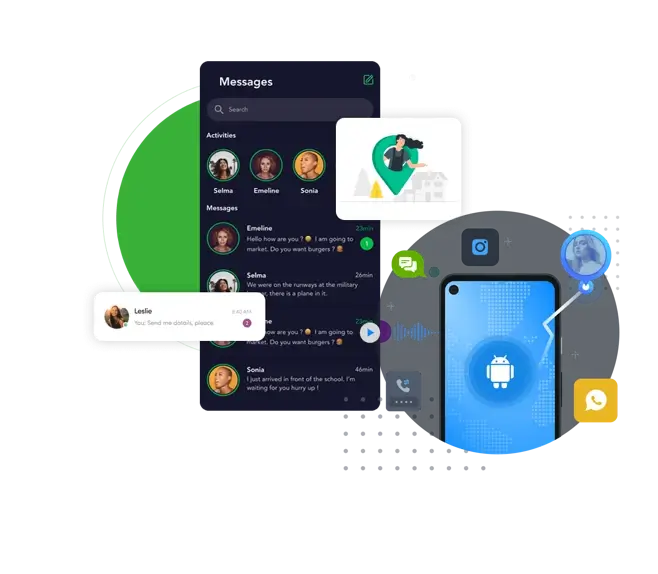 More Than 185 Android Spying Features
SPY24 is compatible with all Android devices, including Samsung, LG, ZTE, OnePlus, Oppo, etc. It also offers different pricing plans to suit different needs; when compared to other popular Android spy apps on the market, SPY24 stands out for its advanced feature set and compatibility with a wide range of Android devices. It can be considered for various purposes, such as monitoring employee activity, keeping track of a child's phone usage, or even recovering a lost or stolen device.
Live Screen Recordings

Camera screen recorder records live activities on your phone's camera for future viewing.

DeviceInfo Model

DeviceInfo model provides information about the target device's WiFi, battery, and GPS status

Call Recording

Record all calls with Mobile Tracker Free - Incoming and outgoing calls captured with ease.

GPS Position History

lets you locate a mobile phone and have a history of GPS positions.

Real-time tracking

SPY24 lets you track the position of the phone live

View photos and images

View all photos and images on a phone with ease using this application.

SMS/MMS

This feature lets you read all incoming and outgoing SMS messages, even if one deleted them. You can Spy Old SMS Messages, read all the text messages your target gets/sends.

Blocking calls

Block calls from unwanted numbers with the ability to manage all blockages from a centralized dashboard.

GPS Locations

Track the position of your target phone with real-time GPS tracking and access to GPS position history.

To take a picture

Take a photo with target phone's front or back camera, including flash if needed, and view it from the central dashboard.

Audio recording

Record ambient sound of phone for 1-20 minutes with a single click, and download/listen to the audio file using VLC.

Remote control

You can even adjust how cell phone spy software for pc works according to the way you want remotely without touching target phone.

SMS Command

Control the target phone remotely by sending an SMS with a password and desired action from another phone to monitor the phone's number.You must send an SMS including the SMS password and the action from another phone to the number of the monitored phone.

Remote Uninstall

You can easily remove cell phone spy software undetectable from target phone via your secure online account without touching the phone.

File-Explorer

Access and backup media files, including Facebook and WhatsApp images/videos, with the remote file download feature

Auto Answer ( Spy Call )

Activate microphone on target Android from far away and listen all sounds of Android surrounding enviroment.
Monitor Instant Messenger Chats on Android, Instantaneously!
In today's digital age, instant messaging apps have become integral to our lives. However, with the rise of instant messaging apps, the need for monitoring them has also increased. With the SPY24 Android monitoring app, you can monitor call logs, chats, and multimedia from 8 different instant messaging apps on all Android devices
Exclusive Android Spy App Features
SPY24 is a cell phone spy software which allows you to track your phone in real time.They have evolved from essential monitoring tools that only track calls and texts to comprehensive monitoring solutions that offer a wealth of features to help you keep tabs on your child's or employee's activities. In this part, we'll explore the top Android spy apps and the exclusive features they offer to help you make an informed decision.
Why Is SPY24 The Best Hidden Spy App For Android?
SPY24 is the Best hidden spy app for android because of this several reasons that we mention: The first thing would be, Compatibility; SPY24 is compatible with all Android devices, making it a versatile option for those who need to monitor multiple devices. SPY24 uses advanced technology to provide the best monitoring and surveillance experience, making it stand out from the competition.
How Do I Read My Android Spy App Data?
An android spy app is a powerful tool that allows you to monitor the activity of a target device. The app captures encrypted data and sends it to a secure web portal, where you can access it with a web browser or our unique mobile app.
Why SPY24 - The World's Most Powerful Cell Phone Spy Software?
SPY24 app with features like reading text messages content, navigation phone, tracking Viber chats, WhatsApp messages, spy calls,... Will bring you useful information, from the object quickly you're managing. You do not need to take too much time and money to hire detectives to track a long time.
Want to know what they are up to on their phone?
SPY24 is the most powerful Mobile Phone Spy Cheap Software that lets you monitor almost Android. its exact GPS location instantly which can be viewed by logging in to your account from any cell phone/computer / iPad in the world within minutes and It starts uploading the tracked cell phone's usage information. It is very easy to install on the cell phone you want to spy on. This application is completely hidden and undetectable and 30 Days is a FREE trial.
Android Location tracking & Geo-fencing
Don't compromise on your children's safety with slow and groggy Android tracking apps-SPY24 provides real-time Android spying so that you are on the top of your parenting, every time.
REAL-TIME LOCATION TRACKING

SPY24 tracks and automatically records the footprints of your monitored kids and employees as soon as they make a move. It's real time so you won't be lost while tracking them-that's the real power of this Android tracking app!

>

GEO-FENCING

For some added offline safety, use our geo-fencing feature and keep tabs on your kids and employees geographically. You can mark safe and unsafe locations on the map and get instant alerts for any trespassing right away with SPY24's Watchlist Alerts-works even with Android P devices!
SPY24 Remote Control
Are you tired of constantly losing control of your devices? Look no further than SPY24 Remote Control. Our state-of-the-art technology allows you to access and control your devices easily.
Call & Ambient Recording

SPY24 Android app records calls & intercepts surroundings with one-click microphone access for effortless monitoring

Remote Phone locking

Remote phone lock is a feature that allows you to lock your children's Android cell phone or tablet from a remote location.

Remote Data Wipe

Losing a cell phone can be a scarring experience. As a parent, it's your responsibility to ensure your children's data is protected, even if their device is lost or stolen. That's where remote data wipe comes in.

Audio Recording

Easily record ambient sound on the phone with a single click. Choose to record for 1 to 20 minutes and download the audio file to listen to it using VLC.

Command

Get complete control of your target phone from a distance with my Command SMS remote control. Send an SMS with the password and desired action to the monitored phone, and have the power to make it ring, enable WiFi, retrieve location coordinates, or even block the phone.

Capture Remote Screenshots

Easily take screenshots of the monitored Android phones and tablets of your children or employees to gain a more comprehensive understanding of their mobile device usage.
FAQs
How SPY24 Makes Android Monitoring Easy?

SPY24 makes Android monitoring easy by offering a user-friendly interface and a wide range of features. The app is easy to download, install and set up on the target Android device. Once installed, you can log in to your account using any web browser to access the collected data in real-time. The interface is intuitive and easy to navigate, allowing you to view all the data in one place.

How long does it take to install the SPY24 Android Monitoring app?

Installing the SPY24 Android monitoring app typically takes only a few minutes. The process involves: Downloading the app from the official website. Installing it on the target Android device. Configuring its settings.

How to spy on an Android device remotely from anywhere?

To spy on an Android device remotely from anywhere, you must use a remote monitoring app such as SPY24.

What are Android devices compatible with SPY24?

SPY24 Android spy app is compatible with most Android devices running Android 4.0 and higher. This includes smartphones and tablets made by various manufacturers such as Samsung, LG, Google, Huawei, Motorola, etc.

How can I browse text messages from the target android Phone?

In your account, navigate to the Text Messages or SMS section, where you can see all the incoming and outgoing text messages from the target device, along with the date and time stamp, the contact name and phone number, and the content of the message.

How to Spy on WhatsApp Messages on Android?

In your account, navigate to the WhatsApp section, where you can see all the incoming and outgoing WhatsApp messages from the target device, along with the date and time stamp, the contact name and phone number, and the content of the message.

Does SPY24 work with unrooted Android devices?

Yes, unlike many other apps, SPY24 works with both rooted and unrooted devices.

How is SPY24 Android spy better than other Android Spy Free apps available?

the SPY24 Android spy app is considered to be better than other free Android spy apps available because it offers a wider range of features and capabilities, is known for its reliability and accuracy, is easy to use, and offers a variety of subscription plans.

How can you know whether your Android phone is being spied on?

There are several signs that your Android phone may be being monitored or tracked without you become notice: If you notice an increased battery usage, it could be due to a spy app running in the background and using your phone's resources. Another thing is If you hear background noise while on a call, it could indicate that your phone's microphone is being accessed without you become notice.

Can you snoop on an Android phone legally?

Generally, it is recommended only to monitor a phone with the owner's informed consent and follow the law. If you are looking to monitor your phone or a phone belonging to someone you are responsible for, such as a minor child, it is still essential to ensure that you are doing so legally and ethically.

Does SPY24 work with Android 13 devices?

Yes, our app works with all Android 4.4 and 10,11,12,13.0 devices. Please refer to our compatibility page for more info.

How do you use SPY24 remotely on an Android phone?

Purchase and install the SPY24 app on the target Android device. You can find more information and instructions on how to do this on the official SPY24 website you should Create an account with SPY24 and log in to your web dashboard. This is where you will access all of the monitoring information collected by the app.

Is there a free SPY24 app on Android?

Yes,This application is completely hidden and undetectable and 30 Days is a Free trial.

How long does the SPY24 Android Monitoring software installation take?

Typically, installing SPY24 Android monitoring software should take just a few minutes. Download the app to your computer or directly to the target Android device.

Which mobile device manufacturers work with the Android screen surveillance app SPY24?

The SPY24 Android monitoring app is compatible with devices manufactured by various companies, including: Samsung, Google, HTC, LG, Motorola, Huawei and Xiaomi.

How can my Android phone be tracked?

An Android phone is simple to trace. Simply turn on Find My Phone on your cellphone to complete the process. Check out this excellent response from Google support.

Using SPY24 remotely on an Android phone?

Remotely watching Android phones is really simple. All you need to get started is the Android surveillance app SPY24. Once installed, you can monitor a device entirely from your web account without ever having to touch it.

What requirements must be met to utilize the SPY24 Android tracker?

The requirements for utilizing SPY24 are the same as those for any other Android surveillance app. You'll need to have one-time access to the Android target device. To track that Android phone, you must download and set up SPY24. And that's it. Once the software is up and running, you may use your web account to navigate through the phone logs of the monitored device.

How do you handle returns?

The specifics of our 10-day refund policy are explicitly outlined on our refund page.

Is SPY24 Android spy visible on the monitored device?

Our stealth mode provides a 100 percent non-intrusive Android spying solution so that you are always on the top of your monitoring experience, because we believe the less-nudging an app, the better it is!

How can Android be spied on remotely from any location?

All you need to do is install our SPY24 Android spy app once on the target device to remotely control activity on Android phones.

Is it possible to hack someone's Android phone via SPY24?

SPY24 is not a hacking tool; it's a monitoring tool that has to be used with the legal consent of the other party.

Does SPY24 provide Android tablet monitoring software?

Our software monitors Android phones and tablets. Android 4.0 or above tablets may download the SPY24 concealed tracking software. All applications run without scaling, UI, or functionality difficulties since the Android OS is comparable or the same on all devices.
How SPY24 Protects your beloved people and your business assets in 3 steps
You can download the parental control software for iPhone spy and Android spy PC - MAC through the following links.
Subscribe to SPY24:

Choose your mobile monitoring subscription plan and the payment option that meets your needs.

Download and Install SPY24:

By going through our emailed instructions step by step, you can easily Download and install the SPY24 application on your desired device.

Go Monitoring:

It only takes a few minutes to get started with the SPY24 application. Finish the last step of setting the application up by logging in to your SPY24 dashboard using the provided account information.
More Reasons to Choose SPY24 Android Spying Application
SPY24 is the only Android spy software that you need for a fast, responsive and accurate Android tracking experience. Our app is minimalist and easy to use, while equipped with top-notch spying features that are hard to beat.
LISTEN TO PHONE CALLS

Listen live to phone calls with Android Spyphone, receive secret SMS alerts & join the call from pre-defined number.

AMBIENT RECORDING

Remotely record phone surroundings with Android Spyphone, set ambient recording to immediate or scheduled. Uploads to web account for anytime access.

PHONE CALLS RECORDING

Live Call Recording: Android Spy Software records phone calls in hidden sound files and uploads these files to your web account. You can listen or download recorded files anytime. You can choose all or specific phone numbers to be recorded automatically.

AMBIENT LISTENING

Listen To your Surroundings. Hear what's happening around the phone. Remotely open target phone's microphone to listen to the phone's surroundings. Use the target phone as a bugging device. Listen to conversations in the room, etc. Hear what's happening! (not changed, just yellow part changed)

MONITOR CHAT APPS

Spy on Chat Apps Spy on over 16 popular Android messaging apps, including WhatsApp, Snapchat, Facebook Messenger, Viber, Skype, Hangouts, Tinder, and many more. See chats in both ways including the stickers, status, profiles, pictures, locations, and emoticons.

TRACK SMS

This Android spy app allows you to monitor all text messages sent or received on an Android device, including those that have been deleted. You can view essential details such as the names and numbers of the contacts involved, as well as the date and time the messages were sent."

LISTEN VOIP CALLS

With this Android phone tracker, you can record all VOIP calls, including their call log details. The software supports recording VoIP calls made through popular platforms such as Skype, Facebook, Viber, LINE, and WhatsApp. You can easily access and listen to or download these recordings at any time through your SPY24 web account.

MONITOR EMAILS

This Android cell phone spy tool enables you to monitor all email messages sent or received on an Android device. The email tracker captures all email communications and displays the contact name (if available in the phone's address book) alongside the email address. Note: Root access is required to use this feature

SPY CAMERA

With this Android cell phone tracker, you can remotely activate the device's camera and take pictures. You can also remotely turn on the front and back cameras to capture photos, which will be immediately uploaded to your web portal for viewing

SPY ON PHOTOS

View Media Files Android spy software allows you to access all media files on their Android phone remotely. Get all images they take or that are already on their Android phone. Hear all audio and voice memos. Even if they delete media files, you will still have a copy on your web account.

GPS TRACKING

This Android spy tracker gives you the ability to remotely access all media files stored on an Android device. You can view all photos taken or already on the device, as well as listen to audio and voice memos. Even if the target user deletes these media files, you will still have a copy available in your web account.

KEYSTROKE RECORDER

Android Keylogger See everything that's being typed. Android keylogger lets you see everything that's typed on the phone's keyboard. Discover search terms, notes, passwords and more. Captured keystrokes automatically upload to your web account to view and download.
SPY24 Android Phone Tracker
If you're looking for the best monitoring app for Android free, SPY24 is a perfect choice. With this app, you can keep track of your child's or employee's activities 24/7, without having to worry about them getting away with anything. SPY24 is a reliable and easy-to-use monitoring app that will allow you to rest easy knowing that your loved ones are safe. Try it today!
What Are the Best Android Phone Tracker Apps?
When it comes to keeping your family safe or monitoring employee activity, you want to be sure you have the best Android phone tracker app out there. With so many options available, it can be difficult to decide which one is right for you. In this blog post, we'll discuss the various features and benefits of SPY24 – the leading Android phone tracker app on the market.
What Does SPY24 Do?
SPY24 is a comprehensive monitoring solution that allows you to track every aspect of your target's device usage. It allows you to remotely view text messages, call logs, emails, and more in real-time from any internet-connected device. You can also set restrictions on your target's device such as blocking websites or applications that are not appropriate for their age or job role. As an added bonus, SPY24 also includes a geolocation feature that will allow you to track your target's location in real-time so you always know where they are.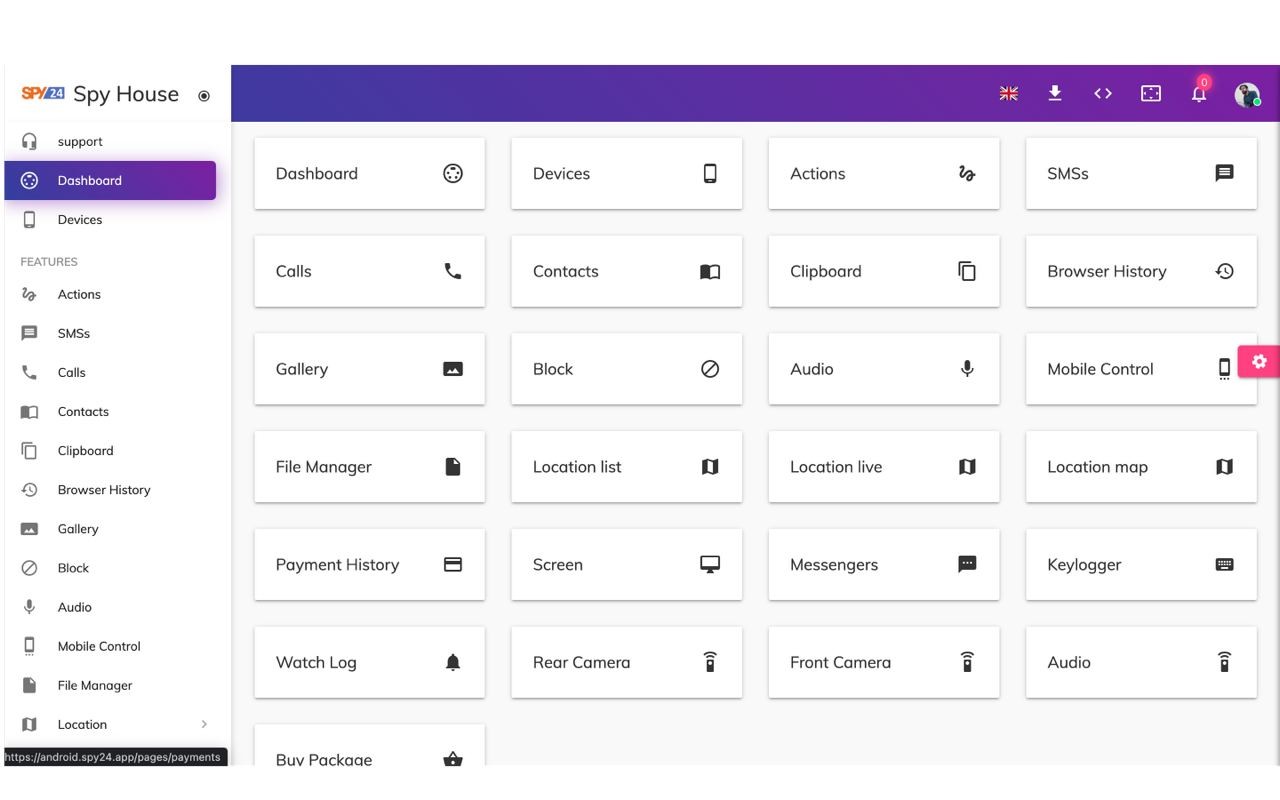 Why Is SPY24 The Best?
In addition to its comprehensive suite of features and benefits, what makes SPY24 stand out from other tracking apps is its intuitive user interface. The dashboard is easy to navigate and provides clear visuals on all activities taking place on the target device such as text messages sent/received, calls made/received, websites visited, and more. This makes it easy for anyone – even those with no technical experience – to monitor their targets with ease. Another great feature of this app is that it is completely undetectable and can only be accessed by a unique PIN code known only by the user who installs it on their target device. This ensures complete privacy for everyone involved in the monitoring process.
Best Of All…It's Free!
This top-rated Android phone tracker app comes with a host of features and benefits at no cost whatsoever! That means there are no hidden fees or subscription costs associated with using SPY24; all you need is an active internet connection and you're good to go! Plus, since there's no downloading or installation required – just log in remotely via any web browser – setup takes less than 5 minutes!
FAQ
What Makes SPY24 Different From Other Apps?
SPY24 is incredibly user-friendly and easy to use. With a simple, great interface, you can access all the features you need quickly and easily. Additionally, SPY24 offers advanced features that you won't find in other apps, such as call recording, GPS tracking, and much more. Finally, SPY24 is a highly reliable and secure tool, with all your data being stored securely on our servers. Get in touch with us to learn more!
Is SPY24 Android App Legal?
We appreciate your concern about the legality of using the SPY24 Android Spying Application. We understand that privacy is important, so we take it very seriously. SPY24 is designed to be used only in accordance with the law, and we highly recommend you consult your local laws before using SPY24. In general, however, SPY24 is legal to use if you own the device you are monitoring or have the owner's permission. Contact us today to learn more about the legality of using SPY24!
How can I purchase SPY24 Android Tracking App?
We're glad you're interested in purchasing SPY24 Android Tracking App! You can purchase SPY24 online through our website, with various pricing plans available to suit your needs. Our team of experts is always available to answer any questions you have about purchasing SPY24. Contact us today to start using the most advanced mobile monitoring and valuable app on the market!
How can my Android phone be tracked?
Before I tell you several ways to track your phone, you can easily track your phone by using the SPY24 app, but If you wanna do other stuff, you can try these things:
GPS: Most modern Android phones have GPS capabilities, which allow the device to be tracked in real-time. GPS can be turned on or off in the phone's settings and is used by various apps, including maps and navigation apps, to provide location-based services.
Wi-Fi: Wi-Fi can also be used to track an Android phone as long as it is connected to a Wi-Fi network. Wi-Fi triangulation uses the signal strength from multiple Wi-Fi access points to determine a device's location.
Conclusion: Monitoring activity on your Android devices has never been easier thanks to SPY24—the best Android phone tracker app out there today! From tracking text messages and emails sent/received, call logs made/received, websites visited, and more—this comprehensive monitoring solution has everything you need at absolutely no cost whatsoever! Plus, with an intuitive user interface and complete privacy assurance through undetectable monitoring capabilities—it's hard not to choose this as your go-to tracking solution! Sign up today for free and start monitoring your targets right away!