SPY24 Viber Spy App—Spy On Viber Calls, Messages & Multimedia
If you are like most parents, you want to keep your children safe and protected from harm. One of the best ways to do this is to monitor their activities online and make sure they are only talking to people they know. While there are a number of different ways to do this, one of the easiest is to install a spy app on their phone. Viber is a popular chat app that many kids use, so it's important to be able to track their conversations. A Viber spy app can help you do just that.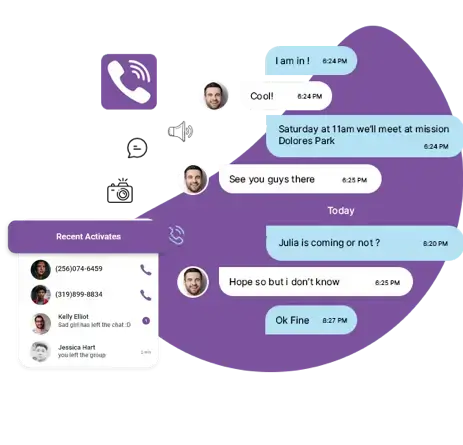 How to Monitor Viber On Android & iOS Devices Via SPY24?
Watch a tutorial to learn how SPY24 not just monitors Viber chats and group chats but also all shared photos on the target device.
Tracking and Monitoring Chats on Viber for Android and iPhone
Looking for Viber spy software? SPY24 will monitor viber messages remotely and track everything what is going on. Try SPY24 right now!
Viber Tracker

Monitor your child's Viber activity with SPY24 to protect them from dangerous or unwanted interactions. Viber is a chatting app that allows users to call, chat and exchange multimedia. Like other chat hubs, Viber is a perfect place for bullies and predators to lure kids into the trap.

Monitor Viber texts

Read all sent and received messages on Viber. Even if a message is deleted, you will still have access to it on your personalized Control Panel.

View Viber calls details

You can easily track the date, time and duration of every call sent or received on Viber. Also, there is a blocking feature for restricting unwanted phone numbers.

View group messaging session logs

Get access to group conversations and prevent troublesome behavior before it starts

Access tracked data

Track the target device data remotely at any convenient time. Just log in to your Control Panel to have access to everything you want to check.

Viber Tracker App

Mobile Tracker lets you track incoming and outgoing messages from Viber messaging. View all messages received and sent from different conversations View the details of each message with its date, type, recipient
What is SPY24 Viber Tracking?
With SPY24, you can remotely monitor Viber messages, calls and multimedia files your children or employees send and receive on their phones or tablets. Below are the things SPY24 can help you to do: Track Viber calls logs. Monitor Viber messages. View all photos with Viber photo tagging. Check the sender's name and number. View time and date stamps. Remotely Monitor Viber Messages Chat Users can keep track of all Viber activities, including chats and message logs with timestamps. It provides instant spy results for all activities without requiring the targeted devices to be removed. End-users can remotely track all messages sent or received and learn about conversations. With the help of the SPY24 App : With the best monitoring software available, you can remotely track the Viber messenger app. Users can track the Viber text, chat logs, and learn everything they can about the targeted person. SPY24 is a fantastic app that allows all interested users to track their performance.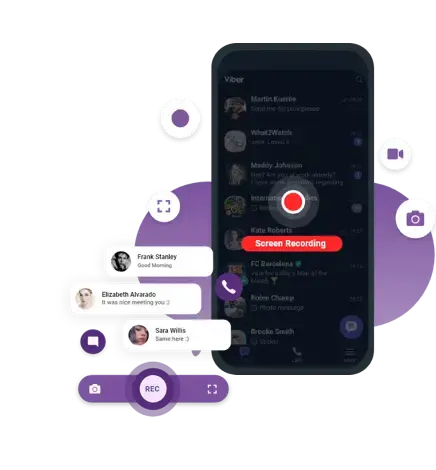 Remotely record and monitor the Viber IM screen with Viber Screen Recorder.
Viber screen recording allows you to view all Viber messenger activity on the target phone as if you were using it on your phone. Before live Viber screen recording, it was impossible to conduct investigations on instant messengers. It captures several episodes from the phone's screen and saves them to the dashboard archives. Feel free to conduct a thorough analysis and find out what you've been looking for. What exactly is the SPY24 Viber Screen Recorder Software? The SPY24 Viber screen recording is a cell phone monitoring application. It can record short videos on the target phone's screen and send them to the SPY24 electronic portal. Viber chats, messages, shared photos, videos, voice messages, and activity, such as Viber VoIP calls, can all be monitored by users. On instant messaging apps like Viber messenger, users can see what the target person is doing. Viber video screen recorder can secretly record activity on any cell phone device.
The No. 1 Viber Spy Tool for a Reason!
What can you do with the Viber Tracker app?

In the last few years, social media has become popular. So, a lot of people use Viber, which can be dangerous in a number of ways. With the SPY24 Viber tracker app, you can keep an eye on someone you care about from afar. It lets you see the timestamps for all of your Viber activities, instant messages, and logs.

Keep kids from talking to people they don't want to and keep company data safe.

Are you worried about what your child does online? Do you want to keep business data? So, you can protect your kids and your business from any online danger. You can keep an eye on a loved one who is using a digital device by using remote monitoring.

How can you record your screen on Viber Messenger?

SPY24 is spy software that works on phones and has features like a screen recorder. It can be used on target cell phones that have social messaging apps like Viber installed. It will get the job done for you quickly.

How is software that lets you record your Viber screen helpful?

Parents are worried about the rude, inappropriate, and live-streaming things that kids do on their phones. Employers have to deal with employees who are sneaky and tough. With the Viber Messenger screen recorder, parents and bosses can keep an eye on their devices. So, parents can keep their teens from doing anything bad on the Viber instant messaging service. On the other hand, employers can easily deal with employees who waste their time or break the rules by using social networking apps.

We are the No. 1 Viber Spy app and we have some BIG reasons for that. Our Viber Viber Spy iPhone completely monitors every facet of the Viber app, be it call logs, messages, or photos. Spy Viber on iOSIf you have any jailbroken iOS device with you, you could spy on its Viber app by opting for SPY24's Jailbreak solution for iPhones and iPads. How good is that? Works with Android also! Not just with the iPhone, SPY24 Viber spy apps also work with all old and new Android devices. And just like on iOS, you can spy Viber messages, call logs, and photos.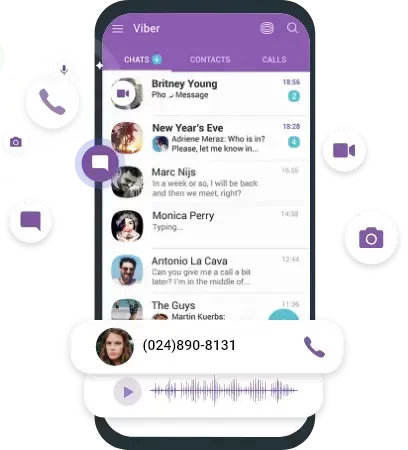 Frequently Asked Questions-Viber Spy
How Can I Spy On Viber Messages And Calls Using SPY24?

With SPY24 Viber spy software, all Viber text messages and call logs will be automatically uploaded to your web account from where you can access them anytime.

Can I spy on Viber without accessing the target device?

You would require a one-time access to the target device to download and install SPY24 on it. Upon successful installation, you can spy on Viber without accessing the target device.

Can I access even those Viber logs that are present on the target device prior to the installation of SPY24?

Any Viber call logs, messages or photos available on the target device prior to the installation of SPY24 will be retrieved and uploaded to your SPY24 web account.

Can I Download The Monitor Viber Calls, Messages And Multimedia To My Computer?

Yes, SPY24 provides you the convenience of exporting all the monitored Viber logs from your SPY24 web account to your personal computer.

Which app best records the Viber screen?

SPY24 is the best Viber screen recorder software, allowing you to record videos from messaging apps like Viber. It secretly records Viber videos and uploads them to a website. Users can watch typed messages, chat conversations, media, and VoIP calls via the dashboard.

Why is SPY24 the best app for recording the Viber screen?

SPY24 is a covert and undetectable cell phone monitoring application. Therefore, it has the most effective tools for recording mobile phone screens containing social messaging applications, such as the Viber messenger app. Users can use the Viber screen recorder on any mobile device to record and save multiple short videos to the dashboard. Live Viber screen recording enables you to monitor the social networking application in real-time.

Can you see Viber texting?

Yes. On a cell phone, you can see if someone is typing in Viber. Viber screen recorder software can be used on a Viber-enabled phone. It lets you record videos on a Viber screen and watches the target person's messages, chats, and more in real time. Viber screen recording software can receive recorded videos. Users can watch videos to see what the target typed on Viber.

Viber notifies when screen-recording?

Yes. Viber alerts users when they record or capture screens. Want to record Viber without notifying the target? Use the SPY24 Viber screen recorder. It records in real-time on the Viber screen without notifying users or sending videos to a dashboard.

Screen recording Viber?

Yes. The SPY24 Viber screen recording app can record conversations, text messages, shared media, voice calls, and voice messages. Viber records all activity. The dashboard lets you record short videos. Downloaded videos can be viewed on a smartphone's screen.

What does the Viber tracking app provide?

Do you wonder with whom your loved one is conversing? Then it would be helpful to have a spying tool that monitors their activities and reveals their chats. Consequently, users can monitor the Viber app by installing the SPY24 app and begin locating their conversations in real-time and understanding what they are discussing with others. This allows you to quickly view their conversation, group chats, and call logs.

Viber spy app for secret monitoring?

Tired of trying to find tracking software that works? You want to remotely track a loved one's Viber conversation. So, avoid useless apps. Choose SPY24 for remote family monitoring.

Can Viber be tracked remotely?

You want to track a social messenger app without the device. A Viber messenger tracker app delivers on its promises. Find out your employee's social media conversations and the child's call details or chats. You must install SPY24 on the target phone.

How to track Viber with SPY24?

Installing software on devices requires three steps. These steps will help you access the machine and monitor the app. First, visit the website for full details. Then subscribe to a Viber monitoring app price bundle. In step 2, you'll get a login email and physical access to the devices. In the final step, you can view spying results on SPY24's dashboard.

How to spy on Viber with the SPY24 application?

When selecting the most effective tracker app for a loved one, you carefully review the installation instructions to safeguard your online activities. With their classified features, SPY24 can indeed track online activity. It is the best option for all worried parents and business-minded employers to monitor the target. SPY24 is not only capable of eavesdropping on conversations. In addition, it provides full access to the specified resource without any technical issues.

Is it necessary for me to root or jailbreak the targeted device?

No, you do not need to root or jailbreak the targeted Android or iOS device in order to use SPY24's Viber spy app feature to track Viber.

Is Viber Spy completely undetectable?

Yes, the Viber Spy app enables you to secretly monitor Viber chat, voice calls, and media files. In iOS and Android devices, it operates in stealth mode.
Why do you need to spy Viber app?
Instant Messaging apps like Viber are safe havens for cyberbullies and online predators for a personal one-on-one interaction.
There are more than 800 million registered Viber users; it could be one of your children too, roaming recklessly, making calls and sending messages to anonymous people.
Parents need to limit their kids' use of instant messaging apps who have made sexting and child pornography a normality.
With employees having an internet-ready, company-owned cell phone, killing time at work gets easier with free calls and text messages.
SPY24 Viber Spy can monitor all text messages and multimedia that's sent or received on the monitored device, ensuring that your employees stay fully-focused during office hours.
With SPY24, you can also take care of the workplace bullying that's eminent with the use of social networking apps by employees.
As a manager, you can avoid the office grapevine by having tabs on all the informal channels of communication, including Viber and other IM apps.
Paige
w.s

Adam
s.s
andre
n.n
Why will you find this feature useful?
Keep up with the latest technologies that change the communication habits of young people. Viber is a popular app that allows users to make phone calls, send text messages and share photos for free. As it becomes more popular among teens, Viber also attracts bullies and online predators. Use SPY24 to monitor your kid`s Viber and other chatting apps to prevent the potential risks and undesired interaction.
You Can Totally Rely on SPY24 – We've Got Your Back
SPY24 won't leave you alone with your subscription, because for us, your satisfaction is on top of everything else, and with that, we promise to deliver only the best mobile spying app experience that you will never have like it again!
100% Secure Satisfaction Guaranteed

24/7 Live Chat

Stealth Mode 100% Invisible
Viber Tracker – See Who They Called & Chatted With
There are a number of different options for spy apps, but one of the best is undoubtedly SPY24.
There are a number of different options for spy apps, but one of the best is undoubtedly SPY24. It allows you to see all conversations taking place on Viber, as well as other data such as contact details, time and date stamps, and even deleted messages! This makes it the perfect choice for parents who want to keep an eye on their kids' activities online. So if you're concerned about what your child is saying in their chats, download SPY24 today!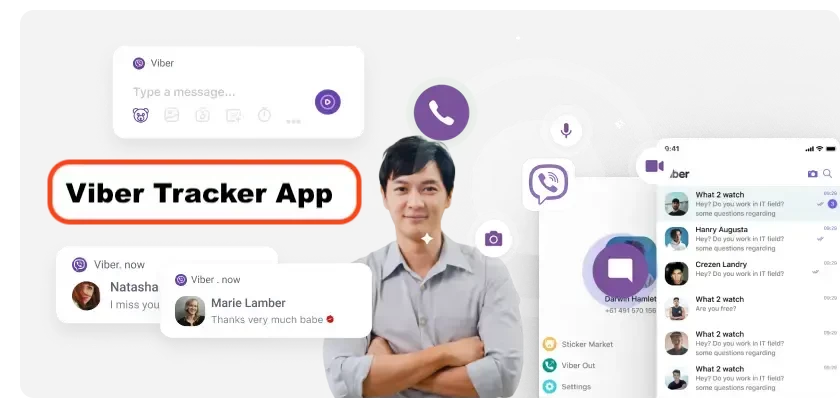 What is Viber Spy App and how does it work
Viber Spy App is a mobile application that allows you to spy on someone's Viber messages without them knowing. It works by secretly logging into the Viber account of the person you want to spy on and then forwarding all their messages to your own account.
The benefits of using a Viber Spy App include being able to read someone's private messages, see who they are talking to, and view any shared photos or videos. You can also use the app to eavesdrop on live conversations or record them for later playback.
Installing a Viber Spy App is simple and only requires having physical access to the target phone for a few minutes. Once installed, the app will remain hidden and undetectable, allowing you to spy on the person's Viber messages without them ever knowing.
For best results, it is important to choose a reputable and reliable Viber Spy App that offers a money-back guarantee in case of any problems. Additionally, make sure to read all the instructions carefully before installation and always keep the app up to date with the latest features and bug fixes.
Finally, here are a few tips for using a Viber Spy App successfully:
1. Choose a reputable and reliable app from a trusted source.
2. Make sure to read all the instructions carefully before installation.
3. Always keep the app up to date with the latest features and bug fixes.
4. Use a money-back guarantee if available.
5. Test the app on your own device first before using it on the target phone.
Viber Tracker is a tracking app that allows you to track the Viber chat history of any user. It works by recording all the incoming and outgoing Viber messages of the user and then sending them to your account. You can also view the photos, videos, and other files shared through Viber on this app.
Benefits of using Viber Tracker:
1. You can track the Viber chat history of any user without their knowledge.
2. It is a very effective way to spy on someone as it records all incoming and outgoing messages.
3. You can also view the photos, videos, and other files shared through Viber with this app.
4. It is very easy to use and does not require any technical knowledge.
5. It is a very affordable tracking app as compared to other similar apps.
How to use Viber Tracker:
1. First, you need to install the app on your phone and create an account.
2. Then, you need to log in to your account and select the user whose Viber chat history you want to track.
3. After that, you will be able to see all the incoming and outgoing messages of the user in your account.
4. You can also view the photos, videos, and other files shared through Viber with this app.
Features of Viber Tracker:
1. It allows you to track the Viber chat history of any user.
2. It records all the incoming and outgoing messages of the user.
3. You can also view the photos, videos, and other files shared through Viber with this app.
4. It is very easy to use and does not require any technical knowledge.
5. It is a very affordable tracking app as compared to other similar apps.
Comparison of Viber Tracker with other tracking apps:
1. Viber Tracker is more affordable than other similar apps.
2. Viber Tracker is more effective in tracking Viber chat history as it records all the incoming and outgoing messages of the user.
3. Viber Tracker also allows you to view the photos, videos, and other files shared through Viber with this app.
4. Viber Tracker is very easy to use and does not require any technical knowledge.
At Last, an Effective Viber Spy App
Are you sick of trying to find a Viber tracker, only to find out that it does everything but lets you track their Viber conversations? Don't feel bad, we can't say we blame you either. A lot of kids these days use Viber to keep in touch with their friends, so it's important for parents to be able to read their conversations and know what their kids are up to. What I hear is good. SPY24 is the best Viber spy app available. It has everything a parent could want in a monitoring system for child safety.
Functions of a Viber Monitoring Program
Examine their Viber conversations.
Curious about their Viber contacts. Then use a Viber spy app, such as SPY24. Once you've logged into your account, you'll have access to all of their Viber chat history. There are timestamps and dates attached to each conversation so you can keep track of when you sent and received messages.
View their call log to find out who has called them.
Do you know that Viber is widely used by teens for voice chat? That's exactly the case. In addition to its widespread use for texting, Viber has also become a popular choice for making phone calls. Because it only requires data and not long-distance minutes, it has replaced regular phone calls for many children all over the world. You can listen in on their phone conversations by installing a Viber tracker. Parents can see who their children are chatting with, how long their conversations last, and how often they have voice chats without actually recording the conversations.
Observe their discussions in small groups.
If you're a parent concerned about cyberbullying, a Viber spy tool can help you keep tabs on your children's group chats. The playground isn't the only place where bullying can occur. At home, people continue the harassment on social media and, frequently, in encrypted messaging services. Find out if they are the target of cyberbullies with SPY24, or if they are participating in cyberbullying themselves.
Viber Spy Without Access to Target Device? Using SPY24 Is A Breeze
What you're thinking is exactly what we expected. Is it even possible to find a Viber spy app? You'd have to get your kid's phone if you wanted to read their Viber messages and see who they called, right? Wrong. All of their Viber conversations can be viewed in one convenient location with a Viber tracking app like SPY24. It's easy to peruse their chats in your Admin Panel. If they've been talking to the wrong people or saying something you don't approve of, you'll find out right away.
A Covert Method for Monitoring Your Spouse's Viber Using a Hidden Monitoring App
In order to monitor your child's whereabouts while using Viber, you'll need to invest in a suitable parental control app. That's why so many Viber-using kids' parents recommend SPY24, one of the most feature-rich monitoring apps available.
This is because spying on Viber conversations is just one aspect of SPY24. It also comes with tracking tools to help you keep tabs on their whereabouts at all times. If they are moving around, you can view a map of their whereabouts in the Settings menu. To get a fuller picture of where they've been and how often they've been there, you can also view the Wi-Fi networks to which they've previously connected.
Things will improve. This Viber spy app allows you to designate safe and unsafe areas. SPY24 will notify you via email or text message if your child goes into or out of a restricted area.
Listen to Their Viber Chats on Any Device
Which operating system does your offspring prefer, iOS or Android? It is irrelevant. When you use a Viber spy app like SPY24, you can access all of their Viber data in one convenient location. However, iOS users should be aware that jailbreaking their devices is required in order to install third-party apps. Rooting your Android device is necessary (again, lots of tutorials are available). We can assist you even if your child's device has not been jailbroken or rooted.
Do they have any supplementary means of communication? There are some SPY24 features that can be accessed without rooting or jailbreaking the target device. WhatsApp and iMessage, for instance, can be used on iOS without jailbreaking the device.
Using a Viber Tracker: A Step-by-Step Guide
Get a subscription to a Viber spy app like SPY24. Before purchasing a subscription, check to see if your device meets the minimum requirements.
You should receive a Viber Tracker Welcome Package in your inbox shortly. Included in this package are your Viber spy credentials as well as access to your Control Panel, where you can view their entire conversation history.
You'll find a beginner's guide to getting started in the materials included in your welcome packet. With the help of the included instructions, you can quickly and easily harness the power of the Viber tracker technology.
Methods for Monitoring Viber Conversations.
The Viber spy app will allow you to read all of the target's Viber text messages, even those that the user has deleted or those that are in their deleted chat history.
Introducing the Viber Spy Function
Viber's end-to-end security system makes it difficult to monitor or eavesdrop on the service because messages and files are sent only between the two people involved in the conversation. However, this is not a problem when using the Viber spy app feature offered by SPY24. Installing this app on the target phone will allow you to keep tabs on all Viber communications made or received by the user. Let's take a look at the specs.
Tracking of Viber Messages and Media
Track all of the target's Viber conversations by installing a Viber spy app on their device (both sent and received). Listen in on chat rooms and intercept Viber messages in secret. Furthermore, keep tabs on the Viber-transferred media. Keep tabs on all the Viber data you send and receive, including voice messages, audio files, video files, and photos.
Hidden Viber Call Recordings
The Viber spy app allows you to listen in on calls made and received through the popular messaging service Viber. Learn exactly who your user is talking to at any given time with this app that gives you access to their call log details along with the time stamp.
See all the Viber alerts the target device has received, including texts, media, and missed calls.
When used properly, how does the Viber Spy App function?
The SPY24 app, available for both iOS and Android, can be used to monitor a target's Viber conversations. When you use SPY24 to spy on Viber, you can monitor everything from calls and texts to Viber chats, contacts, and even shared media files. Viber Spy operates in stealth mode, recording all activity on Viber without alerting the user being monitored. Viber conversations are saved in a folder that can be viewed with SPY24.
The Viber spy app can get anything from Viber, including photos, videos, and audio files. Make sure you have a SPY24 account and log in there. Select a subscription plan, and then download the app onto the desired gadget. The next steps are as follows.
Enter the SPY24 main menu.
Discover the Social Media option in the left-hand menu of your dashboard.
Next, choose the Viber link.
You now have full access to all of their past and present Viber conversations, as well as all of the media they've ever sent, received, or deleted.
This Viber Spy App seems unnecessary. Parents Can Benefit From Viber Spying
Viber's free calling and messaging features are a big part of its success and continue to bring in new users. The app's apparent utility masks the fact that it presents real risks, especially to children. Your children may be using this safety feature, which they shouldn't, to send each other inappropriate content and put themselves in danger.
The location tracking feature that Viber provides its users with allows them to share their location with each other, which can present a problem for the stalker and online predator. The above reasons demonstrate why parents have found it necessary to spy on their children's Viber conversations.
The Viber spy from SPY24 can be used undetected and will provide you with complete access to the target's Viber conversations. By using Viber spy, you can keep an eye on and safeguard your loved ones.
If your partner is cheating on you, they can use Viber to send secret messages and phone each other without you knowing. In order to uncover any suspicious activity on your partner's phone, you will need the Viber spy app to read their secret texts and listen in on their phone calls.
Businesses have a lot to worry about, not the least of which is employees' careless Viber use and the resulting effects on productivity. Employees can use Viber's features, in the same way, to leak sensitive information to outside parties.
The best way to keep workers motivated and on task is with a Viber spy. When you use SPY24, you can see everything that your employees do on Viber. As a result, the Viber spy app will help you to protect your company's interests.
How does the Viber Spy App work, and what can you do with it?
When you allow Viber to monitor a minor's, spouse's, or company-issued device, you'll be able to do the following things:
Using the app's stealth mode, you can monitor your target's mobile devices without them ever suspecting anything is wrong.
Access a record of your Viber calls, both incoming and outgoing.
Maintain a record of all Viber text messages, including those sent and received in private.
Keep tabs on when and how long each text and call was sent or received.
Use Viber to get in touch with them.
Access and download Viber-sent media files