IMO Spy App: Monitor IMO Chat History
IMO is one of the socio apps that is frequently used by the whole world, it's not surprising that like other apps it can be fully tracked too. All messages, media, and voice calls can be tracked on the target device on both android and IOS devices.
How to Monitor IMO On Android & iPhone Via SPY24?
Watch the tutorial and find out how you can monitor IMO chats, call logs and contacts from an Android or iOS device.
Here are some IMO tracking Features on SPY24
Your activity on the SPY24 platform will remain safe.
Benefits for parents

Parental usage Through smart devices, Kids face too much harassment these days, Parents who worry about their kids' activity on their smartphones, consoles, tablets, or computers are our target society case. Easily have an eye on your kid's activity.

Personal usage

Based on a variety of reasons or curiosity you may want to stalk some old friends or your exes. You can view their deleted messages and other activities they're done.

Benefits for Employers

Employers are familiar with social media apps and want to keep an eye on everything their staff members are up to during work-time hours. To prevent wasting hours they are may be forced to use this feature.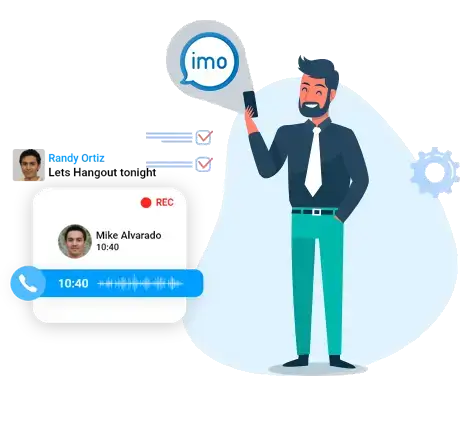 Monitoring IMO by SPY24
As we said all the messages, media, video calls, and even deleted chats on IMO can be tracked by just clicking sign-up. IMO is like WhatsApp messenger and it's popular among all age ranges. Imo features On google play give good usability for readers, here are some: High-quality video and voice call on Android and iPhone. Free and unlimited messages and video and voice calls over 4G or Wi-Fi. Group video calls with friends, family, and others. There are two easy ways to monitor IMO for SPY24 users: use the screen recording feature, which lets users record the whole app screen, take screenshots, and have a look at chats. scroll through conversations and messages. This is a good way for parents to keep an eye on their kids' devices. Click on Live Demo to see more: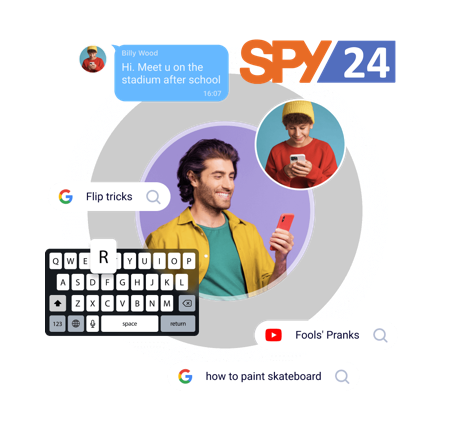 SPY24 IMO Tracking App
The original app will let you access all messaging details in conversations, and each history will send to your dashboard panel without the target device knowing. You will be able to access all contacts' profiles or statuses, also all group chats or secret chats your target person created. Click here to know more:
A General View on SPY24 IMO Tracking App:
A shortcut to reach the IMO profile on the target device via a Google account




By entering a simple google account on any socio app you are able to view much stuff when you log in to an application like IMO you are aware that the app access to many of your personal information like your contacts, gallery, microphone, camera, or anything else that officially noticed to you just before install.

So it is possible to spy on an app like IMO that accepts a google account to sign in. In case you're able to access your target person's Gmail, you can access his/her profile easily.




SPY24 monitoring IMO features let you reach these items:




Access to audio messages, both incoming calls and outgoing calls.

Monitor text messages in private chats and groups.

View the shared IMO videos and photos.

Messages and media files could be stored online in your online panel.

How do I install the IMO voice tracking application on the target smartphone?

Based on your target device you should set different Changes, android devices should be routed to run the SPY24 tracking feature, and IOS devices should be jail-broken to use the tracking feature.

The next step is to install the IMO and SPY24 apps on the target device to link them to each other and finally, you are able to track everything.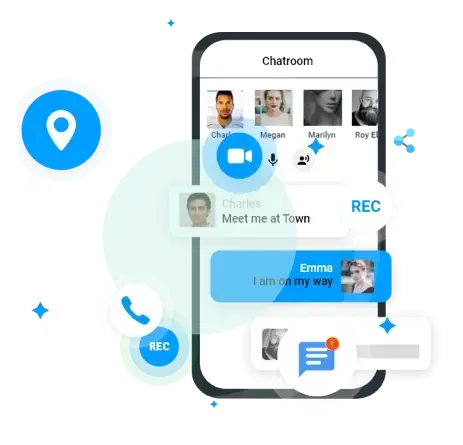 Frequently Asked Questions - IMO Spy
Is it possible to track by Google account?

Yes, it could be done. By knowing the exact Google account and password you can reach mostly any socio-app created by that Google account.

Is it possible to secretly record IMO messages and calls?

Yes, Install SPY24 IMO, You can record one-sided IMO audio and video calls and then save the data to a dashboard panel. Secretly download data and listen to voice calls. You can listen to voice calls on the target phone without them knowing.

is IMO kid's tracking safe?

stalkers and sexual predators are everywhere in socio apps like IMO, SPY24 will make IMO kids safe. SPY24 let you monitor kids' chats, messages, voice, and video calls.

Is it possible to recover deleted IMO messages?

Yes. SPY24 kept the IMO deleted messages after the installation of the SPY24 App, but remember It cannot reach the messages that were deleted before the installation.

Is it possible to track a non-rooted device?

No, features based on SPY24 require rooting and jail-broking on the target device.

How can I monitor IMO messages remotely?

your target device should be rooted. The app requires one-time installation on the device you will to monitor and register with your Gmail and password. Then you can remotely monitor all IMO chats on your dashboard.
Why you should choose SPY24 IMO tracking App?
SPY24 provides you with the most secure and usable platform to control your kid's activity or your personal usage, all data will remain in your online panel, you choose which features you want to be run on your target device and we will let it be run. Anything that threats your benefits under the web should be gone, then you be careful what platform you choose.
You only need one time access to the target device for a simple and short installation It doesn't matter if your target device's imo account is password protected It doesn't matter if a message is deleted. You will receive it before it is deleted You kids and employees will never know their imo account is under control
They may talk to anybody including total strangers and they may share any sort of photos or videos without considering its consequences.In this case a spy tool can help partners to hack imo and put an end to all their doubts.Spy on the entire IMO Chat with sent and received messages with the exact date and time stamps SPY24 provides you with im monitoring features as well many other handy features.
Paige
w.s

Adam
s.s
andre
n.n
Why Choose SPY24 IMO Spy App?
Anything that permits the scoundrels to access your children can be wicked especially if it's an instant messaging app that let the crooks watch and hear your kid in no cost. The probabilities of a predator communicating with your offspring via IMO are higher, so make sure you monitor the activities performed by your kiddo on IMO.
You Can Totally Rely on SPY24 – We've Got Your Back
SPY24 won't leave you alone with your subscription, because for us, your satisfaction is on top of everything else, and with that, we promise to deliver only the best mobile spying app experience that you will never have like it again!
100% Secure Satisfaction Guaranteed

24/7 Live Chat

Stealth Mode 100% Invisible
Monitor IMO chat & messages on Android phones & tablets with IMO spy app
Is your teen dependent on the social media app IMO and spends the majority of their time in video chats and calls? The IMO spying app allows you to remotely access text messages and conversations on a cellphone device as well as voice and video call logs. To safeguard your children from stalking, online bullying, and explicit media sharing on phones, you need to dig out all the rabbit holes on IMO messenger.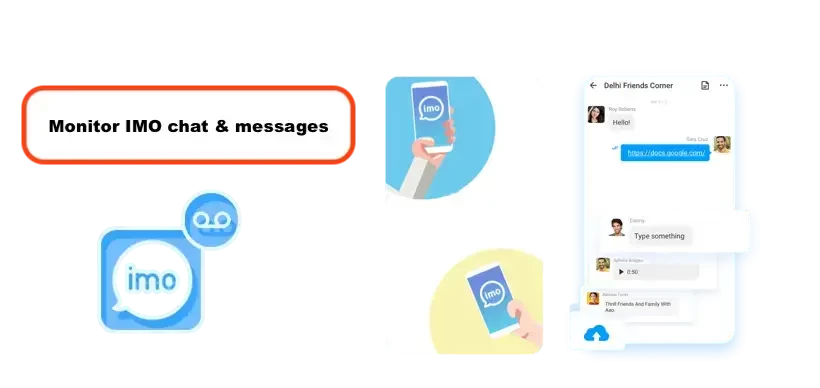 IMO Android spy app to monitor IMO chat and messages
It is a widely used instant messaging app that supports free video calls and chats. It can be used by users for a wide range of free services, including audio and video calls, messages, text, and expressions to friends and family members from anywhere. Users are free to share stories, talk in groups, and pass along files like music, videos, and PDFs. Once you have installed the SPY24 Android monitoring app on the target device, spying software is the best tool to track and view all of the activities in a short amount of time. Using the web control panel, you must keep an eye on the phone logs of the chat rooms' conversations.
From a parental perspective: IMO spy app SPY24 IMO spy software is designed for:
Through chat rooms, IMO users can make friends over the phone with people from various locations within the same country as well as from other countries. Teens can also use voice and video chat in chat rooms, which is another benefit. Teenagers and children are therefore more likely to interact with strangers who may be stalkers and cyberbullies. You need to use a live screen recording app to spy on your teenagers' every move if they are addicted to the social messaging app and use it on their Android devices. A brief collection of videos allows you to view children in action. Using video, voice, and text chat, parents can always stay up to date on what their children are doing and with whom they are chatting in chat rooms.
iMessage spy Parental IMO spy app from a business standpoint:
Even when working under the same roof, communication between coworkers is essential, and IMO.im has proven to be one of the best tools for business professionals. However, covert messaging, texting, and file sharing occasionally raise a lot of concerns for employers. Employers can now obtain answers to their inquiries about what their staff members are doing on IMO.im. Using a cellphone tracking app on employees' digital devices, you must quickly monitor every single chat, passed file, conference call, and shared expression. To the fullest extent possible, business professionals can learn what their employees are doing on social media platforms in order to stop time-wasting in particular and improve business security in general.
With IMO tracking software, you can:
View call logs for active voice and video calls on your phone.
Read IM conversations, text messages, and expressions.
View shared articles on the messaging service
access the history of group conversations on instant messaging
View and follow shared multimedia files and PDFs.
Learn about the conversations that teens have on social media apps.
What is the IMO chat spy software SPY24?
Cell phone monitoring software for IMO messenger chats is covert and undetectable. It has a tonne of features that you can turn on on the targeted Android device to see real-time information about voice, VoIP, and text messaging activity as well as text and group messaging. Additionally, a live screen recorder transmits brief videos it records to SPY24's online dashboard, giving you access to real-time activities.
How can a cell phone's IMO messenger be remotely viewed?
The best IMO tracker app is SPY24. On social messaging apps, you can view all activity in real-time as well as log all activity with a schedule. Why are you holding out?
How can parents and employers benefit from IMO spying?
Young children and adolescents are in need and obsessed with fantasies related to social messaging. They enjoy establishing relationships with friends of friends. They engage in online dating with total strangers, sexting, and private sharing. The lack of productivity in the business world is caused by employees' time-wasting use of messaging apps like IMO. They steal corporate information, and they can distribute it to anyone using the messaging service IMO. Using an IMO tracking app, parents and employers can safeguard children and corporate information.
IMO Spy & Chat Monitor without Root
The non-rooted IMO Chats Spying App is compatible with both rooted and non-rooted Android devices. You have complete access to IMO chat, messages, group chats, stories, and shared media files.
Why IMO Trackers Are Important
IMO is a cross-platform, freeware instant messaging program developed by IMO, Inc. and launched in 2007. IMO was marketed as an application that centralized all of your chat messaging accounts. Skype, Facebook, Google Talk, and even the previous MySpace were included in that. Unfortunately, a lot of messaging apps stopped supporting IMO. IMO was forced to concentrate more on its own network for text-based chatting after WhatsApp and Skype withdrew their access. It would be accurate to say today that they were able to develop as a private instant messaging service. There aren't many apps that, like IMO, can boast 500,000,000+ Google Play installs or more. According to statistics, IMO has up to 212 million monthly active users, which is an impressive number. Although this app is used in 45 nations, it performs especially well in places like Singapore, Sweden, India, Russia, and Bangladesh.
Since some people use instant messaging, SPY24 had to include IMO tracking in our list of features. Since most teenagers don't use just one app for texting, IMO spy is a crucial feature to have if you intend to track text messages. Even in nations like India, where a significant portion of our clients is from, IMO has a large monthly active user base. IMO spy for Android is included with SPY24 even without root. You can use SPY24 to monitor children or employees, but keep in mind that you always need the owner's consent to track a phone.
IMO tracking is a crucial feature to have when it comes to chat spy, but SPY24 offers a complete package, including Whatsapp Spy, Facebook Spy, Twitter Spy, Snapchat Spy, Instagram Spy, or Viber Spy.