Keylogger for Android - IOS - MacOS - Windows
Do you know what keylogger does? Keylogging software can deliver you every keystroke applied on the cellphone device. It can capture and record text chats, and messenger credentials. Unveils passwords and email key logs to your online web control panel without them knowing. It read messages, conversations, social media apps credentials, and passcode keys. You may have a question in your mind can I put a keylogger on an Android - IOS - MacOS - Windows.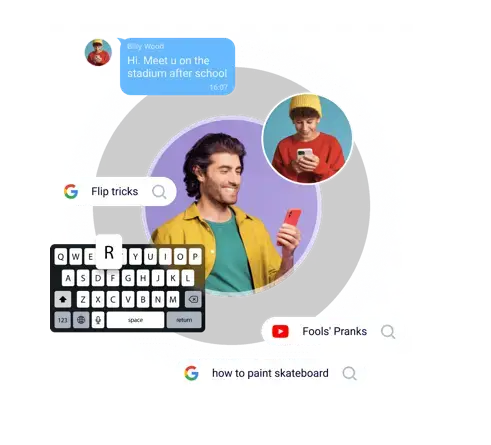 How to Monitor Call Logs Via SPY24?
Watch a tutorial to learn how you can monitor call logs via SPY24?
Best Keylogger for Android and iPhone - MacOS - Windows
Not all cell phone keylogger apps are created equal. Discover how SPY24 goes beyond just tracking keystrokes.
Android Spy Keylogger

View contents entered in text messaging Apps.

Android Phone Keylogger

View keystrokes like typed text and Passwords in Facebook, Gmail, Skype, Kik, Viber, yahoo Mail, WeChat, Ebay, Amazon and many more.

hacker keylogger apk

View chats entered in WhatsApp, Facebook, Line, Kik, Viber,Hangouts,Skype and so on.

iPhone Keylogger

iPhone keylogger is software that tracks keystrokes typed on iPhone or iPad keyboard. SPY24 iPhone keylogger App records keystrokes, SMS, website history, call history, surroundings, GPS locations, Geo-fencing, and social chat messages on WhatsApp, Facebook, Wechat, Viber, and more.

Keylogger Mac OS

SPY24's employee monitoring solutions have persistently been hailed by review giants like Capterra, ZDNet, and Trustpilot, amongst others. And there Keylogger for Mac OS is no exception.

Windows Keylogger

Spyrix Keylogger Free is a free key logging software that allows the recording of all keystrokes.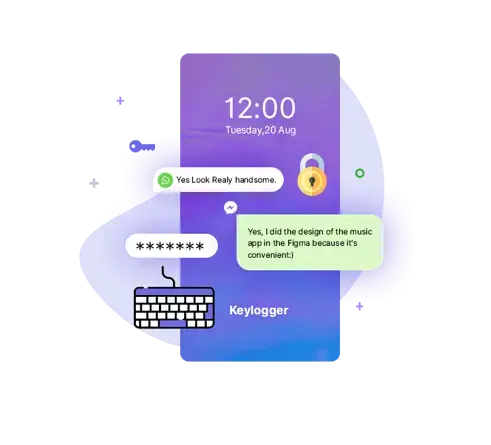 Android Keylogger - Best Free Keylogger App for Android
Messengers like Facebook Messenger, Whatsapp, Line, Kik, Viber, Skype, and others are essential in today's world. Everyone, from kids to adults to seniors, needs instant messengers. Without a doubt, this is the quickest way to share information. With instant messaging apps, you can share more than just text threads. You can also share music files, pictures, and other file types. The Messenger Keystrokes Logging is a feature that lets the person being spied on getting into their Messenger. It helps learn about the different conversations, the information shared, and the amount of time spent on each conversation. The Short Message Service (SMS) is something that everyone needs. Even though calling is cheaper, SMS is more popular. Since it is one of the quickest ways to talk to each other. But sometimes, people who don't know who they are sending messages to their loved ones that are annoying and rude. When these people are teenagers, they often feel emotionally trapped in these situations and end up responding to anonymous senders. To avoid this, the SMS Keystroke Logging feature was added to the SPY24 keylogger. SMS Keystrokes Logging is a great help to parents, employers, and partners in addition to monitoring SMS messages. When talking about the best way to raise children, the SPY24 password keystroke logger is a useful tool. Most of the time, teens use different soft accounts to hide information from their parents. Even the employees hide information from their employers by using web-based accounts. In the world we live in now, phones and tablets are locked so that no one else can use them. When you first start using a device, why do you need to lock it down if it's your own? There is definitely some "private" information that you need to hide. Here comes in handy the feature that logs password keystrokes. It opens up every account that has information about wrongdoings in it.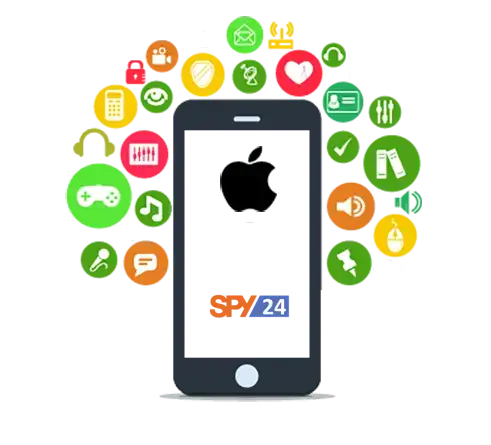 Best Keylogger for iPhone
iPhone Keylogger is software that keeps track of what keys are pressed on an iPhone or iPad. SPY24 keylogger for iPhone records SMS, website history, call history, surroundings, GPS locations, and social chat messages from WhatsApp, Facebook, WeChat, Viber, and more. Parents and employers who need to keep an eye on their kids or employees can get a free trial of an iPhone keylogger from SPY24. The parental control can make workers more productive: Do you worry that your workers aren't doing their jobs? Now, with SPY24 iPhone keylogger, you can see where they've been, and what they've done on the company device, and be notified when they do something wrong. SPY24 is the best free keylogger for iPhone. It is usually used to keep track of what your kids or employees do on their iPhones and iPads. You can use it to keep track of almost everything done on the iOS devices you want to track. For example, the iPhone keylogger tracks keystrokes, SMS, voice messages, photos, call history, screenshots, surroundings, GPS, Geo-fencing, website history, social chat messages on WhatsApp, Facebook, WeChat, Viber, and more, limits screen time, blocks apps, and more. You can also check all of the logs from afar using email, FTP, or an Online Server.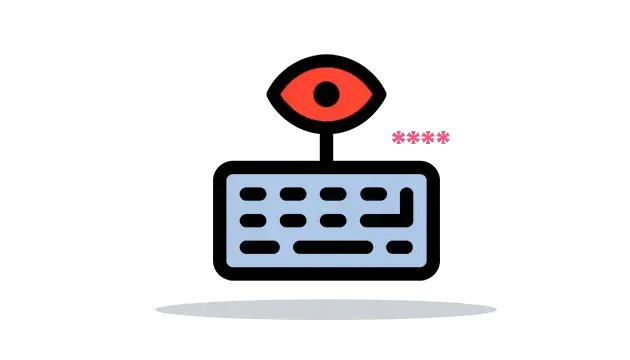 Keylogger Windows
Keystroke recorder: The SPY24 Keystroke Recorder will record every keystroke that is typed without the user ever knowing. SPY24 Keylogger lets you know what was typed, where it was typed, and who typed it. This includes passwords, logins, addresses, and names. Password tracker: SPY24 Keystroke Recorder's kernel driver lets you keep an eye on low-core keyboard activity. This lets you get the password for Windows as well as any other passwords that are typed. Most people copy and paste their logins and passwords instead of typing them in by hand. SPY24 Keystroke Recorder will also save any text that you copy to the Clipboard. SPY24 Keylogger can also get graphics from the clipboard. Take screenshots in secret. SPY24 Keystroke Recorder takes screenshots of the Desktop and running programs on a regular basis, like an automatic surveillance camera that no one can see. SPY24 Keystroke Recorder keeps track of all the programs that are opened and the text that is typed in them. You will know the exact time, date, path, window title, and other parameters of the programs that were run on your PC. Record the websites that all users go to SPY24 Keylogger, the best keylogger on the Internet keep a log of all visited URLs and timestamps for each entry. SPY24 Keylogger keeps track of every website you visit from your computer, no matter which Internet browser you use. Check both sent and received emails: There are a lot of ways to get remote logs. Email is by far the most used way. Just type in the email address where you want remote logs to be sent, and SPY24 Keylogger will take care of the rest. Only connections that aren't encrypted Instant messenger and chat sniffer: Record keystrokes and conversations typed in any chat, Internet instant messenger, or LAN application. Capture usernames, passwords, keystrokes, and instant messages from Jabber, MSN, AOL, ICQ, AIM, Gtalk, Skype, Yahoo Messenger, and other services. Anti-virus software can't see it. It's no secret that anti-virus and anti-spyware programs like SPY24 Keylogger are always trying to find and block even legitimate monitoring programs. SPY24 Keylogger does a great job of hiding its own modules from programs that look for viruses, rootkits, and spyware. SPY24 Keylogger makes sure that it won't be found by regular scans or when you update your antivirus software. It uses several different algorithms to stay hidden. Other people who use the computer where SPY24 Keylogger is installed won't be able to see it at all. They won't be able to find SPY24 Keylogger in the list of installed programs, the history of programs used, the Start menu, or anywhere else. Guaranteed!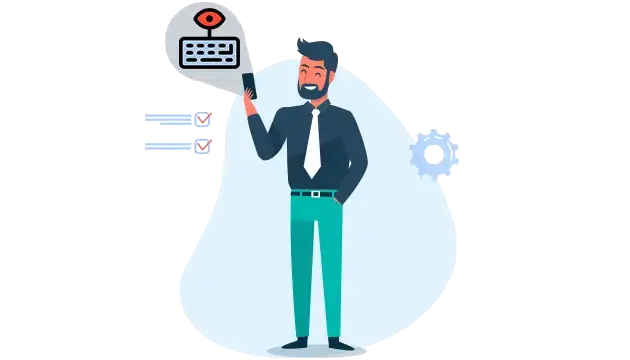 Keylogger macOS
Keep track of the keystrokes: Free SPY24 Keylogger for Mac makes it easy to keep track of everything a Mac user types on a computer that is being watched. Easy to keep track of what they are talking about in emails, chats, web forms, etc. Capture everything that is copied to the clipboard: It is very important to keep an eye on the clipboard because most passwords and other important information are copied and pasted instead of typed. SPY24 Keylogger for Mac OS X copies everything to the clipboard and saves it. Screenshot recorder: SPY24 Keylogger keeps a visual log of everything that happened on your Mac by taking screenshots of the desktop at a timeout that you can set. Get reports by email from afar: SPY24 Keylogger for Mac sends recorded logs to your email address silently and from a distance... Log user names and passwords: Keep track of the user names and passwords that are typed in, and find out what programs the user logs into, like browsers, Facebook, Mail, games, etc. Note that there are some restrictions on Mac OS or newer. Record both sides of chats: Skype, Viber, iChat/Messages, and Adium chats are all secretly recorded by SPY24 Keylogger. This only works if chat history is turned on in Instant Messenger, which is the case for 99% of users. All chats are saved in the Chats report of SPY24 Keylogger. As the only true low-core keylogger, SPY24 Keylogger has a great reputation for being completely undetectable. People have trusted it for years as the only keylogger that really can't be seen. It leaves no traces anywhere. Collect web history without being seen: Have you ever wondered where your teen gets those strange phone numbers? Are the people you love going on porn sites or dating sites? You can keep your kids safe from online bullying by knowing where they go and what they do when they're online. Keep track of the websites you've been to, even if your browser's log and cookies have been cleared. With SPY24 Keylogger for Mac, you can even keep track of all the social networking and other sites that people on your Mac visit. FREE VS PRO: A Mac keylogger is an invisible tool that records every keystroke to a log file that is encrypted and hidden. Logs that have been recorded can be sent in secret via email. We suggest making a separate mailbox for logs from SPY24 Keylogger. Keystroke recorders also keep track of what people do on the Internet by writing down the addresses of all the websites they visit. Keyloggers keep track of the time and the names of the programs that are running. They also record everything typed into edit boxes and message boxes. See the table on the right for more information about when you might need to upgrade to SPY24 Keylogger PRO. SPY24 Keylogger for Mac goes above and beyond the usual hotkey to unhide it when it's been hidden. It uses a secret word that can be changed. This is a phrase that you have to type invisibly on your Mac's desktop in order to get SPY24 Keylogger to come out of its memory.
Android Keylogger free
The real keylogger for Android!

No, it's not one of those average keyloggers you see all over the internet. SPY24's keylogger for Android is just as awesome as it sounds here. There are many good things about keylogging, especially if you are an employer or a parent.

Employees' Work Rates Are Checked

When your employees answer their phones at work, you can see how responsible they are. You could see if they are using instant messaging apps to spread office gossip. When you use the Android keylogging software from SPY24, it will tell you all of that and more.

Keeping an eye on the kids

With SPY24's keylogger software, you can keep a close eye on what your kids do on their cell phones. You can find out what they do and make sure they aren't sending inappropriate texts or telling friends or strangers your credit card passwords. Most importantly, you could stop your kids from doing bad things online.

Undetectable Keylogger for Android

Your child or employees won't feel uncomfortable with the SPY24 Android keylogger app on their phones because it's safe, private, and doesn't make a lot of noise.

Why do you need SPY24 Free Keylogger?

SPY24 Keylogger is free key logging software that lets you keep track of and record every keystroke. This free software can also take screenshots of running programs at set times, so you can keep an eye on everything going on with your PC. It can also make reports about running programs.

Most people think that spying is one of the worst things someone can do, but some think it's important to keep an eye on things that will directly affect you. Also, it all depends on why the spying is being done. It is wrong to spy on people in order to steal their identities, but it might be important to use parental control software to keep an eye on what your kids are doing online.

Keylogger for Android and iPhone cell phones

You'll see it if they type it. That's how powerful the best Android and iPhone keylogger in the world is. It's made to help you stop interactions that could be dangerous. And it's really simple to use.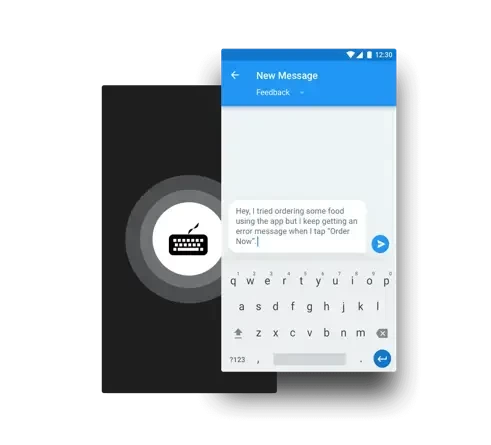 Frequently Asked Questions Android Keylogger
How Do I Install SPY24 SPY24's Android Keylogger App On A Phone?

SPY24's keylogging comes as a feature along with 30+ other device monitoring features. You will need a valid SPY24 subscription (for Android), after which, you can download SPY24 on a phone and start using the keylogging feature.

What Kind Of Data Does SPY24 Keylogger Fetch?

SPY24 will let you monitor every keystroke from WhatsApp, Skype, Viber, Facebook and Facebook Messenger.

Is There Any Extra Fee For The Keylogging Feature?

No, it's an inclusive feature when you subscribe to SPY24's Android app.

Is SPY24 Keylogger Undetectable?

Yes, it's an undetectable keylogger for Android that stealthily does its job.

What Can You Do with SPY24?

You can use this free Android keylogger for parental control, employee monitoring and some other situations. When you need to monitor someone's phone, it will be your good helper.

Best keylogger?

SPY24 is the best keylogger application for monitoring messenger keystrokes, messages, passwords, and more. Cell phone and social media texts can be read. SPY24 keylogging app lets you stamp chat keystrokes.

Keyloggers legal?

Yes! Unless you're logging keystrokes on your kids' and business phones. Without consent, it's illegal to install keylogger software on someone's phone. Keyloggers are legal for parental controls and business trade secrets. SPY24 keystroke monitoring is legal for parents and employers.

Keystrokes loggable?

Yes, you can log text message keystrokes and password-protected phones. Facebook, Snapchat, Instagram, Line, Viber, Skype, and more can be monitored and recorded. You can use messenger key logging software on a target phone with social networking apps. Cell phone keylogger software can monitor chat, messages, passwords, emails, and SMS.

Remote keylogger installation?

No! Remote keystroke logging can't be installed remotely. Messenger's keylogger requires physical access to the target phone. Install a keylogger on the target phone to record keystrokes, including social messaging apps.

Keylogger detection?

No! SPY24 is a non-rooted, hidden, undetectable messenger keylogger. It's impossible to detect the target device and schedule keystroke logs for chats, messages, and instant messengers.

Tracking keystrokes?

Yes! You can secretly record cell phone keystrokes. SPY24 captures and records live keystrokes on any cell phone. SMS, messenger, and password keystrokes can be monitored. Install keylogger software on your target phone to record every keypress.

Keyloggers for phones?

Yes, you can use a keylogger on kids' and employees' phones. You must install the best cell phone keylogger app. SPY24's dashboard lets you record and monitors keystrokes. You can read phone texts, chats, and passwords.

SPY24 keylogger app best?

Yes! SPY24 is the best android keylogger. It monitors all chats, messages, IMs, and passwords. It logs passwords, messengers, and SMS.

Keystrokes without root?

Cell phone keylogging requires non-rooted monitoring software. Keylogging must be activated. It lets you view and capture phone passwords, text messages, and IM chats. SPY24 is a phone keylogger. It records keystrokes for the web control panel. Users can download keystrokes to read SMS and chats.

Keyloggers reveal passwords?

Keyloggers can show cell phone passwords. The SPY24 keylogger captures mobile passcodes. Keylogger app can track passwords, email login passcodes, and more. It won't leave device credentials unattended.

Keystrokes real-time?

Yes. SPY24 keystrokes logging can track keystrokes in real-time. It records messages, messengers, emails, and password keystrokes.

Keystroke-recording app?

The SPY24 app secretly records cell phone keystrokes. It secretly captures phone keystrokes. Configure the app to remotely monitor keystrokes. Keystrokes, passwords, messages, emails, and more can be accessed. On a cell phone, the user remains hidden and sends recorded keys to the web control panel.

Is SPY24 unrooted?

Yes, it works on any non-rooted phone and is hidden. It captures passwords, messenger chats, and more without administrative access. It's best for spying and tracking cell phones and showing you what keys the target has pressed.

Legalize keyloggers?

No! Legal keyloggers include SPY24. Set parental controls on kids' phones by monitoring and capturing keystrokes. Tracking business devices protect trade secrets.

Why is SPY24 SMS keylogger the best way to keep an eye on chats?

Hidden and undetectable keystroke logger SPY24. It can steal SMS and passwords from the target device. IM keystrokes can be monitored on any cellphone. It tracks keystrokes on your target mobile device and saves them to a dashboard. The SPY24 dashboard lets users read chats, texts, and IMs.
why use the SPY24 android Keylogger app?
Your kids could be sharing their passwords of social media profiles with their friends or acquaintances which can be extremely dangerous.
Your employees could be sharing classified business information to rivals through WhatsApp or other encrypted applications.
If you doubt that your kids are sexting, a keylogger app for Android will let you ascertain it.
You could see the number of texts that were sent every day through WhatsApp, Facebook, Viber, and Skype.
SPY24 is the best keylogger app for Android with over 35+ monitoring features providing you the most extensive device monitoring.
Cell Phone Keylogger for Android and iPhone If they type it, you'll see it. That's the power of the world's top cell phone keylogger for Android and iPhone. It's designed to help you stop potentially dangerous interactions. And it's so easy to use.
Paige
w.s

Adam
s.s
andre
n.n
Android & Windows Keylogger – View Typed Text & Passwords in Facebook, Gmail and Other Apps
SPY24's Keylogger feature helps you to monitor your children from anywhere.Ensure that your children are safe by viewing exactly what they are typing into chat apps like WhatsApp and facebook, which URL they are entering into mobile browsers and capture exact keywords which they type on search engines. Make sure that your loved ones are not in contact with wrong peoples using their Emails. Browse keystrokes entered into their emails and captures email id's which they enter.
You Can Totally Rely on SPY24 – We've Got Your Back
SPY24 won't leave you alone with your subscription, because for us, your satisfaction is on top of everything else, and with that, we promise to deliver only the best mobile spying app experience that you will never have like it again!
100% Secure Satisfaction Guaranteed

24/7 Live Chat

Stealth Mode 100% Invisible
Free Keylogger for Android – Best app to control Android phones
Using the SPY24 keystrokes logging app, you can keep track of every keystroke that is made on a cell phone that has WhatsApp installed on it. With the help of the WhatsApp keylogger software, users are able to remotely spy on target mobile phone devices that have the WhatsApp instant messaging app installed on them and learn all of the keystrokes that were used.
Keystroke logging on messengers allows for the capture of keystrokes made on the keypad of a phone when using instant messaging apps.
Messengers Keylogger was developed specifically for the purpose of monitoring and logging the keystrokes used within instant messaging programs. You can obtain a log of every keystroke made on social networking apps such as Facebook chats, WhatsApp messages, the keystrokes made on Snapchat messenger, Instagram, and many more. Instant messengers' keystroke logging collects every phone keypad strike that is active with social networks in a specific order to form a user's chat history, text messages, and password. Users will obtain the logs to investigate the activities of the targeted individual on social networking sites.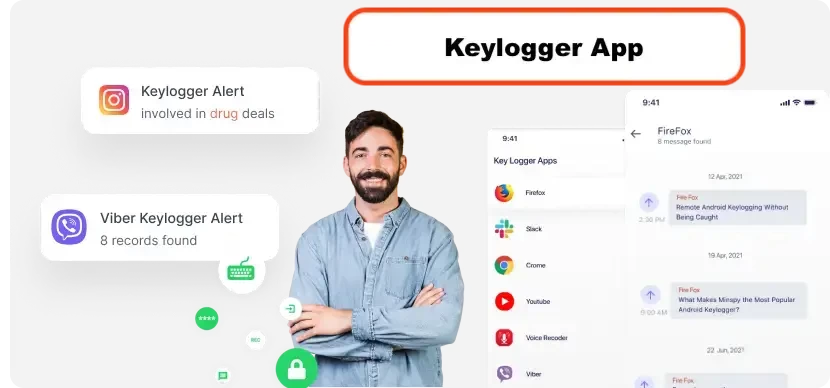 What exactly are SPY24's Keystrokes Monitoring App for Messengers?
The key logger for instant messengers is one of the most helpful features that SPY24 has made available to its customers. It is stealthy and can snoop on any cell phone device in order to record keystrokes used for social messaging on popular social media networks. You are able to read what the owner of the phone that you are targeting has written in chats, messages, group chats, emails, and passwords that they have put on the instant messaging apps that they prefer to use. SPY24 has an online dashboard that reveals the keystrokes used on dozens of different apps, including Facebook Messenger, Snapchat, Instagram, Line, Vine, and Skype, among others.
How Can I Record My Keystrokes While Using Instant Messengers?
SPY24 is the most recommended and reliable solution for logging messenger keystrokes. It does this by collecting the target phone's messenger keystrokes while the phone is active with social messaging apps. The schedule gives users the ability to get every keystroke they make to take effect.
What are the Benefits of Using Messenger's Keystrokes?
It is possible to read teens' secret conversations on social networking apps by using software that logs their keystrokes when they use instant messengers. It makes it easier for parents to keep tabs on the chat conversations that their children have had with unknown people online. The app known as a keylogger enables business professionals to read the conversations that their employees are having with customers. Additionally, and with other people during the course of working hours, using social media applications. Therefore, parental spying and business monitoring are both useful applications for messenger keystroke monitoring.
Do SPY24 Messenger's Keystrokes Work Even If You Don't Have Root Access?
Yes! It is a solution for monitoring keystrokes on phones that do not require root access and are compatible with both rooted and unrooted devices. You do not need to root the Android phone you want to spy on in order to record keystrokes from social networking sites. It is possible to install the SPY24 software on the phone you wish to monitor. Monitor the use of the keyboard even further with an online dashboard.
Remotely monitoring the WhatsApp social messaging app that is running on the mobile phone device that is the subject of the investigation is possible. You need to make use of the WhatsApp keystrokes monitoring app, which enables you to get all of the keystrokes used on the target cell phone, which has instant messenger installed on it. You need to do this so you can see what the user is typing. Using the online control panel of the cell phone spy app, users are able to get keystrokes remotely. This includes getting password keystrokes, message keystrokes, and password keystrokes for the messenger app.
You can do the following with the app that logs your keystrokes in WhatsApp:
Watch every key you type in your WhatsApp password.
Spy on WhatsApp messages keystrokes
Monitor Messenger keystrokes
The WhatsApp keylogger software is the most effective tool for providing you with an immediate record of the keystrokes used on the WhatsApp social messaging app. Therefore, you can learn as much as possible about the activities taking place within the social media app.
SPY24's SMS keystroke logging allows you to keep an eye on what people are typing in their messages.
With the help of the SMS keystrokes logging software, you won't waste any time keeping tabs on the text messages (SMS) sent or received by the mobile phones you have your sights set on.
The use of SMS, also known as short message systems, which are based on cellular networks has become the standard mode of communication over the course of recent years. Consequently, users of mobile phones are able to send and receive text messages, also known as SMS, with whomever they choose. With the help of the SPY24 SMS keylogger, you can now monitor the keystrokes that are used to compose messages on the device that is being targeted. If you use the keylogger tool, it will show you every keystroke that was used while the user was sending and receiving text messages. All you have to do is use it.
You can do the following with the SPY24 SMS keylogger:
Keystrokes from sent text messages can be spied on.
Keystrokes sent and received in text messages should be watched.
Keystroke monitoring for conversations involving text messages
Keystrokes entered into a mobile device's password field can be monitored with the SPY24 keylogger app.
With the help of a password keystrokes logging app, it is now possible to monitor password keystrokes applied on social media accounts or used on mobile devices. It indicates that you are able to monitor each and every password that is used.
The SPY24 password logger is the most effective tool for gaining remote access to a mobile device that you are monitoring remotely. In addition to this, it enables you to obtain the passwords applied on mobile phone devices in a short amount of time, including those for installed instant messengers, email, SMS, and messenger keystrokes.
Password logger for keystrokes gives you:
Spy on email keystrokes
Keystrokes on a cell phone messenger can be monitored from a remote location.
Monitor SMS keystrokes
Passwords keystrokes
How Does SPY24 Messengers Keystrokes Logger Works?
The Messenger Keystroke Logging feature of the SPY24 messenger keylogger is pretty straightforward and simple to use. All that is necessary is:
A person whose activities are to be monitored must have informed consent.
A mobile device, such as a smartphone or tablet, or a computer connected to the internet
Premier License of the SPY24 App for use on mobile devices such as smartphones and tablets
SPY24 Dashboard can be accessed through either a Web Account or the SPY24 Dashboard App for iPhone. Alternatively, the SPY24 app can be downloaded from Amazon.
SPY24 Keystroke Logging App
When all of the prerequisites are satisfied, the SPY24 messenger keylogger will begin its surveillance of the conversation. The user is privy to everything that the person being spied on enters into their messenger whenever that person is being monitored. The information is saved in the app's control panel in the event that the user is unable to access it, from which it can be retrieved at a later time.
SPY24 messenger keylogger also supports the following keystrokes logger:
1- Email's KeyLogger
2- Password KeyLogger
3- SMS KeyLogger
How Does SPY24 SMS Messages Keystroke Logging Works?
You will need the following in order to use the SPY24 SMS Keylogger:
SPY24 is the leading app in terms of its account.
A mobile phone or a tablet computer
If you have access to the internet
Even a computer system will do, but it absolutely needs to have internet access.
The SPY24 Dashboard app is installed on the smartphone or tablet that is being monitored.
The SPY24 SMS keylogger will begin operating as soon as the SPY24 installation process in its entirety has been completed. When anything—a text, a number, or anything else—is entered into the target's SMS, the app will monitor it and display the information to the administrator. The app will monitor the target's SMS activities. If the administrator is not currently logged in to the primary device, the logs will be saved in the control panel so that they can be reviewed at a later time.
SPY24 SMS Keylogger Also Supports: Email's KeyLogger
Password KeyLogger
Messenger keylogger
How Does SPY24 Password Keystrokes Logging Work?
The following things are required of the user in order for the password logger for keystrokes to function properly:
A mobile device, such as a smartphone or tablet, or a computer system that is connected to the internet is required.
SPY24 is the leading app in terms of its account.
SPY24 is installed if the device in question is a mobile phone or a tablet.
After that, the password logger known as SPY24 will begin its operation. What happens now is that whenever a password is entered over the device that is being spied on, the user of the SPY24 software is presented with the password. In the event that the user is not present, the control panel will save the passwords so that they can be retrieved at a later time.
Additionally, the following keystrokes loggers are supported by SPY24:
Email's Keystrokes Logger
Messengers Keystrokes Logger
SMS Keystrokes Logger
Key logger
The SPY24 key logger records all keystrokes typed on the target iOS and Android devices, including texts copied and pasted across all applications. This allows you to have a complete understanding of everything that occurs on the target device.
Free Android keylogger functions
Call Data and Call Recording
You will be able to find out everything from the contact name to the call duration with the help of this Android keylogger because it maintains a detailed log and records all conversations.
You are able to keep a constant eye on the location of the Android device on which the Free Android Keylogger was installed by monitoring its GPS coordinates. In addition, because it makes use of algorithms that are efficient with energy, this feature does not deplete the battery too quickly.
Text message monitoring, including but not limited to WhatsApp*, Facebook*, Viber, SMS, and MMS
It is possible to save any and all text messages, pictures, audio, and video files.
Even if your device is not rooted, Free Android Keylogger will continue to be completely undetectable to the user, provided that they are aware of where to look for it.
There are some parents who are hesitant to provide their children with mobile phones.
On the one hand, having a smartphone gives both you and your child the ability to get in touch with one another at any time. On the other hand, a smartphone is a very distracting piece of technology, and before the time when you could purchase an android keylogger, there was no way to keep track of how your child was using the phone. Now, however, there is a way to purchase an android keylogger.
free android keylogger - map
the coordinates of the Android device's current position
It's a terrible idea to let your kids use their cell phones to play games during school hours, but that's not even the worst thing they could do with those devices.
The only thing that will tell you for sure if your children are putting themselves and the rest of your family in danger by disclosing private information to unknown individuals is a keylogger designed specifically for Android devices.
The seePY24 app that was developed by SPY24 will also provide a significant benefit to employers who use it.
In the past, it was very difficult for a manager to keep track of all of the employees and ensure that they worked diligently without wasting any time. Today, however, this task is much easier. No one enjoys toiling away for an excessive amount of time, and whenever we have the opportunity to slack off when no one is looking, we will gladly take advantage of that opportunity.
free android keylogger - calls
android keylogger maintains a comprehensive log and is capable of recording all conversations.
SPY24 makes it extremely difficult for employees to take unnecessary breaks or wander aimlessly around the office while they are on the clock. Because the employer is able to know the precise location of each employee at any given moment thanks to this app, it is very simple to single out those workers who could benefit from being pushed to put in more effort.
Because the SPY24 is capable of recording both voice calls and text messages, individuals will no longer be able to use company phones for their own personal business or pleasure.
If you were searching the internet for "free spy apps for android undetectable" or "cell phone monitoring" in the hopes of locating a good android keylogger that is available for no cost, then you have arrived at the right location.
SPY24 is pleased to present you with one of the most effective spy APKs that is available for online download: The SPY24.
Even though you are downloading a free Android keylogger, you will still have access to all of its distinctive features, such as a "hidden" mode and a recording of incoming and outgoing calls.
When you've worked with SPY24 for a while, you'll understand the value of this tool and how indispensable it is.
Therefore, when the time comes to extend the use of this program, you won't be hesitant to visit our website to do so in order to do so.
You can keep a covert eye on people's smartphones by using a keylogger for Android. It is the quickest and most convenient way to check on people, including children, staff members, and others. The app can also track calls and record images from connected cameras. It can read SMS and MMS text messages, as well as monitor internet activity, Facebook, WhatsApp, and Viber. Additionally, it keeps tabs on calendars, contacts, and geolocations. It is capable of capturing information such as passwords, phone numbers, and more. You will be able to see in the log file each and every key that a person presses on their keyboard.
Which application serves as a keylogger for Android devices?
The term "keystroke logger for Android" refers to specialized software that was created to record the keystrokes made on a mobile phone or tablet that was being monitored and add them to specific log files. The free keylogger has an extremely user-friendly operation. Sadly, the majority of apps that are very similar to this one are either not very useful or very expensive. If you want the best solution, go with SPY24.
You are able to gather just one type of keystroke using the software that you download for free, or you can capture multiple types. To begin, you need to choose the flavour you prefer. Because it enables you to collect additional data, a solution that is multifunctional is the superior option. There is no need for you to be in a rush and download the very first free Android keylogger that you find in Google's search results. Learn more about the software that you intend to use by reading more about it.
Are you able to elude detection? If you use SPY24, the answer is no. Because it is impossible to track you, you are free to make use of it for as long as you require.
SMS Keystroke Logging to Monitor and Spy on Text Messages and Chat on the Mobile Device
The SMS keystrokes logger is the most effective tool for determining which keystrokes were pressed on the keypad of a mobile phone when a text message or a chat was being typed. It is able to monitor and record every single SMS keystroke made during a chat conversation, as well as when target phone users send SMS messages over mobile networks to friends, family members, loved ones, and even complete strangers. The keystrokes entered into an SMS can be logged and delivered to an online dashboard thanks to a feature called keystrokes logging. The users will be able to read the chat logs and SMS messages that were received on the target phone.
What exactly is meant by the term "SMS Keystrokes Logger Software"?
The ability to keylog SMS messages is one of the most useful aspects of the keystrokes monitoring app SPY24. It includes a wide variety of additional features, such as the logging of keystrokes for instant messengers, SMS, and passwords. The SPY24 keystrokes logger provides you with the capability to record and monitor the SMS keystrokes that the target person has typed while sending text messages and engaging in chat conversations on mobile networks. Using the SMS keystrokes logging app, you can listen in on private conversations and spy on SMS chat taking place on the device you're targeting.
How to Spy on SMS Messages by Recording Your Keystrokes
Do you wish to read text messages sent through mobile phone networks? It's recommended that you use the SPY24 SMS keystrokes monitoring app. Not only does it reveal keystrokes in sent and received SMS, but it also captures them, shapes them into SMS logs, and sends them to your own separate dashboard.
How Is It Helpful to Monitor SMS with a Keystroke Logger?
Do you want to read and spy on the secret SMS chat that your children are having? Are you having trouble keeping up with what your employees are discussing on the business phone and in their text messages? The app that logs keystrokes for SMS can spy on both chat and SMS messages sent to anyone. Parents are able to see what their children have typed into their phones while sending text messages to anyone. Text message surveillance enables employers to listen in on employees' conversations taking place on company phones. Parents have the ability to prevent their children from interacting with strangers, and employers have the ability to prevent employees from discussing workplace safety.
Is the Ability to Log SMS Keystrokes Available Without Rooting?
Yes! The SPY24 SMS keylogger is compatible with both rooted and unrooted mobile devices. It is compatible with every Android phone and tablet, beginning with version 4.4.0 and going up to the most recent models. It ensures that no phone is ever left unattended, and it enables users to record keystrokes made while using SMS on mobile devices.
Every Password You Type Is Captured by the Password Keylogger's Spy Software
A password keylogger is able to record keystrokes that are used, such as an email password, an instant messenger login, or the keystrokes that unlock a mobile phone. The application for monitoring password keystrokes grants you the ability to retrieve forgotten credentials and provides a stealthy method for revealing every keypad strike through the use of a schedule. You are able to gain access to a phone that is protected by a password and then monitor each and every keystroke that the target individual has used as a password.
What is SPY24's Password Keystrokes Logger?
The SPY24 app includes a number of useful tools, one of which is a password keystroke logger. A keylogger can gain access to mobile devices and record the keystrokes that the user of the mobile device in question has used as passcodes for things like email login credentials, social media passcodes, phone lock passwords, and a variety of other things. It is able to discover each and every keypad strike that a user of the phone has pressed in order to lock the phone and secure any application. SPY24 will not let any password key on the phone be left unattended and will provide you with keystrokes through an online dashboard.
How Does the Password Keylogger Record Keystrokes on Mobile Devices Such as Cell Phones and Tablets?
It is able to record all of the keystrokes made on the keypad while unlocking a mobile phone or entering the password via the keypad, and then generate a log file that can be uploaded to a protected control panel for the user to review at their leisure. In order to remotely log passwords and keystrokes, the SPY24 app requires that a monitoring app be preinstalled on the cell phone device that is being monitored.
What are the Benefits of Using a Remote Password Keylogger App?
Young children in today's society are very concerned about the privacy and safety of their mobile devices, and they take great pleasure in using a password to protect not only their home screens but also their social media instant messages, emails, and a variety of other activities. With the help of the SPY24 keystrokes logging app, parents are able to reveal their children's mobile device passcodes in a matter of seconds. Even though business professionals advise their employees to protect business devices with robust passcodes, those employees don't bother to comply with their advice. By using the passcodes keylogging app, employers are able to determine the level of complexity of the passcodes their employees have used on their phones. Protecting trade secrets is an important responsibility for business owners.
Is It Possible to Capture Passwords Using a Keylogger on an Android Phone That Has Not Been Rooted?
Yes! The password keylogger tool can function without the need for root access. It does not change the operating system of the device that you want to monitor in order to catch and capture password keystrokes according to a schedule that you can save on the SPY24 dashboard.