Call Logs Monitor - call logs Spy on IOS - Android
If you're busy and want to keep an eye on your kids or employees, you can use SPY24's secret call log monitoring to find out who they're calling on their phones. Call logs history monitoring to find out who called and who was called on the target phone. It can keep track of every call, missed call, and number that the person in question has dialed on their cell phone. Call logs history tracking lets you see call logs on a cell phone device without the schedule. By tracking phone call history...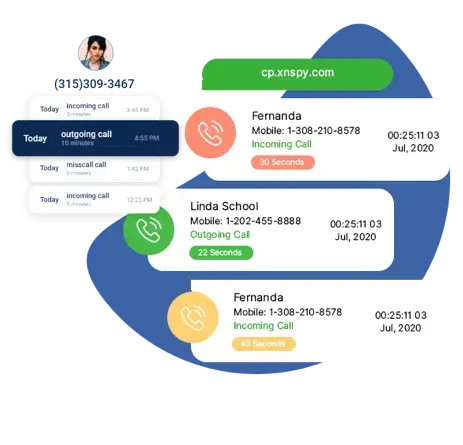 How to Monitor Call Logs Via SPY24?
Watch a tutorial to learn how you can monitor call logs via SPY24?
Track Call History
Monitor Call Logs History & Explore the Details of All Inbound and Outbound Calls
Monitor Phone Call History

SPY24 allows you to view complete details of incoming and outgoing calls. You can monitor dialed numbers, contact names, etc. of the target device.

Find Out Frequently Contacted People

Discover most frequently contacted people and view contact information and call duration with time and date.

Discover Contact Details

SPY24 lets you monitor contact name, number, email, or other saved information from the target phone.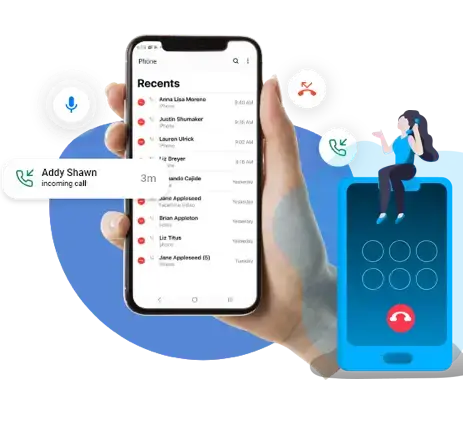 What is SPY24 Call Log Monitoring?
With SPY24, you can keep track of all the calls made and received on the phone or tablet you want to spy on. Check the names and numbers of all callers as well as other information like time, date, and Geo Tags right away. Monitoring call logs with SPY24 is so reliable that you'll never need to use another app again. See all the calls you've made, received, and missed. Check the name and number of the caller. Look at the time and date. SPY24 Phone Call Tracker lets you see the Geo Tags of calls. It's always a good idea for people to know who they're talking to. Make sure your kids are only talking to people you approve of by using SPY24.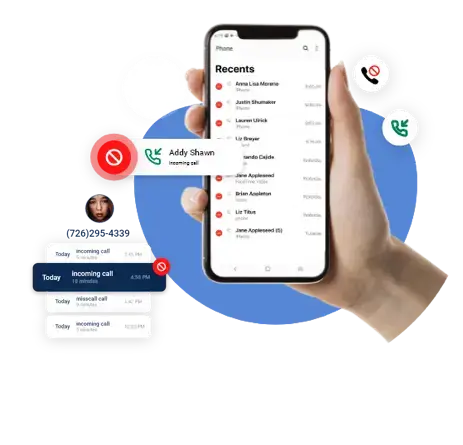 Block Calls - Monitor Strange Callers on Kids' Cell Phone
Control and block calls from people you don't know : You can take secret control of all incoming calls to the devices you've chosen. End-user can see who is calling and block the call from a distance. It means you can help your loved one by only letting them talk to approved people and blocking calls from people you don't want them to talk to. Calls from unknown or suspicious numbers can't come in: Keep blocking incoming calls to the person you're after for a number of reasons. So, you can use SPY24 software to block any suspicious calls on the device you want to spy on. Its secret spy feature helps people keep other people safe from online dangers and threats.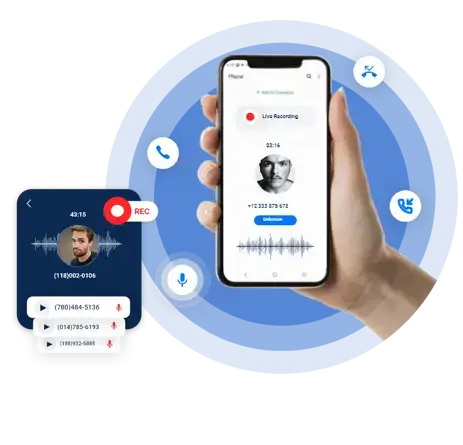 Remote Call Recorder - Live Voice Call Recording
Recordings of Phone Calls What They Said and What They Said in Secret? Call recording software is a app that lets cell phone users record and listen to live phone calls. It takes over the microphone of the target device from a distance. When the user starts talking during a live call, the call recorder starts recording the call and keeps getting data from the target device and sending it to the web control panel. Users can get information about and listen to phone calls. What is the SPY24 Live Phone Call Recorder App? It is one of the best apps for keeping an eye on a cell phone. It is software that can control the phone's microphone and secretly record calls. Also, it starts recording every live phone call the target person makes and sends that information to the web control panel. Users can download the information about the calls that have been recorded and listen to the conversations. Users can also see who is calling and listen to all of the phone calls that have been made.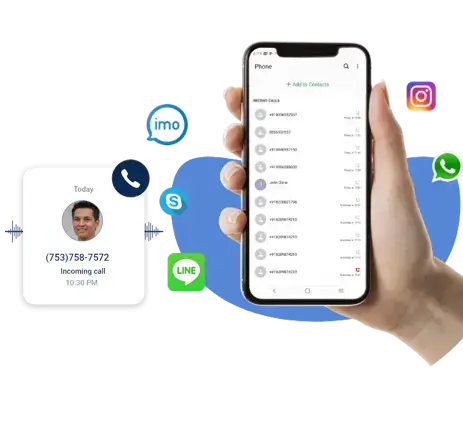 VoIP Call Logs Monitoring App
Feature for VoIP Call History to Track VoIP Call Logs on Any Social Media App: The monitoring feature of VoIP call logs lets users keep an eye on active instant messaging apps that are making voice and video calls. You can see what voice calls a cell phone user has made and received on messaging apps like WhatsApp, Facebook, Skype, IMO, Kik, Telegram, and many others. On popular social networking apps, you can find out when a VoIP call will be made. What is the VoIP Call Logs Spy App from SPY24? It's one of the best things that a phone spy app can do. It can keep a record of both spoken and unspoken chats on instant messaging apps. It is an app that lets you check the call logs of popular social messaging apps that use VoIP. Users can also record and listen to the history of one-way VoIP calls on social networks. SPY24 lets you keep track of voice messages sent and received on Facebook, WhatsApp, Snapchat, Instagram, and many other apps.
Best Call Log Tracker – Check Cell Phone Call History with SPY24
Why You Should Keep an Eye on Teens' or Employees' Call Logs?

Tracking your cell phone's call history can help you in many ways. Parents can use call logs to find out if their teens or tweens are talking to anyone they shouldn't be. You can make sure that your kids stay in touch with the right people at all times. If you are an employer, you can find out if your employees are talking to your competitors by looking at their call logs.

You can keep an eye on call logs with the SPY24 Phone Call History Tracker. Its phone call logs monitoring feature shows you who your target device owner is friends with.

See every call that comes in and goes out.
Use the address book to find out more about a caller.
View timestamps, call lengths, and the order of events

Listen to call logs and keep track of past calls History and details of all calls coming in and going out

Track all incoming and outgoing calls in secret
See how long calls last
Check the date and time of every call.
Look over the name and numbers of the people you can contact.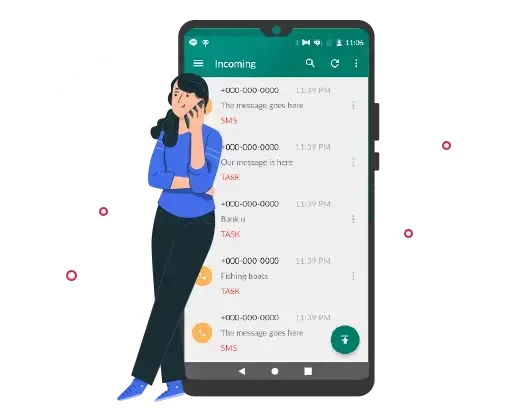 Frequently Asked Questions - Call Logs Spy
Which Devices Are Compatible With SPY24 Call Logs Monitoring?

SPY24 phone call logs monitoring services work with all Android (Gingerbread 2.3 or above) and iOS devices (iOS 6.0 or above) without requiring any rooting or jailbreaking. However, to avoid any hardware- or software-related compatibility issues, visit our Compatibility Page.

What Are The Prerequisites Of Using SPY24?

To monitor phone logs using SPY24, make sure you have a working internet connection (Wi-Fi or data plan) on the device that you wish to monitor.

How Can I Monitor Phone Logs With SPY24?

To monitor phone logs on Android or iOS, go to your SPY24 web account's Dashboard and select the "Calls" tab from the sidebar menu. On the "calls" page, you can view all the dialed, received and missed calls arranged chronologically (latest call logs first).

I Am Not Receiving Any Phone Logs From The Monitored Device, What Could Be The Reason?

If you aren't receiving any call logs from the monitored device, it could either be an internet connection problem or the settings of your app. If it's not the internet connection, then go to the Settings page on your SPY24 web account, and then turn on "Call logs" from the "Toggle features" tab.

How do I track call history?

Remotely monitor cell phone call logs. The target phone needs SPY24. It lets you monitor incoming and outgoing call logs and record and listen to calls in real-time. Phone call logs and contacts can be viewed and saved online.

How do I find a number's call history?

Schedule calls to a cell phone from a specific number. Cell phone spy software monitors call logs. It monitors received and made calls. When a person makes cell phone calls, you can find out the time and date. SPY24 is the best call-history spy software.

Remotely tracking call log history?

No, you can't remotely monitor call logs without the best phone tracker. Once the call logs tracking app is installed on the target device, you can use call logs history monitoring to see how many calls the user has made and received.

Call logs without root?

Yes, you can use SPY24 without root. It works on rooted and non-rooted phones to monitor inbound and outbound calls.

SPY24 only monitors call logs?

No, SPY24 has many features related to calls. Users can record and listen to real-time phone calls. It improves Android VoIP calls. The app is one of the best for tracking cell phone call logs.

Why this feature?

Unknown calls are terrible. Someone calls for a threatening or teasing purpose. No worries. You can protect your kids from harmful ringing. Currently, it's used for business and child safety.

Just how does SPY24 listen in on phone conversations without the target knowing?

SPY24 is one of the few tracking apps that can hide its icon on Android 10 and 11. The latest Android OS lets you hide app icons. Monitoring incoming and outgoing call history on a cell phone is now possible without the target's knowledge.

Limits incoming calls?

Yes! Unwanted calls can be blocked. SPY24 lets users track incoming calls and see who's calling. Parents want to protect their kids from cyberbullying. Technology solves digital device dangers.

Is it kid-safe?

Parental anxiety? Want to secretly watch kids? Yes. SPY24 protects kids online. Parents can save their kids with smart devices. You can now check your kids' online grades. It solves all digital dangers.

Can calls be remote-controlled?

Now technology can fix its dangers. SPY24 provides call control. You can track or block odd cell phone ringing. So, digital devices aren't risky. It protects children and businesses.

How can calls be blocked?

It uses spyware legally. It confirms any suspicious call or unwanted conversation as we explain how to use and install the tracking software. It ensures kid and business online safety.

Best live call recording software?

SPY24 is the best phone spy software that works secretly on the target device. It empowers you to record cell phone incoming and outgoing calls on a mobile device and send the data to the user's online dashboard. It's stealth on phones. Hidden app icon on the target phone. SPY24 app secretly records phone calls and remains hidden.

Android call recording?

Yes, you can record a phone call on android without root unless you are using non-rooted android spy software on the target cell phone device. It takes over the target device's microphone and then records live calls.

Can my neighbor record me?

Your neighbor can't record incoming and outgoing cell phone calls. Privacy breaching is a crime, and legitimate spy software like SPY24 does not encourage the recording and listening to live phone conversations.

Are you able to record a phone call without the other party realising it?

Yes, you can record live inbound and outbound calls on any cell phone without the target knowing if you use hidden spy software. SPY24 is one of the few mobile monitoring solutions that record live phone calls in real time without the target knowing.

Call recording legal?

Yes, unless you record your own phone calls. Parents can set parental controls on their children's phones to record and listen to live calls. Business professionals can record calls without the target's consent.

Monitoring VoIP calls?

Using the best VoIP call history tracking app, you can monitor VoIP call logs on any cell phone with instant messaging apps. It allows access to cell phones running WhatsApp, Facebook, Skype, Snapchat, and more. Schedules can track inbound and outbound social messaging app call logs.

Monitoring VoIP calls?

Using the best VoIP call history tracking app, you can monitor VoIP call logs on any cell phone with instant messaging apps. It allows access to cell phones running WhatsApp, Facebook, Skype, Snapchat, and more. Schedules can track inbound and outbound social messaging app call logs.

Free VoIP call history?

No, you need legitimate cell phone spy software to remotely access any device after installation. Free spy apps don't get logs but steal private data and damage phones. Use monitoring software to protect your cell phone data and monitor VoIP call logs on messaging apps.

VoIP monitoring without root?

Yes, you can track social media voice and video calls without rooting your target device if you have non-rooted, undetectable android spy software. With the schedule, you can access the phone in secret and monitor social media call logs. VoIP call monitoring app lets users monitor audio and video call logs without rooting.

How exactly does VoIP monitoring software work?

It can ingress cell phone territory remotely, but it requires one-time physical access to a target phone. It monitors social messaging apps, voice and video calls. Users can access WhatsApp, Facebook, Skype, and more call logs. SPY24 is the best VoIP monitoring software for social media call logs.

What's the best spy app to listen in on VoIP calls?

SPY24 is the best phone spying app. It's a hidden, undetectable, non-rooted solution for tracking call logs. It logs chats, media files, and more. The app lets users view messaging app activity logs online.
Call Logs Spy on Call logs
Call logging is a SPY24 feature that allows you to spy on the call logs of any phone that has SPY24 installed on it. Using this feature you can see things like when the call was made, the name of the person on the other end of the call, the call duration, and more.
Call history/logs contain a lot of details including call history direction, phone number, date, and duration of each call made/received on the phone. Would you like to know who your kids frequently chatted with? Do you want to make sure your employees are not talking to rival businesses behind your back?
SPY24 offers a reliable way to track the incoming and outgoing calls of a target device. This includes missed calls and even calls records which have been deleted. What's more, all of this tracking occurs silently in the background, allowing you to discretely monitor your child or employee without them knowing. With our phone call logs feature you can do things like
Do you want to know how the Spy Call Function works? In this post, we will show you the different features of the Spy Call function. We will show you what you can do with this function of the Free Phone Spy App. Like Text Message Spy, it is one of the core functions of the Free Phone Spy App. Without Spy Call, you cannot track a phone properly.
Paige
w.s

Adam
s.s
andre
n.n
Why will you find this feature useful?
Keeping track of your kid`s incoming and outgoing calls can prevent a lot of troublesome situations. You will be able to monitor whether the call is incoming or outgoing, the name of the contact, call time and duration. For you, it will be much easier to identify a bully or online predator when all your child's calls are neatly organized on your Control Panel. SPY24 also displays 10 most calling contacts, which lets you always know with whom they talk the most.
You Can Totally Rely on SPY24 – We've Got Your Back
SPY24 won't leave you alone with your subscription, because for us, your satisfaction is on top of everything else, and with that, we promise to deliver only the best mobile spying app experience that you will never have like it again!
100% Secure Satisfaction Guaranteed

24/7 Live Chat

Stealth Mode 100% Invisible
Spy on Call logs
If you're like most people, you probably wouldn't want anyone snooping through your personal phone call logs. Luckily, there's a way to keep track of all your calls without giving away any information about yourself. All you need is a spy app. Spy apps allow you to monitor all incoming and outgoing calls on your phone, as well as the date and time of each call. This can come in handy if you need to keep track of a conversation or if someone has been harassing you with phone calls. Simply install the spy app on your device and viola! You're now able to see all Call Logs Monitor activity without ever having to worry about anyone looking over your shoulder.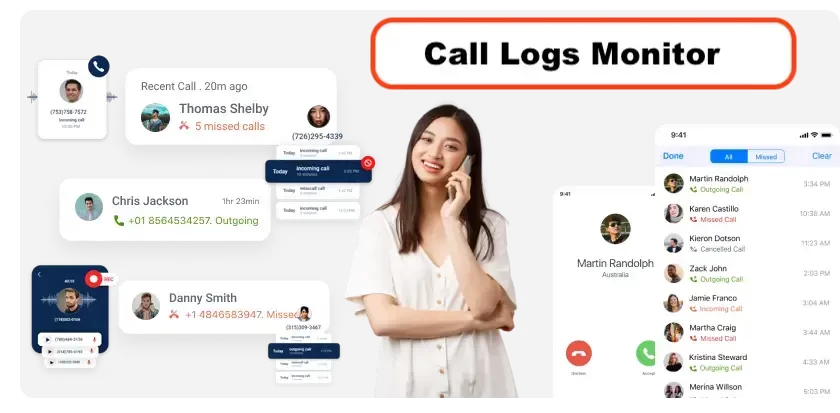 What are call logs and why should you spy on them
Call logs are records of incoming and outgoing phone calls made on a specific phone line. These records can include the date and time of the call, the duration of the call, and the phone number of the person called or calling.
To spy on someone's call logs, you will need to have access to their phone line. This can be done by physically accessing their phone, or by using monitoring software that allows you to remotely access their call logs.
The benefits of spying on call logs
Spying on someone's call logs can be beneficial in many ways. For example, if you are a parent, you may use this information to make sure your child is not talking to strangers or spending too much time on the phone. If you are an employer, you may use this information to make sure your employees are not making personal calls during work hours.
The risks of spying on call logs
There are also some risks associated with spying on someone's call logs. For example, if the person you are spying on discovers what you are doing, they may become angry or upset with you. Additionally, if you do not have permission from the person whose call logs you are accessing, you may be breaking the law.
How to stay safe when spying on call logs
If you want to spy on someone's call logs, it is important that you take steps to stay safe and legal. First, only access the call logs of people who you have permission to spy on. Second, use monitoring software that is reliable and has a good reputation. Finally, make sure you understand the risks involved before you begin.
SPY24 Call Recorder: Always Know Who's Calling You!
There is nothing more annoying than getting calls from unknown numbers. If you've done this before, you know what to expect. You hear a ring, look at your caller ID to see who it could be, and realize you have no idea who it is. And if that makes you uneasy, imagine how much worse it is when those calls are coming in on the phones of the people you care about.
There is SPY24, which is a great relief. Easy-to-use call tracking software that can track callers and determine their location. Find out who called, when they called, and how long you were on the phone with them. Both novices and advanced users will appreciate its simplicity and potency.
Reasons Why SPY24 Call Recording Should Be in Your Toolbox
SPY24's call tracking capability records both incoming and outgoing phone calls in chronological order. Of course, that isn't all there is to see. Access all of this information right from your Control Panel:
Indication of when a call was made
Incoming call time
How long this call will last
The total number of incoming and outgoing calls for that number.
Who is calling (name or number, if stored)
Call History (without iOS Jailbreaking)
What could be more practical? Things will improve. You'll have no trouble finding what you're looking for thanks to the logical structure that has been implemented here. You can easily keep them safe by accessing the information you need through the SPY24 call tracker's Online Control Panel.
Exactly how Does a Call Tracking App Function?
Having that assurance that they know who they are talking to is priceless. The results can either strengthen your suspicions or allay your fears. A call log provides information about incoming and outgoing calls, as well as the total time spent on each. It's compatible with both iOS (after jailbreaking) and Android. In addition, you are provided with a comprehensive list of the ten most frequently dialed numbers. It also has a low barrier to entry in terms of installation. Log in to your control panel once SPY24 has been installed on the target device. With just one tap, you can view a comprehensive log of all incoming and outgoing calls.
What You Need to Do to View the Call Logs of Another Person's Cell Phone Number
Don't you think it would be great if the curtains could be pulled back and we could see what their social life is like? Imagine how cool it would be to see exactly who they've been chatting with and for how long. Apps that keep track of calls do just that. You can find out who they have called and how often by installing a call tracking app on their phone.
Is There Any Use to Monitoring Call Logs?
The capabilities of a call recorder are extensive. Still, its primary value lies in the fact that it ensures your tranquility. Installing a call logger on an iPhone or a call tracker on an Android device will give you more than just a complete record of all incoming and outgoing calls. Knowing that they have been talking to respectable people will bring you some peace of mind. Even if you don't, the information you gain will equip you to keep them safe.
Methods for Listening in on a Different Device's Calls
It's easier than you might think to monitor the calls made and received by an unknown phone. All you have to do to get access to their call records is install a monitoring app on their phone and then log into your app's dashboard.
The Value of a Call Log in Ensuring Your Children's Safety
One of the most obvious signs of cyberbullying is when your children begin receiving threatening phone calls from unknown numbers or even people they know. Many victims of cyberbullying, particularly young people, internalize their humiliation. They would rather keep their bullying secret from their parents. And if you do find out, they will do whatever they can to keep it a secret!
This is where a log of all phone calls made comes in handy. The fact that bullies are calling your children is something you will definitely find out about. A simple login to your call tracking app will reveal the names and durations of all of their recent phone conversations. The presence of a repeated number in the call log is indicative of deception.
Monitoring their phone calls can help keep nosy teenagers secure.
Have a daughter who is a teenager? You need to have a call tracking app installed and ready to go. Teens are naturally sociable and enjoy getting to know new people. Worries should be raised about their safety whenever they interact with strangers, whether on dating apps or in other online settings. They could be talking to anyone in this age of social media. Is the boy she's talking to really 17 years old? What if he's a 47-year-old male with hidden agendas? You can see the other person's complete cell phone call history with call tracking software, but it won't tell you their age.
You should probably look into it if you notice they have a particularly prolonged or frequent conversation with one particular number.
Is There Anything Else That Your Call-Tracking Program Can Do?
SPY24's call monitoring software can do a lot more than just tell you who called and how long they were on the line.
If you want to know more than just what they're saying on the phone, SPY24 can help you. If they decide to continue the conversation via text message or social media after the call, you can tag along. SPY24 gives you access to their instant messages, Skype, Snapchat, Tinder, and other social media chats, so you can eavesdrop on their conversations without them knowing.
In addition, there is a handy function for monitoring your children's whereabouts. If they've been lying about their plans for the evening, you'll know for sure thanks to the built-in geolocation features. And geolocation can notify you when they enter or leave a designated secure area. When combined with a call tracker, this function can provide invaluable information about the person they are communicating with and whether or not they are planning to meet in person.
Call Recording Devices Augment The Rest of the Tracking Tools
They are constantly checking their phone. However, this does not imply that they are constantly contacting others. Most young people today would rather communicate via text or social media than via phone. A good call tracker, thankfully, can do more than just keep tabs on your phone calls. They also reveal their online communications and sharing habits, such as recent conversations and shared photos. Get the peace of mind you deserve by installing SPY24, the best call history app available.
What Is a Phone Spy and How Do I Listen in on Someone Else's Calls?
The target device's incoming, outgoing, and missed calls can all be monitored with SPY24. The Phone Call spy app allows you to listen in on conversations and see who your spouse, children, or employees are talking to without them knowing.
Mobile Spy Call Recording Function
These days, it is not uncommon for someone to spend several hours on the phone each day, talking to a wide range of contacts. If you're interested in listening in on a person's phone conversations but don't want to intrude, SPY24's Phone Call spy app might be the answer. So, let's take a look at what makes it special.
Spy on all Calls Made, Received, and Missed
As it operates invisibly, SPY24's Phone Call spy app is among the most reliable call tracking software. Because of this function, you can secretly monitor any and all incoming, outgoing, and missed calls made or received by the targeted device.
Document Caller Data and Calls
When you use SPY24, you can also see who the target user is talking to on the phone and what they are saying to each other. When you do this, you'll be able to identify the caller.
Tracking Every Call Is Like Having a Spy on Your Phone
Keep tabs on callers, calls, call durations, and more. Discover who the target user is talking to and how long each call lasts with the help of a phone call spy app.
The Spy Phone App: How Does It Work?
Visit SPY24's website to get started with the Phone Call spy app installation process. Choose a membership plan. After that, the SPY24 installation guide in its entirety will be sent to your email address. Get the SPY24 app set up on the target gadget. With the SPY24 app installed, you can listen in on incoming and outgoing calls made on the target device from a distance. Specifically, in order to achieve this:
Access SPY24 via your mobile device.
Just enter your login details to get in.
To make a call, go to your dashboard's sidebar on the left and click the Calls button.
At long last, you can listen in on a call's specifics from your dashboard without alerting the other party. It's possible to view call logs, call duration, and other information.
This spy phone app seems unnecessary. Parental Advantages of Monitoring Their Children's Phone Calls
If they want their kids to develop normally, their parents need to do their jobs and keep an eye on them. Although, doing so constantly is extremely unlikely. You can see exactly who your children are talking to and what they are discussing by installing a phone call spy app on their devices.
Tracking your child's phone calls can also tell you if they're getting into anything they shouldn't be.
Love Notes:
Is your partner constantly chatting on the phone? Do you suspect your spouse of cheating? Then you can use the phone's spying capabilities to find out who your partner is talking to. Find out if your spouse is being truthful by getting their contact information (including their name and number).
Employees' use of company-issued phones can be monitored to determine whether or not they are using them for personal calls instead of working-related ones.
Using this function, you can check that your employee isn't sharing sensitive company information with third parties. Be aware that you can only do so using company-issued cell phones and not personal phones.
The Phone Call Spy App allows you to do what exactly?
You can do the following with SPY24's call monitoring software:
Because it operates in stealth mode, you can listen in on a target's phone conversations without them ever suspecting a thing.
Log all incoming, outgoing, and missed calls and access them at any time.
Determine the precise starting and ending times of incoming and outgoing calls.
Keep an eye on how long the call lasts and when it started.
Don't forget to record the name and number of the person you called.
You can follow the phone's location in real-time by monitoring its GPS coordinates and location as it makes and receives calls.
Check your phone's call history without having to jailbreak or root.
Does the targeted device require rooting or jailbreaking?
You don't have to jailbreak or root the device you're trying to access. Remotely monitoring calls is as easy as clicking a button.