Browser History Tracker - Phone Internet History Tracking App
Keep an eye on your Internet history and bookmarks: More than 88% of teens look at pornographic content online at least twice a week, and 70% of all traffic to pornographic sites happens between 9 a.m. and 5 p.m. at work. So it is very important to keep an eye on the browser history on the phones and tablets of your kids and employees. With, you can track their Internet use from any computer or phone, even if they delete the history.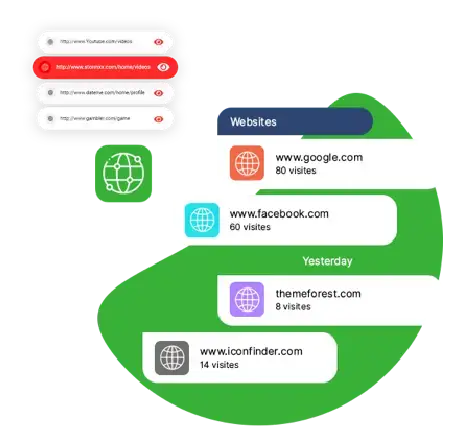 How to Monitor Browsing History Via SPY24?
Watch a tutorial to learn how you can monitor browsing history via SPY24?
Browser History Tracker: View Someone's Browsing History
Need to know what websites they've been visitng recently? Use SPY24's browser historing tracking feature to find out. Keep an eye on their internet surfing in real-time from any web browser.
Browser History Tracker

Check the phone's or tablet's web browser history.

Browser History SPY

Phone History Tracker for Internet Browser, Calls and SMS on Android

Web History Tracker

With SPY24 parents can view and monitor internet browsing history on child's targeted phone. Install SPY24 and spy on all browsing history directly from dashboard panel.

Monitor Browser Bookmarks

Keep an eye on what websites they bookmark with the SPY24 monitoring app and make sure they stay away from malicious websites.

Best Site Blocker App

The best website blocker app is so easy to use and does way more than you think. Read all about SPY24.

Instant Alerts

With SPY24 Specific Alerts, you don't have to spend hours in front of your computer. Simply get alerts for phone logs that matter to you.
Browser History Tracker - Phone Internet history tracking
Keep an eye on your Internet history and bookmarks: More than 88% of teens look at pornographic content online at least twice a week, and 70% of all traffic to pornographic sites happens between 9 a.m. and 5 p.m. at work. So it is very important to keep an eye on the browser history on the phones and tablets of your kids and employees. With, you can track their Internet use from any computer or phone, even if they delete the history. Tracker of Internet History: SPY24 lets you keep an eye on the websites your child visits on the Internet. You will be able to keep track of and save everything that happens on your child's web browser. You can also use the SPY24 website blocking feature to keep your child from seeing content you don't like.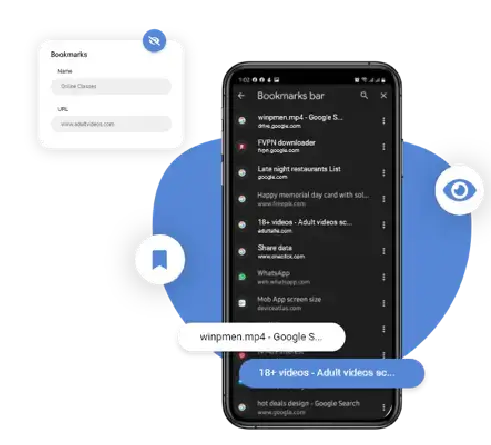 Bookmarks Monitoring App to Spy on Favorite Webpage
Spy on Bookmarks to Find a List of Favorite Websites on a Cell Phone: Secretly check out the pages you've saved on your phone's installed and built-in web browsers. If you were able to spy on the target device's bookmarks, you would know everything about how it usually uses the internet. You can look at every hidden bookmarked page to find out what kind of websites the user of the target device has been visiting lately. Any time you want, you can find out what a cell phone is doing on the internet. How to Keep an Eye on Bookmarks on the Target Device? SPY24 is software for monitoring cell phones that can be used on any mobile device that can connect to the internet. People can use spy software for cellphones to keep an eye on their phones' built-in and installed web browsers and check out the pages they have bookmarked under the address bar.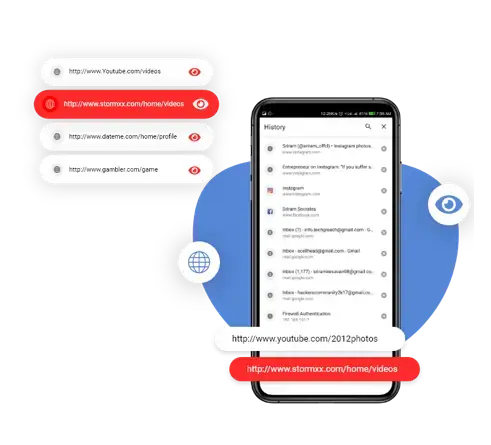 Spy on & Monitor Web Browsing History Logs
The most powerful monitoring app lets you keep track of and spy on someone's web browsing history. Do Spy on browsing history logs to keep track of every page, website, and URL that was visited on browsers like Chrome, Firefox, Safari, and Opera mini. Monitoring a person's browsing history gives you a way to keep a close and secret eye on them whenever their phone connects to the Internet. It lets you figure out what kind of person the target is and what they like to do on their browsers. How to Read the Logs of Your Browser's History? Spying on a cell phone's browsing history isn't hard anymore, as long as you have SPY24 on hand. You can install it on the phone you want to track and then use a tool to track browsing history logs on a set schedule.
What Is Internet History Tracking Software?
With this, you can check your kids' and employees' browsing history and see if the cell phones you give them are being used properly. A browser history tracker is a must-have if you want to keep an eye on a cell phone. also lets you:

Check the list of all the URLs of the sites you've been to.
Find out how many times a website has been seen.
See when each website was last updated.
Look at all the websites you've saved.
Check out how often people go to their favorite websites.
free way to track internet history.

Phone History Tracker for Internet Browser, Calls, and Text Messages on Android App to Track Internet

Browser Spy is the best app for keeping track of a phone's web history.

How to see history on Android Browser Spy Track browsing history

Track Internet history for iPhone and Android. Keep an eye on incognito browsing with the best Internet history spy app.

Why keep track of your child's or employee's browsing history if you can't see what they do when they're in private mode? If someone is hiding something from you, they probably won't leave any loose digital traces, like their browsing history. The only thing you can do then gets a spy app that can also track private browsing. SPY24 is one of the few spying apps that lets the monitored device browse the web in private mode.

works on both iOS and Android
SPY24 is an app that lets you see your iPhone's internet history, but it also works on all Android phones and tablets. What sets us apart from others is how well we get along with each other. No matter if it's an old Android device with Gingerbread or the newest iOS device, SPY24 can easily track the browsing history of all compatible devices.
Even Get Bookmarks
SPY24 is the only app you need to spy on your browser history. Why? Because you can spy on everything your kids or employees do on the internet, even the pages they save on their phones. SPY24 is the best app to use if you want to keep track of someone's internet history.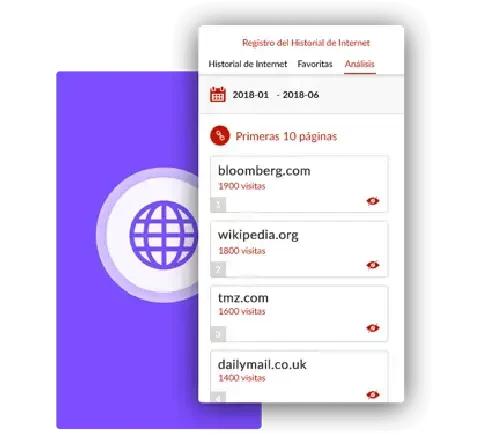 Frequently Asked Questions - Web History Tracker
How Can I Track Internet History On A Cell Phone With SPY24?

Using SPY24 to track internet history on a cell phone is simple. All you need is to open your SPY24 web account and choose the "Internet History" tab from the "Phone logs" drop-down menu. If you want to have a walkthrough of how it works, you can try the SPY24 Demo. For more details please click here.

Can I Monitor Internet Browsing History From All The Web Browsers On The Monitored Device?

You can monitor your internet browsing history from select mobile browsers. On iOS, it's Safari; on Android, it's the "Internet" app and Chrome.

Can I Track Internet Browsing History Off The Monitored Device In Real-Time?

Yes, you can monitor browsing history in real-time, because if the monitored user is browsing the web, he must be having a working internet connection on his/her device. However, this holds true only for Android. If you are using SPY24 on iOS, you would have to wait for the next iCloud backup. If the browsing history is deleted prior to the backup, you won't be able to access it.

Can I Track Private-Mode/Incognito Browsing History On The Monitored Device?

It's not possible to track private internet browsing sessions on the monitored devices.

Why is this feature useful?

It's not a secret that the Internet is filled with websites that are not appropriate for children and teenagers. The age restrictions on these websites are often ignored. If you want to make sure your kids are safe, this browsing history feature is perfect for you.

What are SPY24 Bookmarks?

SPY24 bookmarks monitoring software monitors bookmarks on cell phone browsers. Spying on cell phone browsers' bookmarked pages reveals users' most frequent internet activities. Cell phone browsers like Chrome, Safari, Firefox, mini, and more display bookmarks under the address bar. SPY24 monitors bookmarked websites.

How does the Bookmarks Spy App help?

SPY24 is one of the best parental controls. By watching web bar bookmarks, parents can monitor kids' cell phone browsers and the most visited websites. Parents can monitor social media, gaming, gambling, and porn bookmarks. Parents can monitor kids' phone web browsing. Employers can watch every bookmarked webpage that could have confidential company information; you can also monitor your employee if it's on your phone browser.

Bookmarks spying without root?

Yes. Without rooting the phone, you can spy on web browsers and bookmarks. Bookmark spy app works on cell phones without rooting.

Bookmarks spying without root?

Yes. Without rooting the phone, you can spy on web browsers and bookmarks. Bookmark spy app works on cell phones without rooting.

Spy on cell phone bookmarks?

SPY24 is the best undetectable phone spy software. Users can monitor bookmarks on any cell phone device, including social media, gaming, and adult sites.

What's the best bookmark-spying app?

Several apps monitor browsers and bookmarks. SPY24 is an advanced app that monitors cell phone browsing history and bookmarks. It has many features to spy on bookmarked webpages, including screenshots and live screen recordings.

Can phone bookmarks be spied on for free?

No. Free bookmarks spying software can't monitor every bookmark on a target device's browsers. To spy on bookmarks, you need a legit and commercial cellphone spy software.

Android bookmark spy software?

Yes. You can install a hidden bookmark spy app on an android device. SPY24 software for android can track bookmarked pages and spy on browsing history.

Free browsing history tracking?

Yes. You can manually monitor a device to track browsing history for free. Spying on another phone's browsing history requires a monitoring solution that can spy on installed and built-in browsers.

Which are app best tracks browsing history?

SPY24 is an easy-to-install, cheap solution for spying on cell phone browser history logs. Its advanced browser spying tool can track every visited website, webpage, URL, and installed browser.

How do I access chrome on another phone?

Cell phone tracking software requires several steps. Subscription, phone access, and activation are required. Screen recording, screenshots, keystroke logging, and more can record and monitor browsing history logs in real-time. SPY24 monitors chrome browsers on other phones.

Can I monitor my child's smartphone browsing?

Yes. Spying on your child's cell phone browsing is easy. SPY24 is hidden, undetectable cell phone browser monitoring software. It's a spy app that monitors phone browsers and logs web history.

How do I search history?

The best software can track mobile browsing history. Install it on your target phone to stamp visited webpages and URLs.

Can Non-Rooted Devices Track Browsing History?

Mobile browsing can be tracked. No-root phone monitoring apps can spy on mobile browsers. So, yes, keep spying on no-root browsing history logs.

How does Monitoring Web Browsing History Help?

Kids are more obsessed than ever with social media, porn, online dating, and video games. SPY24 monitors your kids' cell phone browsers for social and inappropriate websites. Business professionals can monitor employees' internet use during work hours to improve productivity.
Phone History Tracker for Internet Browser
The Internet teems with adult sites and other content you may not want your child to see. Some sites have explicit content or promote racism, violence or suicidal thoughts. Using SPY24, you will be notified immediately if your child visits questionable sites or accesses objectionable content.
Use the browser history feature alongside our website blocking option to manage the content that you find inappropriate. Prevent your child from visiting the wrong sites with SPY24.
The title of web pages visited by the user on the target device is also saved for viewing convenience. This information is stored in the user panel and can be accessed online from any device with Internet connection.
Saving the browsing history in SPY24 software is enabled by default, so there is no need to change any additional settings to make web history log work.
This history tracker saves the list of websites that were visited not only when using default Android web browser but also the ones visited using Google Chrome.
There is no need to obtain the root on the target device to save this information using Android smartphone tracker.
Paige
w.s

Adam
s.s
andre
n.n
Browser History Tracker: How to View Someone's Browsing History
The SPY24 internet history tracker helps you check someone's browser website history on the target device in real time.
You Can Totally Rely on SPY24 – We've Got Your Back
SPY24 won't leave you alone with your subscription, because for us, your satisfaction is on top of everything else, and with that, we promise to deliver only the best mobile spying app experience that you will never have like it again!
100% Secure Satisfaction Guaranteed

24/7 Live Chat

Stealth Mode 100% Invisible
Browsing History Analysis
SPY24 App for Monitoring Browser History Logs
This spy app can be put on another phone or tablet. It can get internet history logs from phones that use Chrome, Safari, Mini, and Firefox. Users can plan to spy on websites. See in secret which websites and pages people visit the most. The browsing history logs show what the target did online.
What is an app that blocks websites, and how do I use one?
When you have a website blocker, you can block websites on more than just your phone. You'll also have a powerful app that will help you learn about their browsing habits and interests. This will help you make smart choices about how much time you spend in front of a screen. Here are some things you can do with the right app to block websites:
1) Don't let sites in
Want them to stay away from certain websites? A strong website blocker can make all the difference in the world. You can stop them from going to certain sites with a click or tap. And you can do it all from a distance, so you don't need to be in front of their device.
2) Look at their Favorites
Do they visit sites often? If so, have you saved them? When you choose an app to block a website on your phone, you'll also be able to see the sites they've saved. If you mark it, you'll remember it. It's a small thing that lets you know exactly what they're interested in.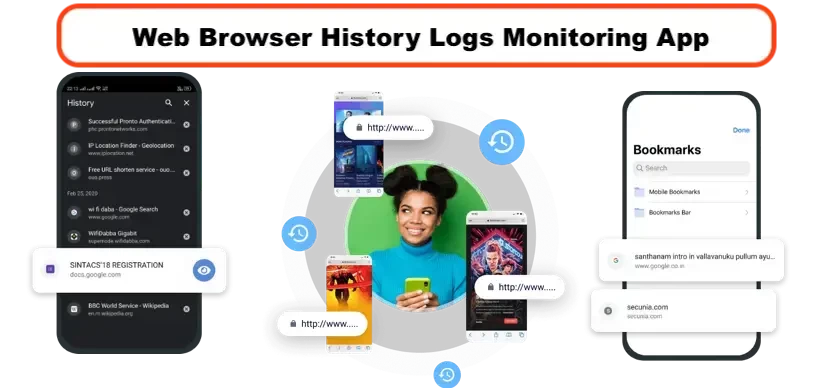 3) See what they've been looking at.
You don't need a long tutorial to learn how to block websites on a phone with an app like SPY24. Just go to your Control Panel and sign in. From there, you can see what sites they've been on. You'll know everything about the places they've been, like how long they stayed, how often they went, and more.
How do I know if I need an app to block sites?
Do your children use their phones in ways that you don't like? Do they go to sites that should really be blocked? Before you download an app that will teach you how to block websites on your phone, keep an eye out for these red flags. They are good signs that your child might be hiding something and that you should do something about it.
The history of their browser is empty. So you took your kid's phone when he or she wasn't looking. Well done. But you're not sure what to think after looking at their browser history. It looks like they've never even opened their browser. They either don't use the Internet or are trying to hide something. We're pretty sure it's the second option, and that they've also cleared their browser history.
The door to their bedroom is always shut. Sure, kids like to be alone. But if they always lock their bedroom doors and do it more than usual, it could be a sign that they're hiding something from you. Think about getting an app as soon as possible to block websites on your phone.
They move quickly to switch the screen. Imagine this. You go downstairs and find your child eating cereal while their phone is on the table. When you come in, they drop the spoon and quickly close something on their device. Most likely, they are trying to keep something from you. The best app to block websites will let you know exactly what that is.
They never stop talking on the phone. OK, we get it. Kids can't live without their phones. But if they're on it more than usual and typing all the time, you might want to think about blocking websites on phone.
How do block sites on the phone that aren't appropriate?
It's never been easier to install a website-blocking app on a target device and start spying on it. This is how:
1) Sign up for a website blocker. With SPY24, you can choose from different subscription plans that work well with whatever device you're using. Review your choices, and then decide what to buy. You can pay with whatever method is easiest for you.
2) Get the website blocker app for your phone. Once your payment is processed, a Welcome Package will be sent to your email (sent to the email you used when signing up and buying your subscription). Just do what your email tells you to do to get started.
3) Start blocking websites on the phone remotely. Once everything is set up on the device you want to block websites on, you can log in to your Control Panel and take care of everything from afar. It's really that easy.
What makes SPY24 the best app to block websites?
You want to know how to block sites on your iPhone or Android phone. But if you're like most people looking for an app that can do just that, you also want to take the idea of monitoring to the next level. An app like SPY24 can help in this situation.
SPY24 is not only the best app for blocking websites, but it also does a lot more than what you might expect. With SPY24, you can read their text messages, see their social media chats, find out what photos and videos are on their phone, get an alert if they use a controversial word or phrase, see where they are on a map, get an alert if they enter or leave an area you don't like, and so much more. SPY24 is the best way to keep an eye on them and make sure they are safe.
How can a tracker of web history help parents?
There's no point in hiding the truth. The Internet has a lot of content for adults. And almost all of it is free. No longer do kids have to hide magazines for adults under their beds. By tapping a few keys on the keyboard, anyone can find a world of free porn without having to sign up for an account. Children know this. And the Internet is the only way they do it.
Is your kid looking for games and other random things on the internet when they should be studying? Find out with a web history tracker that gives you a full picture of what they are doing online. With SPY24, it's very easy to find out what someone has been doing on the internet. You'll have access to date and time stamps, which will let you know when they've been visiting certain sites and how many times they've been there. You can also look at their bookmarks to see if there are any sites they visit more often than they should. You'll know if it's an adult site, a dating site, or a site where they can download things they shouldn't be downloading.
A website history tracker is the best way to find out what your kids are searching for and what sites they like to visit.
How can a history tracker keep your kids from getting into trouble?
At first glance, an internet history tracker seems like a great way to find out if they are going to adult websites. Even though it is, being able to spy on Internet history opens up a lot more options, some of which can help keep your kids safe in ways you never thought of.
Kids don't just go on the Internet to play games and look at things they shouldn't. They also look for help on the Internet. Think for a minute that you are a child. You're being picked on at school or online, and there's no one you can talk to (or at least it feels that way). One thing you could do is use your browser to try to find answers online. Perhaps you'll do a Google search. You might find a place where people who have been bullied can go to get help. No matter what you do, your web browser will keep track of it.
As a parent, it's very helpful to be able to use an app that tracks Internet history to see if your kids are being bullied. But it could go even further. Even though it's horrible to think about, some kids who are cyberbullied may try to kill themselves. Having a parental control app that lets you see what they're searching for is helpful, especially if the results make you sad.
How to look at someone's browsing history from a different phone?
Depending on which jailbreak or non-jailbreak solution you choose for your operating system, you may need access to their device to install SPY24. However, once SPY24 is installed, you no longer need access to their device. Sign in to your Control Panel, and you can use the most powerful website history tracker in the world.
Will my kid find out that I'm using a cell phone tracker?
The first step in learning how to track Internet history on a cell phone is to choose the right app. So, when you choose a monitoring solution like SPY24, you can rest easy knowing that they won't be able to figure out that you're using one. That's because SPY24 works in a mode called "stealth," which lets you hide the app.
What happens if my child deletes the app that tracks their cell phone history?
You'll find out. SPY24 will let you know if your child finds out that you're using an app that keeps track of your Internet history and then deletes that app from their device.
Does SPY24 keep track of what you've looked at when you're not logged in?
Yes! One of our most recent changes lets you look at another user's browsing history when they are using the browser in private mode. Now you can see everything they are looking for, even the things they are trying very hard to hide.
Can I use a web history tracker for anything else?
You can if you choose SPY24. SPY24 isn't just an app that lets you look at someone's internet history. It's also an app that shows you what's going on in their digital world. That means you can use their social media apps to see what they're up to. Yes, I like reading what they say to each other. We're talking about almost every social media messaging app in the world. Instagram. Messenger. Snapchat. Tinder. Line. Viber. And their texts and iMessages, of course.
But it's not enough to just read their conversations and look at what they've done online. You can also keep track of where they are in the real world. You can also use geolocation technology with this browsing history tracker to see where they are on a map at any given time. You can also get a message if they go somewhere they shouldn't be. It's as simple as making no-go zones and leaving. If they go into one of those areas, you'll know right away.