Monitor phone contacts on android - iPhone
How to Track Phone Contacts: If you're worried about what your kids are calling or if you think your employees might be talking to competitors to do something bad, SPY24 is the app you should watch out for. Using SPY24, you can check all of the contacts saved on a device and stay up to date on their phonebook entries from anywhere. Track an Android phone book to keep an eye on contacts from afar.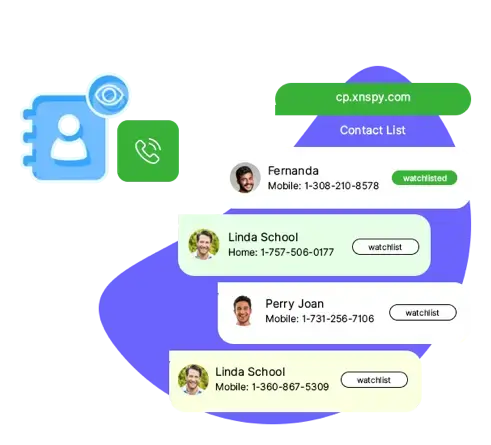 How to Monitor Contacts Via SPY24?
Watch a tutorial to learn how you can monitor contacts via SPY24?
Spy On Contact Lists On Your Kids or Employees Cell Phones
Get an access to all contacts on iPhone, Android Phone and BlackBerry. Know who your children are talking to and if they are safe. Check address book with phone numbers, names, emails and more!
Contact Alert

The Contact Alert app tracks all contacts on the target device and instantly sends you notifications when new contacts have been saved, along with their contact information.

Spy on Contacts List

SPY24 contact book list phone spy app allows guardians to track the contact list of any cell phone. Keep an eye on your kids, and employees.

Start Tracking

Login in to the SPY24 Control Panel to monitor contacts, calendar entries, browsing history and the other activities taking place on your child's phone.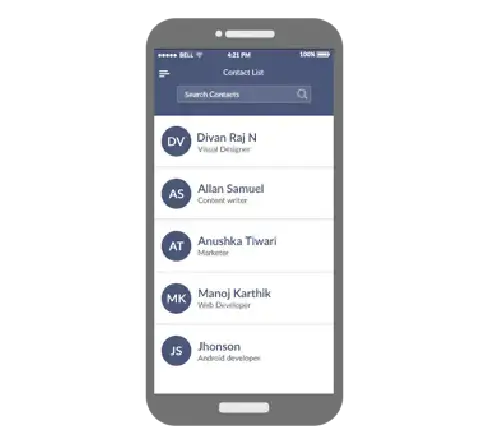 What is Contacts Mirroring?
What kind of monitoring app is the SPY24 Contacts lists, exactly? Keep an eye on your phone contacts: Using SPY24, you can check from a remote location any contact that is saved on the smartphones or tablets that are used by your children or employees. Verify in an instant the names, numbers, and any other information that has been saved for each contact on their devices. Look at all of the contacts. Examine specifics for each contact, such as their names and phone numbers. It is compatible with both Android and iPhone. Contacts: Utilize SPY24 to look through your child's address book. Through the use of the SPY24 Control Panel, you will have the ability to monitor any new or existing number.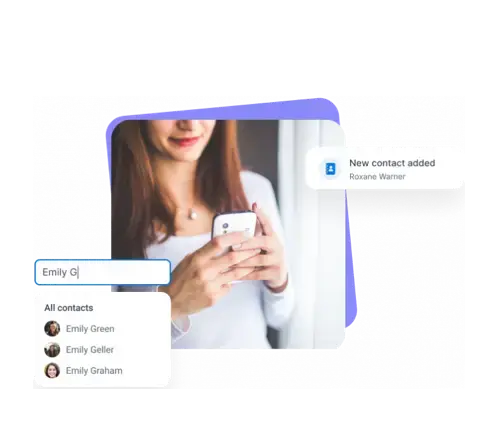 Contact Spy App
What a Contact Spy App Lets You See: With this contact Spy app, you can see all the contacts on the target device from afar. On your device's control panel, you'll be able to see all of your contacts, along with their name, phone number, and email address. Once it's set up right, this contact spy app will also let you see every contact's call and text history. You can do this without jailbreaking or rooting the device and from a distance. This contact spy app lets you access not only the phone contacts but also the contacts on any social apps that are installed on the device. All of this monitoring can be done without the owner of the device knowing, so you can spy on contacts without them knowing.
What is Contacts mirroring?
Keep an eye on their saved phone contacts and learn more about their friends and acquaintances.

All Contacts We've Saved:

Look at all of the contacts they have saved on their phones and tablets as they appear on those devices.

Email IDs that go with it:

If you've saved an email address with a contact, you can see it when you look at the contact.

Name & Numbers:

Check the name and phone number of each contact your kids have saved on their mobile devices.

New Friends :

When your child adds a new contact, you'll also see it on your Family Time Dashboard. Keep track of their new friends as they come along.

How to Find Out Who Calls You:

When you want to track someone's cell phone, it's important to know who their contacts are. Some of you might need to keep an eye on your kids or workers. You may want to find out if your partner is cheating on you. A good Contact Tracker Tool helps everyone talk to each other better and in secret.

Want to make sure your kids don't hang out with the wrong people? Want to find out if your employees are using their phones to talk to your competitors? This article will show you two ways to keep track of your phone contacts.

Why You Might Want to Monitor Phone Contacts: In today's world, it's hard to know who your kids are hanging out with, what your employees are up to, or who your partner is talking to. If you track a person's cell phone contacts list, you can see all of their mobile activities on your dashboard at the right time.

For Mom and Dad:

Keep track of your kids' phone contacts to learn more about their friends and other things. With the phone contacts monitoring feature, you can look at all of their saved contacts on their phones. Look at all of the contacts they have saved on their phones and tablets as they appear on those devices. Check the name and phone number of each contact your kids have saved on their mobile devices. This way, you can keep kids from doing anything illegal or dangerous online, since they won't know how to act in public.

For Spouse: The phone contacts monitor is a great way to catch your cheating spouse. A lot of people use social media sites and talk to people they don't know, get involved with people they don't want to and cheat on their real friends. If you have doubts about your partner, you can use phone tracker software to see what they do on their phone and figure out if they are cheating on you.

For Business Owner: This is also a big reason why business owners use phone monitoring apps to find out if their employees are trustworthy or not. It let you figure out who was responsible for leaking private information about the business or organization and why.

For One Person:

When you install the tracking app on the victim's cell phone, all the phone book contacts will show up on your dashboard. It will help you figure out if a victim has a number you don't know or don't want.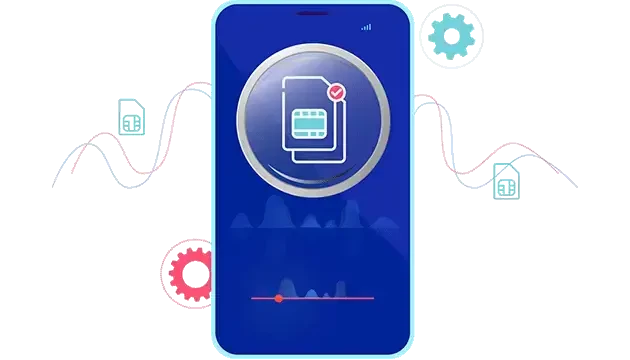 Frequently Asked Questions - contact spy
Which Devices Are Compatible With SPY24 Contacts List Monitoring App?

You can use SPY24 to view contacts off all Android and iOS devices. However, make sure that the target device is running Gingerbread 2.3 or above on Android, and iOS 6.0 or above on iOS. To avoid any discrepancies, we recommend you to visit our Compatibility Page. With SPY24, you can also spy on contacts without rooting (Android) or Jailbreaking (iOS) devices.

What Are The Prerequisites Of Using SPY24 Contacts Spy?

To use SPY24's phone contacts monitoring services, make sure that you have a working internet connection on the target device (Wi-Fi or data plan). Moreover, to install SPY24, a one-time installation is required on Android and iOS devices. If you don't want to install the app on an iOS device, you can also remotely monitor contacts using SPY24 No-Jailbreak.

Can I Monitor Those Contacts That Are Available On The Target Device Prior To The Installation Of SPY24?

SPY24 is the only app that allows its users to access data of a monitored device that exists even prior to its installation. Once the app is installed on a cell phone or tablet, all the contacts from that device will be uploaded onto your web account.

How Long Does It Take For The Contacts To Upload On My SPY24 Web Account?

SPY24's contacts list monitoring takes only a few minutes to upload on your web account as the app works in real-time. However, this holds true only for Android and Jailbreak versions of SPY24. For SPY24 No-Jailbreak edition, you will have to wait till the next iCloud backup.

I Am Not Getting Any Contacts From The Monitored Device On My Web Account; What Could Be The Reason?

If you aren't getting contacts from the monitored device on your web account, make sure that you have toggled on the "Log contacts" feature from the "Toggle Features" option on the settings page of your account.

Do I need to root or jailbreak the phone to access contacts?

SPY24's Contact Tracker works without root or jailbreak. The Android version needs a lightweight app to be downloaded to the target device. The iOS version is fully web-based, there are no downloads involved..

What Can You Learn From Tracking Contacts?

If you're a parent, you'll know who your child is in touch with and if the communication is frequent. You can screen the contacts for threats like bullies and sexual predators. SPY24 can be used in the workplace. Are your employees talking to someone from a rival organization? Or is a star employee being lured away from your company by an irresistible offer? You can pick up crucial clues by checking their address book. SPY24 makes for an excellent parental control and employee monitoring tool.

What's someone's contact list?

Get SPY24 to track contacts. After installing the app, you can view their contacts in your Control Panel. If it's on their phone, it's in SPY24. Nice, huh?

Why check their list?

If you suspect they're chatting with unsavory people, get a contact spy app. It shows you their address book so you know who's important to them. The Internet is a dangerous place where anyone can meet a stranger. Tracking contacts can reduce stress.

Does a contact tracker show chats?

You can read contacts' chats with the right app. SPY24 is the perfect contacts tracker because it shows who they talk to and what they say. SPY24 lets you read text messages and social media chats like WhatsApp, Instagram, Snapchat, and Tinder. Cross-reference their conversations and contacts for a powerful app.

Free contact trackers?

We don't recommend free contact trackers. You get what you pay for. Especially when dealing with personal contacts and conversations. By downloading a free app that claims to show you how to get someone's contact list, you may give the developers access to your device — or theirs. Attention!

How Do I View Another's Contacts?

Accessing someone's contacts is easy. Most solutions require jailbreaking or rooting the device to access its contacts. If not, use SPY24. SPY24 lets you access the target device's contacts without touching or jailbreaking it.

How do I see others' phone contacts?

Use SPY24 to monitor contacts. After installing the app, you can log into your phone's control panel to view the other person's contacts.

Root or jailbreak phone to see contacts?

No. Some tools require jailbreaking or rooting to monitor contacts, but it's not necessary. SPY24 can track contacts and other data without jailbreaking or rooting the phone.

SPY24 Tracks Hidden Contacts?

Yes. SPY24 is the best way to track a device's contacts without the owner's knowledge. It's completely hidden so the device's owner is unaware of its activities.

Why a Contact Spy App?

You may need a contact Spy app to protect your child from online predators. Keep track of a device's contacts to ensure employees only use company-issued devices for work.
Why do you need SPY24 contacts list Monitoring app?
If you are worried about your children's calling habits or that of your employees, having a look at their contacts could be an easy way to know what they are up to.
One of the top risks associated with kids having their personal smartphones is their interaction with anonymous people. With SPY24, you can largely minimize the chances of your child making peculiar conversations with strangers.
If you fear that your children could be talking to strangers, you can check their contacts list to be certain about it.
SPY24 is one of the first mobile monitoring apps that offer you complete contact lists monitoring, unlike other apps, which only provide contacts that are added on the monitored phone after their installation.
ake a sneak-peek at saved Contacts with SPY24's Contact Tracker: Browse through the Contacts book. Read brief contact descriptions. Note names, numbers, addressses, and more.
Paige
w.s

Adam
s.s
andre
n.n
contacts tracker online
The SPY24 Contact Tracker gives you complete access to someone's smartphone address book. Thanks to the feature, you'll know exactly who your family or employees are in touch with.
You Can Totally Rely on SPY24 – We've Got Your Back
SPY24 won't leave you alone with your subscription, because for us, your satisfaction is on top of everything else, and with that, we promise to deliver only the best mobile spying app experience that you will never have like it again!
100% Secure Satisfaction Guaranteed

24/7 Live Chat

Stealth Mode 100% Invisible
Free Contact Tracking Software And App
How Do I Get Contact Alert: What Are the Steps to Get Contact Alert?
The Contact Alert app monitors all of the contacts that are stored on the target device and notify you immediately whenever new contacts are added, along with all of the relevant contact information for those new contacts.
App-Based Notification System for Contacts
You will receive instant alerts from SPY24's newly developed contact saved alert app whenever the user you are monitoring adds a new contact to their address book. You will be brought up to date about any newly saved contacts of the target person if you follow these steps.
Receive immediate alerts whenever new contacts are added.
The New Contact Saved alert feature of SPY24 is designed to notify you in a covert manner as soon as a new contact is saved on the device of the target user. After receiving the alert, you can promptly log in to your SPY24 account in order to view the contact information that was recently added.
Not only is this helpful for keeping track of contacts, but it is also an excellent way to see who the target user is talking to and how frequently they are in contact with that person.
You can use instant alerts to ensure that your children, employees, and spouse always have accurate contact information by monitoring their phones and email.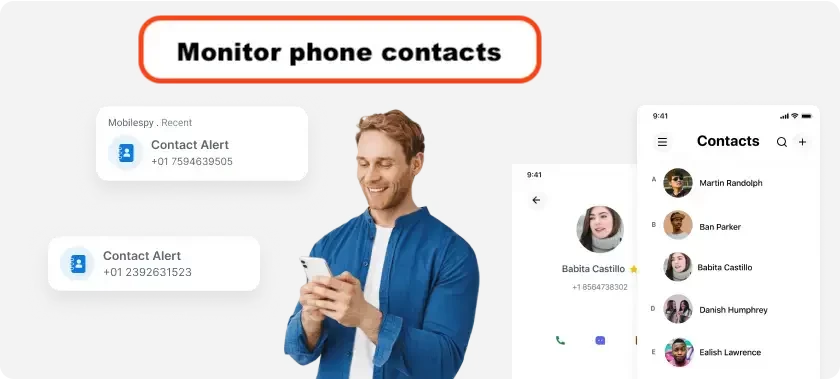 What is the function of the contact alert app?
In order to make use of the Contact Alert App, you will first need to download the SPY24 app and then install it on the device that you want to keep an eye on. After the SPY24 app has been successfully installed on the target device, you will be able to activate the new contact saved alert feature. To do so:
Navigate to the official website of SPY24.
Please log in using the credentials you have been given.
On the SPY24 dashboard, you should look for the option labeled "New Contact Saved alert."
By clicking on this option, you will have the ability to turn on or off the New contact save Alerts feature. After activating the feature, you will begin receiving alerts and notifications whenever new contacts are added.
Why do we need an app to alert contact information? Advantages of using a contact alert app
It is helpful for parents who are concerned about their children and want to remain in constant contact with them to make use of the Contact alert app that is available through SPY24. Parents can set up notifications to be sent to their phones whenever their children add a new contact to their phones.
If you follow these steps, you will have the peace of mind of knowing that your child has added a contact that you can rely on, such as a coach, a teacher, grandma, or any other member of their immediate family. In addition, if you receive alerts every time your child adds a new contact to their phone, you will be able to recognize your child's friends and determine whether or not they can be relied upon.
You can get notified about new contacts saved on your spouse's mobile device by using the feature that alerts you when new contacts are saved on their device.
When your spouse adds a new contact to their device, you can receive an email notification about it if you enable the alert feature on your device by following these steps: By doing so, you will be able to monitor your spouse's contacts and the individuals with whom they maintain communication.
Employers, Employers can use the Contact Alert app of SPY24 to ensure that their employees are not saving any confidential or potentially dangerous contacts on their personal devices.
If an employee uses the app to save a contact, it will immediately notify the device used by the employer. After you have been notified that a new contact has been added, you will be able to view their information in your SPY24 account.
Therefore, the contact alert app has the potential to effectively stop employees from storing unauthorized contacts and from disclosing sensitive information.
What are the capabilities of the contact alert app?
You are able to do the following with SPY24's contact alerts:
Receive immediate notifications every time the target device is updated with a new contact.
Have a look at the most recent contacts that have been saved.
Check the details of the contract, including the name, number, and any other relevant information.
Do I need to jailbreak or root the device that's being targeted?
No, you do not need to jailbreak or root the device you want to monitor in order to use the New Contact Saved alert feature of SPY24. After installation, the app grants users access to all data via remote access.
Now you are able to remotely monitor any cellphone device and track the entire phone book in order to check all of the contacts that are stored on the target phone. Parents have the ability to view all of their children's and employees' phone contacts that are stored on business-owned mobile devices. You have the ability to limit the use of phones by your employees to only business-related activities. You can remotely monitor an Android device's contacts by tracking its phone book and viewing the contacts' information in real-time.
Using a phone tracking app, you can keep track of your contacts.
The user of a modern Android device is given the ability to store a large number of contacts containing the information of those with whom they wish to maintain constant communication. The term "cellphone spy app" refers to a kind of high-tech tool that can monitor all of the contacts that are saved on the device that it is installed on. It gives you the ability to conduct remote surveillance on the entire contact book of target device users, including contact list, name, address, and number information that has been saved on the device of your loved ones, friends, and people related to your professional life.
SPY24 is a tool for monitoring phone contacts that were designed from the Perspective of the parents:
Because younger people have access to the digital world, particularly social messaging apps and online dating apps, they have become spoiled. This is especially true for online dating apps. Teenagers do in fact save the phone numbers of people they meet online in the contacts section of their mobile phones after exchanging contact information with complete strangers online. They begin chatting and talking on the phone with unknown individuals. By conducting remote surveillance on their children's mobile contacts, parents can alleviate concerns about their children having inappropriate relationships with strangers. By using the SPY24 parental control app, a parent can gain access to their child's entire phone book on their Android device, as well as learn whether or not a contact number has been added or removed.
For the purpose of conducting business, an entrepreneur should always keep their digital devices safe, as an unfortunate event such as their loss or theft could cause them to lose important contacts with clients, partners, and traders. They are able to clone an Android device whenever it is necessary by installing mobile monitoring software and can transfer all of the data associated with contacts from one device to another. Nevertheless, with the SPY24 online dashboard, they have the additional ability to create a data backup of all of the contacts that are saved on their digital phones and tablets.
You are able to monitor the contacts on android mobile devices and tablets with the help of a tool that is part of the Android spy software suite.
Learn about all of the recently added contacts on the target device through remote access.
Keep an eye on your teen's mobile phone numbers. list
You can retrieve all of the contacts from your mobile device even if it was stolen or lost.
It is possible to copy the saved contacts on an Android device and move them from one device to another. It is also possible to learn about contact numbers on a teen's device that are not related to friends or family.
Spy on contacts, track contacts, and conduct surveillance using a contact spy.
All of the contacts are saved on the cell phone tracking software.
The SPY24 mobile phone monitoring application accesses all of the contacts that have been saved by the owner of the android-powered target device.
Mirroring of phone contacts through Spy24
Keep a close eye on your children's phone contacts so that you can learn more about their social circle and other aspects of their lives.
The phone contacts monitoring feature of Spy24 gives you the ability to view all of the contacts that are stored on your target's mobile device. You will be able to gain first-hand knowledge about the people that your children associate with as a result of this.
Software for monitoring cell phones that lets you track contacts
Additionally, it stores text messages, calls, Facebook, Whatsapp, and GPS location data.
Manage your phone's contacts from any computer or mobile device as long as it has an internet connection.
You can keep track of all of the recorded information through your online account.
You can also view all of the text messages, phone calls, and screenshots.
When a user adds a new phone contact, that contact will also be saved and can be viewed in the user panel after the user has added the contact. All of the information, including the user's name, phone number, and email address (if they provided it), is also saved in the database.
Because it is a feature that is enabled by default, you do not need to change any settings.
Software for tracking cell phones that backs up all of the contacts.
In some instances, the user panel may not immediately update with the contact details; in these instances, you will simply need to wait for the information to become available. In addition to the list of contacts, the software will also save any interactions that may have occurred with these contacts.
The first and most important function of the software is to obtain data on voice calls. While the calls are being recorded, the information pertaining to each call, in its entirety, is saved. Additionally, the text messages sent through Facebook, Whatsapp, and SMS can be saved using this mobile phone monitoring software.
For you to be able to save this information on the target device, you do not need to have root access.
What are the benefits of having this feature?
It is very helpful to know the actual names of the people with whom a person is conversing over the phone rather than just their phone numbers when monitoring the activity on another person's smartphone.
When you want to know who your employees or children are talking to, having additional information such as an email address is valuable information to have. When you want to keep your children safe from harm, having as much information as you can get your hands on is absolutely necessary.
The most effective method to monitor phone contacts on the device under investigation
Use spy24 to monitor your phone's contacts.
The ultimate monitoring software for Android devices, Spy24 is available now. It gives you the ability to remotely observe everything that happens on your child's smartphone. You have the ability to monitor the phone contacts list, text messages, phone calls, current GPS location, Snapchat, WhatsApp, and even more.
You are able to do the following with the spy24 phone contacts tracker:
View a single contact at a time from a list of contacts;
Examine names and telephone numbers contained in an address book.
Check out other sources of contact information, such as emails, home addresses, and job information;
Explore your contacts using chat apps.
The five steps necessary to track the contacts on a target phone are as follows:
1. To start monitoring your contacts, go to the contacts button on the spy24 dashboard and click it once.
2. In the window labeled "contacts," you will see a list of all of the contacts associated with the person. It indicates whether a person is currently being saved or has been deleted but was previously saved. It also indicates whether or not a person was previously saved.
3. The name of the contact is, as one would expect, the same as the person's name. The age of the person is determined by looking at any information that has been saved in the contacts about the person's birthday.
4. the most important phone number for the person is listed next.
5. Additional information is a treasure trove for anyone using spy24 to monitor contacts on a mobile device.
Operating system support includes Android 4.4.4+13. (no need for rooting)
Please take note that spy24 now provides free registration for a limited time, enabling users to test out their mobile monitoring service. don't miss it!
They are additionally downloading the mobile phone monitoring software Spy24.
Spy24 is a professional monitoring solution provider that specializes in the development of tracking and monitoring tools for users of mobile devices, particularly smartphones.
Follow the activity on your mobile device, including call records, text messages, e-mails, documents, calendars, photos, videos, apps, and more.
GPS, geofencing, and wifi loggers can be used to track a person's current location.
Keep an eye on various social media applications such as Whatsapp, Skype, Facebook, Instagram, Snapchat, Line, Kik, Tinder, and Hangouts.
Restrictions on time and apps can be made from a remote control.
You can easily track phone contacts on both iOS and Android devices by using spy24. This feature is available on spy24. You are able to monitor every contact on devices at any given time, making this feature useful for parents, spouses, business owners, and individuals alike.
How to keep tabs on your contacts with SPY24
Keeping track of contacts is a breeze with dedicated software designed for that purpose. One excellent example of such software is known as SPY24. It's a cutting-edge spy app that can assist in the resolution of a wide variety of issues. This piece of software enables:
Record phone calls; maintain a database of contacts (and save those contacts as well);
Control the GPS location, monitor text messages, and spy on instant messengers like WhatsApp, Facebook, and others.
The application provides a wide variety of features. The majority of them are helpful for people who are unable to keep track of their phone contacts, such as parents, couples, business owners, and others.
Choosing the most effective software for tracking contacts
SPY24 is a helpful mobile tracker that sends you alerts whenever the address book is updated with new contacts. This application shows you not only the name of the new contact but also his or her phone number as well as the date that the contact was added to the system.
How to keep tabs on your contacts with SPY24
If you track contacts in accordance with the following three steps, you will be able to do so:
Register for an account, then sign in;
You can track your contacts for free by downloading the SPY24 software and installing it.
After that, you are able to begin monitoring contact information. All of the data that was recorded will be accessible in your own online account. You will be able to view all of the tracked contacts there. It allows you to access your data whenever and wherever you want, which is a very convenient feature.
The operation of this spy application for Android is not particularly complicated to grasp. The new contacts that a target user adds to his or her phone will be saved and can be viewed in your online user panel once the user has added them. There are times when the specifics are delivered with a slight lag. Do not be concerned; this is not a significant issue and is merely a characteristic of the technology. You will, at some point, obtain all of the information that you require, such as a phone number, a name, an email address, and so on.
SPY24 is able to save any interactions that it has with the contact list in addition to the contacts themselves. Because this is the default setting, you will not need to make any adjustments to your settings. In addition, you don't need any specialized knowledge in computer science and you won't have to do anything difficult because the process is very straightforward. Create an account, download, and then install the app to get started collecting data.
Everything is done in stealth mode, including the procedures. This ensures that no one other than yourself will be aware of your spying activities. Because of this, there are a lot of different applications for this software. In certain nations, engaging in such behavior is against the law. However, the anecdotes of people who were rescued from dangerous circumstances by a hidden person who cared about them demonstrate that this application is not always useless and that it has, on occasion, proven to be quite helpful.
Why does keeping track of contacts seem to be so important?
It is up to you to decide why and how to use the tools. Perhaps you are curious about the people to whom your children are speaking. You might need to exert some authority over your employees or investigate a certain individual. No matter what your motivation maybe when you have a specialized tool at your disposal like SPY24, you have a great deal of flexibility. On an Android device, for instance, you have the ability to discover the location of a SIM card or to take a screenshot from a distance.
Why does keeping track of contacts seem to be so important?
When monitoring the phone use of an individual, it is helpful to obtain the names and email addresses of the people with whom they are conversing on the phone. This has the potential to help solve a variety of problems.
When it comes to keeping their adolescents or children safe from harm, parents can benefit from any additional information. It is absolutely necessary to be aware of everything that is occurring with the device that is the target. Getting caught cheating is a nightmare that no one wants to go through. Nobody in business ever wants to have a loss in profit. There are a lot of people who require SPY24, and there are a lot of different reasons why:
It may present you with the possibility of learning everything there is to know about new interactions with your loved ones, workers, or children.
It enables you to exert more influence over the circumstances of your own life. The ability to track helps you avoid running into problems.
It is your opportunity to prevent someone you care about (such as a child, a girlfriend, or a boyfriend) from falling victim to a con.
It is the simplest way to obtain information about all of the conditions that apply to your employees and the plans that they have. It's possible that your employees are conspiring to disclose confidential information.
A monitoring software program SPY24 is utilized to monitor contacts in order to avert potentially dangerous scenarios or to offer assistance. You might, for instance, be able to assist your children or your grandparents.
Get started keeping track straight away. It's a simple solution that can help you better manage your contacts. A typical adult has more than 100 people saved in their phone's address book. This list gets several additional names and phone numbers added to it each year. After a while, it becomes difficult to continue dealing with it. You are able to organize your data and can also monitor the changes that are made to another person's phonebook.