iPhone Spy App on spying IOS iPhone Without Jailbreak?
Do you wish to know what your children do on their phones but can't because your kids don't let you? Are you afraid your employees could be misusing their company-owned devices by contacting your rivals or leaking company info to them? SPY24 is the world's best iPhone spyware that you can ever get to monitor your children or employees. So track iMessage, GPS location, emails, and social media on their iOS devices remotely without a fuss! Are they worried about what your kids are doing on their iPhones?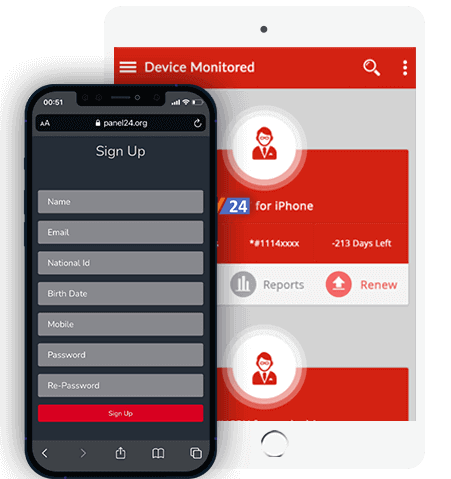 What is SPY24 iPhone Monitoring App?
SPY24 is the most advanced iPhone monitoring & tracking software that lets parents and employers track their children and employees via their iPhones. SPY24 runs smoothly on all Apple devices and works in complete stealth mode. This iPhone monitoring app lets parents and employers to:
iPhone IM Chat Spy

Remotely spy iMessage, and other IM apps, including WhatsApp, Skype, Viber, Tinder, Line, and Kik on all iOS devices with this iPhone spyware.

iOS Phone Logs Spy

Secretly monitor incoming, outgoing and missed calls on monitored iPhones with relevant date, time and address stamps.

iOS GPS Tracker

Track GPS location and location history on all iOS devices even on the older iPhones, including the iPhone 6 and 7, and even the newest ones, like the iPhone XS, and Xs Max, iPhone 11, and Pro Max,iPhone 12, and Pro Max,iPhone 13, and Pro Max,iPhone 14, and Pro Max.

iCloud Backup Alert

No need to keep your eyes on the watch, SPY24 alerts you whenever a new iCloud backup is processed.

Monitor Web Browsing & Multimedia

Monitor web browsing, saved bookmarks, and on-storage multimedia like iMessage photos on monitored iPhones, iPads and iPods.

Call Analysis

View top 5 callers and top 5 call durations. The Call Time Activity Punch Card reveals numbers of calls made during a certain hour and day of a week.
Jailbreak or No Jailbreak, We Have Got All Your Spying Needs Covered!
Our iOS tracking app comes in both Jailbreak and without jailbreak, so you could enjoy optimal monitoring as per your convenience. Check out how the two versions differ from each other:
No Jailbreak iPhone and iPad Edition
No iPhone Jailbreak is required
No Installation is needed
Complete iCloud access
Compatible up to iOS 16:
Buy iPhone No Jailbreak Edition
Jailbreak iPhone and iPad Edition
Enjoy unlimited features
Access WhatsApp messages
Effortless location tracking
Compatible up to iOS 16.
Buy iPhone Jailbreak Edition
Extensive Social Media Monitoring on All iOS Devices
SPY24 gives you access to eight different social media and instant messaging apps on the monitored devices. You can spy on IM chats, contacts and even shared multimedia (on select IM apps) with our Jailbreak & Apple Spy versions.
---
Before You Buy
Make sure that you are fully aware of the prerequisites of using SPY24 for a seamless monitoring experience.
iTunes

A physical access to the iPhone is required during the installation. To complete the installation, the monitored phone needs to be connected to a computer via iTunes. The monitored iPhone and the computer need to be on the same Wi-Fi connection for the service to work

Jailbreak

Works with all Jailbroken iOS devices running iOS 6.0 or above (up to 16) and requires physical access for installation.

Download App Store

Install the app on kid's and your own iOS device.
Why do you need to spy on iPhone using SPY24?
80 percent of kids regularly use a cell phone without their parents' supervision.
Around 50 percent of children have reported being bullied online, while almost a same number have been involved in cyberbullying.
Only 10 percent of kids tell their parents that they have been a victim of cyberbullying, and only 1/5 cases of online bullying are reported to law enforcement.
1/5 teens have shared their nude or semi nude photos with others online.
Leaving your children alone with their personal phones or iPads could mean posing them to a variety of online risks, like cyberbullying, online predating, and online harassment.
With our iPhone 12 Spy app, you can give your kids a direction about their cell phone use. You can tell them not to share anything with others that they wouldn't want anyone to see.
SPY24's jailbreak iMessage spy can monitor nine different IM and dating apps, including WhatsApp, Line, Skype, Kik, and Viber, etc
Paige
w.s
Adam
s.s
andre
n.n
The Most Reliable App to Monitor iPhone and iPad!
Here's a comparison of the features you'll get with our No Jailbreak Edition and Jailbreak Editions.
| iPhone Features | iPhone No Jailbreak Edition | iPhone Jailbreak Edition |
| --- | --- | --- |
| Calls | ✗ | ✓ |
| Call History | ✓ | ✓ |
| Watchlist Contacts | ✓ | ✓ |
| Text Messages | ✗ | ✗ |
| Read All Incoming and Outgoing SMS | ✓ | ✓ |
| Watchlist Words for SMS | ✓ | ✓ |
Best iPhone Spy App – Undetectable Monitoring & Tracking App
The iPhone spy app that everyone's talking about is both undetectable and easy to install. Find out how it works.
What Can SPY24's iPhone Spy Software Do?
With over 150 features, SPY24 delivers information no other spy app for iPhone can - including monitoring all forms of messaging, such as SMS, email, and popular IM chat applications like Snapchat, Facebook, Viber, and Skype. And SPY24 is unique - having the ability to listen to and record live phone calls & phone surroundings, as well as VoIP, calls made on Skype, WhatsApp, Viber, and many more. You won't find these features anywhere else.
Why Is SPY24 The Best Spy App For iPhone?
iPhone Monitoring It's easy to see what they're up to on their iPhone when you have an undetectable app that puts you in control. For Advanced iPhone or iPad Monitoring
Our iPhone Monitoring App is Super-Fast, Reliable and Easy to Use
With its extensive device compatibility, easy installation and brilliant mobile spying, SPY24 comfortably tops the best Apple spy apps list for 2019. Our Apple spy app provides an immersive and superlative monitoring experience that can be used to spy on any iOS device without jailbreaking, even the latest iPhone XS 12, XS Max, and iPhone XR.
How to install SPY24 on target iOS devices?

To install SPY24 on an iOS device, click here to follow our step-by-step installation guide.

Which iOS devices are compatible with the No Jailbreak spy version?

The No-Jailbreak version of our iPhone spy can be used on all iOS devices running iOS 16 or above.

Which iOS devices are compatible with SPY24 Jailbreak iPhone and iPad monitoring app?

SPY24 iOS Spy can be installed on all Jailbreak iOS devices. You can use it to spy on all Apple devices running iOS 6.0 or above (up to iOS 16). These include all your older devices, plus the new ones, including the iPhone 8/8 Plus,iPhone XS Max, XS, iPhone XR,iPhone 11/Pro Max,iPhone 12/Pro Max,iPhone 13/Pro Max, and the previous year's iPhone 14/Pro Max.

How to install SPY24 spyware on iPhone All?

The app works on all iPhones, including the iPhone All and without even jailbreaking it, ensuring that your new device's warranty isn't voided due to jailbreaking.

What are the prerequisites of using SPY24 iCloud Spy software?

To use SPY24 iCloud spying app on a device, make sure you have the iCloud credentials of your kids or employees whose iPhone, iPad or iPod you are going to use.

What are the prerequisites of using the Jailbreak edition of the app?

To use SPY24 Jailbreak iOS spying app, the target device must be jailbroken and running between iOS 6.0 and iOS 16. Moreover, you will need to manually install this iPhone and iPad monitoring app on the target iOS device using iTunes.

I am not getting any phone logs from the monitored iPhone, what could be the reason?

If you are not getting any phone logs from a monitored iOS device, check if it's connected to the internet. If the problem still persists, contact our Customer Support to report an issue.

How to monitor an iPhone remotely using SPY24?

You can remotely monitor an iOS device using our iCloud spyware that works without jailbreak and doesn't involve any download or installation but only needs the iCloud credentials of the person who you wish to monitor.

How can I buy SPY24 iPhone monitoring App?

You can buy our app by clicking on "Buy Now" anywhere on the website. For any further pre-purchase queries, visit our FAQs Page or contact Customer Support.

You say you are the best, how is it so?

Do you know that SPY24 was the first monitoring app to come up with iPhone spying without jailbreak? Not only did we pioneer iPhone spying no jailbreak but also made sure that it worked all the time. With this iPhone spy app, you don't have to wait. Our service is available on a new iOS as soon as it is out so you could enjoy seamless monitoring without the jailbreak.

Does SPY24 work with the iPhone XS Max/XS devices?

Yes, SPY24 works with both iPhone XS and XS Max.

Your iPhone spy without jailbreaking seems very promising but why is it priced so low?

Being exclusive doesn't necessarily have to be priced extravagantly. Our inexpensive iPhone spying no jailbreak solution only requires an iCloud account (of the target person) to work. And with our 24/7 Support, you will always have a helping hand if you ever need it.

Is it legal to use SPY24 iPhone monitoring software?

Yes, it's totally legal to use SPY24. For more information, refer to our Terms page.

Does SPY24 iOS spy app work worldwide?

Yes, our monitoring app works regardless of the location of the device or the cellular network that it is on. Our app works with all service providers anywhere in the world. However, you do need an internet connection-whether Wi-Fi connection or mobile internet—for the app to transfer data to your online account.

How can I access the data from the monitored Apple device?

Once you sign up for SPY24, you are given access to your personalized online account from where you can manage and access data from all the monitored devices.

How to hack someone's iPhone?

SPY24 is a legit iPhone monitoring software tool for employers and parents. We only recommend SPY24 to be used under a legal consent between the two parties. Hacking, on the other hand, is outright illegal.

Is SPY24 compatible with the iPhone 11, iPhone 12 Pro, and iPhone 13 Pro Max and iPhone 14 Pro Max?

Yes, SPY24 is compatible with the iPhone 14 variants.
How SPY24 Protects your beloved people and your business assets in 3 steps
You can download the parental control software for iPhone spy and Android spy PC - MAC through the following links.
Subscribe to SPY24:

Choose your mobile monitoring subscription plan and the payment option that meets your needs.

Download and Install SPY24:

By going through our emailed instructions step by step, you can easily Download and install the SPY24 application on your desired device.

Go Monitoring:

It only takes a few minutes to get started with the SPY24 application. Finish the last step of setting the application up by logging in to your SPY24 dashboard using the provided account information.
More Incentives to Choose SPY24 iPhone Monitoring App
SPY24 provides a fast and reliable iPhone monitoring experience that you can rely on! Its minimalist and super-easy spying is hard to beat both in terms of pricing and services.
Under 5 minutes Installation

The app can be downloaded and set up on your kids' or employees' Apple devices in as little as 5 minutes.

Real-Time Spying

No lags, no breaks; SPY24 offers a truly real-time spying experience on all iOS devices like iPhones, iPads and iPods.

Extensive Online Guide

If you want to self-service, we have already answered all your frequently asked questions that you can find on our FAQs Page.

24/7 Customer Support

SPY24 is smooth and bug-free, but if you still need our assistance, we are available 24/7 to help you with live chat and email support.
SPY24 iPhone Tracker App Free IOS 16
Are you looking for a good iPhone tracker app? Look no further than SPY24! This app is free and easy to use, and it offers a wide range of features that make it the perfect tool for tracking your phone. Read on to learn more about SPY24 and how it can help you keep your iPhone safe and secure.
SPY24 iPhone Tracker App Free IOS 16—Spy on iPhones Without Jailbreaking
It's no secret that iPhones are one of the most popular devices on the market today. With their sleek design, advanced features, and intuitive user experience, it's easy to see why they are so popular. But did you know that there is now a way to spy on an iPhone without jailbreaking it? That's right! The SPY24 iPhone tracker app free IOS 16 offers users the ability to remotely track iPhones without having to install any additional software or hardware onto the device. Let's take a closer look at how this works and how you can benefit from using this app.
How Does the SPY24 iPhone Tracker App Work?
The SPY24 iPhone tracker app works by connecting your device with our secure server. This connection allows us to access data stored on your device and transmit it back to our server in real time. In addition, we also have access to all of the apps installed on your device, as well as any text messages or calls that have been made or received using that device. This means that you can use our service to spy on an iPhone without having to jailbreak it first!
What Are Some Benefits of Using SPY24?
Using the SPY24 app has several advantages over other spy apps available on the market. For example, we don't require any special hardware or software installation—all you need is an internet connection and access to your target device (in order to install the app). Additionally, we provide a range of features such as GPS tracking, call recording & monitoring, SMS tracking, social media monitoring & tracking, website & keyword monitoring & tracking, and more! Finally, our service is completely legal and compliant with all applicable laws and regulations regarding privacy protection for children under 13 years old.
Conclusion:

At SPY24, we understand how important privacy is when it comes to spying on someone else's phone. That's why we offer a reliable and secure solution for spying on iPhones without jailbreaking them first. Our app allows users to monitor activity remotely in real time while adhering to all applicable laws and regulations regarding child privacy protection. So if you're looking for a way to discreetly monitor an iPhone without jailbreaking it first, then give us a try today! We guarantee you won't be disappointed!