Geo-fencing Feature - Monitor Specific Locations
Geofence Monitoring: Use the SPY24 Geofencing app to keep an eye on particular locations. SPY24 is the geofencing app you can rely on if there are specific locations you'd prefer your kids avoid or if you want to ensure that your employees attend a meeting at a specific location. With SPY24, you can set alerts for both check-in and check-out on particular locations and order your kids and staff members to avoid or go to those specific geo-fenced locations, respectively.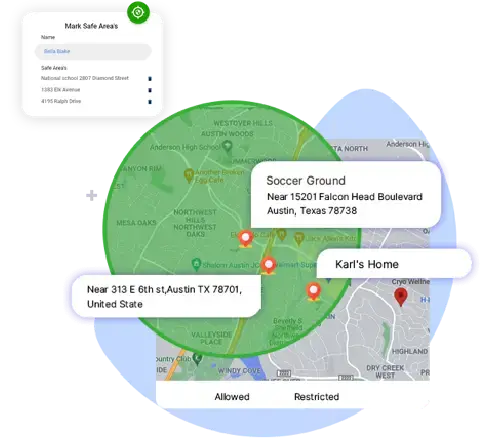 How to Geofence Places Using SPY24?
Watch the video to find out how geofencing works on SPY24.
Geofencing on Android - IOS & MacOS - Windows for Patental Control
Keep track of your children's location and ensure their safety by using geofencing and location tracking features.
Create Geofences with No Effort

Mark a location of interest and then set the geofence by creating a circular around the location. Available only when it is for android monitoring:

Receive Geofencing Alerts In Time

Whenever the target enters or exits a geofence, you will receive a notification email.

Geofencing

Set safe boundaries for your children such as home, school, or Grandma's house, with SPY24. Monitor your kid` whereabouts and get alerts every time your child breaches virtual barriers.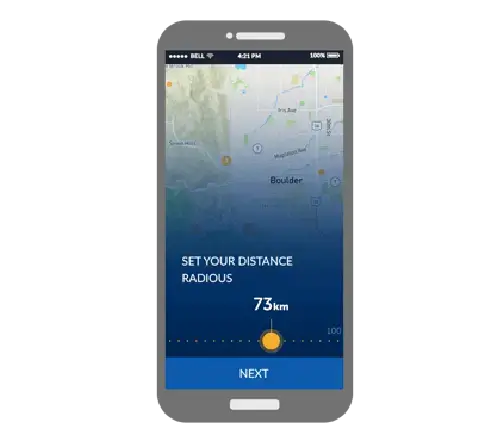 What is SPY24 Specific Location Monitoring?
With SPY24, you can keep an eye on certain places from afar and get notified when your kids or employees enter or leave them. The many geofencing features of SPY24 let you: Mark certain places as "safe" or "not safe." You can add as many areas, locations, and places as you want to the "safe" and "unsafe" lists. Get alerts on your phone or tablet when they enter or leave these places. A geofence is a virtual boundary that has already been set up, like a school attendance zone or a neighborhood boundary. It is a very important feature for parents because it lets them know right away when their child enters or leaves a safe area. Real-time tracking of GPS location.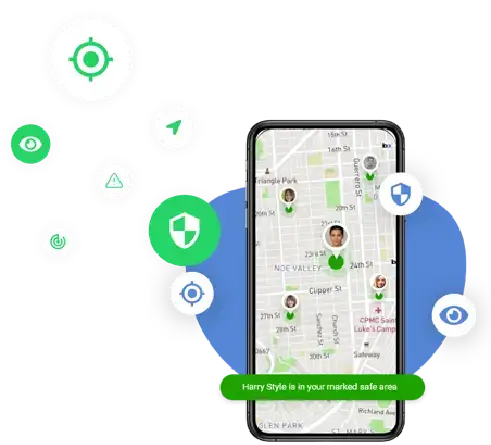 GEO Fencing for Child Safety & Employee Tracking
Use an electronic fence around the target device to mark safe zones: Marking safe zones uses high-tech tools. It lets users know when the person you want to keep track of is about to enter or leave a place you have marked with the Geo-fencing feature. It warns the people who use it that there's nothing to worry about because they're getting closer to a safe area. So, you can keep an eye on the person you're interested in and get regular updates. How to mark safe areas on Google Maps for target devices? With the Geo-fence feature of the SPY24 app, you can keep track of when the device you want to spy on enters a safe area. It gives you the ability to virtually follow the person on Maps. So, put the app on the target device to stay away from dangerous places.
Geo-fencing feature – The history of device movements on a convenient map with
With SPY24, you can set safe zones for your kids, like home, school, or Grandma's house. Track where your child is and get alerts when your child crosses virtual boundaries.

The iPhone app geofence:

You can enjoy Geofence Alerts on your iPhone, iPad, and iPod touch by downloading it. You can buy and download apps from the Mac App Store.

The Android geofence app:

Your app needs to use the location API's builder class to make Geofence objects and the convenience class to add geofences.

spy apps for android:

Best Free Spy Apps for Android (Can't be Found, Hidden, and Don't Need Root) Are you looking for the best spying app that can give you accurate information?

Spyware Detector, Anti Spy, and WhatsApp Security can help keep you safe from spyware and stalker that can be harmful. Are you being watched right now? Are you ...

Spy app for Android that is not rooted:

Find out how simple it is to spy on an Android phone without having to root it. With SPY24 or any other spy app, you don't have to root your phone. It makes it possible to...

spy apps for:

You will learn how to spy on LG phones in this article. SPY24 is the best tool for tracking LG. SPY24 is the best app for keeping track of mobile phones, and it works well. best free geofencing app for android:

Best free Geofencing Software across 6 Geofencing Software products... Software solutions for Android and iOS that improve technology for location-based apps.

free software for geofencing:

Advertising and marketing on mobile devices using geofencing. This boundary, which is called a geofence, can be used with a software program to... Make your FREE online appointment

Tools for geofencing:

The best tools for local marketing use geofencing. Geofencing is one of the most popular ways to...

Monitoring a Geofence:

A geofence is a virtual boundary that has already been set up, like a school attendance zone or a neighborhood boundary. It is a very important feature for parents because it lets them know right away when their child enters or leaves a safe area.

Free geofence app for iPhone:

Make Geofences without any work.

Mark a place of interest, and then set up the geofence by drawing a circle around it. Only available when monitoring an Android:

Tools for geofencing:

Get Timely Geofencing Alerts.

When the target goes inside or outside of a geofence, you will get an email.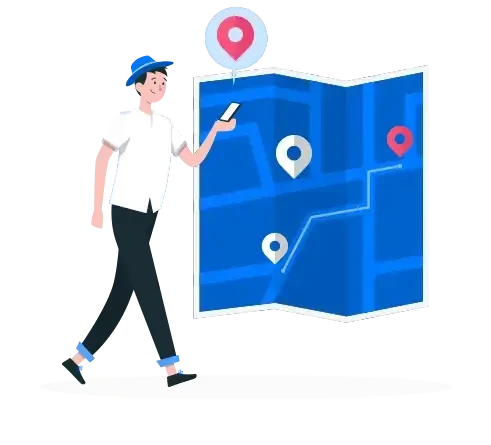 Frequently Asked Questions - Geofencing
Which Devices Can I Geofence Using SPY24 Specific Location Monitoring App?

SPY24 works with all Android and iOS devices. However, SPY24's geo-fencing capability is limited to Android and Jailbreak versions of the app.

What Are The Prerequisites Of Using SPY24 Geofencing Software?

For geofencing to work on SPY24, you would be required to have a working internet connection (Wi-Fi or data plan) on the monitored device as the feature requires a real-time GPS location. Also, note that the SPY24 Jailbreak version is compatible up to iOS 9.0.3.

How Accurate Is Geofencing Feature On SPY24?

SPY24 is better than many other geofencing app providers because it uses Google Maps on Android and "Find My iPhone" on iOS, so it's 100 percent accurate most of the time.

How Many Locations Can I Geofence With One Subscription Of SPY24?

There are no limitations on the number of locations you can geofence using SPY24.

How Can I Geofence A Location Of The Monitored User?

Using SPY24's geo-fencing feature is very easy to use. All you have to do is to use your web account, go to "Settings" and then "Add Watchlist Locations".

How can I monitor geofences set for a target phone?

Create a SPY24 account To use SPY24 phone spy service, you need to get a membership first on the website or with any SPY24 app. Once the account is created, it can be used across all platforms.

How to protect kids from unsafe neighborhoods?

Mark safe areas on Google Maps for your kids. You must install a phone spy app to create a Geo-fence and mark safe areas for kids. When a child leaves the electronic fence and moves towards danger, parents will be notified.

Can you follow your target?

Yes! Track your target's movements. Install the tracking app on the target phone and use the online dashboard to activate Geo-Fence. It lets you create a virtual electronic fence for a device user on maps. Google Maps will provide updates on the target device's location.

Best Geo-fencing cell phone monitoring software?

SPY24 has many features to track target cell phones. Users can mark safe and restricted places on maps unless a tracking app is installed. You'll get real-time results of the target device's movements and alerts if the person leaves or enters the fence.

Google Maps: how to mark kid-safe areas?

Set up safe zones for underage kids to protect them from predators. You can create an electronic fence and mark safe areas for your kids by installing and activating the best phone tracker app on the target phone. You'll get email alerts when kids leave a Google Maps location.

How can geofencing keep them safe?

Read on if you don't think you need GPS geofencing. As a child, did you ever run away? Parents can be devastated even for a few hours. Geofencing lets you track your kids. You can set your house as a safe zone, so if they return home while you're out, you'll know.

How do you use geofencing?

The GPS that is built into a kid's device is used by geofencing apps to work. You can set up safe zones with SPY24's GPS geofencing technology (or danger zones). You'll know when your child enters or leaves one of these zones. This is a simple way to keep them out of trouble and keep them safe.

How will a geofencing app keep them from getting into trouble?

Continue reading if you don't think you need a GPS geofence solution. When you were young, did you ever try to get away from home? Even if it's only for a few hours, it can be terrible for parents. If you know how to use geofencing, you'll always know where your kids are. Remember that you can even make your house a safe zone, so if they come home while you're out looking for them, you'll know.

What makes SPY24 the best app for geofencing?

You don't have to keep looking at a map to see where they are. SPY24 will do it for you. As soon as they enter or leave the restricted area, you will get a message telling you where they are. SPY24 also has other great monitoring features, like tracking social media messages, a keylogger, blocking websites and apps, and so much more. It is also easy to put together. Just buy a subscription, put the app on your child's phone, and install it by following the on-screen instructions.

Is there a GPS tracking app that lets you set geofences and keep an eye on messages?

Yes, there is. And now you have it! SPY24 is a good choice if you want a geofencing app for your iPhone or Android. SPY24 has a lot more to offer than just advanced GPS. With SPY24 parental control software, you can keep an eye on social media, read text messages and chats, look at browsing history or bookmarks, and check call logs and contact lists, among other things.

Can I put a geofence app on the iPhone of my child?

Do they have iOS? Then you're in luck because SPY24 is one of the best iPhone geofencing solutions on the market. Do they use Google more? No worries. SPY24 has you covered in this area as well since Android has geofencing built in. SPY24 is a good choice if you want a geofencing app for your iPhone or Android. To use one of the best geofencing apps on the market, all you have to do is buy a SPY24 subscription, check your email for instructions on how to set it up, and go. That's all it takes.
Why do you need SPY24 Geofencing app?
Your child's real world location should matter to you more than ever before as kids are at a very high risk of being abused by predators nowadays.
Every year 2.9 million cases of child abuse are reported alone in the U.S. With a geofencing app on your child's cell phone or tablet, you can always ensure that your child is not trespassing into dangerous neighborhoods.
Geofencing is a perfect solution for parents who have to stay away from their kids most of the time due to their work obligations.
If you fear that your minor kids could be visiting pubs or drinking alcohol without your approval, you can set alerts on all the bars and pubs within your house's vicinity using SPY24's geofencing software.
Businesses who fear that their offsite employees are derailing and probably making deals with the rivals, can be certain about it using the SPY24 geofencing app.
free geofence app for android ios Geofencing apps for Android and iOS devices.
Paige
w.s

Adam
s.s
andre
n.n
The beginner's guide to geofencing
We're going to cover everything you need to know about geofencing. Whether you want to use geofencing to protect your property, keep your loved ones safe, or send location-based communications for your business, we've got you covered.
You Can Totally Rely on SPY24 – We've Got Your Back
SPY24 won't leave you alone with your subscription, because for us, your satisfaction is on top of everything else, and with that, we promise to deliver only the best mobile spying app experience that you will never have like it again!
100% Secure Satisfaction Guaranteed

24/7 Live Chat

Stealth Mode 100% Invisible
SPY24 Geofencing App: Customized Individual and Business Solutions
Modern computer systems and networks are built with privacy and confidentiality in mind. Controlling and stopping certain unwanted activities is also becoming more popular. There are many reasons for this, such as parents wanting to keep an eye on their kids and keep them safe from dangerous content online and dangerous physical activities when they are not with them. Another reason is that employers want to have more control over a large workforce that can't be watched physically during work hours. Geofencing, a new thing in the world of technology, is one way that people can take control of such things now.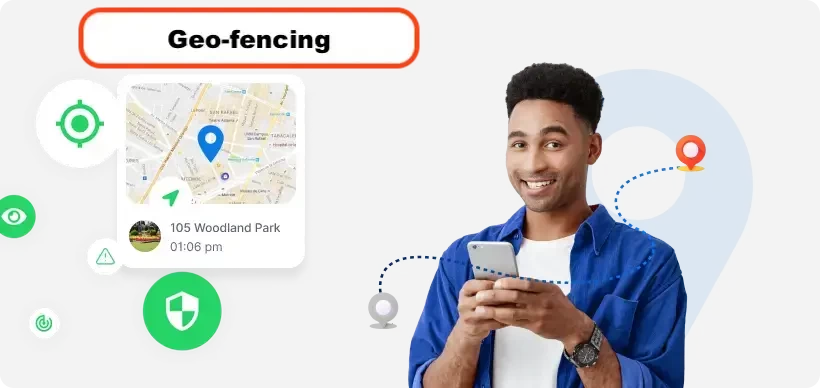 Features of the Phone Location Tracker App
If you are a parent worried about your child's safety and whereabouts, a spouse suspicious of your partner's business trips, or a business owner who wants to see how your team moves from one site to another, the SPY24.io Phone Location Tracker app is your answer. Track the GPS location of the phones you want to keep an eye on from a distance and rest easy. It does more than just track where cell phones are. SPY24.io is an advanced spying app that can track a lot of different things.
Find out where you are right now
With the help of the Phone Location Tracker App, you can find out the exact latitude and longitude of the person you want to track with just a few clicks.
Find out where you've been
Track the target user's location and route history, and see the latitude, longitude, address, date, and time of each place they visit.
The location tracker feature also lets you get real-time alerts when a user of a targeted Android or iOS device leaves a certain location or goes into a restricted area.
You can also look at the user's past or present GPS location on a map.
How does the app that tracks your phone's location work?
Tracking a phone's GPS location will let you spy on the device to find out where it is in real-time. You can also set up a virtual boundary around a place and get notified if it is entered.
To do this, you need to download SPY24 and put it on the Android device you want to spy on. But the iOS version doesn't need any downloads because it's all done on the web. All you need is to see their Apple ID.
Once you have the SPY24 app, you can find out where the targeted device is from a distance. To do so:
Go to the site for SPY24 on your device.
Enter your valid credentials to log in to your account.
Choose Location from the sidebar on your dashboard. The sidebar is on the left.
Now start spying on the device you want to track and get their real-time location. The information is based on data sent by the target device over Wi-Fi and GPS. You will be able to see where your Android or iOS device has been in the past on an interactive mind.
With the Phone Location Tracker app, you can track the GPS coordinates of your target and see where they are on a map with just one tap.
Yes, SPY24 is more than just a GPS tracker or a phone locator. You can look at your location history, which includes dates, coordinates, and a lot more, on the Android and iOS devices that are being tracked.
Why do we need App to Track Phone Locations? Parental Benefits of Tracking a Phone's Location
Yes, most parents do want their kids to become more independent. But you worry about your kids' safety and whereabouts at the same time. Many nights, you worry about your kids and can't fall asleep. So, you need the Phone Location Tracker app, which helps you find a balance between keeping an eye on your child and letting them live their own lives.
Your child might be old enough to hang out with friends, but they might not be mature enough to always make the right choice. They might be going to places they shouldn't or shouldn't be going to. They might go somewhere without your permission and not come back for a few days.
Phone Location Tracker will put your mind at ease by letting you find out where your child is. You will know everything about where your child has been and can track his or her every move. You'll know if your child goes into a restricted area, so you can keep them from getting hurt.
Is your spouse taking a lot of "business trips" all of a sudden? Are you starting to think that your partner might be lying about where they are?
Then you should definitely use the SPY24 Phone Location Tracker feature of the app. It lets you know where your partner is right now. You can also look at your spouse's past locations and see where they were on a map. So, it's easy to tell if they're lying and you can catch them in the act.
As a business owner, you might want to know that your employees are doing their jobs well. During work hours, you might want to know where your employees are.
Also, if your workers are out in the field, you want to make sure they are in the right place at the right time. With the phone location tracking feature, SPY24 gives you the peace of mind you need. The best part is that it is perfectly legal to find out where the company-owned device is.
Phone Location Tracking lets you find out if your employees are at work when they should be. You'll know when an employee comes into or leaves your office. This feature lets you see where an employee has been in the past, which can help you make them more productive.
What can you do with the App to Track Your Phone's Location?
Once you decide to use SPY24's Phone Location Tracker on Android and iOS devices, you can get a lot of useful information. You will be able:
Find out where your target is using his or her phone in stealth mode.
Find the map link and track the coordinates (latitude and longitude).
Find out when and where each place the target user has been
Find and track down cell phones if they are lost or stolen.
Get alerts and notifications in real-time
Do I have to "root" or "jailbreak" the device I want to use?
No, you don't have to "root" or "jailbreak" the Android or iOS device you want to track in order to use the Phone Location Tracker app. SPY24 can track the location of both Android and iOS devices.
How does Geofencing work?
Geofencing, also called "geo-fencing," is a technology that lets a user or another trusted party know when a device moves within or outside of a certain area. Geofencing has been used in transportation and logistics for a long time. Complex systems have been set up to geofence trucks on the road, forward freight, and track package deliveries. Geofencing is now used in the field of personal security and in business. It lets parents and employers track their children and employees after they leave a certain area.
How Using Geofencing Apps Can Help
Even though geofencing looks like something from a Hollywood spy movie, it is a useful tool for many everyday tasks. For example, people who always forget to buy something in a store or who have trouble remembering several places can set up location-based reminders. When you get close to the store where you always forget to go, your device will send you a reminder. You can also set up a geofence around yourself by telling your smart home to turn on and off the lights when you arrive and leave or to keep the temperature and humidity at a certain level while you are away from home. Keeping things safe and intact has never been easier. All you have to do is set up a geofence on your app, and the tracker will let you know right away if someone enters your private area.
SPY24's geo-fencing options can put a lot of worries to rest. When a user's target device leaves the safe zone, the geo-fencing options will let them know. When it comes to keeping children safe, this is a must-have. If you set up a safe zone around your home or your child's school, you will be notified right away if something strange happens. As you can see, SPY24 apps work great both at home and at the office. They make sure that you are always in charge of your personal space and that it is set up the way you want it to be.
There are more ways to use geofencing apps.
Even though the most common uses of geofence apps are in caregiving (such as parental controls) and transportation, there are some other ways that you may also find useful:
Maintenance was required. This feature is for IT workers. If you have devices that need to be fixed that aren't in your calibration and maintenance room, you should geofence them so that private data doesn't get out.
Geofencing can also be used to make sure that buildings have safe escape routes. If objects stay in corridors longer than what is allowed by the building's escape protocol, optical identification through geo-fencing systems should send a signal that something is wrong with the way they are being stored.
Geofencing apps are very helpful in setting up an asset management system that links and keeps track of all the objects.
A wireless geofence app can help booth builders at business events a lot because it lets them set the exact location of fair boxes and where they are in the exhibition halls. This makes the location process more efficient overall.
As you can see, geofencing apps offer many ways to track and keep an eye on people, and their use gives caregivers, employers, technical engineers, and logistics/transportation teams a lot of control. Try out our SPY24 geofence solution to make sure no one gets away from you. Be aware of the legal limits of geofencing apps, though. Spying on your kids may be okay, but using an illegal geofencing app to spy on other people could get you into trouble.
By the time we're done, you'll know:
How geofencing works
How to use geofencing
Why and how geofencing is used
How trustworthy geofencing is
How to make geofencing work
First, let's take a closer look at what geofencing is.
How does it work?
Geofencing is like putting up a virtual fence around a place. The Global Positioning System (GPS) is used by an app or piece of software to set up the "fence" and keep track of when a device enters or leaves the area. In SPY24 GPS, we call geofences "boundaries" because when you make one with a GPS tracker, you set up an area where you want the tracker (and the item, pet, or person it's on) to stay.
Depending on what a geofence is used for, it can watch a specific GPS tracker, any mobile device with a matching app, or a wider range of GPS-enabled devices (personal computers, smartphones, and tablets). If the tracked device crosses the geofence, it sends a message to the device itself or to a separate device that is watching the geofence. This message could be a text message, a push notification, or an email.
How do you use geofencing?
Since GPS is used to set the virtual boundary of geofencing, you need to know how GPS works before you can understand how geofencing works.
How does GPS figure out where a device is?
The Global Positioning System (GPS) is a network of more than 30 satellites that orbit the Earth and constantly send out their locations and the time. These satellite signals can be picked up by a GPS receiver, like your phone or a GPS tracker. When a GPS receiver picks up signals from four or more satellites, GPS uses a little geometry to figure out where the receiver is.
It basically knows how fast the GPS signal moves and where the four (or more) satellites that sent it are and when they sent it, so it can figure out how far away it is from each satellite by figuring out the speed over time. If there are at least four satellites, the GPS can make a pretty good guess about where the receiver is when it picks up the signals.
SPY24's platform has a picture of a GPS tracker.
So that's how the GPS can figure out where a device is.
When a device crosses a geofence, how does GPS know?
You might be trying to set up a geofence around your home, business, or another physical location, but what you're really doing is setting up the coordinates of your virtual fence (longitude and latitude). Most of the time, these coordinates are shown on a map, which makes it easy to set up your geofence around a building or property. However, the coordinates are what the geofence is really watching. When the coordinates of a device cross over the coordinates of a geofence, a notification is sent.
[Image illustrating a geofence being triggered. Could be part of the program or just a picture.]
How do notifications get sent from a geofence?
Depending on what kind of notifications it's sending, a geofence can send them in different ways. Cellular data networks or Wifi are used to send push notifications. Text messages use radio frequencies. Emails use Wifi or cellular data. Your app or software uses GPS signals to find out when a device crosses the geofence. It then sends the notification to you, an email address, or the device that crossed the geofence.
So if you set up your geofence in the middle of nowhere where there is no service, a mobile device won't get the message until it gets service.
What is the purpose of geofencing?
Geofencing can be used for security, fleet management, and marketing, among other things. Here are a few ways that businesses and people use it.
Keeping property safe
A geofence won't always stop someone from stealing your car or taking expensive company property from your campus. But it will tell you as soon as it does. One of the most common things people and businesses do with geofencing is to keep an eye on their cars and other valuables. This only works if the thing you want to keep inside the geofence has a GPS tracker on it. The tracker sends a message to your device when it leaves the geofenced area.
Digital advertisers are always looking for ways to make their ads more relevant because that makes them more effective. You can show your ads to people in certain places by using geofencing. Your geofence could cover a whole town or zip code. Or, it could focus on a small area around your company's campus, a competitor's campus, or another location that is important to your ad.
You might want to go after people who are leaving the campus of a competitor, for example. Or people who live close enough to your store to walk there. Or people who are going to a conference, concert, or another event.
(This is sometimes called geotargeting in marketing, but it really works with geofences.)
When someone leaves the geofenced area, they can see your ad on whatever platform you're using (Google Adwords, Facebook, etc.). Depending on the advertising platform, you can also use other demographic information like age, gender, or language along with geotargeting.
Push notifications based on location
Both geofencing and push notifications use the same idea, but they work a little differently. A location-based push notification can only be sent to someone if they have your app on their phone and their phone crosses your geofence. You could use these to let people know about something you want them to see, an offer they can use in-store, or to get them to do something in your app.
On the other hand, some lifestyle and productivity apps let people set their own geofences around certain locations to remind them to do something when they're in that area.
Keeping an eye on loved ones
When someone leaves a certain place, like their home or a care facility, it can be very dangerous. Some people use geofences and GPS trackers to make sure their kids or loved ones with dementia stay where they are supposed to be. Of course, you'll need a portable GPS tracker to do this. (This could be a smartphone or a GPS tracker that isn't also a phone.) When the GPS tracker leaves the set area, it lets the guardian know. The guardian can then either find the person or call the police.
Putting time cards online
Some companies use geofences to have employees' time cards automatically "punched in" and "punched out." If someone's job requires them to be in a certain place (like the company campus or a specific building) and they can't do their job anywhere else, this can be a way to make sure they don't have to worry about clocking in or out, and you don't have to worry about anyone leaving early or coming in late.
Messages about danger
Geofencing can help keep people safe in many important ways. Local government agencies may use geofencing to send an emergency alert when there is a tornado or hurricane coming your way, a kidnapping nearby, or another emergency in the area. People may be told to leave a certain area, take extra care, or look out for a certain vehicle or person.
How well does geofencing work?
GPS is really good at being right. But it's not good enough. When you use GPS to figure out where you are, it's important to remember that it's only a rough estimate. According to the most recent performance data released by the US government, GPS can find your location within 4 meters, and it's 95 percent accurate to within 7.8 meters.
This means that when your GPS says you are in one place, you might be 10 feet further north. Or south. Your GPS is really telling you, "I'm almost sure you're within a 25-foot circle around this spot."
The difference between where you really are and where your GPS says you are is called "GPS drift." Unless your GPS thinks you're on a different road, it probably won't mess up your Google Maps route. But you should think about how that might change your geofence.
The closer a tracking device is to the edge of your geofence, or the smaller your geofence, the more likely it is that drift will trigger (or not trigger) an alert. That's probably not a big deal for your targeted advertising campaign or marketing-related push notifications (you might miss or gain a person here or there), but it could be a problem if you're trying to keep track of property or people.
There's a pretty easy way to fix it, though. If you don't want something or someone to leave a certain area, make sure your geofence is at least 26 feet bigger than it needs to be. Then you won't have to worry that your tracker will give you a "false positive" when it gets close to your boundary. If your boundary is bigger than it should be and you get a notification, you can be sure that it's because your tracker isn't where it should be.
If you want to know how reliable your geofence is, there's one more thing you might want to think about. Since your GPS receiver needs to be able to see four GPS satellites in order to figure out where it is, it's important to know what can block GPS satellite signals.
GPS signals can be delayed or messed up by things like mountains, buildings with thick walls, and sometimes even trees. Most of the time, this shouldn't affect your geofence, but you should probably plan for your boundary to include at least your whole building and not just certain parts of it. For example, a geofence will work great for your apartment complex but not so well for your individual unit. For businesses, your geofence should probably include your whole campus, property, or the mall your store is in, not just your warehouse, store, etc.
How does geofencing work?
Depending on the app or software you use, setting up a geofence can be done in a few different ways. Most likely, it will go one of two ways:
You choose a range that has already been set up around a certain location.
You move your geofence around on a map.
Depending on the platform you're using, you might start by choosing a city, entering GPS coordinates, or putting a pin on a map. Then, you choose the radius you want to use.
With SPY24 GPS, all you have to do to set up a geofence is click on a map and move your mouse until you get the boundary you want. Your geofence can be [insert maximum perimeter] feet wide or [insert minimum recommended feet] feet wide. (Just remember that GPS locations are estimates that can be off by up to 7.8 meters, or about 25.59 feet.)
In Brief: The SPY24 Mark Safe Areas Feature.
The SPY24 app has features that let you mark safe areas on Google Maps for the target device. When the target person enters the safe places, the user can get an email right away to let them know. It gives users a tactical advantage to stop the target person from leaving a safe place and going into a dangerous one. When the target person breaks through the fence in real-time, users will get email alerts about that person.
After installing SPY24 software on the target device, parents can use the Mark Safe Areas feature to mark safe places on the map. This is helpful for geo-fencing. It helps parents find their kids if they get past the electronic fence and go into dangerous parts of their neighborhood. Parents can keep their kids away from drugs, places where people go on dates, and secret party spots. By marking safe areas on Google Maps, employers can keep track of their workers' movements during work hours and stop them from wasting time.
Mark Safe Zones on Phones That Aren't Rooted
You can use Geo-fence on phones that haven't been rooted to mark safe areas on a map, track where the person you're interested in is going, and get emails about it.
How to Track a Phone Location: What is a Phone Location Tracker?
SPY24.io is advanced monitoring software that lets you track people's locations in a lot of different ways.