Kik Spy App Monitor Kik messenger
Are you curious about what your children are talking about on Kik? Do you wish you could know for sure who they are talking to and what they are saying? If so, you need a Kik spy app. A Kik spy app will allow you to see all the conversations your child has on Kik, as well as the people they are talking to. This can give you peace of mind and help keep your child safe online. There are many different Kik spy apps available, so be sure to do your research before choosing one. Choose wisely and trust your inst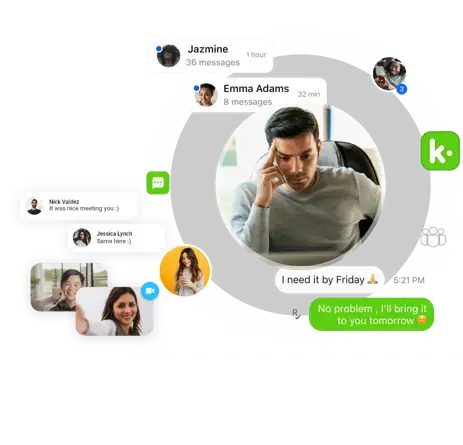 How to Kik On Android & IPhone Via SPY24?
Watch a tutorial to learn how SPY24 not just monitors Kik chats and group chats but also all shared photos on the target device.
Kik Messenger Spy App - Monitor Kik Messages
SPY24 Kik Messenger monitoring app enables parents, employer to spy on someone's kik messages.
Look through all messages

Remotely monitor all incoming and outgoing texts in Kik messenger

Monitor timestamps

View time and date of every Kik message, as well as whether the message was sent or received.

Kik

SPY24 lets you track sent and received messages from Kik.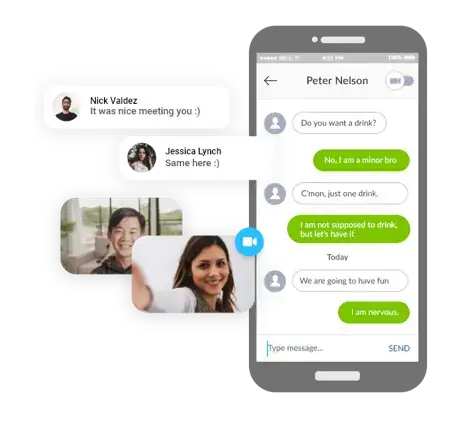 What is SPY24 Kik Messenger Monitoring?
With SPY24 Kik spyware, you can get access to all Kik conversations with an easy-to-use and minimalist web account. Using SPY24 is even easier than playing SimCity—just a single sign-in and you have complete access to your children's cell phone activity. Track Kik Chats, Shared Media, and Group Conversations with the Kik Messenger Spy App: Users can gain access to the targeted phone and track the user's every move. Kik enables you to use secret information about current performances. The user can view all shared media files, read their text messages, and listen in on their conversation. Monitor Kik Messages. View sender and recipient's contact details. Get date and time stamps for every text sent via Kik.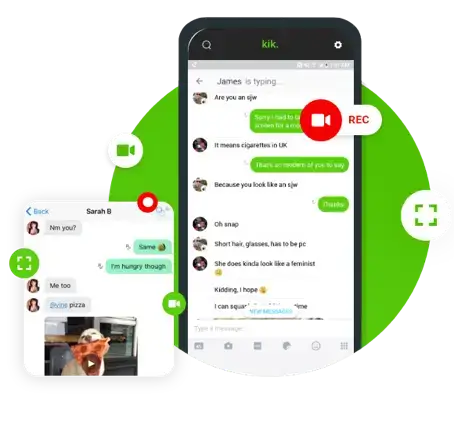 Screen recording on Kik Keep Track of Kik Screen Activity in Real Time
It is the best screen recording tool for capturing the targeted person's in-progress activities. Users of this app learn about all active performances on a specific screen. Screen recording allows you to covertly capture ongoing activities. The Best Kik Screen Recording App is SPY24: The best KiK screen recording app is SPY24, which keeps you informed about your target person. You can watch activities in real-time and see what your target person is up to. Users of the SPY24 app can record videos to explain what happened with the timestamp.
Kik Messenger Spy App
The "Kik Messenger Spy" feature offers the best method for keeping an eye on Kik Messenger chat and group conversations.

The SPY24 KiK Messenger spy software will allow you to see what kind of KiK chats your target is having, the kinds of conversations they are having, including group chats and with whom, the kinds of videos, audios, and images they are viewing or sharing on the KiK app, and you will be able to identify the sender or recipient of each Kik message with its precise timing.

How Does Kik Messenger Spy by SPY24 Work?

Because it is a proprietary instant messaging app for mobile devices running the Android, iOS, and Windows Phone operating systems, Kik Messenger is widely used. While tracking Kik Messenger requires a rooted Android device, tracking Kik Messenger on an iOS device requires jailbreaking the target device. The target mobile phone device must first have the SPY24s App installed on it. Once you have successfully installed it on the target cell phone, you must activate it. Additionally, use the credentials to gain access to the digital dashboard and activate the Kik spy app there. In the end, you will be able to obtain activity logs with accurate time stamps.

Monitoring all text messages, both sent and received
Keep an eye on multimedia files, such as pictures, videos, stickers, and emojis.

How Does the SPY24 Kik Messenger App Aid Users?

The best tool for remotely targeting anyone's cell phone device running the social media app Kik is Kik surveillance software. It definitely has the ability to transfer data from a target cell phone installed social messaging app to your own personal web portal where you can fully analyze activities. You cannot, however, use it to secretly and invasively monitor the target device. However, if you own the phone or have already obtained the necessary consent, you can spy on Kik Instant Messenger on any cell phone. The following individuals can fully benefit from the strong tool.

Kik Screen recording software captures mobile phone usage while using an instant messenger in real time.

To learn about all the activities occurring on a targeted device, the end user can record brief videos of the phone screen while the Kik social media app is active.

You can record the screen of a mobile phone with the Kik instant messaging app open in real-time. When using Messenger on the target cell phone screen, you can use the Live Kik screen recording app to capture brief videos of the screen in real time.

Actual time A screen recorder for Kik is used for:

Kik Messenger text messages sent or received
conversations and chats on the social media app Kik
shared media on the instant messaging service Kik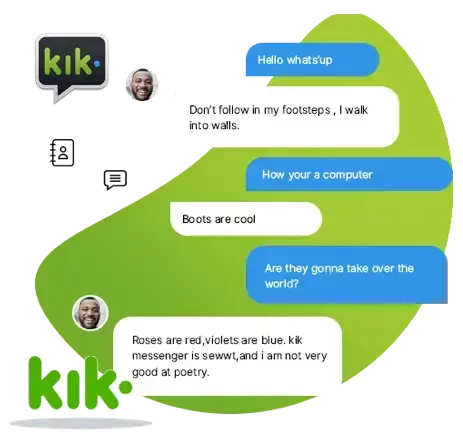 Frequently Asked Questions - Kik Spy
Which devices are compatible with SPY24 Kik spy tool?

SPY24 Kik Messenger Spy is available on all Android and iOS devices. For Android, the target device needs to be rooted and should be running Gingerbread 2.3 or higher. Moreover, SPY24 Jailbreak is compatible with iOS 6.0 up to 9.0.3, and SPY24 No-Jailbreak works with iOS 6.0 up to 14.4.2

How to spy on Kik Messages?

You can spy on Kik messages using your SPY24's web account. On your online account/control panel, click on the "Messenger" tab, and select "Kik" from the drop-down menu to access all Kik messages.

Can I access those Kik messages that are available on the target device prior to the installation of SPY24?

Yes, SPY24 allows you to access all those Kik messages that are available on the target device prior to its installation. However, this only works with the Jailbreak and Android versions of SPY24. Note that this is an exclusive SPY24 feature.

Can I spy on Kik messages if there is no internet connection on the monitored device?

SPY24 can spy on all Kik messages even in the offline mode. However, you will only be able to access those recorded conversations once the monitored device connects to the internet.

How long does it take for the app to upload Kik messages on the web account?

SPY24 works in real-time on Jailbreak and Android Premium editions, and therefore, it only takes a few seconds for the app to upload data on the control panel/web account. However, if you are using SPY24 No-jailbreak, you would have to wait for the next iCloud backup on the target device.

Can you safeguard your child?

Yes! The secret screen recording app can spy on a device. Using the social messenger app, you can check your child's online activities. It protects your child from online dangers.

Kik screen recording useful?

Yes, KiK screen recording can help you track someone's online activities. You can investigate anyone's actions. It protects against online threats. It protects kids online.

Best Kik screen recorder?

SPY24 is the best KiK recorder. It finds the latest targeted activities. This app monitors social media activity. It digitally monitors and records live performances.

Best Kik screen recorder?

SPY24 is the best KiK recorder. It finds the latest targeted activities. This app monitors social media activity. It digitally monitors and records live performances.

How do you record KiK live?

This app's installation steps must be followed. The proper installation lets you find or spy on devices. Once you install SPY24, you can spy.

How does KiK work?

Kik screen recorder installs immediately. You can track the device or record its activities. You can record their actions after installation. SPY24 records web control panel files.

Kik app tracking?

Yes, you can spy on someone's Kik account to see what they're doing. SPY24 lets users track a person's live activities. It guarantees love.

Why use SPY24?

People want to protect their loved ones as technology advances. The spy app lets parents monitor their kids' activities and save money. You can monitor kids and employees.

Best Kik spy app?

SPY24 is a great online activity tracker. It's a great way to monitor a Kik user's real-time activities. This spying software knows everything you want.

Best Kik spy app?

SPY24 is a great online activity tracker. It's a great way to monitor a Kik user's real-time activities. This spying software knows everything you want.

What can users do with a Kik monitoring app?

A kik tracking app lets the user keep track of who sends and receives messages, who is in a group chat, and who is sharing media files. You can learn everything you need to know about how to use your Kik account.

How does SPY24 help you?

As we've already said, SPY24 lets you keep an eye on what your kids and employees do online. But you have to put this software on the phone you want to hack. You need to know the steps for installing the app, which will help you figure out what it does. So, read about how to install it so that you can keep an eye on the person's Kik account.
Why do you need to monitor Kik messages?
There are more than 275 million Kik messenger users all around the world, who, on average, spend around 35 minutes just on a single session. 40 percent of these users are teens and young adults from the U.S.
Kik is one of the more precarious instant messaging apps that provide users with varying options for anonymity, thus acting as a special safe haven for online sexual predators and harassers.
Sexting on Kik is so prevalent that "Kik sexting" has now become a popular google search term.
Sexting, sharing pornographic content and blackmailing is something common with Kik users.
With SPY24 Kik Messenger parental control, you can keep a close check on all the Kik texts sent, received, and deleted by your child. Not just that—SPY24 provides social media monitoring of eight other IM apps.
SPY24 is not just a Kik spyware. With this app on your child's iPhone or Android cell phone, you can also monitor their text messages, emails, stored multimedia and even all the phonebook entries.
Paige
w.s

Adam
s.s
andre
n.n
Introducing screen recording for Kik
Never miss a chat or even the unsent or deleted Kik texts. The screen recording feature makes sure every detail gets your attention. Our app periodically takes screenshots every 5 seconds when the feature is turned on.
You Can Totally Rely on SPY24 – We've Got Your Back
SPY24 won't leave you alone with your subscription, because for us, your satisfaction is on top of everything else, and with that, we promise to deliver only the best mobile spying app experience that you will never have like it again!
100% Secure Satisfaction Guaranteed

24/7 Live Chat

Stealth Mode 100% Invisible
How Much Can You Do With A KIK Tracker?