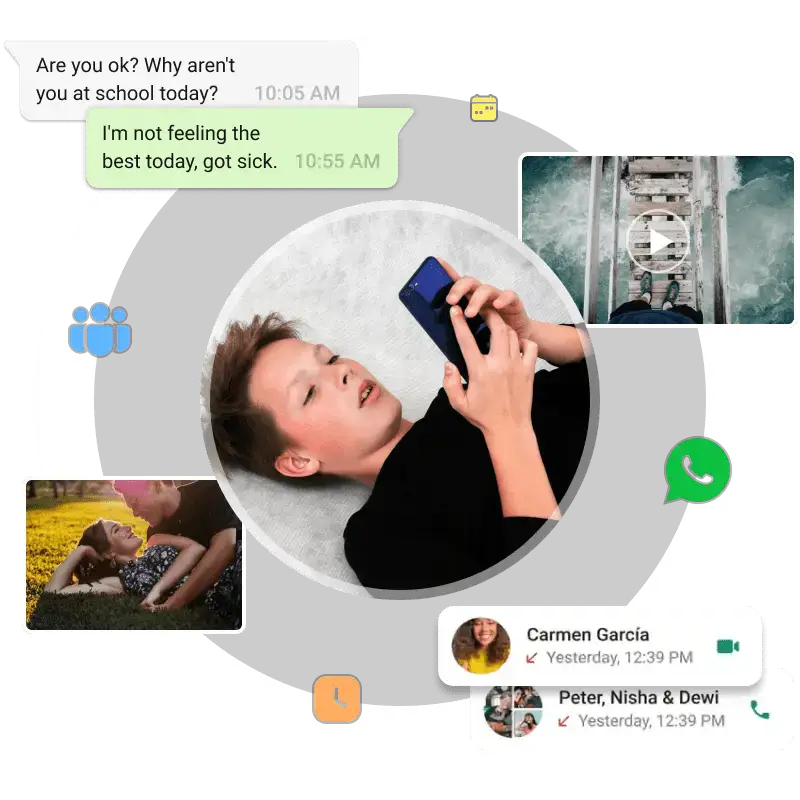 SPY24 App - Features Digital Parenting & Employee Monitoring
SPY24 has a tonne of features that will keep you up to date on your friends and business no matter where you are or when. Sort through your kids' cell phone logs or keep track of what your employees are doing on social media without bothering them. With SPY24's dynamic monitoring, it's easy to keep an eye on the mobile phones of people around you.
Monitor Phone Calls and Messages
SPY24 lets you know who your employees or kids are talking to via calls or texts. This old-school feature is basic, but necessary.
View Call Logs

Get access to incoming, outgoing and missed calls logs with date, time and call-duration stamps of every call.

View Text Messages

Read all sent and received text messages on the monitored cell phone with date, time and contact details.

Watchlist Contacts

Get alerts on specific caller(s) and protect your kids from being contacted by pedophiles or bullies.
Access Instant Messenger Chats and Multimedia
SPY24 knows the importance of tracking social media of your family or even employees, and that's why, it has one of most extensive instant messaging monitoring. With SPY24, you can read instant messages and even view photos on select IM apps.
---
Track GPS Location
Track location of your kids in real-time while they are out with friends or know how your employees like to spend their lunch breaks. SPY24 offers fast tracking with near to 100 percent accurate results.
The Best Way to Monitor Your Cell Phone or Tablet
Digging into someone's enormous phone data for relevant stuff is a tiresome task. There could be thousands of emails, texts, chats, etc., leaving you with no clue what to do with all that information. However, with SPY24, you can change this because our exclusive actuarial reports collect the more important data and present it to you in a very neat fashion.
Manage Calls

View all incoming/outgoing calls, including durations and timestamps. Find out more by clicking on the following features: Call Logs

Track Text Messages

Review texts, iMessages, and multimedia files sent or received by your child. Find out more by clicking on the following features: Sent / Received text messages

Read Messaging Apps

Capture messages sent and received by the target user on Skype, WhatsApp, Snapchat, Facebook, and Viber. Monitor multimedia files automatically stored in the gallery. Find out more by clicking on the following features: Skype , WhatsApp , iMessage , Facebook Messenger , Viber , Snapchat , LINE , Telegram , Tinder , KiK , Instagram

Track GPS Location

Track the current GPS location of your child's phone. Set safe zones like "home", "school" or "Grandma's house". Receive alerts each time your kid enters or leaves a zone. Find out more by clicking on the following features: Current GPS Location , Geo-Fencing

Control Apps and Programs

View a list of all apps installed on your child's device. Block those you don't wish your child to use. Find out more by clicking on the following features: Screenrecorder, Keylogger, Installed Applications , Application Blocking

Record Their Screen

Who are they talking to? What are they saying? Where are they saying it? SPY24 Screenrecorder can find out. Whatever they're doing on WhatsApp, Snapchat, Instagram, Facebook Messenger, Telegram, and Skype, you'll know about it, just by logging in to your SPY24 Control Panel. Find out more about Screenrecorder

View Multimedia Files

Keep track of every photo and video saved on the phone. Every time your child records a video or takes a photo with their device, it will immediately be uploaded to your SPY24 account. Find out more by clicking on the following features: Photos , Videos

Monitor Internet Activity

Supervise your kid`s Internet activity. View the list of all visited websites and block the unwanted ones if needed. Find out more by clicking on the following features: Browsing History , Website Bookmarks , Blocking Websites , Wi-Fi Networks , Keyword alerts

Read Emails

Monitor incoming/outgoing emails on your child's phone Find out more by clicking on the following features: Incoming / Outgoing Emails

Access Contacts and Calendar

Check every contact entered into the phone contact list. Keep track of every event in the phone's calendar. Find out more by clicking on the following features: Calendar Activities , Contacts
Read Emails and Monitor Online Activities
SPY24 makes it easy for you to track online habits of your kids and employees. Read sent or received emails and even check complete browsing history and that too in a completely stealth mode.
Record Phone Calls and Surroundings
SPY24's powerful monitoring lets you automatically record all incoming and outgoing calls and also the phone surroundings.
View Photos, Videos & Calendar Entries
SPY24 gives you access to all photos, videos and calendar entries stored on the monitored devices. Plan ahead of your employees and kids by keeping a watch on their to-do list.
View Photos

Access and download all the photos saved both on the internal and external SD of the monitored device.

Watch Videos

Watch videos from the monitored device and even download them to an offsite storage.

View all Calendar entries

View marked upcoming birthday entries on your kids' cell phone, or access to-do list of your employees.
Remotely Control Target Phone/Tablet
SPY24 knows how to stay ahead in the smartphone monitoring game with its tons of remote device monitoring features. With SPY24, you only get the best spy app that exists to date.
24/7 Instant Alerts
Don't let anything important to miss out of your sight; SPY24's 24/7 instant alerts save you time by sifting the usual cell phone activity from the unusual.
Kid's Cell Phone Monitoring
Kids and cell phones can be a dangerous combination. Whatever your child uses your family tablet or has own smartphone their devices need to be monitored.
The widespread adoption of different digital technologies by today`s teenagers has provoked a lot of concerns among parents and brought up the main question: "How to strike a balance between allowing independent exploration and providing an appropriate level of parental supervision with cell phone monitoring apps.
Digital word provides today`s kids with a considerable number of benefits like a connection with peers or searching the educational content. But at the same time, it has a lot of potential dangers leading to unhealthy relationships, personal information theft, cyberbullying, sexting, interconnection with online predators, etc. Thus, these concerns are not limited, and the list could go on.
Kid`s online safety is one of the most problematic issues parents face giving a smartphone to their kid. Get to know what benefits teen cell phone monitoring has and why it is needed.
What Cell Phone Monitoring for Parents is?
Cell Phone Parental Monitoring app it is an opportunity for parents to supervise kid`s smartphone activities and get useful insights into kid`s online world.
Modern cell phone monitoring apps for parents, usually have such features: GPS location, text messages, call logs, text messages, browsing history and app usage. The best cell phone monitoring software for parents provides them with instant messenger tracking like Facebook, Snapchat, Instagram, WhatsApp, etc.
Why monitoring cell phone is needed?
The Internet may be a dangerous place for preschoolers, tweens, and teens. From inappropriate social media content to child predators who may groom kids online. Unfortunately, it is a scary reality today`s kids may come across using the Net and parents should be aware of its dark side.
Also, children may unintentionally expose their families to the frightening Internet hazards, by accidentally downloading the malware which can lead to the sensitive information leakage and theft.
So, providing kids with smartphone and Internet access, the first and foremost a matter of awareness is to be aware of the potential risks and how to safeguard against them. Communicating with your kid can help to protect them against some online threats, but the most important safety measure is to use cell phone monitoring software.
Here is the list of seven the most dangerous things kids may face online:
Cyberbullying
According to research, 95 % of teens ignored the bullying witnessed online, and one third have been victims of cyberbullying themselves. Online gaming and social media platforms are the main places where cyberbullying takes place. Kids may be criticized for their appearance, weight or any other qualities. Also in online gaming kids or their virtual characters may be subjected to continuing attacks, turning the game from an entertaining activity into a humiliating ordeal.
The best way to stand up to the bullies is to ignore all their messages and requests. As a parent, you also need to find the best cell phone monitoring app to be able to raise a red flag if bullying will occur.
Cyberpredators
Sexual and cyber predators can stalk kids on the Net, taking advantage of kid`s naivety and innocence. Mostly, they lurk kids on social media platforms and game portals, abusing their trust and luring kids into very dangerous personal encounters. However, again, the best protection is to talk with kids about things that happen in their lives and monitor their online interactions with a child cell phone monitoring app.
Private Information Posting
Kids don`t understand social boundaries. They may post personal information online, including GPS location and other contact details. Also very often their social media profiles are public, which means that everybody can see what they are up to or get their home or school address.
Make sure your kid account is private and only friends can see it. Also, check their friends' list to be sure they don`t have people they don`t know in real life there. Have a conversation with your kid about public boundaries and Internet privacy.
If you are not sure that your kid can differentiate what is good or bad online and draw the line between public and private, you need to supervise their online activities with parents cell phone monitoring.
Phishing
Phishing is the fraudulent practice of sending emails that lure people into clicking on malicious links or attachments in order to induce individuals to reveal their personal information, such as passwords and credit card numbers.
Phishing messages can pop up at any time, but mostly cybercriminals use them on social media sites that are popular with kids and gather such contact information as email addresses, friends` names, etc.
Talk to your kids and teach them not to click on the suspicious pop-ups and not to follow the links from the unknown senders. Besides, it is essential to find a child cell phone monitoring app which allows monitoring incoming and outgoing emails.
Falling for Scams
Kids may easily fall for online scams that offer free online games access or inform that they won a prize. Young children are the easiest targets for scammers because they haven`t learned to be wary. Likely to fishing, scammers can use popular social media platforms among kids to find potential victims and promise them something in turn for what they want (e.g., parent`s credit card information).
Both for young and adults, the best protection against all scams is knowing that nothing is free, especially when it sounds too good to be true. Teach your kid to stay away from online offers that promise too much.
Accidentally Downloading Malware
Malware is computer software that is installed without a victim`s permission or knowledge with an intent to perform harmful actions on his or her computer. It includes personal details theft or "botnet" usage which causes the sluggish performance.
Cybercriminals also lure kids into downloading malware. Phishing is not the only one such trick, and there are also others. For instance, persuading victims to download purported games, that can be especially tasty-looking for kids.
To safeguard your kid`s device against any malware that may sneak into it, the best protection is not only to educate your children but also use reliable antivirus software. Besides, on the today`s market, there is a great number of parental monitoring cellphone apps that can help to set a secure framework for your kid`s online activities.
Posts that Come Back to Haunt a Child Later in Life
The Internet opens the door of possibilities the previous generations couldn`t even dream of, but at the same time, the Internet can pose a severe danger to today`s children.
The main danger is that there is no "delete" option on the Net, if something is posted once, it will stay there forever. That's why, sharing inappropriate photos, there is no guarantee that they will not be saved via screenshots or photos.
Educate your kids to understand what content should be posted and what posts should never be shared on the Net. Also, use cell phone monitoring app android and iOS to check their instant messengers.
Dangerous apps
Without doubts, you`ve heard about such social media apps like Snapchat, Facebook, WhatsApp and the others your kid may use to hide texts, share inappropriate photos or even for sexting. To protect your kid from unwanted exposure, only a good monitoring app may help. Choose the best cell phone monitoring software for parents.
Sexting
Sexting is sending or getting sexually explicit or suggestive photos or videos via electronic devices. Taking into consideration that their devices are mostly used in private, it is very easy for teens to take and share personal photos and videos without their parents` knowledge.
Girls use sexting for fun, to get attention or because of the peer or boyfriend pressure. For some guys it is almost normal behavior, the other use it for flirting, seeming cool or becoming popular.
Inappropriate content
The Internet is filled with inappropriate, violent or 18 + content. As a parent, it is your duty to protect your kid from unwanted and harmful exposure. For it, the best way is to use child cell phone monitoring software to filter out everything your kids may come across on the Net and block unwanted sites and apps from reaching.In a digital world, there are even more dangers that we can imagine, that`s why parents need to be aware of all dangers mentioned above and keep eyes wide open when it comes to their kid`s online safety.
Cell Phone Monitoring Software: Benefits
As it was already mentioned, the most reliable way to protect kids when they use their electronic devices is to use cell phone monitoring for kid`s devices.
There is a cell phone monitoring without installation and with the installation. Parents can choose the app according to their preferences. Cell phone monitoring without installation is a perfect choice for parents who want to stay on the top of their kid`s online activities without accessing their kid`s device physically.
Without doubts, it may be difficult to find the best parental cell phone monitoring app. You might ask "What is the best cell phone monitoring software?". The best cell phone monitoring for parents is those which is installed on kid`s device and allows parents to track their kid`s GPS location, call logs, text messages, browsing history, apps usage, emails, keystrokes and other activities taking place on kid`s device. Also, the best cell phone monitoring for Android and IOS is those that give parents a peace of mind and guarantee their kids` safety even when they are not around.
Cell phone monitoring software for parents enables target device monitoring at any time from any device and provides parents with such options:
target device remote observation and real-time GPS location on the detailed map;

all incoming and outgoing calls and blocks the unwanted callers;

cell phone text monitoring, including sent, received and deleted ones;

marking safe and dangerous zones and getting notifications every time when kid breaches them;

remote monitoring of the browsing history and unwanted sites filtering;

age-inappropriate sites and apps blocking;

all incoming and outgoing emails;

Instant messengers (like Facebook, WhatsApp, Snapchat, Kik, Instagram);

Dangerous keyword alerts;
All the mentioned features are available in SPY24 best child cell phone monitoring app. SPY24 is cell phone monitoring for android and cell phone monitoring for iPhone. SPY24 also supports cell phone monitoring without access to the target phone. To learn more about monitoring software, visit SPY24.com.
Cell Phone Monitoring App VS Taking the Phone Away
With parent cell phone monitoring apps like SPY24, parents get an opportunity to control their kid`s browsing time, instant messenger activity, text messages and call logs, GPS location and much more. So, ask yourself whether you prefer to use one of the best cell phone monitoring and keep track of your kid`s smartphone activities remotely or you prefer to take your kid`s phone leading to quarrels and misunderstandings. The benefit of cell phone monitoring without target phone is that your kid will not experience physical deprivation of privacy and you can monitor his or her online activities remotely at any convenient time.
In the mobile age, digital dangers are lurking everywhere. Cyberbullies, online predators, online fishers, scammers and other online evils never go to sleep or stop demanding the attention. That`s why for parents it is crucial to keep their kids safe behind the screens.
It is where cell phone monitoring software for Android and iOS comes in handy. Such parental controls like SPY24 can help kids to understand the importance of limits in a digital world and prevent kids from accessing adult content or interact with online strangers.
Now you don`t have to worry about such things as cyberbullying, online predators or Internet misuse, cell phone monitoring apps like SPY24 can protect your kid online without intervention in their privacy, teaching them about social media safety and sustainable Internet usage.