App Blocker for Android Unwanted Apps
The best app blocker for both Android and iOS in the world- Block Apps You Don't Want: Do you wish you had a magic wand to help your kids sleep well at night and work hard during the day? SPY24 is the current solution that works as well as magic when it comes to keeping track of how a cell phone is used. With SPY24, you can temporarily stop your kids from using apps on their Android devices until they finish their homework, chores, and other important tasks.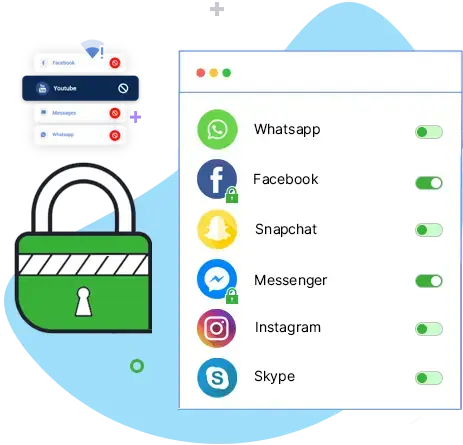 Lock unlock device remotely with cell phone tracking app
SPY24 Lock Unlock mobile remotely designed for:
The Ultimate Spying and Monitoring Features
The SPY24 monitoring software is fully packed with voice, data, and location features that enable the application user to remotely monitor and take professional surveillance on the targeted cell phone / computer device. Check out the amazing spying tools designed for personal, corporate & digital parenting needs.
Screen Recorder

Remotely witness every activity performed on the targeted cell phone or tablet by getting screen recorded. Take screenshots or make videos to capture stuff appearing on the phone screen in real or scheduled time.

Read Messages

It remotely enables you to get ingress into the territory of an android phone and tablet and allow you to monitor all sent and received text messages and text conversations with complete time stamp.

Monitor Social Apps

Track activities performed on Facebook, Snapchat, Instagram, Tumblr, Tinder, WhatsApp, WeChat, Line, Viber, IMO, Hangout, Hike, Skype, Kik, Telegram, Zalo, Yahoo messenger and many other social and IM's.

Windows Application Blocker

Windows Application Blocker is a freeware from SPY24 that allows you to easily block any app so that it cannot be run by the user: You can block apps if you find yourself constantly distr...

Blocking Applications MACOS

Software Blocker for Mac — App to block other apps. SPY24 is a website blocker for Mac. Block the entire internet or just block distracting websites and applications, steal back your productivity!

Block Apps iPhone

Apps can be incredibly distracting - here are two ways to block apps on your iPhone so that you can stay focused and productive. How to Block Apps on an iPhone (And Keep Yourself Out)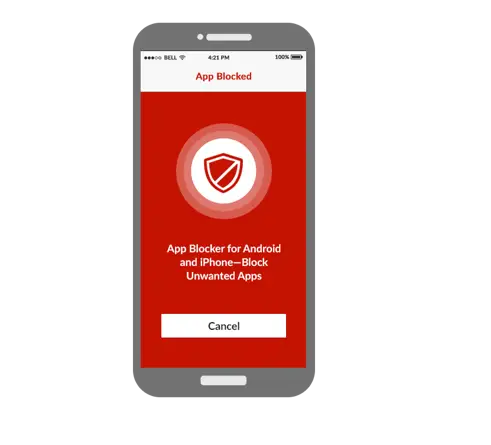 What is SPY24 App Blocker?
SPY24 has a feature called "remote application blocking" that lets you stop your kids from using their devices. SPY24 Android App Blocker lets you block some or all apps and then let them back in whenever you want. You can remotely block apps like instant messengers, games, and even web browsers that you don't want to use. When needed, you can unblock the apps remotely. Top 5 Android App Blockers: You check your phone as soon as you wake up to see if Facebook, Snapchat, Instagram, or any other social media app has sent you a message. This wastes your time and keeps you from interacting with the real world. But if you're like a lot of other people, you might worry about how much time you spend on your phone. There are a lot of great apps, though, that can help you find a better balance. Here are our top 5 App blockers that will help you block apps on target devices, such as social media apps, game apps, and pornographic apps, and cut down on screen time. Blockers Spy for Instagram lets you keep track of who follows and likes you.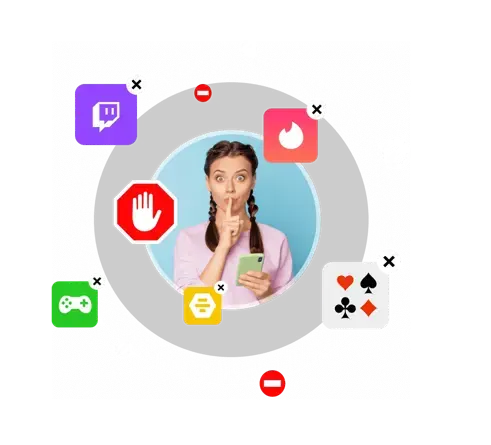 Which apps should parents block?
Dating apps. Most dating apps come with an age requirement of 18 years old. You'll notice it listed in the user agreement or when you sign up for an account. So, do you really need to know how to block apps on phones if these apps have these restrictions in place? Absolutely. Despite what some parents think, apps don't really do much to verify a user's age. The truth is, if your daughter is 16 and she wants to use a dating app, there's not much stopping her. That could be dangerous, particularly because predators often infiltrate dating apps in seek of unsuspecting victims. Gambling apps. We know what you're thinking. Your kid is too young to care about Blackjack or Roulette. They have no interest in Online Poker, and they certainly aren't into Bingo. So, why bother figuring out how to block apps of this nature? Well, the truth is that kids can easily become addicted to gambling, especially when they get a taste of winning. Remember, even free gambling apps can be absolutely dangerous. Games. We've come a long way from Mario and Sonic. Today's video games are completely immersive, designed to consume kids' attention. And kids of all ages can't get enough. That's why it's important to set app restrictions on Androids and iPhones. No matter what game they're playing, knowing how to restrict apps can help your kids understand that there's more to life than video games.
Top App Blockers on Android
With SPY24's App Blocker, you can stop Android and iPhone apps from running.

Want to know how to limit what apps can be used on your phone? With software that blocks apps, it's much easier than you might think.

With SPY24, you can stop your child from installing and using apps that you don't want them to. You can use our program to stop kids from using apps that might have offensive content or encourage them to do dangerous things.

Make sure they don't use apps you don't like.

Bad things should not be done.

You can keep kids out of trouble by not letting them use apps that are bad for them.

Check out what apps they use.

Just go to the Control Panel. Everything is in plain sight.

Blocking apps only takes one click or tap.

If you don't want them to use a certain app, just tell SPY24. That's all there is to it.

Remotely disable, unblock, or even uninstall any app on the target phone

The user of SPY24 can remotely block, unblock, remove, or uninstall any app on the target device. It gives a list of all the apps that have been installed and lets the user block, unblock, delete, and remove unwanted, useless, or inappropriate apps.

SPY24 is an all-in-one app for tracking mobile phones. It has a great feature that lets you block apps on devices you want to track. This app blocker works well on both Android and iOS systems. With this tool, you can secretly and remotely check your phone's GPS location, text messages, calls, Snapchat, WhatsApp, web browsing history, website bookmarks, calendars, photos, videos, apps, e-mails, etc.

With SPY24's features, you can keep track of call logs, texts, e-mails, documents, calendars, photos, videos, apps, and more on a cell phone.
Using GPS, geofencing, and a wifi logger, you can find out where you are right now.
monitor social apps like WhatsApp, Skype, Facebook, Instagram, Snapchat, Line, Kik, Tinder, Hangouts, and more.
App blocker and time limits can be set from a distance. You can block dangerous apps and games and set limits on how long the device can be used.

Offtime is an app blocker with a very cool interface, and yes, the app's name is listed with brackets on the play store. You can make profiles with the app that block your calls, texts, and notifications. You can even stop people from using certain apps at certain times.

What spy24 Can Do Call logs, texts, e-mails, documents, calendars, photos, videos, apps, and more can all be tracked. Using GPS, geofencing, and a wifi logger, you can find out where you are right now. monitor social apps like WhatsApp, Skype, Facebook, Instagram, Snapchat, Line, Kik, Tinder, Hangouts, and more. App blocker and time limits can be set from a distance. You can block dangerous apps and games and set limits on how long the device can be used. 2. time off Offtime is an app blocker with a very cool interface, and yes, the app's name is listed with brackets on the play store. You can make profiles with the app that block your calls, texts, and notifications. You can even stop people from using certain apps at certain times.

With SPY24's App Blocker, you can stop Android and iPhone apps from running.

Want to know how to limit what apps can be used on your phone? With software that blocks apps, it's much easier than you might think.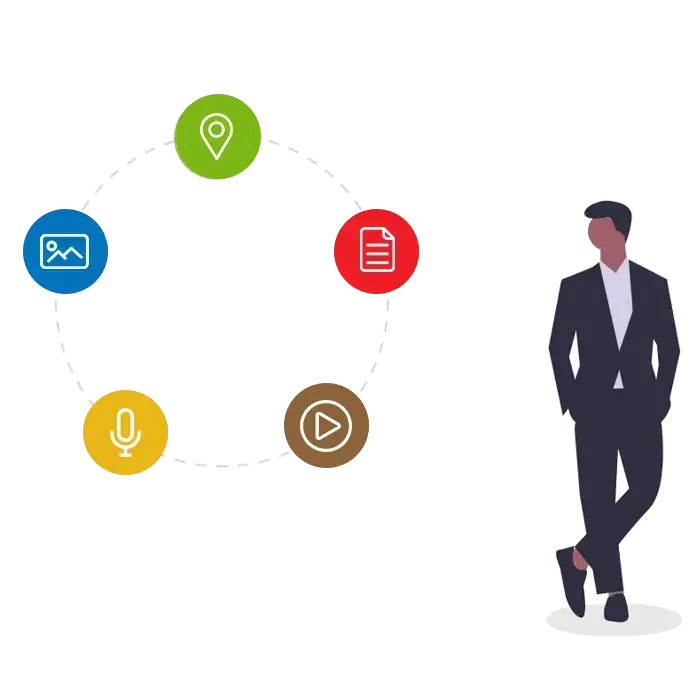 Frequently Asked Questions - App Blocker Spy
Which Devices Are Compatible With SPY24 App Blocker?

SPY24 Android App Blocker works with all Android devices running Gingerbread 2.3 or above; however, to avoid any discrepancies, we still recommend you to visit our Compatibility Page.

How Can I Block Unwanted Apps?

Blocking unwanted apps is easy with SPY24. To block an app, go to your web account, and on the SPY24 Dashboard page, scroll down to the "installed apps" tab and open it. There, you can view all the apps installed on the monitored device. Use the "Block" button next to an app name to block it.

How Can I Unblock The Blocked Apps?

Once an app is blocked, you can use the the same button to unblock it (once an app is blocked, only then you can see the option for unblocking it).

Which Apps Can I Block Using SPY24?

SPY24 can be used to block all stock and third-party apps. However, for more details, we would suggest you contact our customer support team.

Can My Child Know That I Have Blocked Apps On Their Cell Phone?

Yes, SPY24 sends a popup command informing the monitored user that a certain app has been blocked by their guardian. Make sure that you talk to your child about app blocking beforehand to avoid any dissonance.

Why do I need to install an app blocker on my child's phone?

You wouldn't let your 11-year-old drive your car. So, why are you handing them the keys to the App Store or Google Play? When it comes to apps, there are loads of dangerous ones that aren't suitable for kids. And even worse, there are apps that look fine on the surface but have hidden dangers. That's why it's important to have an app blocker on their device.

Are Android or iOS baby blocker apps not good?

Google and Apple do a good job of making it easy for people to install and uninstall apps. But when it comes to blocking apps that might be dangerous, you're kind of on your own. The truth is there are millions of apps out there. And while some apps might be good for some users, they might not be right for your child. That's why it's important for parents to find an app to block apps instead of relying on Apple and Google to keep them out of the App Store and Google Play.

How to block an app remotely?

If you want to block apps on phones without physically picking up their device each time, look for apps that block apps. SPY24 works perfectly in that regard. Just log in to your Control Panel, and you can start blocking them from using applications that might be installed on their phone. Don't want them using TikTok to make videos that might put their information and face out there for the world to see? Just click Block. Want to make sure they aren't using Snapchat to send and receive pics? Click Block aga

Is SPY24 a good app to block apps on their phone?

With SPY24, not only can you block apps that might be dangerous, but you can also see what they're up to in apps you might otherwise approve of. For example, let's say you want to give them the freedom to use WhatsApp, but you still want to make sure they're using it responsibly. Instead of blocking the app, you can just use SPY24 to review their conversations, including sent and received messages, plus pics and videos in the conversation too.

What is the best software for blocking unwanted apps?

SPY24 is the best software for blocking anyone's phone-installed app, and it comes with a lot of cool features. It gives you remote access to the targeted phone and lets you to delete any app you desire.

Is it possible to remotely delete and uninstall any app?

Yes, you can prevent any undesirable mobile app from being installed on your targeted device. It aids in the protection of your target from any potentially harmful mobile app.
Why do you need SPY24 App Blocker?
On average, children ages nine and 12 spend around six hours with their cell phones. This figure goes up to nine hours a day for teens.
50 percent of kids believe that they are addicted to their cell phones.
According to a survey by the American Academy of Pediatrics, 75 percent of 4-year-olds in the U.S. own a smartphone.
If your tween or teen child is using their cell phone or tablet without parental supervision, you could be risking them to various kinds of online risks like cyberbullying and online harassment.
Kids who use their cell phones before going to sleep have difficulty with sleeping as the screen glow from these mobile devices hinder the production of melatonin (a hormone that induces sleep).
Poor sleep, coupled with hours-long mobile usage inevitably leads to aggravated health and school grades.
SPY24's App blocker is the perfect solution to limit screen time on your kids' personal devices. Parents can remotely block certain apps or even lock the entire phone, thus encouraging kids to sleep or study when they should be.
SPY24 is not just an app blocker, parents can also use this app to monitor their kids' social media, emails, contacts, and multimedia.
Block Unblock Installed Apps With SPY24 Spy App. You can unblock every single application blocked on the cellphone no matter what and you don't need to root the target device. Block Unwanted Incoming Calls On Android phone. Do you want to get rid of unwanted calls? If Yes then you are at the right place just download SPY24 Spy App and block unwanted calls.
Paige
w.s

Adam
s.s
andre
n.n
Remotely Spy on Any Android or iOS Devices
World's Leading Spy Phone App It takes up to 5 minutes to set up the app. .Monitor all recorded data and track the phone in your online account .Access to the most common messengers remotely and invisibly
You Can Totally Rely on SPY24 – We've Got Your Back
SPY24 won't leave you alone with your subscription, because for us, your satisfaction is on top of everything else, and with that, we promise to deliver only the best mobile spying app experience that you will never have like it again!
100% Secure Satisfaction Guaranteed

24/7 Live Chat

Stealth Mode 100% Invisible
Block & Unblock Installed Apps on Android Remotely
Inappropriate apps can be blocked or unblocked remotely from your target phone.
The Block-Unblock software gives you the ability to uninstall programs that are inappropriate or undesired from a targeted phone. You can remotely uninstall any unwanted phone app from the targeted device. The SPY24 web control panel allows users to restrict and unblock installed apps, as well as remove or delete unwanted phone apps.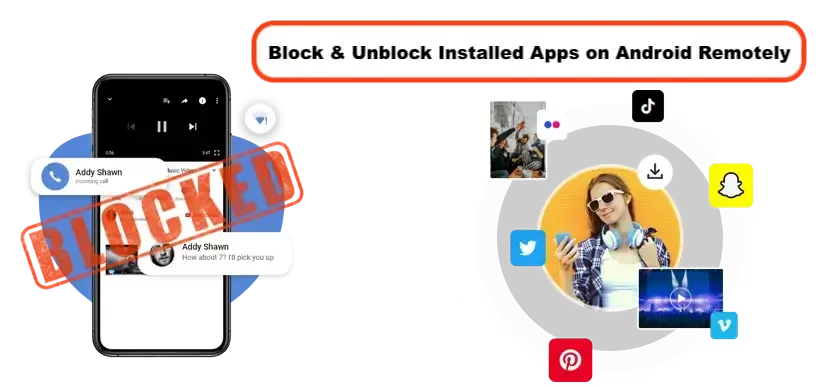 SPY24 May Remotely Restrict Or Unblock Unwanted Apps On A Target Phone.
Using the SPY24 block-unblock installed app, you may uninstall any unwanted or hazardous phone application. Using a remote access tool, you may catch and remove any problematic apps from the targeted phone. You'll be able to see what applications are squandering your employees' time and what apps your children should not be using.
The Block / Unblock feature of SPY24 can be used to remotely remove any unwanted applications.
SPY24 allows you to remove and block any undesirable mobile app from your monitored device. By utilizing the SPY24 control panel, you'll be able to see a comprehensive list of all the programs that have been downloaded and installed on your target device.
In what ways can users benefit from the blocking and unblocking features?
People, especially children, and teenagers are drawn to a variety of social media apps because of the rapid advancement of technology and the ease with which they can obtain access to potentially harmful ones. While their children are using cell phones, parents are concerned. As a result, the block-unblock app SPY24 helps you keep your children safe by preventing any potentially harmful apps from being installed on their mobile. On the other hand, business owners have the option of preventing their employees from using unwanted apps while at work. Once the app is installed on your target device, you can block and unblock any app you choose.
With the Block-Unblock Feature of SPY24, Android Devices With And Without Root Can Be Monitored
Using SPY24, you can ban, unblock, and remove the app from your target's Android phone, whether or whether the phone is rooted. This monitoring software can be used to delete any undesirable applications.
What Makes SPY24 The Best Remotely Blocking And Deleting Unwanted Apps?
With SPY24, you can keep tabs on your loved ones and keep them safe from potentially hazardous applications. The block-unblock feature has a number of advantages.
It is possible to spy on a user's list of installed apps.
View or track all installed apps on the phone you've chosen invisibly.
Apps can be unblocked or blocked at will.
Do not allow the use of any distracting or adult-oriented applications.
Unblock Apps That Are Both Productive and Supported The Goal Is
You can remotely unblock any loaded apps on your target cell phone to control excessive screen time.
Apps can be deleted remotely.
You have the ability to remotely and covertly delete or uninstall any program that has been installed on your target device.
You may download and use the SPY24 app for free
Make sure you go to the SPY24 app and sign up for the function that allows you to block and unblock apps. After that, you'll get an email with your credentials in it.
Get a hold of the device you want.
Installing and configuring the app will be easier if the user has physical access to the device in question.
The web control panel can be accessed through the Internet.
This block unblock capability can be used using the official ID or email address of the user's choice.
What you need to know about installing a block unblock app on a specific device
Following these instructions, you can install a block unblock app on your target phones.
Smartphone tracker software lets users remotely block and unblock Android apps. It allows users to see all of the installed apps and remove any that aren't needed from the target device. Installed programs on your children's and employees' cellphones can be blocked or unblocked remotely.
Apps installed on the target device can be blocked or unblocked using a phone tracker App
Bloc unblocks installed apps on target Android devices after installing phone tracking software and logging in using your login credentials. You don't need to root the target device to unblock any of the apps that have been restricted on the phone. Apps that are deemed inappropriate, harmful, or otherwise undesirable can be blocked or unblocked remotely. User discretion is required when blocking or unblocking an application on a target mobile device.
Blocking And Unblocking Installed App Is A SPY24 Function Intended For:
From the point of view of a parent:
Increasing numbers of young people, including teenagers and children, are eager to install a wide variety of programs on their mobile devices. Installed instant messaging, dating, and online gaming apps, as well as other similar programs. There are a number of ways parents can monitor their children's mobile devices, such as using mobile device tracker software. Remotely locking and unblocking apps that you deem unsuitable, hazardous, or time-consuming for children is now possible. Having access to the SPY24 web management panel, you can do app blocking and unblocking. Parents can ensure the safety of their children and teenagers and eliminate all of the risks linked with a teen's phone. As a bonus, they can remove restrictions on apps that are appropriate.
For the sake of business:
Employees in executive positions have access to company-owned devices, which contain a wealth of private and confidential data. Remotely, from business-owned devices, business owners can remove all malicious, full of scams, or virus-based programs. For this reason, it is possible for employers to find out what apps employees have put on their cell phones or tablet devices, and then you can restrict or unblock programs on your devices, especially those that are improper or dangerous. Using an online mobile phone tracking software control panel, press the "block/unblock" button to block or unblock an application. Apps on the target device issued to employees can be quickly unblocked or blocked.
Block Unblock installed apps is a mobile phone tracking solution that allows you to:
Apps on a target phone can be blocked remotely.
The app can be unblocked remotely on the target device.
Recognize all the apps that have been installed on the targeted smartphone
Inappropriate apps should not be allowed to run on a child's cell phone.
Remove any restrictions preventing access to applications designed for use by teens.
Find out what kinds of apps your staff uses.
Features of Offtime: It tracks phone and app usage and compares yourself with others to help you improve.
It enables you to set personal device usage goals and restrict your access to apps and the internet (exit with delay and no manual stop selectable).
Use the app alone or ask people to join you to OFFTIMEs.
It provides you with daily feedback and an overview of your smartphone usage.
Price: Free with in-app purchases.
Flipd is one of the apps that limit social media time on your iPhone and Android by hiding social media apps to help you focus on your work. Once you lock certain apps on your phone for a set period of time, there's no going back. You might be able to disable other apps by restarting your phone, but not Flipd, making it the ultimate distraction stopper.
Features of Flipd
It tracks the usage time and the time you didn't use the app. Check the time which you save to motivate yourself.
You can schedule reminders whenever you want no distraction.
Attending classes or working at home, get reminders to Flip off to save yourself from distraction.
It lets you use a full lock to hide diverting apps.
Moment
As one of the best apps that block social media, Moment tracks your device usage and allows you to set daily limits; the app notifies you if you exceed them. You can even use a setting that "forces" you off your phone by flooding your screen with annoying alerts when you try to extend your screen time.
Features of Moment
It can monitor your phone and your family members' screen time to control the addiction.
You can schedule your screen-free dinner time, which means for the next set time duration, no one can use their phone, or else an annoying alarm will go off.
It keeps track of what apps you use the most automatically.
It tracks how much you use your phone or tablet automatically.
Freedom
Freedom is a great app that blocks the entire internet for up to eight hours at a time. This program is best for when you need your computer to write a paper, but don't need internet access to research anything. Plus, it works for your phone, tablet, or computer, allowing you to block any distracting websites, apps, or even emails.
Features of Freedom
Block time-wasting apps—from email clients to social media and games.
Block the whole internet with the click of a button.
Block distractions across all of your Mac, Windows, Android, and iOS devices.
Start a block on the fly or schedule blocks in advance that will begin automatically. You can also create recurring blocks to help make productivity a habit.
How to Use SPY24 to Block Apps on Android
Out of all the listed App blockers, we highly recommend using SPY24. It is fully compatible with both iOS and Android devices and runs in stealth mode. Now, we'll show you how to use this App blocking tool to block applications on the target Android phones.
Four Steps to Monitor and Block Apps on Android Phone:
Step 1: Create A SPY24 Account.
Firstly, click the Sign Up option on the top right corner of this page and enter your valid e-mail to create an account. Then make the password for it. After that, you will receive a confirmation link, simply navigate to your Email address, tap the link to activate your account, then follow the Setup Wizard to complete the following setup process.
Step 2: Select A Subscription.
Currently, there are only two editions: Premium Edition, and Ultimate Edition available. Both editions support a 1-month subscription, quarter subscription, and 1-year subscription, you can check the pricing details here. Select a subscription you want and move on.
Step 3: Install SPY24 App on Target Phone.
After successfully subscribing to the service, you will get a download link, simply download and set up the SPY24 app on your mobile device. Login in with your SPY24 account and authorize SPY24 to access data on the monitored mobile phone according to the instructions. Then, you can choose to remove the app icon or keep it on the home screen.
Step 4: Start Monitoring and Blocking Apps on Android Phone.
After finishing the setup process on the target device, turn back to the SPY24 control panel or dashboard on your computer. All supported features are listed on the panel so that you can click each category to view the data. To monitor applications on the target phone, simply click on the Applications tab on the left side of the dashboard. You are able to block any app from the device.
Note: for the first time you enter the dashboard or control panel, it takes some time to sync all data from the monitored device. SPY24 will fail to sync the newest data if the monitored device is powered off or disconnected from the internet.
Simply Select One From Our Picks In The Best App Blocker List As You Need And Try It Today
Do you need to remotely block an Android application on your target device? Get this feature by SPY24, with our Premium Account!
What Can You block?
With the SPY24 app, you can remotely block the applications on the target device :
Custom Android application
Installed Android application
Why Should You Use SPY24'S Android App Blocker Feature?
As a parent
As a parent, you will be able to remotely block Android applications on your kid's phone and make sure that they are not using harmful content. This will help you keep a check on the activities your child gets involved in.
As an Employer
As an employer, you will be able to remotely Android applications on your employee's phones and make sure that they are not using any app that can be dangerous for your business.
No Root
You will not be required to root your Android phone to use this feature. Therefore, your phone warranty will stay intact.