Telegram Screen Recorder – Chat Spy Telegram Monitoring
If you're like most people, you probably rely on your cell phone to keep in touch with friends and family. But what if someone was using your phone to spy on you? A new app called Telegram Spy can allow someone to track your movements and read your text messages, without you even knowing it! This app can be a real threat to your privacy, so be sure to protect yourself by downloading Telegram Spy today.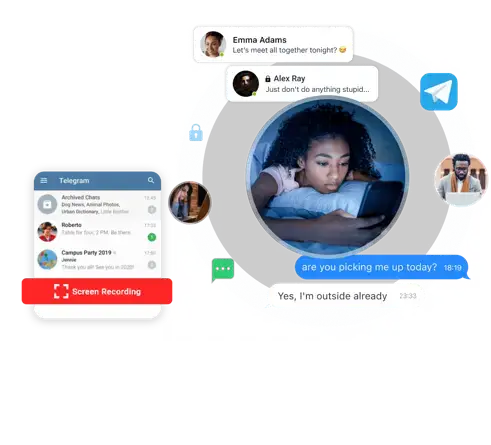 How to Monitor Telegram On Android & IPhone Via SPY24?
Watch a tutorial to learn how SPY24 not just monitors Telegram chats and group chats but also all shared photos on the target device.
Telegram Spy App
SPY24 telegram messengers monitoring software allows user to spy telegram messenger and track all the audio messages, text messages, video, and photos
Benefits for parents

Parents can monitor their kids' Messenger activity with SPY24 Voice for Telegram. Once activated on a target phone, SPY24 can record Telegram activity. Parents can prevent kids' social messaging app addiction. Social media apps contribute to online dating, slut shaming, and body shaming. Parents can protect teens from online predators.

Benefits for Individuals

If you love instant messengers like Telegram, you can use them personally. It's a mobile data backup app. It keeps track of your Telegram and Voice message logs. It monitors all activities and provides detailed information with time stamps to an online dashboard where you can review monthly, daily, or weekly activities.

Benefits for Employers

Employees used social media apps like Telegram to gossip about coworkers during working hours. It affected productivity and wasted time. SPY24 telegram voice monitoring software will solve all your problems. You can track all employee messenger activities with a time stamp during working hours.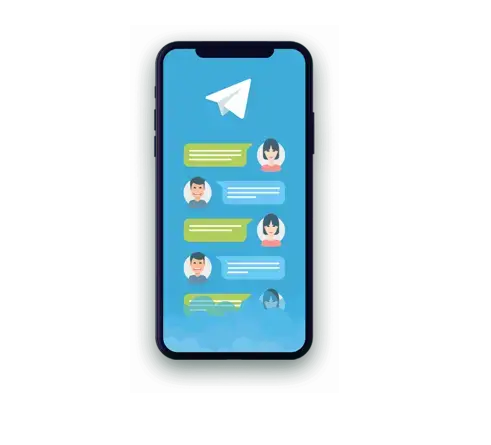 Spy on Telegram chats with SPY24
SPY24 It's important to track telegram voice messages with the telegram voice tracking app in a world where cyberbullying is on the rise, stalkers are everywhere online, and employees seem to spend a lot of time on social apps at work. With SPY24 telegram tracking software, parents can see everything their kids and teens do on the Telegram instant messaging app, including voice calls. The user can listen in on Telegram calls and do it quickly and accurately. Telegram Tracker: The secret conversations they're having in the secure message app are no match for SPY24.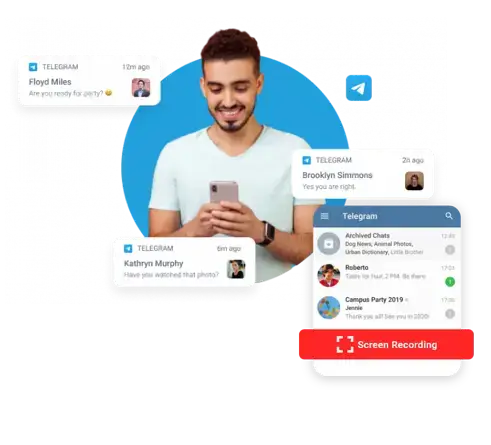 How to Spy on Telegram: Telegram Spy
With the Telegram spy app by SPY24, you can see all Telegram texts and even hidden conversations, as well as the exact date and time. Telegram Screen Recorder lets you watch what's happening on your screen from afar on Telegram Messenger: Telegram screen recording is the process of recording what's happening on a phone's screen while an instant messaging app is running. It can record videos on your cell phone and let you watch instant messenger chat, and interactive emojis, read recipients in groups, monitor Telegram calls, and video messaging activity. With Telegram screen recorder software, you can watch the target phone's Telegram screen as if it were your own cell phone. Users can keep up with what's going on with social messaging by making a series of videos on their phones and saving them on the dashboard.
Telegram Voice Spy App
SPY24 Telegram Spy App Allows You to Find Out

Messages sent and received, as well as the exact times they were sent and received
All sent & received voice messages
Files with Emojis, Stickers, and GIFs were sent and received.
Telegram Voice Spy App lets you track Telegram Voice calls on any Android or iOS device.

Why Do You Need SPY24 Telegram Spy App?

The telegram should be read by parents. Teens like to use voice calls a lot. They talk, text, send videos and photos, and make voice calls to their online friends, which could be very dangerous for them. Employees are always using social apps like Telegram on company devices. So, it is very important to keep an eye on what they are doing, especially when they are on the company's property. SPY24 telegram spy software is the best way to keep your kids safe from online dangers and keep your employees in line.

App to Spy on Telegram Voice

Spy on Telegram Voice now with a powerful and safe monitoring app

SPY24 telegram voice spying software lets you get into the territory of monitoring Telegram messenger Voice and tracking all the audio messages, text messages, video messages, and photos sent and received with the exact date and time stamp.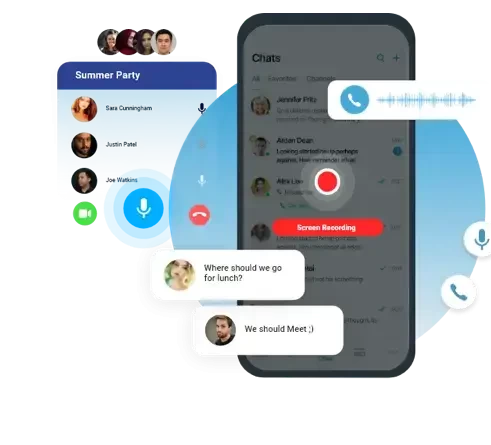 Frequently Asked Questions - Telegram Spy
Is SPY24 invisible / hidden?

For Android devices, SPY24 icon will be displayed on the top Android status bar by default, which can be disabled from settings. For Jailbroken iPhone/iPad, SPY24 icon will be displayed on the home screen by default, which can be disabled from settings.

Do I Need Physical Access to the target device?

For Android phones/tablets, you need to access the target device (get it in your hand and unlock it with the password/passcode). For iPhone/iPad, you need to access the target device and jailbreak it to enjoy the Telegram spy feature.

So what are you waiting for?

Get this best telegram spy software today and start spying secretly on your loved ones without letting them know. If your Spouse is Cheating you or your kids are hiding things from you, with the help of this software you can easily spy and gather proofs against them. Accordingly, you can take action against them.

How does it work?

SPY24 provides you with virtual access of the targeted mobile phone so that you can watch all the chats and conversations of them. You just have to download and install this telegram spy software SPY24 in their phone and with your login credentials you can log in and from your control panel, you can easily spy on them. As you will log in being at your comfort place you will get the full access of their Smartphone.

How do I track Telegram?

Telegram voice spy tracks Telegram on any cell phone. Install and activate SPY24 on the target phone. You can also access Telegram monitoring features. It lets users monitor voice messages, voice calls, media sharing, in-person chats, and group schedules.

Parents can Android Telegram?

Telegram can be monitored on rooted and unrooted phones. SPY24, the best Telegram monitoring software, doesn't require parental controls on Android devices. You can track voice messages, chats, group chats, and media sharing.

Best Telegram voice spy app?

SPY24 is the best Telegram spying software. It can track sent and received voice messages on Facebook. Telegram live screen recorder software lets users view voice, text, and group chat logs.

Telegram Voice messages: trackable?

Yes, Telegram voice spy is one of the few online tools that can track voice messages sent and received on a social messaging app on a schedule. It monitors voice chats and sends logs to the user's online dashboard. Download voice logs anytime.

Free telegram spy?

Free Telegram voice spy apps are a waste of time; use a legitimate monitoring solution. Free apps are scams that steal your device's data. To monitor Telegram, use the best software.

Which app monitors Telegram without rooting?

SPY24 is the best telegram screen recorder. Physically accessing and activating the phone installs the app. You can also use a Telegram video recorder to monitor instant messenger activity from your dashboard.

Is telegram spy software hidden?

Yes! Hidden and undetectable Telegram screen tracking app. It records a series of short videos and sends the data to a dashboard.

Free Telegram video recording?

No. Free telegram screen recorders could be scammers who steal data. You need legit and commercial telegram monitoring software to record phone screen videos to monitor the instant messenger app.

Telegram screen recording?

Yes! Live Telegram chat can be recorded on a cell phone without the best software. It lets users record short videos on their phones and send them to a dashboard. It records videos when the target sends and receives text messages and chats.

Telegram video chat recording?

Telegram can record any phone screen. SPY24 screen recording software can record multiple phone screen videos running with the telegram. It's the best software to record telegram activity like voice calls, chats, and media.

Android telegram recorder?

The SPY24 Telegram screen recording software records social media on android phones. You can view and record short videos back-to-back on a Telegram-enabled phone. Android users can record screen videos to see what's happening in IM.
What you can do with our Telegram Messenger Spy App feature
Self-destructing chat messages, end-to-end encryption and privacy are all features that have made Telegram a successful app. But when this secrecy threatens your child or business, you can count on our software for reliable Telegram message monitoring.
Many people dislike the idea of their chat contents being accessed by the tech companies that own the platforms, or being passed on to marketing companies. So with its completely secure and private chat app, it's no wonder Telegram has built a loyal following.
Our Telegram spy app feature allows you to remotely and discreetly spy on all incoming and outgoing Telegram chats on your child or employee's device.
Telegram spy app is a monitoring application which enables you to spy on the Telegram messenger activities of your kids and employees. SPY24 enables you to track the Telegram chat history on iPhone and Android phone by logging keystrokes and capturing screenshots.
Paige
w.s

Adam
s.s
andre
n.n
Spy on Telegram messages with our Telegram Spy App feature
Track Telegram Text Chat Messages and Voice Calls Get your hands on Telegram voice messages to secure your teens from social media evils and scrutinize your employee's activities on company's owned devices.
You Can Totally Rely on SPY24 – We've Got Your Back
SPY24 won't leave you alone with your subscription, because for us, your satisfaction is on top of everything else, and with that, we promise to deliver only the best mobile spying app experience that you will never have like it again!
100% Secure Satisfaction Guaranteed

24/7 Live Chat

Stealth Mode 100% Invisible
SPY24 Telegram Spy: We Beat the Unbeatable Protection
What is the Telegram Spy app and how does it work
Telegram Spy app is a monitoring tool that lets you track the activity of another person through their Telegram account.
Features of the Telegram Spy app
With the Telegram Spy app, you can view all the chats, photos, and videos sent or received by the target user. You can also see the contact list of the target user and get notified whenever a new contact is added.
How to use the Telegram Spy app
To use the Telegram Spy app, you need to install it on the target user's device. Once installed, you can start tracking the activity by logging into your account.
Benefits of using the Telegram Spy app
There are many benefits of using the Telegram Spy app. First, it lets you keep an eye on your children's online activity and protect them from potential dangers such as cyberbullying and online predators. Second, it can also be used to monitor your employees' online activity and make sure they are not wasting time on social media or engaging in any inappropriate behavior.
Price of the Telegram Spy app
The price of the Telegram Spy app starts at free per month. It is a one-time payment and there are no hidden fees or subscriptions. You can use the app for as long as you want and cancel anytime.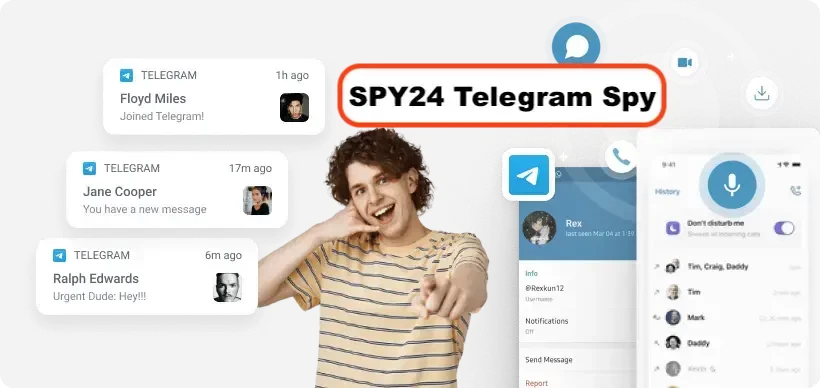 What is Telegram Tracker and what are its features
Telegram Tracker is an app that allows you to monitor the activities of your loved ones on the Telegram messaging app.
How to install Telegram Tracker on your device
To install Telegram Tracker, simply download the app from the App Store or Google Play Store.
How to use Telegram Tracker to monitor your loved ones
Once installed, you will need to create an account and then add the people you wish to track.
Pros and cons of using Telegram Tracker
Telegram Tracker will then show you all the activity of the people you are tracking, including when they are online, what they are doing, and even their location if they have shared their location with you.
Alternatives to Telegram Tracker
There are some pros and cons to using Telegram Tracker. Some people may see it as an invasion of privacy, but if you are concerned about someone's safety, it can be a valuable tool. Alternatives to Telegram Tracker include other monitoring apps such as Spyzie and SPY24.
What is the SPY24 Screen Recording App for Telegram?
Are you trying to use another phone's screen to watch live telegrams? You don't have to fight anymore; a telegram screen recorder can do the job for you. It can be used on your target phone if it has instant messaging apps. With the SPY24 Telegram screen recorder, you can use another phone to watch what's going on in real-time on your chosen instant messenger. It can record short videos to watch Telegram video messages, video calls, audio calls, text messages, chats, and group chats. Users can easily send the videos of their phone screens that have been recorded to the web control panel. You can look at the videos to find out how Telegram works.
How to Record the Telegram Screen in Secret with SPY24?
To secretly record what is happening on a Telegram screen from a distance, the user must install SPY24 on the device they want to record. After installing the spy app, the user can use their phone or computer to log into the SPY24 dashboard. They can easily record the screen of the target device from a distance while the person being spied on doesn't know what's going on.
What's the point of Live Telegram Screen Recording?
Yes! With Telegram screen recorder software, you can see what your kids are doing on popular instant messaging apps like Telegram in real-time. Parents can keep an eye on their kids' social messaging to keep them safe from online predators and strangers. Business people have said that using Telegram screen recording software to watch employees at work is a good idea. They can stop workers from wasting time and using work equipment for personal things.
Telegram Voice Spy is used to keep track of chat and voice messages.
Spy on the Telegram messaging app and listen to and read voice and text messages sent and received on a set schedule. Telegram voice spy software works whenever someone chats or sends a voice message. It keeps an eye on the logs of voice messages that come in and go out and sends them to the dashboard. With a schedule, you can find out in secret how many voice messages and voice chats are sent and received on the target phone. Users can also keep track of images, icons, and other media that are sent along with voice messages.
With a Telegram Spy App, it's so easy to get started.
We know exactly where you are coming from. You like technology, but you don't know how to code. You don't want to have to go through a lot of trouble to start monitoring on Telegram. We've made it easy to start using the most powerful Telegram spy tool on the planet because of this:
Enter your email address and choose how you want to use the Telegram spy app.
Check your inbox for a message from SPY24 after your payment goes through. In it, you'll find your Control Panel login information, your login information, and a guide to help you get your Telegram messenger spy solution up and running.
Just do what it says in the Welcome Package. You'll have the most powerful Telegram monitoring tool at your disposal in no time at all.
You can get the information you need with a Telegram spy tool.
Look at all of their texts. With a Telegram spy app, you can look at all of their sent and received messages and see details like when they were sent and when they were received.
Get into private chats. Yes, a Telegram tracker makes it easy to find the chats they don't want you to see.
Look at their contact list. You can now see who they are talking to. This is especially important if you don't want them to talk to strangers or other people you don't like.
Check out their other online chats.
You want to know how to keep an eye on someone on Telegram. You're here because of that. You should also think about what other apps your child may be using. Maybe they like to post pictures on Instagram all the time. Maybe they love to send Snaps to each other on Snapchat. Or maybe not. They might be on Tinder. By using a Telegram spy tool like SPY24, you can also see what they are doing on the social media apps they use. SPY24 works with a number of different messaging services, so you don't have to download more than one monitoring program.
Go Beyond Just Messenger Monitoring
SPY24 can do a lot more than just keep an eye on your Telegrams. With this Telegram spy tool, you can find out a lot of information. This includes being able to see where they are on a map when you log in to your Control Panel. It means that they can look at their browser history, which includes their bookmarks. It lets you look at the Wi-Fi networks they connect to so you can see if there are any strange connections. It also lets you know if they're talking about anything controversial in their chats, like sex, drugs, guns, or whatever keyword you choose. Plus, it has a lot more, so take a look.
Free Telegram spy apps can be dangerous.
Do you want a free app that lets you read other people's Telegram messages? Be careful. If you find an app that says it can do it for free, there could be a lot of bad things going on. First of all, these apps could have spyware that, when installed on a phone, can steal all kinds of information. Things like your credit card number, emails, and passwords for online accounts. Pick a Telegram tracker that costs money every time. You get what you pay for at the end of the day. And if you don't pay for something, you might end up with a lot more than you expected.
The Answers to Your Most Important Questions About the Telegram Spy App
How can I monitor Telegram if the messenger is so safe?
Great question. Telegram is definitely one of the more secure messaging apps. That means that messages between two people are encrypted, which makes it hard for other people to read them. But a Telegram spy tool doesn't have to read messages to be useful. Instead, it's a way to get into the phone and read the conversations as if you were looking at the phone itself.
What happens if my child deletes their chats on Telegram?
Not a big deal at all. When you use an advanced Telegram messenger spy product, you'll be able to see all of their Telegram conversations, even ones that they may have deleted. So, if you're worried that your kids might have controversial chats and then try to hide the evidence, you can use a tool like SPY24.
Do I have to be one of my child's contacts in order to see what they are saying on Telegram?
In no way. In fact, you don't need to sign up for Telegram to use a Telegram tracker. For your Telegram spy app subscription, all you need is a username and a password. If you sign in, you can see all of their Telegram chats at once.
Along with other chat apps, my kid uses Telegram. Is there a better way to handle it?
Some spy apps for Telegram Messenger are made so that you can only look at Telegram conversations. Not SPY24. It's made so you can listen in on conversations in a number of different chat apps. So, if your kids talk to friends or strangers on WhatsApp, Facebook Messenger, Snapchat, Instagram, and many other chat apps, knowing how to spy on Telegram messages will also help you track their other chats.
Can I stop them from chatting with strangers by using a Telegram spy tool?
From your Control Panel, you can't block certain phone numbers. Most Telegram spy apps aren't made so that the person watching the chats can make changes to the app from a distance. But you can look at all of their Telegram conversations, even the ones that aren't public. So, if they talk to people they don't know, you'll know.
What is SPY24 Voice Spy Software for Telegram?
SPY24 monitoring software's Telegram voice chat spy is one of the best social media spy tools. It is an app with a lot of social monitoring tools, and one of them is Telegram voice monitoring. It not only keeps an eye on Telegram voice but also lets users keep an eye on chats and message logs on a set schedule. Users can also use a screen recording tool to record their cell phone screens while using a social messaging app and record short videos to find out what else is going on with an instant messaging app besides voice messages.
No Longer a Myth: Telegram Voice Messaging Can Be Tracked
The SPY24 Telegram voice spy is the tool that debunks the myth that you can't spy on someone's voice on Telegram. You can use the Voice spy app for Telegram to keep track of when Voice messages are sent and received. Why don't you give it a try?
How can parents benefit from Telegram Voice Spy?
Telegram Messenger is fast, secure, and expressive, and lets you send and receive media and chats of any size you want. Teenagers are obsessed with it and use social networks to send messages, talk to strangers in secret, and date online. They are close to getting caught by online predators, and Telegram chat monitoring software lets parents see its encrypted and unlimited media sharing activity with the schedule. It gives you the power to keep an eye on chats, messages, and voicemails. Parents can keep their kids safe from stranger danger on the internet.
Is it possible to spy on Telegram voice without Root?
Yes, you can spy on Telegram voice without rooting if you use the Telegram voice spy software that doesn't require root. It works on any Android device, rooted or not, and lets you listen in on VoIP calls and voice messages from social networks.
Features of the Telegram Spy App
Telegram is a safe messaging app that has a lot of encryption and is hard to break into. But not if you have the Telegram spy app, which lets you read your target's Telegram text messages whenever you want without them knowing. Here are a few things that the Telegram spy app can do:
Telegram Message Spy lets you see all the text messages sent and received by the target user, as well as the times they were sent and received.
Secret Chat Spy Telegram messages let people make messages that delete themselves and chats that only that user can see. But with SPY24's Telegram spy app, you can read even the private and self-destructing chats of the person you want to spy on, as well as the full chat history.
Multimedia Spy: Telegram users can send and receive large multimedia files like photos, videos, documents, and more. The Telegram spy app gives you full access to all of these files.
Spy on Calls and Contacts
Track information about the people your target user calls or chats with, such as their name, profile picture, and phone number. So, you'll know who they're talking to.
How does Telegram Spy App work?
With the Telegram spy app from SPY24, it has never been easier to spy on Telegram. You need to go to the SPY24 website first. After that, choose a subscription plan based on how you want to spy.
You will need to give a valid email address where you can receive instructions on how to install the SPY24 app. Install the SPY24 app on the device of the person you want to spy on, and then do the following:
Go to the site for SPY24.
Enter your valid credentials to log in to your account.
Choose the Social Media option from the sidebar on the left of your dashboard.
Now, pick the option that says "Telegram."
Finally, you'll be able to keep track of what the target device does with Telegram. Read the private messages and see when they were sent, find out who the target user is talking to and how to contact them, and more.
Why is it important to spy on Telegram? Why Parents Need Telegram Spy App
Telegram is a popular messaging app that is used by 400 million people every month around the world. People use Telegram to talk to their friends, family, and other important people in their lives. Most of the time, kids use Telegram to chat with their friends.
Even if Telegram is safe, it can't keep your kids safe from online predators, scammers, cyberbullies, and people who just want to bother them. We all know that kids can be very trusting. So, it's easy for them to get caught in these dangerous traps.
So, if you want to know what your kids are up to on Telegram, you need MobieSpy's Telegram spy app. You can keep an eye on their chats and see who they are talking to and how to reach them. This way, you can keep yourself safe from all kinds of online dangers.
Telegram makes it easier for a spouse to cheat because it can send secret messages and messages that delete themselves. So, if you want to know if your partner is cheating on you, you need the Telegram spy app to read their private text messages and messages that disappear after a certain amount of time.
Because of its well-known security and encryption features, Telegram is also used for business. You can't be sure, though, whether your employees are using Telegram for work or just to waste time.
But with SPY24, it's easy to keep track of everything your employees do on Telegram. Find out if they are using Telegram to share private information about your business or if they are just using it to talk to other people and wasting time by letting you into their private chats.
Why do we need Telegram Spy App? Benefits of Spying on Telegrams
When you put SPY24's Telegram spy app on the device you want to monitor, you will be able to:
Spy on messages sent or received by the target user, as well as the time they were sent or received.
Find hidden private texts or messages that will delete themselves
Track the multimedia files that were sent and received
Find out who is contacting your target user and how to reach them.
Do I have to "root" or "jailbreak" the device I want to use?
No, you don't need to root or jailbreak the target's phone in order to use SPY24. All the information can be accessed remotely with just a few clicks, and it works perfectly on both Android and iOS devices.