Monitor Twitter Social Activities - Twitter Spy App
So you want to spy on someone's Twitter account? Well, there are a few different ways to do it. But the easiest way is to use a Twitter spy app. These apps allow you to see all of the person's tweets, as well as their followers and following lists. Some even allow you to see the person's direct messages. So if you're interested in spying on someone's Twitter account, the best Twitter spy apps out there.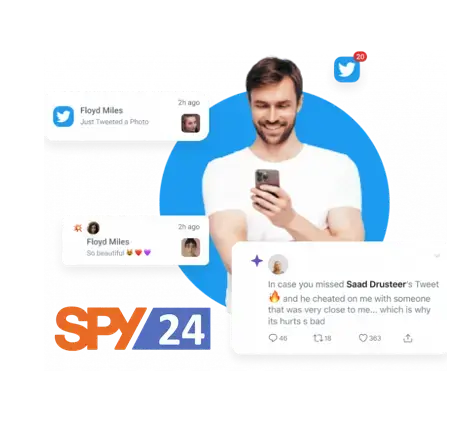 How to Monitor Twitter Messenger chats via SPY24?
Watch the video and find out how you can monitor Twitter Messenger chats in just under 5 minutes.
Twitter Spy, Spy on Twitter for FREE
Spy Twitter messages of any android Mobile for FREE with Twitter Tracking. Track Facebook, Whatsapp, WeChat, Instagram, SMS messages, Location and many more
Phone Contacts

Strong Spying Features of SPY24 Contacts and Logs See who contacts your teens. Find out suspicious contacts list from phone book logs.

GPS Location Tracking

Actively track your kid's current geographical location. Monitor location history.

App Monitoring

Monitor installed apps names, details and track app activities
Twitter Spy
People spy on Twitter in different ways. Some try to figure out the password, and others try to sneakily read the messages. Most people's time is spent on Twitter. If you spy on Twitter, you can find out everything. Now that technology is getting better, there are a lot of tracking apps that help people spy on Twitter. You can spy on Twitter for free with Free Phone Spy. In this post, we'll talk about how the Free Phone Spy app can be used to spy on Twitter. You have to download the app before you can use this feature.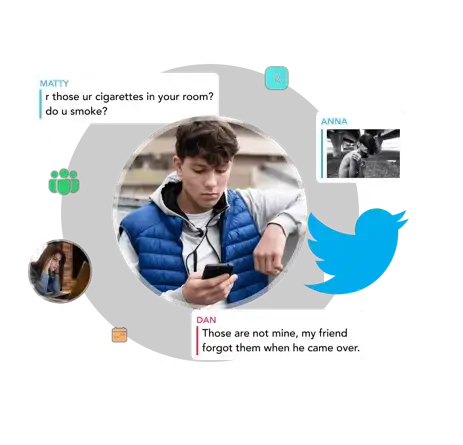 Access to the full Twitter account
Twitter, like a lot of other social media sites, has the potential to do harm in its own way. It is one of the most common places where bullying happens, which is sad. Teenagers say things on Twitter that they would never dream of saying to someone's face. Even though we can't change how it works, we can stop the most dangerous things from happening, like when kids work together to hurt each other or send threatening messages. You can trust the SPY24 Twitter Spy App to help you with this. We're up to the task of helping you find wrongdoing on Twitter and take action right away. For iOS devices, you'll have FULL access to your child's account and will be able to use it as if it were your own. You will be able to block users, change settings, and stop following content that isn't appropriate. That is, take care of everything. For Androids, we offer a unique feature that takes screenshots of everything you do on Twitter and reports on it.
Twitter Tracker
Twitter Tracker

Info! This feature is currently not available due to security update by Twitter

Do you require Twitter Tracker for your target device's Messenger conversations? Get this service from SPY24 with the Premium Account!

What Can You Monitor?

With the SPY24 app, you can monitor the following Twitter messenger data:

Messages received and sent from the target device.

How It Works?

Once installed on the target device, our application will copy data from the device's messenger logs and upload to your online user interface. You can monitor the logs from the account.

Why Should You Use SPY24's Twitter Tracker Feature?

As a parent


As a parent, you will be able to monitor the Contact book data of your child. This will help you keep a check on whom your child gets in contact with.

As an Employer


As an employer, you will be able to monitor your employee's Contact book data. This will help you keep a check on whom your employee is contacting.

No Root


You will not be required to root your Android phone to use this feature. Therefore, your phone warranty will stay intact.

Twitter Tracker

Info! Due to a Twitter security update, you can't use this feature right now. Do you need Twitter Tracker for the Messenger conversations on your target device? SPY24's Premium Account gives you access to this service.

What Can You Keep an Eye on?

You can keep an eye on the following Twitter Messenger data with the SPY24 app:

Messages that were sent and received by the target device.
Body of the message.
Date and time marks.
Contact details.

What Does It Do?

Once our application is installed on the target device, it will copy information from the device's messenger logs and send it to your online user interface. The account lets you check the logs.

Why should you use the Twitter Tracker tool on SPY24?

As a parent.
As a parent, you will be able to look at your child's Contact book. This will help you keep track of the people your child talks to.
As a Business
As an employer, you will be able to look at the information in the Contact book of your employees. This will make it easier for you to keep track of who your employee is talking to.
No Start
To use this feature, you will not have to "root" your Android phone. So, your phone's warranty will still be good.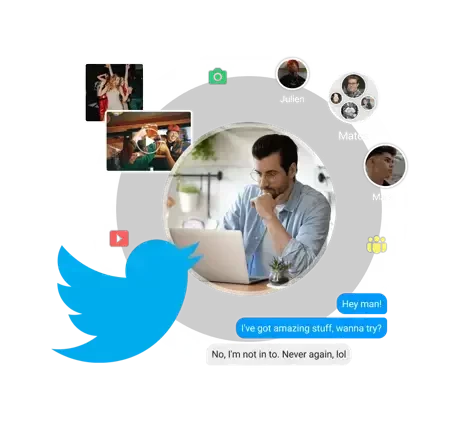 Frequently Asked Questions - Twitter Spy
Is Twitter a spy app?

Twitter is spying on you, and the apps you use, which is a lot of powerful information for the company to own about you.

Is there a way to spy on Twitter messenger?

So spying on Twitter text messages with SPY24 is smooth and simple. The app works on Android smartphones and tablets after rooting the target device. Further, the app lets you record phone calls, check visited websites, SMS, spy on WhatsApp, Snapchat, Viber, as well as track locations, and set up alerts.

What is SPY24™?

SPY24™ is the leading parental monitoring software that allows you to view the activities of your child's device though the SPY24™ account on your personal smartphone or computer. These activities include text messages, locations, call information, and many others.

How Can I Download The History Of My Twitter Chats Using SPY24?

Through the use of your SPY24 web account, you will have the ability to export Twitter chats along with other monitored data to your personal computer or to any other off-site location you choose.

How Can I Monitor Conversations on Twitter Using SPY24?

SPY24 will automatically upload all Twitter chats to your web account; therefore, the only thing you will need to get started is a current SPY24 subscription.

Is It Possible to Listen in on Twitter Conversations Without Having Access to the Target Phone?

After you have given SPY24 one-time access to the target device in order to set up the application, you will be able to remotely spy on Twitter chats from any location using the control panel that is based on a webpage.

What Do You Need To Do Before You Can Start Spying On Twitter Messages?

You will need to install SPY24 on the cell phone or tablet that you wish to monitor in order to gain access to the Twitter Messages of your children or employees. In order for the Twitter chats you monitor to upload onto your web account, the monitored device will, of course, need to have a functional internet connection.

Is It Possible For Me To Spy On Twitter Chats Even If The Device I Want To Monitor Is Not Connected To The Internet?

Even if the device being monitored isn't connected to the internet, SPY24 will continue to function normally in the offline mode. As soon as the device in question establishes a connection to the internet, you will have access to those Twitter chats.

What is the most effective app for parents to monitor their children's Twitter activity?

SPY24 is an excellent tool for monitoring the tweets that your children send and receive on Twitter. It is very easy to get started thanks to our straightforward installation process and our support team's availability around the clock.
Hack Twitter Spy Tool Messages
Twitter is utilized by all age bunches. Twitter can keep you educated about every one of the visits present on the objective gadget. With Twitter, you can following track Twitter message on the objective telephone whenever, anyplace will and now you can checking everything.
Track all Twitter messages. Perused time to track log history. All recordings are transferred to your online SPY24 account which you can access from anyplace with a web browers. You can play and download from online SPY24 account on to your PC or simply hear them out straight from site whenever you need.
Are you worried about youngsters to associate with their friends, relatives and acquaintances on SPY24? Do you want to know to employees waste their time and even share the secret talks with competitors? SPY24 – Twitter Tracking Software is the most suitable and secured answer for watch out for the children or employees. You need to watch the objective without getting into inconvenience and stay covered then the product program you purchase must have components to have all the work done.
Read their Twitter messages. It is a wrong thinking that tracking someone's text messages and calls gives you a full picture of your children or employees. Since more and more people using smartphone are turning to instant messaging, you should make sure to track your phone which allows you track the most popular services.
Paige
w.s

Adam
s.s
andre
n.n
Hack Twitter Messages | Hack Twitter SPY
Spy App is the most powerful monitoring and tracking software for smartphones. Spy App help you hack Twitter messages, hack Twitter messenger, Twitter spy
You Can Totally Rely on SPY24 – We've Got Your Back
SPY24 won't leave you alone with your subscription, because for us, your satisfaction is on top of everything else, and with that, we promise to deliver only the best mobile spying app experience that you will never have like it again!
100% Secure Satisfaction Guaranteed

24/7 Live Chat

Stealth Mode 100% Invisible
Twitter Spy App Free
Features of the Twitter Spy App
Are you looking for a program that can keep an eye on what your target does on Twitter? If so, you've come to the right place. You can do this with the help of SPY24. Here are some things that the SPY24 Twitter Spy App can do:
Spy on Direct Messages on Twitter
On SPY24's dashboard, you can see your target's chat history with each account they use. Read all of their direct messages (DMs). See where they are and what direct messages they have sent or received.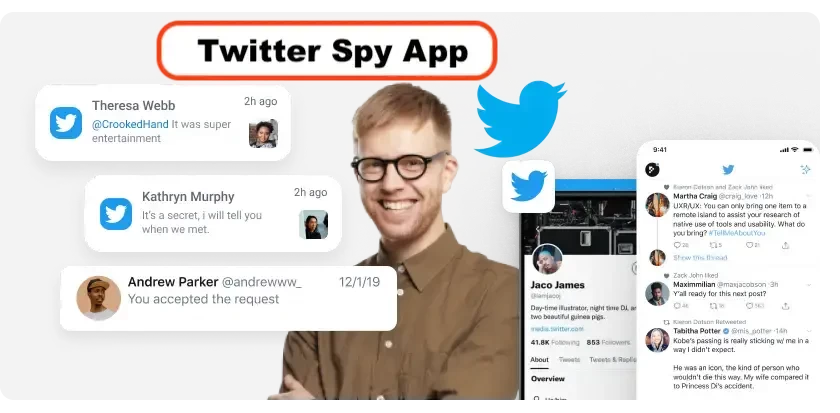 If the target user's Twitter account is private, you won't be able to see their tweets and replies without following them. But with the Twitter spy app, you can see all of the target user's tweets, even if their account is set to private.
Keep track of who is following and who is following you.
Keep track of your target Twitter account's number of followers as well as information about the accounts they follow.
Notification Spy for Twitter
Access every Twitter notification sent to the target account, such as when someone replies, likes, or tags a tweet.
The Twitter spy feature of SPY24 will not only track what the target is doing on Twitter, but it will also tell you the exact time and date of each activity.
How does Twitter Spy App work?
Spying on someone's Twitter account is not easy. But SPY24 makes the job much simpler. With SPY24's Twitter spy app, you can keep track of what your target is doing on Twitter.
Sign in to SPY24 and make a SPY24 account to do that. Choose a plan, and then install the app on the device you want to use it on. After that, you just need to follow these three easy steps:
You need to use valid credentials to log in to your SPY24 account.
On your dashboard, choose Social Media from the list of options on the left side.
Now, choose the option that says Twitter.
When you click on the Twitter option, you can now see all of the information about the target's Twitter account on your dashboard. You can see their chats, shared multimedia files, notifications, records they are following, and more with just a few clicks.
What's the point of the Twitter Spy App? Benefits of Spying on Twitter
Twitter is very popular among teens because it gives them a way to talk about how they feel. One scary thing about Twitter is that anyone can post anything they want, whether it's appropriate for kids or not. This is not the case with any other media platform. So even if someone uploads violent or pornographic videos, Twitter won't take them down.
So, your kids can easily find this kind of content while scrolling down the Twitter page, which can be very bad for their mental health. Also, because it's a popular social media app, it's home to dangerous online scammers and people who want to harm you. People who want to hurt your kids are waiting to catch them and make them do something worse.
So, as a parent, you might want to know what your child is doing on Twitter. If you use SPY24's Twitter spy application, it's easy to keep track of what they're doing and see if they're in trouble. You can read their direct messages to find out who they're talking to and what they're looking at on their Twitter feed.
Twitter can be a great place for people who want to cheat to do it. So, you can find out what your spouse is doing on Twitter by using the Twitter spy app. Check their private messages, even the ones they've deleted, in stealth mode.
As a business owner, you may care more about how well your employees do their jobs. It could be helpful to know what your employee does on Twitter during work hours. When employees use Twitter at work, you must keep an eye on what they are doing and warn them if you need to.
With SPY24, you can keep track of every tweet they send and make sure they aren't wasting their time by chatting. You can also check to make sure that they aren't giving away any important information on Twitter.
What does Twitter Spy App let you do?
With the help of the Twitter spy app feature of SPY24, you can do the following:
Stealthily check your target's Twitter account.
Track all the direct messages on Twitter, along with the time they were sent.
Keep track of all the photos, videos, and other multimedia files you send and receive.
Find out who the target Twitter account is following and who is following it.
Track the Twitter alerts that the target account gets
Do I have to "root" or "jailbreak" the device I want to use?
No, you don't have to root or jailbreak the device you want to spy on in order to use the Twitter spy app. SPY24 makes it easy to spy on a device from a distance because it works in stealth mode.
You can keep track of Twitter messages with the FREE Android Tracker, Call Recorder, SMS Tracker, Social Media Tracker, GPS Tracker, Ambience Voice, Whatsapp Messages Tracker, and many more.
You can use it from anywhere in the world to keep an eye on your kids and keep them safe.
It works with almost all mobile devices that run on Android.
Support is available. Seven days a week, 24 hours a day.
Installing the free mobile tracker on your child's smartphone will let you keep track of everything he or she does on Twitter.
You can keep track of all Twitter messages sent and received with the FREE Twitter spy app.
Get a full record of everything you've done on Twitter, including the time and date stamps.
You can keep track of your Twitter messages with the Free Twitter Tracker.
Twitter is now one of the most popular social networking sites on the internet, so almost everyone who has access to the internet can use it. Even though it has brought the world closer together and connected people everywhere, a lot of people are becoming victims of cybercrime, especially young children who are naturally curious about new things. As a parent, you should check your child's Twitter account to protect them from this cyber threat.
The SPY24 is a helpful tool that lets you keep an eye on what your kids are doing online or what your employees are doing at their desks at work. The SPY24 app lets you spy on the targeted phone's activities, like text messages, that have to do with your personal or professional life.
Software that breaks into Twitter accounts is called Twitter Hacker, Twitter Tracker, Twitter Spy, Spy on Text Messages, and FREE Phone Tracker.
As a parent, it's important to keep track of what your kids are doing online, like on Twitter, WhatsApp, and other social media sites. As a boss, you should know how your workers get along with each other. Is it possible that they're talking about private things? Is it true that they are working when they should not be?
In the situations above, it is perfectly fine to check out what they are doing on social media, especially on Twitter. With the Twitter tracker feature of SPY24, you can spy on everything that happens on Twitter on the phone you want to track. Even if your kids or workers delete all of their Twitter conversations, you can still read them all easily. Get all the details, like the date and time, as well as the senders' and recipients' cell phone numbers. The Twitter tracker lets you see all of the photos, videos, audio files, documents, and other files that have been shared or saved on the phones you are interested in.
What is the link between the Twitter tracker feature and the Free Phone Tracker -SPY24?
Find out what people are talking about on Twitter.
Get access to photos, videos, documents, and audio recordings that people share on Twitter.
Get a full list of all the names and cell phone numbers of the people your kids have been talking to.
Get full control over what your employees do while they are on the job.
We are living in the age of smartphones. A businessman couldn't do his job without his smartphone, and so could almost everyone else. SMS tracker apps are great solutions because they let you see and access any information sent or received by phone in question while you have it. If you are the parent of a teenager, you may worry about how they talk to inappropriate people online and in person. You might have been interested in what they were sending and getting. On the other hand, if you are an employer, you might want to know what your employees are texting. Whether or not they were talking about private information. The answers to all of these questions can be found in the SPY24 app.
Twitter Spy is the best app for Twitter Spy.
You can read Twitter messages without ROOT.
If you need to, you can download and install the tracking app on the phone you want to track.
The company says that there are more than 320 million active Twitter users and about 1.3 billion registered accounts. Installing a Twitter spy on your teen's phone is a good idea because Twitter is the second most popular social media app after Facebook among teens.
To keep your child safe, you should use a program like SPY24, which lets you monitor not only the child's Twitter account but also other social media apps. Children often share personal information on Twitter, so it's important to read what they're saying. You can use the information that SPY24 gives you to teach your kids how to use their mobile devices in a safe way.
You'll need to do the following things before you can start using this Twitter spy:
The first step is to install SPY24 on the phone you want to spy on.
It's important to remember that you have to have the device in your hands during the installation process; you can't do it from afar. Since SPY24 is not a way to break into a phone, you are not required by law to tell the child that this app has been installed on their device. You'll need to take the right steps before you can use this Twitter spying program to keep an eye on what your employees are up to.
2. Register the phone with the phone company by calling them.
When you run SPY24 right after installing it, it will walk you through the process of registering. (Optional) During the registration process, you'll need to enter your email address and make a password.
3.0 Sign in on the SPY24 website.
You can check the logs sent from the phone by using your login and password to get into your account on our secure website.
Spying on Twitter is not an extreme thing to do because children who are too young to know what kind of posts are safe for their age group should not use this social media app. With SPY24, you can stop your kids from getting into trouble because of inappropriate tweets and keep them safe when they use social media sites like Twitter and Facebook.
Twitter is a registered trademark in the United States for Twitter, Inc. If you want to download Twitter, go to the Google Play page for Twitter.
You can spy on Twitter Messenger with SPY24.
There are a lot of things going on in Twitter Messenger, some of which kids don't want their parents to see. We can help you out. You can have complete peace of mind by downloading and installing the Twitter Messenger spy app.
Why should all parents know how to keep an eye on a Twitter Messenger account?
Twitter calls itself a way to connect with people and share information. Your child is likely one of the more than 2.8 billion people who use the platform every month. We don't think it's a big deal. Twitter is a great way to stay in touch with friends and find out what's going on in their lives. And the Twitter Messenger platform makes it very easy for people to talk to each other.
Not everyone, though, sends messages that are harmless and friendly. Twitter Messenger is a platform with many risks, and it is possible to get hurt there. Sounds like something from a nightmare, doesn't it? Don't worry about it. A Twitter Messenger tracker is the dream of every parent.
What is a Twitter Messenger Spy App? How Does It Work?
It's a simple tool that can be called a "messenger tracker" and is used to keep an eye on Twitter Messenger. Once you've installed the app, you'll be able to see every message sent and received on your child's Twitter Messenger account. Every word, every picture, and everything else is right there in front of you.
How to Keep an Eye on a Twitter Messenger Chat
Step 1: Sign up for a monthly Messenger tracker app subscription.
SPY24 is a great choice because it lets you see what they say on Twitter Messenger and learn more about what they do on Twitter in general. To get started, just type in your email address and choose the subscription you want. After you've paid, you'll be able to start watching Twitter Messenger right away.
Step 2: Check your email.
Once your payment has been processed, a confirmation email will be sent to the email address you gave when you signed up for your SPY24 account. In your welcome email, you will find detailed instructions on how to spy on Twitter Messenger chat, or more specifically, how to set up and use SPY24. All of this starts with the information you use to log in to your control panel.
Step 3: Do what you've been told to do.
Whether they use Android or iOS, you'll find step-by-step instructions for getting up and running so you can start monitoring Twitter Messenger in a matter of seconds. Remember that if you have any questions or need help at any time, you can talk to a SPY24 representative.
Use your account information to log in to your SPY24 Control Panel.
After the setup is done, you can log into your SPY24 account and see all of their Twitter Messenger conversations, including sent and received messages, pictures, videos, emojis, gifs, and more.
Online Predators Say These Are the Top 5 Threats to Children on Twitter Online predators are everywhere, waiting to pounce on a new victims and steal their information. It's scary to think about, but it's true. Because anyone can send a friend request on Twitter, children could meet someone on the social networking site who isn't who they say they are. Because of this, you need to use a Twitter Messenger tracker. If you have one installed, you can quickly and easily join someone's Twitter Messenger chats and see what they are talking about.
Cyberbullying When I was a kid, bullying was something that happened only in the schoolyard. But now it goes much further and follows children into their homes and digital worlds. That is why it is critical to have the ability to monitor Twitter Messenger. You will know if your child is being bullied if you have this kind of direct access. Remember that if a child is being bullied online, they probably won't run to their parents and tell them. It can be scary to think that your child is being picked on, but there is a way to find out if this is true.
Sexting. Even though you might not think your teen is sexting, more than 30% of teens share naked or semi-naked photos through social media apps like Twitter Messenger. A lot of people also don't know that sharing these kinds of photos can have negative effects on their mental health and the law. This just makes things even worse. You can stop this with the help of a Twitter Messenger spy.
Being cut off from one's friends. Even though it's meant to bring people together, an app can actually make people feel more alone. If kids spend too much time in front of a screen chatting on social media apps like Twitter Messenger, they might not have many friends as adults. This could stop them from growing and getting better. If you can keep an eye on Twitter Messenger, you'll be able to spot possible threats and take steps to fix the situation.
It's not worth doing. Even though it might not seem like a big deal at first, kids who spend hours chatting with their friends on Twitter Messenger or commenting on their friends' photos and status updates are wasting valuable time that they could be spending with their parents and siblings, doing their homework, doing chores, or just about anything else. Spy apps for Twitter Messenger will tell you how much time they spend on the social media chat app.
Get a Twitter Messenger Spy App that lets you keep an eye on more than one person at once.
It's a great idea to make plans in a group chat. But they are also very good at making people feel down. Group chats are a common place for cyberbullying to happen. Because Twitter Messenger makes it so easy to start a group chat, kids often use it to bother other kids they know. So, it's important to choose a solution that lets you watch Twitter Messenger from all angles, including group chats, without putting your security at risk. The SPY24 service is one of these.
How to listen in on Twitter Messenger conversations, even those that are deleted
What if I told you that "Vanish Mode" is now a part of Twitter Messenger? If you swipe up in a conversation, you can set up your chat to delete messages after you've read them. This is a big problem for most of the applications that monitor Twitter Messenger. But SPY24 has a number of clever tools that let you see all of your messages, even the ones you've deleted or that seem to have disappeared.
One of these tools is the program's built-in ability to record the screen. It lets you see what they are saying by taking a picture of the screen every time something changes. Everything said and received in the chat is recorded and sent to your SPY24 account, so you can log in to your Control Panel and see what they were talking about.
In addition to Twitter Messenger, the app they use to record their screen works with their other favorite apps like WhatsApp, Snapchat, Instagram, Telegram, and Skype. So, you'll be able to see what they're saying no matter what social media service they use to talk.