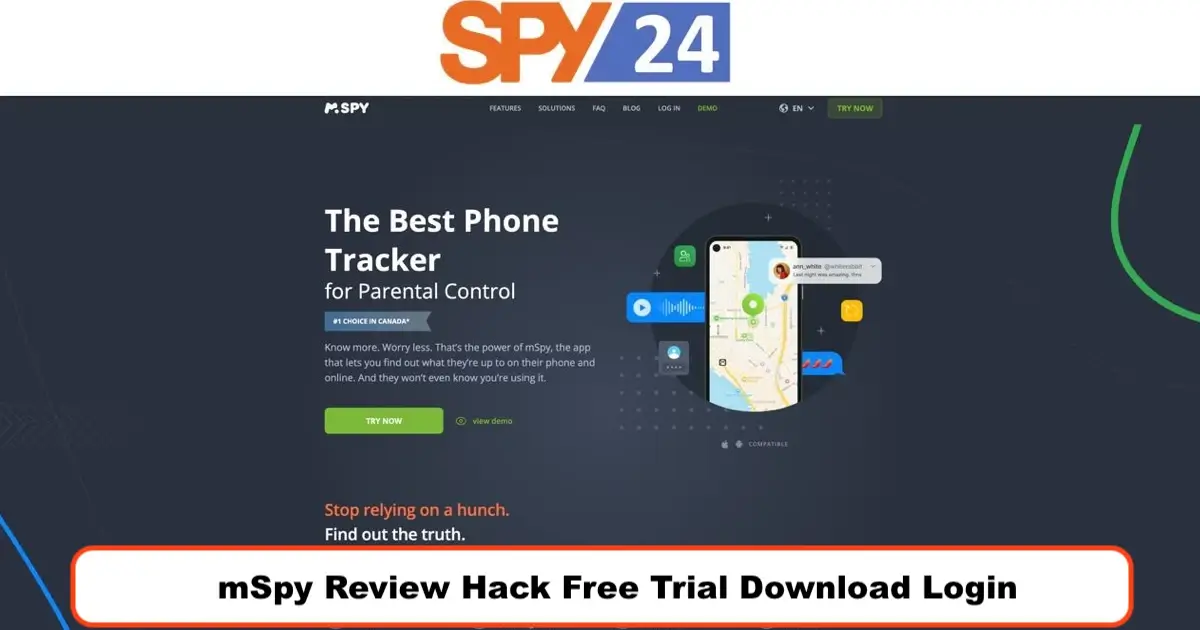 Is your kid ready to head off to college? Are you feeling a little anxious about how they will manage on their own? If so, you may want to consider investing in some spy software. Yes, you read that right – spy software! mSpy is a great option for keeping track of your child's activity and whereabouts, and it can give you peace of mind while they are away at school. Keep reading for a full review of this handy tool.
There are a lot of parental control apps out there now, and that's the way it should be. I mean, more and more kids are using the internet in the evenings instead of playing hide and seek in the streets. So, if parents want to make sure their kids are safe, they have to keep a close eye on what they do online. Because of this, apps like mSpy that let parents monitor and spy on their kids are becoming more popular.
When it comes to monitoring apps, mSpy is a well-known brand name. We recently had a chance to try out this app, and to be honest, we dug deep to find out if it lives up to its reputation. And in some ways, it's better than other spy apps. Still, there's a lot to learn about this app before you can start using it. In this review of mSpy, we'll explain everything you need to know. So, let's put on our review hats and get started. At the end of the review, we'll tell you about a special 15 percent discount code for mSpy that's only for SPY24 users.
mSpy Review
We've broken up our review of mSpy into a few different sections so that you can understand everything about it. You can read all of them, or if you only want to learn about one thing, you can go straight to that section.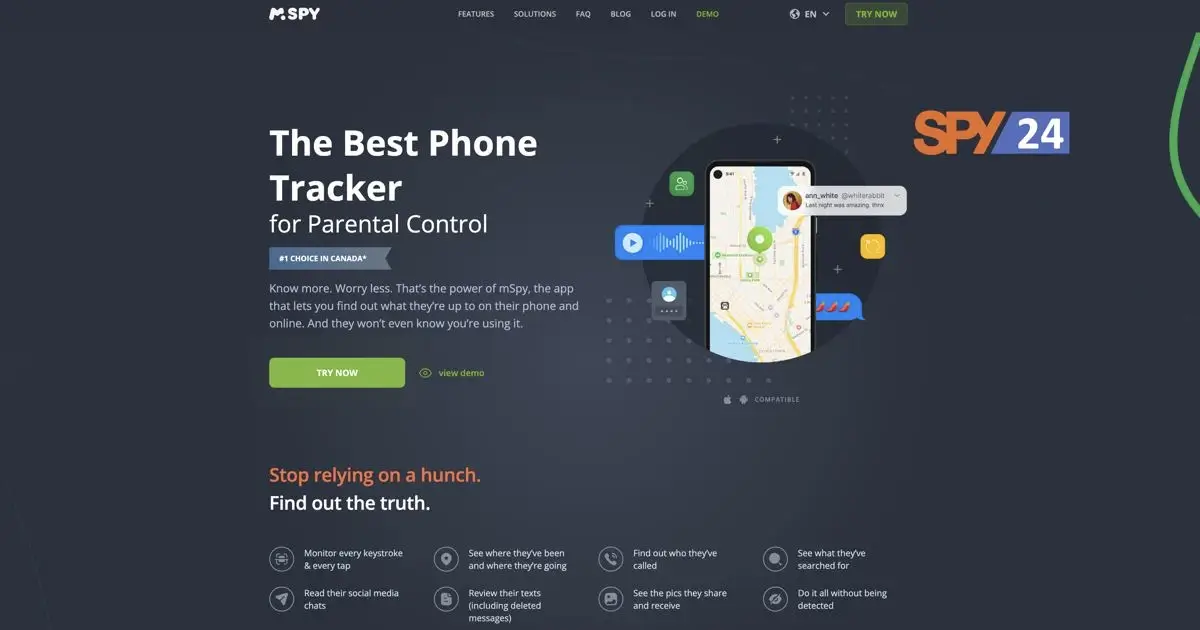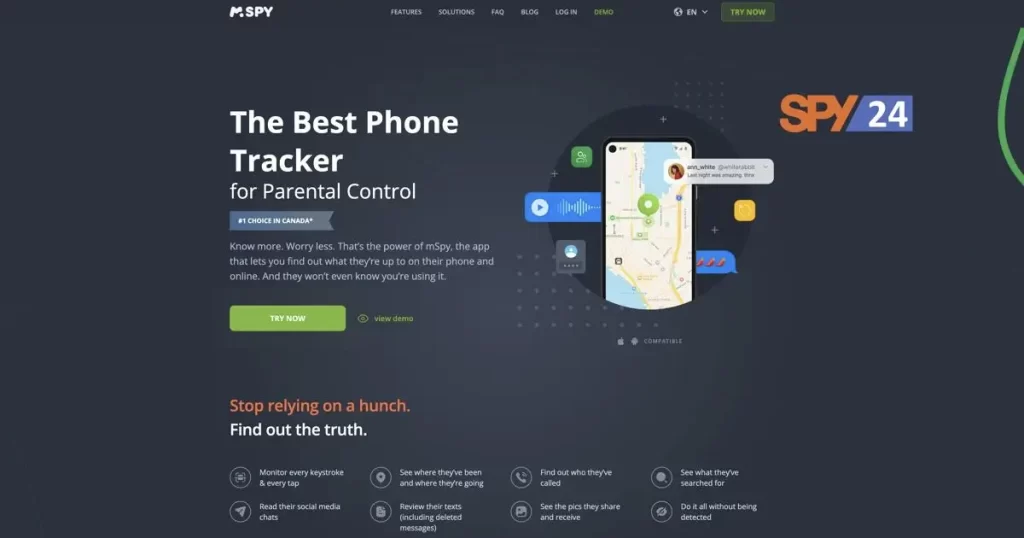 Set up mSpy on the device you want to spy on
Put mSpy on your Android.
Install mSpy on your iPhone
mSpy's secret code
What mSpy Does
What mSpy Costs
mSpy FAQ
15% off mSpy Discount Code 2022, mSpy Review 2022, and 15% off Coupon: Our Honest Review
Setting up mSpy on the device you want to spy on
With mSpy, you can track both Android and iOS devices, which is a plus. But setting up mSpy on Android is different than setting it up on iOS. But you have to sign up for mSpy with your email address before you can install it on the device you want to spy on. After that, choose the device you want to send the app to. This can be done now or later.
SPY24 Install application free The Most Powerful Hidden Spying App to Monitor Android, IOS Cell Phone & Tablet Device Remotely. Best Android Parental Control App for Kids & Teens Online Safety.
Now take the liberty to monitor Android, and IOS devices with exclusive features better than ever before Monitor all Voice & Text Messages Communication records, Listen to & Watch Surroundings in Real-time Unleash Digital Parenting with Android, IOS Spy App Spy (Surround Listing & Front/Back Camera Bugging) IM's VoIP call recording on Android OS 13 & above With 250+ Surveillance Tools at your fingertips using Android Tracking & Parental Monitoring Software.
Then you need to choose a plan that works best for you. The payment must be made on the next screen. Use the 15 percent off mSpy promo code SPYDRILL15 on this payment screen to get 15 percent off. Go to the end of this review to find out how to use the coupon code.
Once you're all signed up, mSpy will send you a password for your account. If you want to get into your account, you'll need to remember that password. Because the password that was made is not easy to remember.
Lastly, you have to log in to your mSpy account, and it will ask you right away to choose the operating system of the device you want to track. Click on the type of device and continue with the setup.
Android (Without Root) mSpy
Now, if you want to track Android and you chose the right OS, you'll be taken to a page where you'll be shown how to set up your Android target device.
First, you have to give the device a name and choose the age of the child you want to keep an eye on.
The next step is to choose the model of the device you want to connect to. If the model of the device isn't listed in the drop-down menu, choose "other model" to move on.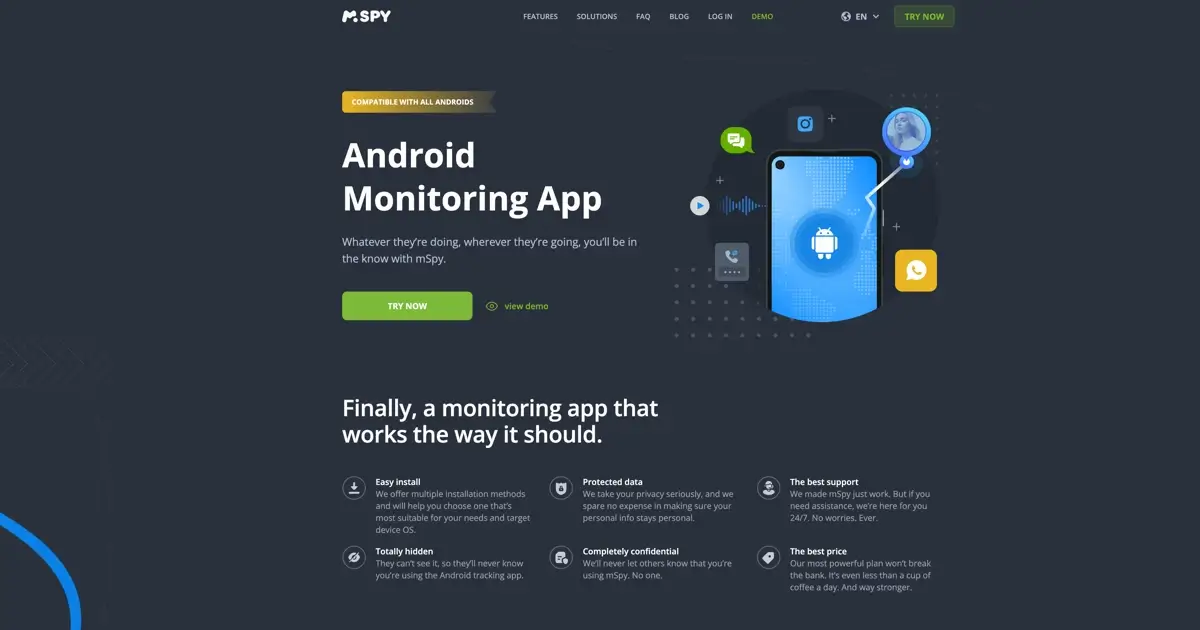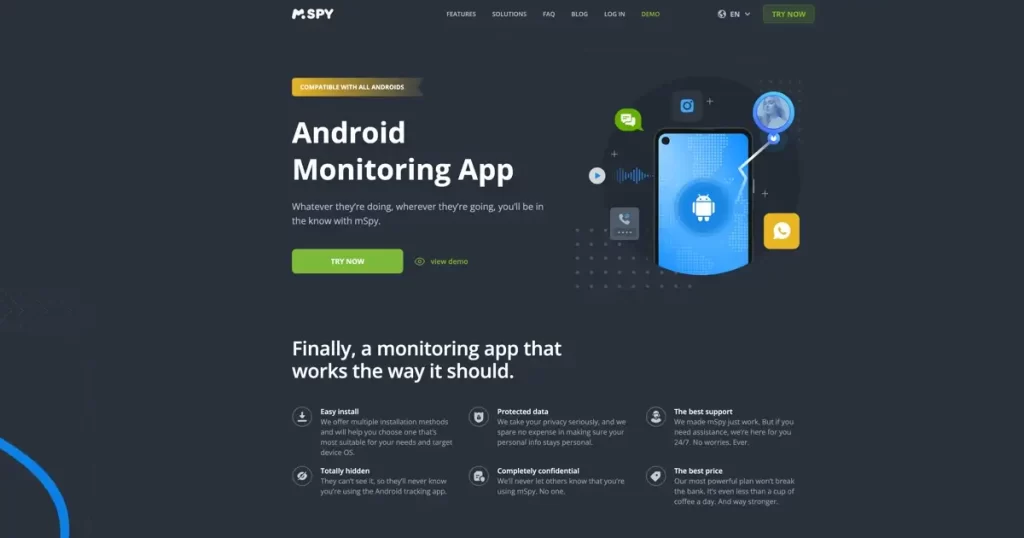 And now is when you need to have physical access to the device you want to hack. First, you have to turn off the option to scan for security threats on the device. And to do that, you need to open the Play Store, click on Menu, then Play Protect, then Settings, and Scan the device for security threats (Disable).
After that, go back to the mSpy setup screen and click "Proceed" to move on to the next step. Here, you'll be given a URL to download mSpy on the device you want to spy on. So, why don't you just do it? Put that URL into your phone's browser to get the app.
Installing mSpy
Done with the file download? Then, click on it to start installing the app, and when it's done, open it. You'll be asked to agree to the terms inside the app. So, check the box that says "I agree," and then check the two boxes below it to make the tracking work on the device. After giving these permissions, you'll be given the option to hide the app icon on the target device. And it doesn't matter if you hide the icon or keep it. The app still works in the background as Update Service, even if you hide the icon.
Now it's time for the last step. Do you remember that registration number that kept coming up as you were setting up mSpy? Well, you'll need to copy that number and paste it into the app's field to finish setting it up.
As mSpy already says, you can set the mSpy(Update service) app to apps that aren't monitored to make it work better. And to do that, you have to go to Settings > Battery on the phone you want to change. Then you need to find the Update service app and set it to "Do not optimize."
The thing I liked most about mSpy is how much easier it is to set up a target device. You don't get a lot of permission requests that you have to approve. Just giving a few important permissions is enough to get the job done.
iOS (Without Jailbreak) mSpy
You don't have to have physical access to an iOS device like you do with an Android device to keep an eye on it. You only need your iCloud login information and you're good to go. You can start watching the device even if you haven't put the app on it yet. But it is only that easy if the device isn't set up for two-factor authentication. Because if two-factor is turned on, you'll only get the code on the device you want to use. And you'd need that code to start keeping an eye on the device.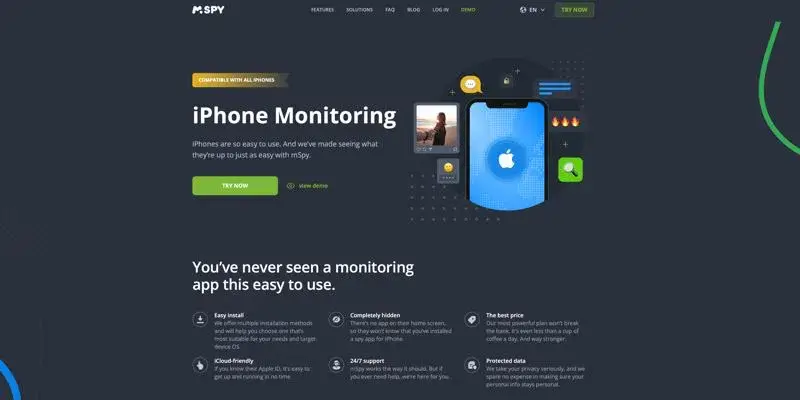 Based on my own experience, I think you should turn off the two-factor authentication. Because it might make it hard to keep an eye on the device.
Your target device, whether it's an Android or iOS one, can now be tracked. So, you can go to the mSpy dashboard to start tracking the device. But before you close the setup page, you'll see one way to get the Private key.
mSpy's Private Key
After you put in your current mSpy password, this private key is sent to the email address you used to sign up. And you use this key to change your password to something you can remember if you need to. You just need to download the key and save it on your computer when you want to change your password. You'll have to upload this same private key file, and if you change your password without it, mSpy will encrypt all the information it has collected or tracked. And this isn't something you want to happen, is it?
What mSpy Does
Check out the live demo of the mSpy dashboard before you start learning about its features. It will give you a good idea of how easy it is to use and what you can track remotely.
1. Dashboard
The mSpy dashboard does what it's supposed to do: it puts all the important information in one place. This data includes information about the target device, such as its model, battery life, and whether or not it can connect to the internet. Aside from that, it shows you a line graph that shows how many things were done in the browser history, GPS location, Text Messages, and WhatsApp sections. Then, below the line graph, you'll see three tabs with information about the "Most" category: Most calling contacts, Most messaging contacts, and Most visited websites.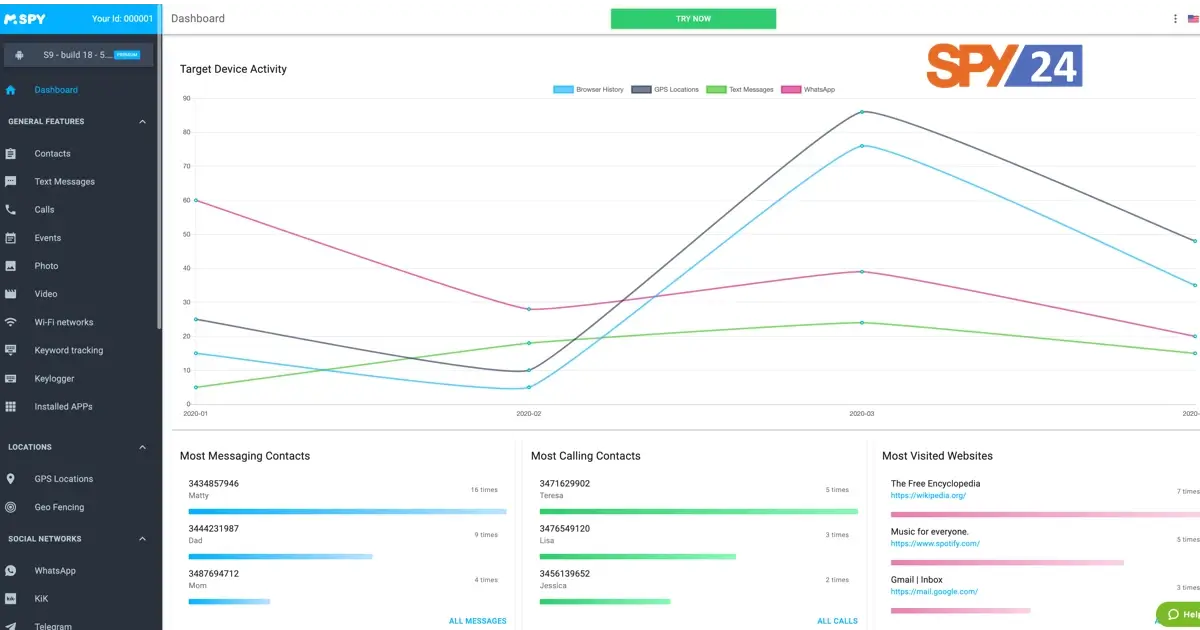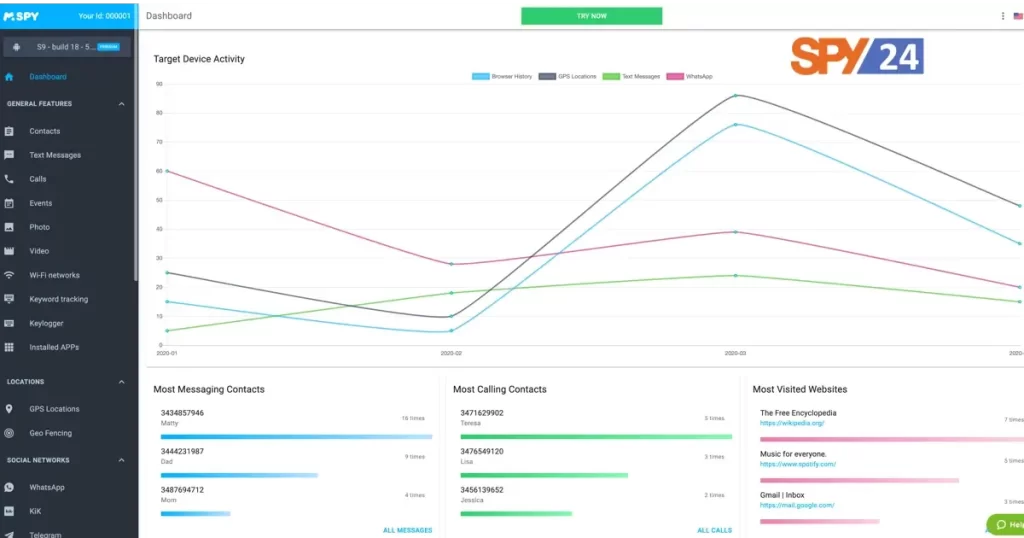 And finally, at the bottom of the dashboard, you can see the Last location of the phone you want to track if the GPS is turned on. If you want more information about anything on the dashboard, you can make it bigger.
All in all, mSpy's dashboard is very well made so that you can see all the important information at a glance. So, if you don't have much time, all the information you need can be found on the dashboard.
2. Keep track of calls and texts
Every monitoring app can keep track of calls and messages. So, as soon as you set up the target device, mSpy starts keeping track of all new call and message information. Not only does it show you the new information, but it also shows you the information for these two things from when the device wasn't being tracked, as long as it's still on the target device.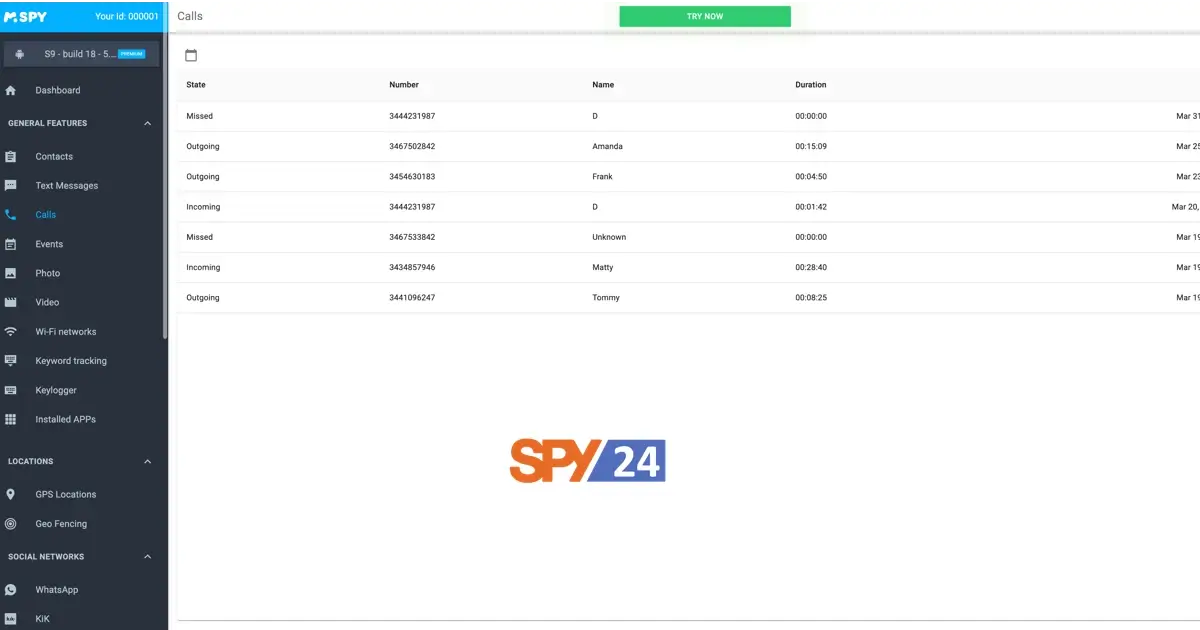 This means that mSpy can show you everything in the target phone's Call logs and message box. So, if you want to keep track of some data from a long time ago, you can do that.
3. Keep an eye on new pictures, videos, and contacts
Once the tracking is turned on, mSpy starts keeping track of all the photos and videos that are taken from that point on. Also, to be clear, it can only track photos and videos that were taken after mSpy was installed on the device. This means you can't see all the pictures on your phone, which is a bad thing. Even so, it's amazing that you can still see what kind of photos or videos are taken on the target device. But don't expect to see the information on the mSpy dashboard in seconds, because it isn't that quick. It will take a few minutes before you can see what was done on the target device most recently.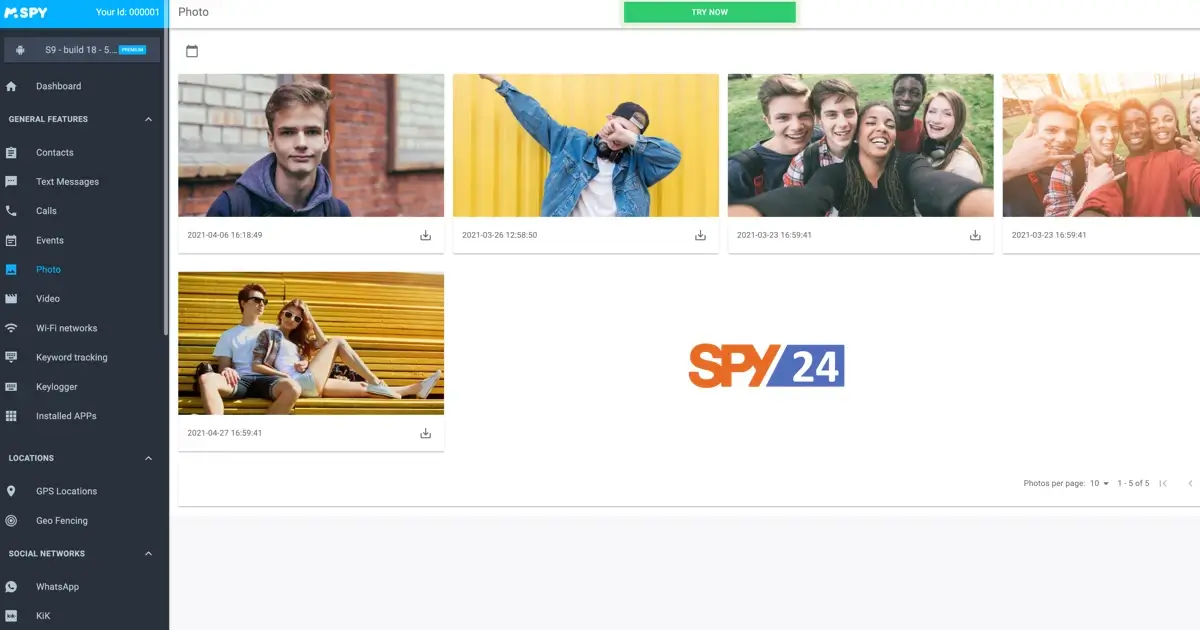 4. The KeyLogger and Tracking Keywords
This feature does exactly what it sounds like it would do: it keeps track of every keyword used on the target device. If your child types "John Wick 3 review" into a search engine to find out if the movie is worth seeing, you'll see that same keyword in this section. So, you can keep an eye on all of the keywords that are used on all of the apps.
Now, the story doesn't end here. You can also set rules for certain keywords when you track them. Like, there must be a certain keyword that you want to know when the child searches for it. If that's the case, all you need to do is give that keyword and the platform where you want to track it. For example, if you want to track that keyword on WhatsApp, you would choose that. After that, you can choose the rule "Notify to Email" to get an email whenever the keyword is used. Now, whenever that keyword is used in the chosen platform, you'll be the first to know.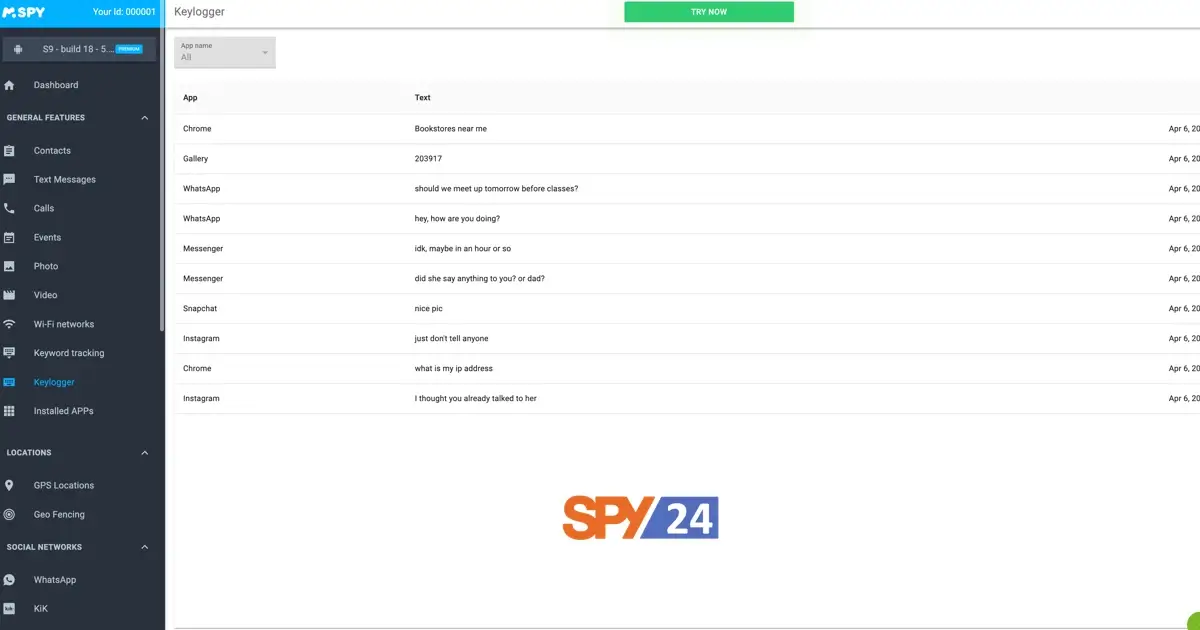 5. Shut Down Apps
The Installed Apps feature shows you all of the apps that are already on your device. If you think a certain app is sketchy or if your child spends too much time playing PUBG, you can block that app with just one click. The speed with which the app does what you tell it to do is amazing. You click the button that says "Block," and Boom! In less than a second, the app is blocked.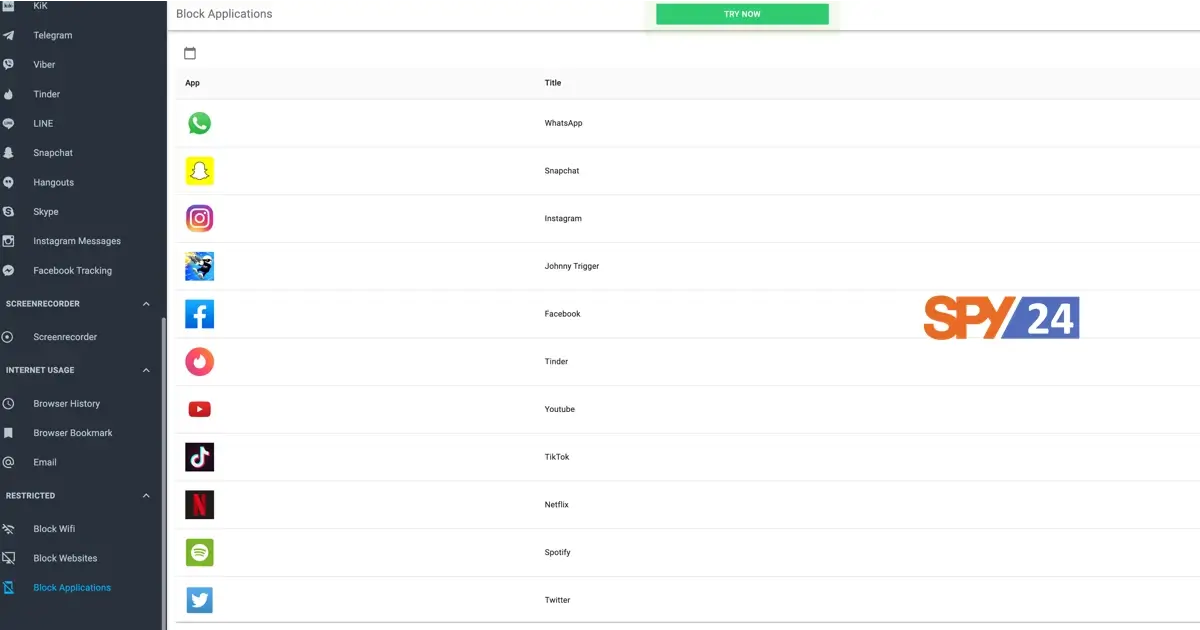 Did I say that you can use your kids' smartphones to find out where they are? If I didn't tell you already if your child's phone has GPS turned on and a live internet connection, you can keep track of every place they've been. Most of the time, location tracking works quite well. But sometimes it takes too long for the data to be changed. And if you're keeping track of your child in real-time, it can be annoying if you're not kept up to date.
Let's talk a little bit about geofencing now. This is one of the most important things about mSpy. Why so? Well, it's pretty common for parents to tell their kids where they can and can't go. And, because they are kids, they will always lie about not breaking those rules. But you can't get them to tell the truth because, as you know, kids today are pretty good at lying.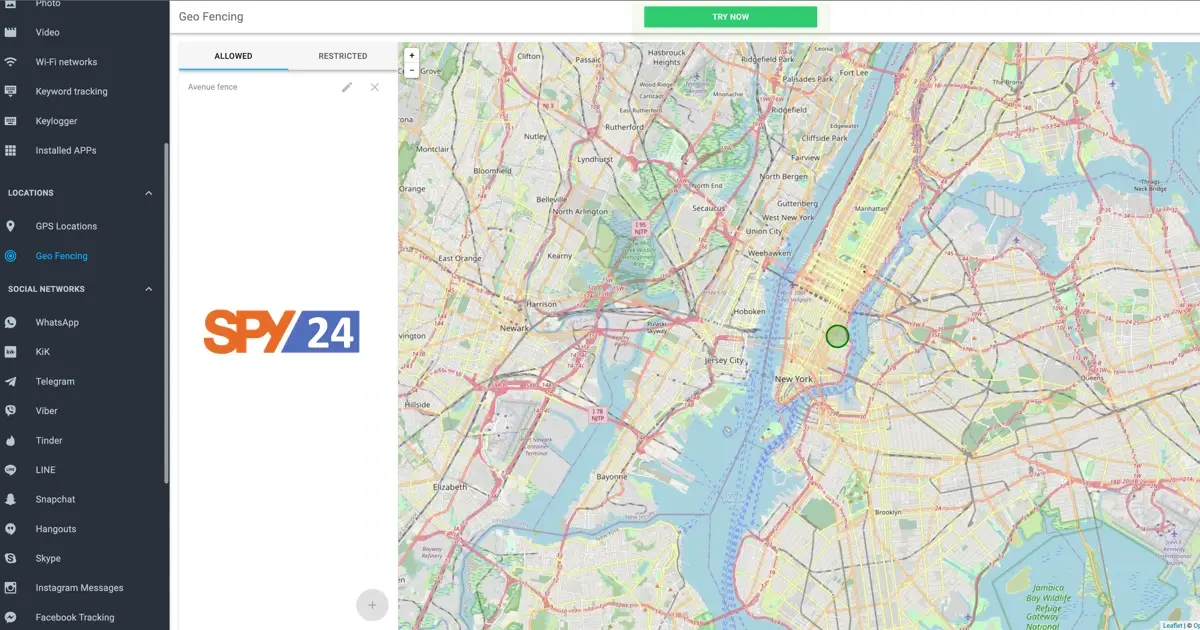 So, if you use the geofencing feature on mSpy, you can be smarter than them in one step. With this feature, you can limit where your child's (Target) device can go in two ways. First, you can set a radius where you want your kids to be free to roam. And with the second option, you can limit where they can go by setting a radius.
The app wouldn't stop them from going to that place, of course. But every time they break your trust, you'll get an email about it. So far, so good, right?
7. Spy on WhatsApp
WhatsApp is one of the most used apps for talking to people. And if a monitoring app can't track Whatsapp, I don't think you should pay for it. But, thankfully, mSpy isn't one of those apps. It can easily track WhatsApp messages on the target device. By "messages," I mean every conversation your kids are having.
8. Keep up with social media
mSpy can track almost every social media app except for WhatsApp, but only if you're tracking an Android device. I guess it will always be a dream to be able to track everything on an iOS device. Still, it's pretty amazing that you can track apps like LINE, Tinder, Facebook, Instagram, and even Hangout, which isn't as popular.
9. Stop apps, websites, calls, and text messages
I've already told you that mSpy lets you block certain apps on the target phone. You can also block calls, websites, and SMS messages on the device, which is, to be honest, a pretty useful feature. Because there might be something in each category that makes you think it's not right. So, it's good that you can stop your child from doing these things with just one click and sleep better at night.
10. Device Management
Managing a device well is important if you are keeping an eye on it, which goes without saying. You can get to the page for managing devices by clicking on your profile in the upper right corner and then choosing Device Management. There, you can change the name of the device and a few other things. You can also remove the target device from mSpy or delete it, and you can only add a new device from this page.
Pricing MSPY
There are two standard plans for mSpy: the basic plan and the premium plan. The basic plan starts at $29.99, and the premium plan costs $69.99. This is the amount for the monthly fee. On the other hand, you can save a lot of money if you choose the 3-month or 12-month subscription. And, of course, the basic plan leaves out some important features that might make you want to switch to the premium plan. Check to see if the basic plan has everything you need before you pay for it. If not, you should get the premium plan for sure.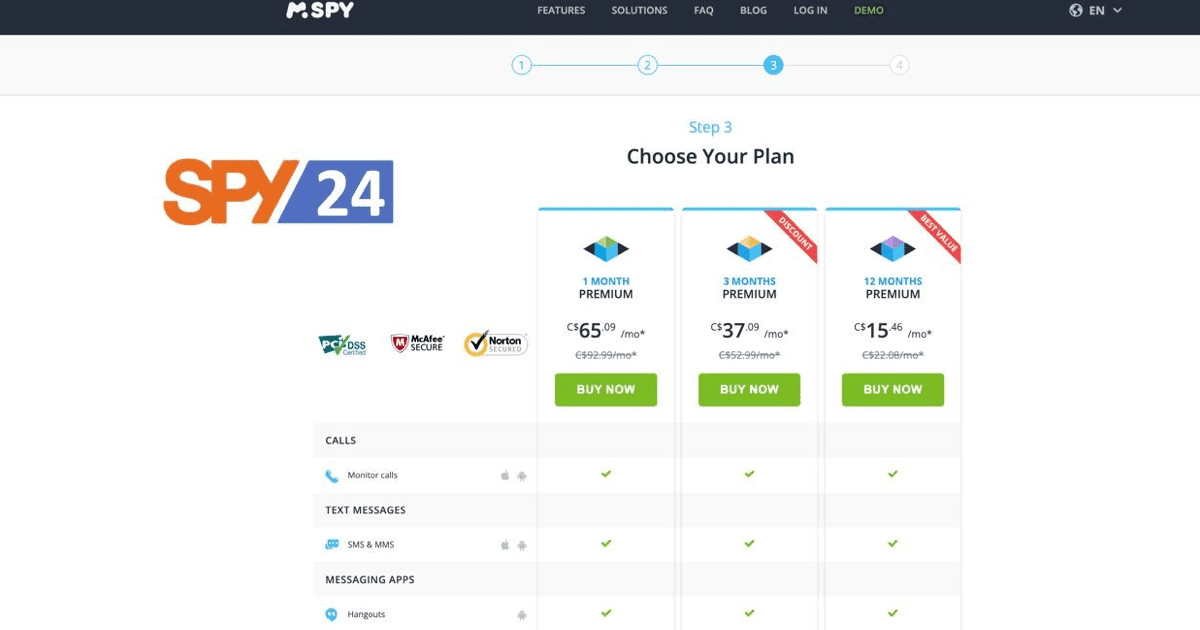 On the mSpy site, you can look at the plans and find out more about them.
mSpy Review: The Final Say
The people who use mSpy have given it a good name. Is it the best app you can use to spy? No, not. There are some problems with the app that may bother some people. Also, as you've seen in this mSpy review, mSpy has a lot of cool spying features that can be used to track almost everything on the target device. But the "everything" statement doesn't apply if the target device is iOS. Because there are many great ways to track that don't work with iOS. So, all in all, the mSpy app is pretty good, and you can use it without having to worry about whether or not it will work.
mSpy FAQ
Is it OK to use mSpy?
Yes, both Android and iOS devices can use mSpy safely. It doesn't put any kind of malware on the device, so both your device and the information that it tracks will be safe.
Is mSpy easy to find?
With the name "Update Service," mSpy works in the background. So, if you don't want to keep the icon, it stays hidden. But yes, the person being tracked will find out that mSpy is installed on their device. Because some features, like the "Block app" feature, show that mSpy has blocked the app. If you don't use these features, there's no reason to worry about it.
Can mSpy be used to read messages that have been deleted?
If the message was on the target device for at least 2 minutes, you can read it. Messages can't be tracked if they are deleted before that time limit.
Is mSpy Legal?
If you are tracking your child and not someone else without their knowledge, it is perfectly legal to use the mSpy app.
Can mSpy keep track of more than one device?
You can only track one device/account at a time with mSpy right now. You can always switch devices by taking the one you have out.
What Is mSpy's, Private Key?
When you try to change your mSpy account password, you need your private key. Go to your profile page to get the private key sent to the email address you used to sign up.
How Can I Change My mSpy Password?
You'll have to upload your private key to mSpy to change the password. If you are logged in, you can change your password by going to your profile page. And if you're not logged in, you need to click "Forgot password" on the login page.
Do I need to root or jailbreak my phone to use mSpy?
Not even close. For mSpy to work, you don't have to jailbreak or root your device.
How do delete mSpy from the device you want to spy on?
To delete mSpy from the target device, go to Phone's Settings > Security > Device Administrators > Update service (Deactivate it). Then, go to apps and find the Update service app. Uninstall it.
How do I delete the device I want to spy on from mSpy?
By going to the device management page, you can delete the device you want to delete. You can get to that page by clicking on "Profile" in the upper right corner and then choosing "Device Management" from the drop-down menu that appears. On that page, you'll see the current device, and all you have to do to finish the job is click on the Unlink Device button.
Here is the special mSpy discount code for 2022 that will save you 15%. How do you use the coupon?
Visit this link for a 15 percent discount.
Choose the mSpy plan you want and click the Buy now button. You can choose any plan since our coupon code works for all of them.
Click the I HAVE A COUPON CODE button on the next page.
Last, enter the coupon code SPYDRILL15 for a 15% discount on mSpy and click Apply.
We'll give you a discount.
MSpy is great at keeping track of IMs, texts, and how a phone is used. But if you want a real parental control app that lets you limit screen time, internet access, and other things, you can find cheaper and more powerful options.
Pros 
Records the text of SMS and IM messages +Supports location history and geofencing +Allows you to see your browsing history.
Can be run without the user being aware of it
Cons 
The price is high, and each device needs a subscription.
Can't control how much time is spent on the screen. -Weak controls for apps and the internet.
MSpy is a very powerful phone monitoring app that can tell you about almost every aspect of your child's online activities (and one or two of the offline ones, too.)
Need to listen in on calls, for example? No problem. Want to see your text messages? That's also part of it (you can even view deleted texts.) And mSpy's Android app can record conversations on all of the most popular messaging apps and platforms, including WhatsApp, Snapchat, Instagram, Facebook, iMessage, Skype, Telegram, Viber, and many more.
You can see your child's browsing history, bookmarks, and the Wi-Fi networks they've used to connect to the internet. You can block access to certain types of websites with the Android app, and setting up keyword alerts lets you know if they're getting to inappropriate content.
How do you use mSpy?
You have to download mSpy iPhone or Android on a smartphone for it to work in the background without getting in the way of the user's actions. As the user continues to make calls, send messages, and look at websites on their phone, the spying app collects relevant information and sends it to their free mSpy account.
It keeps track of everything, like the user's text messages, location, instant messages, and call logs, so you can always know what they are doing.
To see the secret information, you just need to log into your account on the mSpy platform with your phone, laptop, or PC. You can be sure that these details will be saved so you can look at them again if you need to.
How the mSpy Free App Works in 3 Easy Steps
mSpy makes it easy and painless to keep an eye on a target device. Follow the steps below to have a good time and know what to expect.
Step 1: Join a subscription plan
First, you need to go to mSpy and choose a plan that fits your needs, expectations, and budget. Before you sign up, check out all of the functions and settings to make sure you get exactly what you want.
To finish the process of signing up, you'll need to give us your debit or credit card information. As soon as this step is done, you will get an email to confirm your account.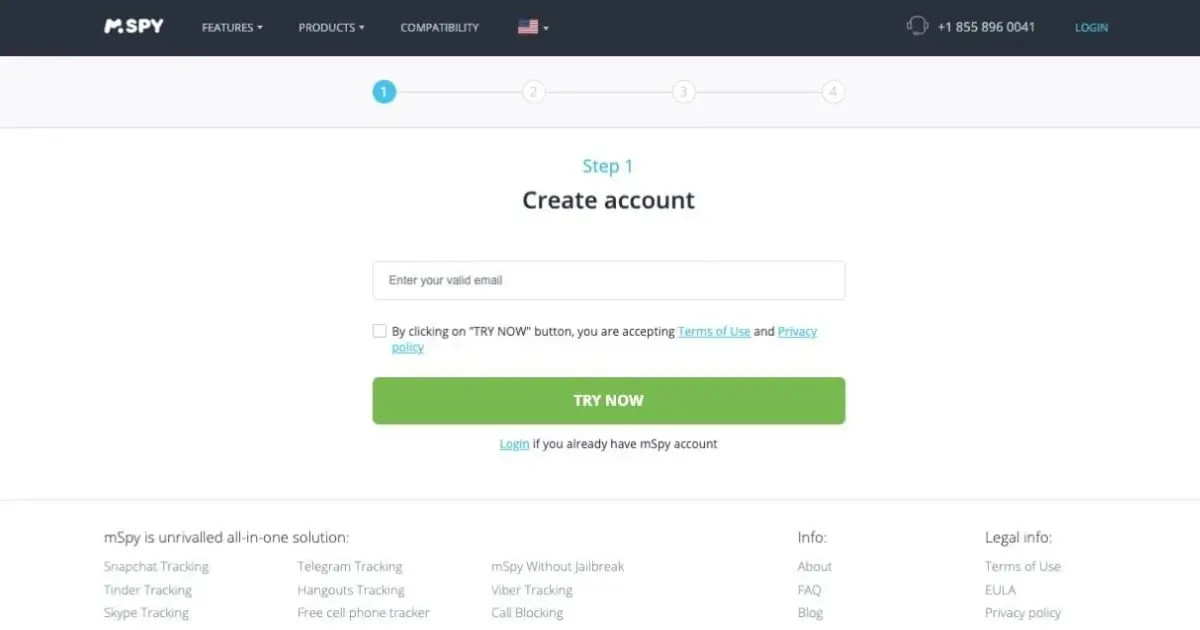 Step 2: Get the app on your phone by downloading it.
In the email, you'll get a guide with tips and instructions on how to install it. If you carefully read the instructions, it won't be hard to put the mSpy app on a smartphone.
Step 3: Enter the mode for watching.
As soon as the app is installed on the target smartphone, you can log into your account on the website and use the dashboard to look at the information coming from the target device.