10 Best Phone Tracker Apps without Permission in 2023
In our contemporary world technology will never be lost on us, but has a significant effect on our daily lives and our work. Modern technology makes contact between people over distances. Although the improved internet connections are incredibly good in many areas, they can also cause trouble for parents when trying to track their kids. A spy smartphone tracking tool is a good option when you need to monitor a loved one on the device to ensure they've been tracked.
Here are the best phone tracker apps without permission that you can use to discreetly monitor someone's phone activity. Whether you're a parent who wants to keep an eye on their children or just curious about someone's whereabouts, there are various reasons why you may want to track someone's phone without their knowledge. However, it's crucial to use such phone monitoring apps ethically and with good intentions. In this article, we'll introduce you to the top phone tracker apps that don't require permission to use. These phone tracking apps will allow you to discreetly monitor your children's online safety and other activities.
Social Media Monitoring
Monitor your target's GPS location.
Examine deleted text messages
Remote installation is possible!
List of the Best Phone Tracker Apps w/o Permission
List the best apps that track the phone without anyone noticing.
10 Apps to Track Phone Secretly You Should Know About
Tell us the best method to track mobile phone usage remotely. Here are some of our efforts. Below is information about how to track and use your mobile device without permission.
1. SPY24 - Best Phone Tracking Apps for Android and iPhone without permissionApps 30-Day Free Trial 🏆
SPY24 is a comprehensive cell phone tracker app that are fully compatible with a range of operating systems, including Mac, Windows, iOS, iPhone, Android, and iPad. It offers an array of powerful features that allow you to monitor your loved ones' location in real-time and track their activities on their smartphones, such as call history, text messages, installed apps, and more.
One of the key benefits of using SPY24 is its ability to set up geofences, which will alert you when your loved one enters or leaves a particular area. This feature is particularly useful for parents who want to keep an eye on their children's safety and ensure they stay within specific locations.
With SPY24's powerful features and discreet monitoring capabilities, you can stay connected with those who matter most and have peace of mind knowing they are safe and secure. Additionally, SPY24 offers a free demo version for users to experience its advanced features and a 30-day free trial plan to help them get started.
So whether you want to keep track of your children's location, monitor your employees' activities, or stay connected with your loved ones, SPY24 is the ideal solution for you. Its compatibility with multiple devices and operating systems ensure that you can monitor any smartphone with ease and convenience.
GPS Location Tracker
HISTORY TRACKER
The routes your children or employees sometimes follow may differ from what you expect them to follow, and the whole history of their movement around the city or district can tell you a lot. So be ready to monitor the location history of your dearest ones or employees any moment you may need it.
WHY IS MONITORING OF
GPS location tracker
HISTORY IMPORTANT?
The application is specifically crafted and fine-tuned in order to meet your need for a good location-detecting tool, and while using it you can:
Monitor with high precision the whole travel route of a target gadget with accurate time reference

Review the information without obligatory access to the GPS location tracker data network

Store and look through the obtained data on your desktop independently of Internet access availability – convert it into a spreadsheet and store it on your PC
Here are the compatible operating systems for SPY24:
Mac

Windows

iOS

iPhone

Android

iPad
| | |
| --- | --- |
| 🏅 Overall Rank 10 | SPY24 |
| 🖥️ Social apps' screen recording (New) | Yes |
| 📍GPS Location: Watch list locations and get instantly notified of updates. | Yes |
| ⏲️ Keylogger: Monitor keystrokes from WhatsApp, Facebook, Facebook Messenger, Skype, and Viber. | Yes |
| 💸 Starting Price | $4.99 / 1 month |
| 📀 Supported Operating Systems | iPhone, Android, Mac, Windows |
| 📱 Number of Devices | 1 |
| 🎁 Free Plan | Free / 1 month |
| 💰 Money-Back Guarantee | Yes |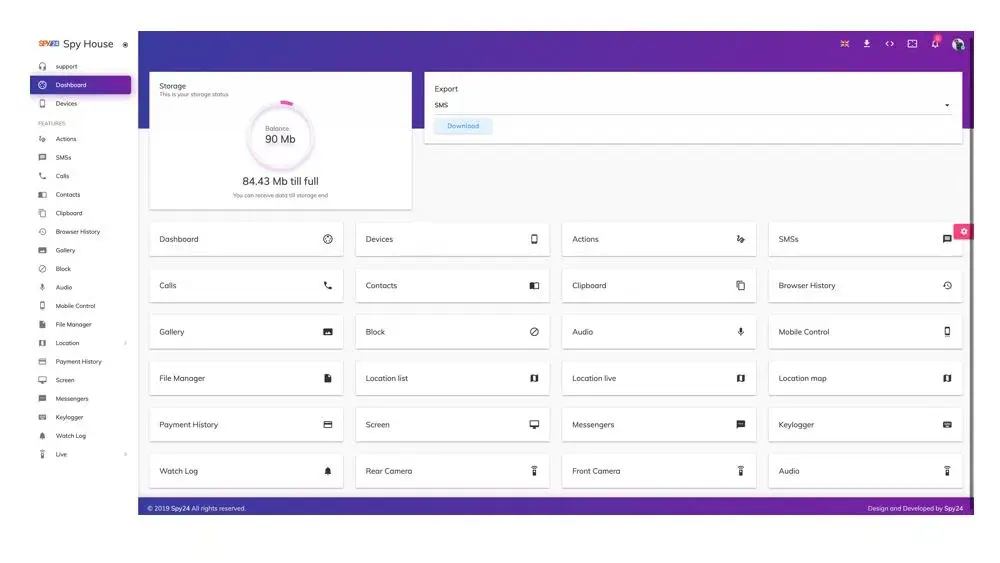 It enables you to remotely track sent and received SMS on Android and iPhone.

The app lets you retrieve deleted communications if a backup was created.

With a keyword watchlist for text message notifications, you can stay on top of important conversations.

Review the aggregated data and details about the call history in the most convenient way – on the tracking panel of your personal spying account, at any time and at any place.

It offers comprehensive text monitoring, including SMS, iMessage, and social media chats.

Each message is timestamped, and you can use a Keylogger to search for specific terms.

You can view the sender's name and number, as well as the time and date stamps of each message.

The app allows you to monitor phone calls and messages, track GPS location history, and track email and online activities.

You can also access instant messenger chats and remotely control the target device.

This app has a unique feature that enables you to record phone calls and surroundings.

You can view photos, videos, and calendar entries on the target device.

The app has an alert setting feature that lets you know when certain activities occur.

GPS tracking App

This app provides a 30-day free trial and a Premium plan priced at $4.99 per month.
2. mSpy: Best Free Spy App for iPhone tracker app without permission
mSpy is a popular cell phone tracker app that supports both Android 4+ and iOS 11 or later versions. It provides more than 20 convenient features, along with 24/7 customer support in multiple languages. With this spy app, you can discreetly monitor various social media platforms, such as Facebook, Instagram, Snapchat, and WhatsApp, as well as send, receive, and delete messages in real-time without getting caught. It also operates in stealth mode.
mSpy is an excellent choice for those seeking GPS location tracking and remote monitoring features. Plus, they offer a 14-day money-back guarantee if you're not satisfied with the product.
mSpy Compatibility:
iOS non-jailbroken mode requirements: 
Internet connection, any iOS device, iCloud credentials, and two-factor authentication should be disabled.
mSpy requirements for iOS devices
When an e-mail is not encrypted or encrypted, an authentication key can be entered and the password cannot be accessed without permission. Jailbreaks.
iOS jailbroken mode requirements: 
iOS version 7+, internet connection, and physical access to the target device.
Android requirements:
Android 4.0 or higher, internet connection, and physical access to the target device.
Instant messengers monitoring is only available on rooted devices.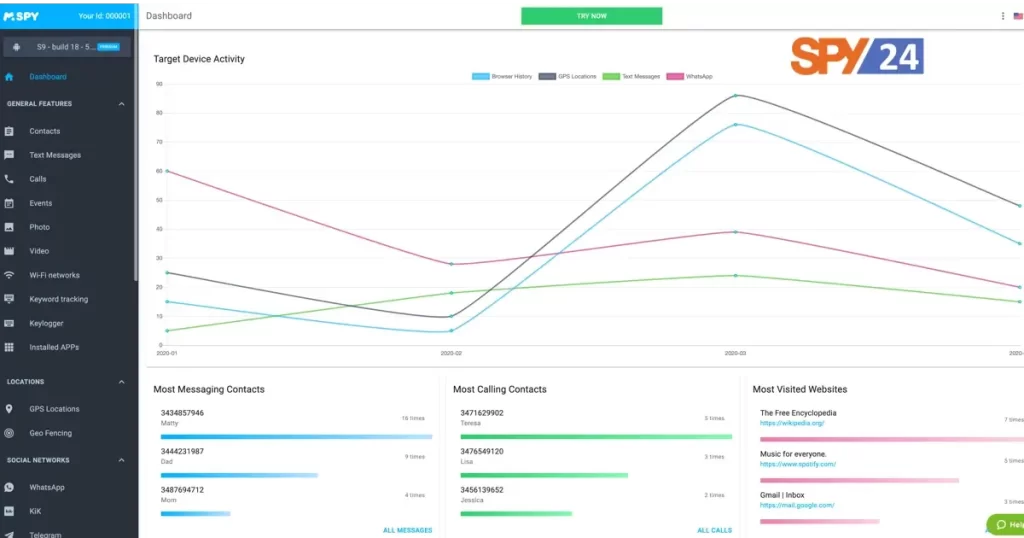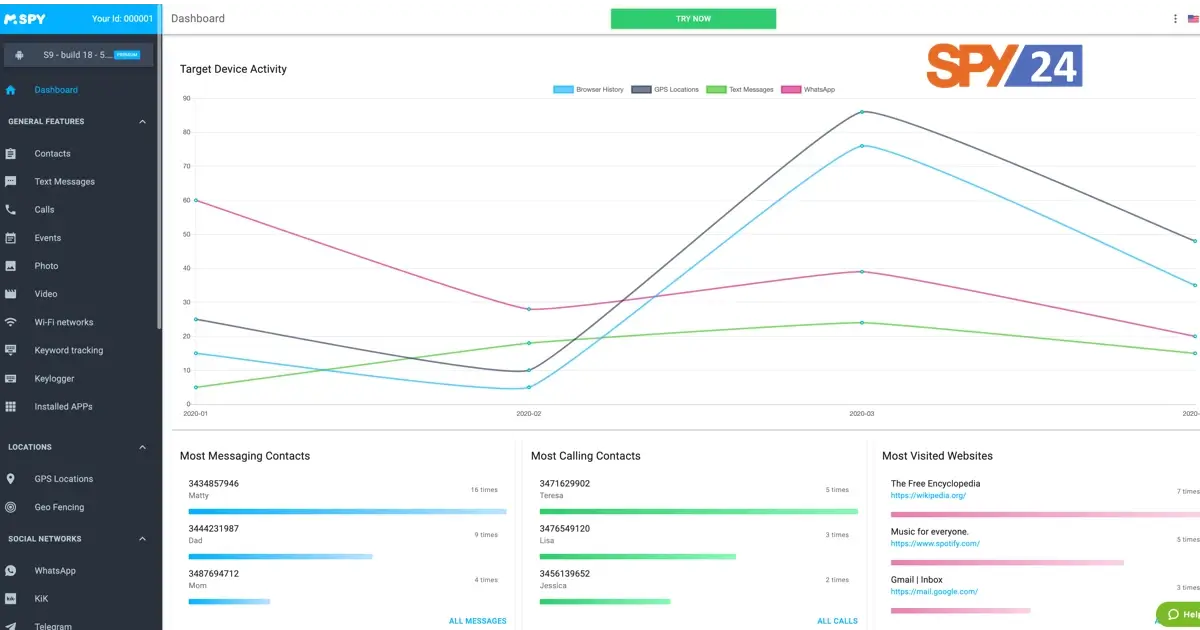 mSpy offers several useful features including mSpy is an excellent software tool for identifying cheating partners and preventing their activities. mSpy gives you the chance to check your spouse and find the information that is needed.
Operates in background mode
Record the screen of the target phone
Immediate access to the target phone's GPS location and routes
View incoming and outgoing calls with timestamps and durations
Keep track of travel routes
GPS tracking map
Real-time monitoring of all types of internet activity
24/7 tech support is available
Does not require jailbreaking or rooting of the target phone
Send location updates within a specified time frame
3. EyeZy: tracker app without permission
eyeZy is a top-notch best phone tracker app for parental control, providing a discreet way to view pictures, videos, and apps on the target phone. This app enables you to monitor their cell phone activity and's calendar events with details such as name, location, and time without alerting the user. With a neat dashboard and an easy-to-navigate layout, eyeZy shows you all the essential information about the target cell phone activity.
This versatile app is compatible with Android, iOS, and iPads. It offers GPS location tracking and remote monitoring, ensuring that you can keep an eye on your child's activities from afar. In case you're not satisfied with the product, eyeZy provides a 14-day money-back guarantee. 
eyeZy Compatibility:

For iPhone devices:
The device must be running iOS 7 or higher. For non-jailbroken mode, any iOS version will work.
The device must be connected to the internet.
The device must be physically accessible to the user.
For non-jailbroken mode, you will need the iCloud credentials of the target device for remote installation.
Two-factor authentication must be disabled on the target device. If it's enabled, physical access to the device will be required for installation.
For Android devices:
The device must be running Android 4.0 or higher.
The "allow installation of apps from unknown sources" option must be turned on.
The device must be connected to the internet.
Note that for social media monitoring, you will need a rooted Android device.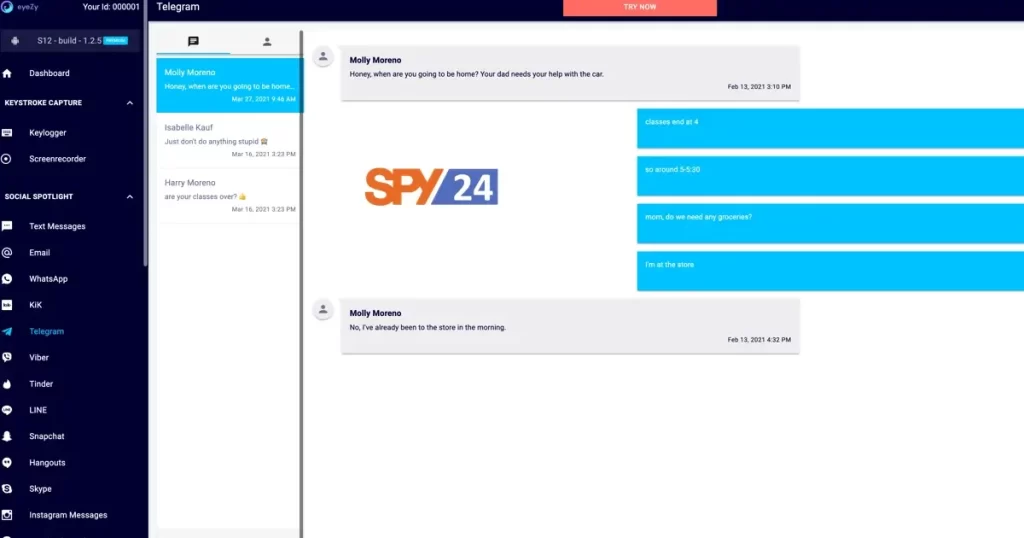 EyeZy has many advantages, including It helps people find the best online resources for them and can be helpful in the process of getting them more information on what they need. Its many functions make it a perfect smartphone monitoring device.
Parental control phone tracking app
Discreet viewing of pictures, videos, and apps on the target phone
Monitors phone calendar events with details such as name, location, and time
Clean dashboard and easy-to-navigate feature layout for essential information about the target phone
Compatible with Android, iOS, and iPads
GPS location
Remote monitoring
14-day money-back guarantee
4. SpyBubble: cell phone tracker apps for android phone tracker apps
SpyBubble is a top-notch best phone tracking app that enables real-time monitoring of all the activities taking place on the target device. Once installed on the target device, the best phone tracking app spy app also can provide you with its exact GPS location in real-time through its Geofinder feature.
In addition to this, SpyBubble offers several other tracking capabilities such as monitoring calls, messages, social app activity, and browsing activity on the target device. It also boasts a powerful keylogger that can track every word typed on the targeted phone media device, making it an ideal app for parents who want to keep an eye on their child's cell phone usage.
SpyBubble Compatibility:
SpyBubble is compatible with Android devices running Android OS 4+, 5+, 6+, or 7.0, and rooting is required for some basic features only. On iOS devices, SpyBubble is compatible with versions 6-8.4, and 9-9.1 with jailbreak, and all versions without jailbreak but with limited functionality.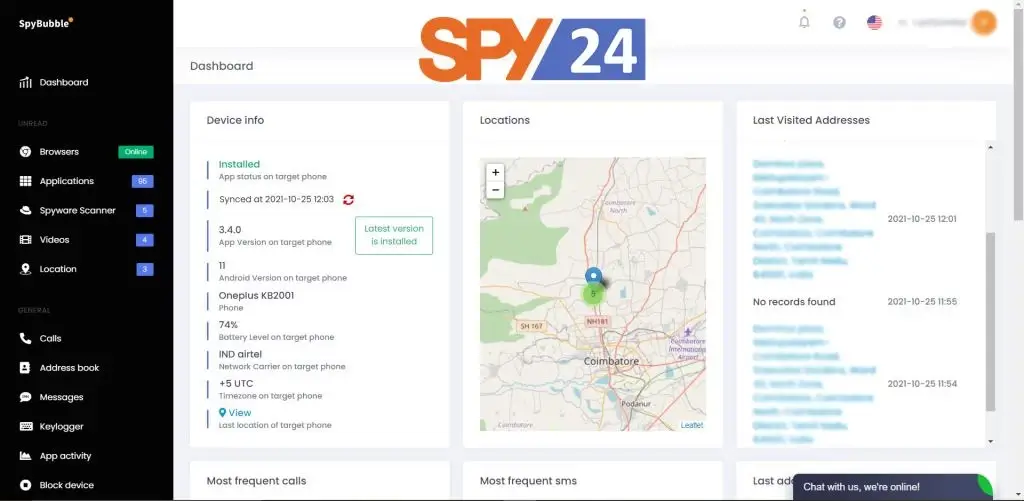 Location Tracking Features of SpyBubble:
SpiderBlock offers a number of unique and innovative features and can be accessed via the internet or via the Internet. The software provides you with an abundance of information on how you are targeting your target audience.
Cell Phone Location
Keylogger
Geofinder
Professional GPS location app
track cell phone activity
GPS Location Tracker (Monitor Specific Locations)
Message monitoring
Social app tracking
5. Cocospy: cell phone tracker app
Cocospy is the best phone tracker app that can track an Android phone or iOS device without the targeted device or owner's knowledge. The powerful stealth mode provides 100% invisibility to track phone activity without any suspicion. To use Cocospy, you need to create an account, obtain the target device, and install the app. Once installed, you can log in to your Cocospy account to start tracking the target device.
Cocospy allows you to track all incoming and outgoing calls, read text messages, and monitor your phone internet history and your browser history and activity and read WhatsApp conversations. One of its most admired features is the geofencing feature, which sends alerts when the target device crosses a predefined area.
Cocospy Compatibility:
Compatible with all iPhones and iPads running iOS 7 or higher.
Compatible with all Android phones and tablets running Android 4 or higher.
No need to root or jailbreak the target device for basic monitoring.
Web-based solution works with all operating systems and browsers.
Supports multiple languages for a global audience.
Works with all mobile network operators.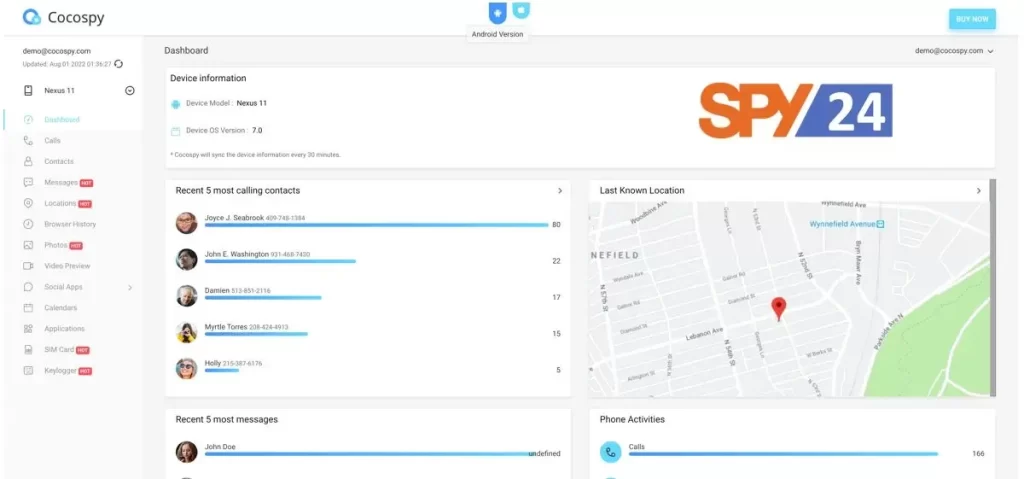 Call tracking
SMS reading
Geofence alert
GPS Location Tracker Get alerts
Social media monitoring
SIM location
phone tracker app without stealth mode
6. uMobix Top Phone Spy Apps
uMobix is the best phone tracking app that allows users to track various activities on the target phone, including phone calls, SMS messaging, GPS locations, web browser history, social media, and more. This tracker app without permission also provides real-time access to the target device and enables users to take screenshots. uMobix is a phone tracker app that doesn't require permission and updates its dashboard data every five minutes, which helps users to monitor the targeted phone activities in real-time.
uMobix Compatibility:
uMobix is compatible with all targeted device Android OS 4+ devices, as well as iPhones and iPads.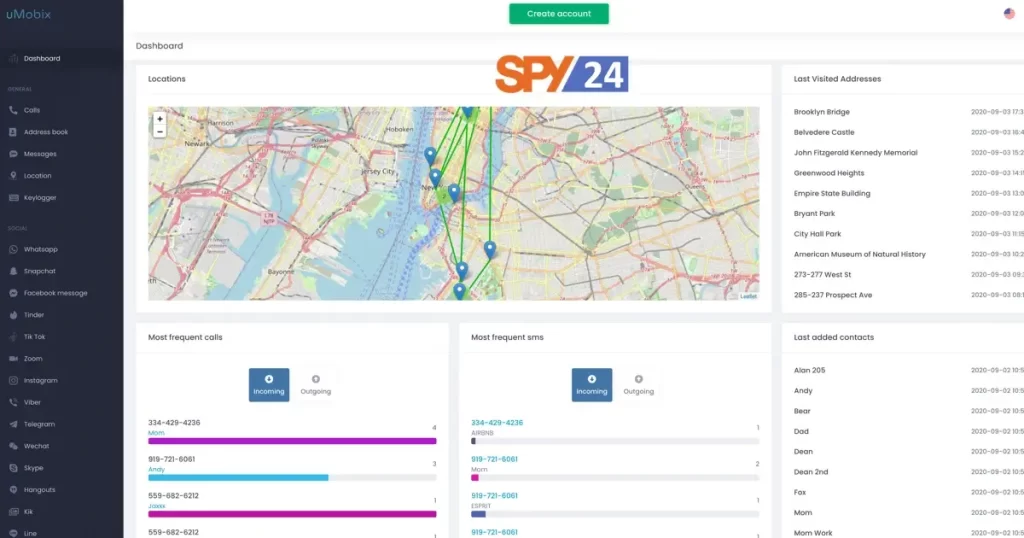 What is possible with uMobix?
Quick connection to the target device in 5 minutes
Phone tracking for lost or stolen phones
Live phone call tracking app
GPS Location Tracker (real time location)
Real-time location with a history of visited places
Child monitoring during family trips
call logs
Hoverwatch is a cutting-edge phone tracker app that lets you keep tabs on all smartphone activity while maintaining complete stealth mode, so you won't be detected. This app is capable of tracking up to five devices simultaneously, making it ideal for businesses or families with multiple devices.
With Hoverwatch, you can leverage GPS, cellphone towers, and Wi-Fi to accurately pinpoint the location of the device you're monitoring. It also allows you to access a variety of other features of the monitored device, including the monitored device's contact list, calendar entries, to-do lists, and notes.
In addition to basic features, Hoverwatch's advanced functionality lets you automatically take screenshots on the monitored device and even snap photos remotely using its camera (rooted version only). You can also set up geofences and receive alerts for SIM card changes.
Another impressive feature is that Hoverwatch captures photos using the front camera automatically every time a targeted phone is unlocked. Additionally, it enables you to record calls, monitor social media and instant messaging apps, and track phones' internet browsing history.
Hoverwatch Compatibility:
The target device must be connected to the internet.

Android version 4+, Windows 10+, or Mac OS 10.15+.

Access to the target device is required for installation.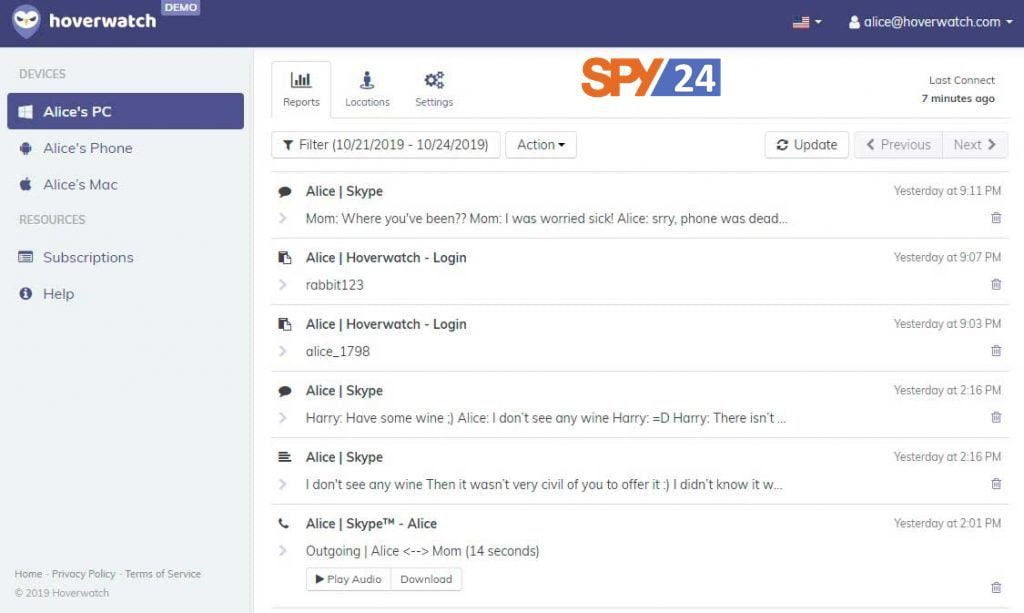 Hoverwatch can help you track your cellphones with ease. Hoverwatch has several useful tools that enable parents to monitor their child's phone usage more effectively. It's also important to note that the program lacks most of the functionality available in SPY24.
GPS location (real time location)
Internet history monitoring
call logs recording
Automatic screenshot capture
Social media and IM app monitoring
Geofencing and SIM change alerts
Front camera photo capture
Contact, calendar, to-do list, and notes access
Invisible installation on a target device
browser history
Compatible with Android and iOS devices
No jailbreak is required for iOS devices
3-day free trial available.
8. XNSPY: Free Phone Spy App for iPhone Devices
XNSPY is an effective SMS tracking app that allows users to control and track various phone data, including text messages, call logs, iMessage conversations, and instant messenger chats. It has a powerful set of advanced features only for Android users, such as surround voice recording and complex remote device control. With XNSPY, users can capture live phone screen data and track messaging apps and social media activities, making it a comprehensive and reliable monitoring solution.
XNSPY Compatibility:
Xnspy is compatible with both ios and Android devices and iOS devices.
Android Devices:
Physical access to the target device is necessary to install Xnspy.

Android OS 4.0 and up.

Some features may require rooting.
iOS Devices:
Jailbroken phones running on iOS 6 and above.

Devices running on iOS 6 and higher.

If iCloud credentials of the target device are not available, physical access to the device is necessary.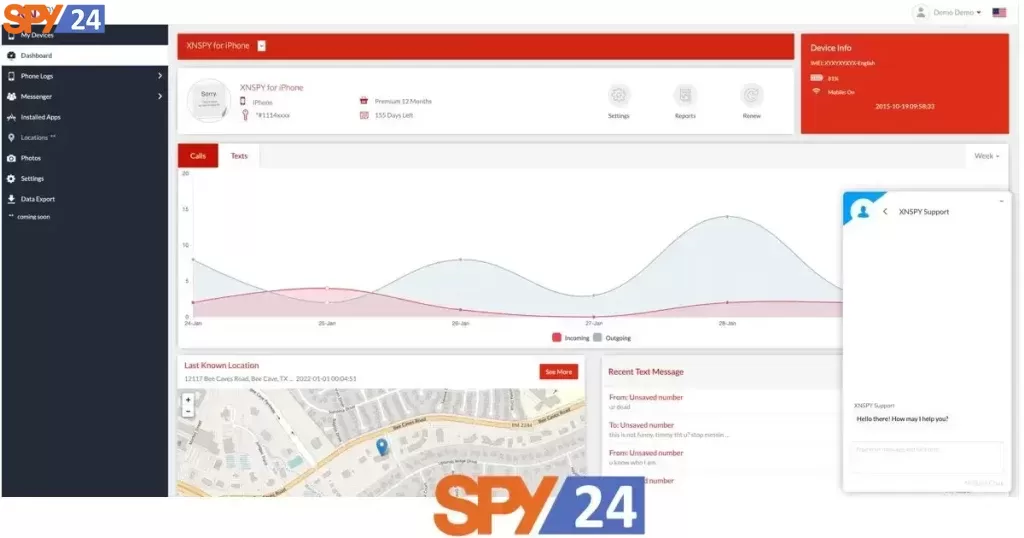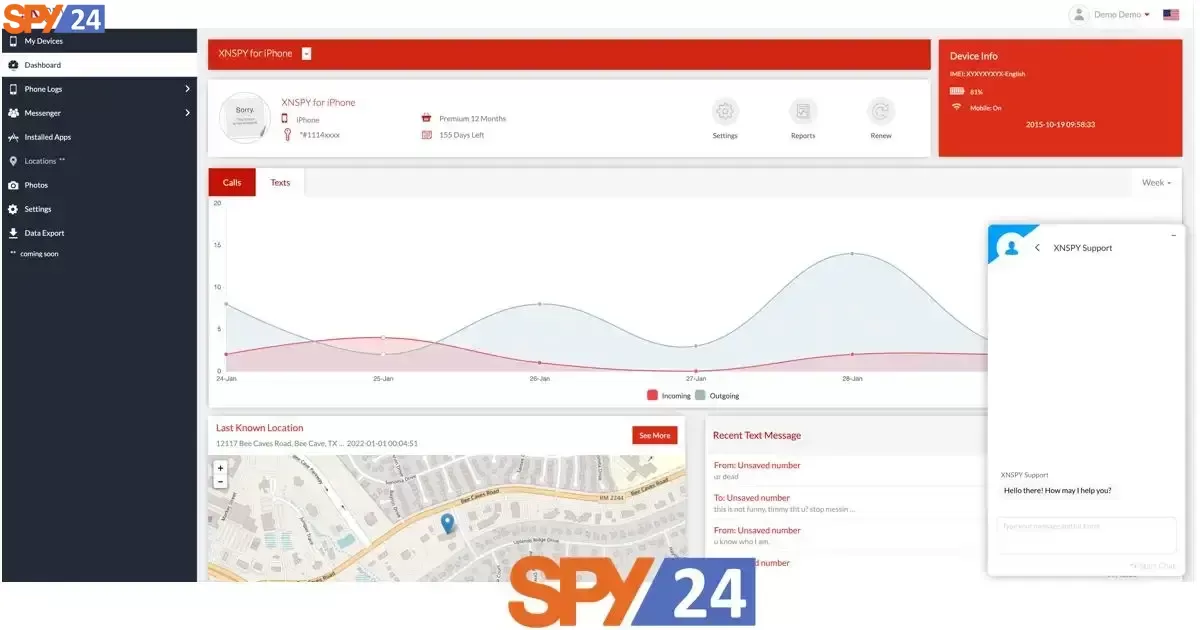 Among XNSPY's impressive capabilities are:
Complete text message tracking and history
Remote monitoring of incoming and outgoing calls
Support for a wide range of social media and instant messaging
Live data capture from the phone's screen
Monitoring of downloaded media such as photos and videos
Tracking of all messaging
Supported Phones: Android and iOS GPS Location Tracker
Surround recording to listen in to the device's surroundings.
9. GEOfinder:Phone Tracker App Without Phone Tracker by Number
GEOfinder is an exceptional cell phone tracking app, that uses advanced technology to locate any mobile number on a map, regardless of the mobile network. It's a reliable and efficient app that offers accurate location tracking of any cell phone number with just a few simple steps. With GEOfinder, you can easily specify a sender name and SMS content to receive information about the device's location.
What's more, GEOfinder is incredibly versatile and runs on all mobile phones now, regardless of the brand or configuration. This web-based service is user-friendly and allows you to track the location of any device via phone number.
The app is equipped with a wide range of features that make it an excellent tool for tracking and monitoring the location of any device. With GEOfinder, you can send unlimited geo-location requests and receive detailed locations on the map. The free app is a reliable and efficient solution for anyone who wants to stay on top of their own phone tracker loved one's whereabouts or track lost or stolen devices.
GEOfinder Compatibility:
GEOfinder is compatible with both Android and iOS operating systems.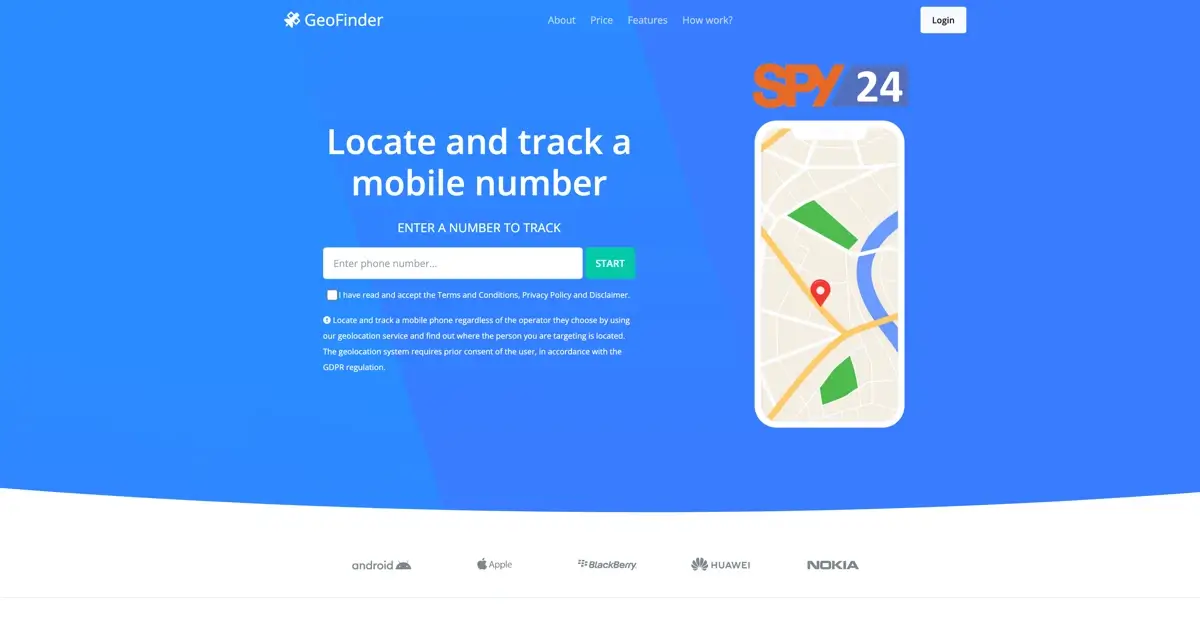 Works with all mobile network operators
Can track the targeted phone location by phone number
Helps you to customize the message you want the recipient to receive
Offers unlimited geo-location requests
Provides detailed locations on the map
Monitoring text messages
Allows you to send unlimited geo-location requests
10. Kidsguard Pro for Phone Tracking App
The KidsGuard Pro App by ClevGuard operates as a mobile tracker app by discreetly gathering information from your child's phone, such as photos and videos, app activities, GPS locations, text messages, call logs and recordings. Once installed on the target device, the app runs in the background, continuously monitoring and recording all activities on the device, creating a separate log of everything. 
This app is compatible with Android and iOS devices with a minimum version of Android 4.0+ or iOS 9.0 or higher, and even works without rooting or jailbreaking the phone. With features like location tracking, remote control, social app monitoring, call logging, call logs, SMS monitoring, web browser activity monitoring, and media file access, KidsGuard Pro provides a comprehensive mobile tracking solution for parents.
KidsGuard Pro Compatibility:
Android: Android 4.0+ (Ice Cream Sandwich) or higher

iOS: iOS 9.0 or higher

Windows: Windows 10
It's worth mentioning that KidsGuard Pro doesn't require your phone to be rooted/jailbroken for it to work. This means that it's compatible regardless of whether your kids are Android or iOS users.
TRACK PHONE LOCATION: Learning the truth about your kids or hired workers' activities and chats is only a part of the solution, the second half is to track cell phone locations where they are right now or what places they currently move to. If you need to know your phone trackers are it any moment to avert some kind of threat from your close people or to prevent your company staff from breaching corporate policy it is high time to look closer at our application GPS phone tracker.
WHAT IS A MOBILE LOCATION TRACKER ALL ABOUT? Do you need to find out the current location of your children or employees with pinpoint accuracy? Do you need to know how to track mobile locations? Appmia GPS right phone tracker app can easily do that for you. Do you want to know the exact places, which were visited by the one you are spying on? The GPS cell phone tracker with precise locations will be shown in your personal control panel. You can't even imagine how easy and effective is Appmia when it comes to the GPS locating issue. Now you can track mobile phone locations easily! The app is purposefully crafted to match your need for a good GPS spying tool, and while employing it you can with our phone GPS Tracker App:
Monitor with high precision their locations on a clear city map and know the places which they like the most

Define "red line" segments on the offered map and receive signals when users of monitored devices trespass the limits of those segments

Review the information without obligatory access to GPS data network mobile GPS tracking

View the obtained data on your desktop independently of Internet access availability – just transform it into a spreadsheet and store it on your desktop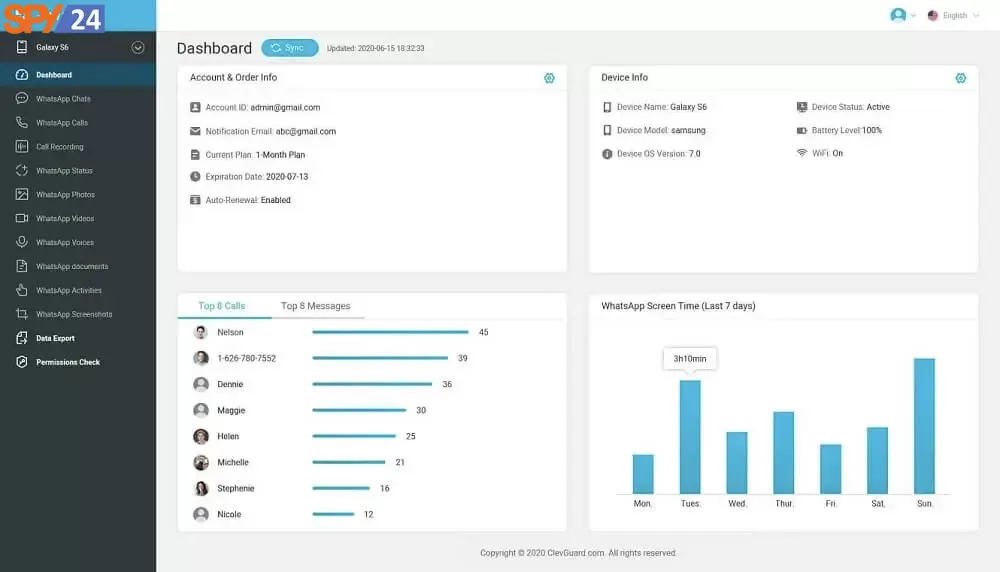 Location Tracking: The app allows you to track the real-time location of your child's device, along with the location history.

Remote Control: With this feature, you can remotely control your child's device by locking or unlocking it, taking screenshots, or wiping data in case of theft.

Social Apps Monitoring: The app allows you to monitor the social media activities of your child, including the messages and media files shared on popular social media apps like WhatsApp, Facebook, and Snapchat.

cell phone activity: KidsGuard Pro enables you to keep track of all the incoming and outgoing calls made from your child's device, along with the duration and timestamps.

SMS Monitoring: You can monitor the text messages sent and received on your child's device, including deleted messages.

Web Browser Activity Monitoring: The app enables you to monitor the browsing history of your child's device, including the URLs visited, bookmarks, and download history.

Media Files Access: With this feature, you can access all the photos and videos stored on your child's device, including the ones that are deleted.
How to Set Up SPY24 to Track a Mobile Phone?
Ease of Setup
Not every smartphone tracking app without a permit can be easily used. Usually, some can be really complicated and cause you to get very annoyed. When you create this app, it should reflect the ease with which you are monitoring the target phone. It's essential that the online login page is user-friendly to ensure easy access. Installing mobile phone tracking software is easy on smartphones as well as tablets. It is impossible for a user to jailbreak their device. This could cause your customers to not even know the basics about this procedure.
Sign up for SPY24: Visit the SPY24 website and choose a monthly or yearly plan. Specify whether you want to monitor an Android or iOS device and provide your email address. Purchase a plan using a credit or debit card and you will receive SPY24's software in your email.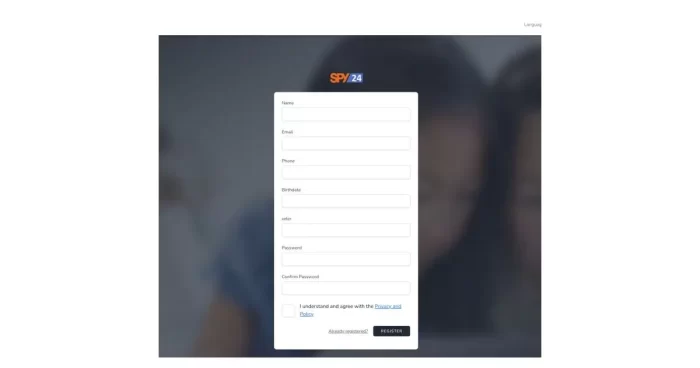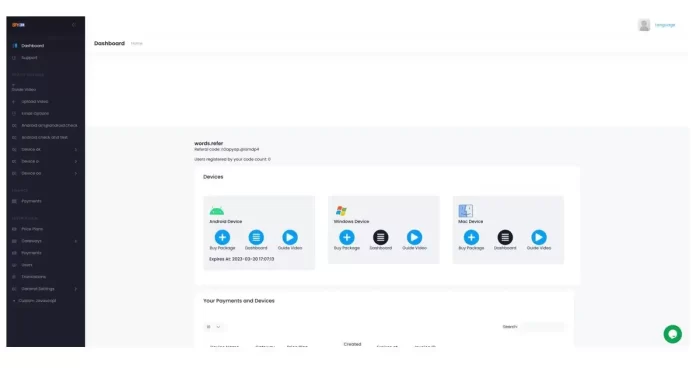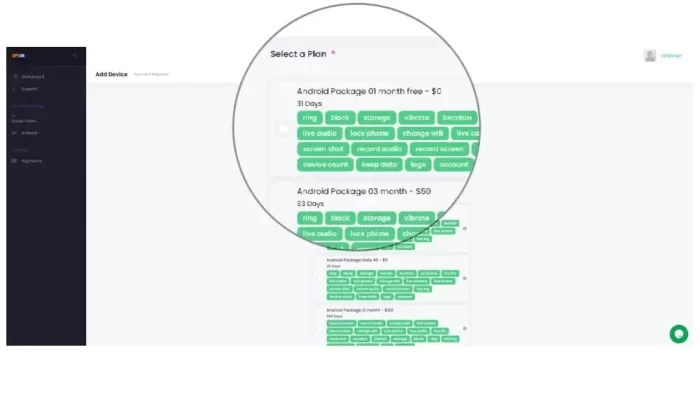 Install SPY24: Once you receive the software, install it on the mobile phone you want to track. Log in to SPY24 to activate the app and follow the installation process. Make sure to grant all necessary permissions during installation so that SPY24 can access all SMS and IM Chats on the phone.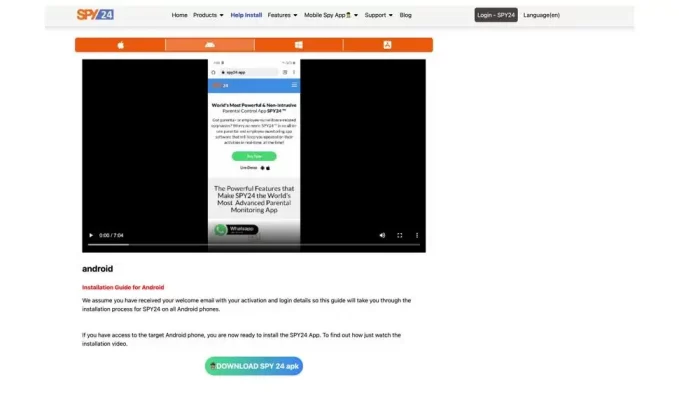 Start Tracking: Once SPY24 is set up, it will start tracking the mobile phone automatically. Simply log in to SPY24's website to access the dashboard and view all the tracked data.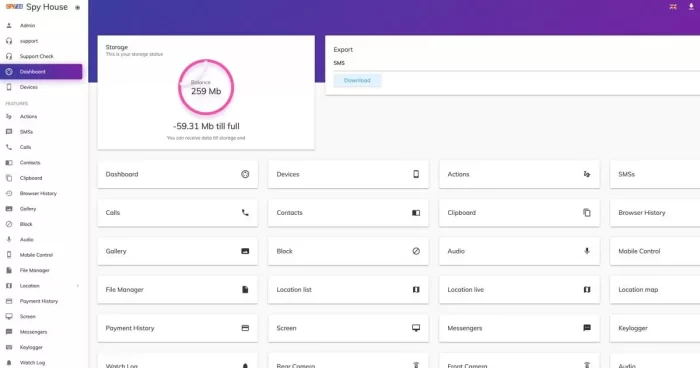 Expert Tips for Choosing the Best Phone Tracker App without Permission
Ensure that the app you're interested in is compatible with your phone. Not all tracking apps work with all types of phones, so it's important to verify compatibility.
Check out reviews from other users to gain insight into their experience with the app. This can provide valuable information on what has worked well for others and what hasn't.
Take into account your privacy requirements. If privacy is a concern, make sure to select an app that doesn't require permissions that make you feel uneasy.
Compare the pricing and features of different apps to identify the best value. It's important to consider both the cost and the features offered by each app when comparing options.
Pros & Cons of Phone Tracker Apps
Before you decide to use a phone tracker app, it is important to consider the pros and cons.
Pros:
Easy to use
Reliable
Useful for tracking lost or stolen devices
Can help monitor children's activities
Can help monitor employees' activities
Cons:
Can invade users' privacy
Can be used for malicious purposes
Can be expensive
Can be difficult to install
Can require rooting or jailbreaking
GPS Tracker App (Google Maps / Apple Maps)
There are other tools that you may want to use for tracking your family members. Almost everyone who uses an Android phone has used Google Maps a number of times during their lives. Google Maps is installed as a default app on all Android operating systems. But remember that iPhones are no longer accessed via Google Maps because they have been involved in conflict with Google. Unless someone tracks you, it may not perform quite as effectively as the apps designed to track it.
The Importance Behind Getting the Best Phone Tracker Apps Without Them Knowing
Your child can often not reveal to you all of their true stories for a certain time – especially when you are there to visit them. You are concerned with the safety of your family. The tracking software aims to make your hidden information visible – by uncovering the lies your child is saying. It is important that it is not possible without permission from you. However, it's impossible for us to prevent children from leaving their homes as parents. It's almost impossible to stay near.
Main Criteria: How To Choose The Right GPS Tracker?
The increasing technology that tracks cellular networks has made it harder for most users to pick a reliable device. It can be useful in considering how much to spend on an app that tracks your smartphone usage in real time. For instance, a smartphone tracking app that tracks your work, kids, or spouse can have some useful features. We highly encourage you to select your own trackers without permission from your device. Some tracker apps have no cost and some do. As long as you know how your phone is going, it will go smoothly.
Things To Consider Before Purchasing A Phone Tracker App
You must consider some factors when evaluating a mobile tracker application. First are the systems. Not all tracking applications are compatible with all OSes; therefore ensure you've tested the application for compatibility. Lastly, there are rootings and jailbreaks. For tracking Android smartphones you'd have to root their devices, which invalidates a warranty. If you want to track iPhones you need to jailbreak them, as it hasn't even been advised by Apple. Finally, read the app's financial policies carefully. Certain apps require subscriptions and some are only charged once per user.
Comparing The Most Popular Spying Applications
Picking the right spy program is often the most daunting task. Our goal is to provide an efficient way to choose an ideal app based on criteria that are similar to functionality and pricing. Our experts compare SPY24 Hoverwatch EyeZy and Flexi spy apps side-by-side. SPY24 is an excellent and widely used tracking app for mobile devices. The app offers additional functionality such as SMS tracking and call tracking. Besides using SPY24 you can use:
Frequently Asked Questions (FAQs)
List several common problems people might encounter regarding tracker applications/tracking devices.
What Is The Best Phone Tracker Apps Without Permission?
SPY24 is one of the best phone tracker spy apps, that can be installed on any Android or iPhone device without the user's knowledge or permission.
Are Apps That Track Phone Activity Legal?
In most cases, these apps are legal. However, using an app to track someone's location without their consent could be considered stalking. If you're an employer requiring employees to use a tracking app to monitor work hours, you may be violating labor laws.
Can A Phone Be Tracked Without Physical Access?
In some cases, yes. Non-jailbreak tracking software can be installed on cell phones remotely, but all Android phones require physical tracking software installation. To track an iPhone without jailbreaking it, the phone must be synced with iCloud.
Can I Use a Free Phone Tracker App without it?
Yes, there are free phone tracker apps available, but it's important to be cautious as some of them may be scams or even dangerous. Keep in mind that these free options often come with limited features, and you may be sacrificing the security and privacy of your data in exchange for cost savings. It's important to do your research and carefully read reviews before choosing a free phone tracker app to ensure that it's trustworthy and safe to use.
Can I track someone using their phone number?
Some services may let you find your location by entering the phone number on your phone. For spy functions, you may want to install SPY24 or other m-security software.
Is Physical Access Needed To Track Phones Without Their Knowing?
Is the tracking of mobile devices based on physical access possible? Possibly. All smartphones on Android require hardware tracking software, and non-jailbreak software is also available remotely from the device itself. The device must be synchronized via an iCloud account.
Where can I find free phone trackers?
There are several mobile monitoring software apps available for free which include the iPhone Tracker. The cheapest tracking service, however, has a more convenient tracking feature.
Comparing Top Undetectable Cell Phone Tracking Apps
Detailed reviews. The easiest way to locate a smartphone or tablet. It's easy to do it all simultaneously. SPY24 allows users to remotely control all data from a mobile device. In addition to monitoring user activities, the software may also track the current location of the phone while avoiding the detection of its target phone. The software can be easily accessed using an intuitive user interface and installation took just under 5 minutes. No root and no jailbreaking are necessary. Your cell phone's data will always be checked every 5 minutes so no details are lost or missed.
SPY24 vs. eyeZy
Eye Zy is an important Spy counterpart. It is a powerful tracker software providing many similar features. However, EyeZy's weakness makes it a lower-quality alternative to SPY24. Some features, for example, can only be installed on a jailbreaking EyeZy app – requiring jailbreak on your target iPhone to use them. Customer service can sometimes be hard for eyeZy representatives to respond to your questions and get answers promptly.
SPY24 vs. Hoverwatch
Hoverwatch is popular because of the price and it provides numerous features for tracking cell phone usage without detection. This application also does not track iOS devices and has limited support for Android compared with SPY24. SPY24 provides mobile phone monitoring solutions with reliable features. It includes numerous functions for tracking every aspect of your phone usage, including GPS tracking, text messages, call logs, and many more. Despite its cost, it's still a great value considering the many features offered.
Final Thoughts
Here are our top picks for the 10 best phone tracking apps that can help you keep tabs on your loved ones and ensure their safety. When selecting an app, it's important to consider your specific requirements and budget to find the best fit for you.
Out of all the available options, we highly recommend the Best SPY24 phone spy app free and mSpy for their comprehensive features. These apps allow you to easily access your target's photos, videos, and exact location in real time. Moreover, they offer a variety of additional features that make them an excellent choice for anyone looking to monitor their loved ones. We hope you find this article in SPY24 useful! You can also read our other articles such as 12 Best Instagram Spy Apps.