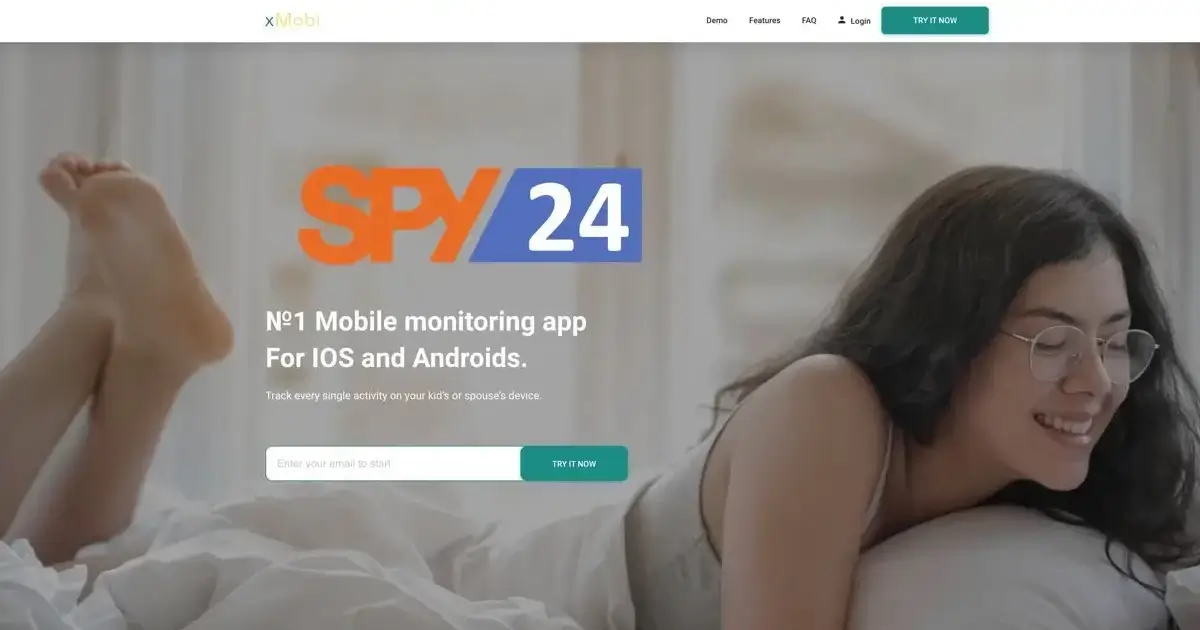 The xMobi mobile monitoring app works on both iOS and Android. xMobi is the best phone spy app that uses the user's computer, tablet, or target phone to keep track of what they do online. You can track text messages, deleted text messages, call history, browsing history, and much more no matter where you are in the world. It is also possible to get rid of sites that are harmful to the user. xMobi is a simple way to stop them.
SPY24 Install application free The Most Powerful Hidden Spying App to Monitor Android, IOS Cell Phone & Tablet Device Remotely. Best Android Parental Control App for Kids & Teens Online Safety.
Now take the liberty to monitor Android, and IOS devices with exclusive features better than ever before Monitor all Voice & Text Messages Communication records, Listen to & Watch Surroundings in Real-time Unleash Digital Parenting with Android, IOS Spy App Spy (Surround Listing & Front/Back Camera Bugging) IM's VoIP call recording on Android OS 13 & above With 250+ Surveillance Tools at your fingertips using Android Tracking & Parental Monitoring Software.
There is a monitoring app for both IOS and Android phones.
Track everything your child or spouse does on their device.
Advantages 10 minutes for setup
It takes between 5 and 15 minutes to set up and install the app. The process of setting up is very easy!
Every 5 minutes, all the information about what's going on with the target device is updated.
The cost is less than one dollar per day. It's a small price to pay for your peace of mind!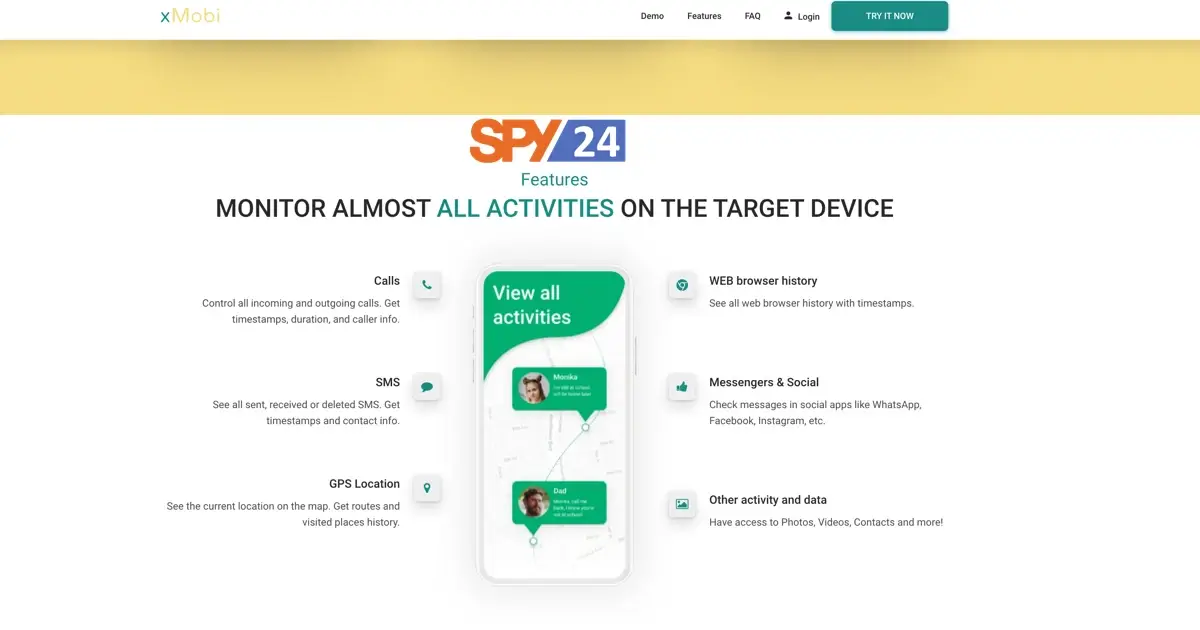 WATCH MOST OF WHAT IS GOING ON WITH THE TARGET DEVICE Calls
Control all calls that come in and go out. Find out the timestamps, length, and caller information.
See every sent, received, or deleted text message. Find out the time and who to contact.
Look at the map to see where you are right now. Find out about routes and places people have been.
See all of the histories of your web browser with timestamps.
Messages and social media
Check your messages on social apps like Facebook, Instagram, and WhatsApp.
Other events and information
You can get to your photos, videos, contacts, and more.
CHECK TO SEE IF IT WORKS ON YOUR KID'S DEVICE
xMobi can be used on iPhones, iPads, and almost all Android phones and tablets with Android 4 or higher. But if you're not sure, you can type in the phone or tablet's model to see if you can control it.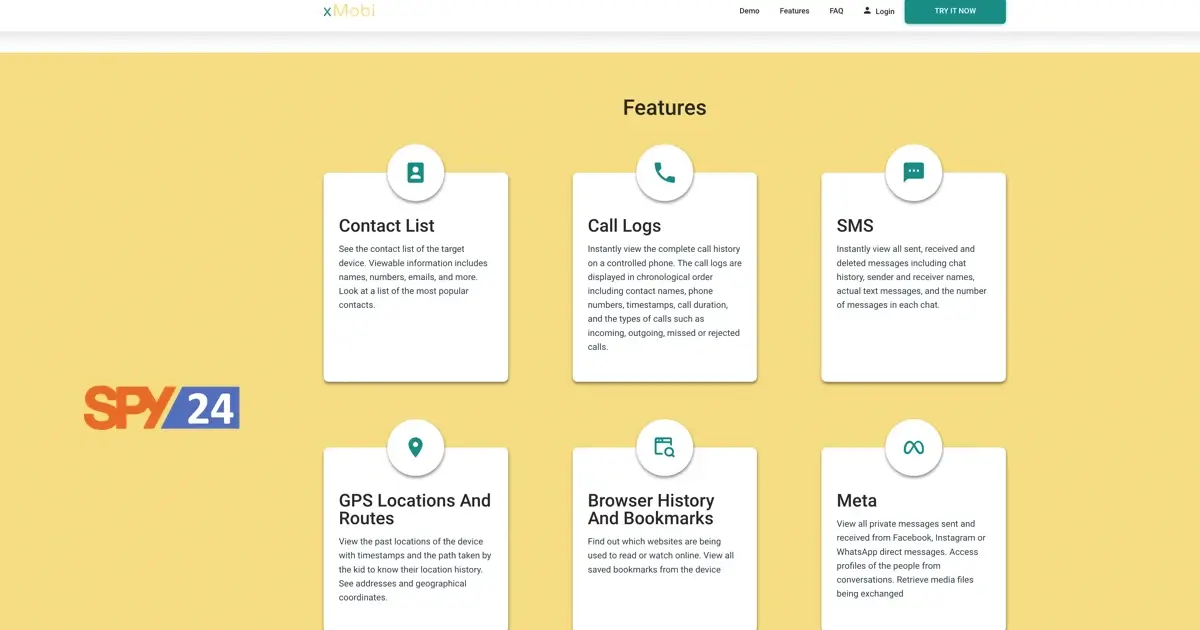 Contains a list of contacts
Check out the phone's list of contacts. Names, phone numbers, email addresses, and more can be seen. Check out a list of the most frequently used contacts.
See a controlled phone's full call history right away. The call logs show the names, phone numbers, timestamps, call durations, and types of calls, such as incoming, outgoing, missed, or rejected calls, in order.
You can see all of your sent, received, and deleted messages right away. This includes your chat history, the names of the sender and receiver, the actual text messages, and the number of messages in each chat.
To find out where the child has been in the past, look at the timestamps and the path they took on the device. Check out the addresses and GPS coordinates.
The browser's history and saved pages
Find out what websites people are using to read or watch things online. Look at all of the bookmarks saved on the device.
You can see all private messages sent and received through direct messages on Facebook, Instagram, or WhatsApp. Find out more about the people you've talked to. Get the media files that are being traded
Access all shared chats, calls, and media. See what the phone you want to spy on is seeing right now.
Get all the keystrokes from the Android device you want to spy on.
You don't have to "root" the device to use the feature.
You can look at all of the photos and videos on the target device.
Access all shared chats, calls, and media. See what the phone you want to spy on is seeing right now.
FAQ FREQUENTLY ASKED QUESTIONS
Is it legal?
You are allowed to use our app if: The device in question belongs to your child who is under 18 years old, or if it belongs to an adult who permitted them.
Can I track by IMEI or phone number?
If an ad says something like this is possible, you shouldn't believe it.
It's just a way to try to steal from you.
Can I keep an eye on Snapchat, WhatsApp, and Facebook?
If you want to track an iPhone or iPad, you can get logs from Facebook and Whatsapp.
If you want to track an Android phone (Samsung, Huawei, etc.), you can get logs from Snapchat, Whatsapp, and Facebook.
Will it work where I live?
Yes, our app can be used in all countries. Make sure the device you want to monitor can connect to the internet. This is all you need to do the monitoring.
Can I set up xMobi from afar? Do I need to be able to get in?
Android solution: To install the app on the target Android, you will need to be there in person. There's no way around it, which is sad.
iOS solution:
You might not need to have physical access to the target device. To start getting logs, you would submit the target device's Apple ID and password. If a 6-digit Verification code is asked for after the previous step, you could ask the device owner for the code or get it yourself by accessing the device.
How many things can I keep an eye on?
1 subscription = 1 device.
But the subscription isn't tied to one device forever, so:
You can switch between as many devices as you want with one subscription.
(However, you would have to reinstall the app each time.)
If you want to track more than one device at once, you will need to buy more subscriptions.
How does xMobi work?
We can keep an eye on a) devices that run Android and b) devices that run iOS.
(The phone or tablet you want to keep an eye on is the "target device.")
So, keep this in mind:
We only need the device in question (not your phone).
The device should be able to connect to the Internet.
What does Android mean?
Samsung, Huawei, Xiaomi, Pixel, LG, 1Plus, etc.
What is iOS?
Only iPhones and iPads.
If you want to know how either of these works, go to "How to monitor Android" or "How to monitor iOS."
How often does it get new information from the target device?
On average, Android devices are updated every 15 minutes.
One update cycle for an iOS device could take up to 24 hours.
Where can I look at all of the device's data?
On our website, you will have an account.
After you log in to your account with any browser, you can find all the information there.
How to keep an eye on Android?
You'll get step-by-step instructions in the email that says "Welcome!" after you buy.
Short version: You need to download the app, install it on the target device, and change the settings. Keep in mind that you must have physical access to the target device.
How to keep track of iOS?
After the purchase, you will get a welcome email with step-by-step instructions.
In short, you have to give the iCloud credentials of the iOS device you want to control and change the settings as needed. Keep in mind that you might not even need to touch the target device.
Is the icon clear to see?
iOS devices: not visible.
On Android devices, it's not visible because you can hide it in the settings.
Do you need a SIM card for the phone?
No, you don't need a SIM card to use xMobi to keep an eye on something.
What do I do once I've bought something?
After you buy something, you'll get an email from us.
The email will tell you everything you need to know to get started.
One thing we'd like you to do is save that email or keep it in your notes.
Hacking into WhatsApp – Hacking WhatsApp Right Away
Enter the number you want to get into.
You can keep track of all sent, received, and even deleted messages from afar.
Watch all the pictures, videos, and photos shared on WhatsApp.
Look at their WhatsApp contacts and profile picture.
You can easily read all of their private WhatsApp messages.
Listen in on calls shared on WhatsApp
SIMPLE. CONFIDENTIAL. STRAIGHT AWAY
Our users find it easy to break into someone else's account. To use our WhatsApp hacking tool, you don't need to know anything about information technology or hacking. Our programmers have already done this work for you, thanks to their years of experience.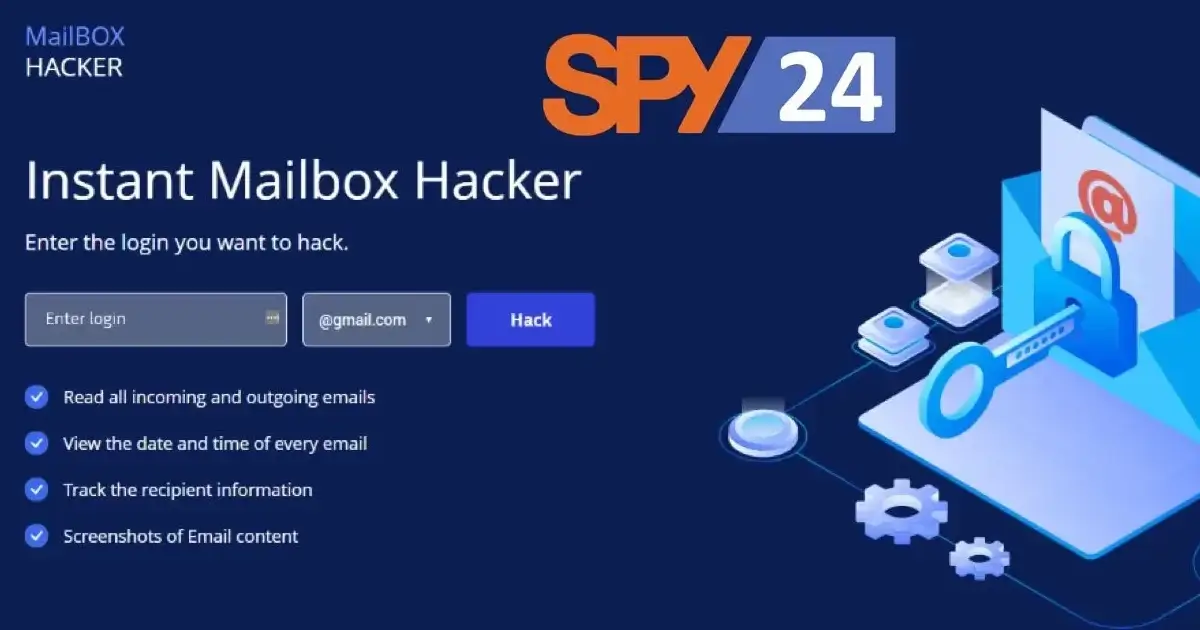 WhatsApp hacking is different from other ways to get into someone's account because it works away from the user's device. You don't have to install anything on that device or download any special software.
When you hack a WhatsApp profile, you won't be able to see or hear anything. This is because the hacking process uses advanced encryption technologies and multiple levels of data security. Your chosen person will never know that you broke into his or her WhatsApp account.
Access in less than an hour
Our team spent a lot of time tweaking the algorithm and setting up the server so that it worked best. This made the service the best WhatsApp cracking tool among similar private profile hacking tools on the market. Because our developers have a lot of experience, you will have all the information you need to hack into any account in about 10 minutes.
xMobi Review 2022
A careful look at the xMobi review shows how discreet it is to keep the user from knowing what it is doing while it is working. Let's look into it more.
The pros and cons of xMobi
Allows you to keep track of your calls and texts
Looks at the list of contacts
You can get to the emails.
GPS allows for tracking
Gets you access to the target device's saved bookmarks.
Keeps track of the messages on WhatsApp, Facebook, and Instagram
Information about the apps on the phone in great detail
Looks at the media, chats, and calls shared on Discord.
The target user has no way of knowing when xMobi is running.
Cost a lot
Doesn't have a way to control how long the screen stays on.
This app has several features that will be talked about in-depth in the following xMobi review.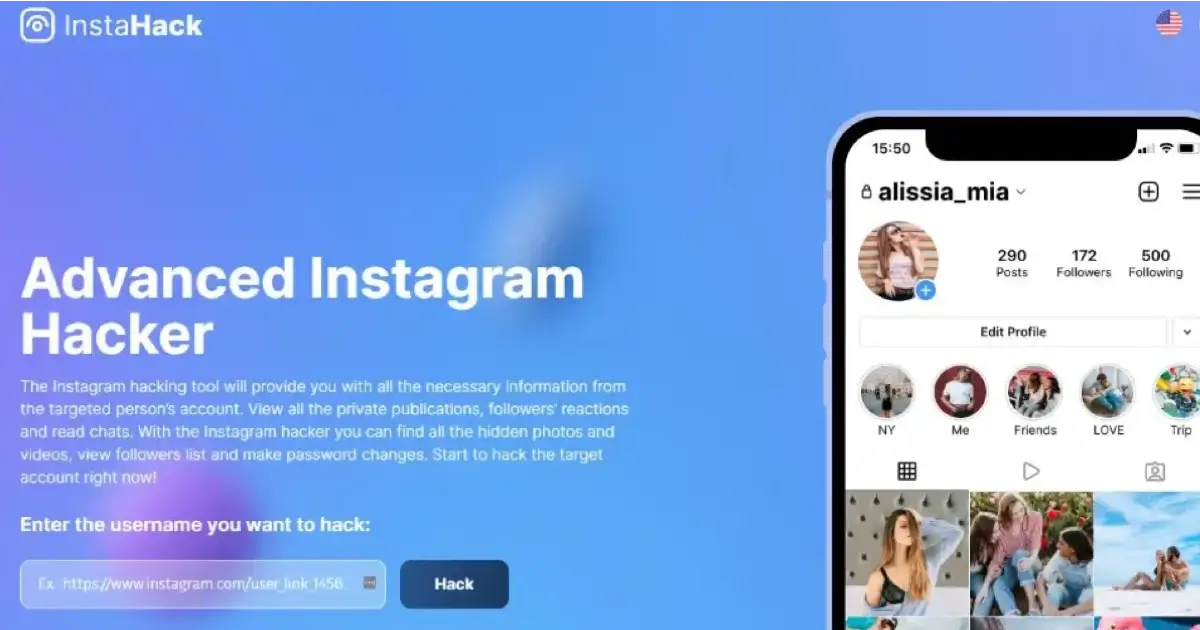 Monitoring many different things
Not always just one device can be used with a single subscription. You can choose to switch between multiple devices.
But remember that every time you switch, you have to install the app from scratch.
If you want to track more than one device at the same time, you'll need to pay for more subscriptions.
Snapchat, WhatsApp, Facebook, and Instagram will be watched.
You can get Instagram/Facebook, Snapchat, and WhatsApp logs on iOS devices like iPhones and iPads as well as Android devices.
People use this app a lot to get into Instagram and other accounts.
Web Access: A review of xMobi isn't complete without talking about how it lets you connect to the web.
What parents want most is to be able to see what websites their kids visit most often.
Not only that, but xMobi also lets you keep track of how many times a certain site has been seen.
You can also block websites on the target device if you want to, which is a cool feature of xMobi.
Calls Coming In And Call Going Out
The next part of the xMobi review is the calls that come in and go out, which you can see on the app's control panel.
If the caller or recipient's phone number is saved on the target phone, you can also see the name of the contact. It is also possible to check the length of the call.
If the owner of the target phone deletes the call history, you can get it back with the help of the xMobi app.
Tracking and sending text messages
Text messages are what most kids use to talk to each other these days. They don't talk on the phone very often.
They send text messages all the time.
So, if you watch what they say in their inbox chats, you'll know everything that's going on.
The xMobi review points out that this app's ability to track text messages has helped parents a lot.
The dashboard has the phone number of the person who will receive the text.
It also tells you how many texts you sent and when they were sent. You'd be surprised to see how many messages the user has deleted.
With xMobi, you can keep an eye on your kids in the best way possible.
Location Features: The xMobi review also talks about the app's location features. GPS is used by xMobi to find out where the targeted device is.
On the GPS location tab, you can see what was found when you tracked it.
How xMobi Works
You know that the thing you want to keep an eye on is called a "target device." It can be an Android device or an Apple device.
Android devices include Huawei, Samsung, Pixel, 1Plus, Xiaomi, LG, etc. At the same time, iPhone and iPad are both iOS devices.
The most important things that xMobi needs are the target device and internet access on that device. You don't have to give me your phone number.
Keeping an eye on Android
You'll get a welcome email with step-by-step instructions as soon as you're done with the purchase.
Overall, you must first download xMobi to the device and then install it. Then you can start making changes to the settings.
The most important thing to remember is that Android devices need to be near the device they want to hack.
Monitoring iOS
On installation, iOS devices also get an email with the information, just like Android devices.
Ensure you know the iOS device's iCloud credentials and can give them when asked.
Keep in mind that you don't have to get physical access to the device you want to hack.
checking all of the device's data
The account you make on Mobi's website is kept there. You can sign in to your account and see all the information with any browser.
How often xMobi updates are sent from the target device
The average amount of time it takes for an Android device to get the update is 15 minutes. iOS devices, on the other hand, have to wait 24 hours between updates.
xMobi: How to Use It
To start the monitoring process with the xMobi app, you need to do three basic things.
The first and most crucial step is to choose the device you want to keep an eye on.
You'll be given a lot of different subscription plans, and you'll have to pick one. Move on to the next step, which is to buy.
Keep an eye on your email because you'll get a file with the installation instructions.
Make sure you pay close attention to those instructions.
The second step is to download the app, and then install it on the Android device that will be used.
If the device you want to control is an iOS one, you will need to give your iCloud credentials. You only need to change a few settings.
3. Use It
Once you've made an account and installed xMobi, you're free to use its features in the best way possible.
All you have to do is sign in to your personal user space to keep track of what's going on and look at the media.
Can you see the xMobi icon?
Whether you have an Android or iOS device, you can't see the app's icon.
If you want to be sure, you can hide the icon in the settings.
From the xMobi review, you can see that it's easy to keep an eye on the user's target device, even if you don't know anything about IT.
It's a simple job that only needs a little bit of work and focus.
The xMobi review we just talked about shows that the app's system is very quick.
The way that xMobi monitors the device is unique and useful.
You no longer have to worry about having to download specific software and read through complicated instructions.
The most obvious result of the xMobi review is that running the app is completely private, thanks to its high-quality data protection system and improved encryption technologies.
There is no chance that the person being tracked will figure out that his or her device is being watched.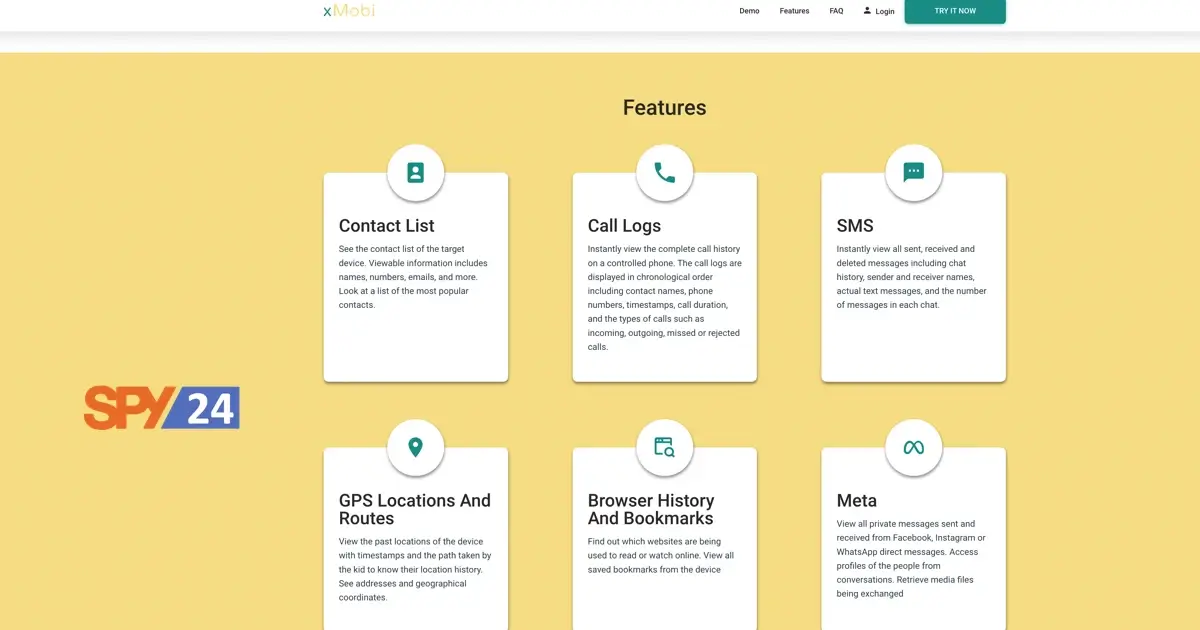 Is xMobi Legal?
There are a few rules that must be followed before this app can be used legally.
You can use the xMobi app legally if the person who owns the target device is under 18 or if an adult has permitted you to keep an eye on the device.
Can I track by IMEI or phone number?
No, that can't happen. It is a complete lie. Don't let the ad take your money.
Can I set up xMobi from afar? Do I need access to the outside?
The answer to this question depends on the device you want to use.
If a user has an Android device, the only way to put xMobi on it is to physically access the device.
When it comes to iOS devices, the condition of physical access is not met.
But you do need to send in the Apple ID and the password of the device you want to hack. You'll start getting the logs after that.
They may ask for the 6-digit verification code, which you can get from the person who owns the device.
You can also enter the device yourself and get the code that way.
Will xMobi work where I live?
xMobi is great because it works in every country.
All you have to do is make sure the device you want to watch has access to the internet, and you can start watching it.
Do I need a Sim Card for the phone?
No, xMobi doesn't need a SIM card to keep track of your phone.
There are a lot of spy apps on the market, and all of them work well enough to be used for monitoring.
But the xMobi app is reliable and pays off like no other spy app.
From the detailed xMobi review, it's clear that the app can keep track of any information you want it to, whether it's phone calls, texts, emails, or shared media.
But there is no information about how to control how the device is used.
Even though some of the features are limited, xMobi is a great choice for a spy app because it can track GPS, monitor and block websites, and track social media.