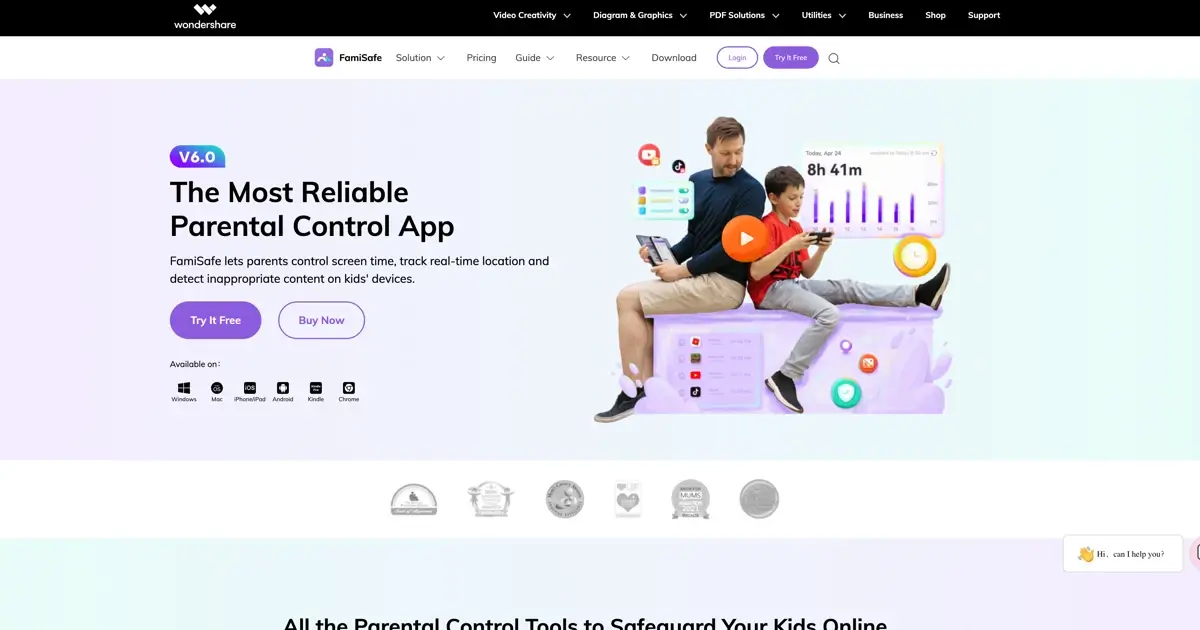 Are you looking for a way to keep your family safe and protect them from harm? If so, then you need to check out FamiSafe. This incredible app offers a range of features that can help you keep your loved ones safe, including location tracking, parental controls, and more. Keep reading to learn more about FamiSafe and how it can benefit your family.
FamiSafe Parent Control says it is the most reliable app for parents to control their kids' devices. I had to check for myself to see if they could back up such a big claim. I put FamiSafe on my teen son's Android phone and told him to try to get around the app's time limits, web filters, and other tools for keeping an eye on him.
The most reliable parental control app is FamiSafe. It lets parents control how long their kids spend in front of a screen, track their location in real time, and find inappropriate content on their kids' devices.
Overall, I'm not sure that FamiSafe is the "most reliable app for keeping kids safe." Qustodio is a little bit better than them because it has a better dashboard, web filter, and screen time schedule. That said, you can't go wrong with FamiSafe. It has a lot of useful features, and you can try it for free for three days before committing to a subscription.
Features: FamiSafe
FamiSafe has more than a dozen extra features that are meant to keep your child safe and help you keep an eye on them. The parent dashboard, which I used on my computer and phone, let me set up all of the features. The dashboard is where everything in the app happens. I could not only see all the updates, the apps and websites my son is using, and how much time he spends on his phone, but I could also set the rules I wanted to follow.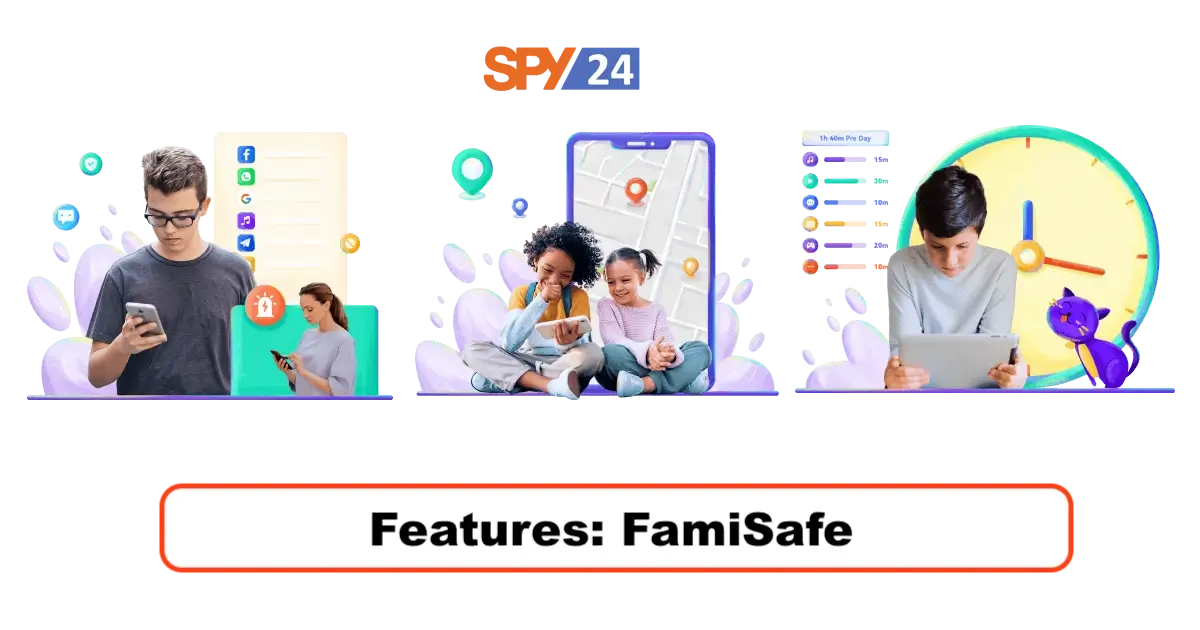 The FamiSafe dashboard wasn't as good as other dashboards I've seen, like Qustodio, which uses graphs and charts to give a great overview of all relevant activity.
At a quick glance, all I can see is where I am right now and how long I have been using it overall. I can also scroll through a list of daily activities, but it's boring and doesn't tell me much unless I click through each item.
At first glance, the FamiSafe dashboard doesn't show a lot of information.
Activity Report: See Exactly What Your Child Does on Their Phone
If you've ever wondered what your kids do all day on their phones, you might be interested in the Activity Report. It shows how long each app was used and how often it was used in real time.
I didn't put any limits on my son's app for the first two days after I put it on his phone. Instead, I went through the activity to see how he used his phone every day. It showed me all of the apps he was using and at what time.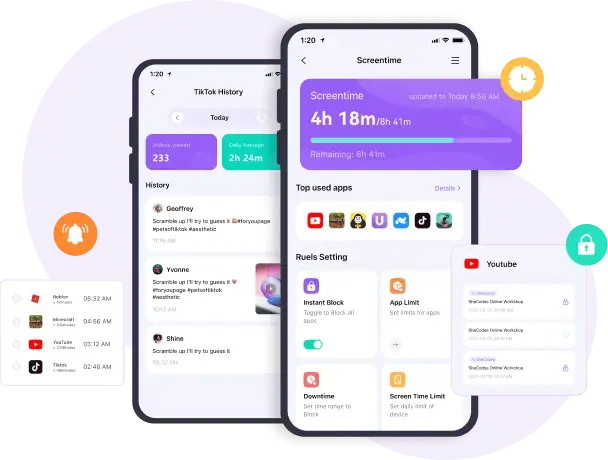 Then I knew if I needed to block or limit apps or set strict limits on how much time I could spend looking at my phone.
All the tools you need to keep your kids safe online
Watch what your kids do on their phones.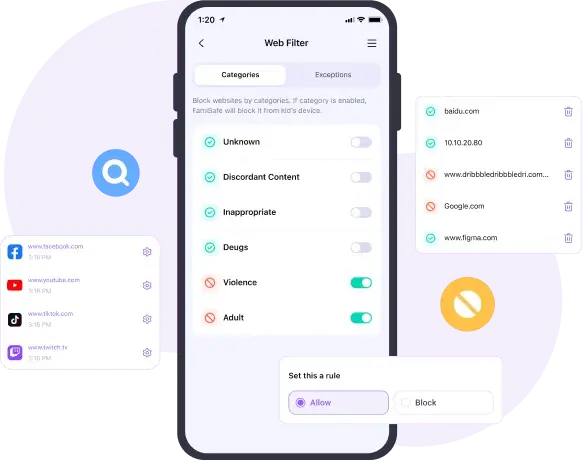 Screen Time
Find out how much time your kids spend on each app. Kids' screen time can be controlled with downtime and app limits.
Look at a timeline of how kids use their phones. Here, everything you do is kept track of, from the pages, you visit the videos you watch.
You can keep your kids safe when they use YouTube by looking at their viewing history and blocking any videos or channels that are harmful.
Here is a daily report of how much time kids spend on TikTok and what videos they watch. You can control TikTok with Screen Time and App Blocker.
Make sure the content is safe.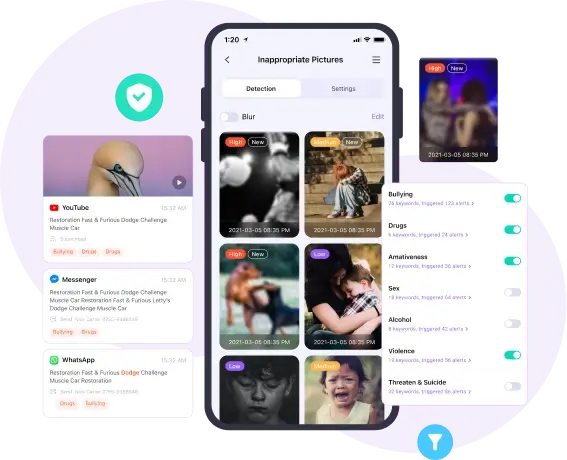 If you turn on detection, this feature will search kids' phones for dangerous pictures. Then you can blur those pictures or get rid of them.
Explicit Content Detection
If you turn on this feature, you will find harmful messages on any social media app, like Snapchat, Twitter, Facebook, etc.
Customized ways to find and intercept suspicious words and pictures on social networks. The best way for parents to keep kids' phones under control.
Turn on a shield for dangerous pages that kids will visit. Parents will also be warned about these pages.
You can look at what you've looked at on the internet on any browser, like Safari, Google, or Firefox.
If you turn on safe search, Google, Bing, or Yandex will filter out any harmful search results.
Find Out Where Your Family Is – Where You Live
Find out where your kids are in real time at any time with reliable accuracy and fast updates.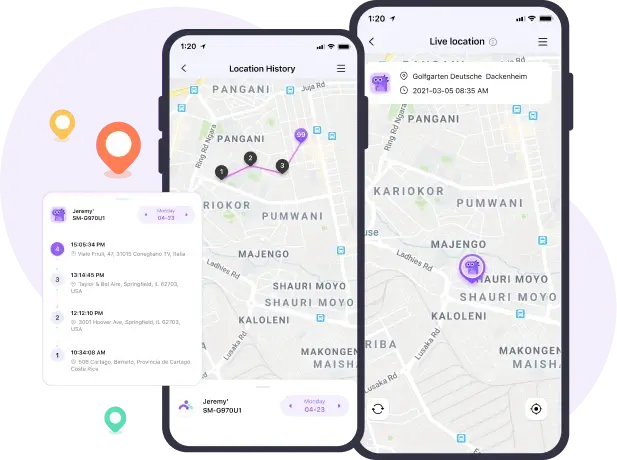 See where the kids went and what they did. Get alerts when your kids leave school or come home.
Geofence
Report on Driving
Dial Kids.
Multiple screen timers
FamiSafe's screen time tools seem to cover almost every scenario. Five ways limit screen time:
Set a general phone time limit for your child. I like that I can set a one-time limit for the whole week or different limits for each day.
Smart Schedule: I'd improve this app feature. "Smart Schedule" only lets me lock and unlock my phone once a day. This helps me set a bedtime and keep my son off the phone.
I've used parental control apps like Qustodio to schedule when the phone will be locked and unlocked. FamiSafe requires me to create multiple Smart Schedules for each day to create a similar schedule.
Smart Schedule is location-based. I can set a time limit based on my son's location. This means I can block his phone at school or create a special schedule for his friends' house if I don't want him using it there.
I can block all apps instantly. Perfect for getting my son to do chores, homework, dinner, or just look up from his phone.
Set app-specific time limits. I can limit game and social media app time. I can limit my son's YouTube viewing time.
Allowed Apps: The opposite. I can unblock apps.
21-category Web filter
13 of FamiSafe's 21 categories are enabled by default. Examples:
My son can bypass these filters to find a weakness. We tried Incognito Mode, his phone's Mi Browser, and a VPN. The filter blocked him each time.
My son's weak spot was viewing adult content through apps rather than a web browser. The filter didn't stop him from seeing NSFW content on Reddit. Luckily, FamiSafe can block apps from opening.
The web filter has a "Exceptions" section where I can enter blocked URLs. I did this so my son can access Fantasy Sports sites blocked by Gambling.
Geo-Fence and Real-Time Tracking
With FamiSafe, I don't have to worry about inappropriate websites and screen time addiction. The app can access the phone's GPS and show me his location history.
You can also create a geo-fence or 1,000-meter radius around an address. It sends alerts when your child arrives or leaves. This helps ensure your child goes to school or doesn't visit a certain area.
The only weakness in location tracking is that the child can turn off their phone's GPS. FamiSafe can't stop kids from disabling location services, but it alerts the parent dashboard.
FamiSafe integrates with social media and chat apps
FamiSafe works with social media and chat apps (Facebook, SMS, WhatsApp, Messenger, Instagram, Twitter, TikTok, Gmail, YouTube, and more). YouTube and TikTok have separate sections for your videos. You can blacklist keywords and block videos.
FamiSafe can monitor my son's WhatsApp for harmful keywords. It monitors bullying, sexuality, drugs, and illegal activities. There's no context for what triggers an alert, and it's sensitive.
I got alerts for love, hate, finger, blood, annoying, weird, and heavy. These are related to bullying but were harmless. I got constant Explicit Content alerts and had to turn them off because nearly every message contained a potentially offensive word.
Too sensitive WhatsApp filter
I haven't seen this on other parental control apps. It lets me set a speed limit so I know my son and his friends won't drive too fast. My 13-year-old son doesn't have a driver's licence, so I couldn't test it on him. I took his phone for a spin and got a dashboard update when I exceeded the speed limit. I can only set one speed limit, so it only tells me if he's speeding on the highway. An updated version may sync with a GPS app and monitor the child's speed based on the road or street.
Since my son is 13, I took his phone for a spin. My 13-year-old son doesn't drive, so I couldn't test this feature. I think it's cool and important for parents with licenced kids. You can set a maximum speed limit, and the phone's GPS will alert you if you exceed it.
FamiSafe instals easily. After registering on FamiSafe's website, I received a download link. One app is for parents and one is for children. I needed my son's phone to install the app.
The setup wizard guides you through changing the phone's permissions to give it access to contacts, photos, GPS, and battery saver options. Once permissions were granted, I connected the app to the account I created before downloading it. Everything was clear, and within five minutes, it started recording data.
The parent app was installed like any Play or App Store app. No special permissions needed since it's not tracking my phone.
After logging in, I had to create a 4-digit PIN for the app. If your child knows, they can change the monitoring settings on your phone.
Dashboards mark easy-to-use parental control apps. Top parental control apps have dashboards with quick-access buttons and important data on the homepage. FamiSafe's dashboard was boring. It shows the child's live location and everything that happened on the phone without any buttons.
The FamiSafe dashboard isn't very informative.
Open the monitoring menu by clicking the Features tab (left side of desktop dashboard, bottom of mobile dashboard).
Set the web filter, time limits, geo-fence, and other monitoring tools here. It took me about 30 minutes to learn how to use all the features.
Once everything is ready, there's very little maintenance unless you change the rules or restrictions.
FamiSafe's FAQ section is well-designed and easy to use. These include app features, installation, pricing, compatible devices, and more.
Ask the ChatBot if you can't find the answer. This is one I don't like. The Bot tries to guess your question, but it usually returns answers I didn't ask.
Live chat is available if you still need help. Representatives are available 06:00-18:00, but no time zone is given.
Famisafe Parent Control App
Reduce smartphone addiction
Phone addiction is getting younger. Today's 3-year-olds can entertain themselves. FamiSafe promotes healthy digital habits with Screen Time and App Block.
Even the most attentive parents can't monitor social media. FamiSafe works. It protects your kids from cyberbullying, pornography, and online crimes.
Parents have always prioritised safety. They want children to be safe. FamiSafe's Live Location and Location History can help.
Educators monitor FamiSafe for School's online safety.
FamiSafe makes a school version for students and teachers. It supports up to 200 devices for teachers to monitor phone addiction, bullying, and drugs.
Web Filter
Keep Search Safe With Website Filter
Block sites based on what they are.
Add exceptions to block or let sites through
Multi – User, Multi – Device
Offer a variety of ways to sign up.
Manage multiple students at same time
See and collect data on how students use apps
Dashboard Smart
Aggregate all student information
One place to manage all student devices
Quickly see how students use devices today
Pricing – FamiSafe
FamiSafe is neither the cheapest nor the most expensive parental control app I've tried. I do think the price is fair for what you get. There are three ways to subscribe. Each of them can protect up to 10 devices and use all the premium features. The only difference between them is how long you can subscribe for. You can pick one month, three months, or an entire year. Obviously, the yearly plan is the best deal, with a nice 50% discount on the monthly price.
If you're not sure if FamiSafe is right for your family, start with the three-day trial. Install it on your kids' phones, tablets, and computers to see if it's what you need.
$9.99/month (if you pay monthly, 5 devices per account)
$6.99/month (if you pay quarterly, 10 devices per account)
$4.99/month (if you pay yearly, 30 devices per account)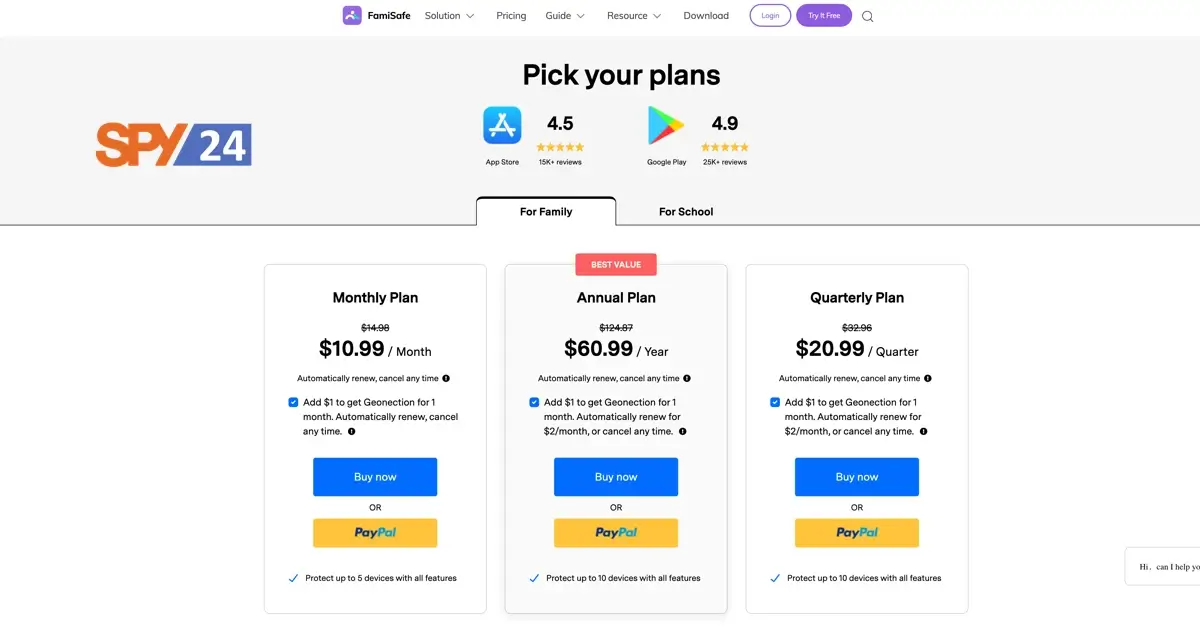 Easy to Start with 3 Simple Steps
1.Register
Register a FamiSafe account on the website or app from Google Play and App Store.
2. Install
Install FamiSafe app both on parent's and kid's devices.
3. Connect
Connect and manage all devices from FamiSafe dashboard app or web portal.
FamiSafe's plans are as follows:
No other app for parents has as many features for so little money. Even though the monthly price is low, if you choose the quarterly or yearly offer instead, you can save a lot of money. FamiSafe accepts almost every kind of card, including American Express, Visa, Mastercard, PayPal, and many more. See how much it costs on the FamiSafe website.
So, that's all we have to say about FamiSafe. After looking at every part of this software, it's clear that it's one of the best monitoring apps you can buy. Not only that, but compared to other apps that do the same thing, FamiSafe is also very cheap. So someone who needs to keep an eye on their child but doesn't have much money can still buy it. We tried to include as much information as possible in this review and answer all of the users' questions. But if you're still not sure, you can try the product for free for three days and only buy it if you like it.
Information about what the kids are doing right away
This spying app is very cheap compared to others.
Supports multiple devices
There's no need to root or jailbreak it. It's easy to handle from far away.
Pros:
It's easy to use
Web filtering doesn't work properly
Android phones aren't always easy to use.
Some phones let you delete Famisafe just like other apps, but you'll get a message saying that the Suspicious features function doesn't work.
FamiSafe says that its app is the most reliable way for parents to control the devices of their children. I had to look into it myself to see if they could back up such a big claim. I've used my five kids to test more than 30 paid parental control apps, so I can tell if this is true or just good marketing.
I put FamiSafe on my teen son's Android phone and told him to try to get around the app's time limits, web filters, and other ways to keep an eye on him. He was able to find apps like Reddit that don't get checked by FamiSafe but still have adult content. It also doesn't keep an eye on YouTube's website; only the app is watched.
But these things are easy to fix. Through the parent dashboard, I can block any app or website that I don't want my kids to use or see.
Overall, I'm not sure if FamiSafe is the "most reliable app for keeping kids safe." Qustodio is a bit better than them because it has a better dashboard, web filter, and screen schedule. So, FamiSafe is a good choice. It has a lot of useful features, and you can try it for free for three days before paying for a monthly or yearly subscription.
Install Famisafe
FamiSafe User Guide
How to set up parental controls and install the FamiSafe app on both iOS and Android devices. Find out how to use FamiSafe on both the parent's and the child's phone.
Install & Register FamiSafe on Parent's End
Install and sign up for a FamiSafe account on the parent's end to get started with FamiSafe. You can also look at the app if you enter as a "guest."
Here are the steps to sign up a parent's phone for a FamiSafe account.
Step 1: Find FamiSafe on Google Play or the App Store and click on it to download it. You can also use the download buttons below to get FamiSafe.
Step 2: Look at the new things that come with FamiSafe V6.0.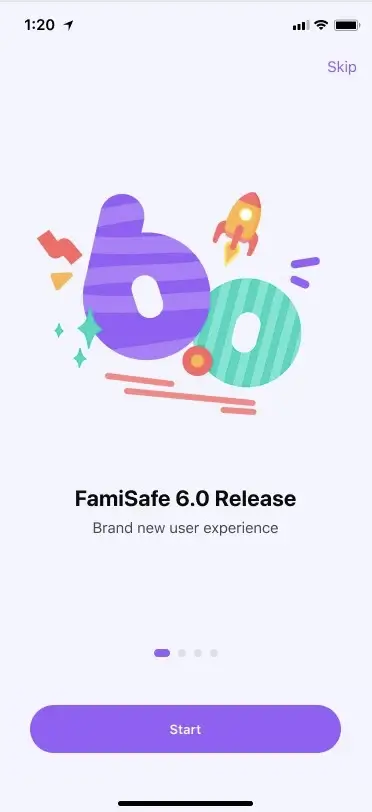 Step 3: Sign up for a Wondershare ID or use an Apple, Google, or Facebook ID to log in to FamiSafe.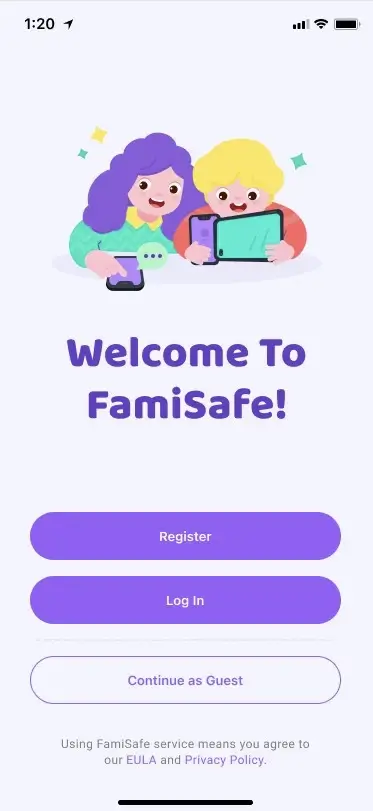 Step 4: As a parent, keep going and use the QR code or pairing code to connect the kids' phones. (Find out more in the next section.)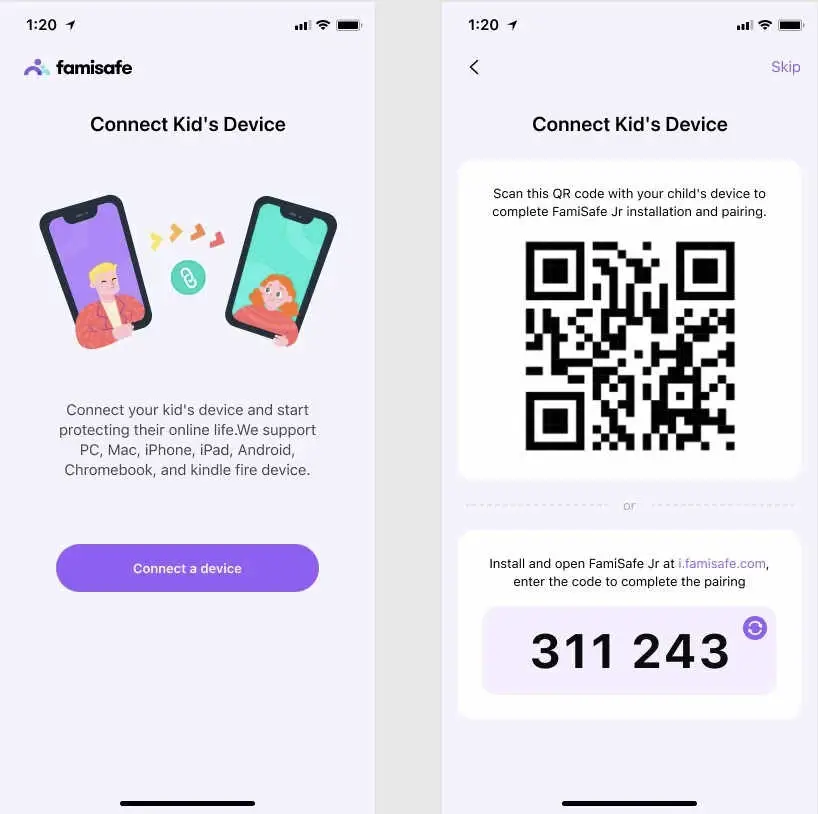 Step 5: After pairing and authorising on the kids' end, use the started wizard to set up basic parental control and you're all set.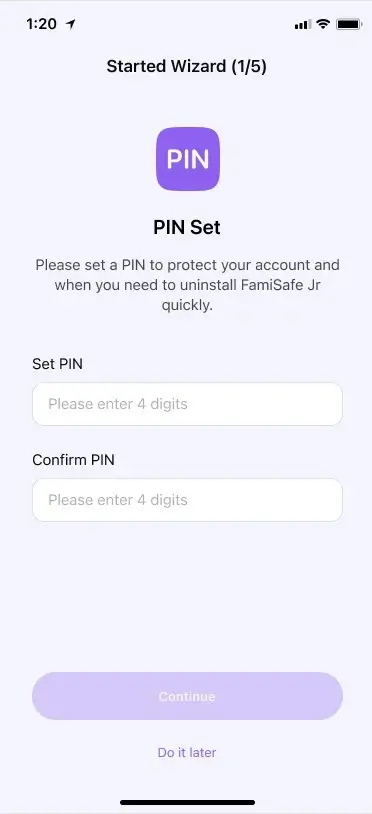 Setting up the Famisafe app is not hard at all. You'll need to use your device and your child's device, so the process will take two steps.
Put Famisafe on your gadget.
Downloading Famisafe to your device is the first step in setting it up. You can find it in Google Play or the Apple Store, depending on what kind of device you have. You can get the app from the app store and put it on your phone or tablet. You will get all the help you need during this process. The app is designed to help you set it up every step of the way. When you install Famisafe on your device, it's important to remember to set it to "used by a parent." Also, when you set up your account, you need to use a real email address and a password that is easy to remember. During this step, you can also choose which subscription you want. The app is simple to use, and you'll probably get used to it faster than you think. The settings you make with this app can't be changed by anyone, not even your kids.
Place Famisafe on the device you want to protect.
You can move on to your child's device once you've downloaded and set up the Famisafe app on your own. Follow the same steps to download and set up the app, but make sure the setting is set to "used by a child." You should also sign in to Famisafe with the account you made on your device. You will need to set up a nickname and a password for this app on your child's device. You can also give the app the rights it needs to keep an eye on your device while you are here. On each device you want to track, you'll need to do the same things.
You might have to go to a different app store to get Famisafe for your kids' devices. For example, you can find this app in Google Play if you have an Android device. If you have an iOS device, you will need to go to the Apple store to find it.
FAQ
Is FamiSafe free?
Free 3-day trial of FamiSafe. Within three days, I knew if the monitoring features were right for my son and if I wanted to continue the subscription. I had to enter my payment information to start the trial, so if I don't cancel, I'll be charged for an annual subscription.
FamiSafe monitors what?
FamiSafe can monitor Android 4.4–10, iOS 9–13 iPhones, and Kindle Fire. FamiSafe apps can be downloaded without rooting or jailbreaking. FamiSafe supports Windows and Mac.
FamiSafe keylogger?
No. FamiSafe is a parental control app that lets you monitor your child's online activities. It's not a spy app. SPY24 is a good keylogger app.
FamiSafe monitors WhatsApp and Facebook messenger chats. This feature can be used to prevent cyberbullying and conversations about sex, drugs, alcohol, and more.
Does FamiSafe block porn?
I liked the web filter's strength, but it could be more flexible. My son couldn't access porn sites with a VPN or no-name browser.
Is FamiSafe no cost?
FamiSafe offers a 3-day trial. Within three days, I knew if the monitoring features were right for my son and if I wanted to keep the subscription. If the account isn't cancelled before the trial ends, you will be charged for an annual subscription.
What's the best kid-safe software?
This is a good way to use Famisafe to watch your child. It's accurate and real-time. If your child gets into trouble online, you'll know. Famisafe provides your child's real-time location and a history of where they've been, so you can track what they do when you're not around. Use this feature because not all monitoring apps can. Famisafe is reliable and affordable. One subscription can track many devices. This Famisafe review will help you understand how the app works and decide if it can keep your kids safe.
Conclusion
People trust Famisafe more than any other app to keep an eye on their kids. It doesn't come as a surprise that it has so many benefits. If you want software to help you keep an eye on your kids, this app should be on your short list. It shouldn't be too hard for anyone to figure out how to use the app. This is one of the best reviews you will find about Famisafe, so you can use it to help you decide. So, give this control app a try and see if it can help you and your child.
SPY24 Install application free The Most Powerful Hidden Spying App to Monitor Android, IOS Cell Phone & Tablet Device Remotely. Best Android Parental Control App for Kids & Teens Online Safety.
Now take the liberty to monitor Android, and IOS devices with exclusive features better than ever before Monitor all Voice & Text Messages Communication records, Listen to & Watch Surroundings in Real-time Unleash Digital Parenting with Android, IOS Spy App Spy (Surround Listing & Front/Back Camera Bugging) IM's VoIP call recording on Android OS 13 & above With 250+ Surveillance Tools at your fingertips using Android Tracking & Parental Monitoring Software.