Best iPhone Spy Apps Hidden Free Trial for 2023
Today, technology has made it possible for anyone to play detective and discreetly spy on an iPhone without jailbreaking it. And get this, some of the latest iPhone spy apps even allow you to snoop without installing the app itself! However, it would be best to exercise caution as not all these apps offer reliable spy features or capabilities. Thankfully, we've got your back and have curated a list of the 26 best iPhone spy apps for 2023 that you can count on for top-notch spying!
Short List of Best iPhone Spy Apps for 2023:
1. SPY24 – Undetectable iPhone Spy App Free Trial 🏆
Are you concerned about what your children or employees are doing on their iPhones but can't seem to keep an eye on them? Do you want reliable free iPhone spyware that can monitor their activities without them knowing? Look no further than SPY24!
SPY24 is the most advanced iPhone spying and tracking software that allows you to spy remotely on iMessage, GPS location, emails, social media, and more. 
SPY24 iPhone Monitoring App Features
iPhone IM Chat Spy:

Remotely spy on iMessage and other IM apps, including WhatsApp, Skype, Viber, Tinder, Line, and Kik, on all iOS devices with this iPhone spyware.

iOS Phone Logs Spy:

Secretly monitor incoming, outgoing, and missed calls on monitored iPhones with relevant date, time, and address stamps.

iOS GPS Tracker:

Track GPS location and location history on all iOS devices, even on the older iPhones like iPhone 6 and 7 and the newest ones like iPhone 13 and Pro Max.

iCloud Backup Alert:

SPY24 alerts you whenever a new iCloud backup is processed, so you don't have to keep an eye on the watch.

Monitor Web Browsing & Multimedia:

Monitor web browsing, saved bookmarks, and on-storage multimedia like iMessage photos on monitored iPhones, iPads, and iPods.

Call Analysis:

View the top 5 callers and top 5 call durations. The Call Time Activity Punch Card reveals the number of calls made during a particular hour and day of the week.

Jailbreak or No Jailbreak?
SPY24 comes in both Jailbreak and without jailbreak versions so you can enjoy optimal monitoring at your convenience. The no jailbreak version requires no installation or iPhone jailbreak and is compatible with iOS 16. The jailbreak version offers unlimited features, including access to WhatsApp messages and effortless location tracking. It is also compatible with iOS 16.
Don't wait any longer to keep your loved ones and business safe. Try SPY24 today with its live demo. SPY24 is available for Android, iPhone, MacOS, Windows, laptops, and mobile devices. You can monitor your children or employees from any device, anywhere, and anytime.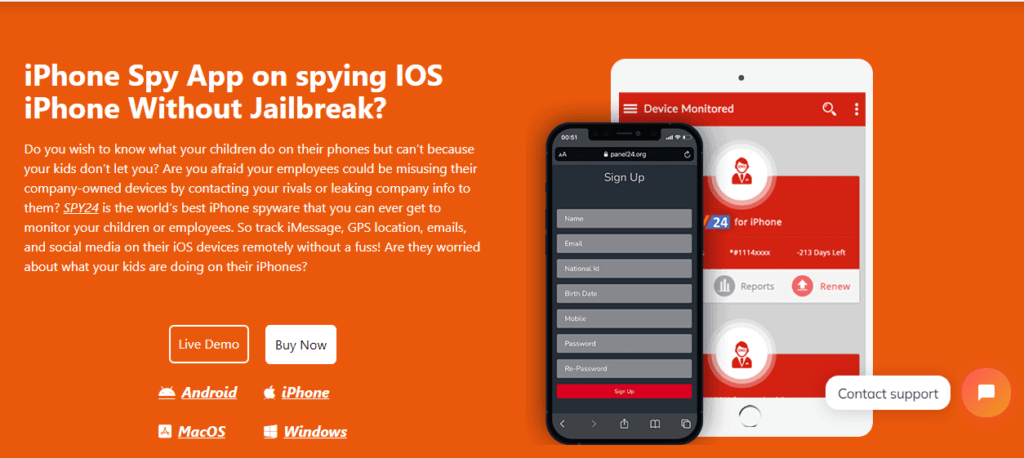 | | |
| --- | --- |
| 👁‍🗨 Overall Rank 10 | SPY24 |
| 🖥️ Web & App Filtering | Yes |
| 📲 Install SPY24 to a PC or macOS. | Yes |
| 💻 Backup iPhone through iTunes. | Yes |
| 💸 Starting Price | $4.99 / 1 month |
| 📀 Supported Operating Systems | iOS, Android, Mac, Windows |
| 📱 Number of Devices | 1 |
| 🎁 Free Plan | Free / 1 month |
| 💰 Money-Back Guarantee | Yes |
2. mSpy - Keep Your Children and Employees Safe
mSpy is a monitoring application that comes with a plethora of impressive features that can assist you in discovering what's happening. The app is compelling, and you'll be amazed at its range of capabilities. Let's take a closer look at these features together.
mSpy offers multiple installation methods suitable for different needs and target device operating systems. The best part is that the app is completely hidden, and there is no trace on the iPhone's home screen.

24/7 Support and Privacy Protection
mSpy works like a charm, but if you ever need help, mSpy's 24/7 support is always there for you. It takes your privacy seriously and ensures your personal information remains private.
Monitoring Features
Email Monitoring:

Access their inbox and know if anything is controversial.

Wi-Fi Network Monitoring:

Track if they connect to the internet at unauthorized locations.

Website Blocker:

Block access to websites like adult and gambling sites.

Browser History Monitoring:

Keep track of which sites they visit and when.

App Blocker:

Stop them from using or downloading certain apps.

Keylogger:

Know what they are typing with the included keylogger feature.

Screen Recorder: Get visual proof of what they are doing with screenshots.

WhatsApp Monitoring:

See every message and picture they send and receive on the popular app.

Facebook Messenger Monitoring:

Monitor who they chat with and what they talk about on Facebook.

Keyword Alerts:

Receive alerts if any particular keyword appears in chat or search.

Call and Text Message Monitoring:

Detailed calls and text message logs with timestamps and duration.

Tinder and Snapchat Monitoring:

Check out who they connect with and what they send and receive.

iMessage Monitoring:

Access to iMessages sent and received on iPhones.

Photo and Video Viewer:

Access to their camera roll and videos.

GPS Locations Tracker:

Know their whereabouts and check their route history.

Geofencing Alerts:

Set safe zones and receive alerts if they enter unauthorized areas.

Skype Monitoring:

Discover what they are talking about on the popular app.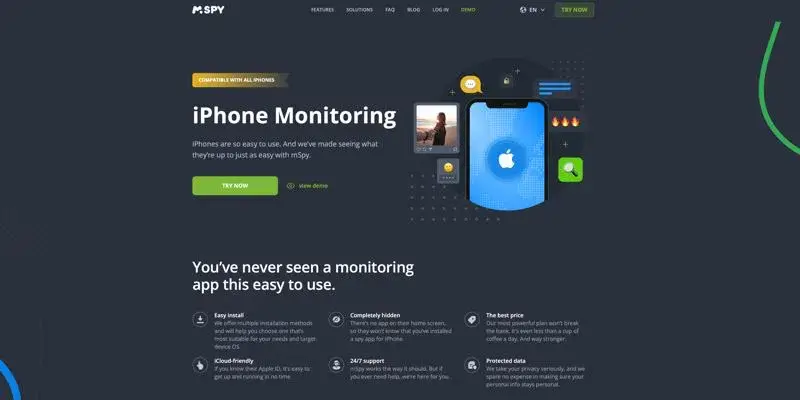 mSpy Premium Subscription
1 Month – $48.99/mo*

3 Months – $27.99/mo*

12 Months – $11.66/mo*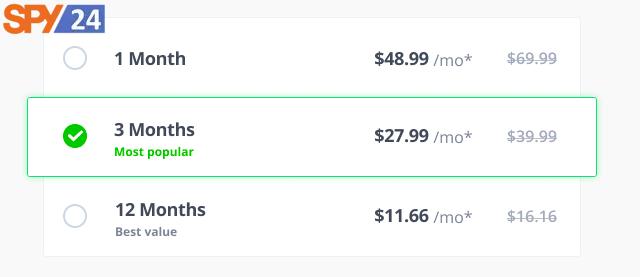 3. uMobix - iPhone Spy App for Parental Control
uMobix iPhone spy app is designed for parental control to monitor children's activities on their iOS devices. It provides full access to Facebook, Messenger, Instagram, Skype, and WhatsApp. It allows tracking calls, text messages, contacts, and browsing history. The app is compatible with all iPhones and iPads and offers quick setup with responsible support.

Text messages can provide valuable information for parents to keep track of their children's whereabouts and spending. uMobix iPhone spy allows parents to read iMessages and get digital receipts for products and services via SMS or email. Parents can also discover if their children are prone to lying by monitoring text messages.
Parents can monitor the contact list of their children's phones using uMobix iPhone Tracker. The app also allows users to view saved bookmarks and timestamps of the websites visited by the target device. This feature enables parents to analyze website history and identify unacceptable activities of their children.
uMobix iPhone spy app offers complete access to the most popular social media apps, including WhatsApp, Instagram, and Skype. It allows users to read messages, pull media files, view conversations, and monitor chats. This feature is helpful for parents to spot inappropriate communications with their children.
The app also allows users to spy on all phone calls of the target device and get details like names, dates, and times of the last interaction. This feature can help parents identify suspicious or inappropriate communications of their children.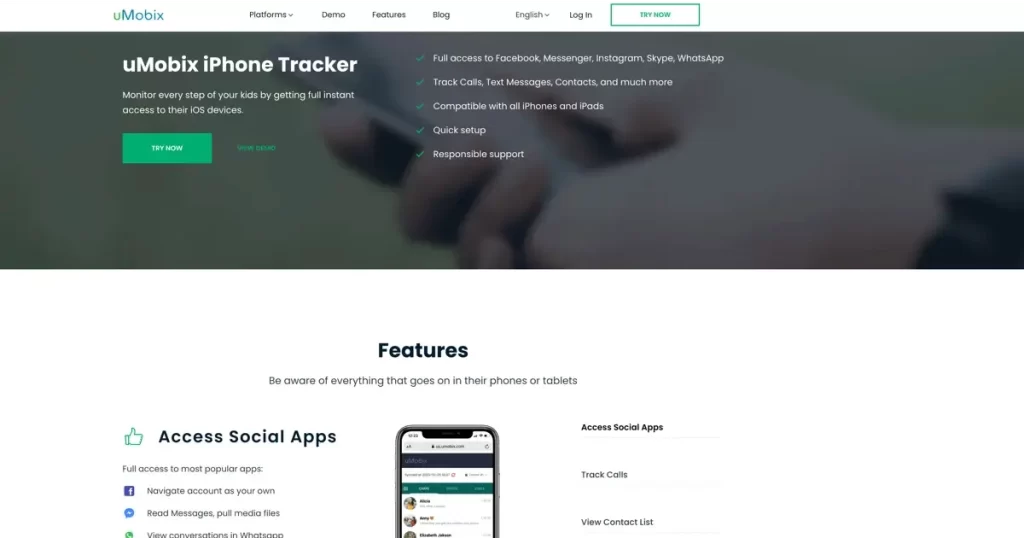 4. FlexiSPY - Stay Undetected While spying on Your Target
FlexiSPY is the ultimate monitoring software for iPhone, offering a comprehensive range of features to keep you informed about your loved one's activities. The LITE version offers an essential set of monitoring features at an unbeatable price, making it perfect for those on a budget.
Call and Text Monitoring
Keep track of call logs

Monitor the address book

Read SMS and MMS messages
Location Tracking
Keep tabs on your loved one's location

Set up Geofencing to get alerts when they enter or leave certain areas
Browsing Activity
Monitor browsing history

See browser bookmarks

Check network connections
Application Monitoring
Keep track of installed applications

Monitor application activity

Use a keylogger to record keystrokes
Media Monitoring
View photos, videos, and audio files

See wallpaper images
Additional Features
Check the calendar

Easy installation process

Set up visibility options

Get alerts on the dashboard

Send remote commands from the web or via SMS

Check the device battery status

Remotely uninstall, deactivate, or restart the software

Change software features remotely

Upgrade remotely

Renew anytime

Run in hidden mode

Prevent software from being uninstalled

Hide Jailbreak

Automatic remote updates

Free updates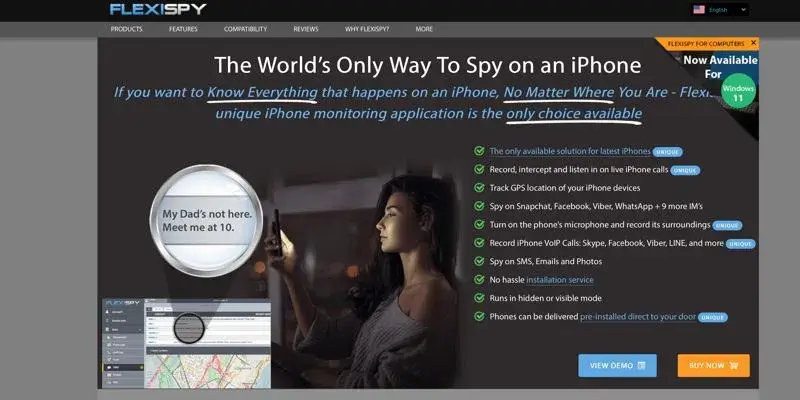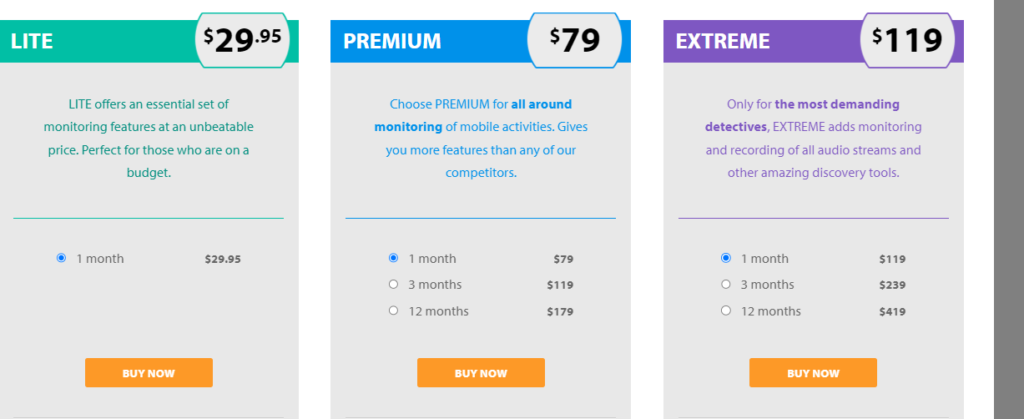 5. MobileSpy.io - The Ultimate iPhone Spy App
MobileSpy is an iPhone spy app that spy call logs, web and browsing history, location history, multimedia messages, and much more. With complete compatibility and stealth mode, it offers reliable remote spying features for safeguarding your kids and increasing workplace productivity. MobileSpy is known for its top-tier features and real-time spying capability. 
With MobileSpy, you can track the GPS location of an iPhone without jailbreaking it. You can spy on the person's location and route history and get real-time alerts. This feature works even on older iPhone models such as the iPhone 6 and 7.

Track your children's social circle by monitoring their phone contacts. With MobileSpy, you can access the names, numbers, addresses, and other information saved in their contact list.
With MobileSpy, you can spy on all multimedia messages your target person exchanges. You can track every photo and video saved, click on your iPhone, and access them immediately from the dashboard.
Create virtual boundaries between physical locations and track devices as they enter and leave these boundaries. With MobileSpy's geofencing feature, you can be notified of your child's whereabouts without constantly checking up on them.
Try Now and View the Demo
Suppose you want complete control over your target person's iOS device. In that case, the iPhone tracking feature of MobileSpy can be your ammunition. MobileSpy is available for download, and you can try it out now. You can also view a demo to see how it works.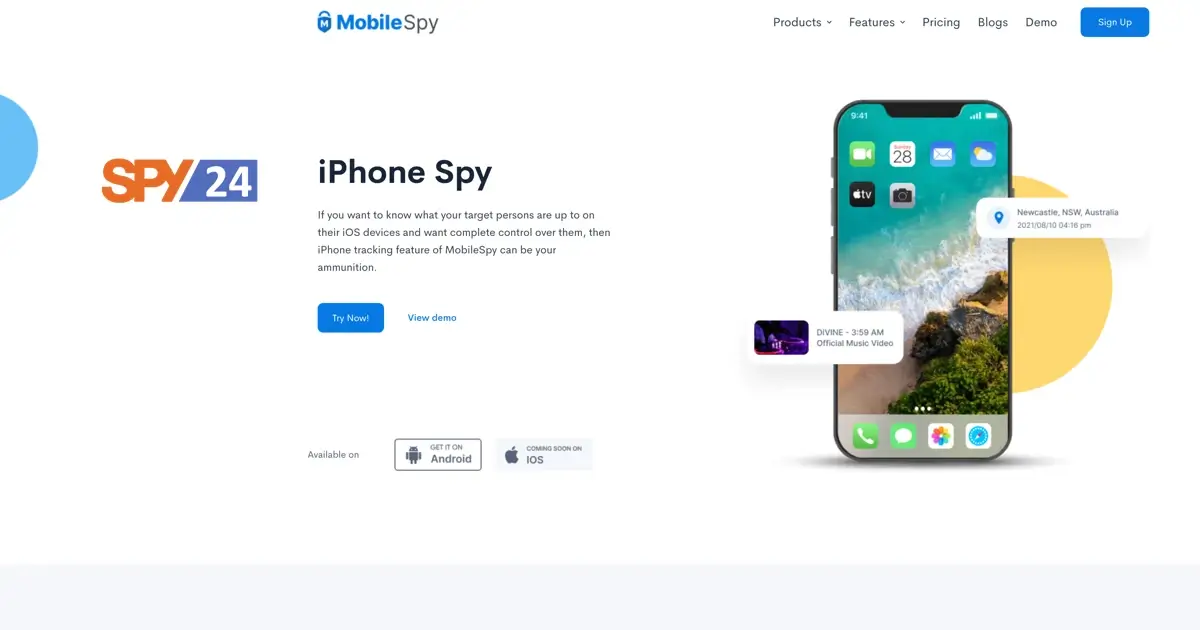 6. XNSPY - The Advanced Stealth Spy App for iPhone Monitoring
XNSPY is the perfect spy app for iPhone users, offering unmatched capabilities at an affordable price. It is trusted by many due to its numerous features, including monitoring iMessage and other popular social media apps such as WhatsApp, Snapchat, and Instagram. The app also provides location tracking, call and surround recording, call logs, browsing history, and social media monitoring.
iCloud-Compatible iPhone Spy App
XNSPY's advanced iCloud-compatible iPhone spy app allows parents and employers to spy on their children and employees quickly. 
It works in complete stealth mode and offers the following features
iPhone IM Chat Spy:

Remotely monitor iMessage, WhatsApp, Skype, Viber, Tinder, Line, Kik, and other IM apps on all iOS devices.

iOS Phone Logs Spy:

Secretly monitor incoming, outgoing, and missed calls on monitored iPhones with relevant date, time, and address stamps.

iOS GPS Tracker:

Track GPS location and location history on all iOS devices, including the older iPhone models.

iCloud Backup Alert:

Get alerts whenever a new iCloud backup is processed and ready to upload to the dashboard.

Monitor Web Browsing and Multimedia:

Monitor web browsing, saved bookmarks, and on-storage multimedia like iMessage photos on monitored iOS devices.

Call Analysis:

View the top five callers and top five call durations. The Call Time Activity Punch Card reveals the number of calls made during a specific hour and day of the week.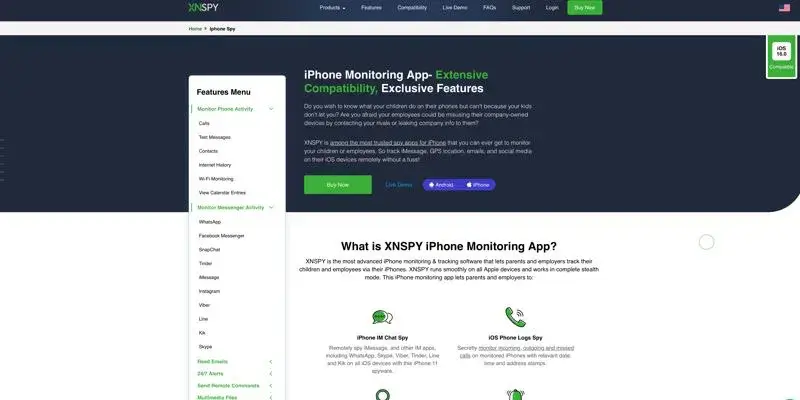 7. Minspy - The Ultimate No-Jailbreak Spy App for iPhone
Experience the latest iPhone monitoring features with Minspy's cutting-edge spy app, which can be set up in just a few minutes without an initial Jailbreak. You can monitor the target iPhone or iPad from any web browser compatible with iOS7 and higher. With over 12 unique monitoring features, Minspy allows you to access remotely and works secretly, ensuring you won't be detected.

Track the target iPhone or iPad on a map, view location history, and access 3D street view.
Read all text messages on the device and contact details like names and display pictures.
Check detailed call logs, including incoming calls, contact names, call frequency, and timestamps.
View a list of all installed apps and monitor newly installed ones.
Access all the photos and videos saved on the target iPhone or iPad.
Monitor user activity on the LINE social media app, and view messages and contacts.
Track the website history of your kids to ensure their online safety.
View upcoming essential dates on the calendar and see saved event descriptions.
Browse all iMessages exchanged by the target iPhone or iPad.
No Software Installation Needed
You can quickly sign up for Minspy in less than a minute by creating an account with your email ID as the username. Verify the iCloud account credentials of the linked iPhone or iPad, and monitor it in secret from your web browser.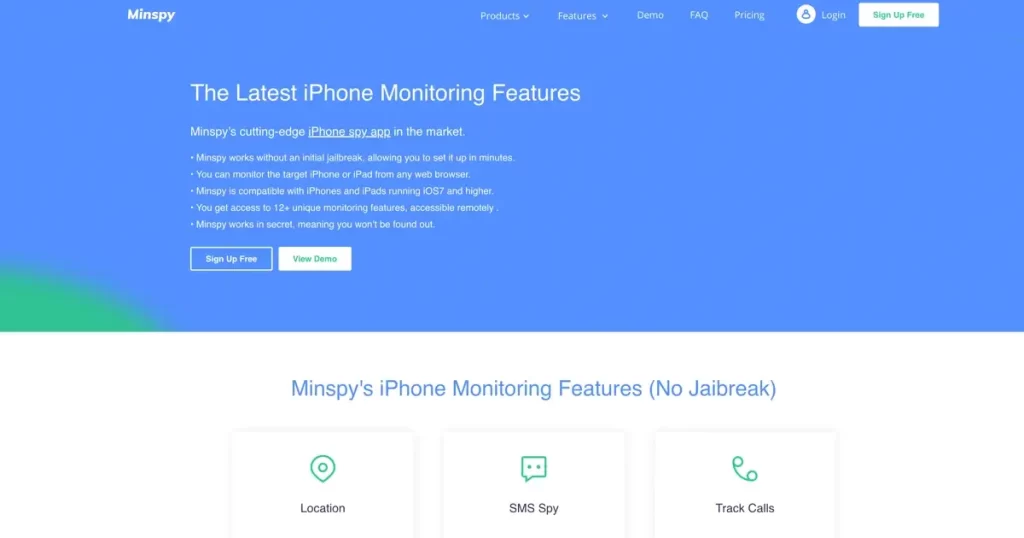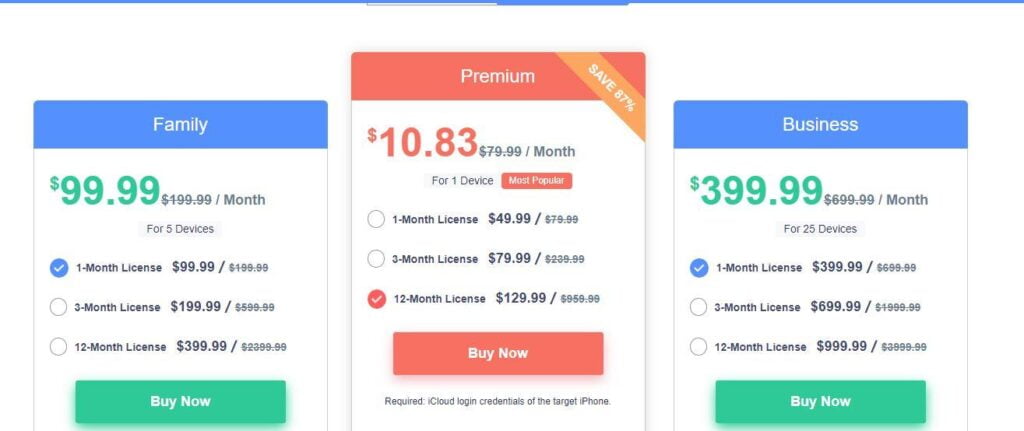 8. SpyBubble - Advanced Spy Features to Monitor WhatsApp, SMS, and GPS Location on Any Device
SpyBubble is a reliable and advanced phone spy app that offers a wide range of features to help you keep an eye on your loved ones or employees. With this app, you can track WhatsApp activity, SMS, GPS location, and more. Here are some of the key features of SpyBubble.
With SpyBubble, you can access incoming and outgoing messages, hidden chats, and deleted conversations on WhatsApp. You can also extract media files from the messenger.
SpyBubble enables you to read SMS messages in anonymous mode. You can view all incoming and outgoing messages, even deleted ones, and catch all media files sent via SMS.
The GPS location tracking feature lets you track the target device's location in real-time. You can also find lost or stolen phone locations and track online activities.
Fast Installation and Real-Time Tracking
SpyBubble is easy to install and doesn't require any technical knowledge. The app provides real-time tracking and updates information every 5 minutes. It also takes screenshots from the target phone every second and delivers them to your user account.
Access to Deleted Data and Extensive Compatibility
Even if a user deletes files, SpyBubble captures and saves them to your account. The app works on all iOS and Android devices, and your user account is accessible from any browser on any device.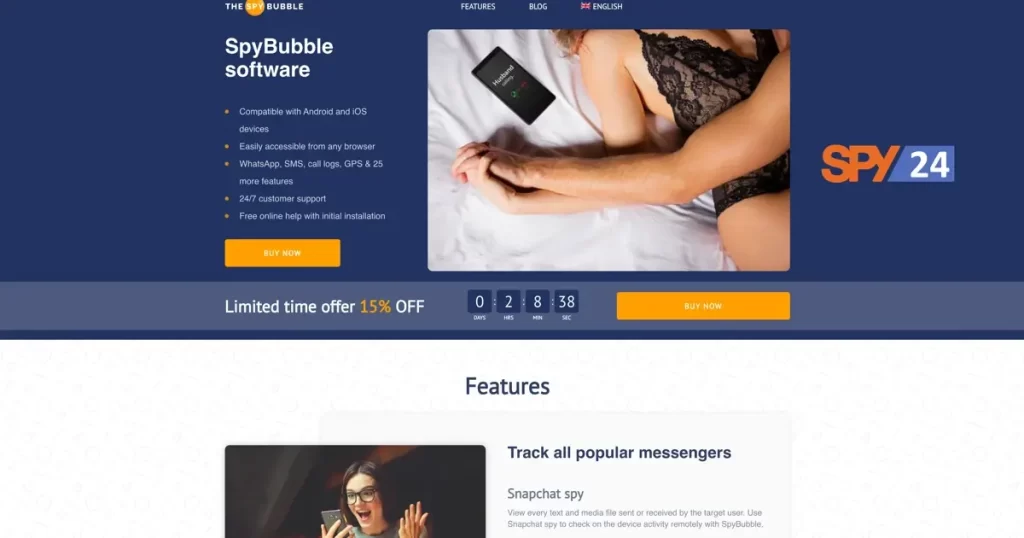 9. Spyier for iPhone — Extensive Compatibility and High-Quality Features
If you're looking for one of the best iPhone spy apps on the market, Spyier is your answer. With no jailbreak required, you can set up the app in minutes and monitor remotely from your web browser. Compatible with all Apple iPhones and iPads running iOS 7 and up, Spyier offers 12+ unique phone monitoring features for complete control.
Track your target's location on a map, check their location history, and set up geofences.
Read all messages sent or received, check contact details like names, and display pictures.

Check detailed call logs, and view incoming and outgoing calls, names, and call frequency.
Check all installed apps on the target iPhone.
View all photos and videos saved on the iPhone.
Check LINE activity, including messages and contacts.
Track website history and ensure online safety for your kids.
View calendar events and access saved notes.
View WhatsApp activity, read messages, and check contacts.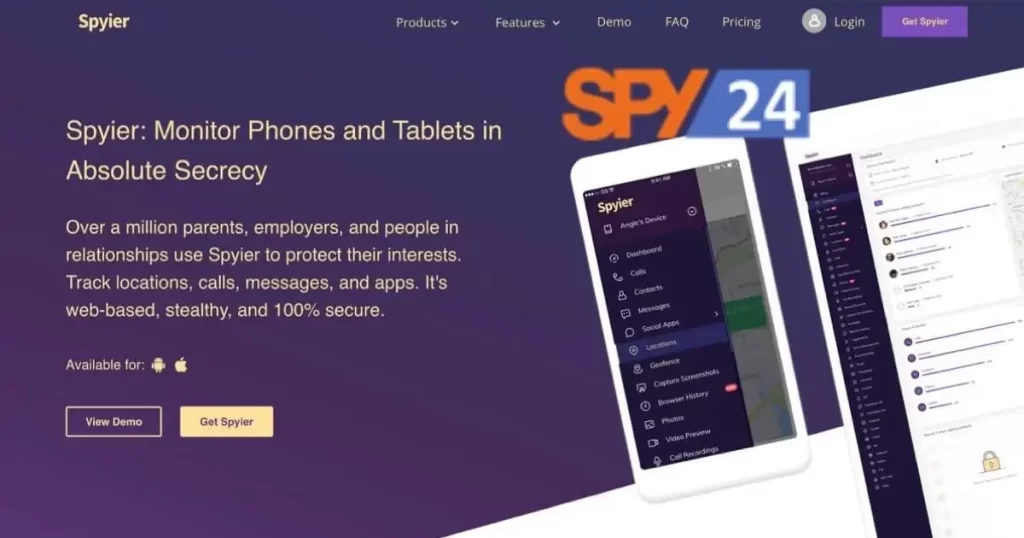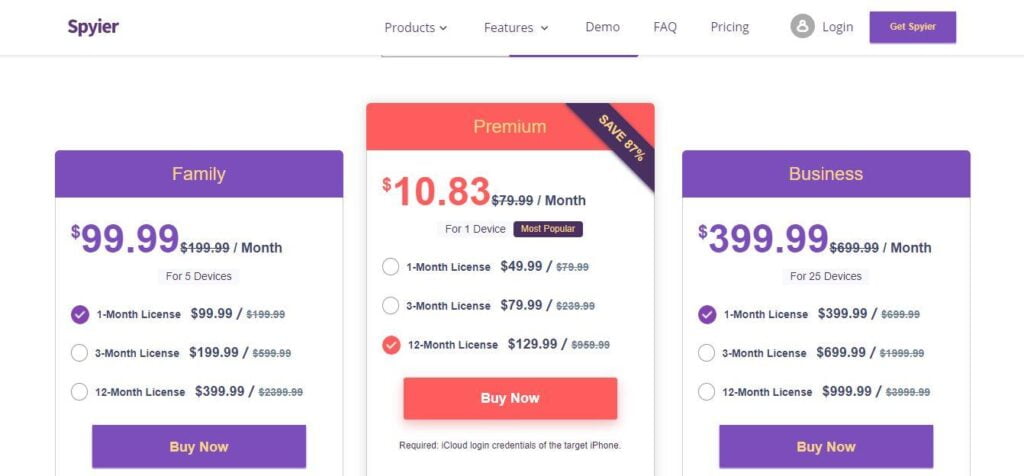 10. Spyic - Advanced Features and Compatibility
Spyic is an iPhone monitoring app that operates discreetly and anonymously, ensuring your target remains unaware of your surveillance. Keep tabs on your child's online activity or monitor your employees' work devices with this easy-to-use app.
Features
Compatible with all iOS devices running version 7 and up; no jailbreak required.

Set up Spyic quickly and easily without any app downloads.

Get real-time updates on the location of your target device and set up geofencing to receive alerts.

Monitor SMS and call logs, view social media activity, and check the target device's installed apps.

Review all photos and videos saved on the target device.

Spy on LINE and WhatsApp chats and browsing history, calendar events, and notes.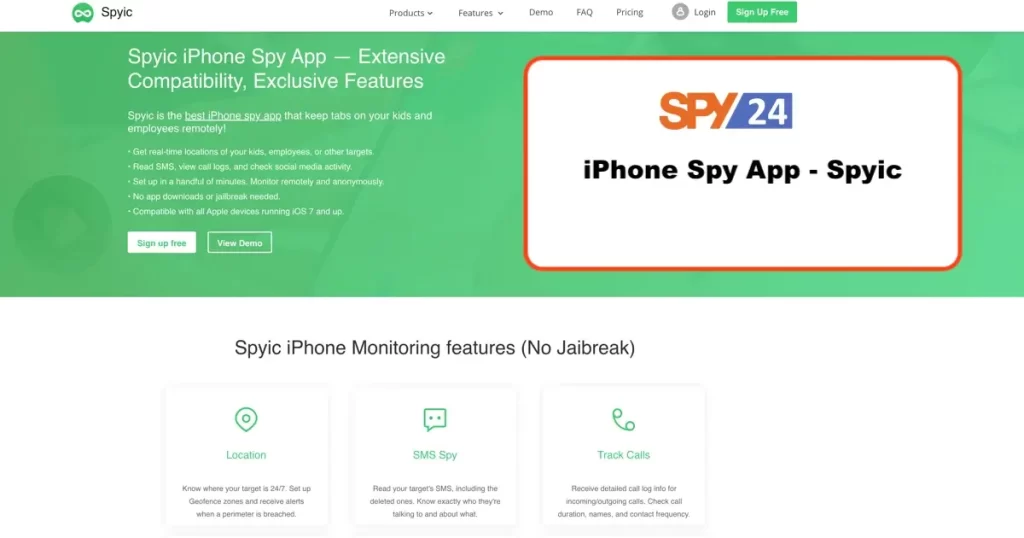 iSpyoo is a comprehensive mobile spy app that offers a range of powerful monitoring features to keep tabs on anyone's smartphone activity. The app is compatible with iPhone and Android devices, making it an excellent choice for parents, employers, or anyone who needs to monitor someone's phone usage. With iSpyoo, you can track the phone's GPS location, spy on SMS and call logs, view contacts, monitor social media activity, and even record media files. Additionally, the app enables you to track email activity, providing a complete picture of the user's online activity. iSpyoo is a versatile and user-friendly spy app that offers a powerful solution for monitoring phone usage and keeping your loved ones safe.
Website: https://ispyoo.com/
If you're searching for one of the best iPhone spy apps available, SPYERA is worth considering. This powerful monitoring solution provides a wide range of features to track phone usage and the ability to monitor computers and tablets. While payment options have some limitations, the app is quick and easy to install, taking less than four minutes to set up. Additionally, SPYERA offers unique perks like cloud-based monitoring, making it a standout choice for those needing reliable phone monitoring.
Website: https://spyera.com/
As one of the top spy apps available for Android and iOS, iKeyMonitor provides a comprehensive solution for monitoring and tracking mobile phone activity. With a range of features, the app allows you to monitor text messages, calls, web history, and chat messages on popular apps like WhatsApp and Facebook. Additionally, iKeyMonitor can track GPS locations and set up geofencing to ensure safety. The app also offers control options, including scheduling to limit screen time, blocking specific apps or games, and setting up time limits. Email alerts can be set up to track exact keywords and notify you when they are triggered.

Website: https://ikeymonitor.com/
14. Highster Mobile
Highster Mobile is an iPhone and iPad monitoring app that provides an easy and efficient way to track device activity. With Highster Mobile, you can access texts, calls, GPS location, and social media activity without having physical access to the phone. The app also boasts a no-jailbreak feature, meaning you don't need to jailbreak the phone to install the app. Highster Mobile requires only a one-time payment, and users receive free lifetime upgrades. It's compatible with all iPhone and iPad models, making it a versatile monitoring option for iOS devices.
Website: https://highstermobile.com/
15. Hoverwatch
Hoverwatch is an exceptional hidden spy app designed for both employers and parents. The app offers several valuable features, including GPS location tracking, call audio, and social media monitoring, making it one of the best spy apps for iPhone. It is available in a free version, which is still effective compared to other free spy apps for iPhone. The app can detect SIM card changes automatically and works on Android, iOS, macOS, and Windows devices. 
Website: https://www.hoverwatch.net/ 
16. SpyPhone
SpyPhone offers a range of features for monitoring and controlling mobile phone usage. One of its key features is GeoFencing, which allows you to set boundaries for your family and receive alerts when they leave the designated area. The app is compatible with Android and iOS phones and is free. Additionally, a corporate version available can support up to 100 users. SpyPhone also tracks GPS location, contacts, and installed apps on the phone, and offers a panic button and lost phone feature for added security. You can access your personal control panel anytime to view your data.
Website: https://www.spyphone.com/
17. eyeZy
For budget-conscious parents seeking reliable spyware, eyeZy offers multiple plans to fit different needs and budgets. Before purchase, customers can enter their device's model number on the app website to confirm compatibility. This app monitors keystrokes, social media, device media, calendar, call history, and text messages on the targeted device. With a range of plans available, eyeZy caters to everyone's unique requirements. 
Website: https://www.eyezy.com/ 
18. KidsGuard Pro
KidsGuard Pro is an efficient spy app with comprehensive features to track your child's smartphone activities. It allows parents to read text messages and monitor chats on social media apps like WhatsApp, Skype, and Discord. The app also enables you to track your child's location, check their call logs and meetings, and even record phone calls and surroundings without detection. You can also check the search history and keystrokes of your child's online activities. Moreover, you can set up keywords to get alerts whenever your child types sensitive content. The app is entirely safe and undetectable, and there's no need to root or jailbreak the target phone to use it.
Website: https://www.clevguard.com/
19. Cocospy
Cocospy, an iPhone spy app, stands out for its user-friendliness and ease of installation. Within 5 minutes of setup, you can access a simple dashboard to monitor the target device. Despite its simplicity, Cocospy boasts a wide range of features. You can track the GPS location, read both incoming and outgoing SMS and iMessages, even deleted ones, and monitor multimedia and audio files shared with the target phone. Additionally, Cocospy allows you to watch social media chats, including less-known platforms. You can also access the calendar and contact book of the monitored device for a more comprehensive overview of the user's activity. The app provides access to the phone's file storage, gallery, and keylogger. 
Website: https://www.cocospy.com/ 
20. TeenSafe 
TeenSafe is a superior spy app for iPhone, which boasts advanced features and an impressive design. There are several reasons why TeenSafe stands out from other spy apps:
• There's no need for jailbreaking or installing any apps.
• TeenSafe can be set up in five minutes, and iPhone monitoring is immediate.
• It supports all iPhones and iPads, regardless of their iOS versions.
• Over 35 features can be used without jailbreaking the device.
• The iPhone can be monitored without detection. 
Website: https://teensafe.net/
21. Spyrix
The Spyrix Viewer app allows you to effortlessly view logs from your mobile device without visiting the website every time. It is also available for installation on iOS devices. This user-friendly application lets you conveniently monitor the logs of the tracked computer and remotely adjust program settings. You will have access to all the same features as your online account on the website.
Website: https://www.spyrix.com/
22. WebWatcher
WebWatcher for iPhone is helpful for parents who want to monitor their children's activities on their mobile devices. This application records various features, including SMS and texts, deleted texts, photos, call log history, GPS location, website history, and app usage. With no lockouts or Jailbreak required, parents can discreetly and tamper-proof monitor their children's activity remotely from any device, thanks to the app's compatibility with iOS 6.0 or later. Users can view the activity from the iPhone app and web user interface. The tool is also compatible with popular messaging apps like Tinder, WhatsApp, Kik, and Viber.
Website: https://www.webwatcher.com/
23. Mobistealth
Mobistealth is a top-notch spy app for iPhones that is affordable, user-friendly, and designed to operate in stealth mode. The app provides multiple monitoring features for iPhones, such as tracking social media messages and monitoring data usage. Although its features are not as extensive as other apps, it is affordable and easy to use. The only disadvantage is that no trial period is available, meaning users have to pay upfront. A trial period would be helpful for potential customers to try out the app before purchasing it.
Website: https://www.mobistealth.com/
24. Spymaster Pro 
Spymaster Pro is an iPhone spy software that allows you to monitor the activities of the target iPhone from a remote location. It is a user-friendly tool that requires no physical access to the target iPhone. You can track the target person's call logs, GPS location, web history, WhatsApp, SMS, photos, Instagram, Viber, Facebook Messenger, Snapchat, Hangouts, and phonebook details. The best part is that you can do all this in a hidden mode without letting the target person know they are being spied on. With Spymaster Pro, you can easily monitor the mobile activities of your teens, significant other, or any suspicious person.
website: https://www.spymasterpro.com
25. FoneMonitor
FoneMonitor is a top-rated iPhone spy app that offers a comprehensive range of features. Unlike other spy apps, FoneMonitor doesn't require you to jailbreak the target iPhone. It enables you to track an iPhone remotely and instantly without touching the device at all. FoneMonitor works with all iPhone and iPad models, and it's completely stealthy, ensuring that you won't get caught.
FoneMonitor's iPhone spy features are impressive, including the ability to track the live and recent location of the user, read all SMS and iMessages, check call logs, monitor and restrict access to installed apps, view pictures and videos, monitor LINE messages, track website history, view the calendar, and monitor WhatsApp messages and group chats. FoneMonitor is ideal for parents and employers who want to watch their children or employees, respectively.
Website: https://fonemonitor.co/
26. TheTruthSpy
TheTruthSpy App has over 15 spying features that you can use to monitor a phone. One such feature is the GPS tracker that lets you view a phone's location on Google Maps in real-time. The app also tracks SMS messages and call recordings and monitors social media activity on platforms like WhatsApp, Facebook, Snapchat, and Viber. Additionally, you can record surrounding audio, monitor browsing history, access multimedia files, and review contacts saved on the phone. 
Additionally, FoneMonitor provides a keylogger function that logs all keystrokes on the phone and a spy call function that allows you to monitor incoming and outgoing calls, call duration, missed calls, and contact information. You can easily manage these features from the app's free control panel.
Website: https://thetruthspy.com/ 
Top Features to Look for When Choosing a Spying App
When choosing a cell phone spying app, there isn't a one-size-fits-all solution, as it depends on your specific goals. Some users may require full access to all the information on a person's mobile phone. In contrast, others may only need to track their location for an overall understanding. Based on popular features among users, here are some recommendations:
Look for a GPS tracker to spy on the phone's location.
Access to text conversations through messengers such as WhatsApp, Facebook Messenger, and Instagram is necessary.
Social media browsing via spy apps can reveal valuable information.
Remote control of phone settings is essential for parental control and other features of a mobile spy app.
Access to media files such as videos and photos from the device's gallery is essential.
Another valuable feature is a keylogger that logs everything typed on the targeted device.
Make sure the app has a stealth mode for discreet and anonymous monitoring.
Are iPhone Spy Apps Safe to Use?
Regrettably, the iPhone spy app market is flooded with poor quality and even scam apps, just like many other digital tools available today. Some apps make false promises of certain features or even sell your private information to third parties for their gain. However, you can rest assured that our 26 Best iPhone Spy Apps differ.
Our recommended spy apps are known for their exceptional security and reliable reputation in the parental monitoring and spy app industries. To be extra specific, we suggest checking out customer reviews or taking advantage of free trials and demos before making any commitments. Don't risk your safety with untrustworthy apps; choose a safe option like SPY24.