Spy App
How to Read My Girlfriend's WhatsApp Messages Secretly?
WhatsApp is one of the most prevalent messengers utilized for day-by-day contact, especially for personal conversations. It may be a speedy and free way to text or call some person in a matter of seconds. Even though the app gives an awesome way for compelling communication, it has a few dangers associated with security and cybersecurity.
Well, WhatsApp, though an incredible innovation of its time, moreover made several issues like trust issues. A parcel of data is traded through WhatsApp and perusing others' WhatsApp messages can uncover some secrets.
Like any other social media, WhatsApp made it much simpler for cheaters to communicate without the information of their partners. Other than that, regarding cybersecurity, children and young people are under the modern threat of being assaulted by cyber criminals.
Whether you're a cherishing spouse or a caring partner and you wonder how to read your girlfriend's WhatsApp messages there are ways for you to spy on WhatsApp accounts to see the truth and keep a circumstance under control. Fortunately, technology has permitted confirmation to go much further than just trying to find lipstick on one's shirt or tuning in at keyholes.
What is WhatsApp Spy App?
WhatsApp Spy Tool is a program that assists you to track all the approaching/ active phone calls, SMS, and GPS areas of a particular Android device. It moreover permits you to track WhatsApp, Snapchat, Facebook, Twitter, etc.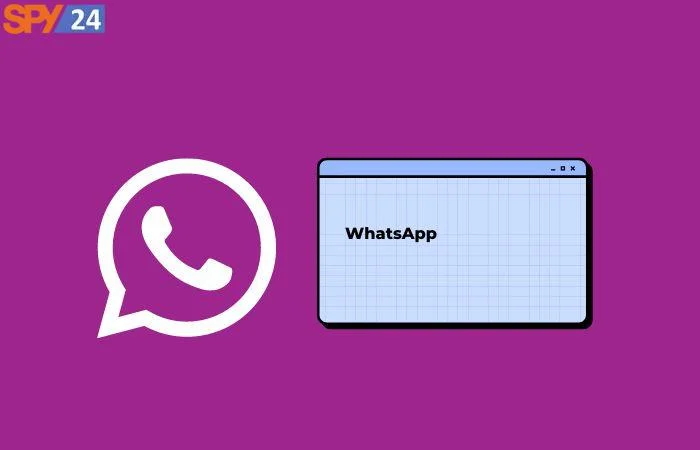 These apps moreover offer an exact and exceedingly strong GPS tracker that permits you to track the real-time area of your children or your spouse's phone.
If "How to read my girlfriend's WhatsApp messages?" is your question, don't miss this article.
WhatsApp Spy Tools: Typical Features
Enlisted underneath are a few common features of prevalent WhatsApp spy tools:
 1. Screen WhatsApp Chats without Getting to the Target Phone
The first common feature of the well-known Spy Apps is that they permit you to spy on WhatsApp messages without the target phone. Whether it is your partner's or your child's smartphone, you cannot continuously get to it without the mindfulness of others.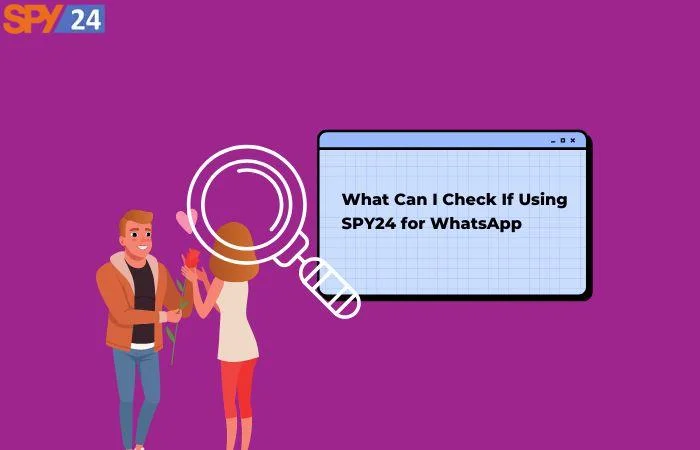 What is more, in most cases, individuals tend to set access passwords to make sure that the truth is private. Thanks to spy apps, you'll be able to get to the required account through a personal account on an enlisted app and effortlessly spy on WhatsApp messages without a target phone. In most cases, it could be an exceptionally quick procedure and gives up-to-date checking.
2. WhatsApp private chat
One of the qualities that most well-known spy apps have – they provide you get to another person's WhatsApp private chats. You'll be able to see who a sender or a recipient is, read the content of a message, and, indeed more, get to all the media being sent and received.
Get to private chats to see whether your partner is cheating or whether your kid got to be a target of cyberbullying. Private chats can be utilized for distinctive purposes, beginning with blameless "Good Night, my sweetheart" and finishing with sexting and sending other sorts of improper content.
However, thanks to the spy app, you'll be able to make sure that your partner or your kid sends and gets only suitable content in their private chats.
3. Spy on all the incoming and outgoing calls
In expansion to private chats, you'll be able to get all the approaching and active calls. Most WhatsApp spy apps grant a chance to see not only messages but all contact data. You'll be able to see the time of a call. It is particularly useful, considering that ordinarily, cheaters prefer calls as a way of cheating to make sure that there's no proof left.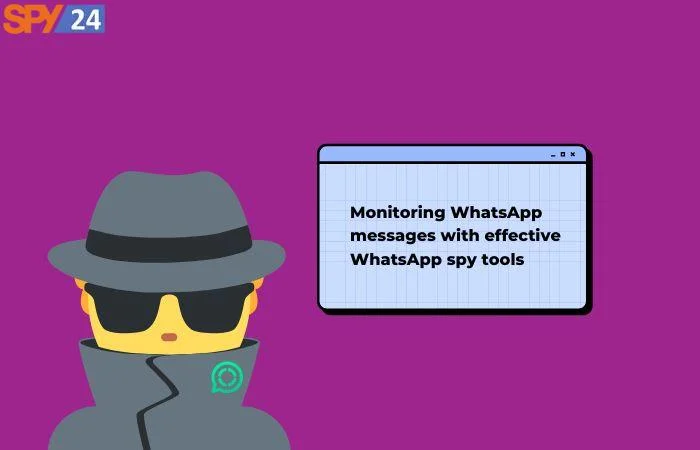 Be mindful of the truth that regularly cheaters utilize fake contact names. Therefore, by checking how regularly your partner talks with someone and whether he or she does it with you adjacent, you'll be able to find a potential lie much easier.
4. GPS Tracker
As an extra reward, most spy apps moreover permit you to get to the feature of tracking one's GPS area. Subsequently, you'll be able to know where your partner or your kid spends an evening and whether he or she tells you the truth.
Why might you like a tracker? To begin with, for your child's security, a GPS tracker permits you to remain calm by knowing where your child is present. Indeed, when your kid is at school, you cannot be 100% sure that he or she is there and is secure. GPS tracker instantly tells you where your child is presently and informs you about any changes in his or her location.
As far as following your spouse's area is concerned, this feature is particularly significant whenever you experience issues in your connections or feel that your partner doesn't tell you the truth. You can never make sure that he or she is really at work or a firm meeting right now.
However, with the GPS following feature, you'll see whether your questions are sensible.
List of the best WhatsApp spy apps for Android
Here is a list of well-known WhatsApp spy tools:
SPY24
SpyBubble
XNSPY
uMobix
Cocospy
MobileSpy
Hoverwatch
eyeZy
ClevGuard
Spyzzz
Let's review these WhatsApp spy tools:
1. SPY24: Best for WhatsApp following as well as parental control.
SPY24 is a smartphone tracker and checking tool. It has the capability of obtaining an enormous sum of data from a target device. It can track GPS areas. It'll let you screen WhatsApp messages, media records, and calls.
You will be able to screen the received as well as made calls. The app offers more than 30 checking features counting Keylogger, Geo-Fencing, Web History, etc.
SPY24 is simple to utilize; just purchase, install & set up, and begin following. It is consistent with iOS and Android devices. It underpins the observation of a parcel of communication apps such as WhatsApp, Snapchat, Telegram, etc.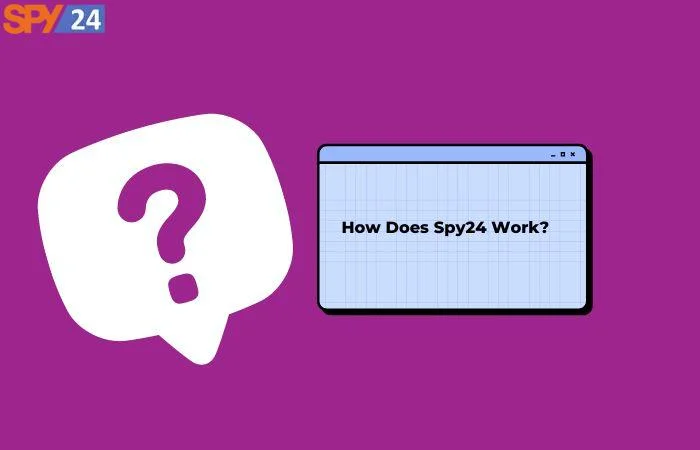 Features:
You can record calls and tune in subtly to the discussions held on the target phone.
You can remotely control your target device's camera, receiver, GPS area, and more.
It works with all main mobile conveyances, counting AT&T, T-Mobile, Verizon Remote, and Sprint, among others (depending on conveyance)
Pros:
The live location following feature.
It allows you to encrypt and secure your information.
It assists you, spy, on WhatsApp messages on your partner's cell phone without getting detected.
Multiple levels are accessible depending on your needs.
Cons: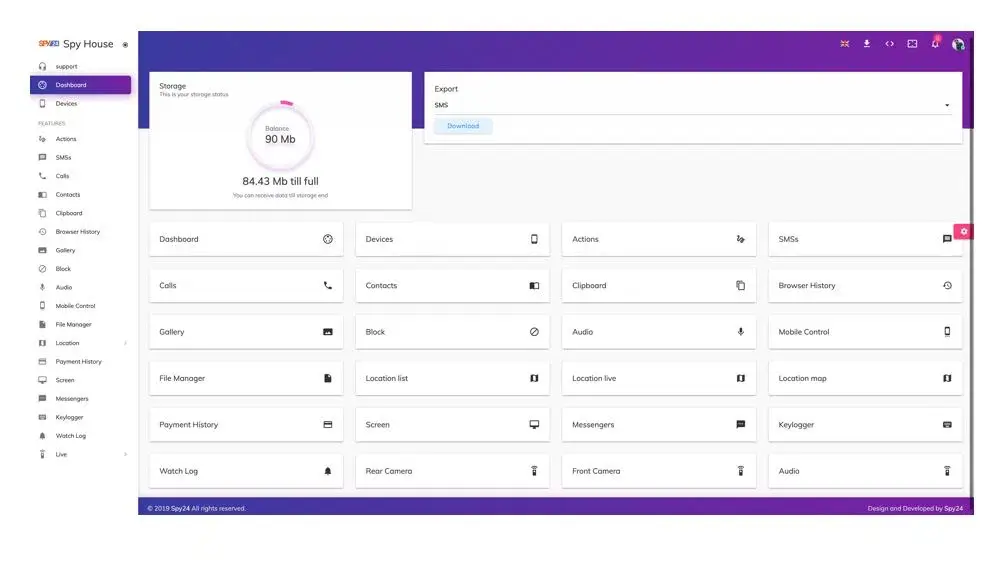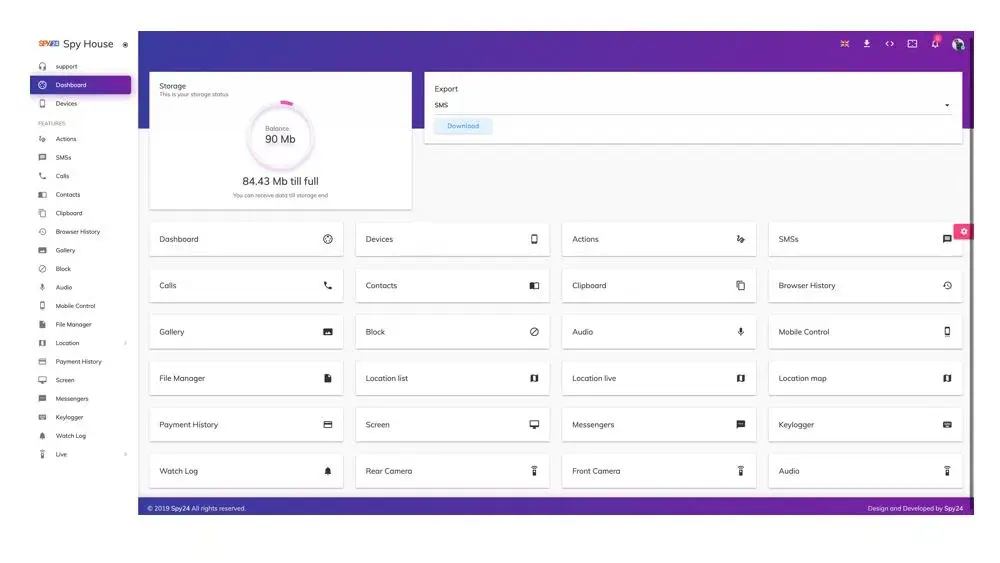 SPY24 Install application free The Most Powerful Hidden Spying App to Monitor Android, IOS Cell Phone & Tablet Device Remotely. Best Android Parental Control App for Kids & Teens Online Safety.
Now take the liberty to monitor Android, and IOS devices with exclusive features better than ever before Monitor all Voice & Text Messages Communication records, Listen to & Watch Surroundings in Real-time Unleash Digital Parenting with Android, IOS Spy App Spy (Surround Listing & Front/Back Camera Bugging) IM's VoIP call recording on Android OS 13 & above With 250+ Surveillance Tools at your fingertips using Android Tracking & Parental Monitoring Software.
---
2. SpyBubble: This is Best for reviewing whether your partner is cheating on WhatsApp.
SpyBubble is an app outlined particularly for WhatsApp and other free messengers. With this spying software, you'll be able to effectively get to the Android/iPhone smartphone of your boyfriend or girlfriend. You'll be able effortlessly to check not only messages but all the interactive media your spouse shares and receives.
The App goes above checking what is on one's account. Much appreciated to SpyBubble's extraordinary advances, you'll be able even to check all the messages that were erased from a smartphone that you screen. Your partner might need to erase a few discussions to remain secure, but you'll get to them easily through SpyBubble's control panel.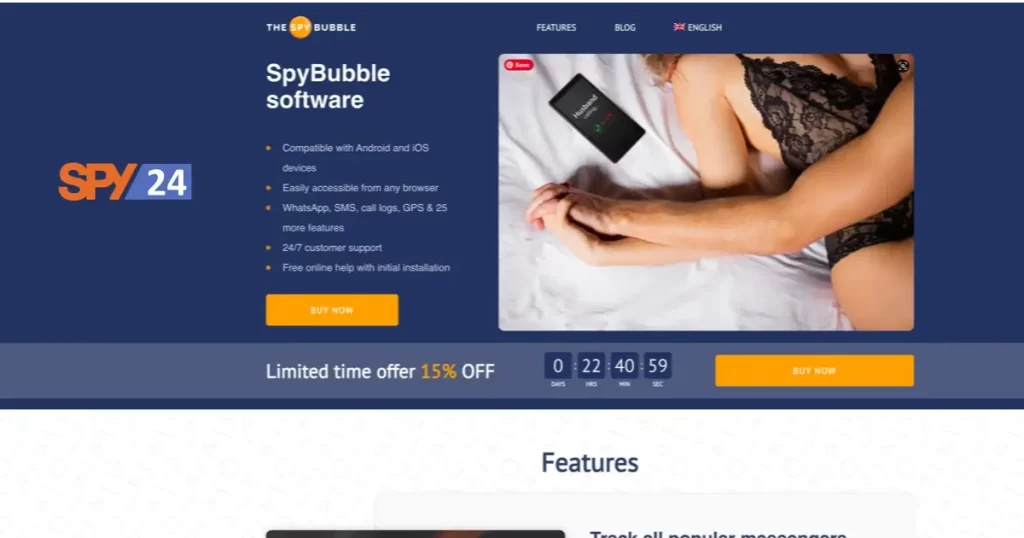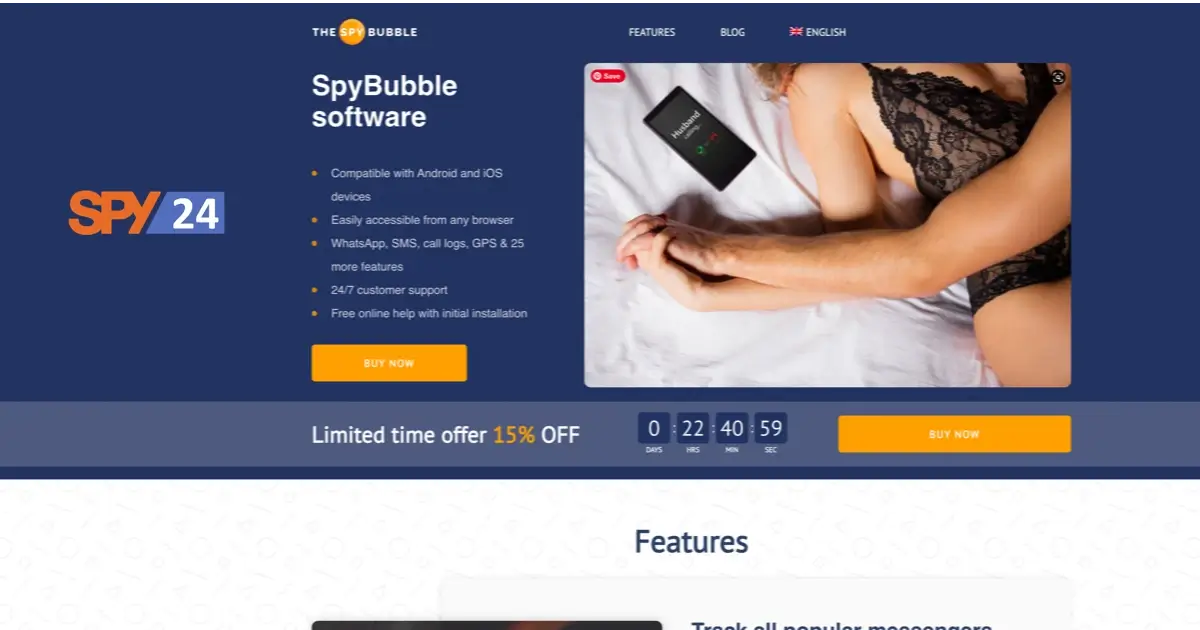 Select any helpful way for data checking – your smartphone, tablet, or any other device. The following features go beyond what you may envision, and you'll be able not only spy on WhatsApp but other social media accounts too.
It can completely answer your question about "how to read my girlfriend's WhatsApp messages."
Features:
The installation procedure of this spy app is exceptionally simple and doesn't request specialized knowledge.
Spy on all sent and gotten messages.
Pros:
Tracks erased WhatsApp messages.
It is automatically upgraded on your partner's phone.
It assists you to track all the YouTube activities and mobile apps utilized.
It is one of the most excellent Android spy apps for recognizing any contact list changes.
 Cons:
Unable to store recordings and calendar info.
3. XNSPY: Is Best for effectively checking all erased discussions on WhatsApp.
XNSPY is another app that permits you to track a partner's or kid's whole WhatsApp activity on any Android device. The app offers a few functions.
 First, you'll be able effortlessly to screen all the chats on WhatsApp, see the date and time of a message, view the out-coming and approaching calls, and get to all the media sent and received. Simply download the app on the device which you need to screen and begin spying.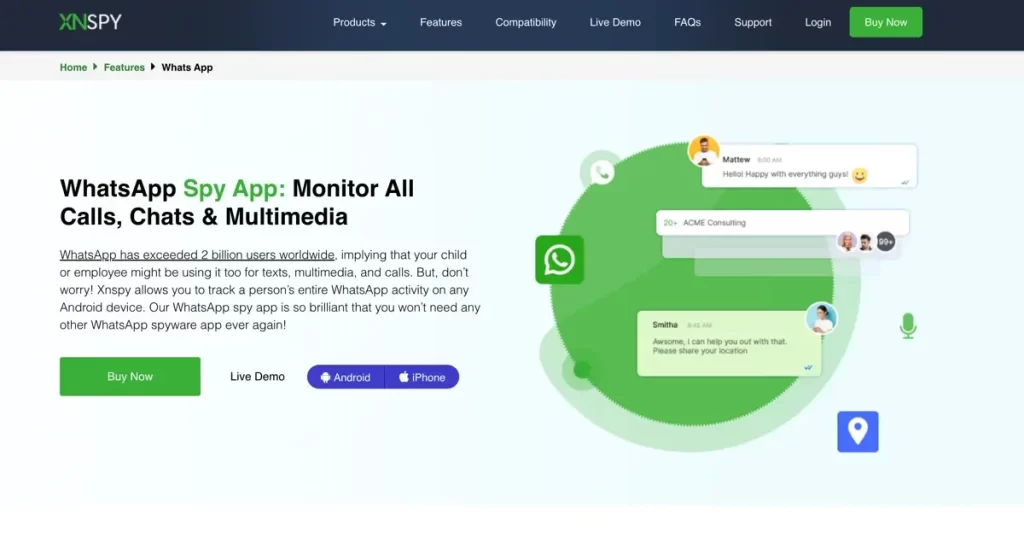 Features:
This WhatsApp spy app assists you to record and tune in to your spouse's phone recordings.
You can check your spouse's area on the map.
Supports Android, iPhone, and macOS.
Pros:
You can recover the message erased by the target device.
It offers advanced features like keylogging and geofencing.
Read and see WhatsApp chats and WhatsApp calls.
XNSPY offers profitable after-sales support, which may be accommodating customer support.
Cons:
Xnspy does not support checking on individual computers.
4. uMobix: Is Best for caring parents
The first app that's utilized broadly to spy on WhatsApp is called uMobix. This capable following app permits you to see what happens on your kid's WhatsApp account in real-time.
It will allow you to get to all messages your kid receives and sends. You'll be able to check the names of all individuals from your child's contact list to make sure that he or she is engaged in secure discussions. You'll moreover peruse not only private discussions but moreover gather chats, and see all the media your child exchanges through the app.
Do you ponder whether your child sends private photos or areas for somebody? The app assists you to avoid cases of actual cyberbullying, sexting, and other advanced perils that will influence your child.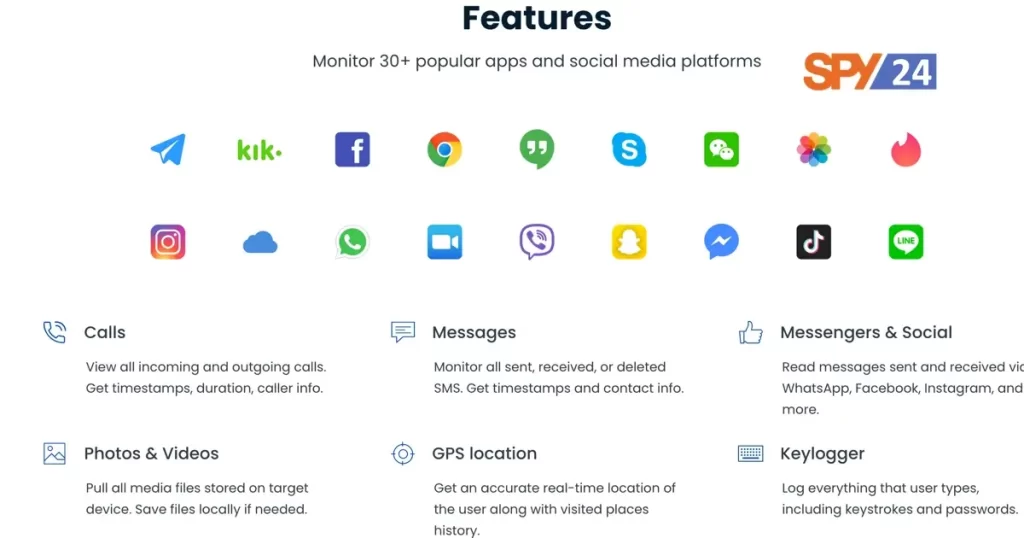 Features:
check and track all the devices you own from a single dashboard.
Use the built-in browser history following to reveal any suspicious behavior.
It is one of the leading WhatsApp spy apps that permits you to get to the photos of a specific device.
Monitoring WhatsApp features are accessible on both iOS and Android.
Observe your children as they go online to guarantee they're safe.
 Pros:
Monitor all sent, gotten, or erased WhatsApp messages.
Reach timestamps and contact info.
uMobix may be a mobile app that permits you to see all approaching and active calls and view the user's area at all times.
Provide the precise real-time location of the user with the gone-by place's history.
Cons:
It offers restricted features on the essential plan.
One membership is constrained to one device only.
5. Cocospy: Is Best for Spying on WhatsApp.
WhatsApp is a difficult app to crack. Cocospy, in any case, makes WhatsApp spying simpler than it is. First of all, the app can be installed effortlessly on an iOS or Android device without any root or jailbreak needed.
 Once installed, the app will transfer each minor small detail from the target device's WhatsApp account directly to your Cocospy browser dashboard. You may be able to read all sent, gotten, and erased WhatsApp messages.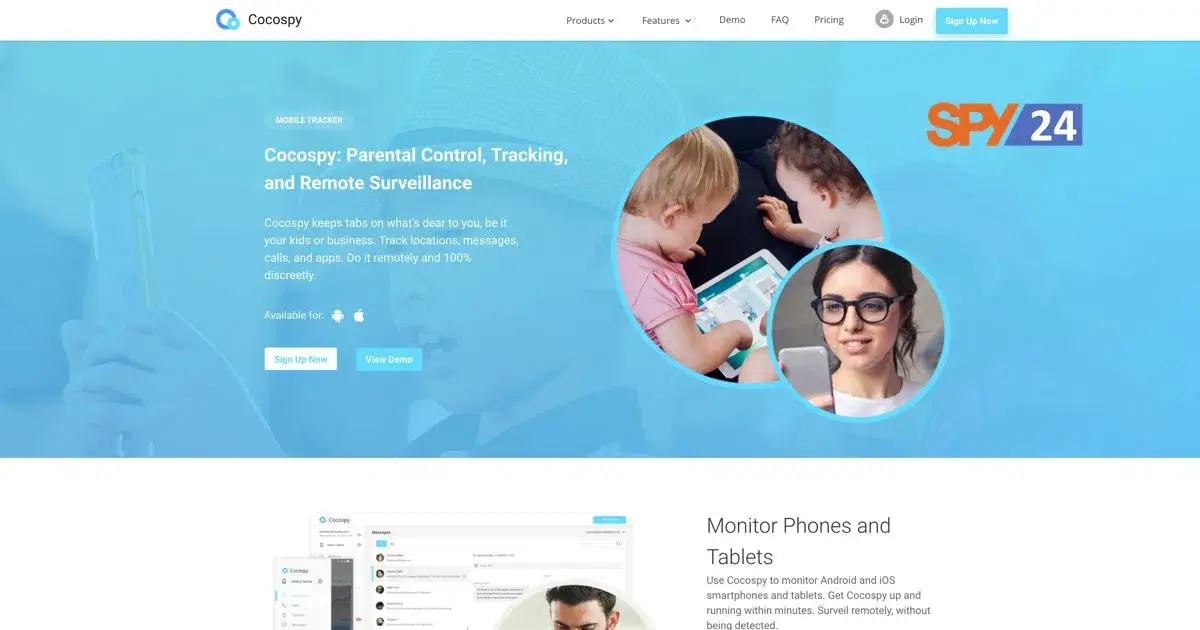 Aside from messages, you'll be able to see pictures, and recordings and tune in to sound or audio messages sent or gotten on the account.
Features:
This free spy app can effortlessly chase SMS messages from the targeted device.
It assists you to screen the WhatsApp messages of the target phone.
It permits you to get any message from your partner without opening it within the WhatsApp app or other messaging apps like Skype, Viber, etc.
It has a broad database of WhatsApp contacts stored locally for simple get-to by this tool.
It incorporates a clear user interface
Pros:
Take screenshots on your device.
Track all apps and websites on the target device, counting photographs, chat apps, and websites visited.
Back up contacts on the target device to assist you to retrieve them in case they get erased in any way.
Cons:
The checkout encounter isn't easy to use.
6. MobileSpy.at
Best for progressing phone checking features such as live get-to camera & microphone.
MobileSpy could be a smartphone spying application with advanced functionalities. It is 100% imperceptible and gives access to photos, recordings, and calls in real-time. It'll moreover allow you to undelete the messages. MobileSpy is an app to spy on everything.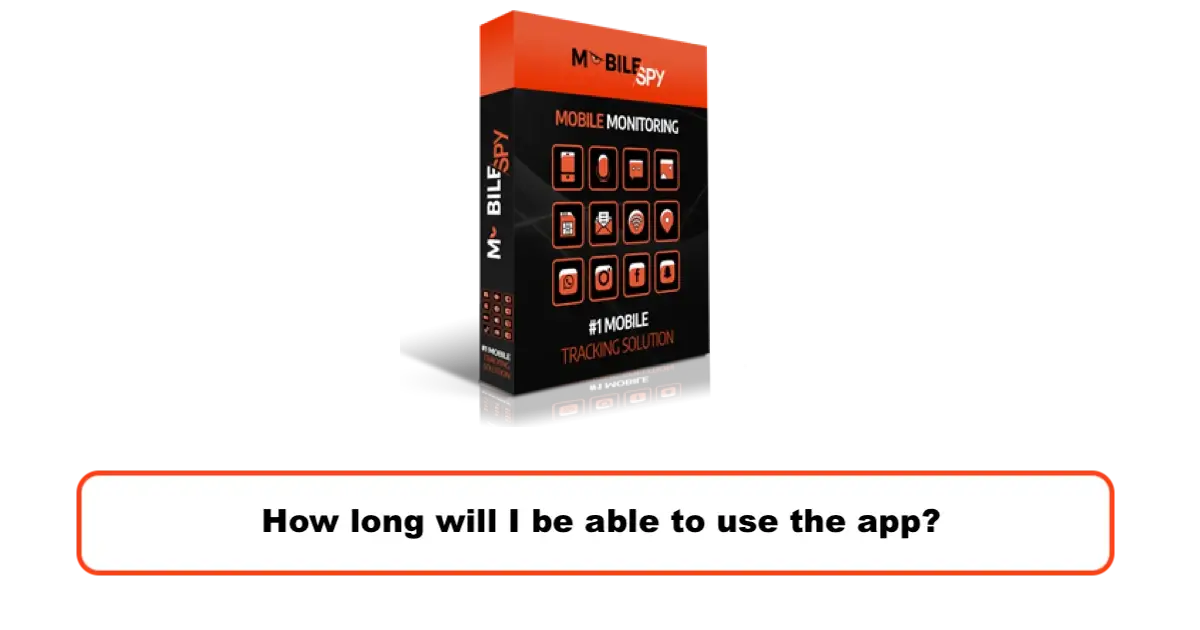 MobileSpy makes WhatsApp, Instagram, Facebook, Snapchat, etc. available. It is for parents, schools, and businesses. It is consistent with Android and iOS devices. It presents more than 42 one-of-a-kind features for checking phones in real-time.
Features:
A one-time buy. No yearly or month-to-month fees.
Monitor as numerous devices as you like.
Save discussions, photographs, and videos.
Easy notice settings and arrangements.
Track your employee's activities, counting calls and messages.
Capture photographs and recordings of the observed device.
 Pros:
This free spy app does not require any rooting.
Perfect stealth mode to go hidden.
Cons:
It offers diverse features for iOS and Android devices.
7. Hoverwatch
Best for Parental Checking Applications for Android and iOS devices.
When it comes to WhatsApp Spy applications, Hoverwatch should be one of the most modern and easy-to-use apps you'll get your hands on. The app comes stacked with over 40 features to assist you to track the number of activities happening on a targeted device through a comprehensive dashboard in real-time.
Hoverwatch is an incredible app when it comes to this fundamental question "How to read my girlfriend's WhatsApp messages."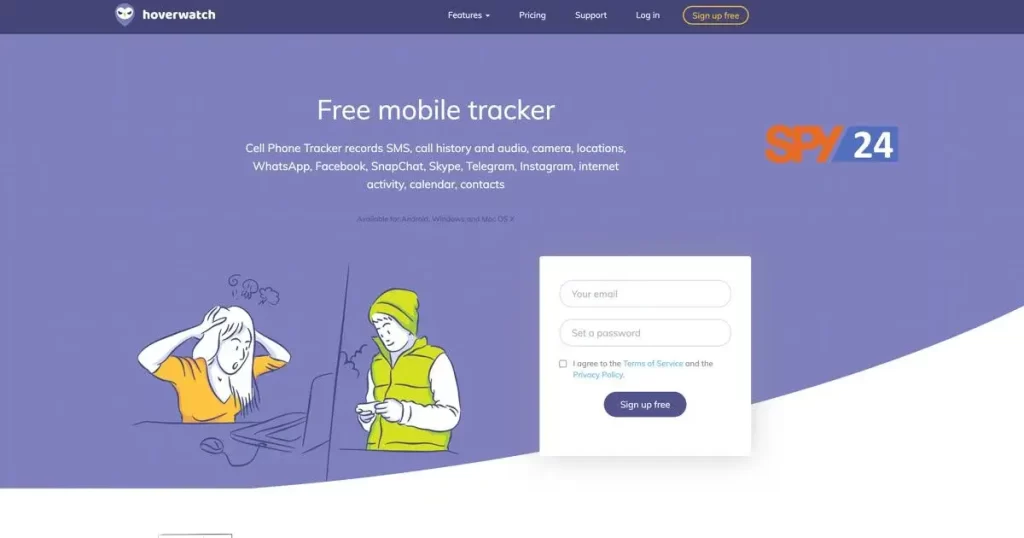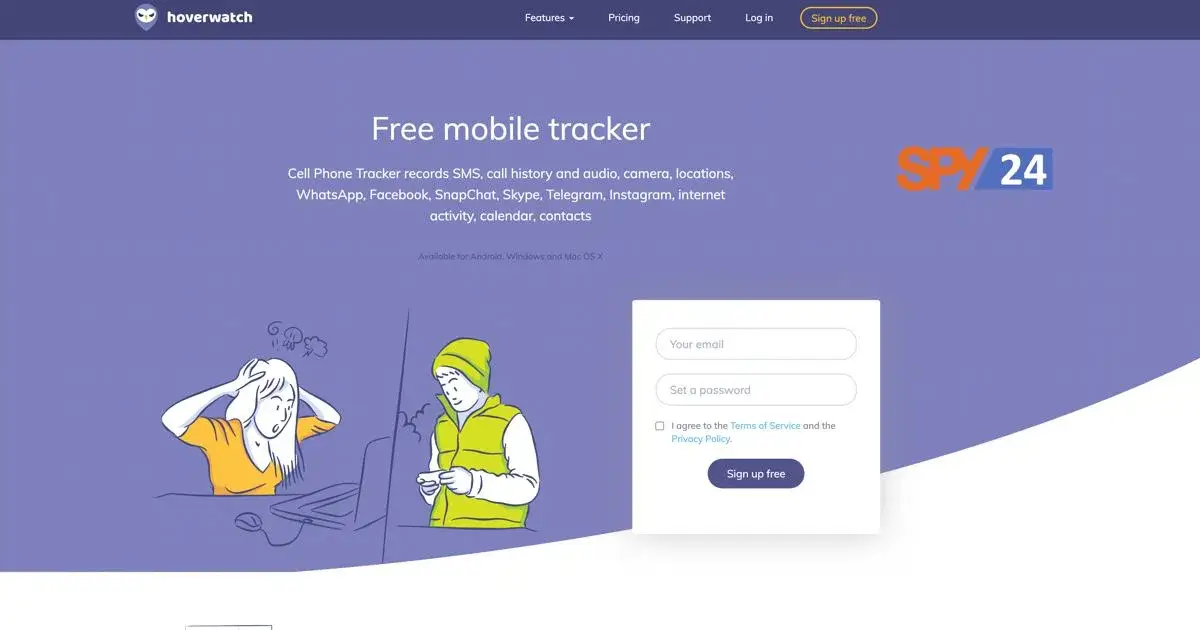 It can track all web activity that happens on your target device. You'll be able to see your web history and observe the time and date a specific location was gone by. Maybe the feature that we honor the most is the front camera photo capture. This call and SMS tracker will automatically take a photo through the front camera each time the user opens his or her screen.
Features:
Hoverwatch is an effective observing app for parents to keep an eye on their kids' activities without any bother.
It can record all calls, messages, area information, and call logs of your child's phone with one tap!
Pros:
It presents a free trial version.
It gives an area following feature in rooted phones.
The information is collected namelessly and does not contain personal data such as e-mail address, phone number, or other recognized details like name and age.
Cons:
It doesn't offer inaccessible control features within the iOS version.
8. eyeZy
Best for WhatsApp calls and message observing for parents.
eyeZy gives users a total WhatsApp spying encounter. With the app installed on your target device, you'll be able to see all shared messages, calls, and media records remotely in real-time using a comprehensive web-based checking dashboard.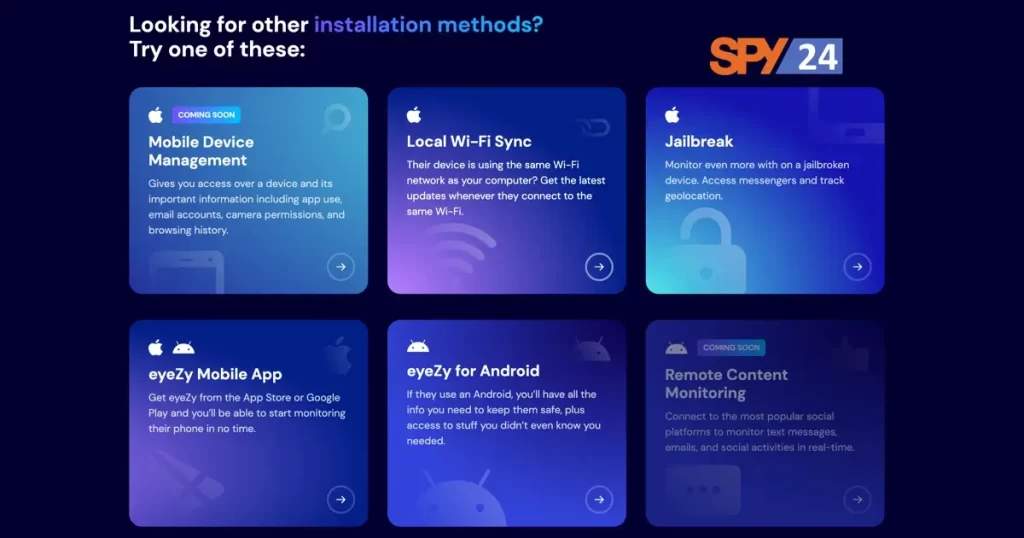 In reality, not only will you be able to see calls and messages, but you'll unearth data about the individuals that are chatting with your target device's WhatsApp profile too. With timestamps connected to each discussion, you'll learn precisely when the discussions happened as well.
This makes eyeZy an incredible app for parents, who can keep tabs on their child's actions on WhatsApp 24/7 and mediate when they notice something scandalous. Aside from WhatsApp, eyeZy can moreover be utilized to screen action on other social apps like Facebook, Snapchat, Instagram, Viber, etc.
Features:
It's an incredible way to keep an eye on your partners and their social media actions.
Keep track of all the occasions they regard, where they go, whom they encounter, and at what time by checking their phone's calendar.
It allows halting your partner from going to occasions you dislike.
Pros:
It enables you to track the precise area on an outline utilizing the GPS area efficiently.
It permits you to track progress in Wi-Fi systems analysis.
 Cons:
It gets costly for different devices.
9. ClevGuard
Is Best for parental control and checking online actions.
ClevGuard delivers an item "KidsGuard for WhatsApp" which could be a committed WhatsApp observing app. It'll let you screen more than 10 WhatsApp information like status, voice messages, chats, etc. It is congruent with all Android devices. It runs in stealth mode and gives information in real-time.
 KidsGuard WhatsApp has a web dashboard and makes all sorts of WhatsApp information available. It incorporates perusing WhatsApp messages, following and recording WhatsApp calls, seeing WhatsApp statuses, etc.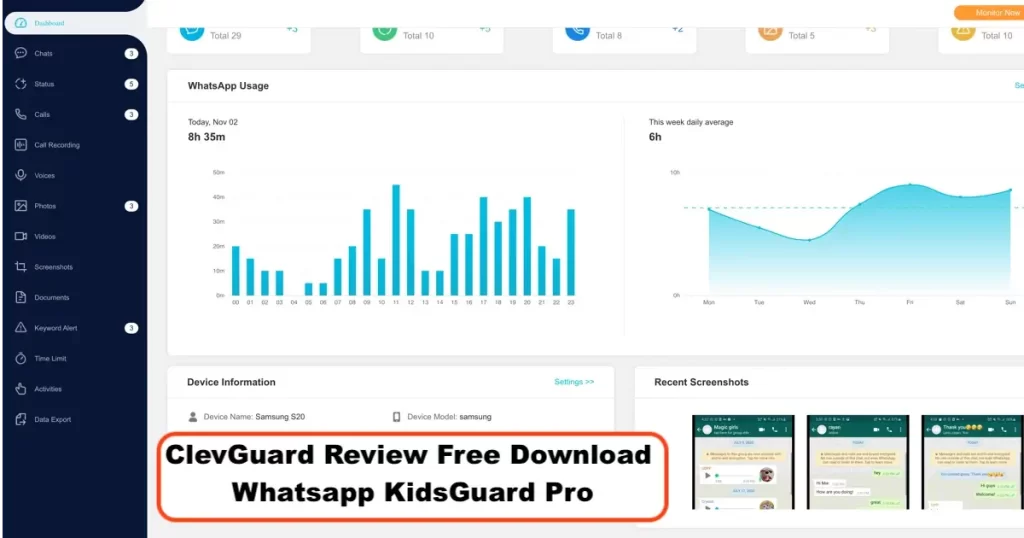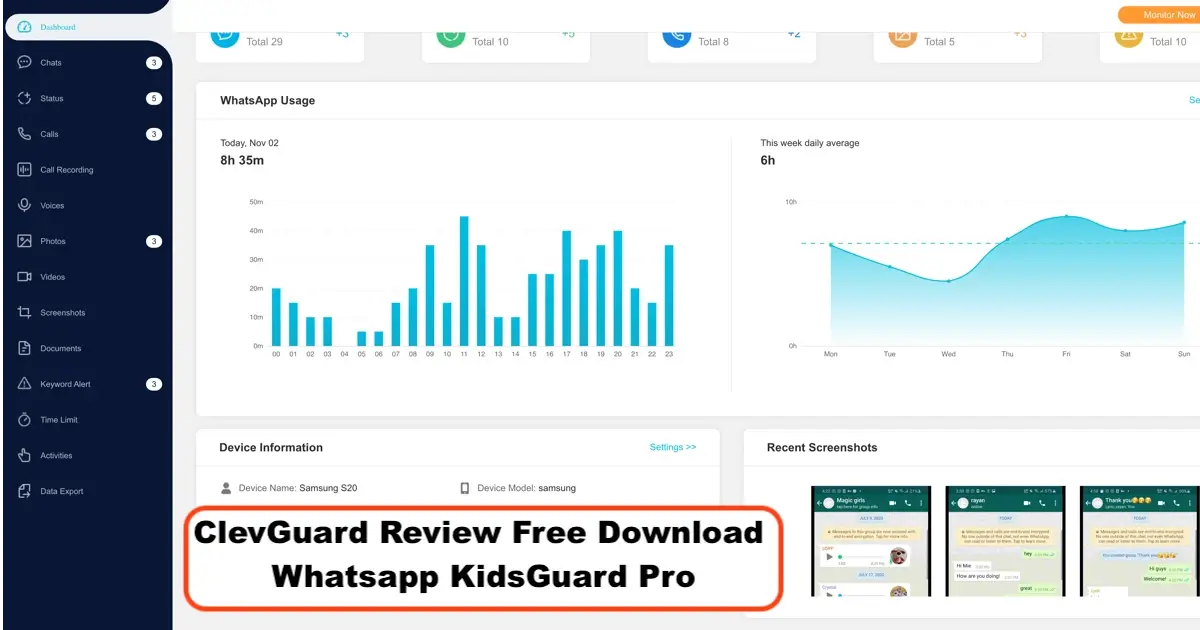 The app will let you see & spare WhatsApp photographs, recordings, and records. ClevGuard offers the feature of programmed screenshot taking that gives detailed observation of the device.
Features:
ClevGuard could be a capable and simple app to spy on your partner.
It allows you to keep your partner secure by giving you the authority to control their phone and ensure your family.
Track the area of your partner
ClevGuard is consistent with most phones and tablets.
Pros:
It offers a Multi-Language service for the app itself and customer service.
Stealth observing permits you to secure yourself from being discovered.
Cons:
It only permits you to screen one device at a time.
10. Spyzzz
Is Best for remaining mindful of your spouse's WhatsApp actions.
In case you need to spy on your partner's WhatsApp privately, Spyzzz may be an ideal alternative to select. The app was made with the initial reason of controlling and uncovering conceivable cheating on the Internet.
 The continuous consideration around your partner cheating may adversely influence both your mental and physical well-being. This app can get your spouse's messages in WhatsApp and screen all chats. In case your partner deletes all the proof, you've got time to require screenshots and show true proof in case needed.
Features:
Spyzzz is an app that allows you to oversee all approaching and active data.
It enables you to keep track of your employees, friends, or family members.
It assists you to discover a covered-up picture of a WhatsApp message from your child or employee's mobile.
 Pros:
It presents simple spying on social media apps.
It allows distinguishing all sent, gotten, or erased messages.
 Cons:
Why do You need to Spy on Your Girlfriend WhatsApp Messages?
There might be many reasons that led you to this question: "how to read my girlfriend's WhatsApp messages". Some of the causes are as follows:
 1. WhatsApp secret discussions cheating
These days, much obliged to the Web and social media platforms, it has ended up much simpler to communicate furtively with others and deceive a partner. Whereas prior, sending a message to an adored one required a parcel of steps. Presently, it is sufficient to open WhatsApp and send a message in a matter of seconds, without your noteworthy other knowing.
For unfaithful spouses, WhatsApp is likely one of the most well-known and straightforward ways to communicate subtly. Agreeing to the information, acts of cheating corrupt almost 25% of marriages and 40% of relationships. Cheating utilizing distinctive messengers like WhatsApp is indeed more severe since it's not around physical contact. Most virtual cheating includes a reliable enthusiastic connection.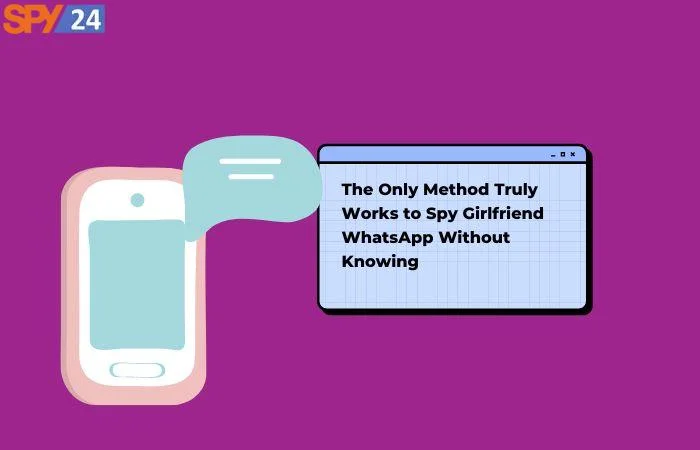 Sexting has gotten to be increasingly prevalent through messengers like WhatsApp. If you see your partner getting particularly cautious about covering up her or his phone from you and setting passwords all over, there are firm chances that he or she is keeping away from you. Sexting has moreover become one of the conceivable reasons why your sex life has changed.
If he or she sends and gets sexual content from another individual, sexual offers between you may significantly reduce. Thus, you need to get to secret conversations to discover potential cheating and illuminate the issue quickly when it shows up, without the need to hold up for months when your partner will uncover the truth.
2. Digital space for your kids. Prevent bullying
Another reason to spy on WhatsApp is to avoid your kids from cyberbullying that increments each year. Whereas the Web presents several possibilities for children, they are really at potential risk of computerized assaults. You never know when your adoring kid can get to be a target of cyberbullying.
It may happen anytime and anyplace, and you cannot control it without the assistance of extraordinary apps. Cyberbullying can happen at any time so remain alarmed and be trained for it.
The statistics reveal that nearly 60% of parents with children ages 14-18 conveyed their children were the targets of cyberbullying. In case your kid has a computerized device and already utilizes such messengers as WhatsApp, you never know when it can get to be an unsafe play.
As could be anticipated, the circumstance gets to be more severe since kids ordinarily endure in silence and never tell their parents about malicious messages, racist jokes, and other improper substances they receive.
Thus, the WhatsApp spy app can become a capable device when it comes to ensuring your child's mental and physical well-being. Even in case your kid is frightened to tell you what he or she encounters, you'll still know all the truth instantly and avoid the issue which will influence not only your child's mental well-being but moreover posture real physical dangers.
These spy apps permit you to remain mindful of all private discussions on WhatsApp to avoid your kid from bullying and solve the issue before it gets to be severe.
How to spy on WhatsApp girlfriend's phone without touching it
In case you doubt that your partner is messaging somebody other than you and you want to know "how to read my girlfriend's WhatsApp messages", there is a bounty of ways to spy on her phone without touching it. With many straightforward apps, you'll track her calls, messages, photographs, and recordings without ever having to inquire about her access.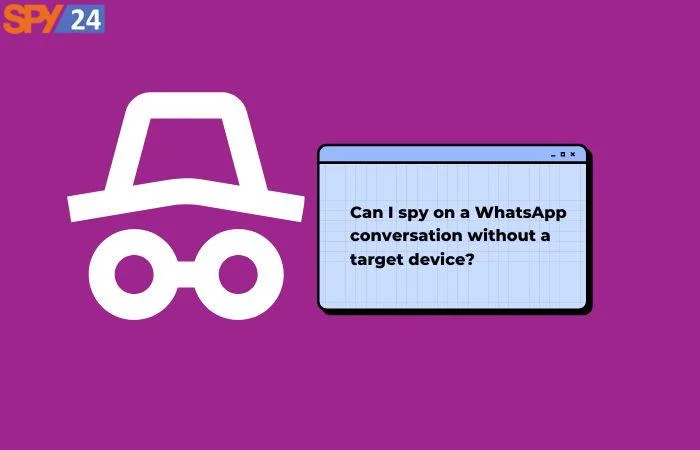 Here are five ways to spy on your girlfriend's WhatsApp messages and check what she is saying on WhatsApp without ever having to touch her phone:
1. Use a Phone Monitoring App
There are numerous distinctive phone-checking apps accessible at no cost or for a nominal expense. A few incorporate features that permit you to see which contacts your girlfriend is sending and accepting messages from, as well as which areas she's going by.
2. Track Her Calls and Texts with Call Tracker and Text Spy
Two diverse call-following apps offer comparable features for spying on your girlfriend's calls and messages. Call Tracker screens all of your girlfriend's approaching and active calls, whereas message Spy will track all of her messages.
3. View Her Photos and Videos with a Photo & Video Surveillance App
If you doubt that your girlfriend has illegal activities, like sexting or filming sexual experiences without your information, a photo & video observation app can be valuable. Since they're outlined to clear up all of her advanced photographs, recordings, and calendar passages at once, the apps are perfect for following her developments and exercises 24/7.
4. Control Her Computer & Smartphone with Remote Desktop
This may be an incredible way to discover what she's doing on her computer at home or when she's away from you. To set it up, download Remote Desktop on your device or tablet (Android or iOS).
Ways to spy on your girlfriend's WhatsApp phone
WhatsApp is an incredible messaging app that permits users to communicate with each other effectively. In any case, there are ways to spy on a WhatsApp girlfriend's phone without touching it. You'll be able to utilize different spying apps to track what the girlfriend is doing on her phone.
If you seek a solution to "how to read my girlfriend's WhatsApp messages", we must inform you that there are numerous different ways to spy on someone's WhatsApp messages without really touching the phone. You can utilize a spying app, utilize the following service, or just observe the messages in your chat history. Here's a list of the distinctive strategies and how to utilize them:
1. Spy app
The spy app is the best way to configure the problem: "How to read my girlfriend's WhatsApp messages." There are several distinctive spying apps accessible online, and most of them will let you see all the messages in a chat room as well as send and receive messages. A few of the superior-known apps incorporate WhatsApp Spy and WhatsApp Screen. Just be sure to peruse the reviews to ensure that the app is safe and doesn't spill your individual information.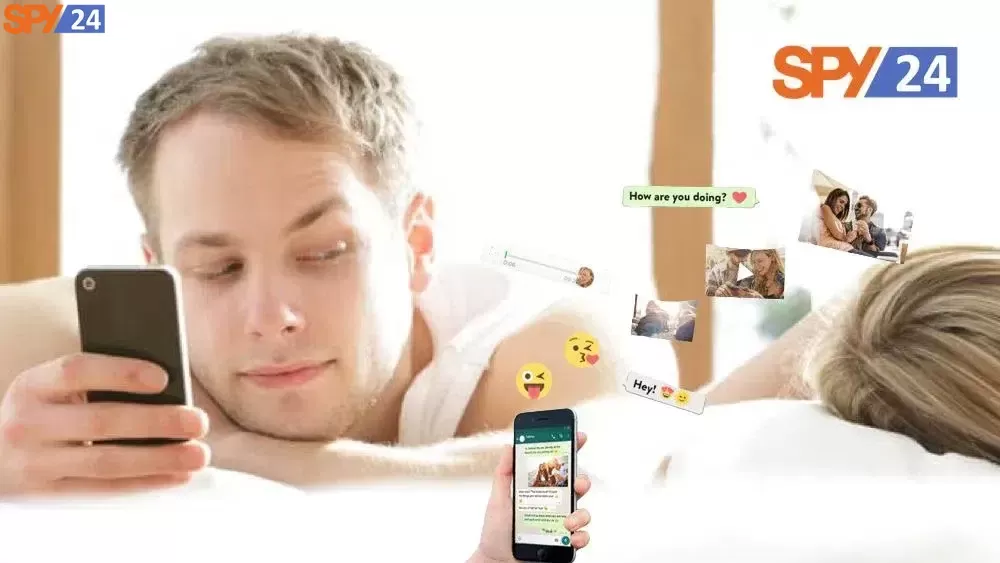 2. Use a tracking service
Another way to "read my girlfriend's WhatsApp messages" is to use the following tool. This assistance will send you mail each time someone sends or gets a message on their phone, so you'll be able to track their activities effectively. A few of the more well-known tracking services incorporate the SPY24 app and Message Tracker for WhatsApp. Once more, be sure to examine reviews before making a choice about which one to use.
Can I Spy My Girlfriend WhatsApp Messages with SPY24 App?
In case you've got a reason to peruse messages of your partner or your child, then SPY24 may be an incredible solution that will assist you to urge access to all private chats with time, date, and data around a sender/receiver.
You can get to the complete list of contacts and see any shared media, counting photos, videos, and sound records. It can get to the data via your account on the app and is accessible for download.
 SPY24 is the leading solution if you wish to spy on WhatsApp messages. It's a great tool that contains a parcel of supportive features, counting a call recording and "secret" mode. You won't be identified, and no one will know that you've begun spying on messages from WhatsApp.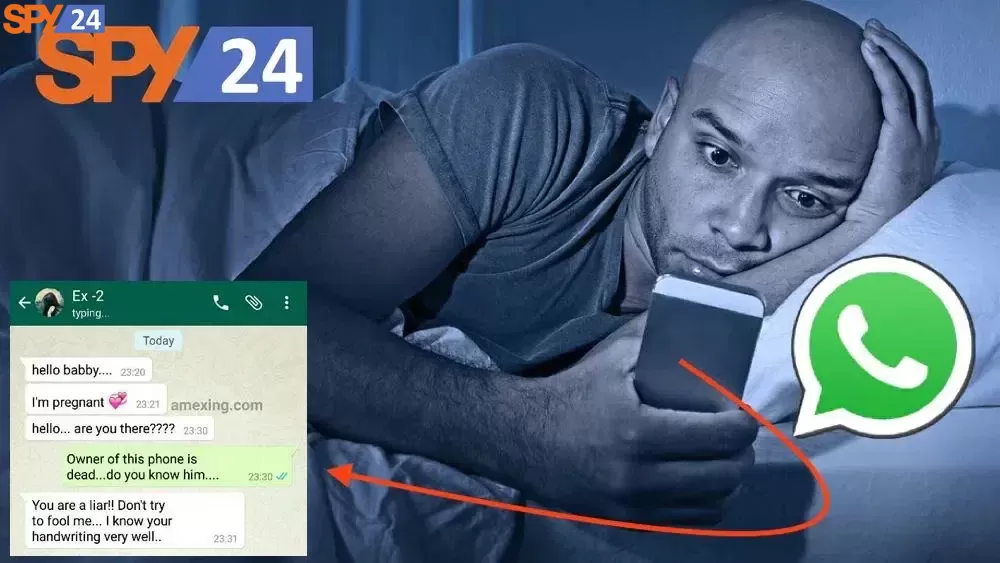 Reading someone's messages without their phone isn't difficult any longer. Utilize the SPY24 WhatsApp Spy to stay anonymous and get full data entry. This wonder app has helped many by far and many have said that I read my girlfriend's WhatsApp messages secretly and easily via it.
Conclusion
Whether you need to save your child from cyberbullying or uncover the truth about your partner cheating, WhatsApp spy apps are here to solve your issue in a matter of seconds.
If you need to spy on your girlfriend's WhatsApp and finally find a solution to the "how to read my girlfriend's WhatsApp messages" complex, there are many strategies that you can simply utilize without having to touch her phone. The primary is to install a third-party app that will permit you to see messages and pictures without having to enter your password. Another choice is to set up a covered-up WhatsApp account that only you and your girlfriend can access.
FAQs
1. Can you tell if somebody is checking your WhatsApp?
To check this, basically head to the app and tap on the three dots within the corner, then choose WhatsApp Web. In case this appears as a log-in and "currently active", then your messages are being checked and most likely examined by a user logging into your account through a browser.
2. Can somebody see my WhatsApp messages from another phone?
Please note, WhatsApp is end-to-end encrypted and messages are stored on your device, so somebody getting to your account on another device can't peruse your past conversations.
3. How can I furtively chat with somebody on WhatsApp?
How to hide a chat in WhatsApp:
Open WhatsApp and search for the chat that you need to hide.
Long press the chat that you need to hide.
Now, tap on the archive button in the right corner to hide the chat.
4. Can a person be hidden on WhatsApp?
In case you need to hide a contact, tap or select All Contacts or Contacts > WhatsApp > the contact you need to hide > > Hide Contact > Hide. If you need to unhide a contact you've hidden, tap or choose Settings > Privacy > Hidden WhatsApp Contacts.
5. How to read my girlfriend's WhatsApp messages?
Let's see how you'll check who is chatting with whom on WhatsApp and how successful they are:
Method 1: Furtively Check Their WhatsApp.
Method 2: Check Their WhatsApp Backup.
Method 3: Using the WhatsApp Web.
Method 4: Utilising a WhatsApp Monitor App.
6. How to catch a cheating girlfriend on WhatsApp?
WhatsApp empowers you to know if your girlfriend is cheating. before checking, you have got to get the phone of your girlfriend. Here, go to Settings > Information and storage usage > Storage Usage.
Here, you may see the individual who chats as constantly as possible with your girlfriend. Somebody can moreover track you while chatting with your girlfriend, so you have got to be well mindful of how to chat together with your girlfriend on WhatsApp.