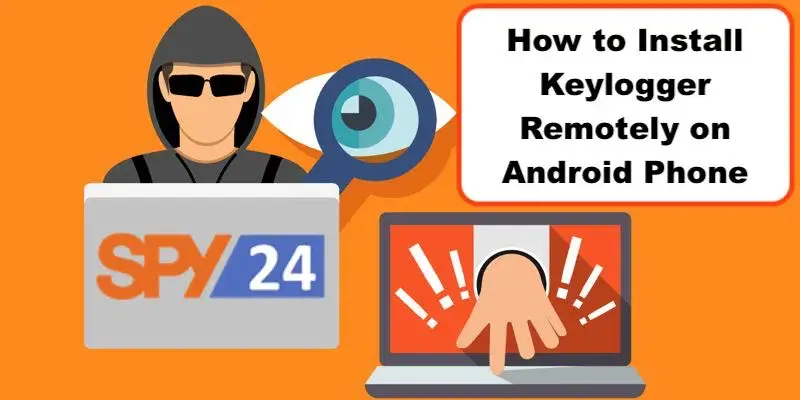 How to Remotely Install Keylogger on Android Phone: Around the world, more and more people are choosing to use remote keylogger apps. There may be a variety of reasons to install such a program on your phone. Let's find out if you can set up an Android and iPhone keylogger remotely.
How to remotely install a keylogger app on Android
You must have physical access to the target device in order to install Keylogger for Android. If the target phone or tablet belongs to your child, spouse, or any other family member, it is a simple task. Additionally, installing a keylogger on corporate devices is simple. However, many users want to be able to install a keylogger remotely without having to hold someone else's device.
We must admit that it is essentially impossible to remotely install a spy app on Android. You must gain access to a device in order to read messages or obtain someone's password. For an Android operating system, there are numerous new monitoring programs that can meet your spying needs. Asking someone to install it themselves is the only way to remotely spy on Android smartphones. Here is one possible approach:
open your account on the app of your choice's official website
Make a special installation link for the remote keylogger you've chosen
Send a link to the intended recipient via private message or email
It shouldn't be too threatening to encourage a target to click on it
Immediately after a link is activated, a remote keylogger will be installed
Your control panel notifies you that the new target device is monitoring
There is no direct remote installation option for keylogger software for the iPhone or Android. However, there is a simple solution provided by iOS spy apps. Your iPhone or iPad does not need to be jailbroken in order to use this kind of tracking tool. Just adhere to these easy steps:
Obtain the Apple ID and password for the device you want to track;
On that iPhone, enable iCloud backup; create an account on the official website.
Two programs are available to assist you remotely. With the help of Apple IDs, SPY24 & uMobix will give you the best iCloud monitoring options.
Best Keyloggers for Android no-Root Remote Free
| Name | Android Versions Supported | Require Root | Free Trial | Link |
| --- | --- | --- | --- | --- |
| 🕵️ SPY24 🏅 | All Android Versions 4.4.4 for 13 | No | Yes | Learn More |
| uMobix | Android 4.0 and above | Yes | No | Learn More |
| Auto Forward | Android 4.0 and above | Yes | No | Learn More |
| mSpy | Android 3.0 to 7.2 | Yes | No | Learn More |
| iKeyMonitor | Android 4.0 to 12 | Yes | No | Learn More |
| Hoverwatch | Android 4.0 and above | Yes | No | |
Keylogging is the secret monitoring or recording of a keyboard's keystrokes. It can be used to track someone's activities. You can use it for investigations, tracking kids, monitoring employees, and gathering legal evidence.
This list of top Android keyloggers includes popular features, pros and cons, and website links. The list includes free and paid software.
Browse Android Keyloggers. Choose the best Android Keylogger for you.
Keylogging monitors or records every keystroke on a keyboard without the user's knowledge. Most android spy apps have this feature. Spyware relays monitored keystrokes from the targeted device in real-time without physical access.
Badly used keyloggers can be disastrous. Their use is rarely malicious. Keyloggers can track a child's Internet use. Parents are alerted if their child searches for age-inappropriate content online based on keystrokes monitored.
Employers use keyloggers to track employee activity and ensure they're not wasting time online or chatting. These apps are most often used to monitor spouses. An all-purpose keylogger is easy to find.
Choosing one is hard. We've got your back. This article introduces the best android keyloggers currently available.
Pro-Tips:
Most Android phones should work with your keylogger. Installing it shouldn't require root.
Look for tools with a comprehensive dashboard for easy keystroke monitoring.
It should record online activity, calls, messages, and chats.
Find keyword alert tools.
Information should be remotely accessible from any mobile, tablet, or computer device.
It should have good customer service.
Choose inexpensive tools. We recommend a premium keylogger for advanced features over a free one.
F.A.Q.
Can I install a keylogger on an Android phone?
It's possible. Most keyloggers are compatible with modern Android devices. You don't need to root an android device to install them; it takes 3 steps and 5 minutes.
You can install these apps on Android with a PC or phone. You can later remotely access keyloggers via the browser.
Which free Android keylogger is best?
Although rare, there are free keylogger apps. Snoopza offers free keylogging and other phone spy app features. Several premium apps have limited-feature free demos or versions.
Does my phone have a Keylogger?
Keyloggers infect PCs and mobile devices like malware. They're installed when a user opens a malicious attachment. Commercial-grade keyloggers are difficult to detect on a computer. A bad keylogger leaves traces. Your browser may become slow. Keyloggers can affect your device's screenshot quality. Good cybersecurity tools can detect keyloggers.
Can Keyloggers be remotely installed?
Keyloggers are installed without the user's knowledge. Physical installation isn't recommended. Sometimes you can't access the phone to install the keylogger.
They can be remotely installed. Simply email it to the user's phone as an attachment.
If the user opens the attachment, the file is installed without their knowledge. The keylogger tracks all keystrokes 24/7 in the background.
Is a Keylogger legal?
Keylogger is spyware that tracks the device's keystrokes. If you install it on your own device or with someone's consent, it's legal. Installing a keylogger without the owner's permission is illegal.
Keylogger:
Keylogging is the secret monitoring or recording of a keyboard's keystrokes. It's the main feature of most android spy apps and affects millions of people daily.
Best Keylogger Software?
Are keyloggers forbidden?
Yes, the majority of nations prohibit keyloggers. They are tools that capture each keystroke a user types into a computer, including passwords and other private data.
Why Is an Android Keylogger Good?
These are the key elements that any Keylogger app needs to have.
simple to install covertly.
Having your children watch you install Android keylogging software on their phones defeats the purpose.
elusive to locate. Good keylogging software is undetectable once on the phone, so the person you're watching can't tell it's there. Avoiding inquiries as to why a strange app is on their phone is made easier with the aid of an undetectable keylogger for Android.
straightforward reports. The most efficient keyloggers give users clear, concise information that is easy to understand even by novice users.
a wider range than just keylogging. Great keylogger apps are made to give you the knowledge you need to feel confident in your loved ones' online choices, not just to record keystrokes.
Why a Keylogger?
Keyloggers record all computer keystrokes. It can be used to track someone's activities. You can use it for investigations, employee monitoring, and legal evidence.
Can you install a keylogger remotely?
Yes, you can install a keylogger on the target cell phone remotely, but you can't install spy apps remotely. You can remotely track keystrokes once installed.
Keyloggers for cell phones?
Keylogger works on Android, iOS, jailbroken, rooted, and factory-fresh phones. You should also have the latest app version, as they update it to fix bugs and add new features.
There are many helpful and trustworthy keyloggers that can be installed remotely available on the market today. You can probably find a lot of reviews online to help you make your decision. On our website, we have critiqued a few of them in greater detail. Here are a few of the best trackers that we recommend you install, whether or not you have direct access to the device being tracked.
SPY24 – Keylogger app for Android and iPhone phones – MAC & Windows
You'll see it if they type it. That's how powerful the best Android and iPhone keylogger in the world is. It's made to help you stop interactions that could be dangerous. And it's really simple to use.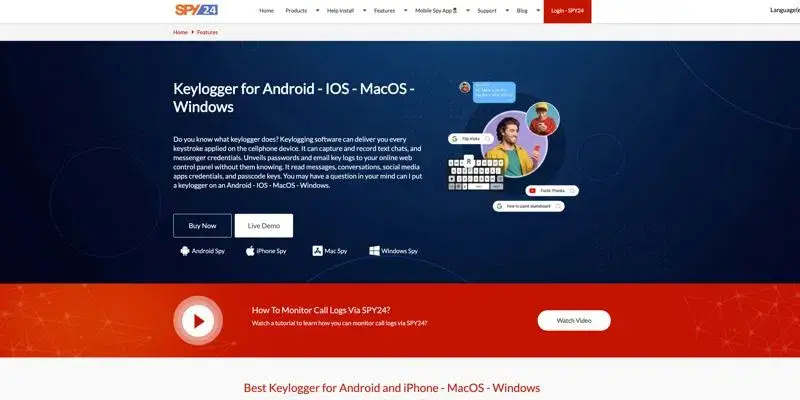 Features:
You can see all the words they type without standing behind them.
Watch what they type
Since every keystroke is recorded, you won't miss a step.
Find out where everything was written down
SPY24 connects each phrase to the app where it was typed.
Stop something dangerous before it happens
You'll know if something is wrong in their world if you can see everything they type.
Geo-fencing.
Remotely install and disable apps.
observe the online activity.
Observe pictures and videos remotely.
Best for keyloggers that are simple to use on both iOS and Android devices.
SPY24 Install application free The Most Powerful Hidden Spying App to Monitor Android, IOS Cell Phone & Tablet Device Remotely. Best Android Parental Control App for Kids & Teens Online Safety.
Now take the liberty to monitor Android, and IOS devices with exclusive features better than ever before Monitor all Voice & Text Messages Communication records, Listen to & Watch Surroundings in Real-time Unleash Digital Parenting with Android, IOS Spy App Spy (Surround Listing & Front/Back Camera Bugging) IM's VoIP call recording on Android OS 13 & above With 250+ Surveillance Tools at your fingertips using Android Tracking & Parental Monitoring Software.
Without the need to jailbreak or root the device, SPY24 offers a simple-to-use keylogger that functions well on both Android and iPhone devices. Once installed, the app operates in automatic mode and immediately notifies users of all keystrokes made, the precise time and date they were registered, and the application we were tracking them on.
SPY24 offers a reliable, fully-featured phone spyware experience in addition to keylogging. Call management and monitoring, GPS location tracking, and real-time monitoring of Facebook and Viber apps are all possible. Along with user-friendly screen and voice recording features, you can also see the monitored device's screen.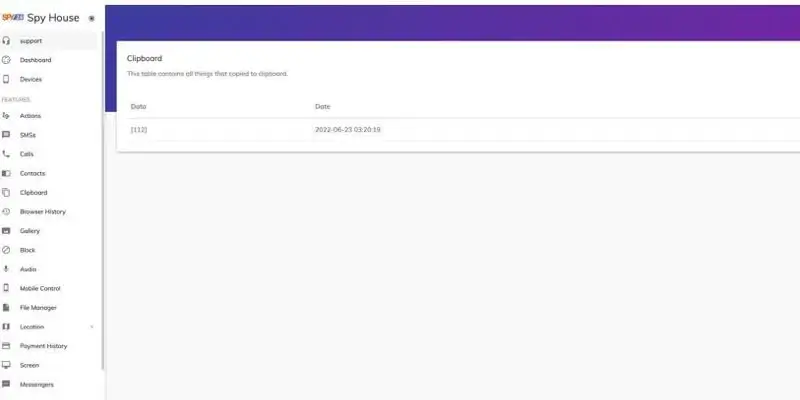 Conclusion: SPY24 has a robust keylogging system that functions flawlessly on all Android and iOS devices. Additionally, it has a tonne of features that make remote phone monitoring easy and thorough. This app has a wide variety of necessary applications.
Price ranges from $11.66 for a 12-month plan to $27.99 for a 3-month plan to $48.99 for a one-month plan.
Auto Forward keylogger
There are hundreds of other spy apps, but Auto Forward py has a place among them and a large number of devoted users. It has been on the market for more than five years at this point and has established a reputation for being a trustworthy and consistently improving spying force. The list of available options and features in Auto Forward Spy is both comprehensive and adaptable. Because of this, the app is an excellent choice for a wide variety of users in all parts of the world.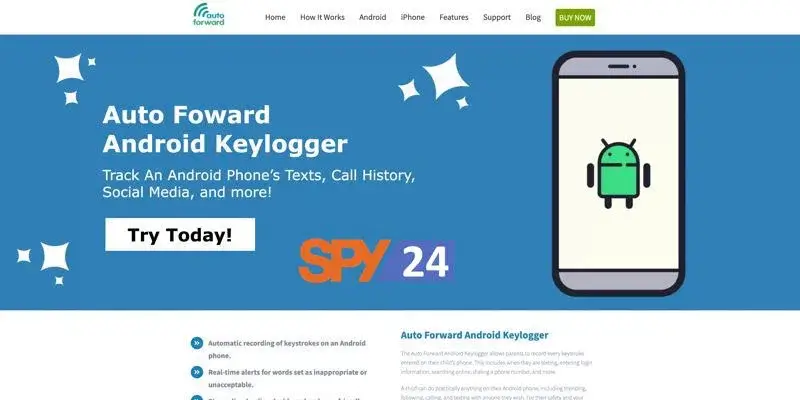 You can monitor incoming and outgoing calls and texts, as well as the history of websites you've visited, all while taking advantage of the software's blazing fast performance. In addition to this, the app is designed to work with a wide range of mobile gadgets and is compatible with the vast majority of operating systems that are currently in use. And all of this can be yours for the low, low price of $29.99 (one-time payment). You can find a comprehensive review here.
uMobix keylogger
uMobix is an application that is nearly flawless in every way as a spying tool. If you want to have a remote keylogger for Android and iPhone, you should give this application a try. It was one of the earliest remote spy apps available on the market, and it offered monitoring services without actually having to be installed on the device that it was monitoring.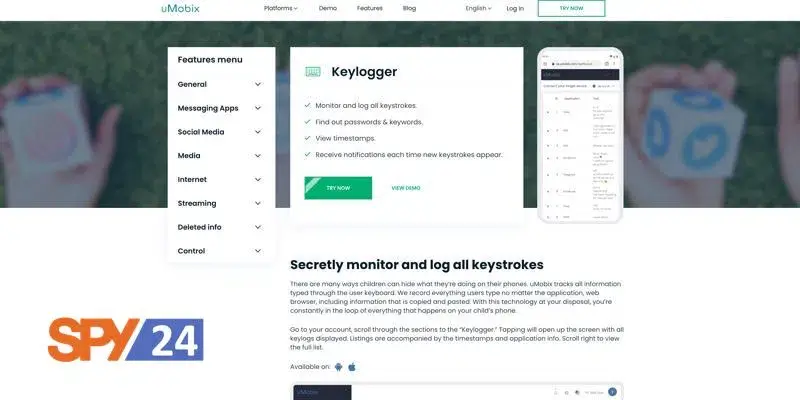 uMobix is the only thing you need if you want to be able to spy on an iPhone or iPad without having to jailbreak them. Determine the Apple ID and password associated with the device you're after. Every single step is something that we have already gone over in the paragraph before this one. In addition, the price is affordable at only $29.99 USD per month.
mSpy keylogger
The next item on our list is currently at the very top of the sales charts for remote spy apps. mSpy is currently one of the most successful and widely used spy applications available on the contemporary market. It comes equipped with everything you could possibly need to carry out your covert operation successfully. The keylogger is just one component of this powerful surveillance apparatus. It is also one of the very few keyloggers that provide a remote installation option in addition to being undetectable.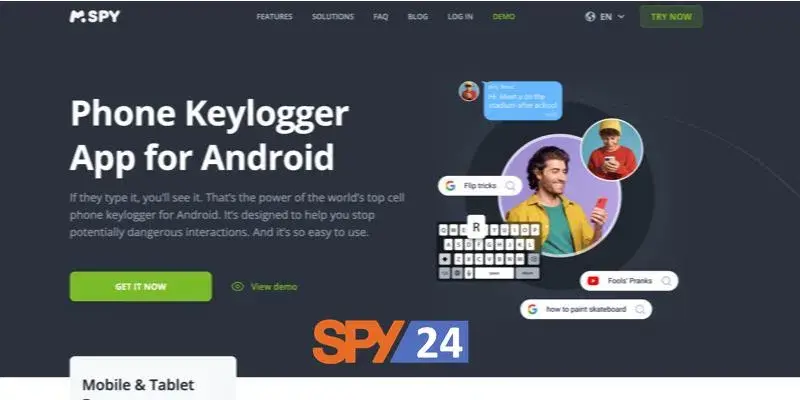 It is not necessary to physically contact iPhones and iPads or to jailbreak them in order for mSpy to work with these devices. uMobix keylogger requires the Apple ID and password of the phone it is monitoring before it can begin tracking every action taken on that device. Additionally, it offers a variety of packages so that it can cater to the requirements of each user and customer. You can find a comprehensive review of mSpy here.
iKeyMonitor keylogger
This application offers a means by which a keylogger can be remotely installed on a device that you wish to keep an eye on. iKeyMonitor is a keylogger app for Android that can be installed on any device that runs Android. You are able to monitor precisely what your child is doing on his or her mobile device by using the iKeyMonitor app.
The app may also be helpful to employers who need to monitor how their employees are spending their time while they are on the job. Productivity in the workplace will improve as a result of this.
Even if you haven't rooted your Android device, iKeyMonitor, which has over 30 different keylogger features, is without a doubt the most effective keylogger application available for Android.
keyboard-logger Hoverwatch
There is no need to continue looking for information if you are interested in learning how to install it remotely on Android phones. Any mobile device that runs Android and has the Hoverwatch app installed will have the most effective keylogger available. This keylogger can be remotely installed on the target device, and it gives you the ability to monitor the keystrokes made on that device by anyone, including your children and members of your staff.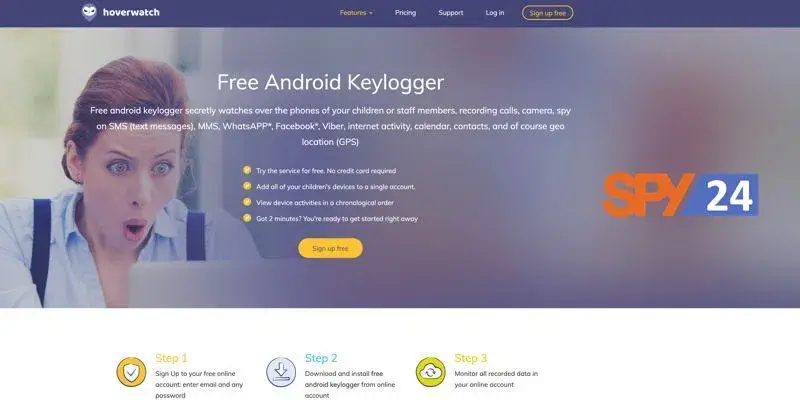 And the most exciting part is… You can get a free trial version of this app by downloading it from the official website. Simply sign up for the free service, download the app, and you can immediately begin monitoring every keystroke that is made on the device in question.
Can I install a keylogger remotely on Android phones for free?
Certain apps allow you to install a keylogger on a cell phone remotely for free, but most of these are trial versions that expire after a limited period. Once the trial period is over, you'll have to pay for the full version anyway.
Just in case you do find some free monitoring software, bear in mind that they will undoubtedly have minimal functionality when compared to proven, paid apps like iKeyMonitor Keylogger and Hoverwatch Keylogger.
So it's best to stick with apps that have a demonstrated history of performance.
Why may you need a keylogger?
All the monitoring apps out there have one root and history. These days people usually use keyloggers to protect their kids, family, and other personal needs. You may have your reason to use a keylogger, but we mentioned a few common and most often ones below:
Your kid behaves weirdly and unusually.
This is the case when parents get freaked out every time their kid leaves the room or house. Those teens have their worlds on their minds, and we as parents need to know everything about it to keep them safe until it is too late. Use mobile spy software to know where your child is going after school and who is calling him every day.
Your kid has suspicious friends.
Our kids are angels, and we don't want them to get into trouble. But those new friends we don't know yet can hurt our children and bring severe misery. Find out if they are taking drugs or doing something inappropriate and how it influences your kid.
Your employees are consistently late to the office.
If your employee is lying to you about his way to the office and regular delays, you can easily track his corporate phone with GPS location.
HOW DOES A REMOTE KEYLOGGER WORK AND WHAT CAN I DO TO STOP IT?
A remote keylogger is software that hackers can use to spy on computers from a distance. A remote keylogger is a serious threat because it can steal personal information by watching the computer in the background while it is being used.
HOW DOES A REMOTE KEYLOGGER WORK?
Keystrokes Are Stopped
A remote keylogger can pick up your keystrokes by keeping track of where the characters go as you type. The keys you press take a certain route to get to the app. A remote keylogger places itself on this path to track and record keystrokes. The data is saved on the software so that it can be retrieved later.
Screenshots are taken 
Not only can a remote keylogger record keystrokes, but it can also record screenshots to steal personal information. This is better than the copy-and-paste method for keeping keystrokes from being recorded. It lets the hacker see what you type on your computer screen.
Manipulates Mic 
A keylogger can also turn on the microphone and record conversations from a distance. This lets the hacker listen in on your private calls and chats, including video calls.
Sends data from afar 
The information is sent to a remote server by a remote keylogger. Any time, a hacker can get information. This includes everything you type and information about what you do on your computer. This lets the hacker keep an eye on your computer without having to be there.
Self-Destructs 
Once it's done what it's supposed to do, a remote keylogger can uninstall itself, so there's no sign that it was ever there or that it did anything bad. So a user might not know that a remote keylogger has been installed on his or her computer.
A remote keylogger is indeed stealthy and could be hard to find. But you can stop it from getting on your computer.
HOW TO STOP A REMOTE KEYLOGGER FROM WORKING ON A COMPUTER?
Use a URL Scanner
Hackers use phishing URLs to put a keylogger on a computer from afar. That's how to remotely install a keylogger. Using a URL scanner is a good way to stop a keylogger from getting on the computer. Just copy the link and paste it into the scanner. It will check the site's reputation to see if it's safe or dangerous. You can scan any URL with Comodo Website Inspector or VirusTotal.
Put Patch Management in place
A remote keylogger can get into a computer by taking advantage of system flaws. It can take advantage of a web browser plug-in or software that is out of date. That's another way to install a keylogger from a faraway place.
Patch management lets you get the latest update for your operating system. It looks for software updates from trusted vendors and installs them automatically. So you don't have to worry about making sure your software is up-to-date. Managing patches does the job.
Install software to stop malware 
Anti-malware software is a good tool that can stop a remote keylogger from getting into the computer. It is made to find and stop different kinds of malware, such as a remote keylogger. It can also find spear phishing, fake software, and URLs that try to trick you. Find a trusted piece of anti-malware software and put it on your computer. Then you can do a full scan for malware to find a keylogger on your computer and get rid of it.
HOW TO STOP A REMOTE KEYLOGGER FROM GETTING INTO AN ENDPOINT DEVICE?
A remote keylogger attack could happen on an endpoint device. They can find a keylogger that is far away by using spear phishing, drive-by downloads, and fake software. You need anti-malware software with endpoint protection to protect endpoint devices from a remote keylogger. Endpoint protection uses a central server to keep an eye on the business network and endpoint devices.
Comodo Advanced Endpoint Protection is a trusted security solution that stops malware attacks from happening.
Comodo AEP Prevents Data Breach 
By filtering network traffic and data transmission, Comodo Advanced Endpoint Protection keeps data from being stolen. It also has a Host Intrusion Prevention System that stops a remote keylogger from working. It checks the keyboard and hard drive for direct access all the time.
Comodo Advanced Endpoint Protection, which is based on a technology called "Default Deny," stops any unknown file from getting into the file system. It can easily find and stop malware on endpoint devices that steals data.
Comodo AEP stops attacks by ransomware 
Ransomware is still one of the most dangerous things for consumers and businesses. It can lock up important files until the victims pay a ransom. Comodo Advanced Endpoint Protection keeps computers from getting infected with ransomware. Auto-Containment is a high-tech security feature that can quickly find and stop ransomware. Ransomware is kept in a virtual container and destroyed there.
Zero-Day Malware Is No Longer Useful Thanks to Comodo AEP 
Zero-day malware looks for unknown holes in business networks by scanning them. Comodo Advanced Endpoint Protection keeps endpoint devices from getting zero-day malware by constantly checking them for possible threats. It lets you control all the possible ways that malware could get into your business network so that it stays safe.
A remote keylogger can be used to steal information from both personal computers and endpoint devices. But if you have good anti-malware software, you can avoid being hacked by keyloggers.
You can get a live demo of Comodo Advanced Endpoint Protection by contacting us or downloading it today.
Keyloggers that can be put in from afar
KEYLOGGERS WITH NO PHYSICAL ACCESS ARE REQUIRED
There are times when it can be hard to get to the phone or computer you want to keep an eye on. In the last 10 years, remote installation has come a long way. Now, keyloggers can be attached to PDFs, and photos, and even uploaded through iCloud.
Let's look at some of the easiest ways to install software from afar.
1. SPY24's: Installation from afar for Mac and PC
SPY24 seems to get better every year, and other well-known online publishers give it awards every year. The PC version has a lot more options, but the Mac version is the best. Don't get me wrong, it's also great on PC, but there are so many other options.
There are no "real" competitors for Mac. It's too simple. You can download the app and choose "run invisibly" or "run visibly." Then, select "export to desktop," name the file whatever you want, and send it to the computer you want to watch.
I like to put the file on DropBox or Google Drive and send the link in an email or a Facebook message. Once the file is run on a PC or Mac, you can log in to your control panel to see everything that is happening.
You can choose from different reports, and the keylogger works more like a modern app with a simple "click and sees" interface. We have the highest praise for this keystroke keylogger.
SEE SPY24 FOR MAC – SEE SPY24 FOR PC
2. Highster Mobile is an iPhone keylogger that can be installed from afar.
Highster is our favorite because it costs the same for a lifetime license as it does for a single month with FlexiSpy and mSpy. This means that unless the iPhone is jailbroken, which is very rare these days, there is no reason to pay for a pricey subscription since it won't give you any more information.
It works on both Android and iOS (iPhone/iPad) devices, but the remote installation for iOS (iPhone/iPad) devices is what makes it stand out. This is why we like Highster best, at least for iPhones.
It can be put on your device locally or through iCloud. For local installation, just save the file to your desktop and do any of the following:
1) Put the file on Google Drive
2) Put it on DropBox. 3) Use a messaging app to send it.
4) Send yourself an email with it.
When you can use the phone again, you can check your email or click the link you set up to download the file. All done. The file is smaller than a photo, and setting it up takes no time at all.
You can now use your remote control panel to see everything going on with your iPhone or iPad without having to get close to it.
For remote installation, all you have to do is log in to your Highster control panel and enter the Apple ID and password for iCloud on the iPhone you want to track. If you don't know the login, it's probably the same as iTunes, but if it's not, you can get it with any Mac keylogger.
Some people who have an iPhone or Mac don't even know they have iCloud. By default, iCloud backs up 1 gig of the user's most recent activity, which includes everything that happens on their iPhone, iPad, and Mac.
This means that one installation of Highster can keep track of everything happening on all of the devices without needing physical access. Highster for Android works just as well, but there are many other options for Android and nothing makes it stand out as it does for iPhone.
HIGHSTER IS AVAILABLE FOR IOS IPHONE/IPAD (RECOMMENDED)
SEE HIGHSTER FOR ANDROID
3. SPY24 is a keylogger and Android spy app that can be installed remotely.
SPY24 is a keylogger for PCs and an Android spy app all in one. The PC keylogger works with all versions of Windows laptops and PCs and can be set up remotely or locally. For remote installation, it has a file binder that lets you attach the keylogger to a PDF or photo and send it to the PC you want to watch.
Other remote keyloggers don't have file binding built in, and they still use old.exe files, which send up all kinds of warning signs when you try to send them. With SPY24, the file from the keylogger looks like a JPG or PDF, so you can send it like any other file.
Once the file is run on the remote PC, you can see everything that is going on, including the webcam and microphone, in your cloud control panel (sent to you upon purchase). Even better, SPY24 lets you install it on more than one computer, so you can use it on more than one.
SPY24 works on all Android devices, and installing it is the same as installing any other Android keylogger. Download the file to your desktop and do ANY ONE of the following to install Android.
1) Put the file on DropBox and copy the link to it.
2) Put the file on Google Drive and make a copy of the link.
3) Send yourself an email with the file attached.
4) Use an app to send the file to yourself.
When you have access to your Android again, all you have to do is open your email or click the link you made earlier. The file is small and takes no time to download. Now, you can use your cloud control panel to see everything that is happening on your Android.
SPY24 also lets you install it on more than one Android device, which makes it the best value keylogger package on our site. At $49.99 for a one-year plan or $79.99 for a lifetime plan, it is much cheaper than the competition. Both plans let you install on up to 10 PCs and 2 Android devices.
SEE SPY24 FOR ANDROID & PC (RECOMMENDED)
Conclusion
Everyone has a reason to use a keylogger. It is a great modern tool to protect your family and yourself. And what is your motivation to use a tracker? Have you tried one already? Please, feel free to share your experience in the comments section below.