SMS Tracker
How to Track My Wife's Phone Calls and Texts for Free
It is clear that all long-term relationships are based on trust, but Relationships have always been complicated and the modern world has made them even more complicated. Have you ever got suspicious of your wife's phone call and wanted to be sure about her honesty and faithfulness? Do you know how you can do that? Fortunately, there are several tracking apps in the market you can use to track your wife's messages and calls. you will have various options to choose from, depending on what information you want to track in her online activity.
Tracking online activities is becoming common nowadays. you track your food or any other shopping order to get sure it is delivered on time, you track your fitness activity to improve your health.
You could use spy mobile apps to track anyone anywhere for many reasons. First and foremost, to support your love from cyberbullying and all digitalized world threats. Second, for checking on their health condition whether they have physical or physiological issues, for example, they have Alzheimer's or any aging disease. Finally, for checking them on dishonesty and disloyalty.
You could find lots of information by installing them on your partner's phone, from location to text messages, social media accounts, and web history in no time, all the activities can be stored so you can see them even if she deleted them.
Thanks to the developers There are a bunch of spy apps on the market but the best spy mobile phone app is SPY24 You can use the free trial of 30 days, with Money back guarantee. There is so much you can do with wife-tracking apps, here look at the best tracking apps.
How Can Spy Apps Track Your Wife's Phone?
There are many reasons for monitoring your wife's phone as mentioned earlier. Spy mobile phones have found solutions to health or relationship problems with couples. By installing and connecting them to the Internet the app can access all data that is sent to the server and save them in the storage. With a powerful database, every piece of information can be kept there automatically.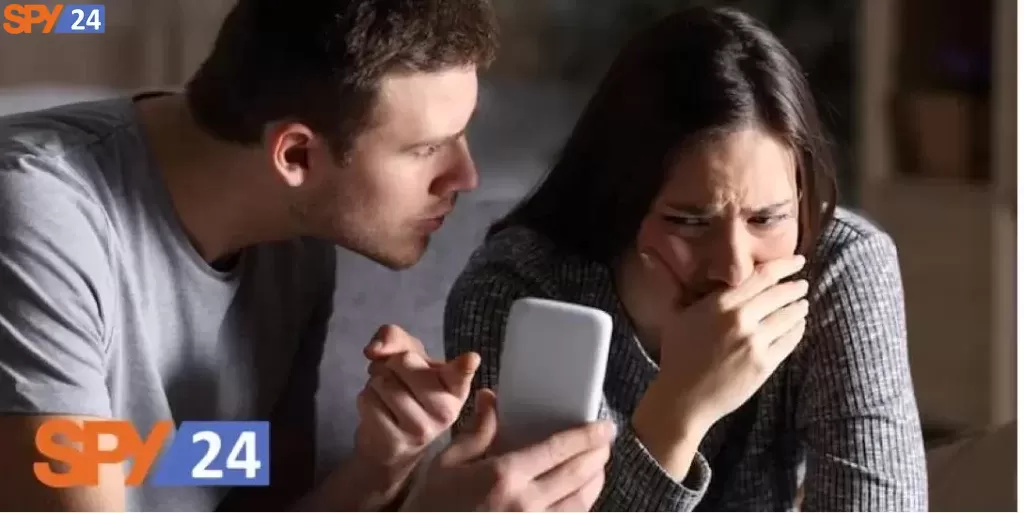 Spying apps are easy to use and give you accessibility to track all information going in and out and also, they are undetectable. Regardless of how far you are from your wife, you can track all her online activities including her messages, calls, photos, and videos shared on any platform, you can also have access to her calendars to set her alarms. Furthermore, you will have access to all of her notifications and keep updated on her.
Following you can find information about the Best Spy Apps to See Your Wife's Text Messages with their features.
The Best 5 Spy Apps to See Your Wife's Text Messages:
SPY24 App
mSpy
SpyBubble
Hoverwatch
FlexiSPY
Mobile Spy
SPY24 App
SPY24 App is one of the best spy mobile apps with many attributes that will keep you updated on your wife's activity on the Internet which would help you to make the best decision and act at the right time in case of physical or emotional disorder or even cheating on you.  You could view all text on your phone, no matter which platform they used to send them, by which we mean you have instant access to all texts on social media.SPY 24 offers customers 30-day trials which will help them analyze different features to purchase the best one you appeal to.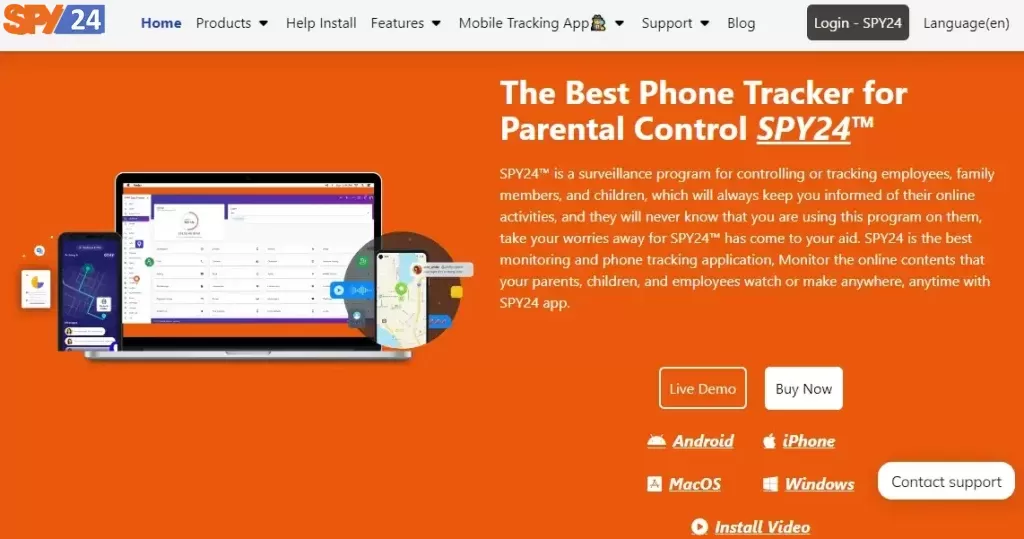 You can buy it on
Android
iPhone
MacOS
Windows
SPY 24 app Features
SPY24 App has many useful features that we will look at below: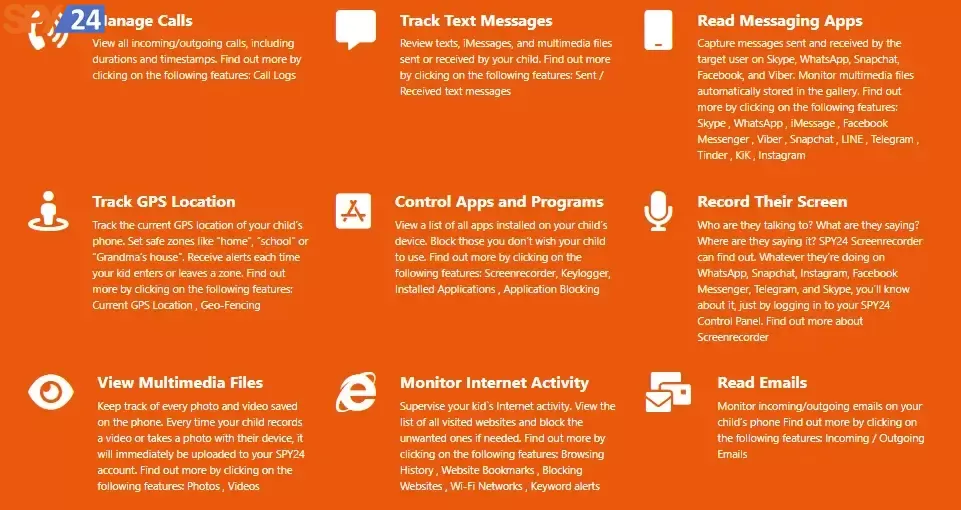 GPS location
Monitoring the location of your wife while they are out of the home, helps you If your wife is a climber and is not at home on time, This feature will show you her current location, so if your wife is lost or late, you can track her by checking her location history. Furthermore, you could get an alert on a specific location If your wife reaches specific locations that she should not be there eighter that's not good for her health or any other reason.
Monitoring calls and Text message
Tracking mobile messages will keep updated about your wife's calls that would help you to support her in case of Prank Calling and threats, moreover, that would let you know her best friends, and colleagues if they are late, so you could call them and make sure she is safe.
SPY24 provides the service of monitoring a recording call so you could check all Incoming calls, Outcoming calls, Duration of calls, and also her contact list.
Controlling programs
The ability to control programs will help you to Install applications that improve the quality of your life, besides blocking applications that are distracting and addictive, you will also set up a calendar that helps to remind her of an important appointment, or pill time.
Monitoring Multimedia
SPY24 provide you the accessibility to View all video, and photo and download them which will help you detect any dangers or threat or you could find out about your wife's hobbies.
Monitoring web browsing and bookmarks
Tracking the history browser will help you to find out your wife's interests, what they care about, and the topics they spend most of their time on.
Social media tracking
Monitoring the social media of your wife can be useful for checking their online activity to be sure about their health if they are in poor health condition, and also protect her in case of cyberbullying, moreover, you could find out in case there is an affair, and find out what they like most. There is a list of social media you can track by SPY24
Instagram Tracking
Instagram is a social network platform that allows you to share your photos, stories, reels, and also videos with the friends and followers you care about.
SPY24 provides the service of reading all sent and received text messages and shared links in Instagram Direct. The app enables you to see Instagram followers and who has unfollowed you, and who is not following you back, it helps you track new followers, and find mutual friends. you can even see the followers who have never liked or commented on your posts and those who have always liked or commented on your friends' posts. Finally, you can see your top liked and top commented statuses, and people who are often tagged in your posts.
Facebook Tracking
Facebook is a social networking service that allows you to connect with friends and colleagues.SPY24 will enable you to track all Chat Conversations, Dates, screen recordings, voice messages, and Calls through Facebook Messenger.
WhatsApp Tracking
WhatsApp is a free messaging app that has many users from over 180 countries. By Using SPT24 you can monitor WhatsApp messages, photos, videos, voices, documents, and calls.
Twitter Tracking
Twitter is an online social media service that allows you to communicate and stay connected through the exchange of quick messages. SPY24 will let you see Direct Messages, images, videos, tweets, Followers and Following, notifications, and also Timestamps which enables you to know exactly what time and date a particular activity occurred.
Telegram Tracking
Telegram is a cloud-based messenger that allows you to send and receive messages. You can access the telegram profile and see all sent and received messages, contacts, and multimedia with the SPY24.
Skype Tracking
Skype is a telecommunications application best known for video conferencing. SPY24 will give you access to all chat, Call Logs, photos videos, and also a contact list with detail about their name, number, and profile photo.
Signal Tracking
A signal is an American privacy-focused messaging application. All text messages (including disappearing ones), Contacts, and All other activities on this app can be monitored by SPY24.
Snapchat Tracking
Snapchat is a popular messaging app that lets users exchange images and videos (called snaps) that are meant to disappear after they're viewed. The greatest function of this app is the filters, and lenses that make this app fun to use between friends and family members.SPY24 will give you access to shared media, chats, Friend lists, snaps saved, and the Time and date of snaps.
Viber Tracking
Viber is a Japanese cross-platform messaging app that lets you send text messages, and make phone and video calls. you will be tracking all Viber conversations with SPY24.
KIK Tracking
KIK is a Canadian instant messaging mobile app that can be monitored by SPY24. You can track all received and sent Messages, Media, and Contacts, with their date and time.
KakaoTalk Tracking
KakaoTalk (KaTalk) is a mobile messaging app in South Korea that can be tracked by SPY24. You will be able to see all the KakaoTalk messages.
LINE Tracking
LINE is one of the most popular Japanese IM applications. you can monitor Shared Videos & Pics, Check Chat audio, View Call Logs, capture Screenshot Automatically, Checks LINE Activities, and Export All Data by using SPY.
Hike Tracking
Hike Messenger(Hike Sticker Chat) is an Indian instant messaging, Voice over IP (VoIP) application. with SPY24 you can view Screenshots of Hike messages, Contents Sent and Received, and Sent messages.
IMO Tracking
IMO is an audio/video calling and instant messaging software service.SPY24 will let you read chats and view multimedia messages with the date and time of every message exchanged, get access to the media stored, and Store or create a backup of the monitored chats on your computer.
Tango Tracking
Tango is messaging application software that has become a B2C platform for Live Video Broadcasts, Tano monitoring feature of SPY24 will let you monitor incoming and outcoming Tango messages with date, time, and sender/recipient contact, and also pictures and video.
TikTok Tracking
TikTok or Douyinis( Known in china) is a video-sharing app. With the TikTok tracking features of SPY24, you will read all text messages sent and received, images, videos, and documents, and also you will have access to their chat history along with the exact timestamp. Furthermore, you will be able to track the users who like and comment on their posts. Besides, you will know how long the user spends on this app. Finally, you will be able to see followers in real-time.
Tinder Tracking
Tinder is a popular dating app, making it the place to meet new people. The Tinder tracking feature of SPY24 enables you to track messages typed and pictures posted in the Tinder chat history. Besides, you will have access to capture screenshots, monitors SMS, call logs, call recordings, website history, and social chat history.
BBM Tracking
BBM (BlackBerry Messenger) is a mobile instant messenger and videotelephony application. with the MMB tracking features of SPY24, you will track all BBM activities and capture screenshots.
iMessage Tracking
iMessage is an instant messaging service that functions exclusively on Apple platforms. iMessage tracking of SPY24 will let you see all incoming and outgoing texts, and also give you full access to photos, videos, and other contact information that has been exchanged.
QQ Tracking
QQ (Tencent QQ) is a messaging software service developed by the Chinese technology company Tencent. With the QQ Tracking Feature of SPY24, You Will track all QQ conversations including every call, messaging, photo, and video shared with the date, time, and duration.
Odnokalassniki Tracking
Odnokalassniki (abbreviated as OK or OK) is a Russian social network service, You will be able to record text messages and capture screenshots with the Odnokalassniki tracking feature of SPY24.
Hangouts Tracking
Hangouts is a communications service developed by Google that allows members to participate in text, voice, or video chats, either one-on-one or in a group Hangouts tracking feature will let you spy on Hangouts messages, including emoticons and stickers, and see all pictures, videos, and audio, besides files shared, you will also be able to download and store them.
Zalo Tracking
Zalo (a combination of "Zing" and "Alo" ) is a messaging application that provides a fast, stable connection for users and has a lot of customers in Asia including Vietnam. with the Zalo tracking feature, you will be able to read text, chat, media gallery.
SPY24 App pros and Cons
Some people cite that using this app is invading their privacy while others who have hectic lifestyles find it useful to check out their loved ones. Moreover, they are at ease by knowing the location of their family member.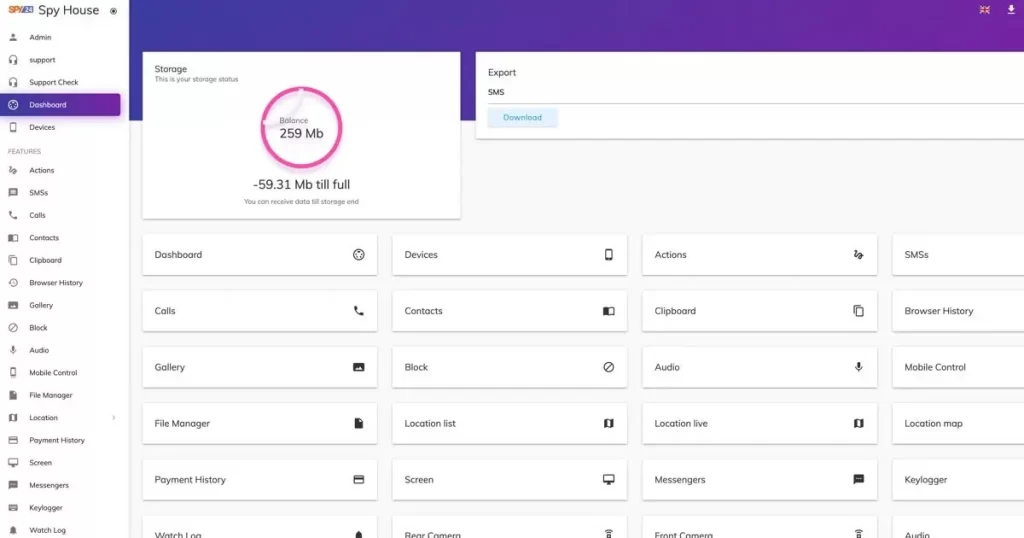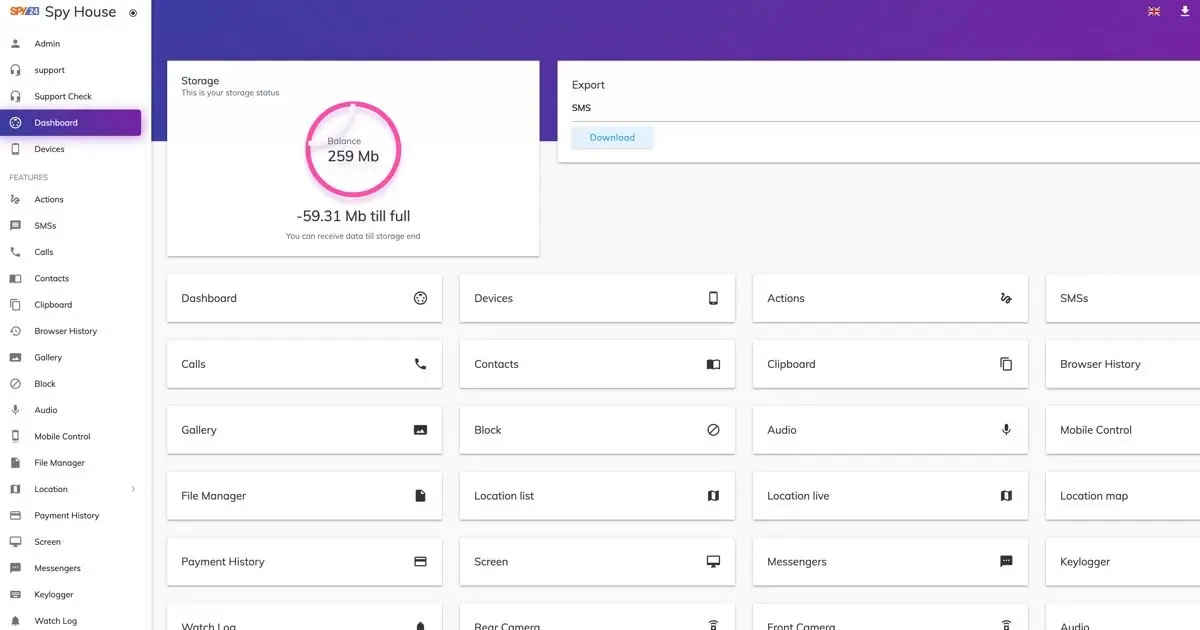 There are several pros and cons of using SPY24 :
Pros:
The greatest advantage of SPY24 is that it offers various features to customers. Next is that you can Monitor more social media than other spying apps in the market. Furthermore, The power of the database is extraordinary and is easy to install. The last not the least advantage of this app is that it offers a 30-day free trial which gives you enough time to check it before purchasing.
Cons:
Although several social media can be tracked, you need a full subscription.
SPY24 App cost
The cost of the SPY24 App depends on the operating system. You could find the Android, Windows, and MAC packages list from one month to a year below:
SPY24 Install application free The Most Powerful Hidden Spying App to Monitor Android, IOS Cell Phone & Tablet Device Remotely. Best Android Parental Control App for Kids & Teens Online Safety.
Now take the liberty to monitor Android, and IOS devices with exclusive features better than ever before Monitor all Voice & Text Messages Communication records, Listen to & Watch Surroundings in Real-time Unleash Digital Parenting with Android, IOS Spy App Spy (Surround Listing & Front/Back Camera Bugging) IM's VoIP call recording on Android OS 13 & above With 250+ Surveillance Tools at your fingertips using Android Tracking & Parental Monitoring Software.
---
Windows Packages
1 month – $25 for
3 months – $46
6 months – $60
24 hours – $0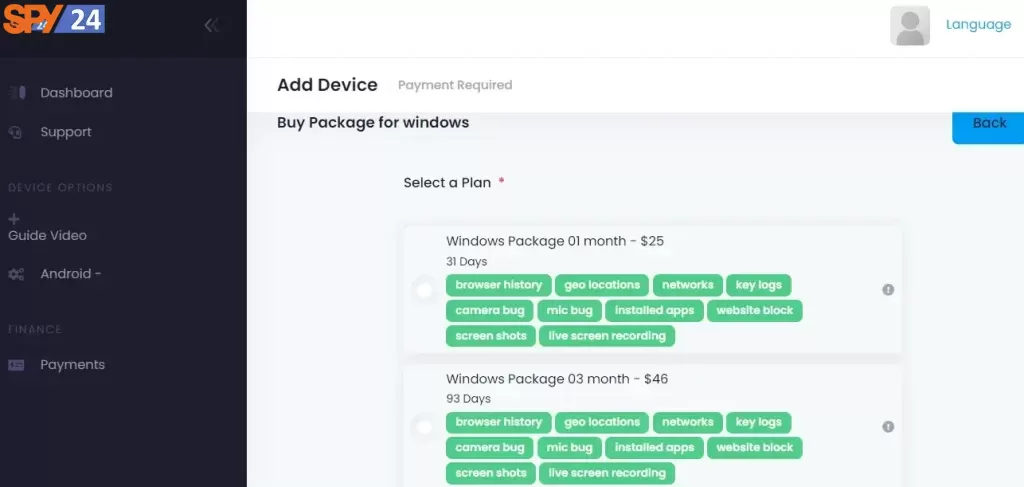 Android Packages
1 month (31 Days) for free – $0
3 months (93 Days) for $50
6 months (180 Days) for $76
Daily 45 (45 Days) for $5
12 months (360 Days) for $120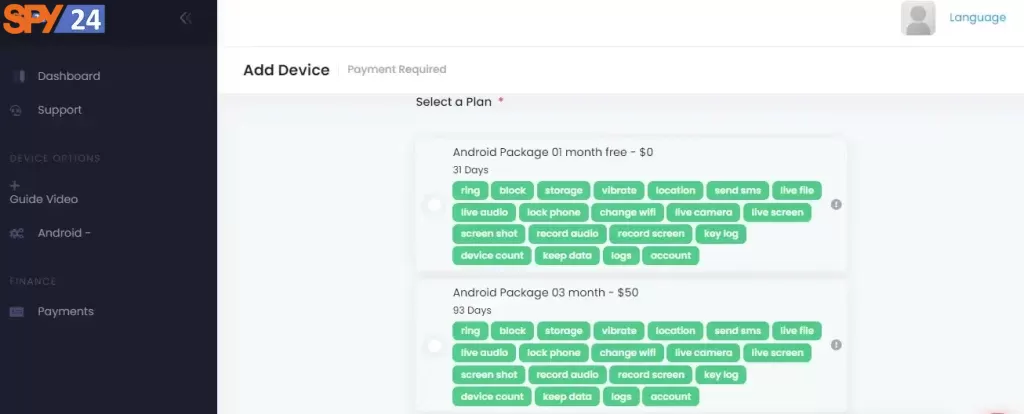 MAC Packages
1 month – $25
3 months – $46
6 months – $60
24 hours – $0

mSpy
This spy app is one of the most popular apps which enable you to monitor your wife's activity on social media, calls, and chats on the PC or smartphone whether on Android devices or iPhones.You can see who your wife calls and what she talked about and even how long she talked through her conversations.
This app has several useful features, for example, Location tracking, Monitoring calls, Monitoring multimedia, Monitoring website browsing, and social media (Facebook Messenger, Instagram, Snapchat, Hangouts, Line, Tinder, Viber, Kik, Telegram, Hike, WhatsApp).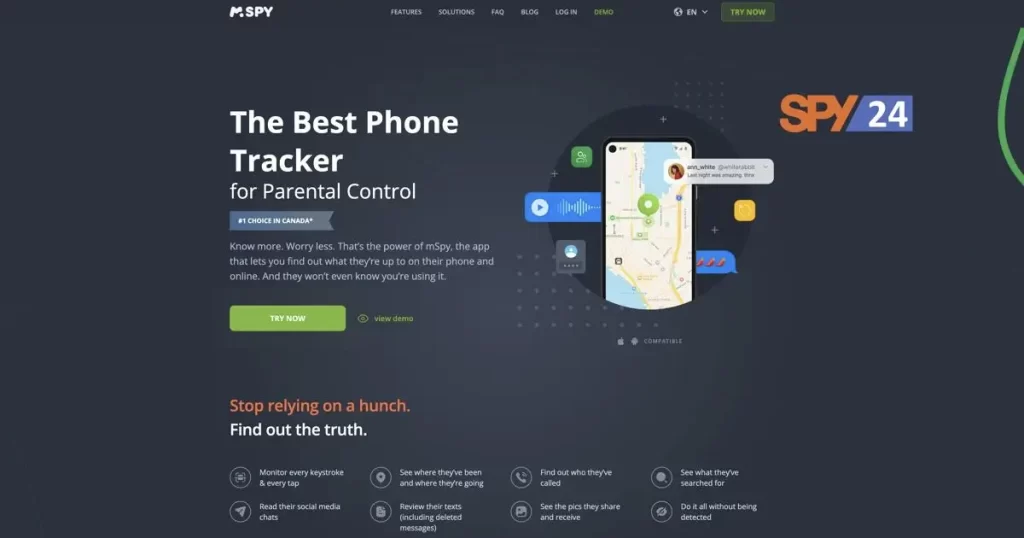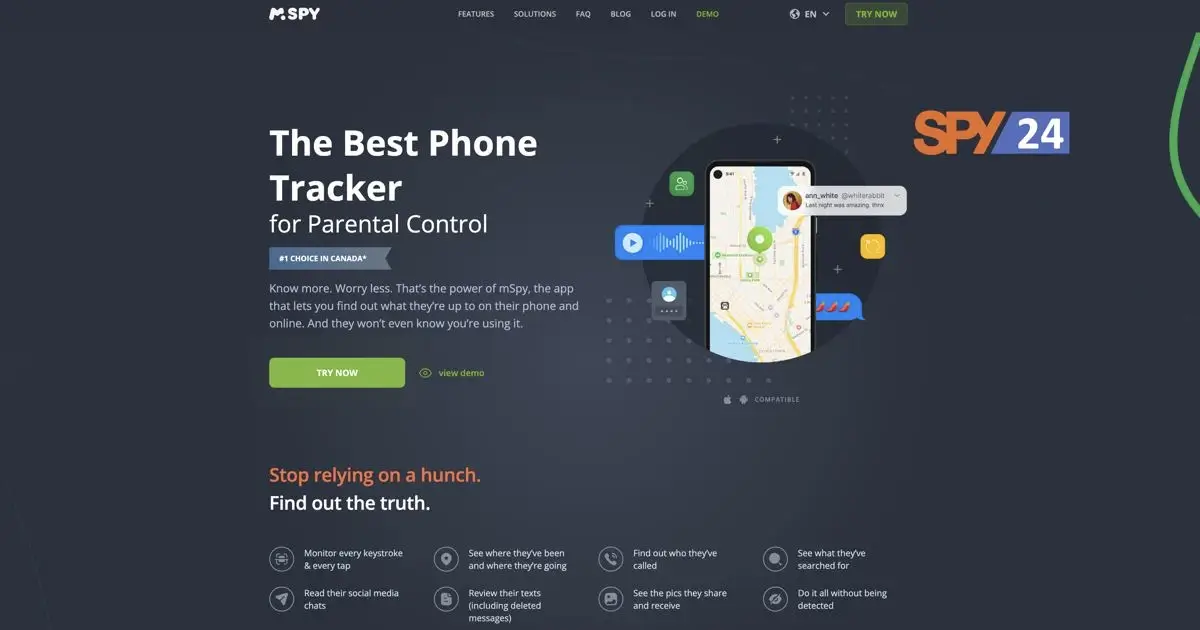 The most beneficial feature of mSpy is remote monitoring which enables you to see the current screen of your wife. Moreover, the remote camera and Audio will let you know what is happening around her. another significant feature of this app is the daily usage report which will provide you detailed data of who she called or texted and the exact time of her conversations.
Pros:
It has many features
It is user-friendly you need to log in to your account
It is undetectable, it runs in the background
Full fund refund policy in 14 days
Being secure by using the latest encryption protocols
Cons:
It is expensive (the higher the quality, the higher price)
SpyBubble
SPY Bubble is a spy app that can be installed on all devices including iPads, all iPhones, and also Android OS 4+. Furthermore, the three steps installation, makes it easy to run and worked with, which is a great option for anyone who wants to spy on their wife, as it helped you to track phone numbers and people's names. SPY Bubble offers  Easy Installation of fewer than 10 minutes and also Vast Compatibility, you will also have access to deleted information. Finally, the Social Media tracking feature of this app will let you spy on: Facebook, WhatsApp, Twitter, and others.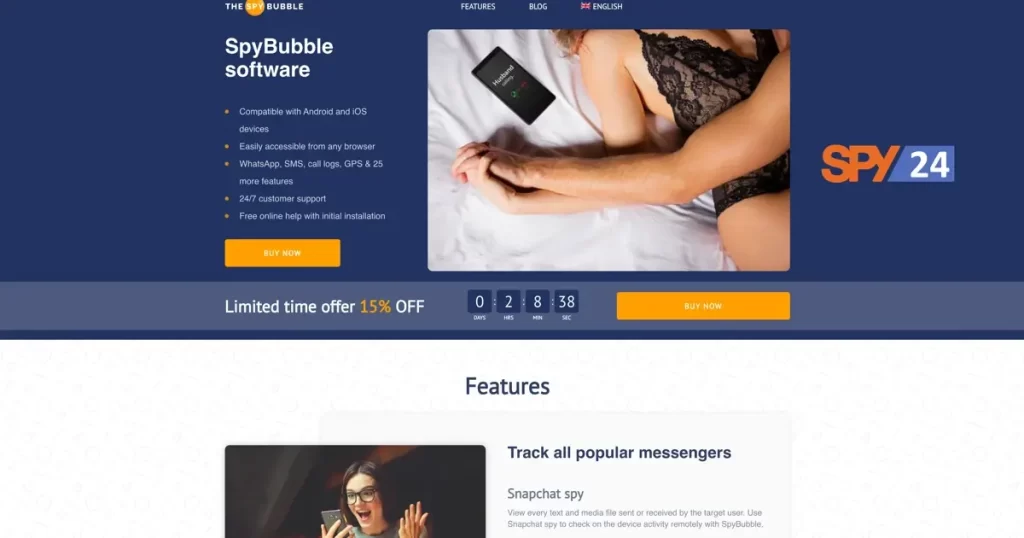 Easy Installation less than 10 minutes
Vast Compatibility
Accessibility to deleted information
Social Media: Facebook, WhatsApp, Twitter, and others.
Pros:
YouTube monitoring
Reading contact
Refund policy in 14 days
Cons:
The lack of keyword alert
The lack of ability to store calendar data, and videos Unable to store video and calendar info
Hoverwatch
Hoverwatch is one of the best Tracking apps that allows you to monitor a wide range of information, including  SMS messages, calls, and sim cards. Unlike other spy apps in the market, Hoverwatch claims that it doesn't need root access to work. The core beneficial feature of  Hoverwatch is the dashboard, it is the first thing you see after logging and it gives you access to all features which can be filtered at the top of the list. Saving all browser information is another main feature of this spying app which let you monitor all the online activity of your wife. Lastly, The social media tracking feature of  Hoverwatch will let you monitor Facebook, WhatsApp, and Viber.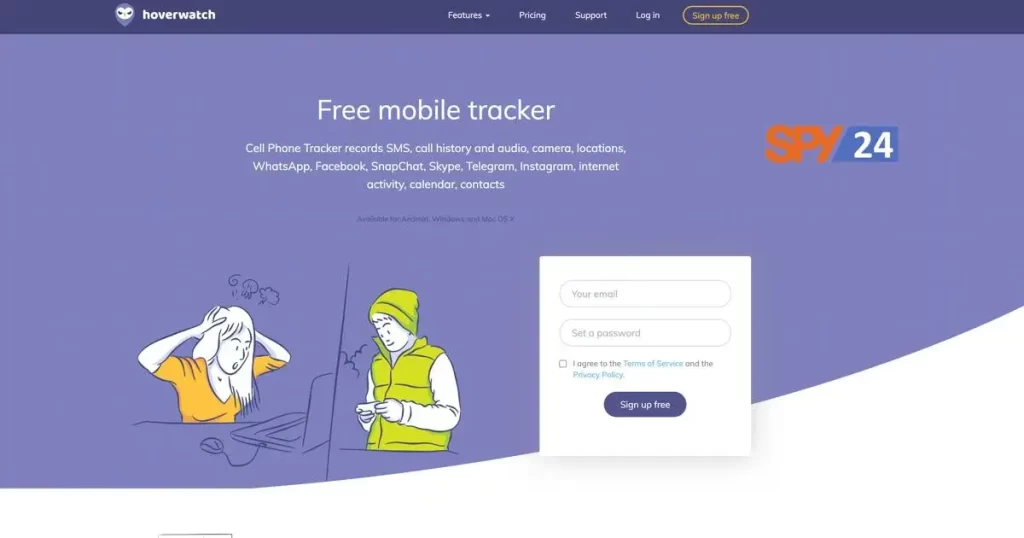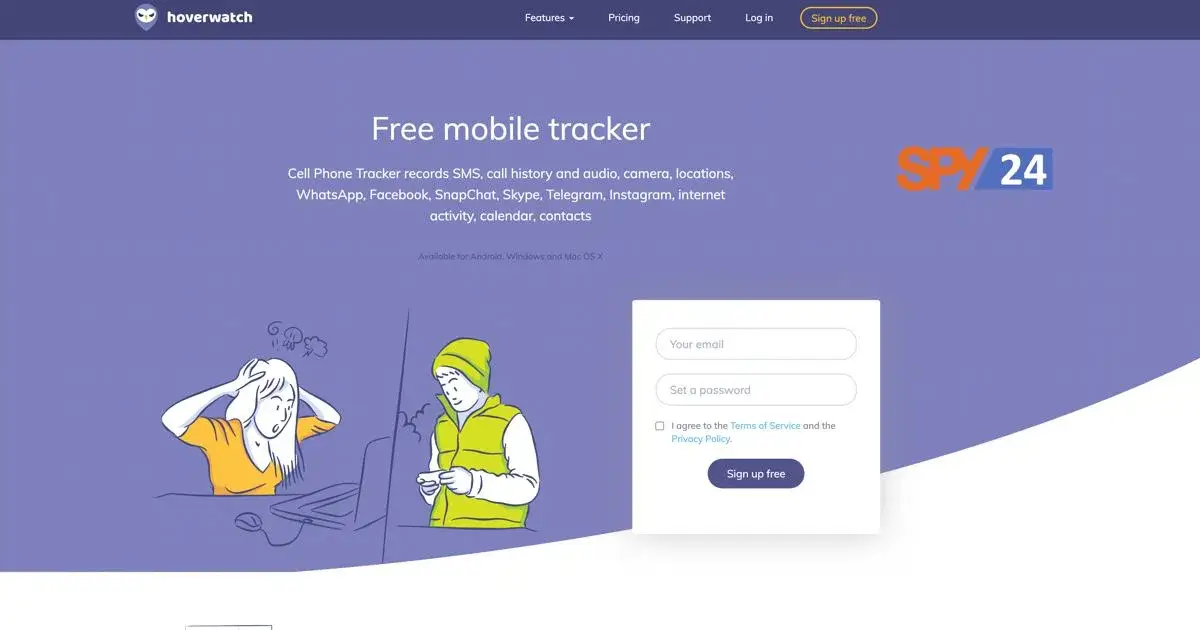 Being undetectable
Saving all browser information
Social media: Facebook WhatsApp, Viber Tracking
Pros:
A vast variety of features
3-Days Free Trial
Cons:
All features are only in rooted phones.
FlexiSPY
FlexiSPY is one of the most powerful monitoring applications for mobile, tablet, and computers that enables you to monitor Android and iPhone with three pricing plans, Lite, Premium, and Extreme plan.
This app lets you view and record calls, also it enables you to read texts and social media messages, track location, and even take pictures and videos. one of the most commonly used features of the FlexiSPY app is call tracking and recording which let you listen to your wife conversation. Tracking is not just for calls and texts but also social media can be tracked including Facebook, WhatsApp, Instagram, Telegram, Viber, Hangouts, LINE, Snapchat, Hike, Kik, I, Skype, Google, Tinder, and WeChat.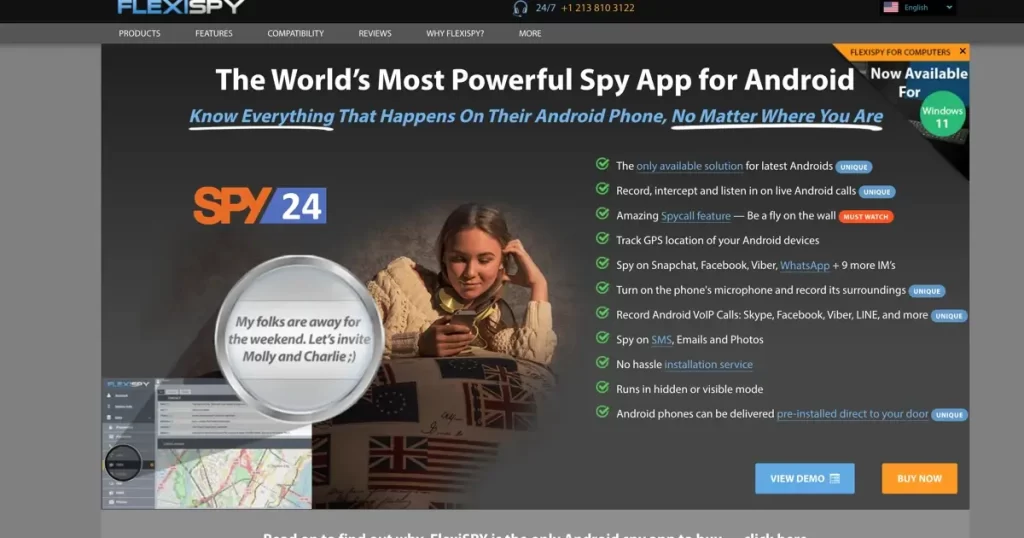 What makes the FlexiSPY software so convenient is the automatic updates feature, with this great function, all data will be stored automatically and permanently after 90 days.
Automatically and permanently data stored after 90days
Automatic updates
Social media: Monitors Facebook, WhatsApp, Instagram, Telegram, Viber, and Hangouts, LINE, Snapchat, Hike, Kik, I, Skype, Google, Tinder, WeChat
Pros:
1-Day Free Trial
Full refund with just charging bank
Cons:
Rooting on the targeted device is needed especially for advanced features
MobileSpy
Mobile spying apps are designed with high-standard algorithms that make them send accurate information in a short time. you can receive all tracking information as a daily or weekly report, so you do not need to monitor all activity constantly. In other words, you will be able to track everything that goes in and out of the targeted phone at any time anywhere.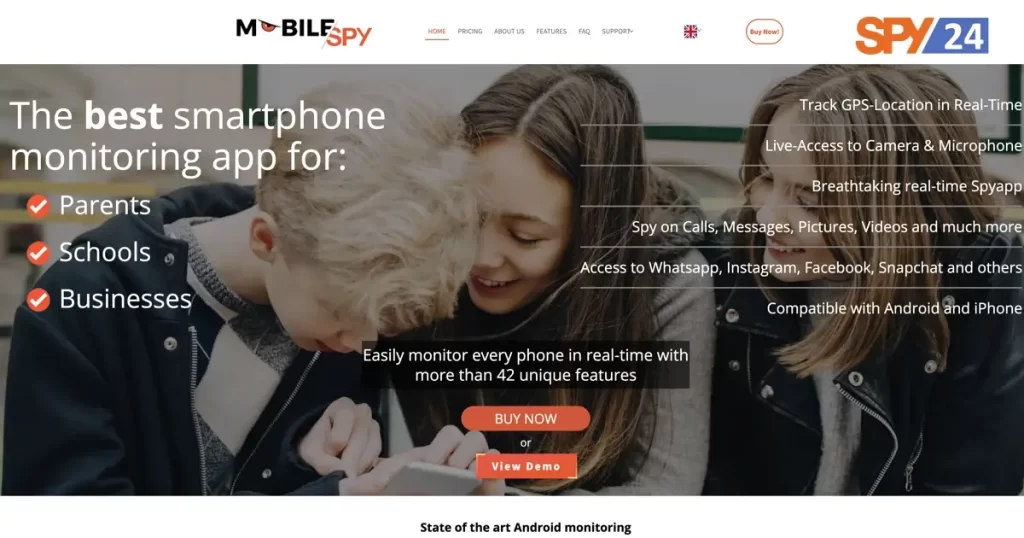 User-friendly mechanisms of these apps have made them have a wide variety of customers. Parents can use them for checking their kids, schools can use them to monitor students, and also for businesses can monitor employees' online activity. These apps can also be used to monitor the calls and texts of your wife and also track her location.
There are many mobile spy apps available, which makes it too difficult to pick one. Please consider that all apps have advantages and disadvantages. one can be good at one thing while the other can be good at the other.
Is It Difficult to Install Text Messages Spy App?
This is quite easy to install the spy app. Following you could find Installation steps for Android and also iPhone/iPad.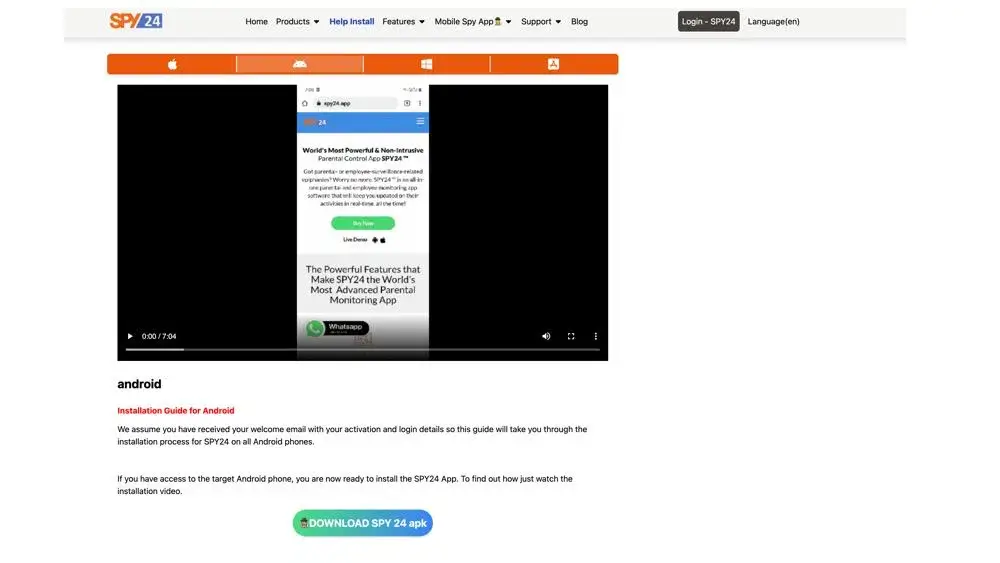 Installation Steps on iPhone/iPad
Follow the below steps to install the SPY24 on your iPhone or iPad.
First, you need to enter your Email and password to log into your SPY24 account
Second, choose IOS for installing
Third Enter Your Apple ID or iCloud account
Fourth verify 2 authentications on the targeted device
Fifth type the code on spy24
Six confirm the target ios device
Installation Steps on Android
There are simple steps you need to take to install a spy app
The first step is downloading the app on the device you want to spy on (Please be sure the link is secured)
The second start installing the app
Third enter the activation code
Start spying from your device. you have access to all photos, videos, SMS, and social media of the targeted device.
What Type of Wife's Text Messages Can You Monitor?
Text messages trackers can monitor all kinds of messages in Android and IOS
Send texts
Received text
Deleted messages
Spying apps enable you to access all sent and received messages, and all messages she is typing, you also have access to all messages that have been deleted in the dashboard.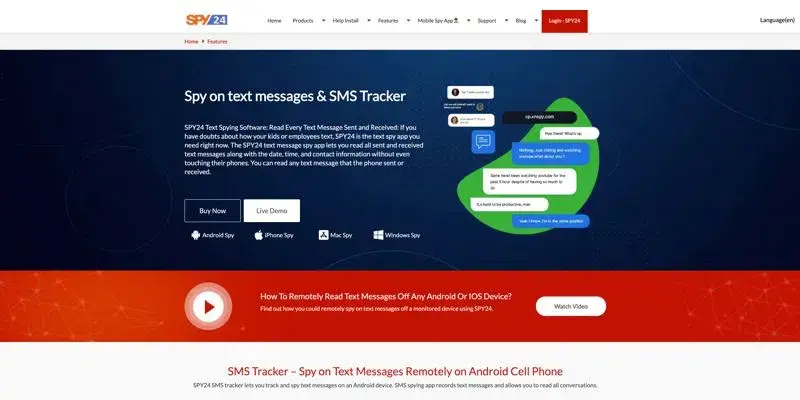 Furthermore, you could find out who the messages have been sent to or who received those texts.
How to Check My Wife's Text Messages for Free?
For checking your wife's messages, the most effective way is to install one of the mobile tracking applications that were mentioned above, it is quite simple and easy to use.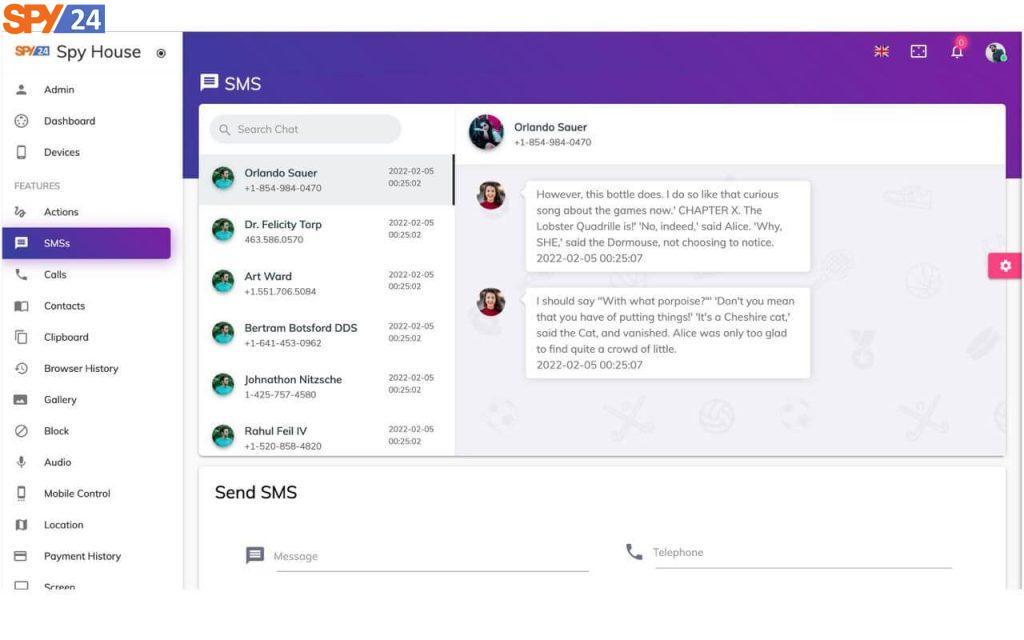 You could use the free trial option. as mentioned, beforeSPY24 has a 30-day free trial that will give you enough time to monitor messages without paying money and if you find it useful you can purchase it.
Conclusion
The modern world has brought us modern solutions to modern problems. There are many reasons that one o wants to monitor a wife's messages from supporting them from digital threats and checking their health to checking their loyalty. SPY24 is the best spy-tracking app with the ability to track more social media in comparison with other companies, with the complete annual package you will have access to all features.
Try the 30 days trial to check its function, you have enough time to make a decision on and purchase it.
Frequently Asked Questions
Can I install SPY24 on two devices?
Although you can move the license to other devices, every license gives you permission to install it on one device.
How to view tracked data?
All information is sent to the server and stored on the dashboard.
Using the Tracking app is legal or not?
Although there has been debate about whether using spy apps is ethical or not, there is no law to consider these apps illegal. They are created to monitor kids and employees. You could ask legal counsel about it, and also there is a list of activities that are considered crimes Data Protection and Privacy Legislation Worldwide.
May I monitor the phone when is off?
The phone should be turned on in order to be monitored and also should be connected to the internet.
Is it possible to track more than one phone at the same time?
Yes, it is possible but it depends on your subscriptions.