Spy App
Everything Parents Need to Know About OmeTV App
Online communication is getting popular, especially after the coronavirus pandemic and quarantine Period when we had no other choice than to use online platforms to meet people. The COVID-19 pandemic has moved education and also many businesses, so teachers are teaching online and many jobs got online. There are many social platforms available nowadays that made communication easy for us.
Ome TV app is one of the popular applications that makes you connect with strangers through a webcam. It is one of the most amusing apps that let you meet people you have never seen freely. Although For many youngsters, speaking to folks they don't know online is a thrilling experience, It can be dangerous. Many teens prefer to play online games so they are spending most of their time on the Internet. There are lots of pop-ups or websites that contain violent or adult content. So Parents need to track their children's activity to take action in case of necessity.
In this article, you'll find a full comprehensive Ome TV App review.
What Is Ome TV App?
Ome TV is an online video chat platform that provides a secure connection to the user who wants to connect with friends or wants to stay connected with loved ones all over the world. The App provides free service in multiple languages, allowing users from around the world to use it. Imagine how fun is talking with strangers who you have never seen before on the street, cinema, or park. This amazing app will allow you to experience this virtually. when you are bored you can find company and have fun, especially with your friends but when you are online you always need to be aware of web threats.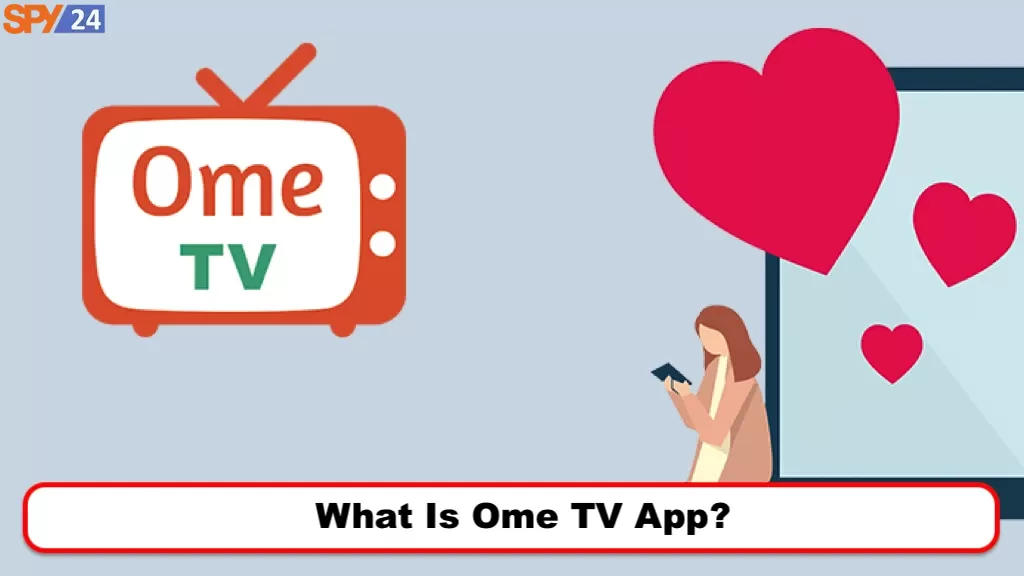 It is easy to work with, you just need to choose your country and gender, and then start chatting for free, you just need to follow some rules.
Be polite, and do not insult your interlocutors.
Do not perform any actions, which may be considered obscene.
Do not stream an extraneous or modified image in place of yourself.
Advertising and spam are strictly prohibited in any form.
Complaint procedures
Age restrictions
Is Ome TV App Safe?
You can download OmeTV through the Google Play store. In case of any misbehaving, you can block anyone and also report it. Although Ome TV App is designed to be entertaining, it can be dangerous for teenagers. Following are some reasons you need to be concerned about when your children are using this app for online communication.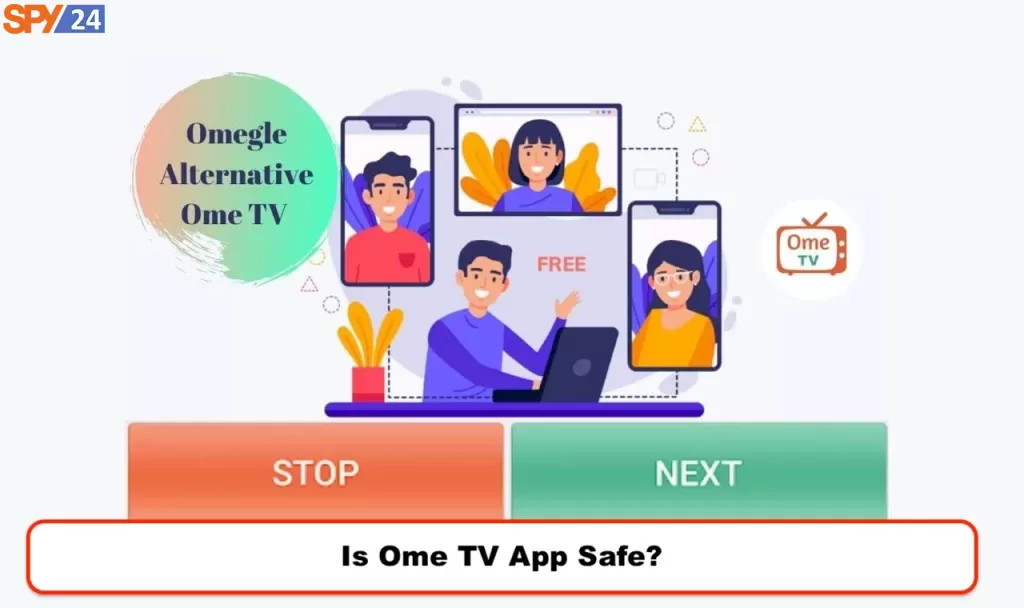 The App may contain some adult content such as violence or pornography that is not appropriate for youngsters.
Today, many forms of online adult content are available from videos and images to graphics, cartoons, games, audio, live streams, apps, and written material.
These contents can affect children's brains negatively, the most important ones include early Sexual Intercourse, Sex Addiction, Sexual Aggression, Objectification, Encourages Violence, Internet Addiction Disorder, and Intimacy Disorders.
Online chatting with strangers can not be safe for children. Predators are active each day to manipulate children in online meet.
Unfortunately, children remove privacy settings to attract more friends or followers. Online Predators will pretend to be their age, and share similar interests, once the relationship has been established, the child may be pressured to take photos or videos of themselves and send them to the groomer. Then the groomer will start blackmailing the child by threatening to release private photos or videos and share them on the Internet.
Although advertisements do not pop up on this app if the username and password used in the application are not strong or credit card information is stored in the app in an insecure manner.
How to Protect Your Child from Ome TV App?
Parents can protect their children through awareness. The best way is to inform them about the potential effects on themselves, others, and their family. It is important to have Age-appropriate conversations about sexualized content and violence with your children so they can process what they come across online. Discuss the do's and the don'ts respectfully and inform them about online threats. Explain to them why this app can impact their mental and emotional health and Set up rules and regulations on Ome TV App. You can look for software to monitor your kid's online activities. Many spying apps are available to monitor their activity online that enable you to track calls and messages to see who your children are having a conversation with and to watch them remotely. so you know where they are, and what are they doing.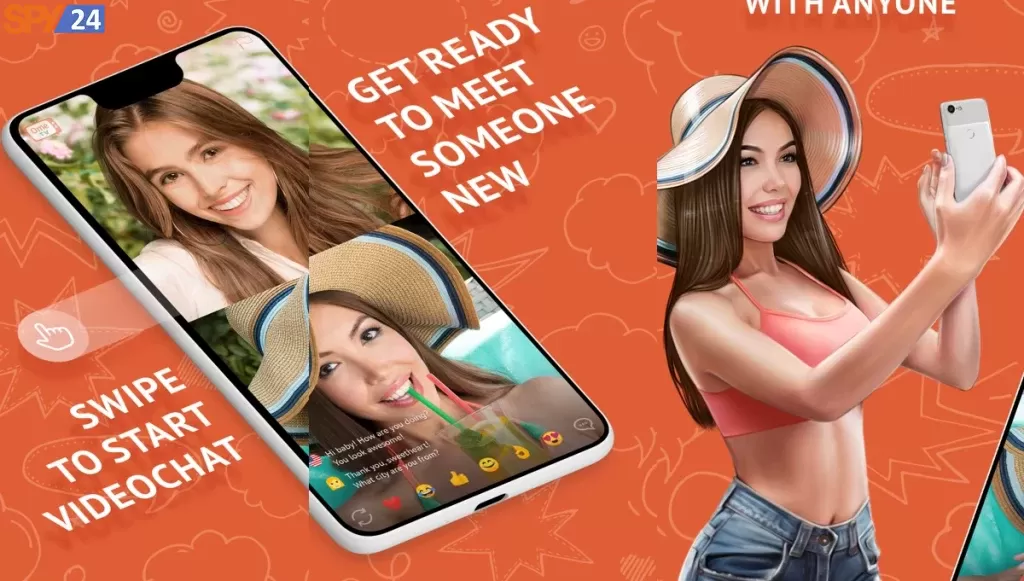 we recommend you install the best one SPY24, following you will read about this amazing spying app
SPY24 Helps Monitor Ome TV App
By installing SPY24 on your children's phones, you can monitor their chat and messages, and all files. OmeTV tracker helps you protect your children from online predators and also tracks the content of the messages they are sharing to be sure they are not the victim of violence or manipulated by strangers.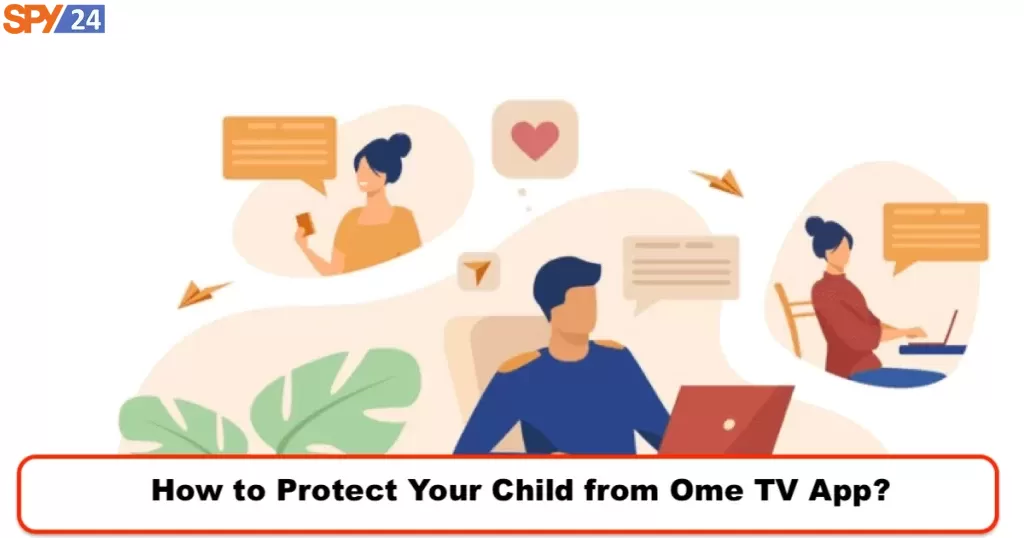 It is easy to install, you just need to follow below steps:
Download the App
Install
Register for a user account
Purchase a subscription
Open the SPY24, on the left side of the dashboard, under the social media app, you can find the OmeTV.
You can Track all files including photos, videos, and messages even the deleted ones without requiring root access.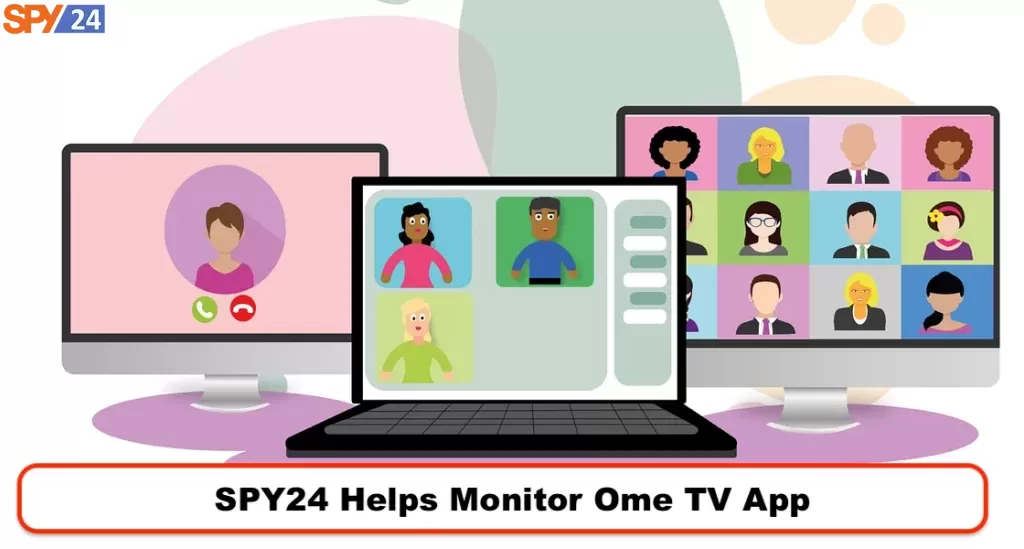 SPY24 App Features
SPY24 App offers many features to users, we will look at some of them below.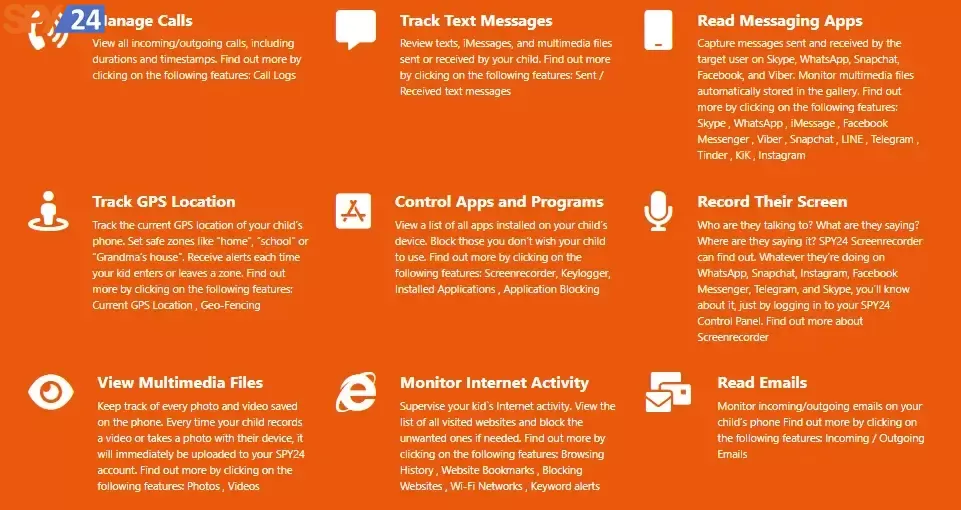 Social media tracking
Parents can monitor their children's activity on applications such as Ome TV App as these apps are getting popular among teenagers, and predators are always online to abuse children.
By installing SPY24, parents can track all online activity of their children on OmeTV.There is a list of social media you can track by SPY24
There is also a list of other social me
Instagram
Instagram is a social network platform that allows you to share your photos, stories, reels, and also videos with the friends and followers you care about.
SPY24 provides the service of reading all sent and received text messages and shared links in Instagram Direct. The app enables you to see Instagram followers and who has unfollowed you, and who is not following you back, it helps you track new followers, and find mutual friends. you can even see the followers who have never liked or commented on your posts and those who have always liked or commented on your friends' posts. Finally, you can see your top liked and top commented statuses, and people who are often tagged in your posts.
Facebook
Facebook is a social networking service that allows you to connect with friends and colleagues.SPY24 will enable you to track all Chat Conversations, Dates, screen recordings, voice messages, and Calls through Facebook Messenger.
WhatsApp
WhatsApp is a free messaging app that has many users from over 180 countries. By Using SPT24 you can monitor WhatsApp messages, photos, videos, voices, documents, and calls.
Twitter
Twitter is an online social media service that allows you to communicate and stay connected through the exchange of quick messages. SPY24 will let you see Direct Messages, images, videos, tweets, Followers and Following, notifications, and also Timestamps which enables you to know exactly what time and date a particular activity occurred.
Telegram
Telegram is a cloud-based messenger that allows you to send and receive messages. You can access the telegram profile and see all sent and received messages, contacts, and multimedia with the SPY24.
Skype
Skype is a telecommunications application best known for video conferencing. SPY24 will give you access to all chat, Call Logs, photos videos, and also a contact list with detail about their name, number, and profile photo.
Signal
The signal is an American privacy-focused messaging application. All text messages (including disappearing ones), Contacts, and All other activities on this app can be monitored by SPY24.
Snapchat
Snapchat is a popular messaging app that lets users exchange images and videos (called snaps) that are meant to disappear after they're viewed? The greatest function of this app is the filters, and lenses that make this app fun to use between friends and family members.SPY24 will give you access to shared media, chats, Friend lists, snaps saved, and the Time and date of snaps.
Viber
Viber is a Japanese cross-platform messaging app that lets you send text messages, and make phone and video calls. you will be tracking all Viber conversations with SPY24.
KIK
KIK is a Canadian instant messaging mobile app that can be monitored by SPY24. You can track all received and sent Messages, Media, and Contacts, with their date and time.
KakaoTalk
KakaoTalk (KaTalk) is a mobile messaging app in South Korea that can be tracked by SPY24. You will be able to see all the KakaoTalk messages.
LINE
LINE is one of the most popular Japanese IM applications. you can monitor Shared Videos & Pics, Check Chat audio, View Call Logs, capture Screenshot Automatically, Checks LINE Activities, and Export All Data by using SPY.
Hike
Hike Messenger(Hike Sticker Chat) is an Indian instant messaging, Voice over IP (VoIP) application. with SPY24 you can view Screenshots of Hike messages, Contents Sent and Received, and Sent messages.
IMO is an audio/video calling and instant messaging software service.SPY24 will let you read chats and view multimedia messages with the date and time of every message exchanged, get access to the media
IMO stored, stored, or create a backup of the monitored chats on your computer.
Tango
Tango is messaging application software that has become a B2C platform for Live Video Broadcasts, Tano monitoring feature of SPY24 will let you monitor incoming and outcoming Tango messages with date, time, and sender/recipient contact, and also pictures and video.
TikTok
TikTok or Douyinis( Known in china) is a video-sharing app. With the TikTok tracking features of SPY24, you will read all text messages sent and received, images, videos, and documents, and also you will have access to their chat history along with the exact timestamp. Furthermore, you will be able to track the users who like and comment on their posts. Besides, you will know how long the user spends on this app. Finally, you will be able to see followers in real-time.
Tinder
Tinder is a popular dating app, making it the place to meet new people. The Tinder tracking feature of SPY24 enables you to track messages typed and pictures posted in the Tinder chat history. Besides, you will have access to capture screenshots, monitors SMS, call logs, call recordings, website history, and social chat history.
BBM
BBM (BlackBerry Messenger) is a mobile instant messenger and videotelephony application. with the MMB tracking features of SPY24, you will track all BBM activities and capture screenshots.
iMessage
iMessage is an instant messaging service that functions exclusively on Apple platforms. iMessage tracking of SPY24 will let you see all incoming and outgoing texts, and also give you full access to photos, videos, and other contact information that has been exchanged.
QQ
QQ (Tencent QQ) is a messaging software service developed by the Chinese technology company Tencent. With the QQ Tracking Feature of SPY24, You Will track all QQ conversations including every call, messaging, photo, and video shared with the date, time, and duration.
Odnokalassniki
Odnokalassniki (abbreviated as OK or OK) is a Russian social network service, You will be able to record text messages and capture screenshots with the Odnokalassniki tracking feature of SPY24.
Hangouts
Hangouts is a communications service developed by Google that allows members to participate in text, voice, or video chats, either one-on-one or in a group Hangouts tracking feature will let you spy on Hangouts messages, including emoticons and stickers, and see all pictures, videos, and audio, besides files shared, you will also be able to download and store them.
Zalo
Zalo (a combination of "Zing" and "Alo" ) is a messaging application that provides a fast, stable connection for users and has a lot of customers in Asia including Vietnam. with the Zalo tracking feature, you will be able to read text, chat, media gallery.
Monitoring Multimedia
All files including videos, and photos on the phone can be tracked by SPY24. As many adult contents on the Internet are not appropriate for children, Parents should control their files to protect them. As mentioned before those can affect children's minds negatively.
Programs Controlling
Another essential feature of SPY24 is the ability to control programs. Parents can track the program on their children's phones to protect them from harmful apps that are not appropriate for them.
Monitoring web browsing and bookmarks
Tracking Web browsers will help parents to protect their children from digital threats that would cause mental or emotional for them. There are many adult contents and files that contain violence and sex that are not appropriate for them.
Parents should also control the time their kids are spending on the Internet to prevent them from being addicted to the internet.
Monitor Phone Calls and Messages
One of the best features of SPY24 is monitoring calls and messages, which provides you with enough information about Incoming and outcoming calls, and then, Calls Durations and Contact lists.
Parents will be informed about who are their children's friends and how much time they are spending with them. And also they will have access to read their text and listen to their calls if they are suspicious.
Location Tracking
Parents could stay calm while their children are on the trip or are late by tracking their location.
SPY24 App Cost
The app will give you the ability to track all online activity for free. The company offers a 30 days trial which gives you enough time to check it out. If you want to purchase it following is a list of Android, Windows, and MAC packages :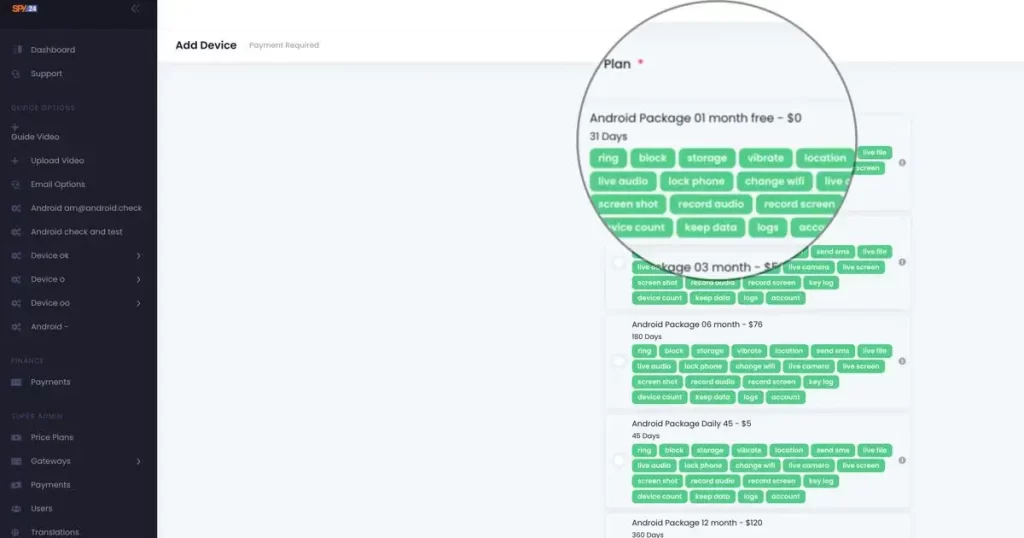 Windows Packages
1 month – $0
3 months – $46
6 months – $60
24 hours – $0
Android Packages
1 month (31 Days) for free – $0
3 months (93 Days) for $50
6 months (180 Days) for $76
Daily 45 (45 Days) for $5
12 months (360 Days) for $120
MAC Packages
1 month – $25
3 months – $46
6 months – $60
24 hours – $0
SPY24 Install application free The Most Powerful Hidden Spying App to Monitor Android, IOS Cell Phone & Tablet Device Remotely. Best Android Parental Control App for Kids & Teens Online Safety.
Now take the liberty to monitor Android, and IOS devices with exclusive features better than ever before Monitor all Voice & Text Messages Communication records, Listen to & Watch Surroundings in Real-time Unleash Digital Parenting with Android, IOS Spy App Spy (Surround Listing & Front/Back Camera Bugging) IM's VoIP call recording on Android OS 13 & above With 250+ Surveillance Tools at your fingertips using Android Tracking & Parental Monitoring Software.
SPY24 App Pors Cons
Pros
It offers a 30-day trial (More than any other spying app)
The app gives you access to monitor lots of social media(more than other spying apps)
It is available in multiple languages.
24/7 customer service
It is completely hidden
It is available for Android and iOS.
Cons
For monitoring social media a full subscription is needed.
SPY24 App Customer services
SPY24 App has provided active Customer services with 24/7 Live Chat and 100% Secure Satisfaction Guaranteed. By visiting the official site you can ask all your questions. Our team will reach you as soon as possible.
Is OmeTV anonymous?
If you are concerned about your privacy, OmeTv offers you a reliable connection. Children are at risk of being exposed to predators remember that predators always stalk them on Instagram and other social media, so be careful.
Which VPN is best for OmeTV?
As many countries have banned OmeTV, the user must use VPN to hide their online identification, place, and Internet Procedure (IP) address.
The following are the best OmeTV VPNs :
NordVPN
ExpressVPN
Surfshark
PrivadoVPN
Follow the below steps so you can run the VPN
Sign up for a VPN account (only requires an email address).
Download and install the app on your PC, Android, or iOS device.
Open the app and connect to one of their free servers.
Once connected you can launch the OmeTV app or website.
Conclusion
Online communication can be a great hobby for anyone but you should always be concerned about the possible threats especially if you have a kid under the age of 15 .when an application becomes a trend every child wants to use it, If your child is using OmeTV, you can spy on them by installing SPY24 .you can keep an eye on OmeTV without being discovered and it offers you a 30-day trial, with 24/7 customer service.
FAQs
Should I worry about my privacy when using OmeTV?
It is recommended that you do not share your personal information with anyone in the chat unless you trust them.
What can  I do if someone is misbehaving in the video chat?
If a stranger is disturbing you can report them, and they would not be able to annoy you anymore.
What should I do when I use OmeTV for the first time?
Please spend some time reading our rules and regulations, then start using the app. In case of any misbehaving block and report it. 
Where is the headquarters of OmeTV?
This media company is based in Nigeria.
Does OmeTV have an age limit?
To use OmeTV you must be considered an adult, under your country's laws.