Spy App Reviews
Phonesheriff App Review 2023: Parental Control VS SPY24 Features
Modern children are spending most of their time on the Internet doing their school research, communicating with their friends, and playing online games. There are lots of pop-ups or websites that contain violent or adult content. Parents can not control their children's activities all the time. so many parental control apps have been designed to help them to monitor and also protect them from cyberbullying and predators.
One of the most popular applications is the phone sheriff app, designed by Retina-X Studios which allows parents to monitor their kid's online activities remotely. They can see all their photos, calls, messages, and location. For using this app you have to install it on the targeted phone, and by logging into your account you will have access to all information you want to know about the person you are monitoring the phone. remember that Phonesheriff is not working on iPhones so you need an Android device to work with this app.
If you want to purchase this app, you should change your decision as the Retina-X Studios has been the victim of repeated, illegal hacking, they halted the Phonesheriff app and the spying apps to implement steps to enhance the security. If you want to know more about this app, continue reading this review. 
PLEASE READ: The former owner of this site has indefinitely stopped selling the PhoneSheriff product. Are you worried about a youngster or employee and want to keep an eye on them? This other option is highly suggested by us.
| | |
| --- | --- |
| Android | Yes |
| iOS(iPhone/iPad) | Yes |
| Website:  | https://www.phonesheriff.com/ |
| Domain Age: | 2011-03-02 |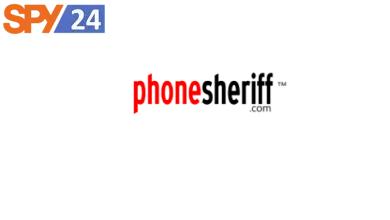 What is the Phonesheriff app?
Phonesheriff is one of the most popular parental control apps that offer cutting-edge technology that helps parents in monitoring their kids' online activity. In the control panel, all activities are sorted which makes it easy for parents to check their children's activities whenever they want. This app gives you access to block all websites that contain inappropriate content like gambling, violence, and adult content.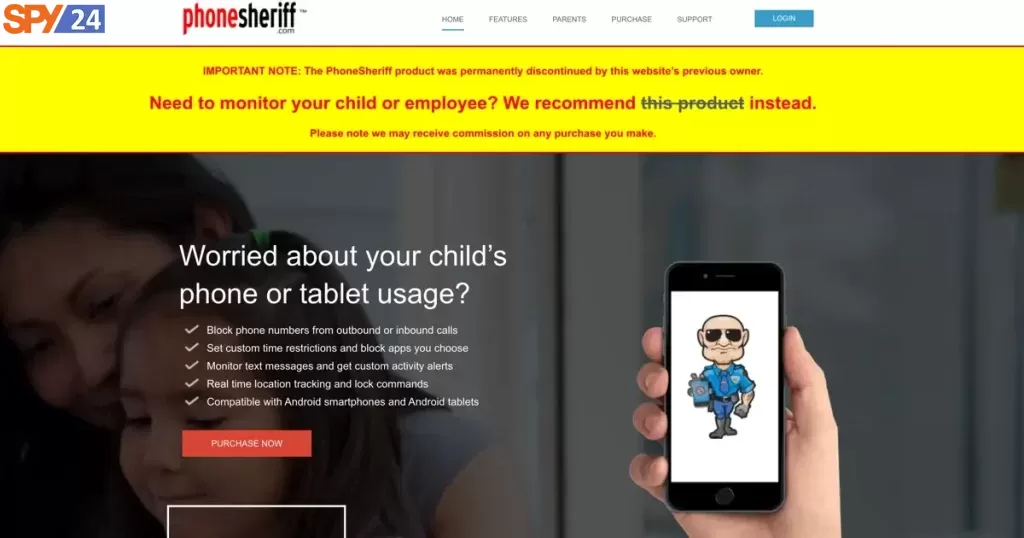 Why should parents use the Phonesheriff app?
Just like the real world, the digital world is full of threats and dangers. There are some reasons that parents should be concerned about their children's online activities. First and foremost, many online predators follow innocent children on different social media and share similar interests and after getting close to them they start blackmailing children. Second, many ads on the net or websites contain violence and adult content in different forms like games, cartoons, graphics, and also written material that would encourage violence and cause disorders. Lastly, many children got addicted to the net, so parents should control their online activity hours. Using the Phonesheriff app would be a great idea for parents because not only are they user-friendly but also have many features.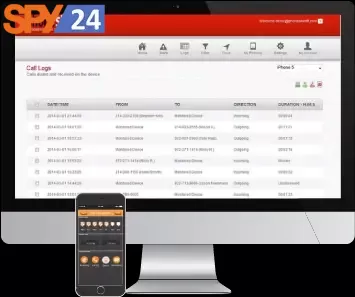 Following you could find information about how to install and run it on your children's devices.
How Do I Start Using Phonesheriff? 
Working with Phonesheriff is easy, you just need to take a few steps, But remember that the device must have Internet access.
After payment, Phonesheriff will send you the registration code, and also download link, and a complete guide to installing it.
Phonesheriff App Review 2023: Parental Control VS SPY24 Features 13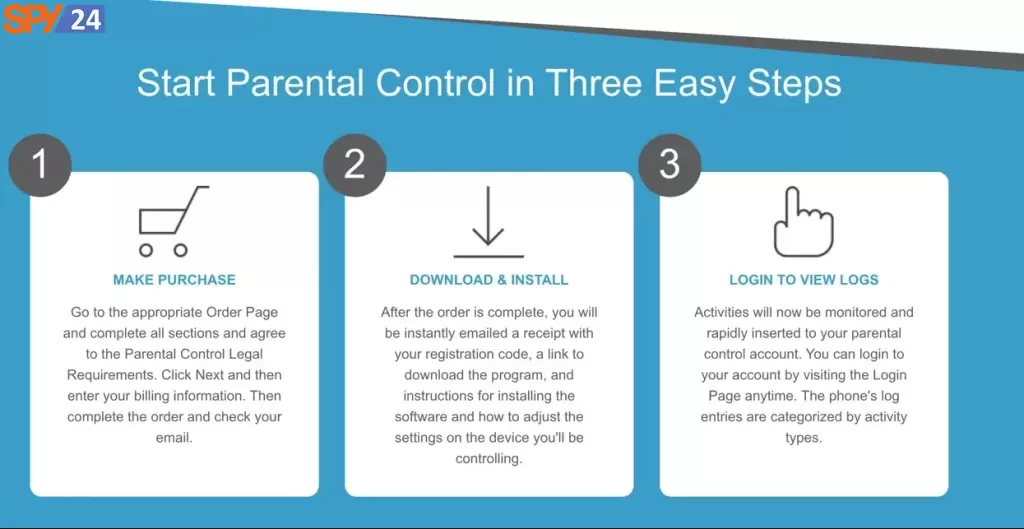 Follow the steps before downloading the app on your child's device:
Step 1:  Go to the Setting.
Step 2:  Go to the Security.
Step 3: Turn on an unknown source.
Step 4: Download the app from the link provided in the email.
Follow the steps to set up and use the Phonesheriff:
Step 1: Create an account.
Step 2: Install the application on your child's device.
Step 3: Log into your account.
Step 4: Click add a license, Copy and paste your registration code, To use 7 days trial you can go to the registration page and register your account.
Step 5:Go to the control panel and start monitoring
Please notice that The first logs show up after one hour and consider that there is an option to turn the device notifications on that makes your children informed of being monitored, by turning it off you can monitor them secretly. For removing the app, go to the setting, enter the password, and tap uninstall.
Phonesheriff app reviews 2023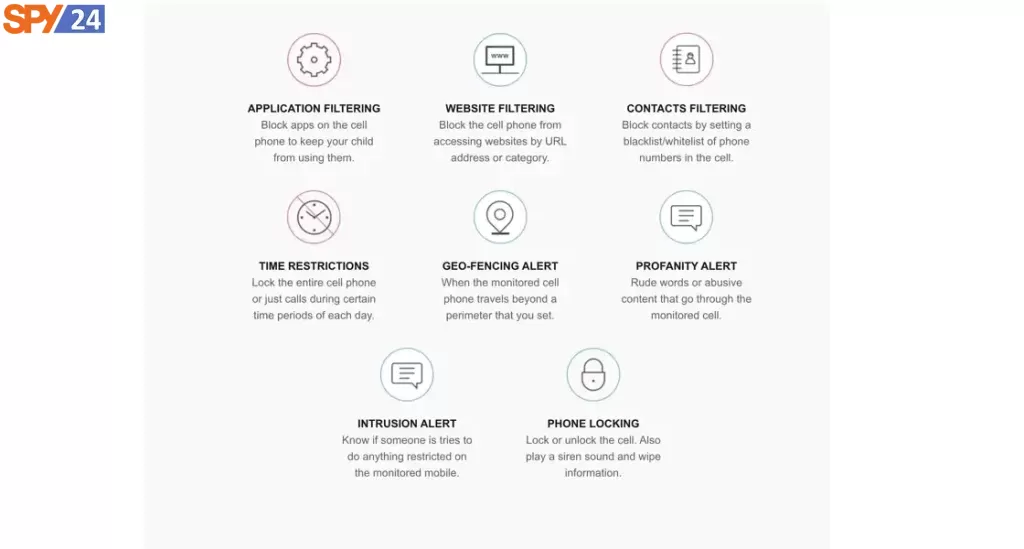 Phonesheriff app features
Many claims that Phonesheriff is one of the best parental control that helps them to be informed of their children's online activity but they are not providing any service recently. Although no personal data was accessed after being hacked many are concerned regarding security. The company is designing steps to improve security which has a positive outcome in restricting data.
Following you can find the most important features of this app, But consider that the limited functionality of this app has been reported by reviewers.
REAL-TIME GPS TRACKING
Parents can find the exact location of their child in real-time at just one glance, especially when they are on a trip or they are late, so you can be sure they are safe.
INTERNET HISTORY
Parents can browse all websites they have visited which helps them to know what they are obsessed with and inform them if they are curious about adult content.
TEXT MESSAGES
Parents can check all texts of their kids which helps them to know who is texting them and protect them if someone is threatening them.
CALL HISTORY
Parents can check all calls, contact lists, and the duration of their call so they are updated about their kid's new friends.
APPS INSTALLED
Parents can monitor all app that has been installed on their kid's phone so they can block violent or inappropriate games and apps which might have a negative impact on their kids' behavior.
PHOTO LOGS
Parents can monitor all photos on their kid's cellphones to be sure that they are not taking inappropriate photos and sharing them that would cause them problems.
CONTACTS
Parents can check all contact lists of their kids to see who are they interacting with.
Panic alert
Parents can configure all settings in the control panel to be updated on special activities.
Messenger Logs
Parents can monitor all messages except SMS such as What's app messages and Snapchat messages that need to be rooted in Android.
Backup and Restore
Parents can create a backup of all data on their children's mobile so that when it is lost or got stolen they can upload the data on a new cellphone.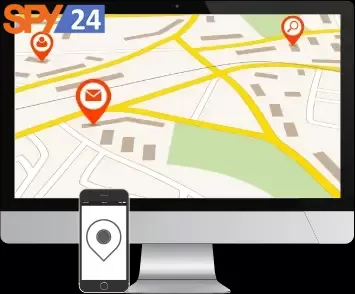 Restrictions
This is one of the most important features of this app. Parents can lock or limit calls, messages, and internet usage, for example, they can lock their phone from 8 pm to 8 Am or any other time they want, so they can protect them from websites that are not appropriate for their age. They can also put a limit on internet usage so they could prevent their children's addiction to the internet. In addition to limiting, they can block specific phone numbers that are disturbing and causing trouble for their teenagers. 
Price list
Let's take a look at the costs of this app. Please notice that each license allows you to use Phonesheriff on up to three devices.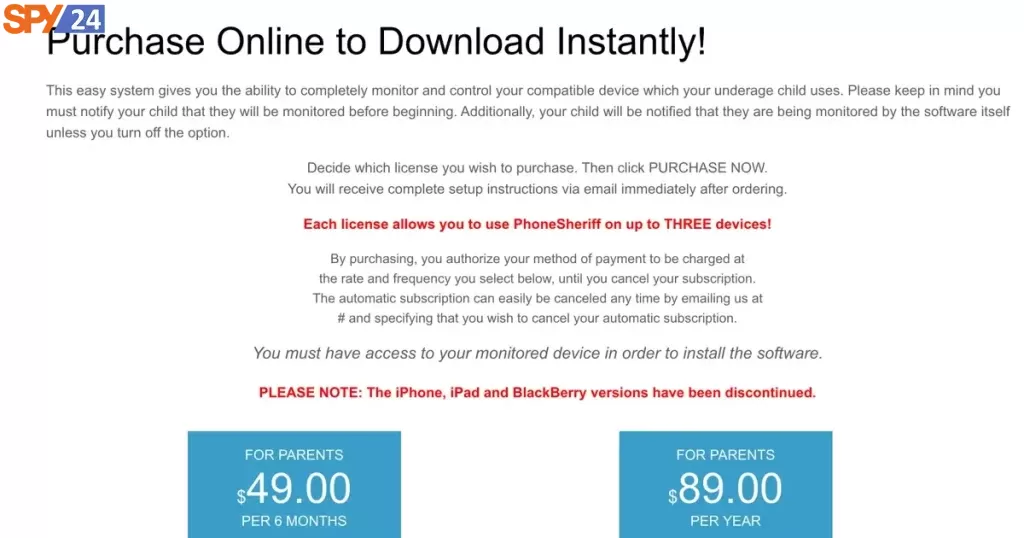 You could find the Phonesheriff costs below:
Per year:  $89.00     
Per 6 months:  $49.00   
You can pay via credit cards(Most Maestro, Visa, Discover / Novus, Diners Club, JCB, ) and American Express cards or you can use online Payment methods (PayPal and Giropay)
Pros:
Instant notification alart
Great support team. you can open a new support ticket and ask your question which will answer you in less than 24 hours
7 days trial
Cons:
Phonesheriff is not compatible with IOS. The iPhone, iPad, and BlackBerry versions have been discontinued.
You can not  record the audio surroundings of the phone
PhoneSherrif vs spy 24 app
SPY24 app offers several features that you should know about .below you could find the most significant one.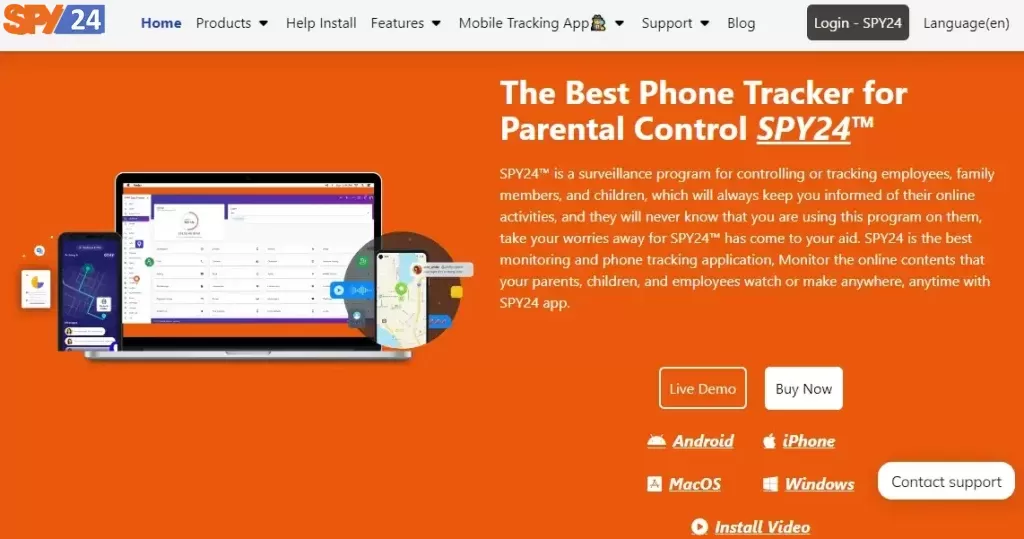 Monitoring Multimedia
All files including videos, and photos on the phone can be tracked by SPY24, As many adult contents on the Internet are not appropriate for children, Parents should control their files to protect them. As mentioned before those can affect children's minds negatively.
Programs Controlling
Another essential feature of SPY24 is the ability to control programs so Parents can track the program on their children's phones to protect them from harmful apps that are not appropriate for them. 
Monitoring web browsing and bookmarks
Tracking Web browsers will help parents to protect their children from digital threats that would cause mental or emotional problems for them. There are many adult contents and files that contain violence and sex that are not appropriate for them. 
Parents should also control the time their kids are spending on the Internet to prevent them from being addicted to the internet.
Monitor Phone Calls and Messages
One of the best features of SPY24  is monitoring calls and messages, which provides you with enough information about Incoming and outcoming calls, and then, Calls Durations and also Contact lists. by using this function parents will be informed about who are their children's friends and how much time they are spending with them. Furthermore, parents will have access to read their text and listen to their calls if they are suspicious.
Location Tracking
Parents could stay calm while their children are on the trip or are late by tracking their location.
Social media tracking
Although social media has helped us in many ways, it can negatively affect us physically or emotionally by distracting us or disrupting our sleep, exposing us to bullying, rumors spreading, unrealistic views of other people's lives, and peer pressure. 
So we need to be cautious when we are using social media to avoid physical disorders or any probable dangers and also the depression that happens when we are comparing our life to others on these media.
Parents can track their children's activity on social media by using SPY24, as children are spending most of their time on popular social media.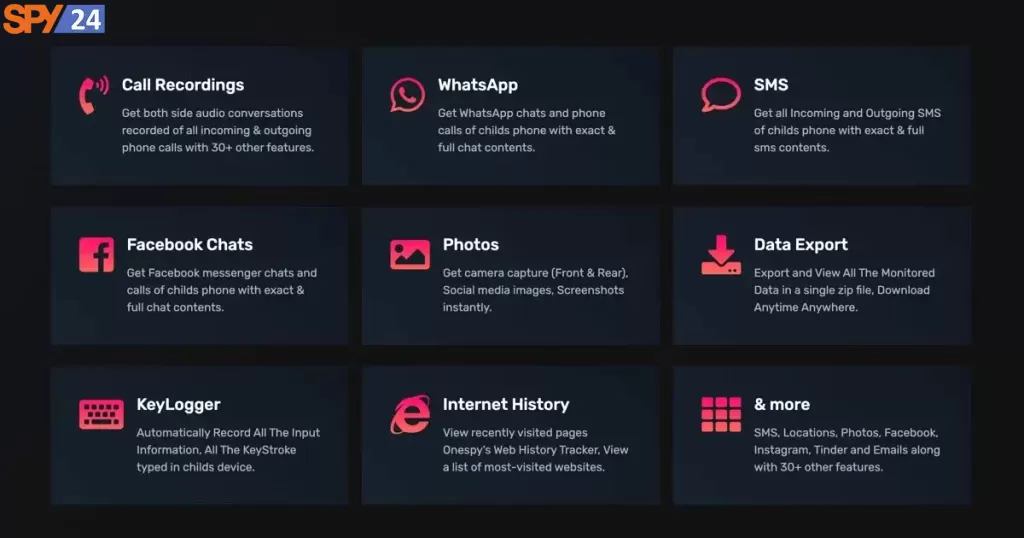 Businesses need  to track social media for the following reasons 
Build  their brand
Manage their  reputation 
Know their industry and competitors
Measure the effectiveness of  their communications
Let's look at some of the most popular ones:
WhatsApp tracking app
Whatsapp is one of the most popular social media around the world with  More than 2 billion users in over 180 countries. you can track all the below items on WhatsApp by using the SPY24 WhatsApp tracking app will able you to see WhatsApp Photos, Videos, Voices, Documents, Screenshots, and all WhatsApp Activities.
Instagram tracking
Instagram is a photo and video-sharing social network by using SPY24 you can track all text messages (sent/received), all shared links and texts direct, Photos, and videos.
Facebook tracking
Facebook is an American platform that Connects you with friends, family, and other people you know by tracking Facebook using SPY24  you can track all shared  Messages and Multimedia.
Twitter tracking
Twitter is an American social networking service for sharing news and entertainment, by monitoring this app you can see all of the person's tweets, Followers, Following lists, and the person's direct messages.
Snapchat tracking
Snapchat is an American multimedia instant messaging app that has got popular the fun filters especially among teenagers by tracking this app you will see all  Multimedia Files and Text Messages.
Signal tracking
The signal is a popular app that provides services for instant messaging, voice, and video calls. By tracking the signal you will see all Text messages (Date and time of each message) and Calls. 
Telegram tracking
Telegram is the cloud-based and instant messaging service that helped digital businesses to boost because of the multiple functions it offers, and it was started in 2013 in Russia. The telegram tracking feature will let you track Text and Voice messages and also all shared files.
Zalo tracking
Zalo is one of the popular apps in Vietnam that was first introduced in 2012, by using SPY24 you can track all Incoming and outgoing text messages and all Images and multimedia sharing.
SPY24 Install application free The Most Powerful Hidden Spying App to Monitor Android, IOS Cell Phone & Tablet Device Remotely. Best Android Parental Control App for Kids & Teens Online Safety.
Now take the liberty to monitor Android, and IOS devices with exclusive features better than ever before Monitor all Voice & Text Messages Communication records, Listen to & Watch Surroundings in Real-time Unleash Digital Parenting with Android, IOS Spy App Spy (Surround Listing & Front/Back Camera Bugging) IM's VoIP call recording on Android OS 13 & above With 250+ Surveillance Tools at your fingertips using Android Tracking & Parental Monitoring Software.
Conclusion
By comparing all features of both SPY24 and Phonesheriff, we recommend you choose SPY24 because SPY24 has a 30days trial while Phonesheriff has only 7 days trial. SPY24 is compatible with both Android and IOS while Phonesheriff is only compatible with Android. SPY24 you could track many social media, but a few social media can be tracked by Phonesheriff.
FAQs
Is It Legal to Use Phonesheriff?
Phonesheriff is designed for monitoring kids and it is not illegal. For more information, you could ask legal counsel about it, and also there is a list of activities that are considered crimes DataProtection and Privacy Legislation Worldwide.
Is It Safe to Use Phonesheriff?
Keeping personal data safe and secure is the company's policy. But after being hacked they stop servicing.
Is it secure to order Phonesheriff?
The company ensures 100% Secure and Confidential purchases as they use the latest secured technology certified by Thawte and ScanAlert. Every day the order pages are tested and certified hacker safe by scan alert. But after being the victim of hacking they halt protecting their customer and enhancing their security.
Is Phonesheriff compatible with IOS?
No, it is not. It is only compatible with Android. 
Is SPY24 compatible with IOS?
Yes, it is, it is compatible with IOS and also Android.
Does Phonesheriff have a refund policy? 
If they can not solve the problem, they will refund the full purchase price to the customer.
Can customers pay by Western Union? 
No, They do not accept payments from Western Union at the moment.
Is SPY24 free?
SPY24 offers a month's trial to customers. so it is free for only 30 days.
Can I use any mobile phone to install SPY24?
You can run this app on Android 4+ iOS 7 – 8.4; 9.0 – 14.1 with Jailbreak iOS 7 – 16+.