You can easily track your devices with SPY24, one of many device Tracking solutions available on the market. There is no doubt that SPY24 is quite popular and has a wide range of features, but users often get confused by it. For this reason, I have prepared this tried-and-true SPY24 review for you. This review will provide you with a comprehensive overview of SPY24's features, pricing plans, and other details.
It will also help you make an informed decision as to whether it is the right device Tracking solution for your needs. To ensure you are able to make an informed decision about SPY24, this review will provide you with an in-depth assessment of its features, pricing plans, and other details. If this interests you, let's continue.
Review of SPY24
The purpose of this blog post is to provide you with a comprehensive review of SPY24, so you can decide whether to use it or not. You will be able to easily access all parts of this software since we will discuss every aspect separately. We'll start by examining How SPY24 Works Getting Started with SPY24, and the advantages of the application which will give you an overview of the app's features. Then we'll dive into the details of each feature, so you can get a better understanding of how to use the app and what it can do for you. Finally, we'll look at the pricing plans and some common questions about SPY24.
How Does SPY24 Work in Practice?
Your children's online activities are effectively monitored by the SPY24 app. It allows parents to track their children's browsing history, block unsafe content, and view their call and text messages. It also provides real-time alerts when it detects dangerous activities, such as cyberbullying or suspicious behavior. With these powerful features, SPY24 helps ensure that parents can keep their children safe online.
iOS and Android devices can both be used with this app. Your children can always be monitored regardless of which operating system they use. By providing support for both iOS and Android, SPY24 allows parents the flexibility to ensure their children's online safety no matter the device. It also provides parents with detailed analytics of their children's online activities, so that they can identify any potential threats or issues.
In the SPY24 app, the tracked data is updated every few minutes. As a result, you will have real-time access to everything from afar. My definition of everything is practically everything. Whether you are tracking phone calls or Instagram messages, you can do it all. This is because SPY24 tracks data from the target device and sends it to the user. This data is updated every few minutes and is accessible to the user in real-time. This means that the user can keep an eye on calls, messages, social media activity, and more, with just a few clicks.
For using the SPY24 app you should do the following steps:
1. Before you can set up a tracking device, you must create a SPY24 account. You can enroll for free on SPY24's official website by selecting the Sign up free option near the top of the page.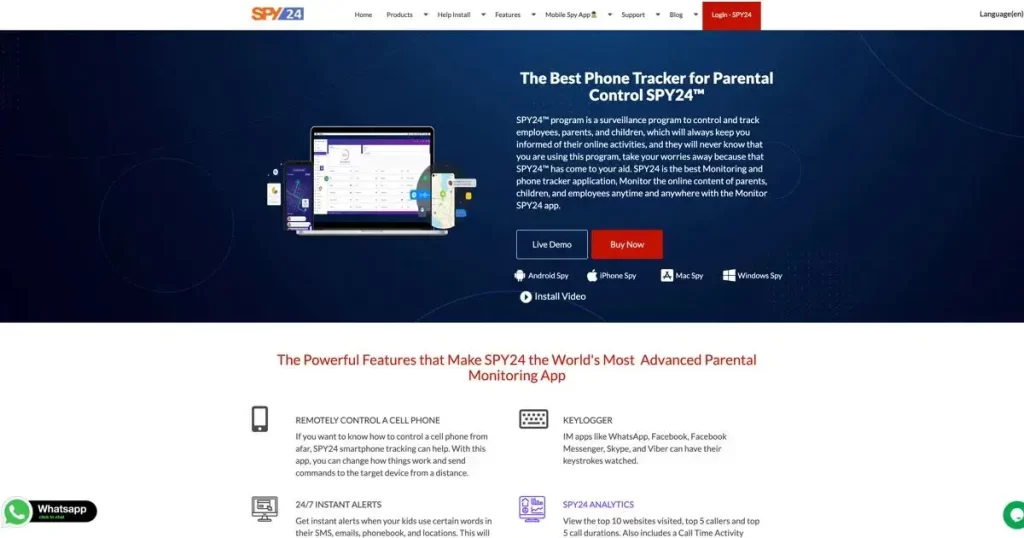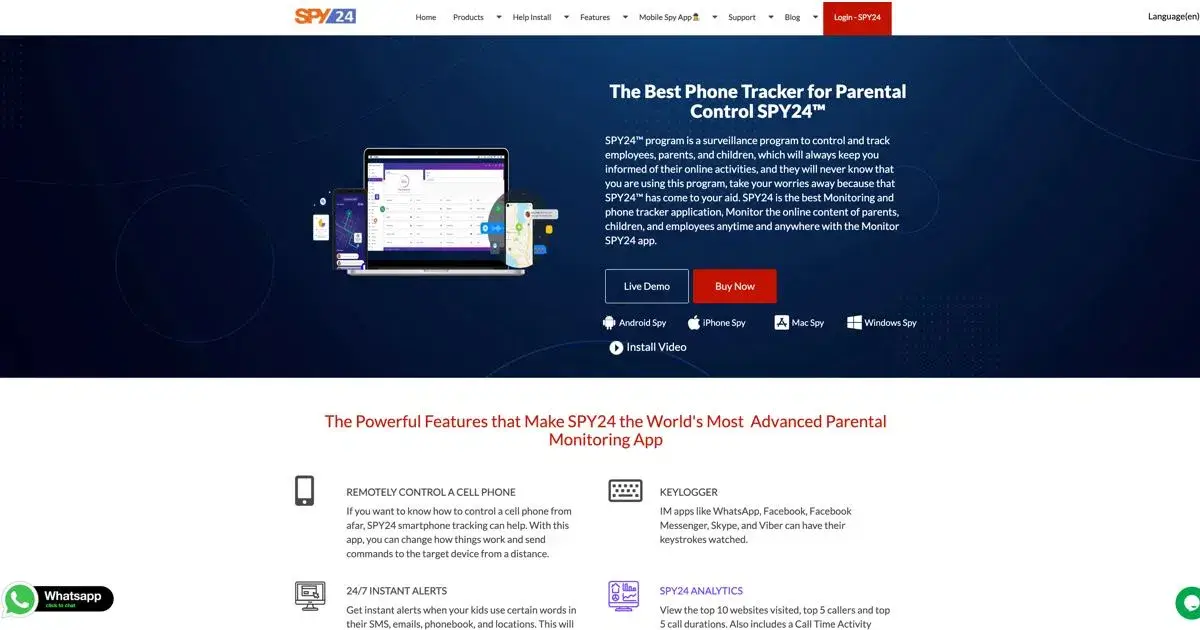 2. Click the Sign-Up button after entering your email address and creating a secure password.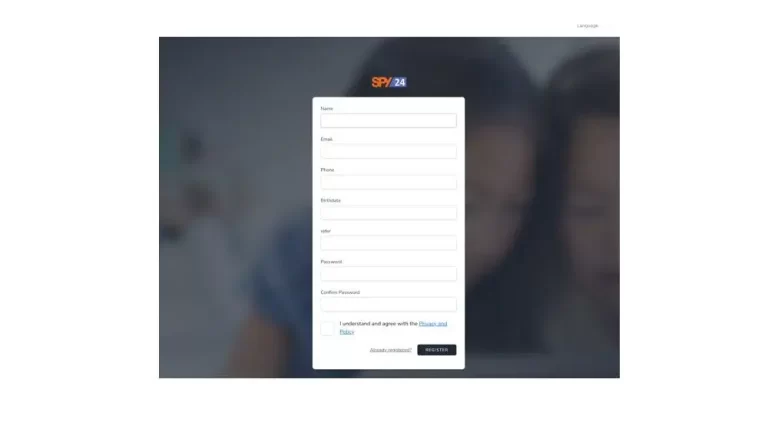 3. Your next step will be to decide whether you want to monitor an Android or an iOS device.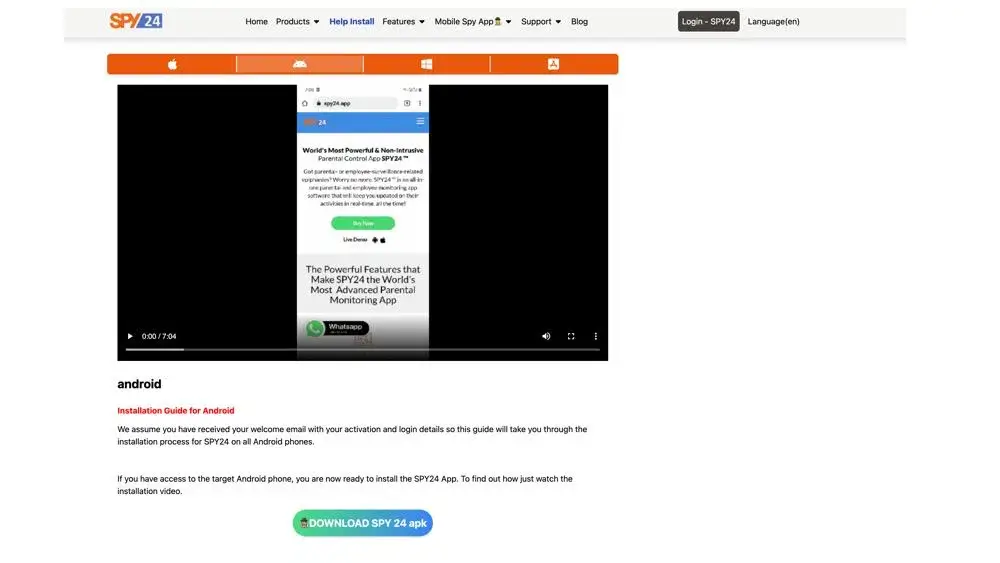 4. Purchasing SPY24 services is the first step towards using the app. Now that you have chosen your SPY24 plan, click on BUY NOW to get started.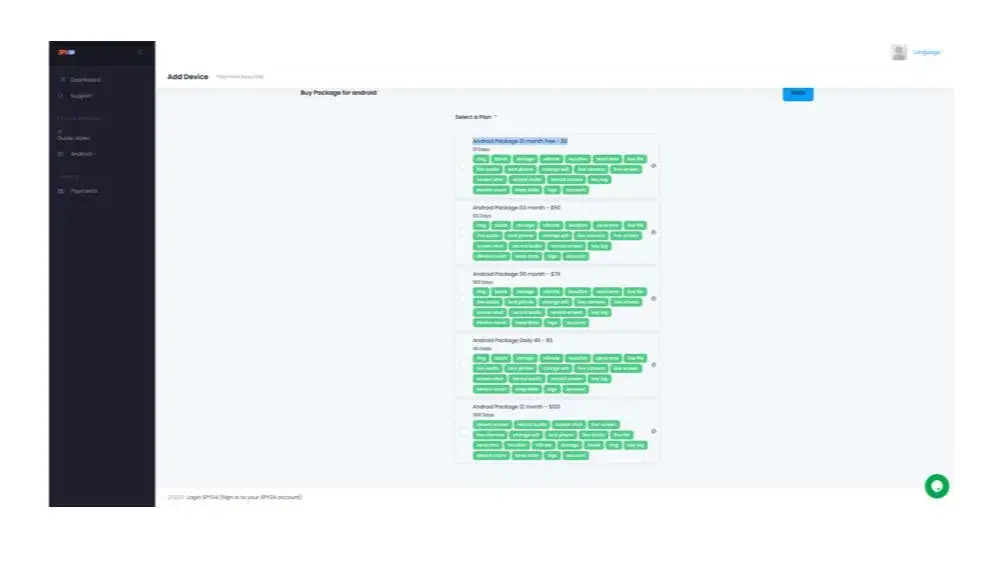 5. You must also provide the name of your child, his/her age, and the operating system he/she is using. As soon as all of the required fields have been filled out, you can proceed to set up SPY24 on the target device.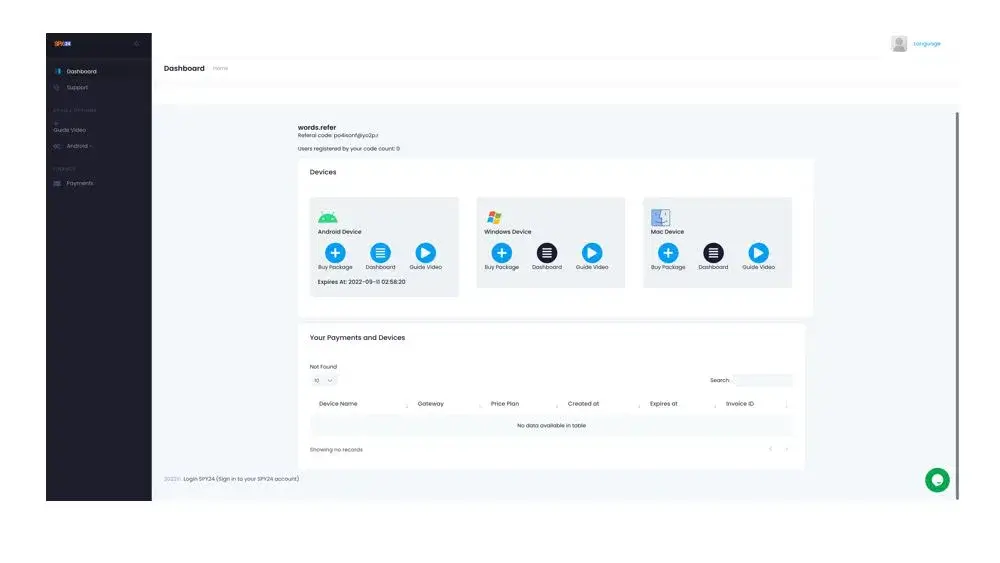 In general, you cannot monitor more than one device per SPY24 account unless you subscribe to the Family plan. A device you're already monitoring with your account won't be able to be monitored at the same time as another. Due to this, you will be forced to unplug the old device in order to monitor the new device.
Monitoring an Android device begins with disabling Google Protect Play, which the app requires. This is because monitoring an Android device requires that you disable Google Protect Play, which is a security feature designed to protect your device from unauthorized access. If both devices were monitored at the same time, it could potentially compromise the security of both devices.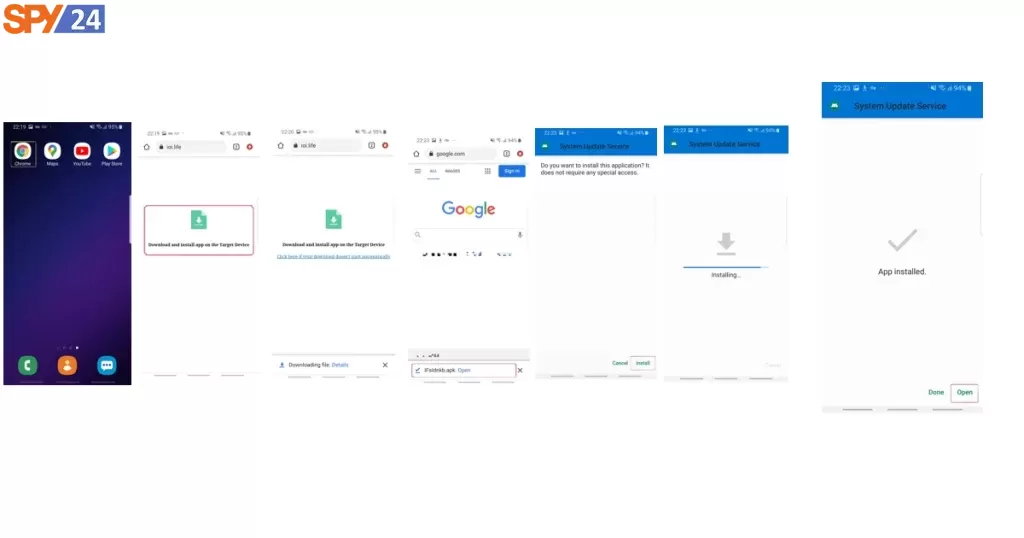 There are only a few people who are capable of doing that. The good news is that SPY24 walks you through the process step-by-step. Follow these three simple steps to get started: 1. Choose Play Protect from the Play Store menu.
2. Tap the Settings symbol at the top right of the screen.
3. As a final step, turn off the Play Protect feature.
SPY24 Download and Installation
1. The SPY24 app must now be downloaded on that Android smartphone. You will need assistance obtaining SPY24 since it cannot simply be downloaded from the Play Store like other social media apps. Simply click the right side of the URL (https://SPY24.pro/) to download the app.
---
2. If your device alerts you that the file you are downloading is potentially harmful, you can trust the app and continue downloading.
3. After that, install the app on the Android phone that you wish to target.
4. You will be asked to grant several permissions to the app. It is necessary for the app to have these rights in order to function properly. Once you allow the app to connect to your mobile network, you can begin using it.
5. Make sure you read the privacy statement and EULA, if applicable, before clicking Agree.
6. It is now time to grant additional permissions to the app, such as the ability to read the app's location, the app's call history, and its SMS, MMS, calendar, and contacts.
7. You can enable System Services after you have granted all permissions by going to AUTO-start management and clicking on PROCEED TO SETTINGS.
After giving permission, you might need to tap the back button and then ALREADY SET. CONTINUE
8. Click PROCEED TO SETTINGS to enable access to usage data by enabling the button next to System Services.
9. To enable Accessibility, click PROCEED TO SETTINGS, then choose System Services from the drop-down menu.
10. When all permissions have been completed, you will have the option of deleting the SPY24 app icon. Since SPY24 runs in the background (as a System Service), the icon has no effect since it cannot change any settings because it runs in the background. Therefore, concealing it is a better option.
Your loved ones' Android phones can now be monitored once you have successfully configured both devices.
Features of the SPY24 app
SPY24 is a powerful monitoring tool that allows you to track the activities of your kids, employees, or spouse. It has features such as GPS tracking, real-time location tracking, call and text message monitoring, website browsing history, and more.
With SPY24, you can stay informed and keep your family safe. SPY24 is designed to be a discreet and secure way to monitor the activities of those closest to you. It allows you to access the data you need to make informed decisions so that you can take the necessary steps to protect your family.
It also ensures that you can stay up-to-date with the latest trends in technology to ensure that you are always one step ahead. SPY24 not only provides the data you need to make informed decisions but also helps you stay ahead of the curve by keeping you up-to-date on the latest trends in technology. Let's review some of the features.
1. Dashboard
The SPY24 app dashboard is a powerful tool for monitoring the activity of your devices. With the dashboard, you can get detailed insights into the activity of each device, including location, online activity, and more. You can also use the dashboard to set up alerts and notifications, customize settings, and more.
Unlike other spy apps, SPY24 has a very unique dashboard. With SPY24, you have the power to get the most out of your monitoring, with features like the ability to set up custom alerts and notifications, customize settings, and more – all with the help of its easy-to-use and intuitive dashboard. Furthermore, the dashboard provides most of the information the customer needs.
There are icons at the top for many apps, including phone logs, contacts, WhatsApp, Instagram, photos, etc. Whenever one of these apps gets updated, you'll be notified.
On the left, you'll find a list of all the features of SPY24 as well as up-to-date information about all activities on the target device. The icons at the top give you a visual representation of the apps being used on the target device, while the list on the left provides detailed information about the activity on the device. By keeping an eye on these, you can monitor your child's activity and ensure that they are not engaging in any inappropriate behavior.
As well as getting information about the device you want to hack, you'll also get more information about the system. By monitoring the data that is sent and received from the device, you can detect any suspicious activity, such as the downloading of inappropriate content or communication with suspicious people. You can also use the system information to identify any potential vulnerabilities that can be exploited to gain access to the device. There are a few of these pieces of information: the phone's model, its IMSI number, its root status, and its operating system.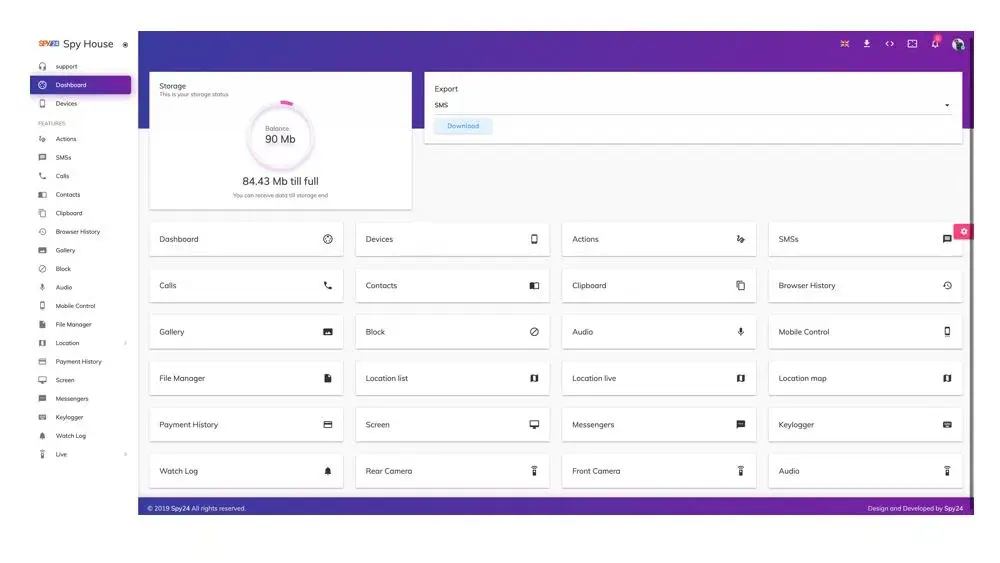 Does the dashboard have any other information you can use? You can see how the device is performing right now. By looking at the dashboard, you can also see what programs are currently running on the device, how much storage space is left, and how much battery power is available. With this information, you can check to see if there are any malicious applications running, or if the device is running low on resources. Also, you can check if your mobile data, GPS, or WiFi are available. Furthermore, you can access detailed information on the current and past usage of the device, such as which apps are using the most data, the most used applications, and the amount of time spent on each application.
The statistics will show the number of SMS messages, calls, web visits, and WhatsApp messages sent and received on different days. This data can help you identify patterns in the way the device is used, such as which applications are being used the most, and for how long. You can also get a clearer picture of which apps are the most data-intensive, allowing you to make more informed decisions about which apps to keep, which to delete, and which to limit.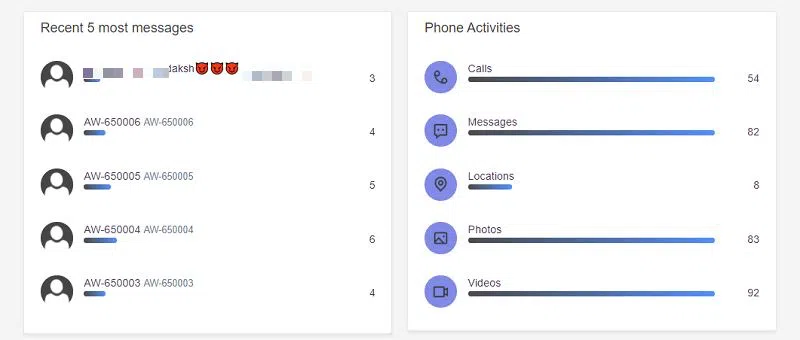 In addition to the Live Panel, the dashboard displays Location, Calls, SMS, App Usage, and Photos. All of these metrics allow users to gain a comprehensive understanding of their device's activity. All of them will be briefly discussed here.
2. Calls Spy
Your target phone's call Tracking feature allows you to keep track of incoming and outgoing calls. You can find out who is calling your target and who is calling them, as well as the time and duration of each call. The past days' call logs can also be viewed. This feature does not only provide you with important information about your target's contacts, but it also allows you to monitor his or her activities over time.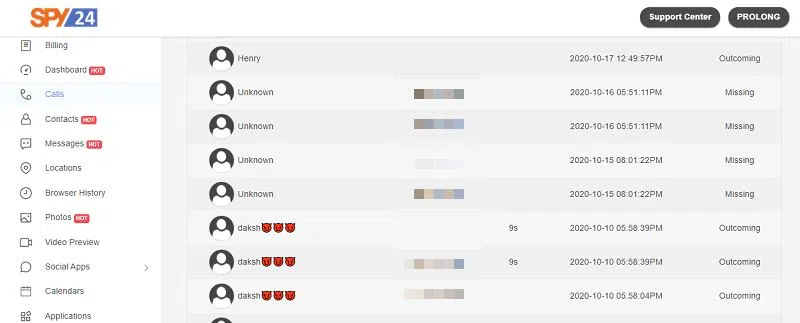 As a result, you will gain a better understanding of their habits, who they converse with, and what topics they discuss. In addition, it allows you to detect any suspicious or unexpected behavior, such as late-night phone calls or conversations with unfamiliar numbers. This helps you to be aware of any potential danger your target may be facing, as well as provide you with insights into their lifestyle and relationships.
3. Contacts spy
SPY24's Contacts Spy feature allows users to access the contact list of any target phone. It lets you view all contacts, including names, phone numbers, emails, and even photos. You can also export the contact list to your computer for further analysis. By using Contacts Spy, you can gain valuable insights into the target phone user's contacts.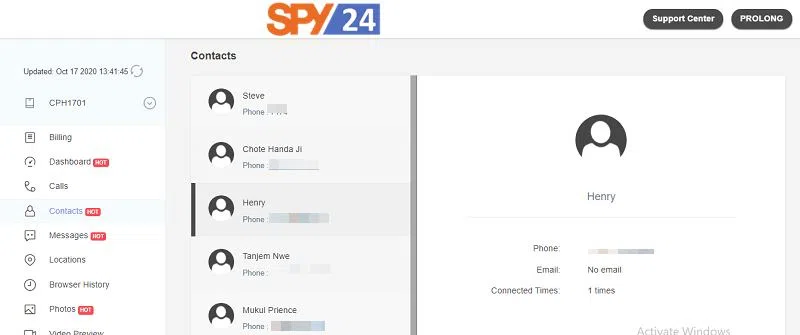 It is an effective way to monitor the contacts of a person without having access to their device. This can be used to help identify potential threats or suspicious activities, as well as to keep track of family members and friends. With Contacts Spy, you can gain an in-depth understanding of the connections of the target phone user, allowing you to easily spot any unusual or suspicious behavior.
4. Messages spy
SPY24's Messages spy feature enables you to monitor all incoming and outgoing text messages on any device. You can also track call logs, GPS locations, and other activities such as emails, social media accounts, and more. With this feature, you can ensure your family's safety and protect them from online predators, cyberbullying, and other risks.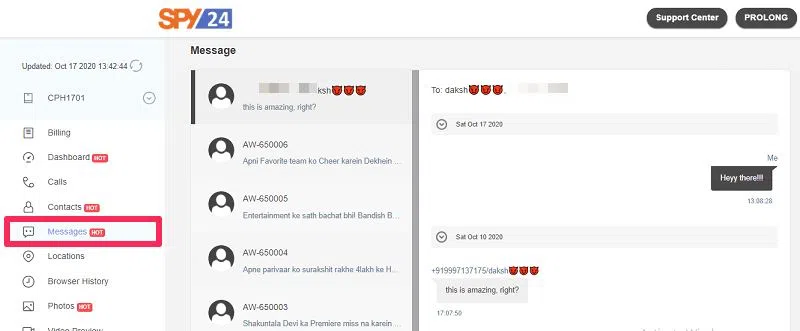 The Messages spy feature provides you with a detailed overview of all messages sent and received by your family members. It also gives you the ability to set up alerts for certain keywords, which lets you know when your family members are talking about topics that may be potentially dangerous.
This feature can help you protect your family from online threats and keep them safe. By setting up alerts for keywords, you can ensure that any potentially dangerous topics are flagged and addressed immediately, so you can continue to keep your family safe.
5. Locations spy
With SPY24's location tracking feature, you can track the exact location of the person you are monitoring in real-time. In addition to ensuring that their children are safe, it is also a great tool for employers who want to make sure their employees are where they are supposed to be.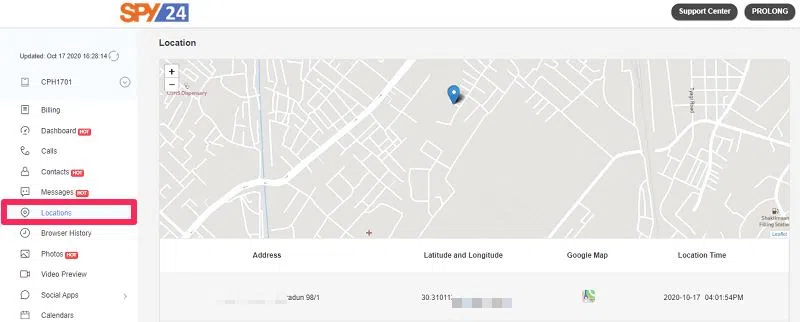 Using GPS technology, SPY24 locates the person down to street level with its location tracking feature. In this way, it becomes easier to track a person, even in crowded areas, when the person is in a crowded area. As well as updating the location in real-time, it also keeps you informed of any changes in the location. The location tracking feature of SPY24 provides parents and employers with peace of mind through its accuracy and real-time updates.
6. Browser History
SPY24's Browser History feature allows you to monitor internet activity, including websites visited, search queries, and time spent online. It also tracks downloads, social media activity, and more. This feature allows you to keep an eye on your kid's online activity and protect them from potential online threats.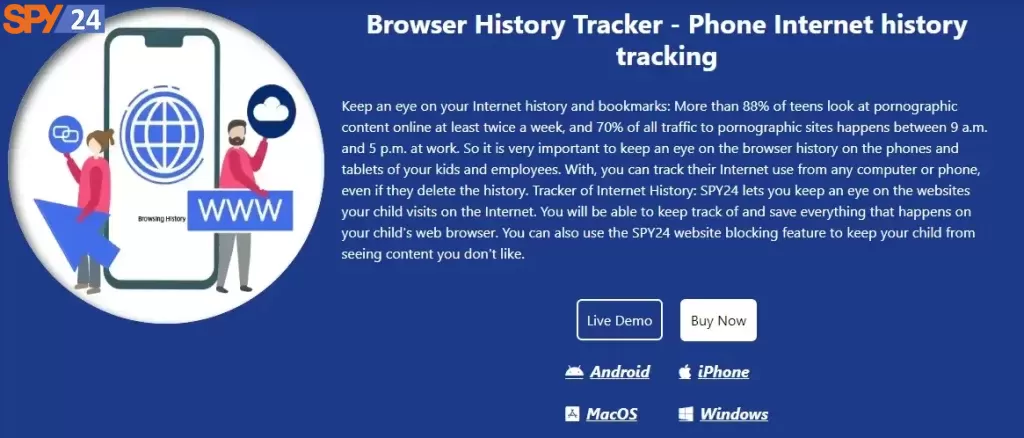 By monitoring their internet activity, you can know if they are visiting any dangerous websites, downloading any inappropriate content, or speaking to strangers online. This helps to ensure their safety and well-being while they are using the internet. Additionally, this feature can provide you with peace of mind, knowing that you are protecting your children while they are online.
7. Photos Spy
With this feature, you can view and monitor pictures taken with the target phone. This allows you to keep an eye on what is going on with the target phone, as well as make sure that inappropriate photos are not being taken. It also helps to ensure that the phone is not being used for illegal activities. The Internet offers many benefits, but it also presents many opportunities for cybercriminals to harm people, especially children.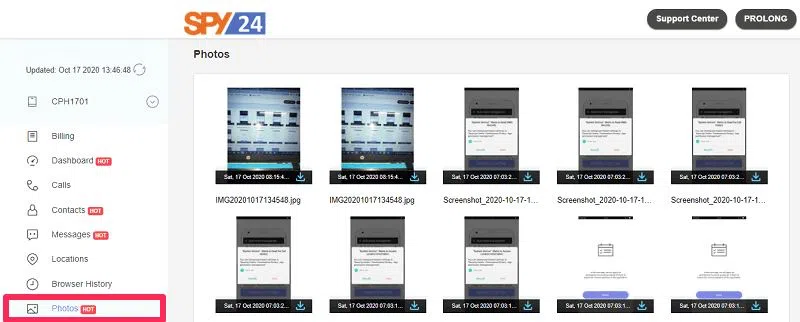 This feature helps you keep your family members safe online. In addition, you will be able to keep track of their activities on the Internet and protect them from any dangers they may encounter online. With the help of this software, you will be able to easily detect any suspicious activity that is being conducted on the target phone by monitoring and viewing the pictures taken with it.
An employee engaging in illegal activities, or if your child is talking to someone they shouldn't be. Furthermore, this feature will provide you with evidence if your child suffers cyberbullying or other malicious activity.
8. Video Preview SPY
SPY24's Video Preview SPY feature allows you to view a live video preview of any area you're monitoring. It allows you to keep an eye on your home, business, or any other area you're monitoring from anywhere in the world. With SPY24, you can be sure that you know what's happening, no matter where you are.
Also, with this feature, you are able to protect your children and monitor their activities. Furthermore, SPY24 ensures that parents have the ability to quickly and easily intervene if they see anything that might put their children in jeopardy.

By having the ability to preview live videos of any area you're monitoring, you can quickly spot any suspicious activity and take the necessary steps to protect your interests. With SPY24, you can be sure that you know what's happening at all times, even while you're away. Additionally, this feature can provide peace of mind to parents who want to keep an eye on their children's activities.
9. Social Apps Spy
SPY24 allows you to watch your target individual's Facebook, Messaging, Snapchat, Instagram, WhatsApp, LINE, WeChat, Kik, and other social media accounts. SPY24 gives users the ability to monitor their targeted person's social media activity in real-time, allowing them to see who they are talking to and what they are saying.
It also gives users the ability to read messages and view photos, giving them insight into the online activity of their children, employee, or family member. This monitoring allows users to make sure their children, employees, or family members are not engaging in any inappropriate activities online, and it helps them spot any potential risks such as cyberbullying or online predators. It also provides users with peace of mind that their children, employees, or family members are safe and secure online.
10. Calendars Spy
SPY24's calendar spy feature allows users to view the calendar of any other user in their network. This allows them to keep track of their contacts' appointments and meetings, and to stay up-to-date on their activities.
People frequently mark noteworthy dates on their calendars and set reminders so that they do not forget crucial dates. By using SPY24's calendar spy feature, users can gain insight into their contacts' personal and professional lives, allowing for better communication and understanding. It also helps them to stay informed about important dates and events, so that they can be prepared to offer assistance or advice if needed.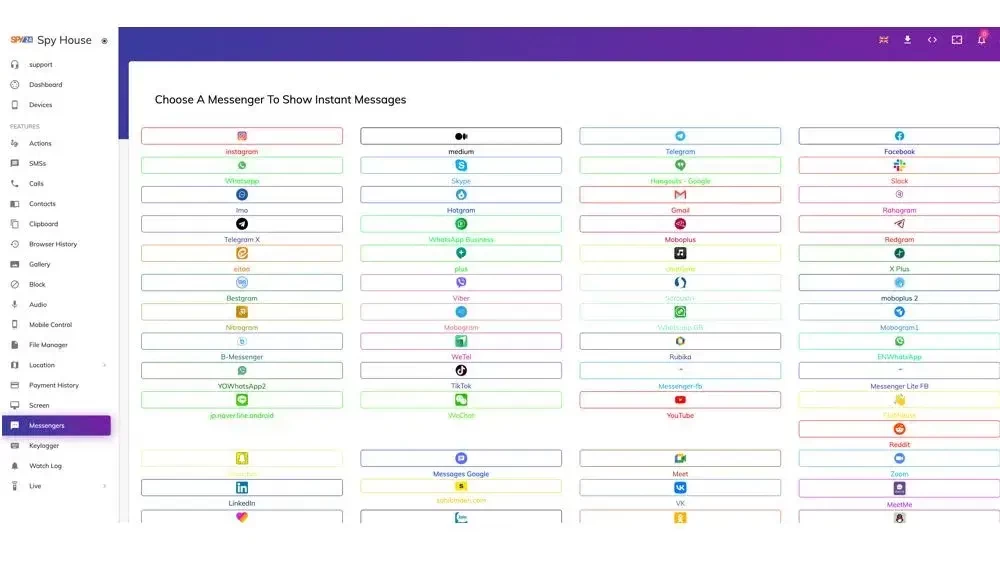 When you browse the Calendar area, you'll find that the same dates that the target person has marked are displayed. This is helpful because it allows them to keep track of the target person's schedule so that they can anticipate their needs and know when to reach out. It also helps them to plan ahead and be aware of any potential conflicts or deadlines.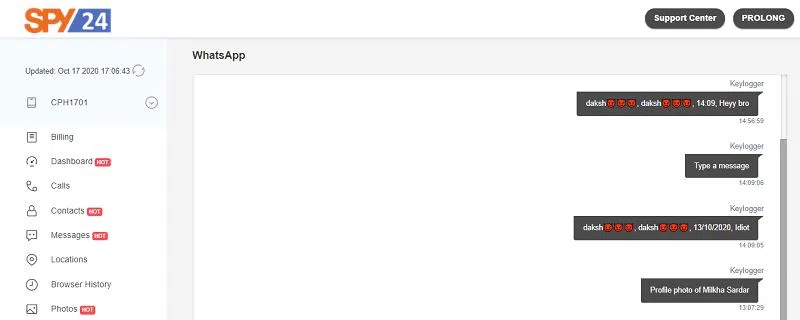 11. Applications SPY
Apps that aren't appropriate for children can easily be identified in the Play Store. Teenagers also have no trouble finding and using those apps. It is important, however, to make sure your children do not use these inappropriate apps. Even though the Play Store has age-based ratings, it is still possible for children to access inappropriate apps. As a parent, you must take the time to monitor what your children are downloading and ensure that they are not accessing any apps that may be inappropriate or dangerous.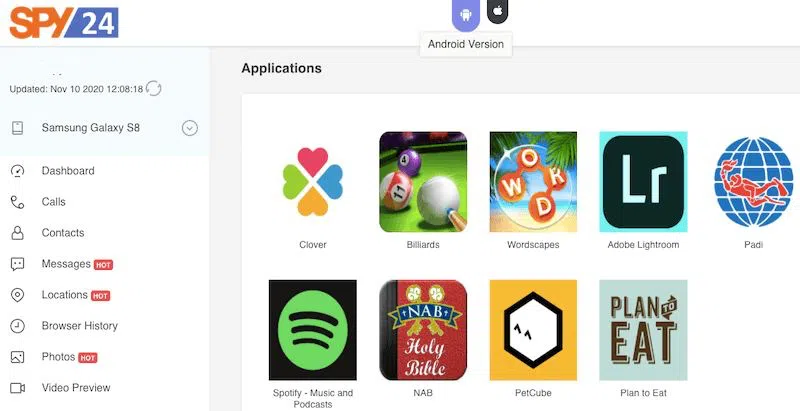 An overview of the apps installed on the teen's phone can be viewed through SPY24's Applications feature. Yes, it is correct. There are only a few of the apps that are visible, not all of them. This feature is designed to provide parents with a manageable list of the apps their teen is using, so they can quickly check for potential issues. It is meant to be a quick overview, not an exhaustive list. Therefore, SPY24's Applications feature provides parents with a snapshot of their teen's phone usage, allowing them to quickly identify any potential issues.
12. SIM Card SPY
It may be necessary for the target individual to conceal their affair in any way possible if they are too intelligent. It is even possible for them to use a different SIM card to communicate with the new person for the same reason.
With SPY24's SIM Card feature, you can stay ahead of the game at all times. The SIM Card feature allows you to monitor multiple SIM cards from one place. You can view all incoming and outgoing calls, messages, and even online activities on these SIM cards, so you can easily detect any suspicious activities.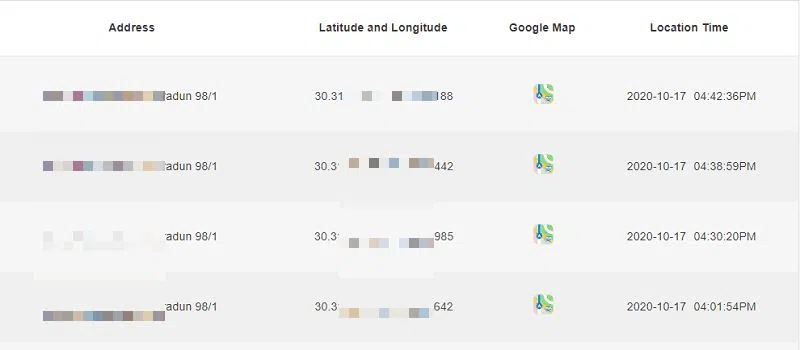 This is a great tool for parents, employers, and other individuals who need to keep track of their loved ones or employees, as it allows them to monitor multiple SIM cards from a single dashboard.

Furthermore, by entering your email address in the provided field, it instantly notifies you when a new SIM card has been activated. This gives you the opportunity to take immediate action if necessary. Not only does this tool provide a great service, but it also helps to protect the privacy of the individuals being tracked, as all information is securely stored in the cloud and only accessible to the user.
13. Keylogger Spy
With SPY24 Keylogger, users can record keystrokes, mouse clicks, and other activities on their computers. It captures all data typed on the keyboard, including emails, passwords, credit card numbers, and other sensitive information. In addition to being used for tracking user activity, it can also be used as a means of monitoring employee behavior or parental control.

For added security, SPY24 Keylogger's data is encrypted for stealth mode, ensuring that it cannot be detected by the user. The program runs in the background without the user knowing, and works on Windows, Android, and iOS devices. It is possible to access the user activity data remotely from any device that is connected to the internet, using a secure online account, where the data is stored.
Pricing for SPY24 Free
Subscriptions for Android are available at three levels. There are two basic tracking packages, starting at /month/ each and including only the most basic features. No social media applications, for instance, would be able to be tracked. One device can be monitored with the Basic package.
On the other hand, the Premium plan lets you keep track of everything. As with the Basic package, the Premium package allows you to monitor one device per account and costs /per month. A monthly fee of / is also included in the Family plan. You can manage three devices per account with the Family plan, as its name suggests.
A family plan, a premium plan, and a business plan are available for iOS. The Family plan, which includes 5 devices per account and costs $/per month, is the most affordable. There is a $4.99 monthly fee for the Premium plan and a $49.99 monthly fee for the Business plan.
For Android users, the Android Packages are:
One month – $0
Three months – $50
Six months – $76
12 months – $120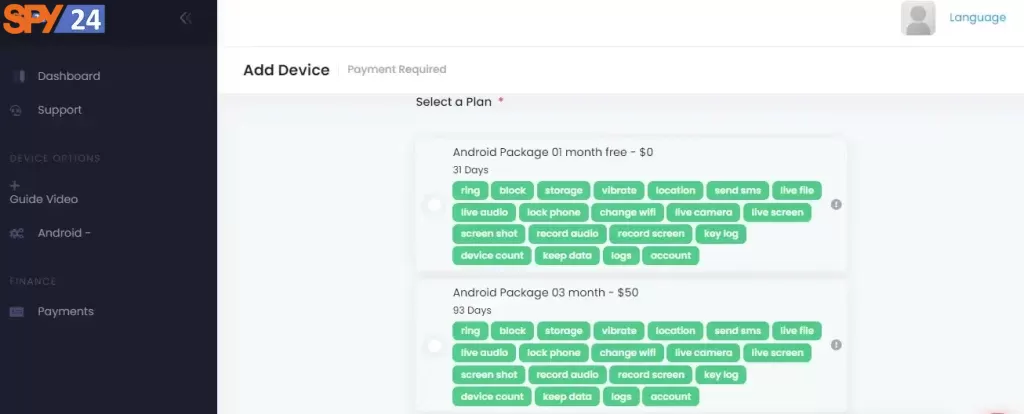 For Windows Packages, the costs are:
One month – $25
Three months – $46
Six months – $60
24 hours – $0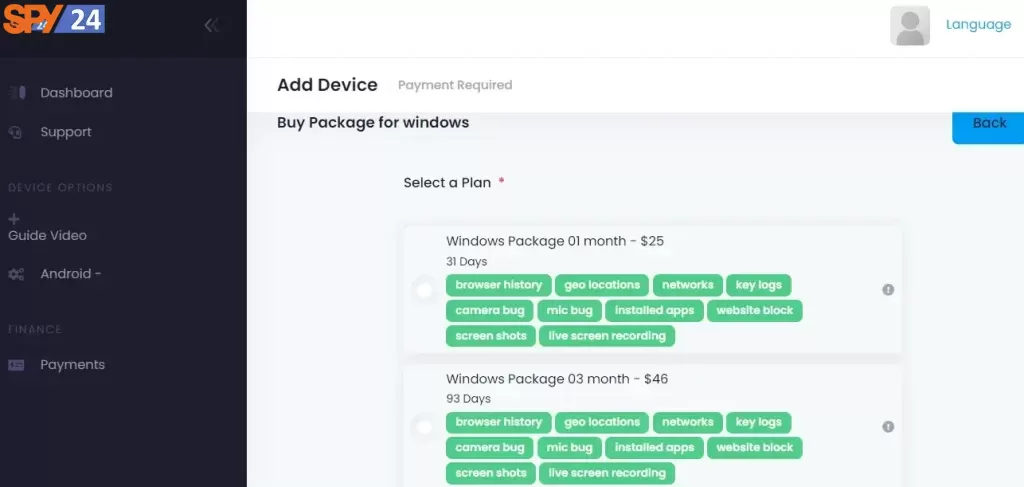 For MAC and iOS, the Packages are:
One month – $25
Three months – $46
Six months – $60
24 hours – $0

SPY24 Review: The Final Word
SPY24 is a comprehensive surveillance solution that provides users with real-time monitoring of their home, office, or any other environment. The app is easy to use and provides a wide range of features, including motion detection, scheduled recordings, and two-way audio. The video and audio quality are excellent, and the app is also highly secure and reliable.
Overall, SPY24 is a great choice for anyone looking for a reliable home surveillance system. The app also has an intuitive and user-friendly interface that allows users to manage their surveillance settings easily and quickly. Additionally, SPY24 offers cloud storage, which allows users to save and access their recordings from anywhere with an internet connection. The app also has advanced security features, such as end-to-end encryption, to keep user data safe and secure. Furthermore, SPY24 is highly secure, making it an ideal choice for those who need a secure home surveillance system.
FAQs
Is SPY24 Effective?
Definitely, SPY24 is a good spy app to use if you want to keep tabs on your family. It's easy to use and provides a secure way to monitor the online activities of your loved ones. It also has advanced features like geofencing, which allows you to set up virtual boundaries and receive alerts when your family members enter or leave certain areas.
Is it possible to use the SPY24 app in stealth mode?
The SPY24 can only be used in hidden mode, regardless of the OS system. Since you can't modify anything with the icon that was left on Android, it's useless. This is because the SPY24 is designed to remain undetected and operate in the background, allowing it to silently monitor any device it is installed on without the user knowing.
How Do I Remove SPY24 From A Targeted Device?
It is necessary to uninstall the app from an Android device. You can uninstall the app from Settings > Applications and Permissions > App management > System Service. Your phone no longer has the app. Now that the app is uninstalled, you can rest assured that your phone is secure and free from any unwanted software.
Is it necessary to root your device to use SPY24?
No, you do not need to root your device to utilize SPY24.
In your SPY24 account, how often is the data from the target device updated?
Regular updates are made to the target device's data. It's every few minutes, not every few hours. In SPY24's dashboard, you can see the time when the dashboard was last updated.
Is SPY24 a cost-free application?
In order to use SPY24, you will need to pay. There is no free version of SPY24, even though the service is less expensive.
Is it possible to install the SPY24 app without them realizing it?
Having physical access to the target phone will allow you to install SPY24 without the target's knowledge. The information you keep on them will never be noticed by them.
Is SPY24 a genuine service?
We guarantee that SPY24 is 100% legitimate, and you will never have to worry about spam. It provides the best services, and if you're not tracking someone without their knowledge, you won't get in trouble with the law.
Where Can I See The Target Device's Data?
You can view all data tracked by a target device by entering your SPY24 portal in a browser.
Is it possible to set up SPY24 without having access to the target phone?
Unless you have physical access to the phone, you cannot set up a SPY24 account. Previously, the iPhone account could be set up without physical access, but this is no longer possible.
SPY24 Install application free The Most Powerful Hidden Spying App to Monitor Android, IOS Cell Phone & Tablet Device Remotely. Best Android Parental Control App for Kids & Teens Online Safety.
Now take the liberty to monitor Android, and IOS devices with exclusive features better than ever before Monitor all Voice & Text Messages Communication records, Listen to & Watch Surroundings in Real-time Unleash Digital Parenting with Android, IOS Spy App Spy (Surround Listing & Front/Back Camera Bugging) IM's VoIP call recording on Android OS 13 & above With 250+ Surveillance Tools at your fingertips using Android Tracking & Parental Monitoring Software.