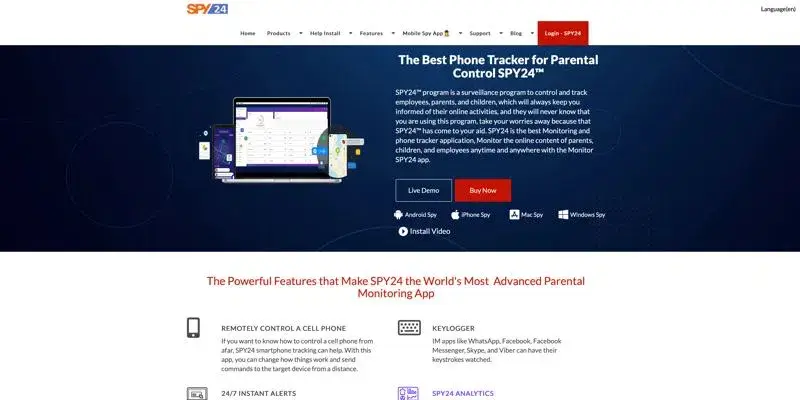 It's a nice thing to be able to see a log of where a child has been on the Internet. Bill Gates The internet is like a vast ocean of information, where a child can be exposed to a plethora of possibilities. Approximately 80% of the Internet, on the other hand, is something you don't want your child to be exposed to.
And this is one of the primary reasons why every parent feels forced to utilize parental control software. And, to be honest, these spying apps can help you shield your child from harmful web stuff.
Furthermore, having a spying drone hovering over your children's internet behavior makes it easier for you to safeguard them from online bullying. SPY24.PRO is one such monitoring program that we recently examined, and to be honest, we went beyond with our testing.
And how did we react? Yes, to a certain extent. There are a plethora of reasons why you might fall in love with this software. Nonetheless, the app is far from ideal. Why is this the case? To find out if SPY24 is worth your money and time, read our comprehensive review.
Review of SPY24
To read a specific section of the article, click on the following quick links:
How SPY24 Works Getting Started with SPY24
SPY24's Advantages
SPY24's Pricing Plans
Some Related Frequently Asked Questions
While writing our evaluation for this fantastic parental control program, we took into account several criteria. And we're going to talk about each one of them.
How Does SPY24 Work in Practice?
The SPY24 app effectively monitors all of your children's online activities.
SPY24 Install application free The Most Powerful Hidden Spying App to Monitor Android, IOS Cell Phone & Tablet Device Remotely. Best Android Parental Control App for Kids & Teens Online Safety.
Now take the liberty to monitor Android, and IOS devices with exclusive features better than ever before Monitor all Voice & Text Messages Communication records, Listen to & Watch Surroundings in Real-time Unleash Digital Parenting with Android, IOS Spy App Spy (Surround Listing & Front/Back Camera Bugging) IM's VoIP call recording on Android OS 13 & above With 250+ Surveillance Tools at your fingertips using Android Tracking & Parental Monitoring Software.
It may be used on both Android and iOS devices. So, regardless of which operating system your children use, you can always keep an eye on them.
Every few minutes, the tracked data on the SPY24 app is updated. So, in a sense, you'll get a real-time update on everything from afar. And when I say everything, I mean practically everything. You can trace anything from phone calls to Instagram messages.
SPY24 can be tried by clicking here.
Install a GPS Tracking Device
Configuring Your/Parents' Device
1. You must first create a SPY24 account before you can set up a tracking device. To do so, go to the official SPY24 website and select the Sign up free option towards the top.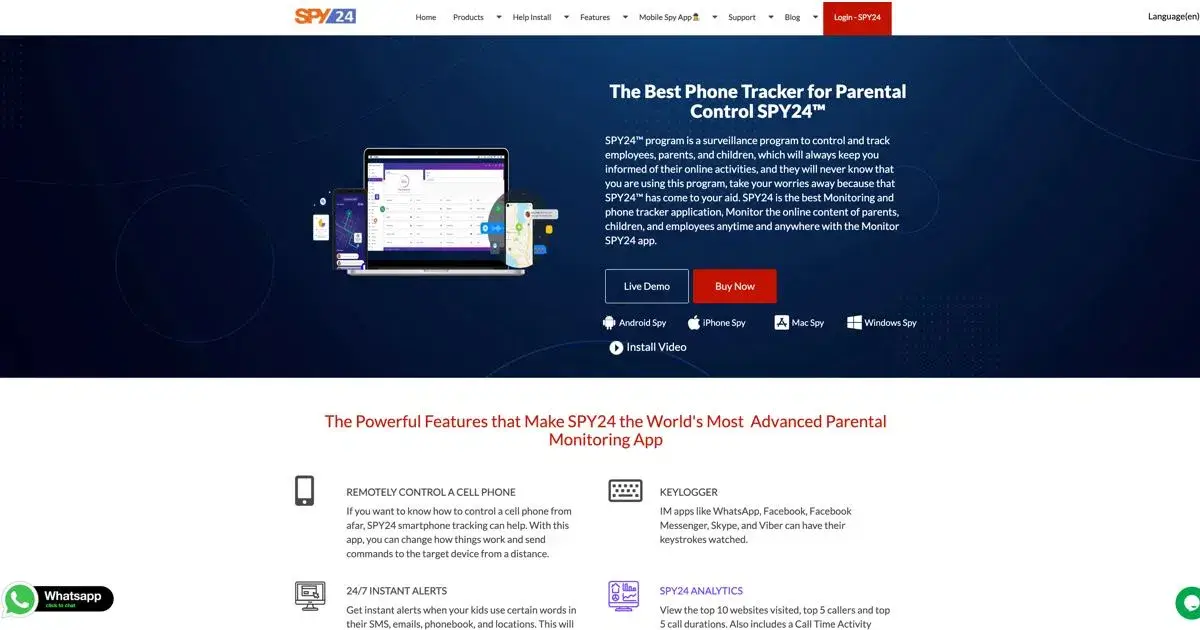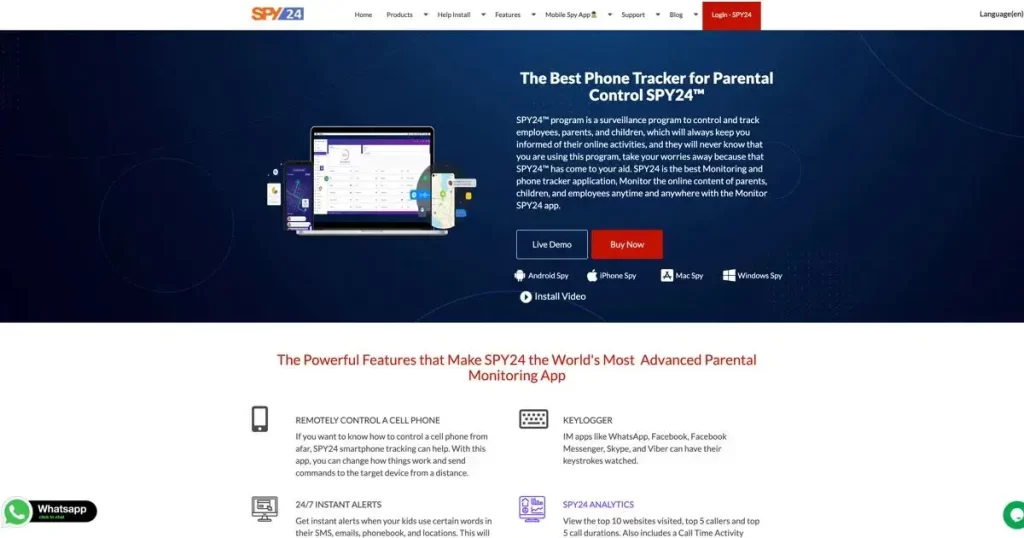 2. Enter your email address, create a secure password, and then click Sign Up.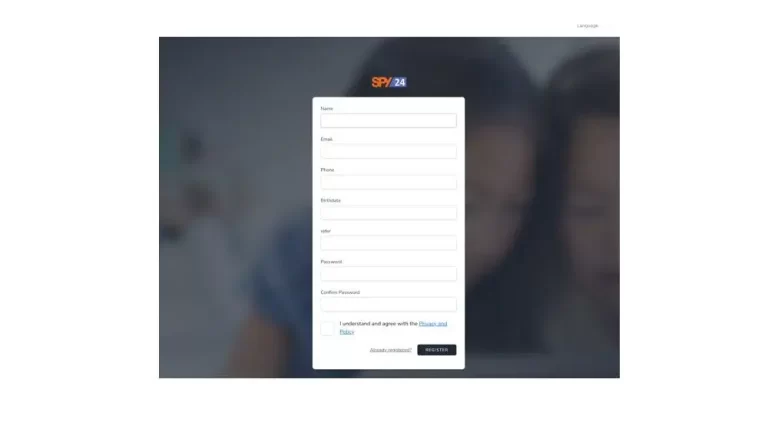 3. Now is the moment to choose whether you want to monitor an Android or iOS device.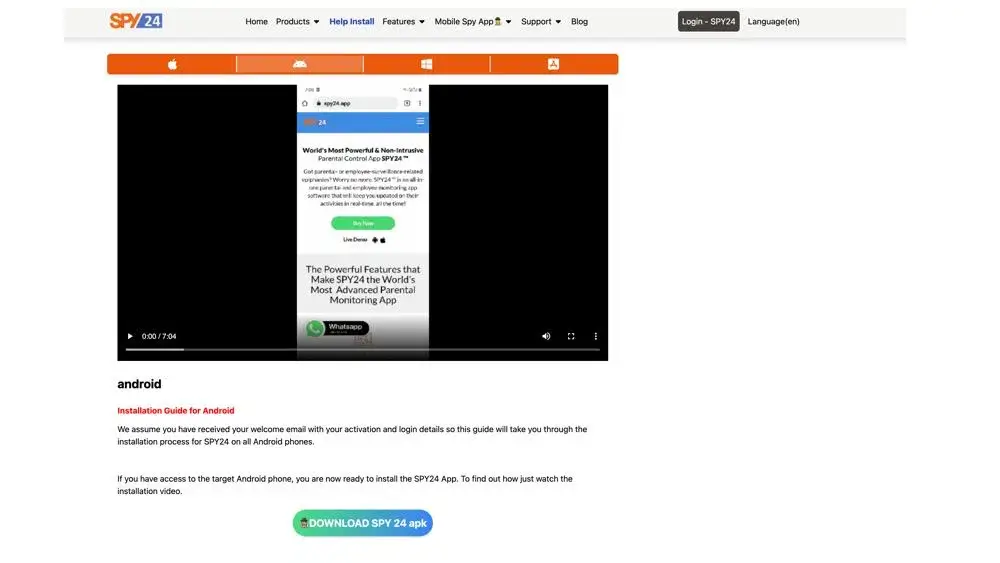 4. To use the SPY24 app, you must first acquire its services. So, in the next step, click on BUY NOW to choose a SPY24 plan for yourself.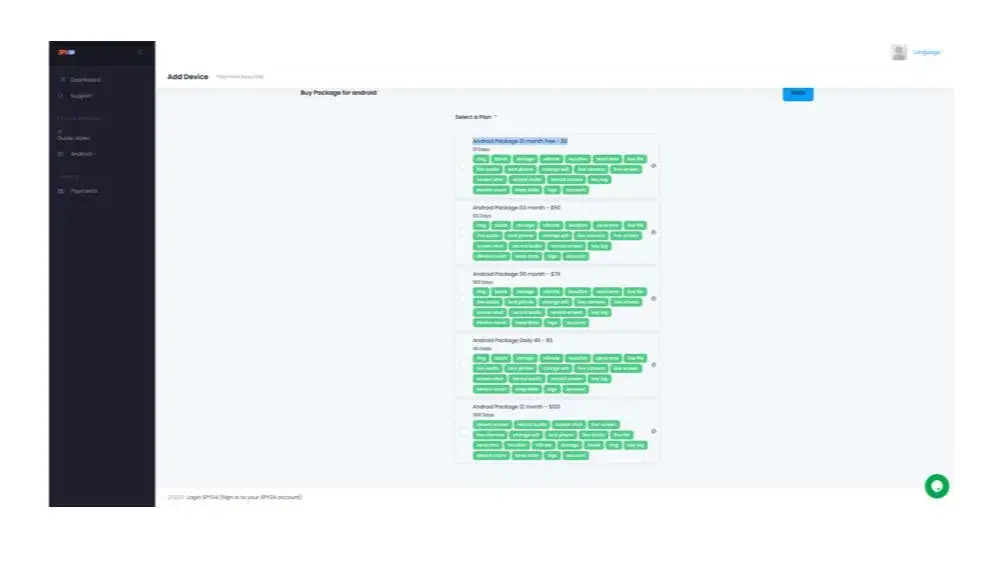 5. Finally, you must supply your child's name, age, and operating system. After you've filled out all of the needed fields, you can move on to setting up SPY24 on the target device.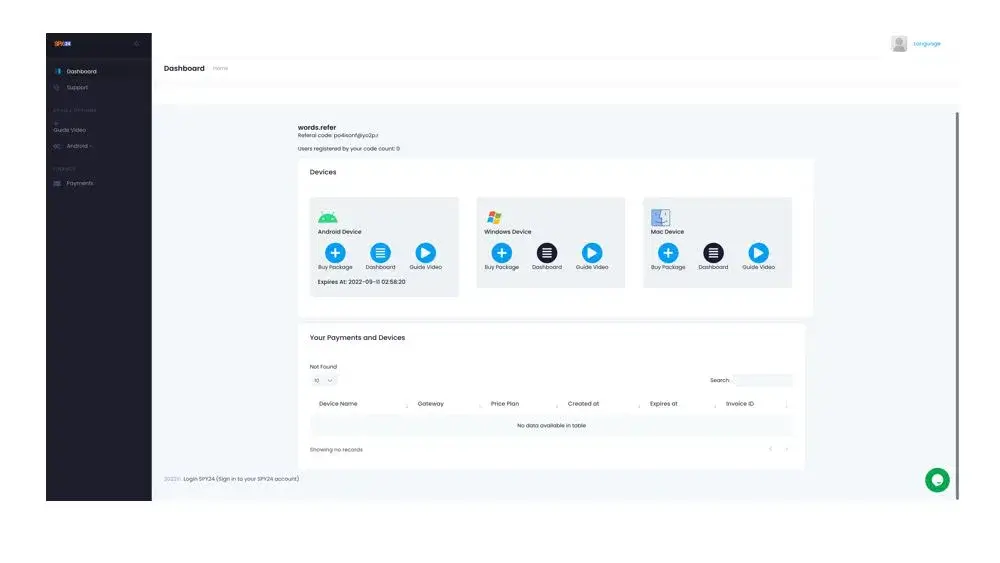 Unfortunately, unless you have subscribed for the Family plan, you can only monitor one device with one SPY24 account. If you're already using your account to monitor an Android device, you won't be able to monitor another device at the same time. As a result, you'll have no choice except to unplug the old device to monitor the new one.
Getting Your Android Phone Ready (Without Rooting)
Play Protect is disabled.
The first step in monitoring an Android device is to disable the Google Protect Play option, which the app requires.
That is something that only a few people are capable of. So it's a good thing SPY24 gives you step-by-step directions on how to do that. To do so, simply follow these three basic steps: 1. Go to the Play Store menu and pick Play Protect from the drop-down menu.
2. In the top right corner of the screen, tap the Settings symbol.
3. Finally, turn off the Play Protect feature.
1. On that particular Android smartphone, you must now download the SPY24 app. Yes! Because obtaining SPY24 is not as simple as downloading social media apps from the Play Store, you will require assistance. But don't worry, it's not that difficult. To download the app, simply search for the URL (https://SPY24.pro/) and slide right.
Video Spy24 is a free app that you may download and install.
2. Your device may alert you that the file you're downloading is potentially harmful, but you can trust the app and continue.
3. Now, on the target Android phone, INSTALL the app.
4. You will be asked to grant the app several permissions. For each feature to work, you must allow the app those rights. To begin, hit Allow to allow the app to connect to your mobile network.
5. Read the privacy policy and EULA, if applicable, and then hit Agree.
6. Now is the time to provide the app with additional permissions, such as access to the app's location, read call history, and read SMS, MMS, calendar, and contacts.
7. After you've granted all of the permissions, go to Auto-start management and touch on PROCEED TO SETTINGS to enable System Services.
You may need to touch the back button and then tap on ALREADY SET after giving permission. CONTINUE
8. Toggle the button next to System Services to enable access to usage data by pressing on PROCEED TO SETTINGS.
9. Similarly, turn on Accessibility by pressing on PROCEED TO SETTINGS and then toggling on the System Services option. 10. Once you've completed all of the permissions, you'll have the choice to delete the SPY24 app icon. To be honest, the SPY24 icon is useless because the SPY24 software runs in the background (as System Service) and there is no setting that you can change with the icon. As a result, it's preferable to conceal it.
You've now successfully configured both devices, and you can begin monitoring your loved ones' target Android phone.
SPY24 can be tried by clicking here.
Apple's mobile operating system (Without Jailbreak)
Setting up a tracking device on an iOS device differs from setting up a tracking device on an Android device. In the case of iOS, unlike Android, you do not need to download and install the app on the target iPhone.
It wasn't long ago that making surveillance software run on an iPhone was viable and quite simple. All you had to do was provide the target iPhone's iCloud credentials. When you've done that, SPY24 will recognize the device and begin monitoring it in the background. The user only needed to activate the iCloud backup and synchronization service on the target smartphone for this to happen.
However, according to the current Apple settings, monitoring an iPhone is impossible unless it is jailbroken. There are a few reasons why you can't put a spy app on your iPhone right now.
---
SPY24 Install application free The Most Powerful Hidden Spying App to Monitor Android, IOS Cell Phone & Tablet Device Remotely. Best Android Parental Control App for Kids & Teens Online Safety.
Now take the liberty to monitor Android, and IOS devices with exclusive features better than ever before Monitor all Voice & Text Messages Communication records, Listen to & Watch Surroundings in Real-time Unleash Digital Parenting with Android, IOS Spy App Spy (Surround Listing & Front/Back Camera Bugging) IM's VoIP call recording on Android OS 13 & above With 250+ Surveillance Tools at your fingertips using Android Tracking & Parental Monitoring Software.
---
1. Dashboard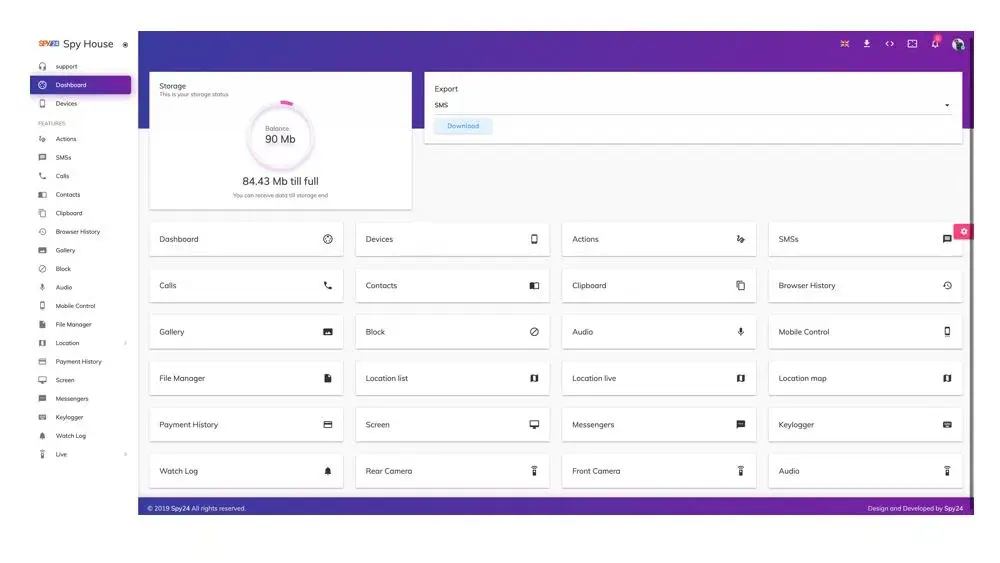 After you've set up the target device, you'll be able to see all of the data on your SPY24 Dashboard. After a few minutes, the data will continue to update itself, and you will be able to see when it was last updated.
You'll notice the Device Model and the OS Version it's running on in the dashboard.
The dashboard can save you a lot of time by displaying some of the most significant facts so you don't have to travel to a specific section to examine the data.
Recent calls and the device's Last Known Location are two examples of this data. You may also view the number of times contact made contact with the target person under recent calls.
Below that, you'll get a list of the most recent 5 most messages, as well as the number of messages received from each contact, much like in the most calling contacts area.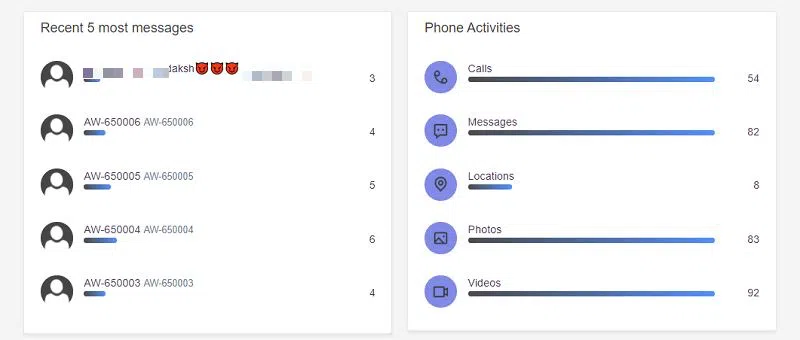 The Phone Activity area is just next to it, and it shows you how many times your spouse has used each app.
As a result, we can conclude that the dashboard is a location where you may get a brief overview of the child's activities.
The only issue I discovered while testing the dashboard was that it kept syncing for a long period without updating the data.
There appears to be a Sync button in the top left corner that can be used to re-sync the data. We tried that option several times, but it was ineffective; the data remained trapped.
At first, we assumed that the problem was due to our sluggish internet connection. When the internet speed was good, though, the same issue occurred.
2. Calls Spy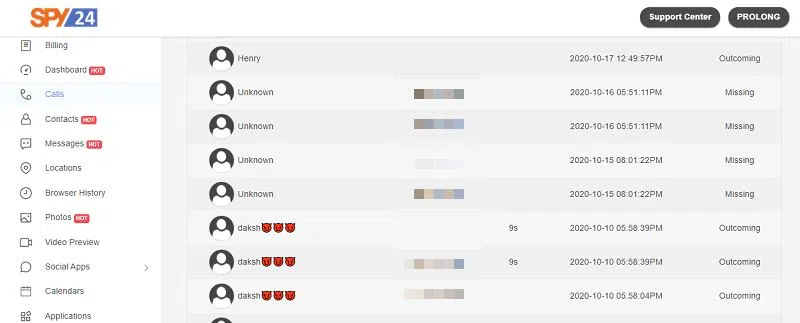 It's no surprise that a tracking program can monitor a device's calls and messages. However, we must commend SPY24 on how skillfully he performs this task.
With the name and phone number exposed, you'll be able to identify the man who keeps trying to contact your teen.
It not only informs you who has phoned or been called at the device, but it also tells you how long each call lasted.
You can tell your spouse talks for a long time by looking at the duration of the call. Is the individual, on the other hand, solely to blame? You may find out what type of call it was (incoming/outgoing/missed) and whether or if your spouse also called that individual.
Finally, seeing the date and time of each call gives the impression that you are viewing the whole call history of the device.
3. Contacts spy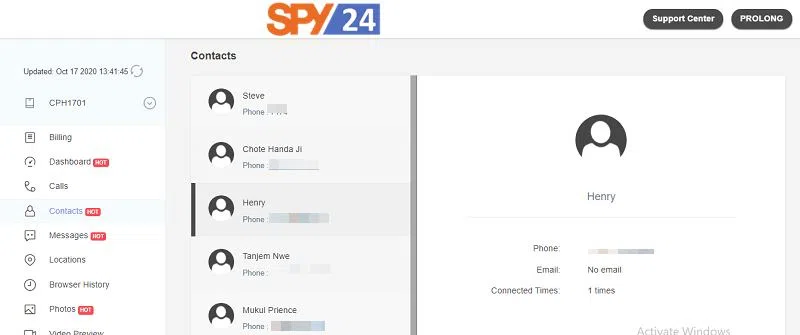 When you suspect your partner is having an affair, having a list of contacts on hand is essential. They may not have called each other, but they will undoubtedly remain in contact.
SPY24 offers you access to the target person's entire address book. You can look up all of the contacts' names and phone numbers.
It is possible to observe if the target person has received an email, as well as the number of times the two of them have communicated.
4. Messages spy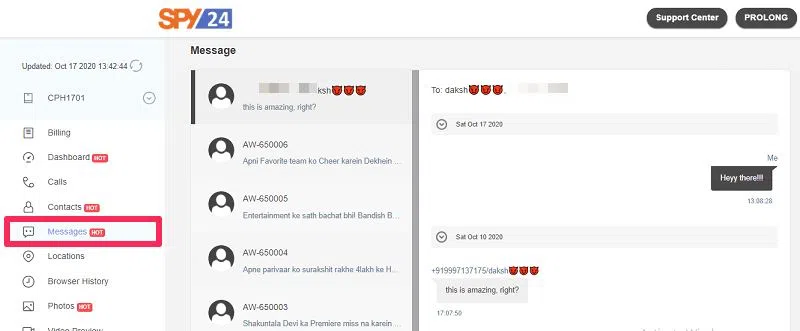 For thorough monitoring, the target person's messaging part should never be overlooked.
If your partner isn't getting or making calls to the number you suspect, they may be communicating via text messaging.
SPY24 will assist you in reading the target person's whole message.
On the left-hand side, all of the contacts from whom they are receiving messages will show. When you click on any of the contacts, a list of messages appears on the right-hand side.
Your message monitoring gets more detailed with the addition of precise dates and time stamps to each communication.
5. Locations spy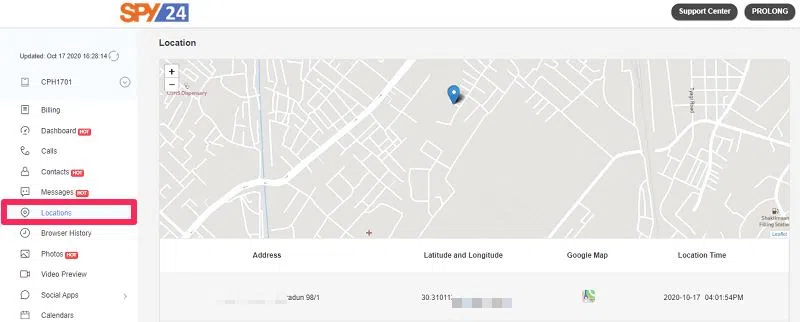 How difficult is it for your girlfriend/boyfriend to lie about where they are right now? You don't have a choice but to believe them if they tell you where they are.
With SPY24 locations, though, it's as simple as clicking a button to see if the information they share with you is correct.
All you have to do is select the Locations option, and you'll be able to see their present location at any moment.
It's also possible to look up their prior locations, as well as the time and day they were there.
For more detailed location monitoring, you can utilize Google Maps.
SPY24 can be tried by clicking here.
6. Browser History
You can trace the most crucial data on the target device simply by looking at the browser history.
You can observe which websites the user is visiting and what Google searches the child has done. You'll be the first to know if it's anything unexpected and potentially dangerous.
However, we were unable to use the function because it did not work for us. We did not obtain the child's search history even once.
7. Photos Spy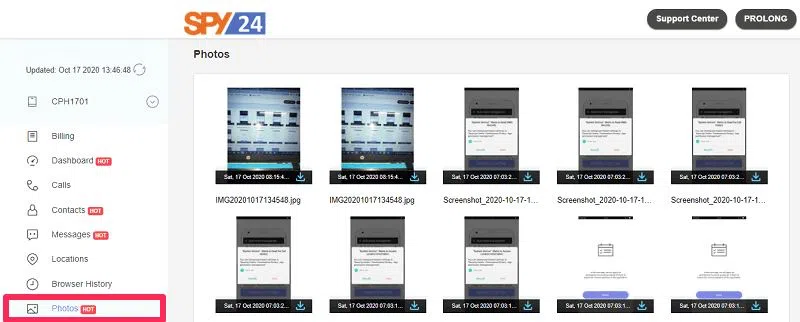 If you're a parent of a teenager, you might be concerned about what your child keeps on his or her phone.
Teenagers frequently email and receive adult photographs from their peers. However, as you are well aware, this is not acceptable.
With the SPY24 app installed on your child's phone, you can see all of the images that your child has on their phone.
All images can be viewed, whether they were taken on the phone after SPY24 was installed or before it was installed.
To view the photo in its entirety, click on the download icon. By left-clicking on the image and then selecting Save image as…, you may save it to your computer.
The photo also shows the exact time and date when the image was taken or received.
8. Video Preview SPY

The chances of finding an adult video on the target phone are as good as, if not better, finding an adult photo.
You should check the Video Preview option to ensure that your child is not seeing any adult content such as porn, political hatred, racism, or brutality.
When you go to the Video Preview section, all of the videos on the target Android phone are displayed.
When you open the movie by clicking on the download icon, however, you will not see a play button, and the film will not be downloaded in any way.
The only thing you'll see is a thumbnail of the video.
9. Social Apps Spy

You can't give a spy program a full monitoring tag unless it tracks your lover's social media and instant messaging accounts.
SPY24 allows you to watch your spouse's Facebook, Messaging, Snapchat, Instagram, WhatsApp, LINE, WeChat, Kik, and other social media accounts.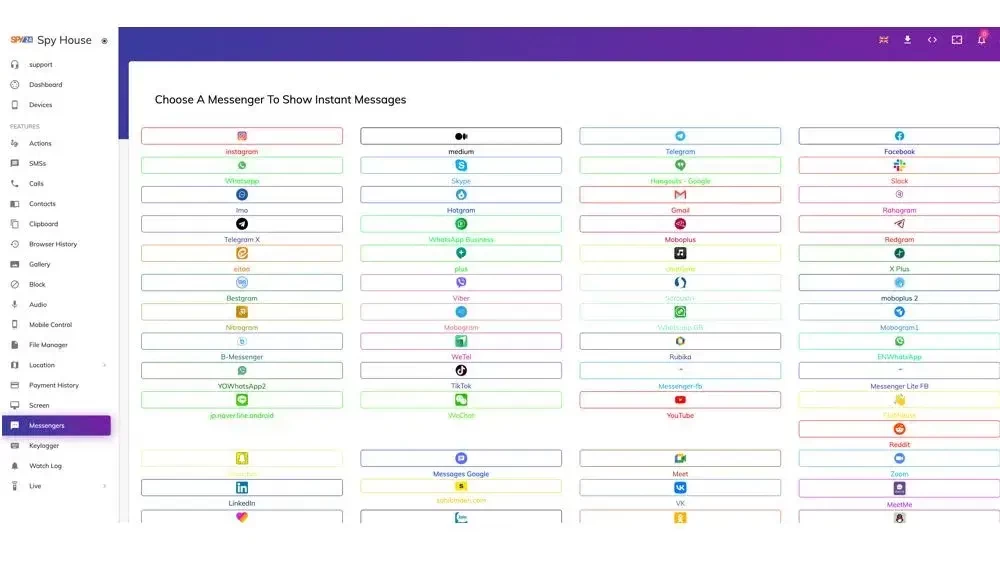 We tried out a few of them and had a mixed bag of results.
We didn't get any notifications on Facebook or in the Messanger area. However, the findings of other apps were quite good.
You'll get updates on anything that happens on their WhatsApp account in the WhatsApp area.
You'll learn who your lover is checking whose profile, in addition to the messages.
It's simple to monitor WhatsApp using SPY24 because each communication includes a date and time stamp as well as the contact's name.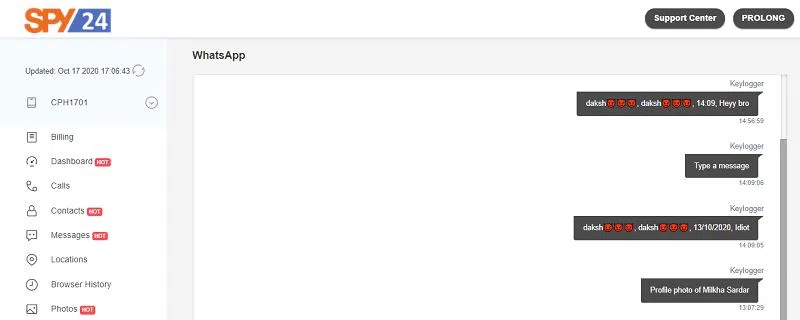 When it came to the Snapchat section, the updates were excellent. Snapchat messages and other Snapchat notifications will also be delivered to you.
Similarly, you'll receive all of your partner's messages, whether they're received or sent, on Instagram. Other types of notifications include comments, user names, and so on.
10. Calendars Spy
Because it's a spy app's calendar, it's evident that SPY24's Calendar feature is unique.
People frequently mark noteworthy dates on their calendars and set reminders so that they do not forget crucial dates.
When you browse the Calendar area, you'll find that the same dates that the target person has marked are displayed.
11. Applications SPY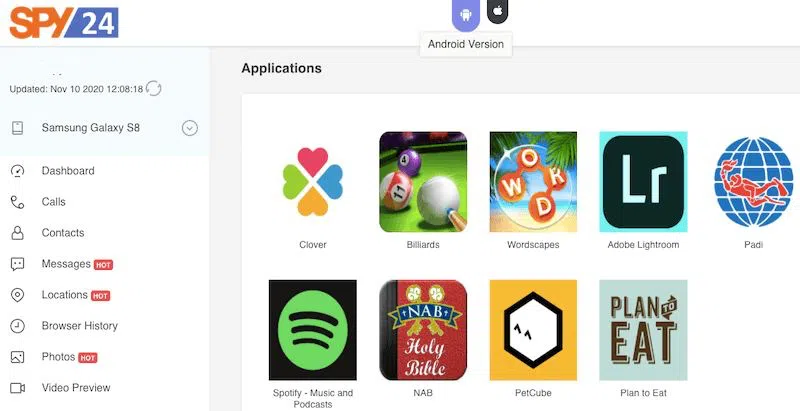 On the Play Store, you can easily identify apps that are not suitable for children to use. It's also simple for teenagers to find and utilize those apps.
However, you must ensure that your children stay away from these inappropriate apps.
SPY24's Applications feature will display a list of a few of the apps loaded on the teen's phone. Yes, it is correct. Only the names of a few of the apps are visible, not all of them.
12. SIM Card SPY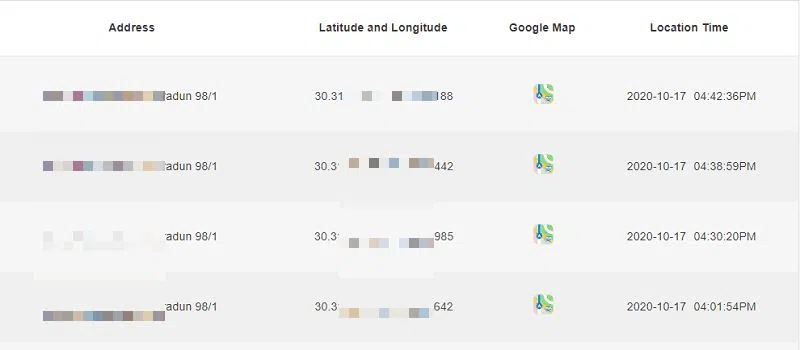 If the target individual is overly intelligent, they may try to conceal their affair in any way they can. They may even use a different SIM to communicate with the new person for the same reason.
However, SPY24's SIM Card feature allows you to keep one step ahead of the game.
By entering your email address in the provided field, you will be notified whenever the target user activates a new SIM card on their phone.
The present SIM card's complete details can also be viewed.

13. Keylogger Spy

Next, we'll look at the Keylogger feature. So, what is the purpose of this feature? It's meant to show you all of the searches you've conducted across all of your apps.
For example, if the youngster searches on Amazon for "Running Shoes," you should see the same phrase on the Keylogger tab. Unfortunately, this feature is inaccurate, and I'll explain why.
The majority of the words you'll see in the Keylogger are those that display on the phone's screen rather than being written by the user.
The keylogger, for example, is gathering phrases like time, date, weather, emergency call, and so on, as shown in the screenshot. This functionality is rendered obsolete by such inaccuracy.
Pricing for SPY24 Free
There are three subscription levels available for Android. The first is the Basic package, which starts at /month/ and includes only the most basic tracking features. You wouldn't be able to trace any social media application, for example. With the Basic package, you can only monitor one device.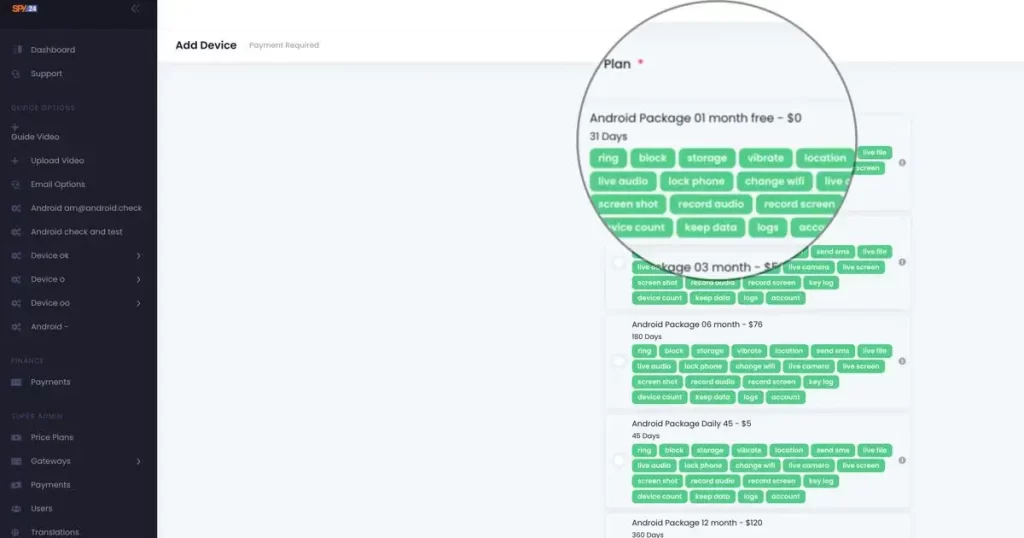 The Premium plan, on the other hand, allows you to keep track of everything. The Premium package also only allows you to monitor one device per account and costs /per month. There's also the Family plan, which will set you back /a month. The Family plan, as the name implies, allows you to manage three devices per account.
There are three plans for iOS: Family, Premium, and Business. The Family plan, which is available for 5 devices per account and costs /per month, is the most affordable option. The Premium plan costs $9.99 per month for one device, while the Business plan costs $399.99 per month for 25 devices.
SPY24 Tracking can be tried by clicking here.
SPY24 Review: The Final Word
So, you're probably wondering if we think SPY24 is a good option for you. As you may have noticed from our SPY24 review, this parental control app has a lot of great features.
However, some of the features were either broken or not operating at all. However, in defense of SPY24, we'd like to point out that the functions that didn't work for us might work for you, as spy app functionality varies by device.
If we don't answer the questions that users frequently ask, this SPY24 review will be incomplete.
Is SPY24 Effective?
Yes, SPY24 is a good spy app to try if you want to keep an eye on your family.
Is it possible to use the SPY24 app in stealth mode?
No matter what OS system we're talking about, the SPY24 only functions in hidden mode. The icon that was left on Android is useless because you can't modify anything with it.
How Do I Remove SPY24 From A Targeted Device?
When the target device is an Android device, you must uninstall the app. You must also go to Settings > Applications and Permissions > App management > System Service to uninstall the app (Uninstall it). As a result, the app is no longer present on your phone.
Is it necessary to root your device to use SPY24?
No, you do not need to root your device to utilize SPY24.
In your SPY24 account, how often is the data from the target device updated?
The data for the target device is updated regularly. And when I say regularly, I mean every few minutes. The last updated time is displayed in the top left corner of the SPY24 dashboard.
Is SPY24 a cost-free application?
SPY24 is not a free application. Although using SPY24 services is less expensive, it is not a free app.
Is it possible to install the SPY24 app without them realizing it?
You can install SPY24 without the target phone's knowledge if you have physical access to it. And they'll never realize you're keeping track of their information.
Is SPY24 a genuine service?
SPY24 is completely legitimate, and you will not be wasting your money on spam. It provides the best services, and using them won't get you in trouble with the law as long as you're not tracking someone without their knowledge.
Where Can I See The Target Device's Data?
By entering your SPY24 portal in a browser, you may see all of the target device's tracked data.
Is it possible to set up SPY24 without having access to the target phone?
No, you won't be able to set up a SPY24 account unless you have physical access to the phone. Previously, it was possible to set up the account on the iPhone without requiring physical access, but this is no longer available.