VOIP Call Recording App to Record IM's Voice Calls
You can listen to and record VoIP calls on Android devices that haven't been rooted. The best app for recording VoIP calls. For any IM client that works with spy24 mobile spy, a VoIP call recorder will also record the details of the VoIP call. With the SPY24 VoIP call recorder, if the target user uses Skype, Viber, or WhatsApp to make or receive calls, these calls will be automatically recorded and uploaded to your web portal, where you can listen to them or download them to listen to later.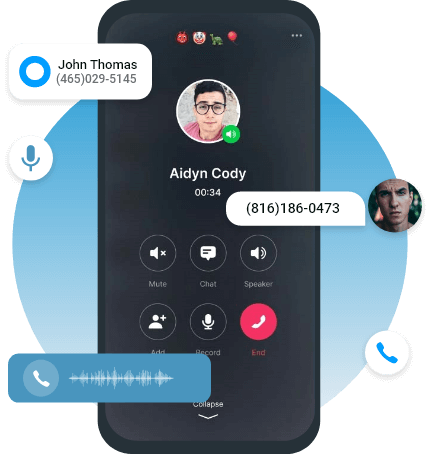 First non-rooted voip calls recording software
Why SPY24 voip call recorder is the most demanding surveillance app in the industry?
Monitor Calls via Instant Messenger Chats
SPY24 VOIP Call Recorder knows the importance of tracking social media of your family or even employees, and that's why, it has one of most extensive instant messaging monitoring. With SPY24 Mobile Spy, you can view the call log details, read instant messages and even view photos on select IM apps.
WhatsApp

Access all WhatsApp chats, call logs and photos.

Facebook

Read all chats from Facebook Messenger App.

Telegram

Supervise all sent and received Telegram text messages.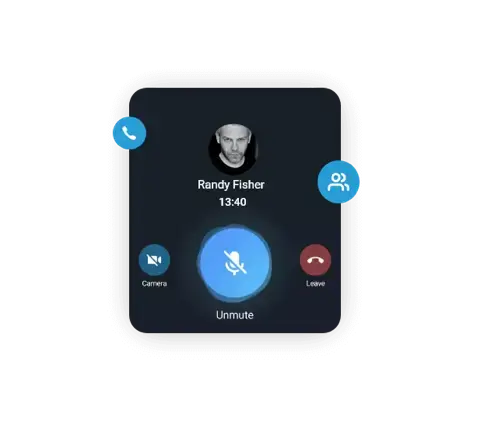 Snoop on and listen to calls me with the SPY24 voip call recorder app.
The SPY24 Voip Call Recorder is the first voice call recorder for Android phones and tablets that doesn't require the device to be rooted. The call recorder in SPY24 VOIP M is the first of its kind in the world. It lets you record voice calls made through social networking apps. With apps like Whatsapp Recorder, you can record voice calls on Android without having to root the phone. The best way to keep an eye on Android phones with instant messaging apps installed without having to root the phone is to record VoIP calls. Except for im logs, any Android phone can record and listen to live VoIP calls in major social media apps, except for IMO logs. It's the only app that lets you record calls from social media apps on Android phones. It's pretty common for Android users to install social media apps that let them make and receive phone calls. Even better, no one has ever been able to record calls made through social apps like instant messengers, but Top has now made an exclusive VoIP call recording software that can do just that. On the social media apps below, it's easy to record voice calls.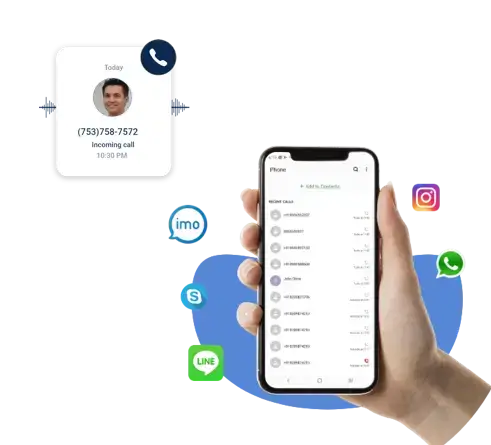 Spy on Instant Messenger's VoIP Call Logs
History of VoIP Calls Feature to Track VoIP Call Logs on Any Social Media App: The monitoring feature of VoIP call logs lets users keep an eye on active instant messaging apps that are making voice and video calls. You can see what voice calls a cell phone user has made and received on messaging apps like WhatsApp, Facebook, Skype, IMO, Kik, Telegram, and many others. On popular social networking apps, you can find out when a VoIP call will be made. What is the VoIP Call Logs Spy App from SPY24? It's one of the best things that a phone spy app can do. It can keep a record of both spoken and unspoken chats on instant messaging apps. It is an app that lets you check the call logs of popular social messaging apps that use VoIP. Users can also record and listen to the history of one-way VoIP calls on social networks. SPY24 lets you keep track of voice messages sent and received on Facebook, WhatsApp, Snapchat, Instagram, and many other apps.
On Android, how do I use the SPY24 VOIP call recording app?
If you want to flip the script and record both incoming and outgoing calls on instant messengers, you can install IM's call recording on Android. You also don't have to "root" the phone. After the installation of IM's voice call recorder software is done, you can go to the online web control panel. It lets you record phone calls made with popular social messaging apps like WhatsApp, Viber, and Facebook Messenger on Android devices. It keeps logs from popular messaging apps like WhatsApp and Facebook Messenger, as well as VOIP calls.

Install an app that lets you keep an eye on Android devices.
Get into the target device without being able to use root.
Live voice calls can be tracked through instant messaging apps.
Through the web portal, you can listen to recordings of phone calls.

With an Android VoIP call history tracker app, you can keep track of all of your calls:

Why do you need software to record VOIP calls on Android?

Over the years, more and more people have wanted to record IM voice calls, but no one can do it. For the first time in the history of business, cellphone tracking software has given parents, employers, and many other people a unique and high-tech way to keep track of their children. All of them are not worried about the possibility that social networking apps could be used to record and listen to voice conversations between members of the public, including children and employees. You don't have to root your phone in order to use IM's Android voice recording app.

Spy on audio and video VoIP calls on Viber, Whatsapp, Line, and many other apps

With a VOIP calls history tracking app, you can spy on the call logs of your target's cell phone that has WhatsApp, Vine, and Line installed, along with the exact time of each call.

With a schedule and a VoIP call history monitoring app, you can now spy on WhatsApp, Vine, Line, Facebook, discord, Wire, Signal, Snapchat, and many other apps.

You can spy on any cell phone to track VoIP call history, audio, and video on social networking apps. Users of popular instant messaging apps like WhatsApp, Facebook, Line, Vine, Viber, Skype, and many others can track VoIP call logs.

With the VoIP call history monitoring app, you can now keep track of the logs of your VoIP calls:

Track audio and video on WhatsApp VoIP call logs in real-time
Spy on Viber call logs without rooting
Get the history of Line VoIP calls on another phone
Call logs for Skype, Line, Facebook, and other services can be seen.
With VoIP call history tracking software, you can look at the call logs of social media apps from afar.
General Questions Telegram Call Recording is for Recording VoIP Calls Anytime.
What's the best way to record Telegram voice calls?

The number one telegram call recording solution in the world is SPY24. The first company to record Telegram Messenger voice calls is SPY24. One-way calls can be recorded and saved to the SPY24 dashboard, from where users can access the audio and video recordings.

For what reasons should you use SPY24 to record your VoIP calls?

Instant messenger call recording solution SPY24 is completely undetectable, undecipherable, and undetectable. Users can record live messenger calls without rooting their phones thanks to the app's extensive feature set. Voice calls can be recorded on Telegram, Skype, Facebook, WhatsApp, and a host of other popular messaging services.

Installing SPY24 VOIP Call Recording - How Do I Do That?

The SPY24 cell phone spy app can only be installed if you have physical access to the device. It's not possible to set up remotely.

Can people listen in on VoIP calls?

Yes, you can use the best VoIP call history tracking app to look at the call logs of any cell phone that are running one of the popular instant messaging apps. It's an app that lets you get into cell phones that are connected to social networks like WhatsApp, Facebook, Skype, Snapchat, and many more. With the schedule, you can keep track of both incoming and outgoing Voice call logs from a social messaging app.

Can we check the history of VoIP calls for free?

No, you have to use legal spy software for cell phones that allow you to access any cell phone device remotely after installation. Free spy apps can't get logs, but they can steal your personal information and hurt your phone. So, use monitoring software that takes care of your cell phone data and lets you keep an eye on VoIP call logs on a cell phone that is also being used for messaging.

Best spy software to keep track of VoIP call logs?

SPY24 is without a doubt the most trustworthy and effective phone spying app. It is a hidden, undetectable, and non-rooted monitoring solution that can track Voice call logs on a schedule. It also keeps track of text chat logs, media files that are shared, and a lot more. Through an online dashboard, the app lets users look at the activity logs of messaging apps.

What is software for keeping an eye on VoIP?

It's a solution that lets you break into a cell phone from afar, but you have to set it up to have one-time physical access to a target cell phone. It also keeps an eye on what's going on with social messaging apps, Voice, and video calls. Users will be able to see call history logs for WhatsApp voice calls, Facebook voice chats, Skype messenger calls, and a lot more. SPY24 is the best VoIP monitoring software that lets you track the voice and video call logs of popular social media apps.

Is it possible to track VoIP calls without root?

Yes, you can track and monitor social media voice and video calls without rooting the device you want to spy on, as long as you have android spy software that doesn't need to be rooted and can't be found. With the schedule, you can get into the phone in secret and check the Voice call logs history of popular social networking apps. With a VoIP call monitoring app, you can check audio and video call logs on any cell phone without having to root it.
Why You Need to Record VoIP Calls
Benefits for Parents:Is your child constantly attached to their phone and chatting with friends through WhatsApp or Facebook Messenger? While we hope that our children are making calls on these apps responsibly, as parents we cannot always be sure. As much as we want to trust the judgment of our children, sometimes they cannot tell when there is danger.
Monitor who your child is speaking to, how often, and listen to VoIP call records to ensure your son or daughter is safe. Our VoIP call recorder gives you an extra layer of security and will tell you information that your children won't.
Benefits for Employers: VoIP calls can be a lifesaver for a startup business as they allow for quick discussions and resolutions to be made anywhere in the world at no cost. However, as employees are making more and more VoIP calls, it is important that employers have a handle on what information is being shared and who exactly your employees are speaking to.
Our VoIP call recorder allows you to monitor and listen to phone calls made by employees. Use this software as a tool for implementing responsible corporate behavior and preventing the leaking of private business information.
Paige
w.s

Adam
s.s
andre
n.n
Hidden call recording voip - hidden voip call recorder spy app
SPY24 Mobile Spy hidden call recorder app record calls placed to contacts or other people using popular instant messenger programs such as Skype, Viber and Whatsapp. Learn more about SPY24's VoIP Call Recording feature, which allows to remotely record VoIP calls and listen to them later.
You Can Totally Rely on SPY24 – We've Got Your Back
SPY24 won't leave you alone with your subscription, because for us, your satisfaction is on top of everything else, and with that, we promise to deliver only the best mobile spying app experience that you will never have like it again!
100% Secure Satisfaction Guaranteed

24/7 Live Chat

Stealth Mode 100% Invisible
Record phone calls and surroundings
Real phone calls, as well as VOIP calls such as Skype, LINE, and others, can be heard and recorded in real-time on phones. Take command of the device's microphone and use it to listen in on the surrounding environment.
Phone calls can be recorded and downloaded from the monitored device, and they can be listened to at any time.
Environments in which the phone is used
Accessing the microphone on the target device allows you to send commands and record the surroundings of the phone.
VoIP Calls Calls made to contacts through instant messaging programs such as Skype, Viber, Whatsapp, and other similar services are recorded.
Calls can be monitored through instant messenger chats.
Considering the importance of tracking the social media activity of your family or even employees, SPY24 VOIP Call Recorder includes one of the most comprehensive instant messaging monitoring features available. Spy24 Mobile Spy allows you to view call log details, read instant messages and even view photos on selected instant messaging applications.
WhatsApp Get access to all of your WhatsApp conversations, call logs, and photos.
Read all of the conversations that have taken place through the Facebook Messenger App.
You can see all of the texts that have been sent or received on Skype.
View all of the Snapchat text messages that have been sent and received.
Get access to the Wechat conversations and phone calls made to the target phone.
View all of the text messages that have been sent and received through Instagram direct.
Tinder allows you to read all of your inbox messages and chats.
Telegram Keep track of all text messages sent and received through Telegram.
Along with 30+ other features, it includes more photos, Kik, Viber, Line, and Remote Spy in addition to the standard features.
Keep track of everything you need to know.
Get access to call logs for incoming, outgoing, and missed calls, complete with date, time, and call-duration stamps for each and every conversation.
Read all text messages sent and received on the monitored cell phone, including the date and time of each message and the sender's and recipient's contact information.
Follow the GPS location of a person or object.
They can check in on where they were at a specific point in time and receive alerts for critical locations.
Activity in the Application
List all of the applications that have been installed, as well as the date that they were installed and other information.
Everything that is typed on the mobile keyboard is visible to you.
To take a photo or video with your mobile phone, turn on the camera.
Contacts to Keep an Eye On
Protect your children from being approached by pedophiles or bullies by setting up caller ID alerts for the specific caller(s).
Detailed tracking of all browsing history information, such as websites visited and their frequency of visitation is available.
Emails The default mailbox on the target device is checked for any emails that have been received or sent from it.
Why Should You Use SPY24 VOIP Call Recorder?
This application, SPY24 VOIP Call Recorder, is the most dependable and efficient on the market, offering a comprehensive cell phone spying and computer spying solution for customers all over the world. It keeps track of data and gathers information in the background, and then presents it to you in a clear and understandable manner on the Remote panel, which can be accessed from any internet browser with relative ease.
When compared to other similar products, what distinguishes SPY24 VOIP Call Recorder?
Keep track of all digital and audio communications between your Android and iPhone.
Take note of the VOIP call's details.
Calls made to contacts or other people using popular instant messenger programs such as Skype, Viber, and Whatsapp can be recorded and stored.
Everything that happens on a computer or a Mac should be monitored.
There are more monitoring features in this product than any other.
Hidden App: There is no icon, and there is no notification.
Installation takes 5 minutes.
Frequently Asked Questions are listed below.
What is the procedure for using SPY24 VOIP Call Recording?
Installing the SPY24 Mobile Spy application on the target phone, or any phone that you want to monitor is all that is required. Really, that's all it is for you to do.
How much does it set you back?
We have a number of different packages, each with its own set of features and session lengths. To see our available packages, go to the Packages section of the menu.
Why Should You Use SPY24 Mobile Spy?
In addition to monitoring children and employees, SPY24 Mobile Spy can also be used for backing up and remotely controlling your personal cell phone.
Is it visible in any part of the phone?
No. After installation, there is no icon or pop-up on the phone to indicate that SPY24 VOIP Call Recording is active.
What is the procedure for installing SPY24 VOIP Call Recording?
To install the SPY24 cell phone spy application, you must have physical access to the device. It is not possible to install it remotely.
If I don't cancel my subscription, will you automatically charge my credit card?
No, when your subscription expires, SPY24 Mobile Spy does not automatically renew your subscription. In order to continue receiving service, you must manually renew your subscription.
Keep an eye on your VoIP call recordings.
Purchase, According to the results of the new survey, nearly 80% of teens check their phones at least once an hour, and 72% feel the need to respond immediately to texts and social networking messages. Are you aware of who they are speaking to or what they are talking about when they say something to you? It's nearly impossible for parents to keep an eye on their children all of the time. They shouldn't have to, either, because trust is an extremely important component of a child's development. SPY24 provides you with the ability to detect when something is happening before it gets out of hand, allowing you to intervene and prevent your child from becoming involved in a potentially dangerous and expensive situation.
With the latest version of SPY24, you can now listen in on VOIP call recordings and record them. Install the most recent version of SPY24 on the cell phone that you want to monitor, and use your SPY24 Control Panel to remotely monitor all Whatsapp, Facebook, and Viber call recordings recorded on that phone. This feature is ideal for anyone who uses an Android device and spends a significant amount of time on social media applications such as Whatsapp, Facebook, and Viber. The ability to record these calls is extremely beneficial for parents who are in charge of their children's well-being. They are essentially the same as a regular phone call in terms of functionality. The call is simply being routed over the internet rather than through the instant messenger program.
Calls are captured invisibly so that the user is unaware of what is happening.
Calls can be recorded for any number of minutes or for any duration.
Information is captured and uploaded directly to the User Control Panel.
Support for any number of Android devices is available.
Calls that are recorded are only available on mobile devices. It may or may not work on some mobile devices and may or may not work on others.
VoIP Call Recording Capture and store recordings of VoIP calls.
Our VoIP call recording feature allows you to record VoIP calls made using popular VoIP applications such as Facebook Messenger, LINE, Viber, WhatsApp, and others from a distance using your computer. Whenever a phone call is initiated, whether it is made or received using one of the supported apps, our VoIP call recording software automatically records the conversation and uploads it to your secure web portal for later listening convenience.
What you can do with the VoIP Call Recording feature provided by our company
Internet-based phone calls are rapidly replacing traditional phone calls, and as a result, they should be a source of concern for parents and employers who are concerned about protecting their company or children. With SPY24, you can rest assured that your family and business are well-protected and secure.
VoIP calls made from popular chat apps such as Facebook, LINE, Viber, WhatsApp, and others can be recorded and listened to with this software.
Get a complete picture of the conversation by recording important details such as the length of the conversation, the name of the contact, and the date the conversation took place.
To keep track of recorded calls, you can save them to your computer for safekeeping or listen to them through our exclusive mobile viewer app, SPY24.