With a whopping 2.93 billion monthly active users, Facebook is by far the most popular social media platform in the world. It also has a great messenger app called Facebook Messenger, which has more than 1.3 billion users. Despite all the benefits this app offers, it might bring some dangers to your family or even to your workplace. That's why many people try to find a way to track the Facebook Messenger of others. But how can you spy on Facebook Messenger?
In this article, we're going to introduce the Fecebook-tracking features of SPY24. This is actually the best Facebook messenger spy app on the market and can help you keep track of your loved ones' activities on the app.
Why Using A Facebook Messenger Spy App?
First, let's review some important reasons why people try to use a spy app to track someone's activities on Facebook Messenger.
Here are some of the most prevalent reasons to spy on someone's Facebook Messenger: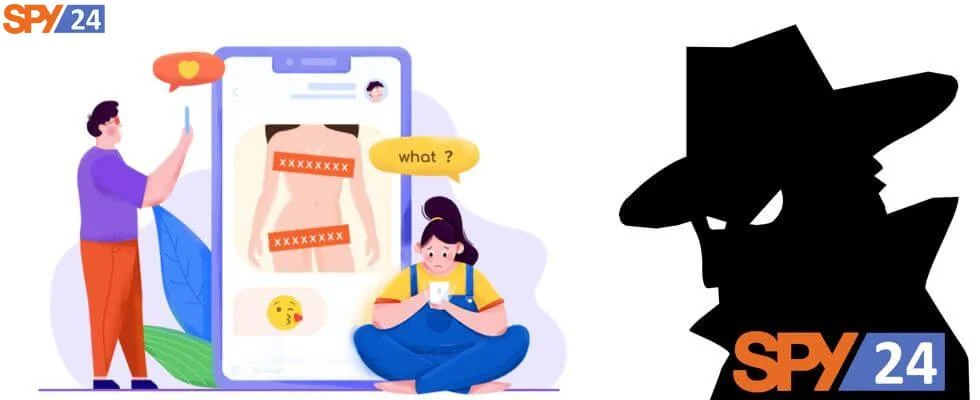 Catch a Cheating Husband
This is one of the most important reasons why people try to spy on someone's Facebook. Unfortunately, many men cheat on their partners even after marriage. So women try to track their husband's activities, especially on their cell phones. As many people use Facebook Messenger to chat, it's good to keep track of your husband's communications on this app to find out if they're doing anything wrong. Actually, using a Facebook Messenger spy app is the best way to catch a cheating husband.
Employers Can Keep an Eye on Employees
If you own a company and you can't be sure about your employees' activities, you might find your company in trouble. You have to track the activities of your staff to see if they're doing the exact task you asked them to do. Using a Facebook Messenger spy app is a good idea to find out if they're chatting during working hours. This is particularly necessary when they want to use your company's devices, such as mobiles or computers.
Parents Can Keep an Eye on Kids
Last but not least, parental control is another reason for spying on Facebook Messenger. If you're worried about your kids' activities and the people they're chatting with, you'd better go for a spy app to track their cell phones, especially their Facebook Messenger.
What Is SPY24 Facebook Messenger App?
SPY24 is the best cell phone tracking app on the market that provides more than 250 features, such as the Facebook Messenger spy feature. You can track Facebook Messenger interactions at any time with the help of the SPY24 Facebook Messenger app. This spy feature on SPY24 allows you to keep track of conversations and open multimedia files saved on the target cell phone. Also, the time, date, and contact stamps are all visible.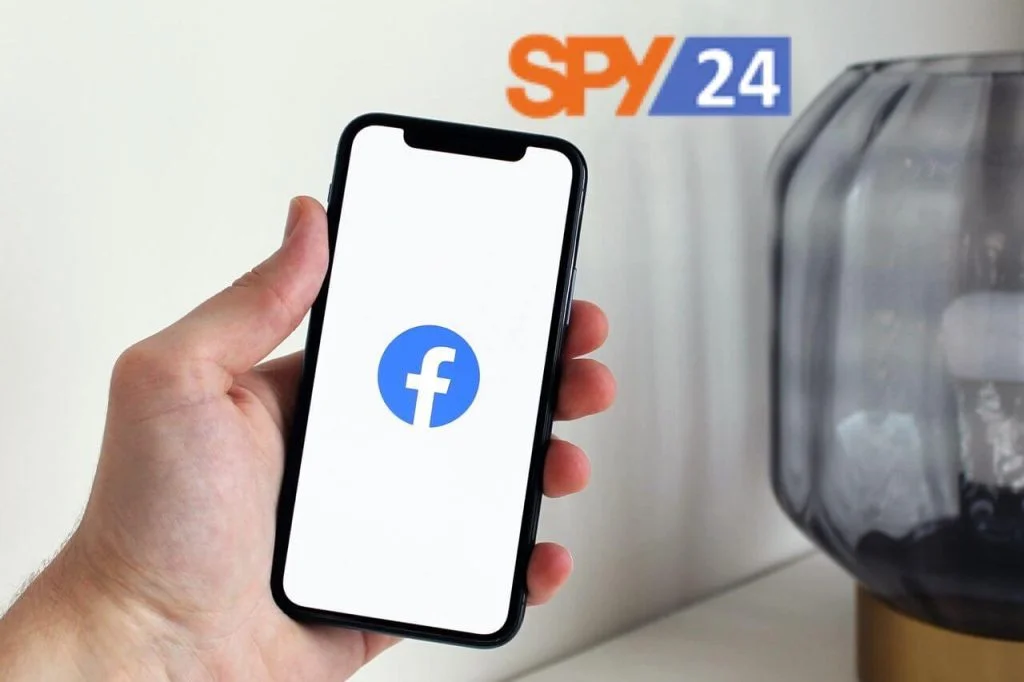 The good news is that it works in an off-server mode which means the app will create a spreadsheet of Facebook chat data. So you can easily track the target cell phone remotely and monitor all the chats on its Facebook Messenger.
Why Should You Choose SPY24 Facebook Tracker?
Here are the most important benefits of using the SPY24 Facebook tracker: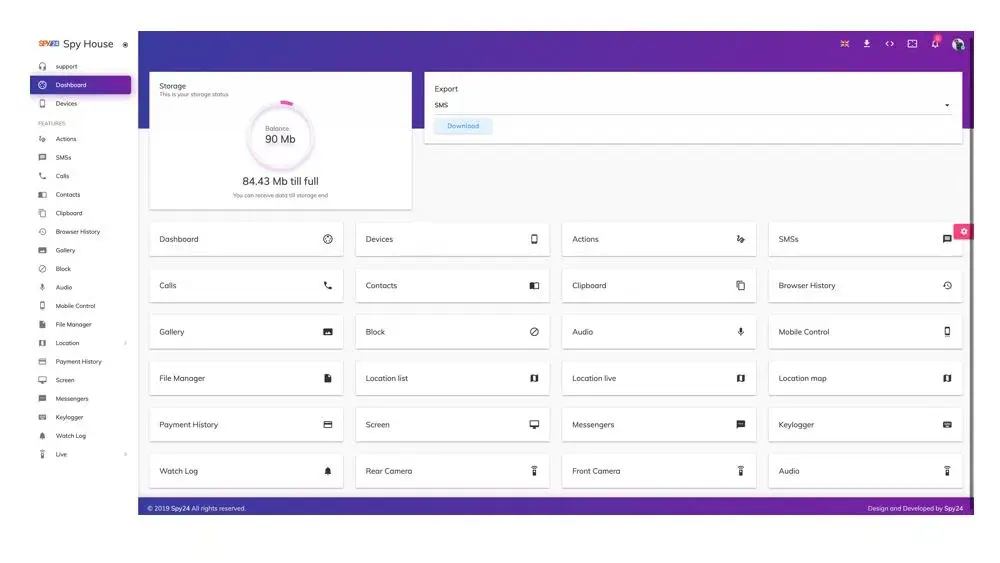 You just need one-time access to the target phone.
It's compatible with all devices.
It provides 24/7 customer service.
You don't need to root or jailbreak the target devices.
You track several devices simultaneously.
The file size is really small.
It works completely hidden and can't be detected.
It provides you with lots of other features to track other activities on the target phone.
You can track the data using a dashboard on your browser without installing another app.
SPY24 Facebook Tracker Features
SPY24 offers the following features regarding Facebook tracking:

Reading Facebook Messages
You can read all the text messages on the target phone's Facebook messenger. The good news is that even if messages have been deleted, you can read them using SPY24. This is great for parents who want to prevent their children from sexting.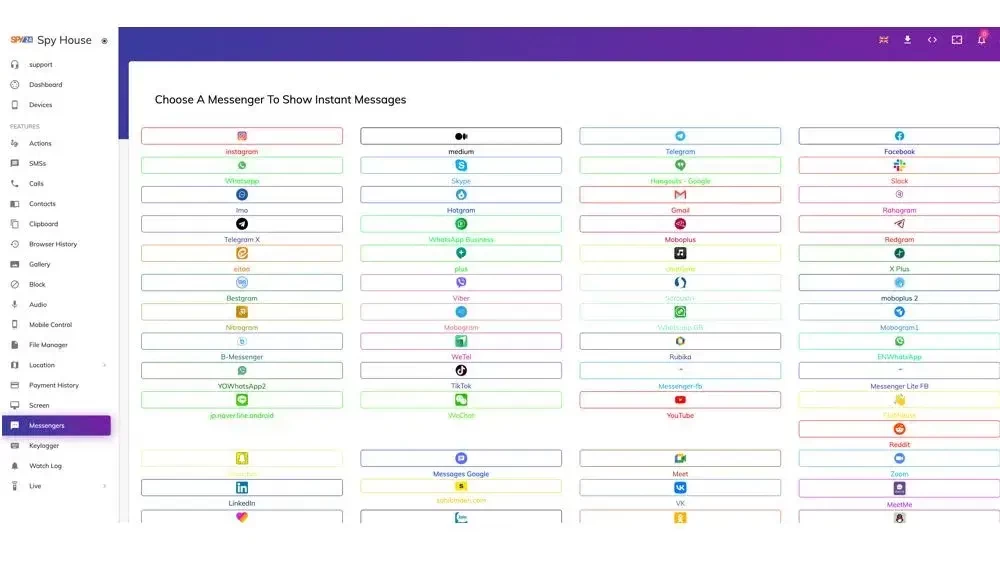 Listening to Conversations
Using SPY24, you can listen to voice messages from a Facebook chat on the target phone. You can also listen to the recorded Facebook calls at a later time.
Call Log Monitoring
With SPY24, the time and date of each message and call can be seen. Actually, you can determine when each call has occurred.
Viewing Multimedia Files
You can view your kid's Facebook messenger inbox from anywhere in the world and view all photos and video clips he or she has sent and received. So use the Facebook spy feature to monitor your kid's multimedia files and ensure they aren't viewing inappropriate content.
Setting Up Alerts
Use SPY24 to set up triggers that will notify you whenever a specific term or phrase appears in a Facebook Messenger chat on the target phone.
How Does the SPY24 Facebook Tracker App Work?
To hack the Facebook Messenger chats of your target user, you have to use an app like SPY24 that has the Facebook-Tracking feature.
It means that installing every spy app doesn't necessarily give you the ability to hack a Facebook account. There is a big difference between these two concepts, so you have come to the right place because SPY24 has the most advanced Facebook-Tracking feature.
Now, let's take a closer look at how SPY24 works. Remember that you can't spy on someone's Facebook Messenger without installing a spy app. So the first thing to do is to install SPY24.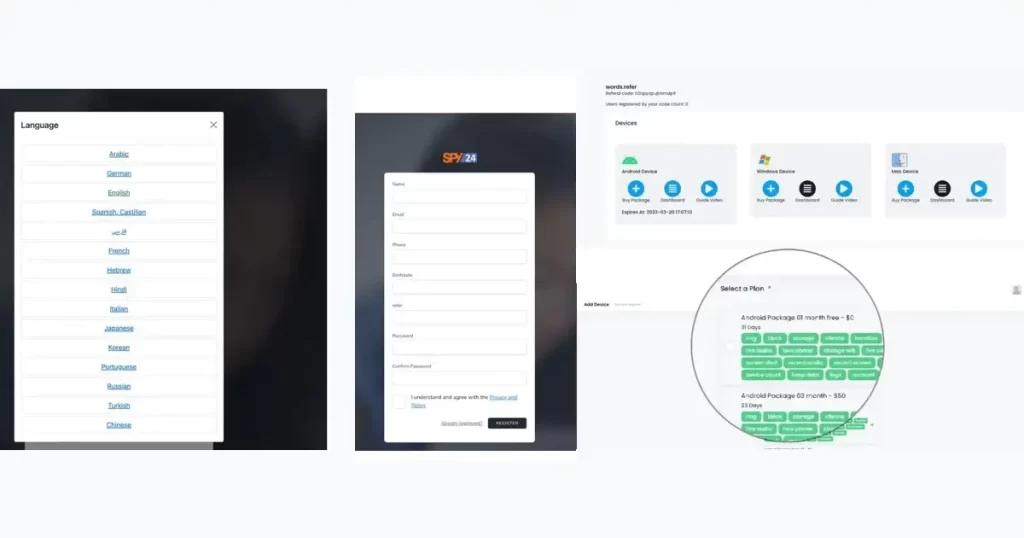 To install and monitor a Facebook account, follow these steps:
Create an Account: You have to go to the site and sign up.
Buy the Software: SPY24 has a 30-day free trial, so you don't have any problems with this step.
Receive Email: You'll receive a confirmation email with your credentials.
Download: Download the app using the instructions.
Install the App: Install the spy software on the target phone without rooting or jailbreaking it.
Note: Fortunately, there is a chance to install SPY24 on iPhone without touching it. In this case, the phone has to have two requirements. First, its iCloud feature has to be activated. Second, its 2FA (Two Authenticating Factor) has to be disabled.
Sign In: Sign in to your account and choose the target phone using the dashboard.
Start Tracking: Using the dashboard, you can choose Facebook Messenger to start tracking it on the target phone.
SPY24 Facebook Tracker App Cost
SPY24 offers a wide range of plans for different people. You can choose them according to your requirements. Here is the list of SPY24's packages:
Android Plans
1 month – $0
3 months – $50
6 months – $76
12 months – $120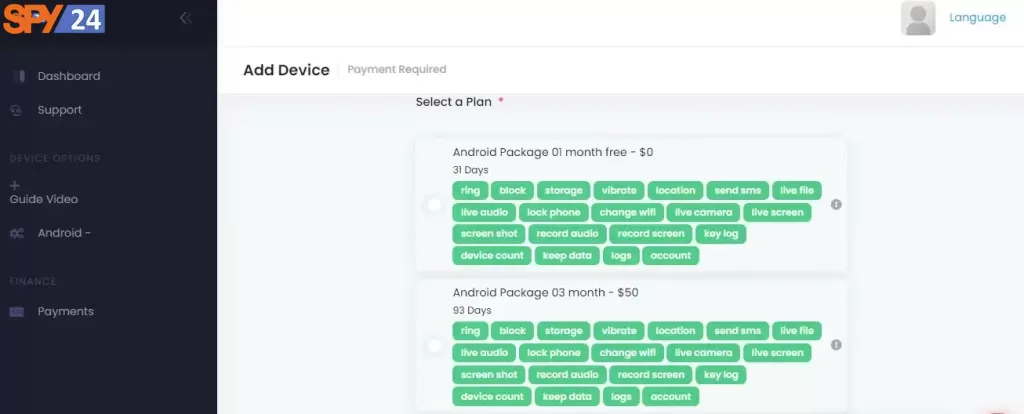 Windows Plans
1 month – $25
3 months – $46
6 months – $60
24 hours – $0
MAC Plans
1 month – $25
3 months – $46
6 months – $60
24 hours – $0

SPY24 Install application free The Most Powerful Hidden Spying App to Monitor Android, IOS Cell Phone & Tablet Device Remotely. Best Android Parental Control App for Kids & Teens Online Safety.
Now take the liberty to monitor Android, and IOS devices with exclusive features better than ever before Monitor all Voice & Text Messages Communication records, Listen to & Watch Surroundings in Real-time Unleash Digital Parenting with Android, IOS Spy App Spy (Surround Listing & Front/Back Camera Bugging) IM's VoIP call recording on Android OS 13 & above With 250+ Surveillance Tools at your fingertips using Android Tracking & Parental Monitoring Software.
---
Other Features Offered by SPY24
The good thing about SPY24 is that you can have many other features along with Facebook Messenger. This way, you don't need to go for another app to hack something else. In other words, if there is something that can be hacked, SPY24 has it!
Here is a summary of its main features:
Calls and Messages Monitoring
Using SPY24, you can:
View Call Logs
Call Dates
Read Text Messages
View Contacts
Social Media Tracking
SPY24 has the most diverse set of social media tracking features, apart from Facebook. Here is the list of social networking apps you can hack using SPY24:
| | | |
| --- | --- | --- |
| WhatsApp SpySkype SpyHangouts SpyLine SpyKIK Spy | Zolo SpyViber SpyGmail SpyTango SpySnapchat Spy | Instagram spyHike SpyTwitter spyTelegram spyIMO Spy |
GPS Location Tracking
This is one of the most important hacking features. You can get lots of useful data on your target phone's location:
Current Location
Location History
Alerts on Specific Locations (Geofencing)
Internet Tracking
Thanks to SPY24, you can keep an eye on your kids' and employees' internet activities with ease. In complete stealth mode, you can read through entire email threads and even view your browsing history.
Phone Calls and Surroundings Recording
You can remotely record your target phone's calls and surroundings:
Record and Listen to phone calls
Record and Listen to Phone Surroundings
Viewing Saved Multimedia Files
SPY24 makes all images, films, and calendar items accessible on the monitored devices.
App Blocking
Using SPY24, you can remotely block unallowed apps on your children's cell phones.
Conclusion
Thanks to new technologies, hacking Facebook Messenger is now easier than you think. You just need to install a spy app that provides Facebook-Hacking features to be able to see all the communications on the target device. SPY24 is the best Facebook messenger spy app on the market. Using this app, you can easily read texts, see multimedia files, and get alerts on new conversations without being detected. So if you are worried about your loved ones' Facebook activities, don't go anywhere else.
FAQs
Here are some common questions about the Facebook Messenger spy app.
Is it legal to use SPY24?
The usage of the SPY24 program is totally lawful. It has been designed to help people in keeping their loved ones safe. Please ensure that the following legal requirements are satisfied before you use the application.
It's a good choice to use SPY24 as a parental monitoring tool for monitoring your children, and it's totally legal. Also, you should use SPY24 for hacking your company's electronic devices, which employees are aware of. You actually want to install SPY24 on your own device. It is your responsibility to ensure that you have the necessary clearance to track a specified device.
What devices does SPY24 support?
Please check if your cell phone is compatible with SPY24 by typing its model here. The good news is that SPY24 is compatible with all smartphones and tablets running Android 4+ and iOS 7 – 8.4 and 9.0 – 14.1. SPY24 software may be used with or without jailbreaking. However, monitoring capabilities are restricted with non-jailbroken iOS devices. Please buy SPY24 for jailbroken Apple devices to use its full capacity.
Is it possible to install SPY24 remotely?
If you choose to install SPY24 without jailbreaking, it can be installed remotely. Remember that even if the iCloud backup is activated, you'll need 5-15 minutes of physical access to the iOS device if you want a successful installation.
When installing SPY24 on an Android OS-based device, one-time physical access is required. If your target device runs Android OS, when you buy SPY24, we will suggest adding special service help.
We will gladly assist you in installing SPY24 on your target mobile device, as well as completing the setup for
Keylogger
Locations
Disabling SMS apps
Enabling USB debugging
Can you monitor multiple devices?
Please remember that you will be able to monitor several devices at a time. However, you can only monitor one phone with each subscription purchase. Of course, throughout any subscription period, you may freely change your target cell phone number as many times as you want. You'll need two subscriptions if you want to monitor two cells at a time.