Can I spy on someone's iPhone without their Apple ID and password? There are several methods that you could spy on others' iPhones.The main way without knowing their iCloud password is by using spying apps. By gaining physical access to their phone you can remove the security and jailbreak it so install the spyware app. by this you will have access to all information on their device including your banks, location, calls, and messages. Furthermore, you can use a camera and microphone. 
In this article, we will read about some iCloud Spy apps Minspy,  Spyine, Spyine, and Spyzie, and finally, we will recommend you the SPY24 with a 30-day free trial.
Why Do You Need to Monitor an iPhone?
There are several reasons why someone might need to monitor an iPhone.First and foremost, parents need to watch their kids as many online predators are online to abuse innocent kids also there is much adult content and inappropriate content that children might expose to which would have a negative impact on them so they should protect them from potential dangers. second, employers need to monitor the employee's online activities during working hours as many companies are getting larger and larger and they are working worldwide.
What is iCloud Spyware?
iCloud is a cloud storage service that lets you access all information on the device including: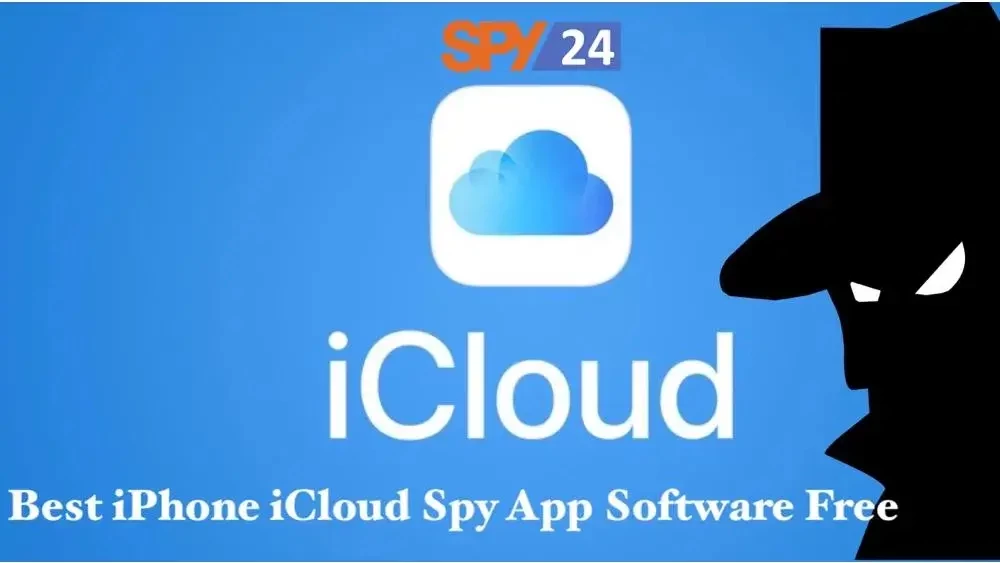 Videos
Photos
Contact lists
Calendar
SMS
GPS location
iCloud Spy apps are designed to monitor our loved ones. These apps let you monitor the location of the targeted device has been, call history, social media activity, and any other online activity. Most notably, the applications are safe, and also the companies keep improving the security of your data.
How Does iCloud Spyware Work?
Using iCloud spy is quite easy you just need a Wi-Fi network to connect to the Internet. Following are steps you can take to track an iPhone:
Step 1: Go to Settings and click on iCloud.
Step 2: Sign in with the targeted Apple ID and password.
Step 3: Tap iCloud Backup and click on back up now wait till the process is done.
Step 4: Open your browser on your computer and go to icloud.com and sign in with your iCloud account.
Step 5: You will see all different types of backup files.
How to Protect Yourself from iCloud Spyware
Although detecting iCloud spyware is not easy because nothing has been installed on the device and all information is online, you can take the below steps to protect against being attacked.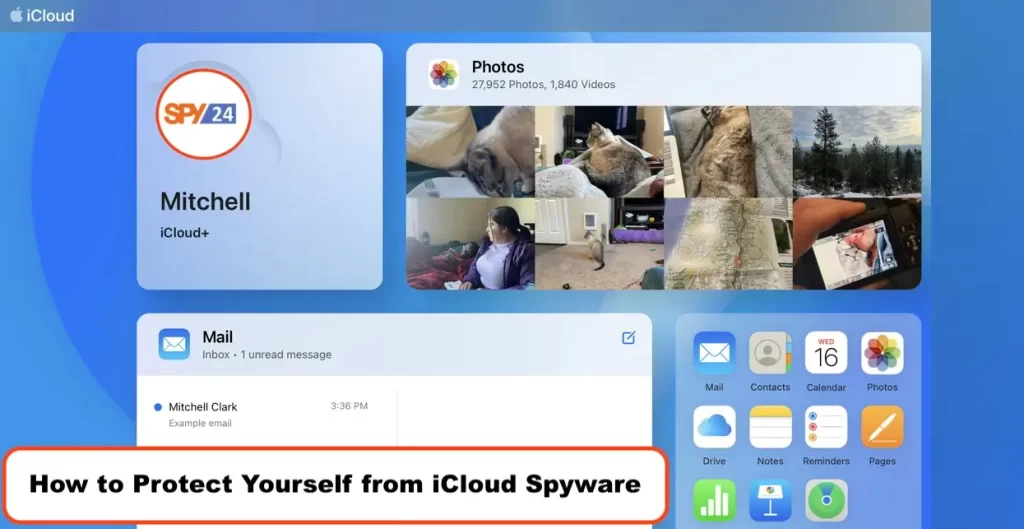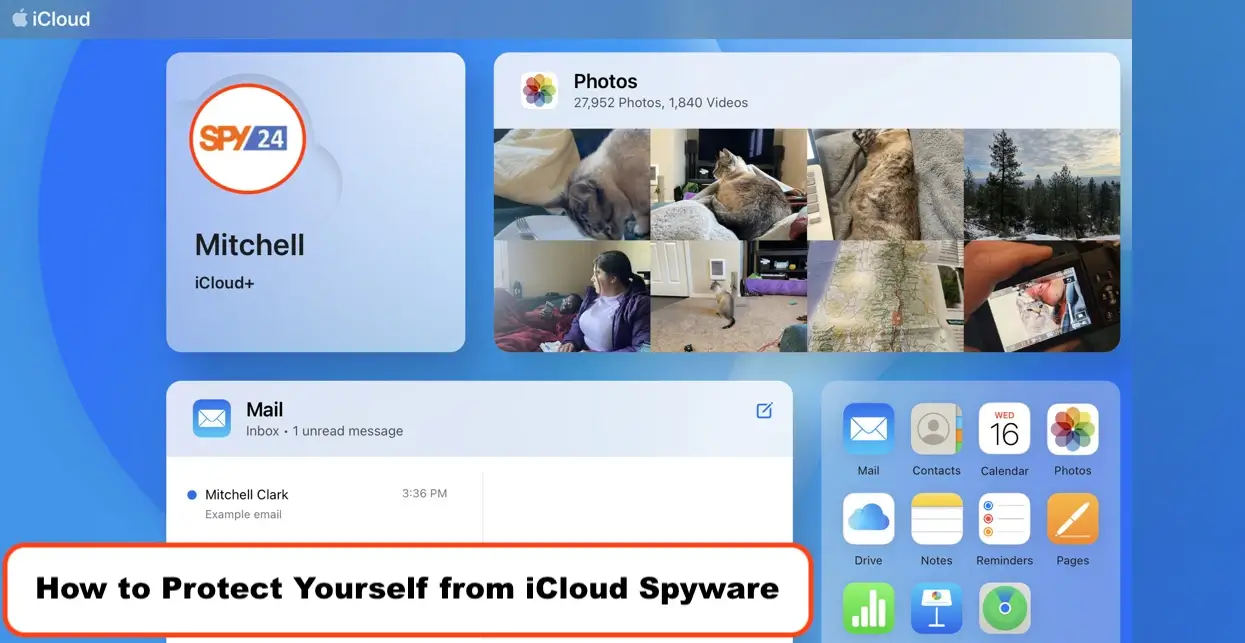 First step: change your password from time to time and do not use the password of other devices for your iPhone.
Go to Settings, click on your name, Password & Security, and tap on Change Password. First, enter your password then enter a new password and confirm it.
Second step: Turn on Two-Factor authentication for your Apple ID which will improve the security of your Apple ID and the information that you store with Apple.
Sign in with your Apple ID with the password and the six-digit verification code.
Sign in with your Apple ID for the first time on a new device or the web, you need both your password and the six-digit.
Third step: Disable iCloud synchronization on your device which means the data will not be stored online.
Forth step: Use Advanced Data Protection which improves the security of your iCloud data using end-to-end encryption.
Set up at least one alternative recovery method: a recovery contact(trusted friend or family member) or a recovery key(28-character code ).
Minspy iPhone Spy App
Minspy is a hidden, browser-based app with only 2MB designed to monitor smart devices that is compatible with all Android phones and ios 4.0 and up. In terms of any technical need, you could submit a ticket by entering your Email on the official website.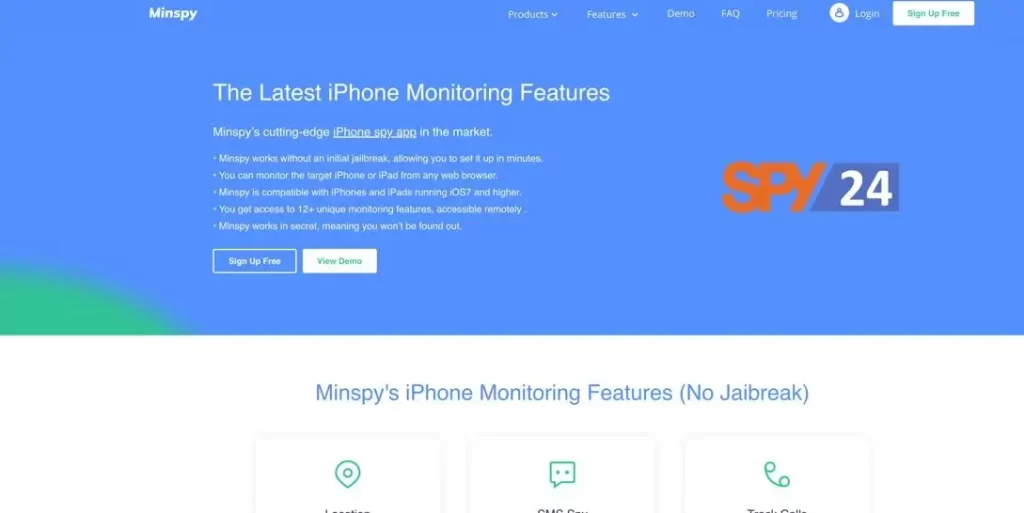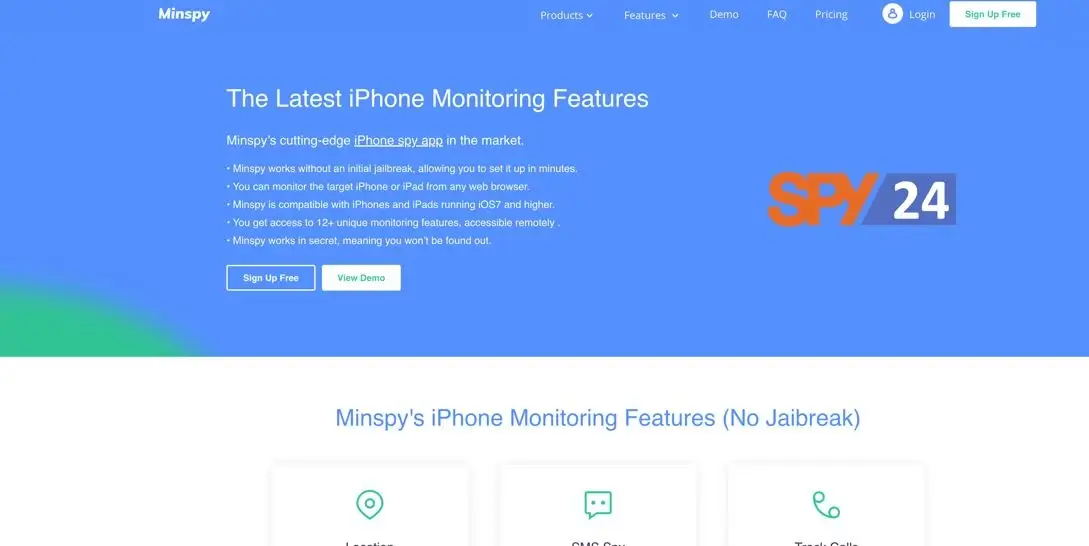 The app offers several features including:
Call Tracker: This feature will allow you to view all calls (incoming and outgoing) remotely so you will know who they call and who called them, and for the most frequent call, also you will see call duration without root or jailbreak.
Track SMS: Tracking messages(incoming and outgoing) remotely will let you read someone's texts and iMessages from your web browser so you will know the topic of their conversations. You will also have access to the deleted chat via auto-archive, and all media files.
Track Location: GPS and WiFi-based location tracking features will enable you to view all places they have recently visited with detailed addresses at Google's 3D street view.
Geofence Alert: This feature will let you set boundaries for your kids, as soon as they pass through forbidden locations you will receive an alarm.
Spy on Facebook Messenger: By spying on Facebook you will see all private and group Facebook messages, besides all exchanged photos or videos. Furthermore, you can also view contacts' names and also their profile pictures. so parents will know who their teen is communicating with.
WhatsApp Spy: you will follow WhatsApp private and group conversations remotely and find out what they're doing on WhatsApp with Minspy.
You will be able to Check the media files they send out and receive and also See their contact details and view profile pictures without root or jailbreak.
Snapchat Spy: you will be able to track someone's Snapchat activity from any web, including all incoming or outgoing messages and even deleted or expired messages .moreover, you can see all exchanged media files.
Instagram Spy: This feature will let you monitor all Instagram activity including who they have followed and all shared photos and videos.
Viber Spy: you will see all Viber contacts detail and also all exchanged files.
Stealth mode: Using Minspy you will be spying on others' devices secretly and tracking the location and viewing all files of the targeted phone.
Track Website History: This feature will let you see the names and URLs of all websites that the user visited and also all bookmarked and their favorite websites.
Track SIM Location: you will be able to monitor SIM cards, and check the network-based location of your device.
How Minspy is working?
After purchasing the app from the Official website: https://minspy.com/ you will receive an order confirmation and welcome Email, you could find the login information in your welcome Email and installation guide there that would help you to install and use it by going to the control panel.
Minspy Pricing List
The app is available in three packages as below:
Basic For 1 Device
Premium For 1 Device
Family For 3 Devices
1-Month License
$39.90
1-Month License
$49.99
1-Month License
$69.99
3-Month License
$59.99
3-Month License
$69.99
3-Month License
$99.99
12-Month License
$99.99
12-Month License
$119.99
12-Month License
$199.99
There are several ways you can pay for the app, including, Visa, MasterCard, American Express, Diners Club, and other major cards. International users can use PayPal, JCB, and Giropay. The company will also accept vendor-to-vendor, purchase, and fax orders.
Spyine iPhone Spy App
Spyine is a spying app that is compatible with any Android device running OS 4 and up, and also iPhones and iPads running iOS 7 and higher. The app is used for monitoring your iPhone or iPad from your web browser remotely, it is easy to install and you can work with it without jailbreaking. software is designed for legal use only.
You can see the demo on the website, on the top is device information, including the device model and iOS Version. There is also the 5 most calling contact and the last known location with the 5 most messages and phone activity that shows call, messages, location, photos, and videos.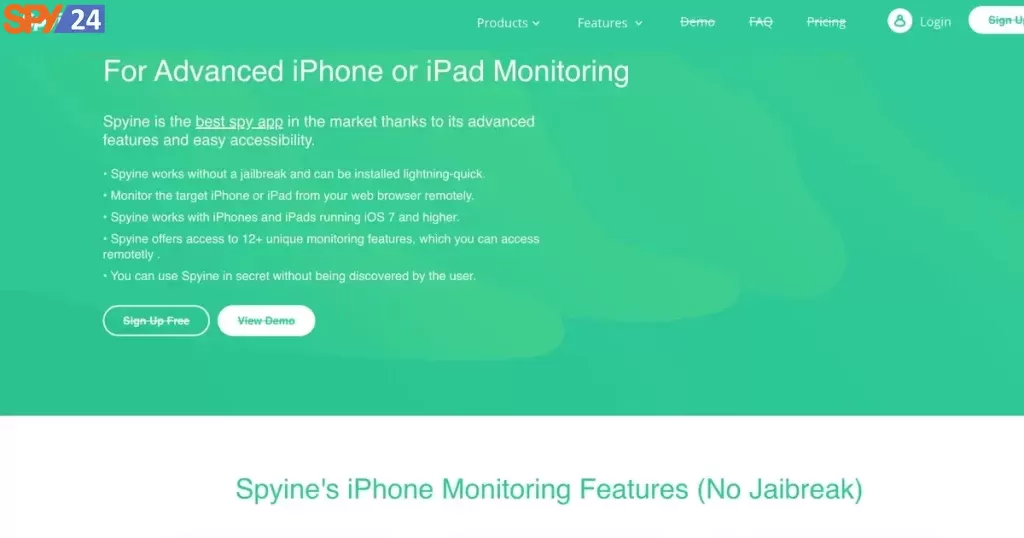 Spyine offers advanced features such as Call tracking, SMS tracking, Location tracking, Geofence alert, social media tracking( Whats app, Facebook, Snapchat, Instagram, Viber), Stealth mode, Website History tracking, and SIM Location tracking.
How Spyine is working?
Spyine's Android version is a 2MB app. After installing the app on the target device You will be able to monitor the Android tablet or smartphone from your web browser.
Spyine uses an iCloud backup that's linked to the iPhone or iPad. So go to iCloud, settings, and turn on "iCloud Backup" As soon as new information is uploaded to iCloud, Spyine will share it with you.
Spyine Pricing List
The Spyine is available in three packages as below:
Basic For 1 Device
Premium For 1 Device
Family For 3 Devices
1-Month License
$49.99
1-Month License
$59.99
1-Month License
$99.99
3-Month License
$79.99
3-Month License
$99.99
3-Month License
$199.99
12-Month License
$179.99
12-Month License
$199.99
12-Month License
$499.99
Spyzie iPhone Spy App
Spyzie is a parental control program that many parents use to monitor their kids as it is impossible to control kids always, Spyzie has helped parents to feel safe as they can monitor their kids remotely anywhere any time, and also the app is used by many employers to check their staff. The app offers several features including message monitoring, location tracking, social media tracking, and many others.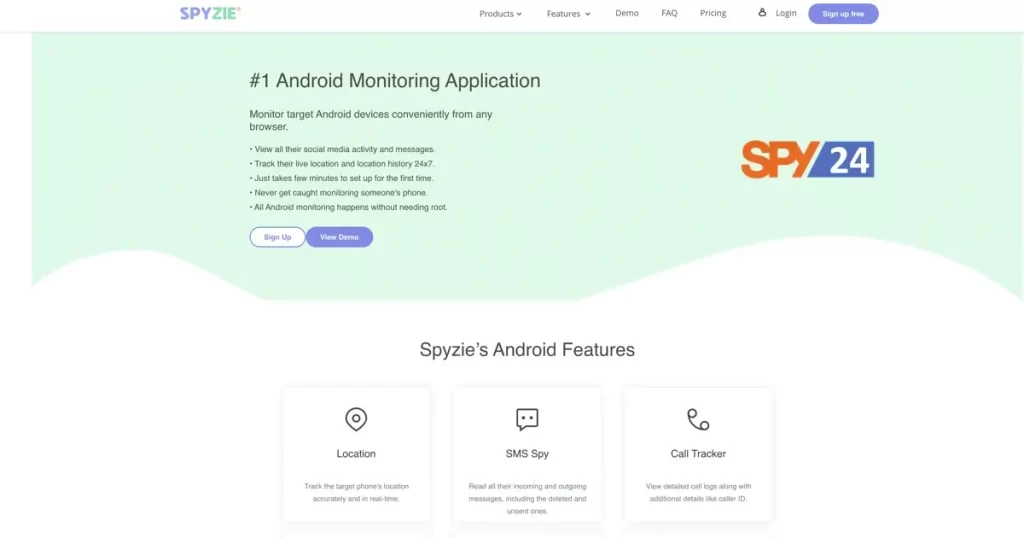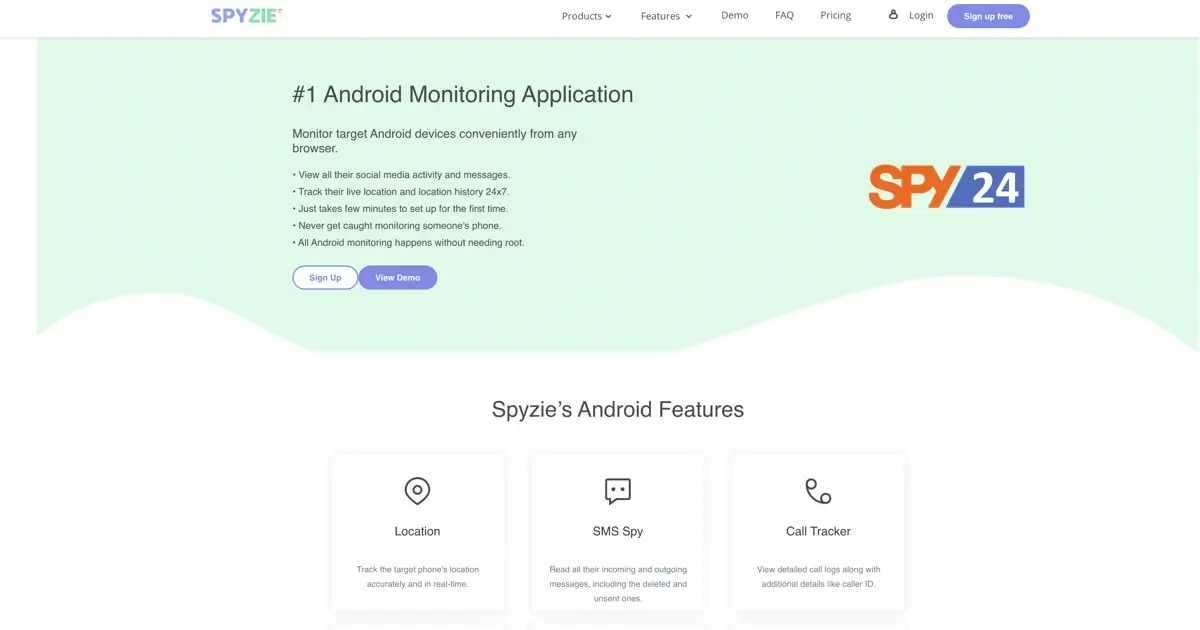 How does the Spyzie app work on Android and iPhone?
After downloading the 2MB app install it on the Android-targeted device then from your browser you can access the dashboard.
The Spyzie app links the iCloud to the target iPhone or iPad, new data will be shared as data is uploaded to iCloud.
Spyzie Pricing List
The Spyzie app is available in three packages as below:
Basic For 1 Device
Premium For 1 Device
Family For 3 Devices
1-Month License
$39.99
1-Month License
$49.99
1-Month License
$69.99
3-Month License
$59.99
3-Month License
$69.99
3-Month License
$99.99
12-Month License
$99.99
12-Month License
$119.99
12-Month License
$199.99
SPY24 iPhone Spy App
The greatest advantage of SPY24 is that it offers various features to customers. you can Monitor more social media than other spying apps in the market. Furthermore, The power of the database is extraordinary and is easy to install. The last not the least advantage of this app is that it offers a 30-day free trial which gives you enough time to check it before purchasing customer service will support you 24/7. Although several social media can be tracked, you need a full subscription.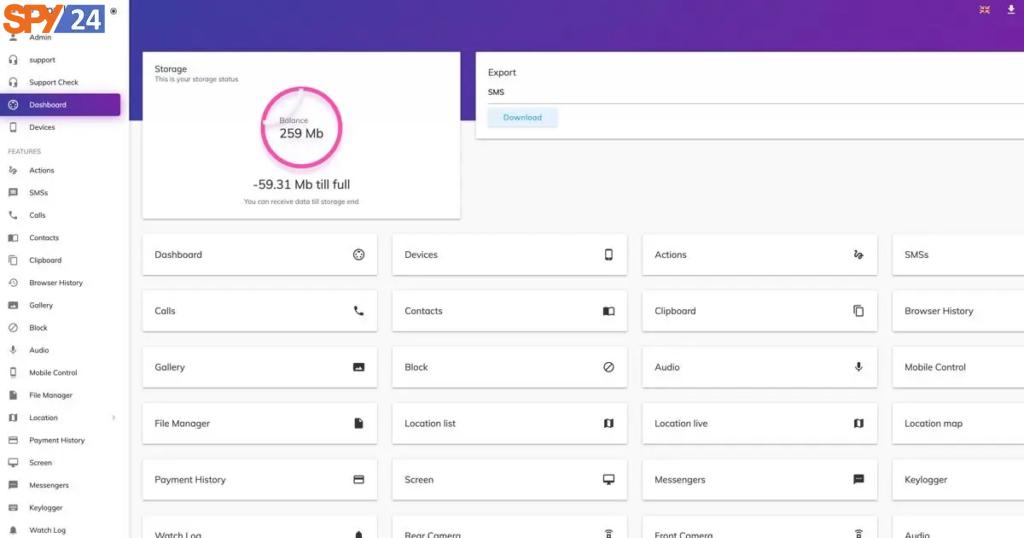 SPY24 App Features
1- Monitoring calls and Text message
One of the best features of SPY24 is monitoring calls and messages, which provides you with enough information about Incoming and outcoming calls, Calls Durations, and Contact lists. Parents can know who are their children's friends and how much time they are spending with them.
2-Location Tracking
Monitoring the location of people would be a great feature of this app parents can stay calm by knowing where their children are. Nurses are aware of the location of their patients, so they can reach them as soon as possible in case of emergencies. Employees are informed of their employee location during working hours especially if they have a meeting they can be sure they get there on time.
3-Social media tracking
Monitoring social media is the other useful feature of this app. Parents can monitor their children's activity on social media, as teenagers are glued to their phones so they can be sure who they are connecting with and protect them from cyberbullying. Caregivers can check their patient's health according to social media activity. SPY24 offers accessibility to most social media such as TikTok, Instagram, Twitter, Facebook, WhatsApp, Telegram, Skype, and many others.
4-Programs Controlling
Another essential feature of SPY24 is the ability to control programs .parents can check if the programs have been installed on their kid's mobile and block them if they are addictive or violent. Nurses can install some health apps for their patients to check their health remotely. Employers can install necessary programs on their employee's cellphones to improve the efficiency of the company.
5-Monitoring Multimedia
All shared and exchanged videos, photos, and downloads can be monitored by SPY24 which will help parents to check all files their teenagers are watching. It is an essential feature because there are many online predators following kids on social media and abusing them, by monitoring their multimedia files parents can keep updated on their kids so they can protect them from any probable threat.
6-Monitoring web browsing and bookmarks
Web browsing will help Parents to gain information about their children's hobbies and interests and check if they are spending time on websites that contain violence or inappropriate content so they could protect them. Employers to check their staff activity on the internet and be informed of new transactions.
How to Install iCloud Spy and Use SPY24 on an iPhone Without Jailbreaking
The following steps will let you Use SPY24 on an iPhone:
Step 1: Go to your account and sign in.
Sign in to your SPY24 account on the web using the information you got in an email.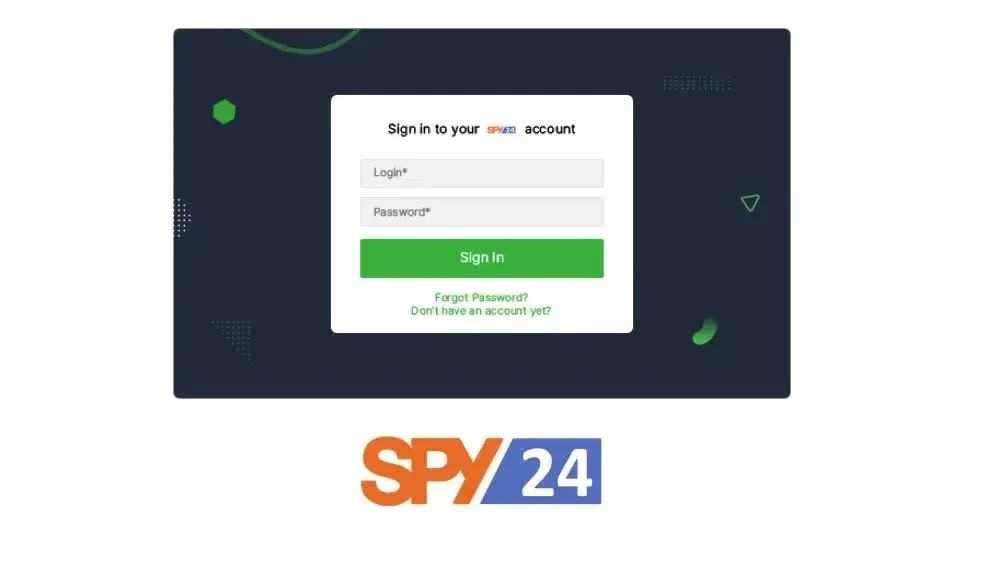 Step 2: Choose iOS as your platform. Choose iOS (no jailbreak).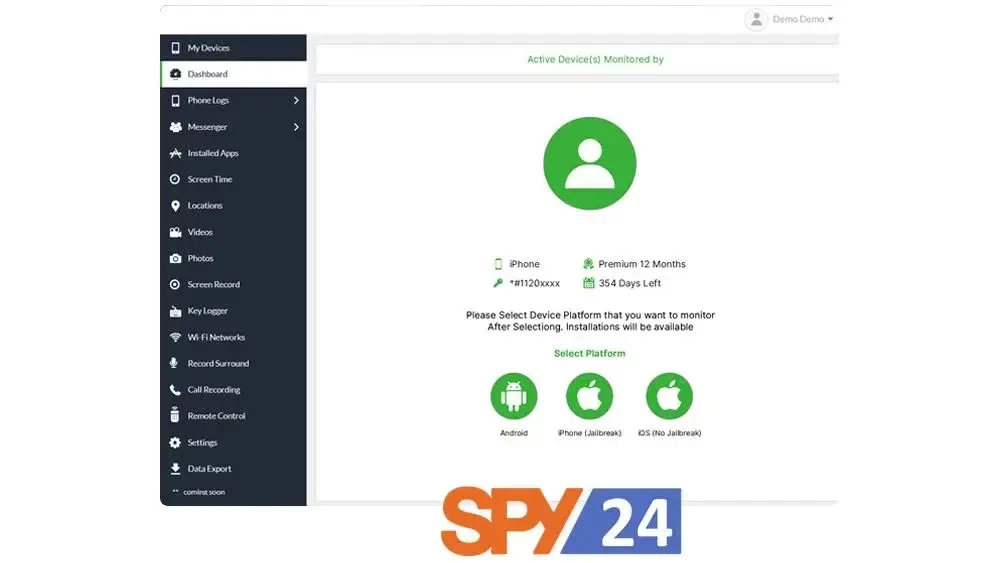 Step 3: Click "Set up iCloud" Click on "Set up iCloud."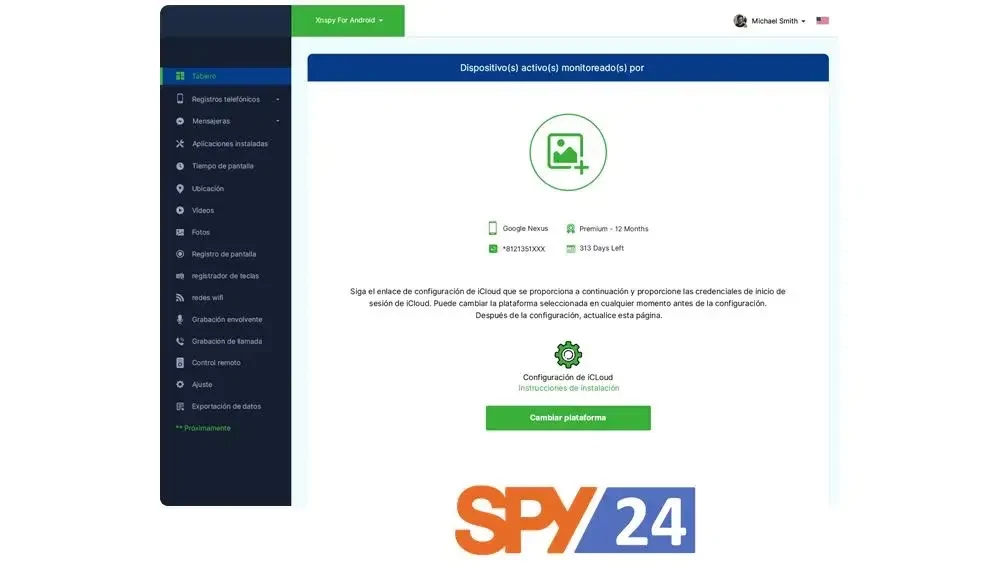 Step 4: Type in your information
Enter the target device's iCloud credentials, which are its Apple ID and password.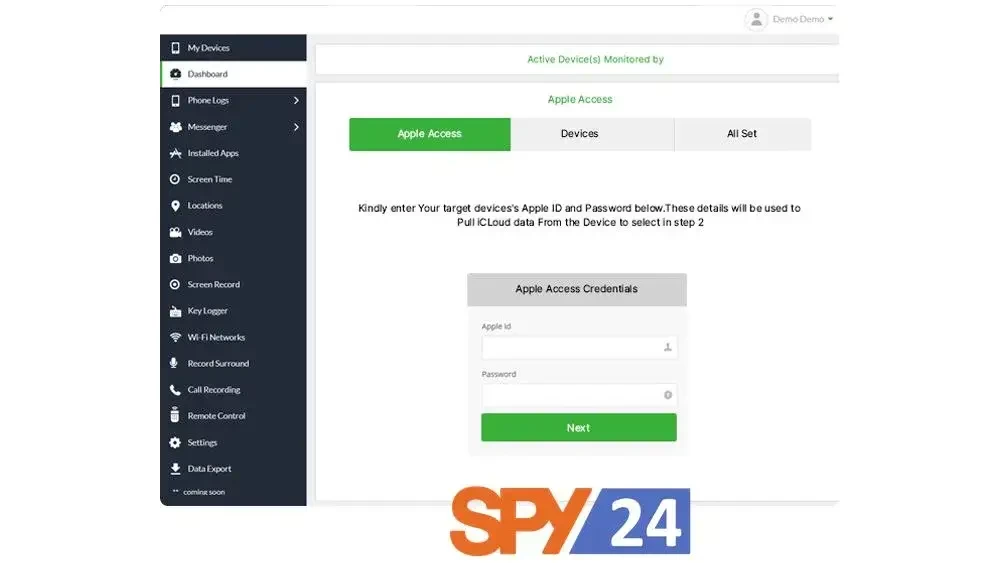 Step 5: Provide Code
You may need to give the 2fa code if it is turned on on the iCloud device you want to access. How to get the two-factor code? Use "How to get 2fa Code" or contact Customer Support.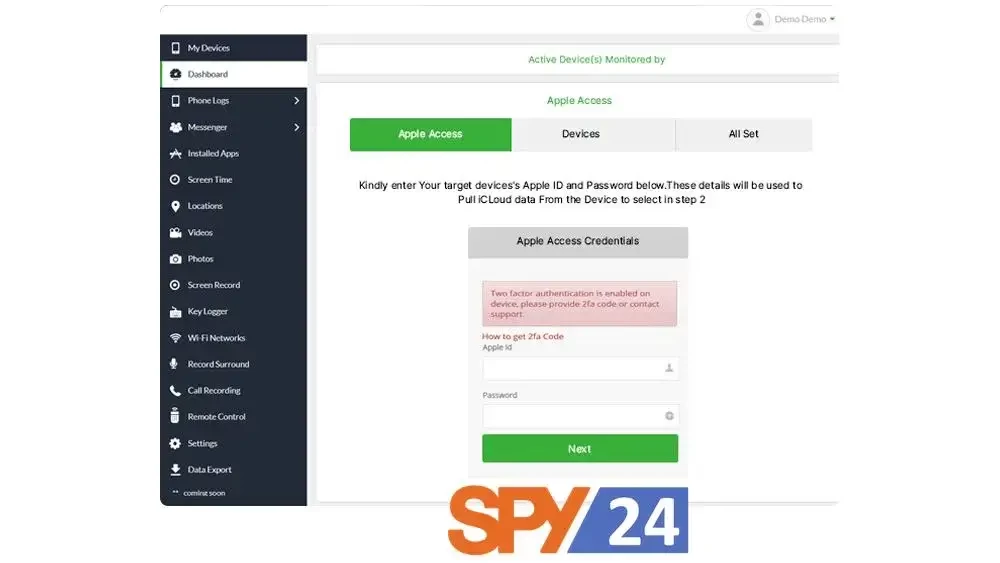 Step 6: Look at the devices you can use.
You'll be able to see all the devices that have been signed up for iCloud with the credentials you gave. Choose the device you want to keep an eye on.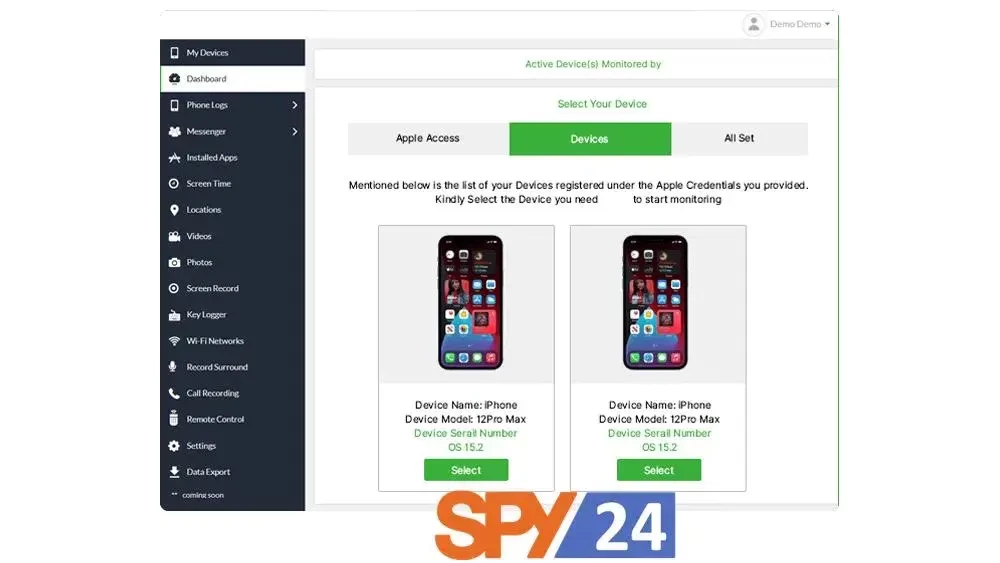 Step 7: Click "Complete"
Click "Finish" to save your changes and leave the settings screen.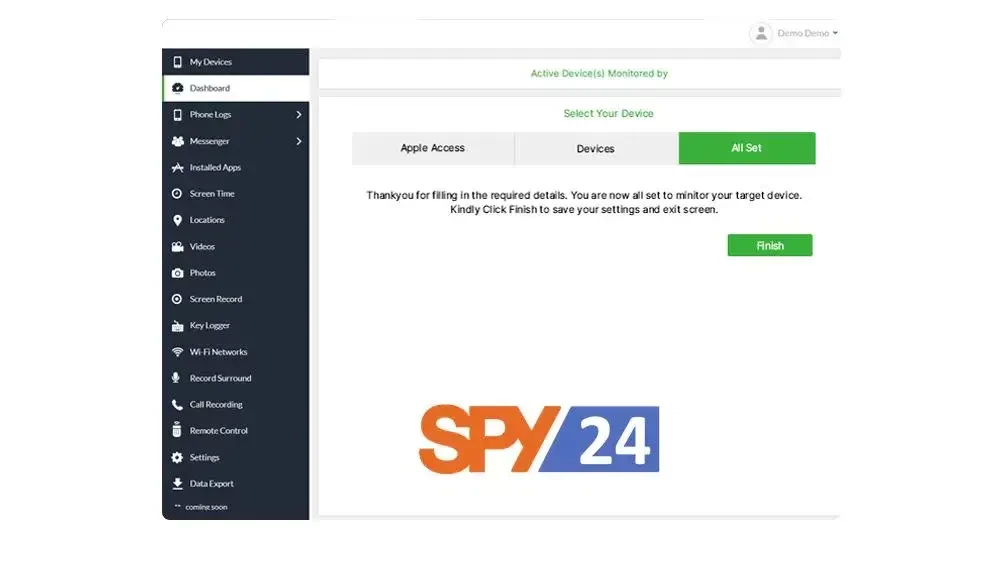 It's pretty easy to spy on an iPhone without jailbreaking it. Visit our SPY24 Jailbreak Installation page if you want to learn how to spy on an iPhone without iCloud.
Isn't it easy to spy on someone's iPhone when you don't have to touch it, install software, or jailbreak it?
Price list
The following table is various packages that SPY24 offers:
| | | |
| --- | --- | --- |
| Android Packages | Windows Packages | MAC Packages |
| 1 month – $0  | 2 months – $25 for  |    2 months – $4.99 |
| 3 months – $50 | 3 months – $46 | 3 months – $46 |
| 6 months – $76 | 6 months – $60 | 6 months – $60 |
| 12 months – $120 | 24 hours – $0 | 24 hours – $0 |
SPY24 Install application free The Most Powerful Hidden Spying App to Monitor Android, IOS Cell Phone & Tablet Device Remotely. Best Android Parental Control App for Kids & Teens Online Safety.
Now take the liberty to monitor Android, and IOS devices with exclusive features better than ever before Monitor all Voice & Text Messages Communication records, Listen to & Watch Surroundings in Real-time Unleash Digital Parenting with Android, IOS Spy App Spy (Surround Listing & Front/Back Camera Bugging) IM's VoIP call recording on Android OS 13 & above With 250+ Surveillance Tools at your fingertips using Android Tracking & Parental Monitoring Software.
---
Conclusion
As you can see, iCloud only can be applied to access and view some iOS files. If you want to monitor files like chat messages, call recordings, GPS locations, and especially social media, you can use SPY24 as it is completely free for a month. It monitors almost all online activities on iPhone devices. You just need to Sign up and start monitoring.
FAQs
Is iCloud encrypted?
Apple is always trying to improve security, The company decided to add end-to-end encryption for data stored in iCloud from iOS 16. This includes device backups, messages, photos, notes, reminders, and more. To turn on advanced data protection.
Is it safe to store passwords in iCloud?
Yes, whatever is stored in the iCloud is fully safe and secure and no one can access it unless the account holder approves it. 
Is using SPY24 legal?
SPY24 is a hundred percent a legal app. The app is designed to monitor underage children and also monitor employees by getting their permission. But  We recommend that you check your local laws before you purchase the app. 
Can you help me find my lost phone?
If you had installed a SPY24 on your lost  Android phone account or Subscribed to the IOS device you can log in to your account and through the dashboard, you can track the Subscribe to the IOS device location while it was connected to the Internet.
How to uninstall the spying app on my device?
There are two ways to uninstall the app on your device. First, you can log in go to the dashboard and uninstall it. Second, you will be able to uninstall it from the monitored device by going to Phone Settings, Security, Device Administrators, Update Service, and clicking on Deactivate. Finally, you should go back to the Settings menu, Move to Apps, and in the Update Service section try to find Minspy and tap the Uninstall option.