When it comes to our Internet history, many of us like to keep it hidden. We surf the web and visit websites without leaving a trace. But is this really possible? Can we really keep our internet activities secret? In this blog post, we'll explore how to track your internet history and what tools are available to help you do so. We'll also discuss why tracking internet history may be important and how to protect your privacy online. Stay safe and stay informed!
How Can I Check a Cell Phone's Internet History? One of the most searched-for things on Google is how to track a cell phone's internet history. Why? Because millions of parents all over the world want to know what their kids are looking at on the Internet with their own cell phones and tablets. Parents aren't the only ones who want to know what their kids have done on the internet. Employers also want to know what their employees do on the internet at work. Are they planning to quit the company in secret? Do they watch porn or download movies when they have free time? Are they getting their work done?
Why should parents watch what sites their kids go to on the Internet?
When parents track their kids' internet history, it's not because they want to invade their privacy, but because the internet is not a safe place for them. Children are being sexually abused and groomed for sex and other crimes are happening online more and more. This is making parents rethink how they raise their kids. Parents teach their kids how to use the internet safely, but you can't leave them alone, especially when they're young and think they know everything. Even some of the most laid-back parents want to put parental controls on their kids' devices so they can keep an eye on what they're doing on social media, IM, or the web. So, parents are looking for a cell phone internet history tracker that will tell them everything about what their kids look up on the internet.
When it comes to tracking a cell phone's internet history, parents have real worries. If there were no controls set up by parents, a child could look at anything, like porn, dating sites, or graphic content. Even if kids don't want to look at such things, they could still end up seeing them by accident because the internet is full of "bait clicks" and ads.
There are a few ways to look at a cell phone's internet history. Let's look at each one in turn.
Use an app to spy on a cell phone
Parents can keep an eye on what their kids do or look at on their phones by using monitoring apps. Employers can also use these apps to see what sites their workers visit when they use the company-issued smartphone. With these monitoring apps, you don't even have to touch the phone to look at the internet history. What a great thing! Plus, they work with Android phones as well as iPhones.
Now, you'll need the best monitoring app, like SPY24, to keep track of the history. It will let you see all the sites your kids or employees have visited or saved on their phones.
You can't get SPY24 from the Play Store or the App Store, so you'll have to download it on the target device yourself (See: How to Install). The device being watched also needs to be connected to the internet so that SPY24 can save a copy of the browsing history on its server. Also, remember that SPY24 only works with devices that run Android or iOS.
Accessing Internet History That Has Been Kept
Once the app is on the target device, SPY24 will start getting the history of what was done on the internet. Your SPY24 Dashboard, which is a browser-based control panel, lets you see all of the tracked internet histories.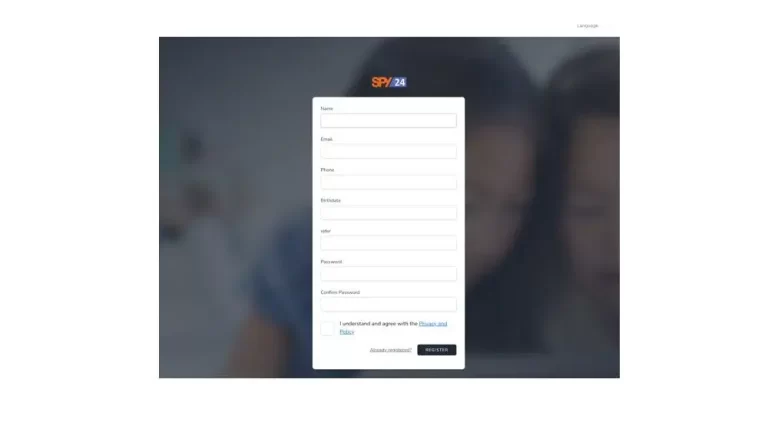 If you want to know how to use SPY24 to check your child's internet history, here are the steps:
Step 1: To get to the SPY24 dashboard, go to SPY24.app and enter your login information.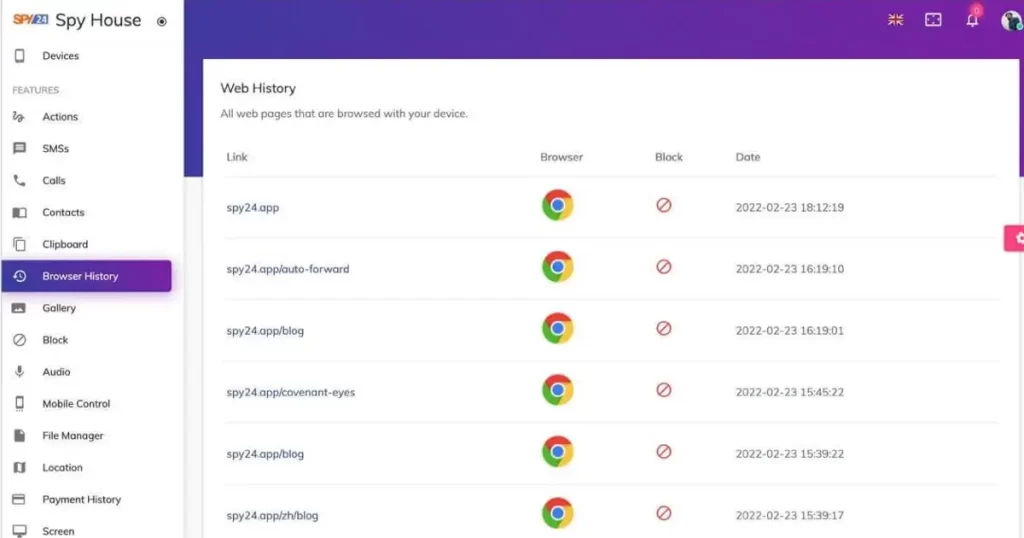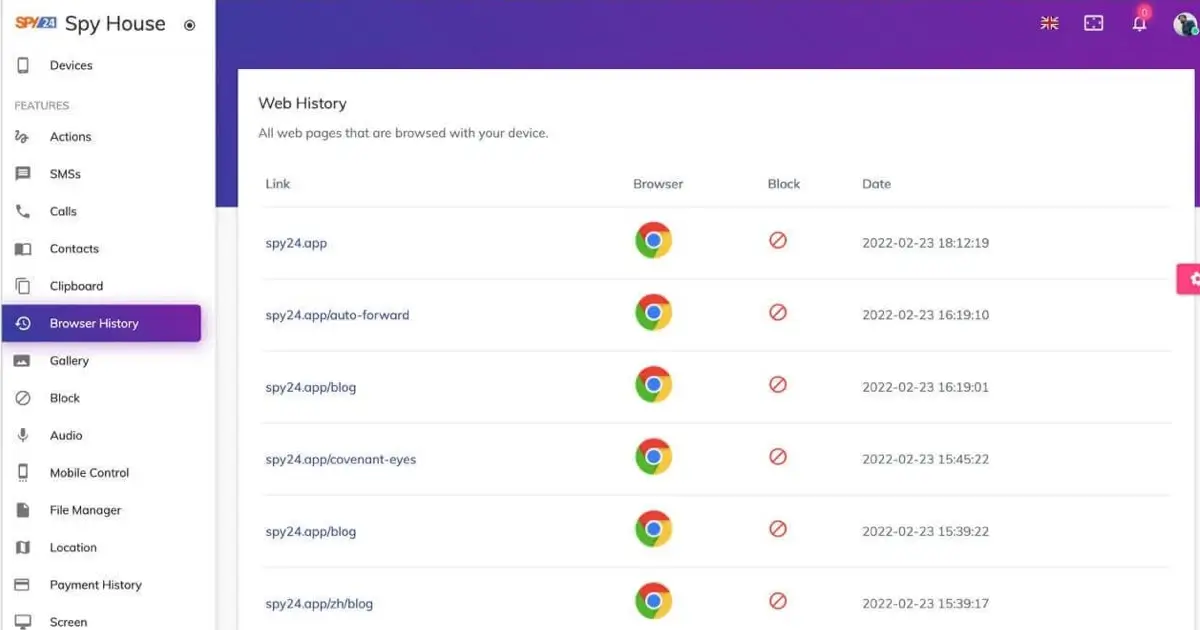 Step 2: Choose "Phone logs" from the menu on the left, and then choose "Internet history" from the drop-down menu that appears.
Step 3: From there, you can look at the target phone's internet history as well as the pages they've saved.
SPY24 Install application free The Most Powerful Hidden Spying App to Monitor Android, IOS Cell Phone & Tablet Device Remotely. Best Android Parental Control App for Kids & Teens Online Safety.
Now take the liberty to monitor Android, and IOS devices with exclusive features better than ever before Monitor all Voice & Text Messages Communication records, Listen to & Watch Surroundings in Real-time Unleash Digital Parenting with Android, IOS Spy App Spy (Surround Listing & Front/Back Camera Bugging) IM's VoIP call recording on Android OS 13 & above With 250+ Surveillance Tools at your fingertips using Android Tracking & Parental Monitoring Software.
SPY24's Analysis Log of Web History
SPY24 has a special analysis log that shows you the top 10 sites that the device being watched went to on that browser. You can also see how many times they went to a certain URL in a certain amount of time.
This is a great way to find out how often a user visits certain URLs, which you can then use to decide what to do next.
Everyone has added bookmarks to their browser so they can easily get to the sites they visit the most. SPY24 can also check those bookmarks. How to do that has already been talked about above.
Getting Back Deleted Internet History
With an internet history tracker on their cell phone, many people want to know if they can look at their deleted browsing history. Well, the answer to this question depends on whether or not SPY24 was able to make a copy of the history before it was erased. Still, if a user being watched immediately deletes their history after browsing, it's likely that it won't be backed up. But if the browsing history is backed up, it will stay with SPY24 for as long as you want, even if it is deleted from the monitored device.
This is a great way to find out how often a user visits certain URLs, which you can then use to decide what to do next.
SPY24 also keeps an eye on private browsing.
Let's be honest: Our children are very smart. If they are looking at something that isn't allowed, they would either delete their history or use "incognito mode" to look at it. The same goes for your employees.
Incognito mode lets you hide your digital footprint. The browser's web history wouldn't show anything that was done in the "incognito" mode. But it's a good thing that SPY24 lets you watch even private browsing. In fact, SPY24 is one of the few monitoring apps that lets you watch someone surf the web in private mode.
Tracking Internet History on Different Devices
As was already said, SPY24 can be used on both Android and iOS devices. But we really think you should check out our Compatibility Page.
Other Ways to Keep an Eye on Web History
By looking at the history of the device
If you don't want to use a cell phone monitoring app to track a phone's web history, you can just get into the phone and look at what it's been doing online. Here's how to do it on an Android phone or an iPhone:
Open Chrome and click on the three dots in the upper right corner.
Move down and click on History. This will give you a list of all the URLs that the monitored device's Chrome browser went to.
Open Safari on your iPhone and tap the icon that looks like a book.
Then, click on the clock icon to see what sites were visited from this browser by the person you want to track on the network.
By going to the router's logs,
Router logs also let you see what someone has done on the internet in the past. To do that, follow these steps:
Step 1: In your browser's address bar, type 192.168.1.1 or 192.168.0.1. Type in the username and password for the administrator.
Step 2: Go to the administration page and find the "logs" section.
Step 3: If the feature wasn't already turned on, click "enable." Now, your router will keep track of every IP address on the network and keep a record of them.
The next time you want to look at someone's web history, just click logs to get to the log files. Remember that any user who is connected to the network can clear his browser history. It is best to set up the router so that it keeps a log of everything that is done on the internet on the network.
Cookies can also give you hints.
Internet cookies are another way to get to your internet history that works. A cookie is a small text file that your web browser stores. They save information about you from the sites you go to. Some people think of them as spying tools, but in most cases, they just keep track of your account and browsing history to make it easier for you to go back to sites you've already been to.
Or, you can just use the controls.
Part of the reason to check your child's or employee's web history is to make sure they aren't spending time on sites that aren't appropriate or are a waste of time for the company. You can stop that by controlling the browsers.
Chrome: Chrome has a lot of safety features for you. It lets you lock "Google safe search" so that a user can't search for anything you don't want them to.
Firefox: Firefox doesn't have any special ways to control things. Use an add-on extension to block sites that aren't good. You can then put sites on a blacklist that you don't want the user to be able to get to.
Accessing someone's phone that way to see what sites they've been on isn't always the best way to do things. Also, you won't be able to do anything if the person whose device you want to track has deleted their browsing history or tabs from the last few days.
Some people might find it hard to understand the router's log files. Most companies use this method to keep track of what their employees do online. The best way to do this is to use a cell phone monitoring app, and SPY24 is the best there is.
Why SPY24 is a better choice for tracking Internet history?
There are many reasons why SPY24 is the safest and most convenient way to look at someone's browsing history on the internet. Let's take a look at a few of them:
It's easy to put in place.
It's easy to install SPY24 on the device being watched. You will get a step-by-step installation guide that you must follow to install and activate the app correctly. This will take you between 5 and 10 minutes, depending on how well you know how to use technology.
That's the only time you'll need to have access to the device you want to install the app. You can count on SPY24 to do its job once the app is turned on.
You will be watching from afar.
SPY24 gives you a web account that you can use to watch everything on the monitored device from afar. So, basically, you will be able to see from home whatever the monitoring device is looking at from a faraway place. You can keep an eye on them from your phone or computer, whichever you prefer.
You can look at your deleted browsing history.
The best thing about SPY24 is that you can even see information about the user's browsing history that they delete from their phone. As long as SPY24 has made a backup, you will never miss out on anything.
It is easy to use.
SPY24 is one of the easiest apps to use because it has a simple interface. You will be able to look through your mobile browsing history and see the top 10 sites you've been to on the phone.
Other Things About SPY24
SPY24 is a full monitoring app with advanced monitoring features. It can track more than just a person's web history. So, in addition to your web browsing history, you will get the following:
Text Messages: You can read all of the messages sent and received by the target device.
Phone Logs: You'll be able to see a record of all the calls that went out and came in.
Location: You can find out where the target phone is by looking at its current location, its location history, or its geofencing.
Photos and Videos: You can look at the downloaded photos and videos on the phone's gallery from afar.
IMs: You can read what they say on IMs like Facebook Messenger, Viber, WhatsApp, Line, and even Skype.
Read Emails and Watch Online Activity: With SPY24, you can keep track of the emails sent and received by the device and also watch what they do online with their browser.
Recording of the phone's surroundings and calls: With SPY24, you can record the phone's surroundings and calls and listen to them later.
Summing Up
If you have the right tool, it's simple and easy to track your Internet history. You can try other things, but if you want detailed information, the best choice is to use a cell phone monitoring app. SPY24 makes it easy and cheap to keep track of someone's internet history. You can find out more about how to track your internet history here.
How to Look at the Browsing History of Someone Else?
It's not as easy as it seems to find out what someone is doing on their phone. You won't always get lucky when you take someone's phone and find just what you need. If you want to track a person's search and browsing history, you need to have the phone for a long enough time to look through it.
If you are a parent, you might want to give your child some privacy, but you also need to make sure they don't go to the worst parts of the internet. In the same way, if you're an employer, you might be curious about what your employees do on the internet when they use the company phone. There are a few ways to look at someone's search and web browsing history, no matter why you want to.
See your history of browsing in real time
You can also track the target person's browsing history in real time. Even if the person deletes his browsing history, you can still keep track of it with SPY24 as long as a backup is made. SPY24 is a good way to keep track of someone's search and browsing history because you don't need to have access to the target device. You don't have to be sad if your browsing history gets deleted, either, because SPY24 makes a backup pretty quickly.
See the top 10 most-visited sites.
SPY24 lets you see the top 10 most-visited sites on the browser of the device you are monitoring. This feature is helpful when you don't have time to look at every website they've visited.
With the top 10 feature, you can see both the most-visited sites and how many times each URL was used by the user. It's kind of like a picture of what the user looks at.
Option 2: Check the phone to see what sites you've been on.
You can easily look at someone's search and browsing history by getting their phone, opening the browser, and seeing what they are doing. We've all heard this one before.
Chrome's History of Sites Visited
Just open Chrome on their phone if you want to keep track of what they've been looking at.
Click the three dots in the upper right corner and choose "History." From the person's browser, you will get a list of all the pages they have visited.
Safari's History of Browsed Pages
If it's an iPhone, they probably use Safari as their web browser.
Open Safari and click on the book-shaped icon at the bottom of the Home Screen to see your browsing history. After that, go to the top icon that looks like a clock. It will show you all the sites you've opened and looked at on your iPhone. If the phone's owner deletes its web browsing history before you get a chance to look at it, you won't be able to get it back.
Web browsers like Chrome, Safari, and Firefox all have different ways to keep their users' information private. They also have a feature called "private browsing," which lets a user look at whatever he wants without other people being able to track him. They can keep their browsing secret by using the private browsing mode. If you look at their history, you won't find anything because they aren't keeping track of it.
Another problem is that the user could delete the history even if he is not using a private browser. In this case, the best way to keep track of someone's browsing history is to use a monitoring app.
Top 10 Apps to Keep Track of What Someone Browses
You're probably wondering why you should pick SPY24. Don't you already have a lot of other monitoring apps that let you do the same thing? They are, yes. In fact, customers can choose from a lot of monitoring apps. Android users, in particular, have a lot of spying apps to choose from. So it might not be easy to choose the right app for the job. Here are our six best suggestions to help you.
1. SPY24 – internet history tracker
We've already talked in detail about how you can use SPY24 to look at your browsing history. Let's look at how much SPY24 costs and what devices it works with.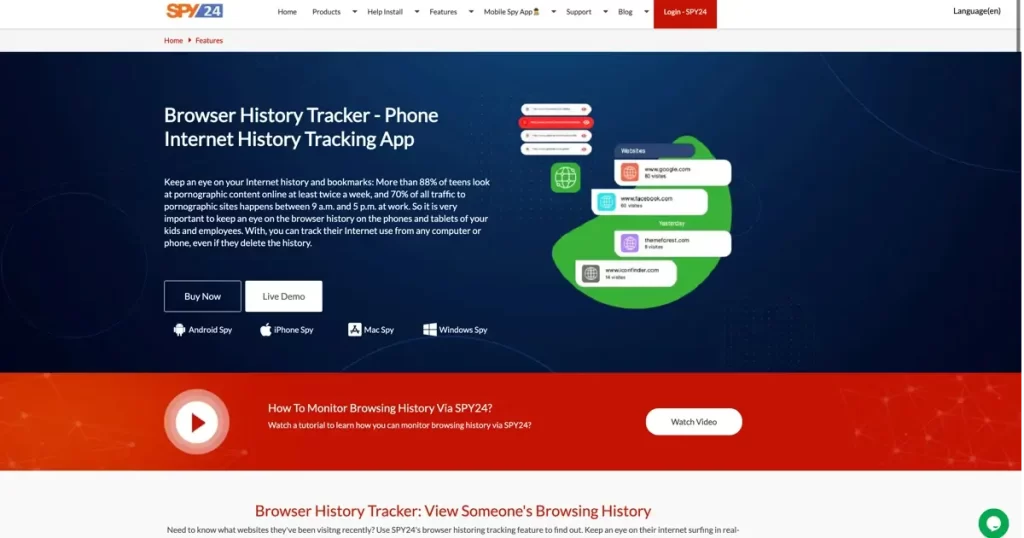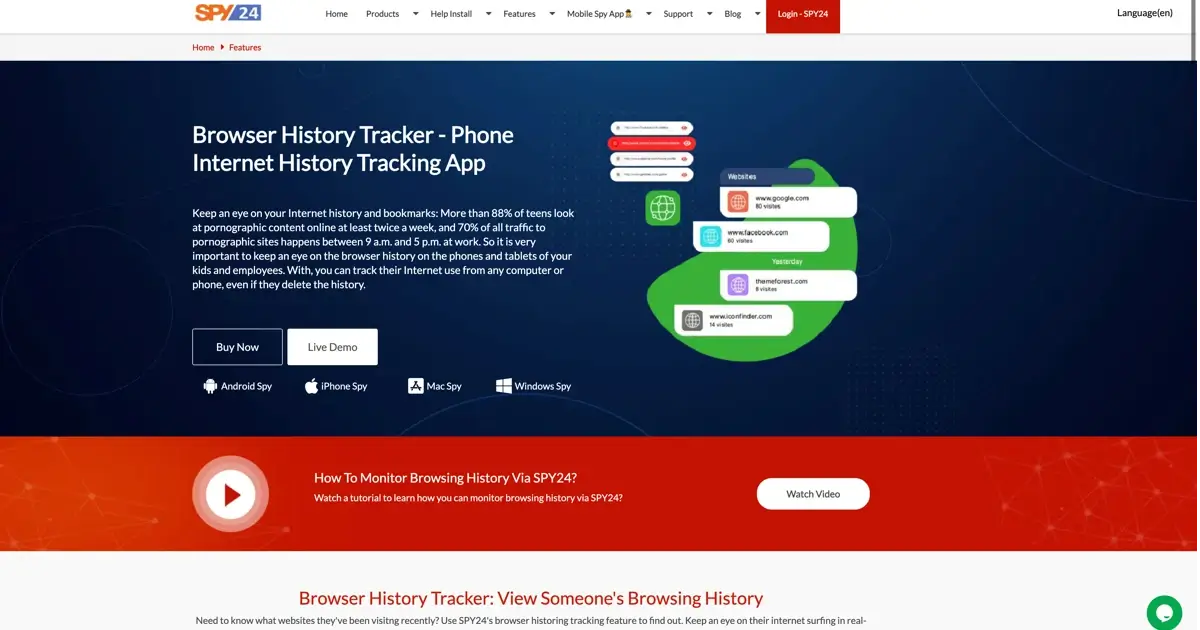 SPY24: 30-days Free Trial
There are two types of SPY24: Basic and Premium. The Basic Edition costs $8.33 a month, while the Premium Edition costs $12.49 a month.
Compatibility
SPY24 works with the most up-to-date Android and iOS devices. There is a version that is already jailbroken for the iPhone. Check the compatibility table to see if it will work on the device you want to monitor:
All of the apps work the same way and give you the same kind of information when it comes to tracking your web history. But not all of the apps above cost the same or work with the device you want to keep an eye on.
SPY24 is the best choice because it works with both the newest iPhone and Android devices (no rooting or jailbreaking required). It is the most inexpensive choice. The best thing about this app is that it lets you keep track of the target phone's internet history even if they have been browsing in private mode.
2. iKeyMonitor – internet history tracker free
Last on our list, but not least, is iKeyMonitor. It is an app made to help parents keep track of their kids. You can use it to keep an eye on what your child does on their phone and PC. You can spy on their SMS, location, IMs chats (like Facebook, WhatsApp, Snapchat, etc.), and keystrokes with this app. You can also use it to track their web history.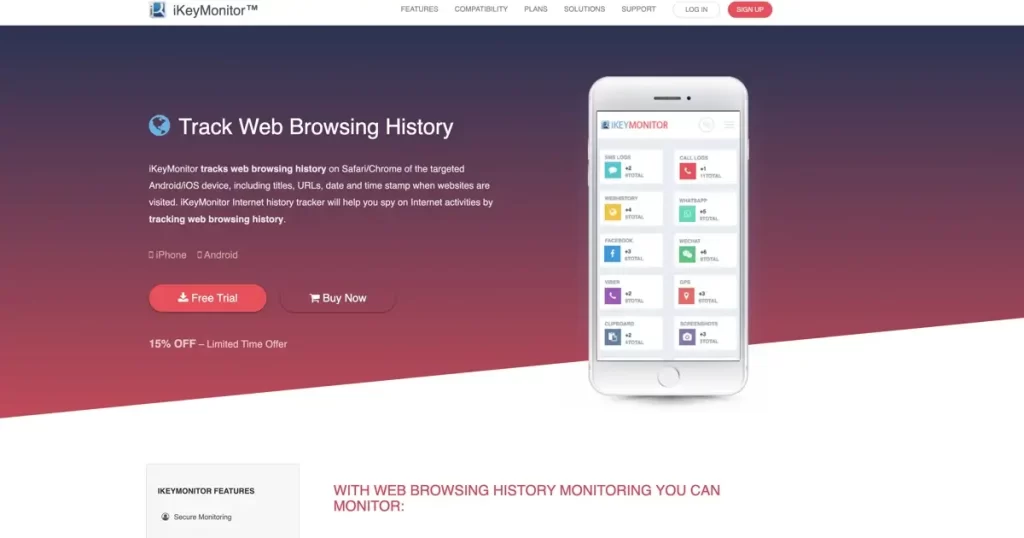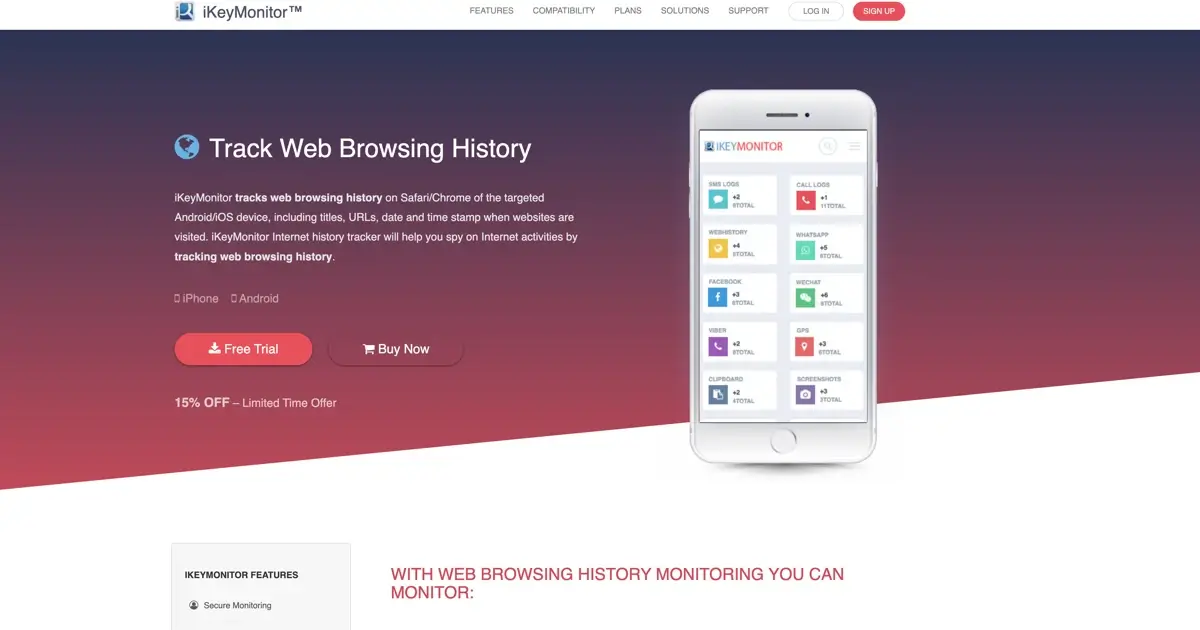 How to keep track of your web history?
It's pretty easy to see what someone else has been looking at on another device. To do that, you just need to sign in to your web account and go to the Internet History menu. From there, you can see a full log of all the sites the monitored device went to. You can also look at the time and date stamps and see how many times a certain URL was visited.
Compatibility
iKeyMonitor can monitor both Android and iPhone. Check this table to see if it works with the device you want to keep an eye on:
Price
iKeyMonitor costs $59.99 a month for both iPhone and Android.
3. iSpyoo – best internet history tracker
iSpyoo is a full-featured monitoring app that you can rely on to keep track of another device's web history from a distance. You can also use this app to keep track of the device's call history, SMS, IM chats, and location.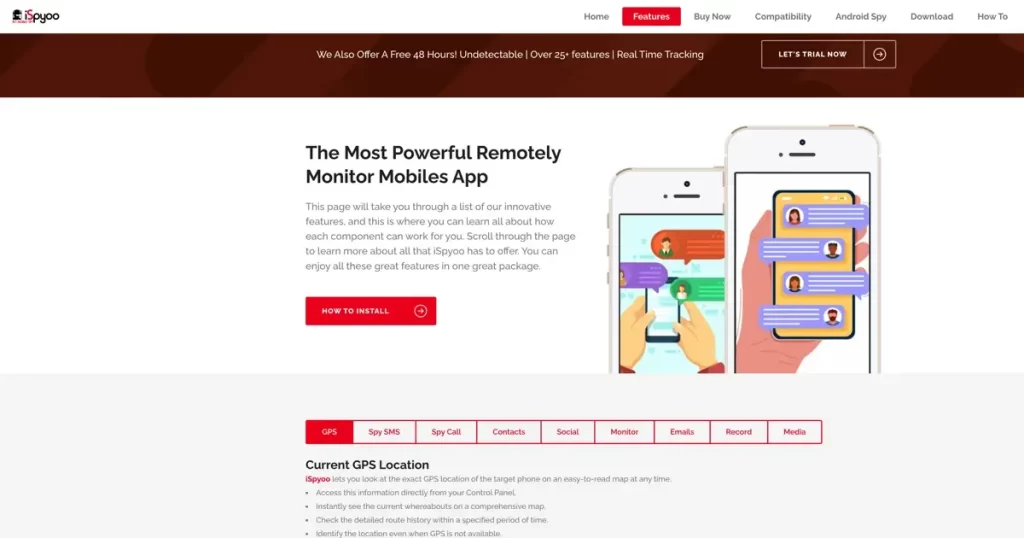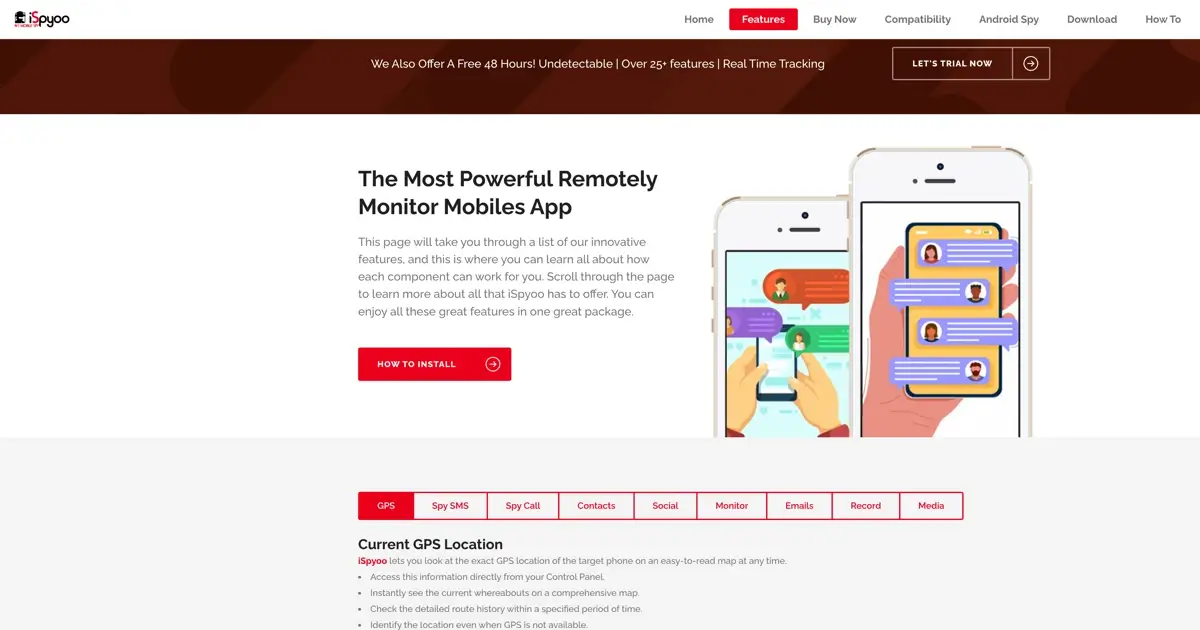 How to keep track of your web history?
You will need to sign up for iSpyoo and install it on the device you want to monitor. You can look at the monitored device's browsing history to see what websites the person has been to and what time and date they did it.
Compatibility
iSpyoo works with both Android and iPhone. You don't need to root or jailbreak your phone. Check out the table for more information:
Price
There are three plans for iSpyoo. The price of the Standard Plan is $16.99. The monthly cost of the Premium Plan is $19.99 and the monthly cost of the Gold Plan is $22.99. You can choose any plan you want based on the features you need. But the Premium Plan is the one that sells the most.
4. MobiStealth – can internet track your history
MobiStealth is the fourth monitoring app on our list. It can help you keep track of your kids or employees. It lets you keep an eye on a PC as well as a cell phone. So, you can count on MobiStealth to keep an eye on your PC and phone's web history. It has a long list of features that let you keep an eye on your kids and employees. You can find out where they are, listen in on their chats on different messengers, read their SMS messages, and even get into their mail.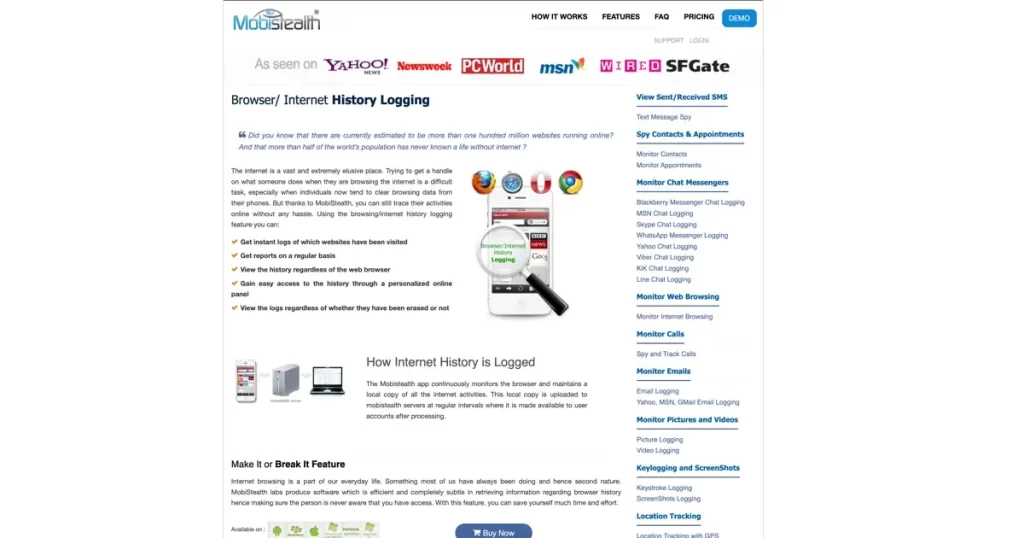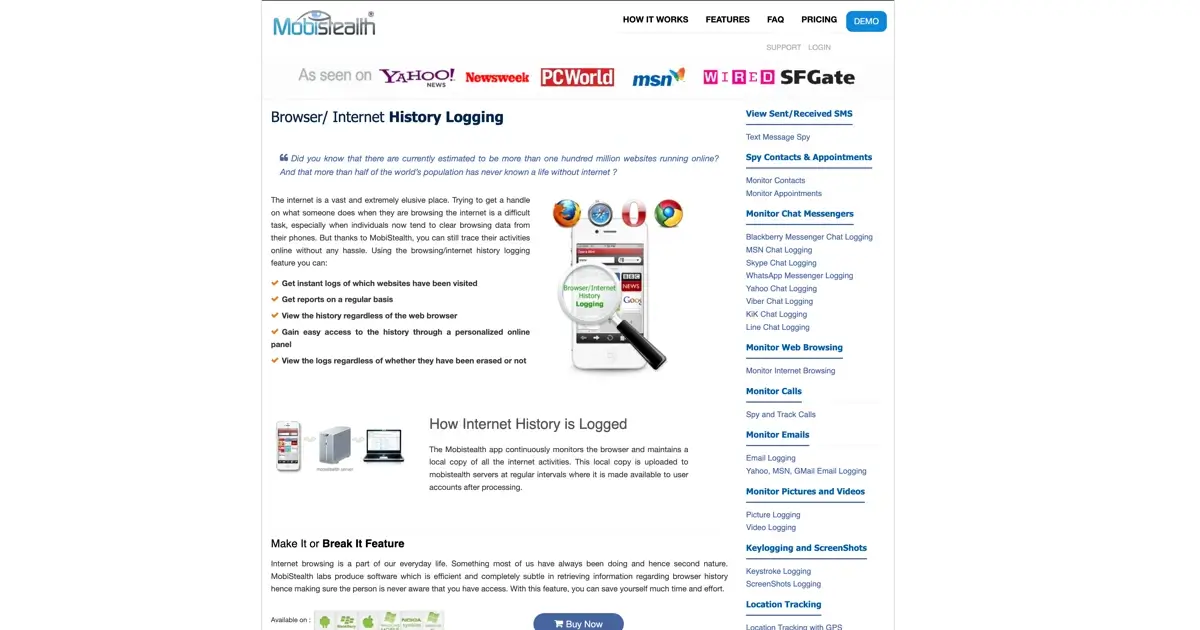 How to keep track of your web history?
MobiStealth keeps track of all the URLs of the sites the user visits on their device and sends that information to your user account. As soon as you set up your account, you'll be able to see their web browsing history, which will be marked with the time and date.
Compatibility
Check MobiStealth's compatibility to see if it will work on the device you want to track:
Price
If you want to use MobiStealth to keep an eye on an Android device, you have two options. You can choose the $59.99/month Pro Plan or the $69.99/month Pro-X Plan. To keep an eye on an iPhone, you'll have to pay $69.99 a month for their Premium Plus Plan.
5. TheTruthSpy – how to track internet history
It's another trustworthy spy tool with great features and an easy-to-use interface that lets you track another smartphone. It makes it easier to keep an eye on another device's browsing history from afar. It's a good way to keep an eye on your employees and see what your kids are up to. When you sign up for this app, you can spy on IM chats, track their location, manage calls, and even control the device you want to monitor from afar.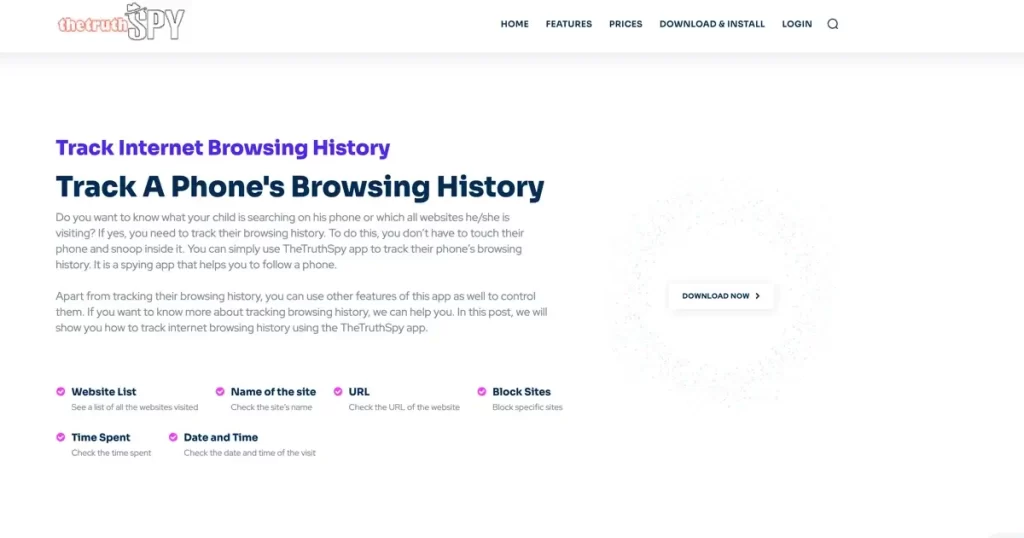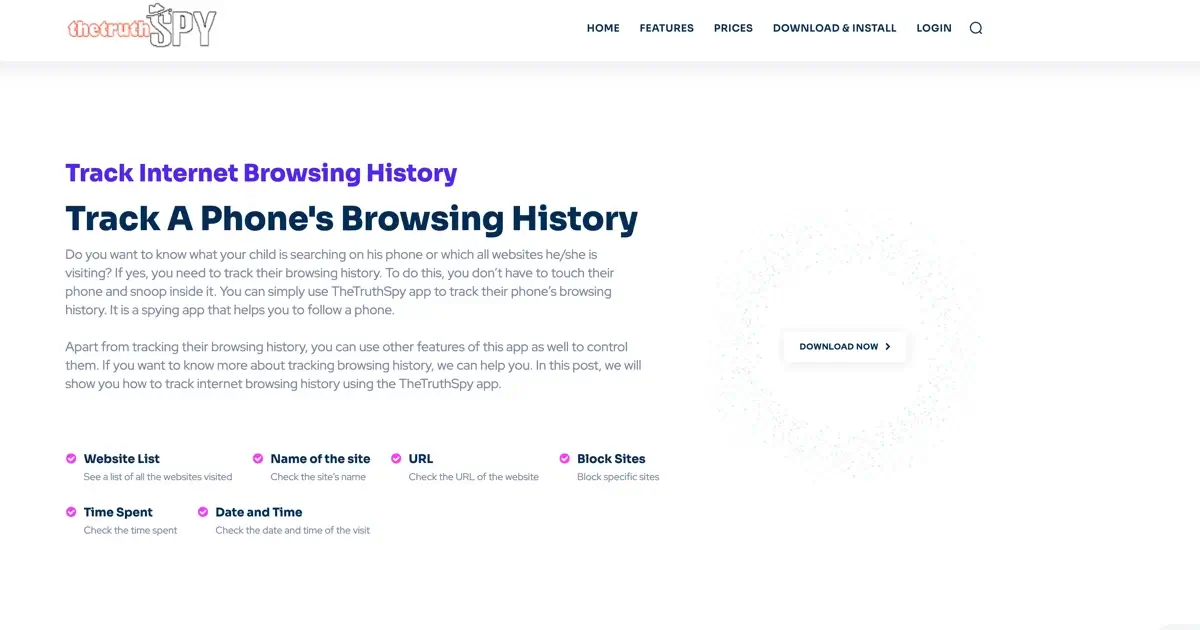 How to keep track of what you've looked at?
The control panel of TheTruthSpy lets you see what websites the monitored device has been to in the past. You can also block or limit certain URLs that you don't want the monitored device to visit, which is a great feature.
You can also find out how many times the user in question has been to a certain website. TheTruthSpy also lets you know when each URL was visited by giving you a time and date stamp.
Compatibility
TheTruthSpy is not really an app that works well with other apps. If you want to monitor an iOS device with this app, the device must already be jailbroken. Check to see if it goes with it:
Price
If you want to sign up for TheTruthSpy, you can choose from 3 different plans. There are three plans: the $21.99 Standard Plan, the $25.99 Premium Plan, and the $30.99 Gold Plan. If all you want to do is keep an eye on the monitored device's browsing history and nothing else, the Standard Plan will be enough.
6. Spyzie – how to track internet history on cell phone
Spyzie is mostly an app that lets you keep an eye on an Android phone without having to root it and see what it does online. You can track the monitored person's GPS location, call history, SMS, and chats on WhatsApp, Facebook, Viber, etc. from the comfort of your own home. You can also look at their internet history. All of this tracking is done from afar with the help of an online dashboard. Spyzie is easy to use. All you have to do is sign up and set up an account.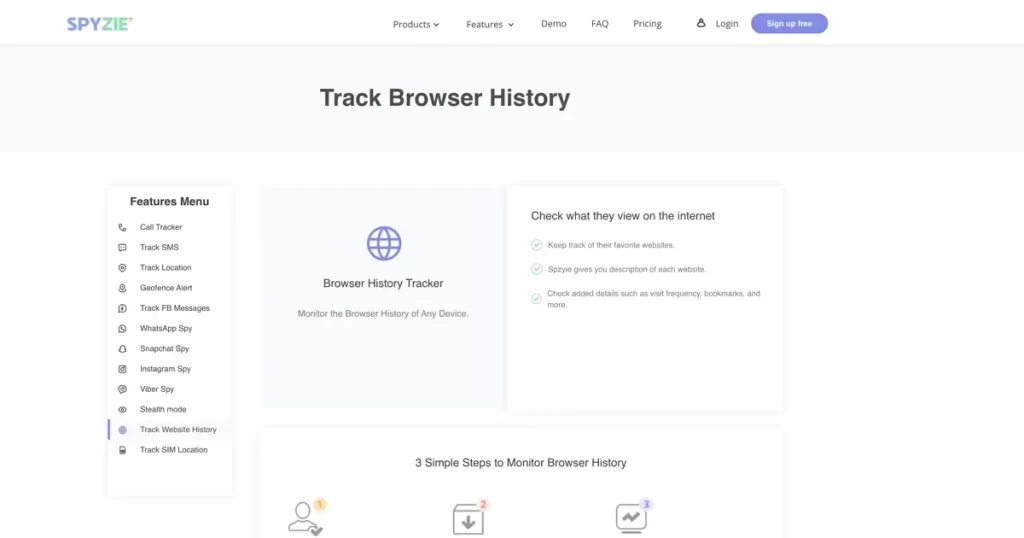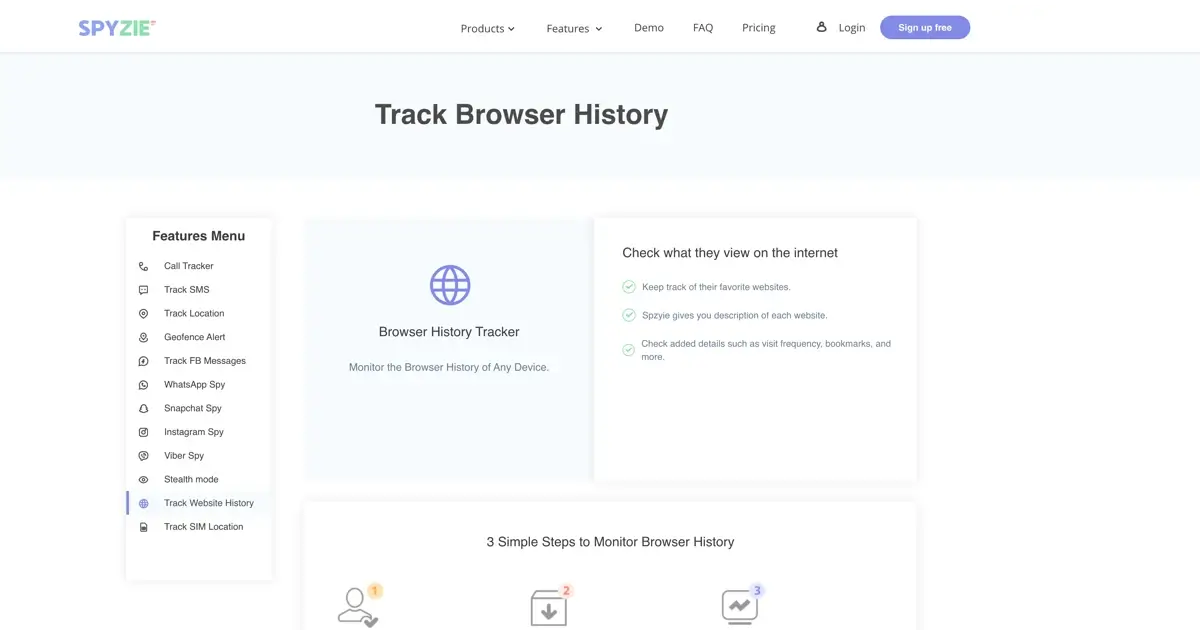 How to keep track of history?
You have to first sign in to your Spyzie account. Click the "Browser History" menu on the dashboard to see the data from your browser's history. It will show all the URLs that the monitored device went to, along with the time and date that each one was opened.
Compatibility
Spyzie works with both Android and iOS phones and tablets. You can use it to keep track of your web history on any device without having to root or jailbreak it. Check to see if it goes with it:
Price
There are two versions of Spyzie. The first choice is to pay $39.99 a month for Premium Edition. The Ultimate Edition, which costs $49.99 a month, is the second choice. You can sign up for the Premium Edition if all you want to do with this app is check your browser history. Ultimate Edition is the right choice if you want to spy on more advanced features.
7. uMobix – internet history tracking app
A perfect way to stay informed about all target activities. Track Internet history, view the list of frequently used sites, and timestamps. Recover deleted history.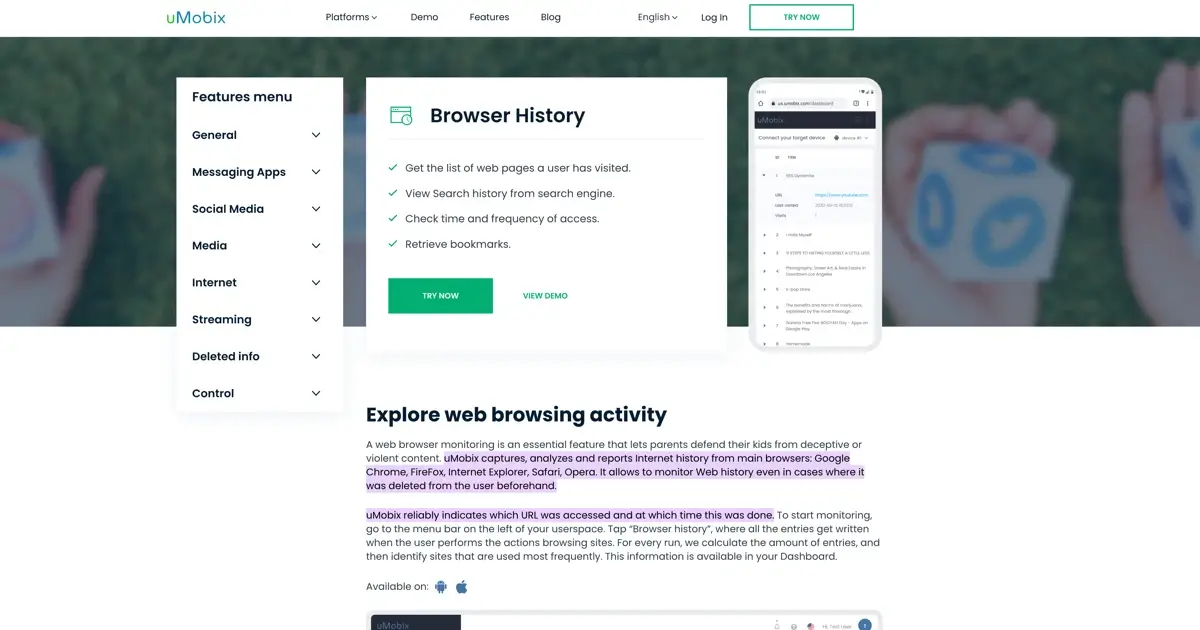 Browser History Get the list of web pages a user has visited.
View Search History from search engine.
Check time and frequency of access.
Retrieve bookmarks.
Browse the web
Web browser monitoring protects kids from deceptive or violent content. Mobic captures, analyses, and reports Internet history from major browsers. It can monitor deleted Web history.
uMobix shows which URL was visited and when. To start monitoring, use the left-hand menu. Tap "Browser history" to see all site-browsing entries. Every run, we count entries and identify the most popular sites. The dashboard has this info.
Cell phone internet history tracking.
uMobix shows web activity and accessed content. To start tracking, login, tap "Browser History," and view the listings. The dashboard provides an overview of internet activity, including the most visited websites.
uMobix pricing is as follows:
$49.99/month
$39.99/mo
$12.49/mo
8. mSpy – how far back can internet history be tracked
Browsing History Tracker – View Another User's Browsing History: We recommend an app to track Internet history if you want to see what they've been looking at online without grabbing their phone or changing settings. Perfect mSpy. Once installed, you'll have browser data.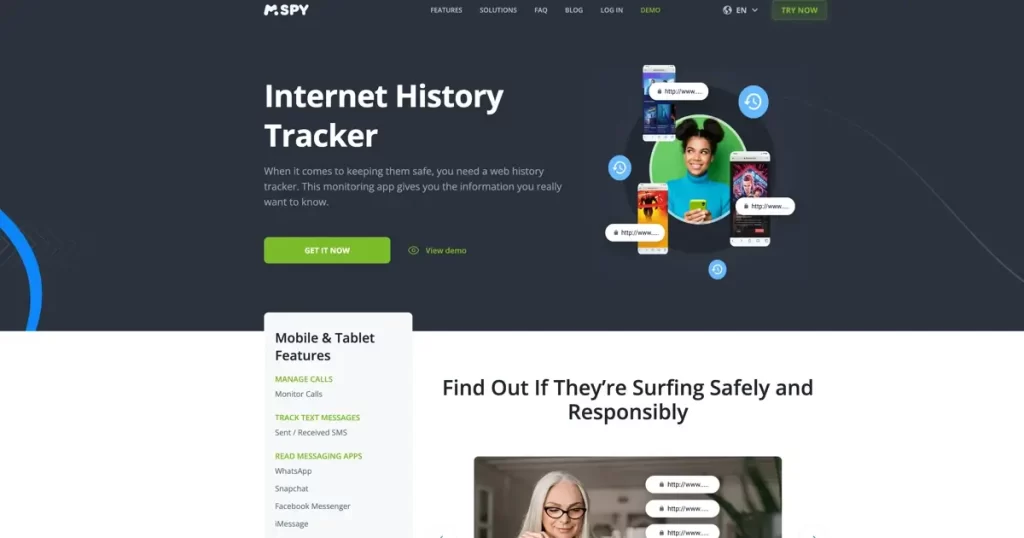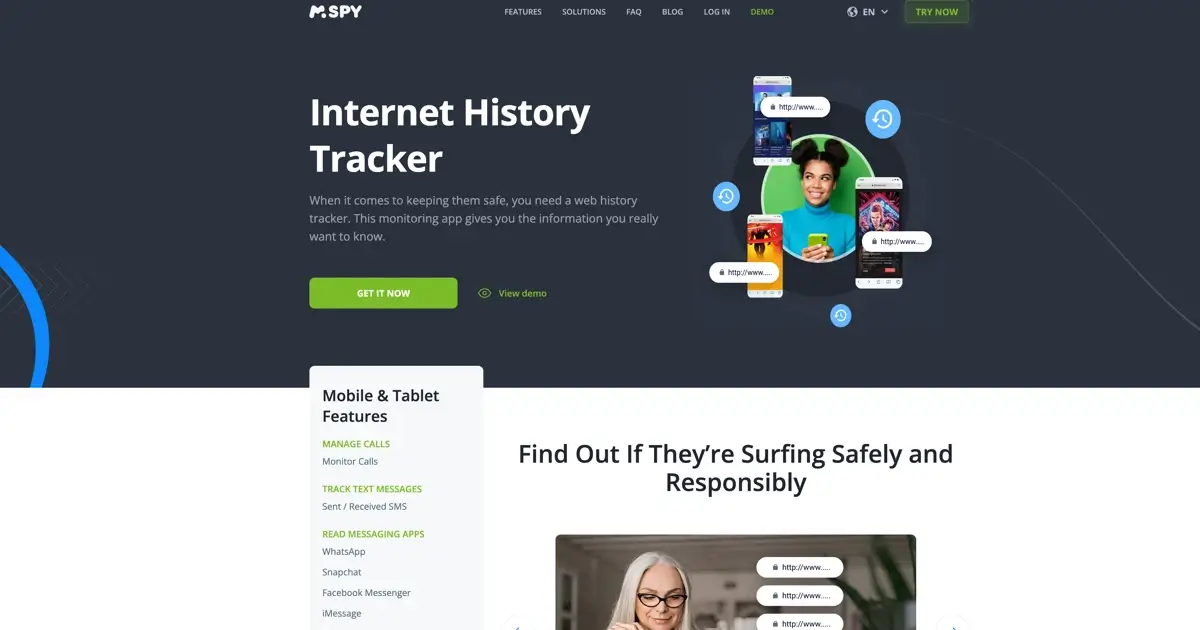 No need to record history secretly. mSpy handles everything:
Browse their history. mSpy displays every website they've visited, including the URL. You'll also see their last visit and page views. It's a great way to learn about their favorite sites.
Their bookmarks. If they have favorite websites, they're probably bookmarked. mSpy does so. mSpy lets you view a user's browsing history and bookmarked sites.
Disable websites. mSpy doesn't just show visited websites. You can also block websites. Click-block. So simple!
History Tracker
Web history trackers keep kids safe. This monitoring app provides important data.
Using a Google Chrome Incognito parental control app like mSpy can help you learn about their interests and preferences. You can monitor other web browsers to see visited websites, bookmarks, and keyboard stroke records. After installing the app, you can get incognito history and more.
To monitor their browsing history with mSpy:
Go to mspy.com and sign up.
Choose a subscription and make a purchase.
Create an account.
Install the app on the target's device.
Log in to your mSpy dashboard using your credentials.
Add a monitored device.
Choose the needed mSpy feature and start monitoring.
Pros
Convenient to use
Easy-to-understand dashboard
Invisible
No need for rooting and jailbreaking
Available on iPhone and Android
Cons
9. Hoverwatch – internet history tracker chrome
Android browser, call, and SMS history tracker. Hoverwatch saves all the websites a target Android device's user visits. The app tracks call, WhatsApp, Facebook, Viber, SMS, and GPS location.
Best phone internet history tracker
How to view history on android
Monitor browser history from android in your online account
For viewing convenience, the user's visited web pages are also saved. This information is stored in the user panel and is accessible online.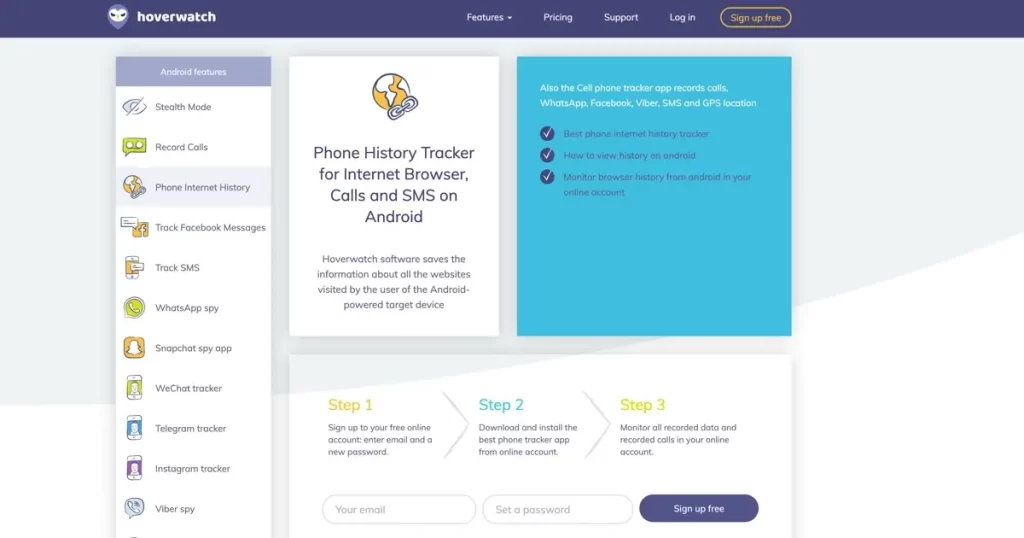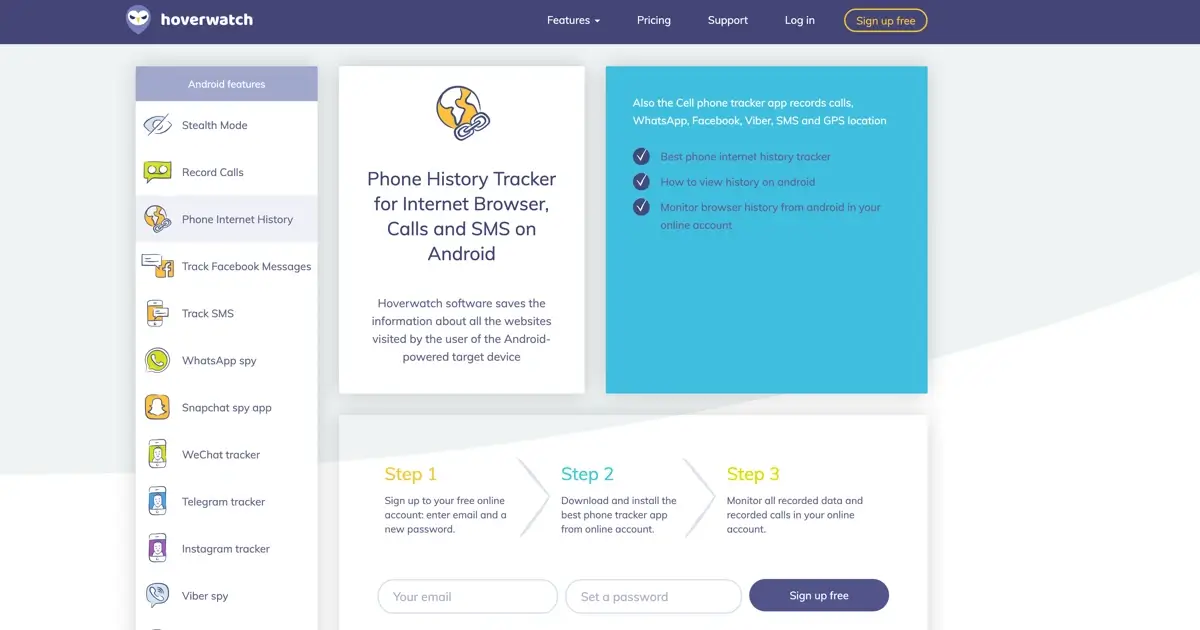 Hoverwatch's web history log is enabled by default, so no additional settings are needed.
This history tracker saves both default Android and Google Chrome website visits.
Android smartphone tracker doesn't require root to save this information.
What's the point?
The Internet is full of inappropriate sites for kids and teens. These websites often ignore age restrictions. This browsing history feature is great for keeping kids safe.
Using this internet history tracker, you'll get your child's website addresses and visit times. When you're not looking, employees can get distracted or view NSFW material at work, so this app is essential.
Tracking a Phone's Location
Hoverwatch gathers cell phone location data. You can trace your device using GPS and WI-FI from nearby areas. These sources can help you get your Android's location history and current location.
Pros:
Great customer support services
Manage other accounts aside from Snapchat
Smooth experience accessing web history
Cons:
GPS may present some inaccuracy
Compatible with Android devices, but not with iOS
10. eyeZy – check internet history
Internet History Tracker with eyeZy: A browsing history tracker lets you see what they're doing online.
Track their browsing history to keep them safe online.
It's the best way to ensure safe browsing.
How do I install a tracker?
Find an appealing phone history tracker. Many are available, but choose one with the features you want. After deciding, subscribe. Then, check your email for a Welcome Package with installation instructions and login details so you can review their web browsing.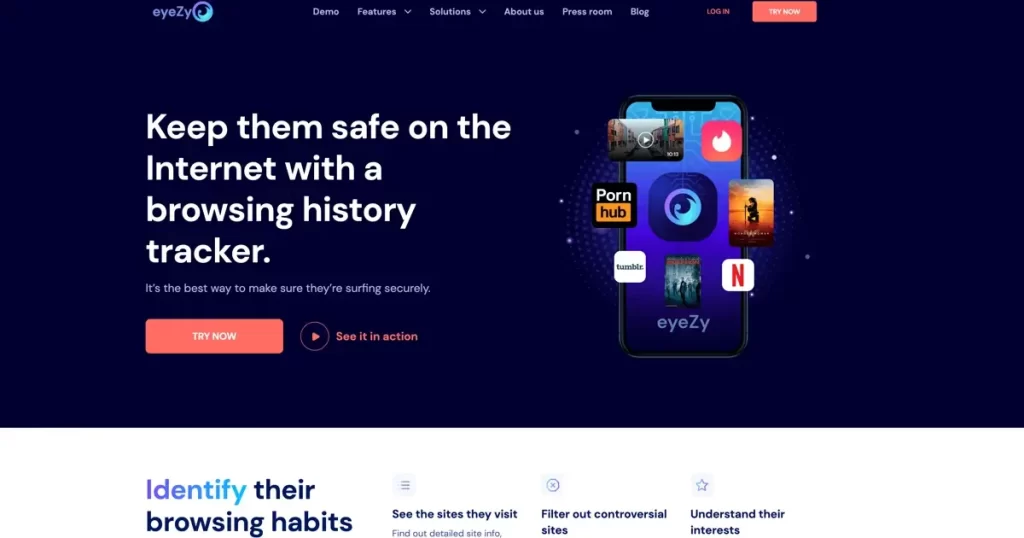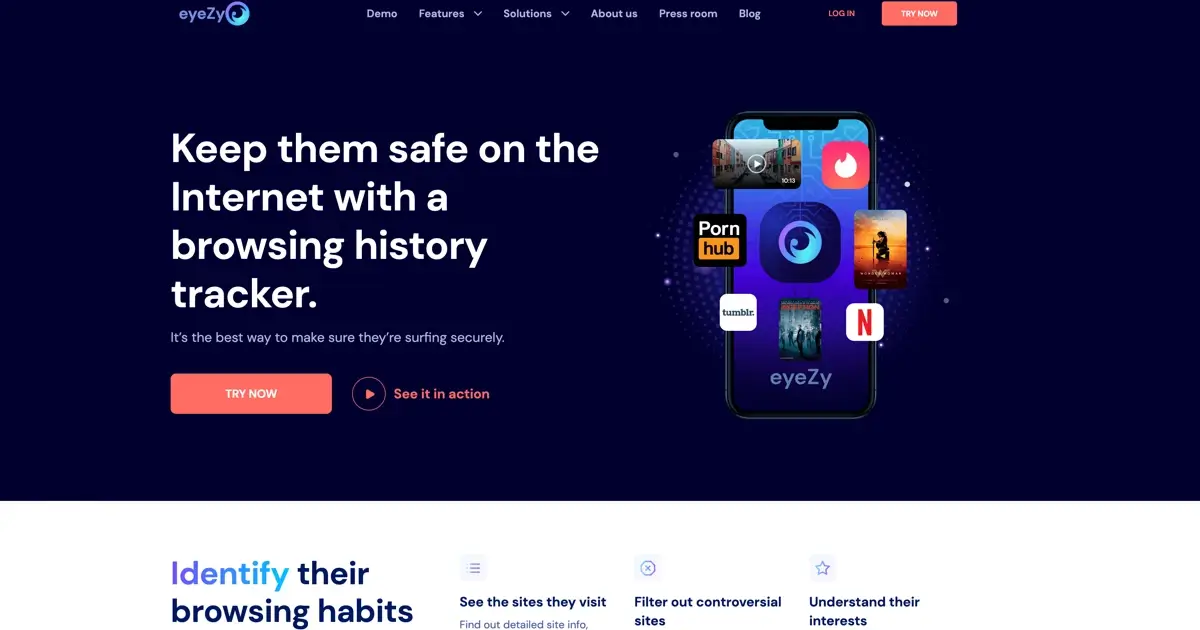 How do I see someone's visited websites?
Simple. Install a cell phone history tracker to get tonnes of info. We're discussing where they went, how long they stayed, and when. After installation, there's little to do. Automatic sync.
Can a tracking tool tell if they visit adult sites?
Yes. You want to know they're not visiting adult sites with controversial content. A browser history tracker can help. It shows you every website they visited, so you can rest easy. If so, take action.
Pros:
Fast download & installation (sign up & set up password)
Great refund policy
Strong Snapchat tracking features
Simple & intuitive dashboard
Cons:
Jailbreak and rooting required (rooting for Android devices)
---
Messages, posts, comments, etc. can be saved to your account and viewed remotely.
Some apps alert you when a user uses certain words, so you know when they're doing something dangerous.
Cell phone activity tracking helps parents and employers boost productivity at home and at work.
It provides screen time and app usage statistics, and some offer app blocking to limit online activities.
F.A.Q.
Can someone see my phone's history?
Phone spyware can reveal your browsing history. Apps monitor calls, texts, and more.
Can internet activity be tracked?
Monitoring software can track internet use. This software must be installed on the target phone or computer.
Can my partner see my history?
Your spouse can monitor your web activity in a few ways. Check your devices. Spy apps or spyware are other options.
Can a phone tracker tell if they visit violent websites?
Indeed. A browsing history tracker can reveal if they're visiting violent websites. Log into your Control Panel to see if they've visited sites you forbade.
Is site filtering possible?
Certainly. Not just seeing someone's search history. Action is key. You'll see every site they visit with a cell phone Internet history tracker. You can filter sites they shouldn't visit. After that, they can't visit those sites.
Will I know their favorite sites?
Absolutely. Using an app that tracks Internet history, you'll know their favorite sites. This will reveal their favorite sites. It's easy to check out a site you've never seen to see if it's appropriate for your child.
What else does a phone tracker show?
You're wrong. A phone history tracker shows you their visited sites and social media activity. Their social media activity, who they chat with on social media apps, who they text, and more. If it's on their phone, you'll know.
Can I track it secretly?
Definitely. When you use SPY24, no one will know. SPY24 is hidden on their device. So while you're reviewing their activity and browsing history, they won't know you can do so.
Conclusion
You can improve safety, security, and productivity by tracking cell phone internet history.
Spy apps are great for extracting detailed data and browsing history from a phone.