Do you need to keep tabs on your child, spouse, or employee's WhatsApp activity? If so, you're likely wondering if there's a way to spy on WhatsApp without rooting the phone first. The good news is that there is a way to do this – and in this blog post, we'll tell you how! Keep reading to find out more.
How to Spy Whatsapp Without Rooting Your Phone
WhatsApp is one of the most popular messaging apps out there, and for good reason. It's an incredibly secure way to keep in touch with your friends and family, and it's also incredibly easy to use. But what if you want to spy on someone else's WhatsApp account? Is that even possible without rooting your phone? The answer is yes! In this blog post, we'll explain how you can easily spy on someone else's WhatsApp account without having to root your phone.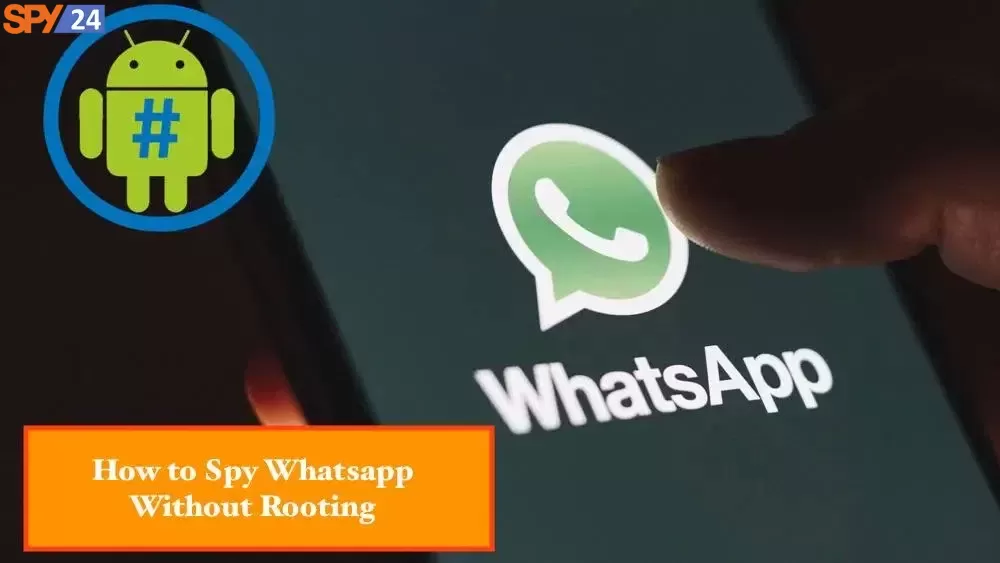 Using a Spy App
One of the easiest ways to spy on someone else's WhatsApp account is by using a spy app. There are many different spy apps out there, but SPY24 stands out as one of the best. SPY24 allows you to quickly and easily monitor someone else's activity without ever having to root your phone. All you need is their phone number and you can start monitoring their activity right away. With SPY24, you can view messages, call logs, photos, videos, and more—all without ever having to root your phone or install any app on your device. Plus, all of this data is securely stored in the cloud so that you never have to worry about losing it.
WhatsApp Web
Another way that you can spy on someone else's WhatsApp account is by using WhatsApp Web. This feature allows users to access their account from any computer with an internet connection by simply scanning a QR code with their phone. Once they have done this, all of their messages will be available for viewing on the web version of WhatsApp. However, this method does require that the person being spied on knows their login details or has enabled two-factor authentication (which requires them to enter a verification code each time they log in). So while it is possible to use this method without rooting your device, it may not be practical depending on the situation.
How to use the WhatsApp website to hack WhatsApp
WhatsApp hacks another person without having access to his phone and using the WhatsApp website!!! To do this, follow the steps below.
Open the Chrome web browser on your phone and go to web.whatsapp.com.
Tap "Settings," then tap "Desktop Site."
Go to the person's phone and open WhatsApp. Tap Settings and then choose WhatsApp web/desktop.
Use the phone of the other person to scan the code on your phone.
Now you can look at his WhatsApp messages without touching his phone.
We wrote this article to help you, our dear friends, learn how to hack WhatsApp without root or access to the other person's phone.
There are many ways to hack WhatsApp, but it's not easy to hack WhatsApp without having access to the other person's phone. The point of this article is only to get to know each other and figure out how to run a family and keep an eye on the kids at all times.
Sites and programs that have been broken into
You can also use different websites and programs to hack WhatsApp by number. Some websites use different ways to hack into an account and give you this option. There are, of course, two main problems with this method.
The first problem is that it's hard to tell if these apps or websites for hacking WhatsApp or any other social network are real or not. These sites can't be trusted. The second problem is that many of these platforms are paid, and you have to pay a fee to hack an account through these sites.
Using A Monitoring Program
Using a monitoring program like SPY24 is often the best option when it comes to spying on someone else's WhatsApp account without rooting your phone. The program allows you to monitor multiple accounts at once and gives you access to all of the same features as if you had rooted your device (such as viewing messages, call logs, photos, videos, etc.). Plus, all of the data collected by SPY24 is securely stored in the cloud so that nothing gets lost or stolen—even if something happens to your device!
iPhone Whatsapp Spy Without Jailbreak
Spy WhatsApp Without Rooting? Spy on WhatsApp without "rooting" your Android device. SPY24's Android spyware suite doesn't require "rooting." Rooting an Android phone is like jailbreaking an iPhone. Unlocking your phone's operating system lets you install untested programs, replace the OS, and temporarily modify your phone. You probably know that. You don't realize that rooting is hard and has perks and downsides. Android's flexibility means you don't need to "root" it. Android won't allow you to do something that could expose your device. Rooting removes all OS security constraints. Spyware, advertisements, and other things can enter your phone more easily.
Is it true that you can hack WhatsApp without a code?
Yes, but only if you follow the plan.
Many untitled WhatsApp hacker adverts appear with parental monitoring tools. These ads use clever names to steal WhatsApp accounts. Take it.
Entering someone's phone number is a frequent WhatsApp hack. However, when this type of advertisement promises low-cost work, the user believes, "Even if it doesn't get done, I haven't lost anything."
The other phone doesn't need this software.
It doesn't need or send a verification code.
Remember that only the application can hack WhatsApp remotely without a verification code.
How Does SPY24 Spy on WhatsApp Without Rooting?
When you use SPY24 to spy on WhatsApp without rooting, you can only spy on WhatsApp photos. Plus, you could get almost all of the sent texts and most of the received WhatsApp messages with the new Keystrokes feature.
To do that, you must first sign up for SPY24 and put it on the phone you want to spy on. Only then will you need to have access to the target device. Wait between 24 and 48 hours for the app to send the information from the phone you want to monitor to your SPY24 web account.
To spy on photos on WhatsApp:
To start spying on WhatsApp photos without rooting, follow the steps below:
Step 1: Sign in to your account. Go to https://click-goo.com/Gpdgc and enter your login information.
Step 2: Pick "Photos" On the left side of the screen, a menu will appear. This is the online dashboard or control panel for your SPY24. Pick "Photos" from that list. This will open the photo gallery on the Phone.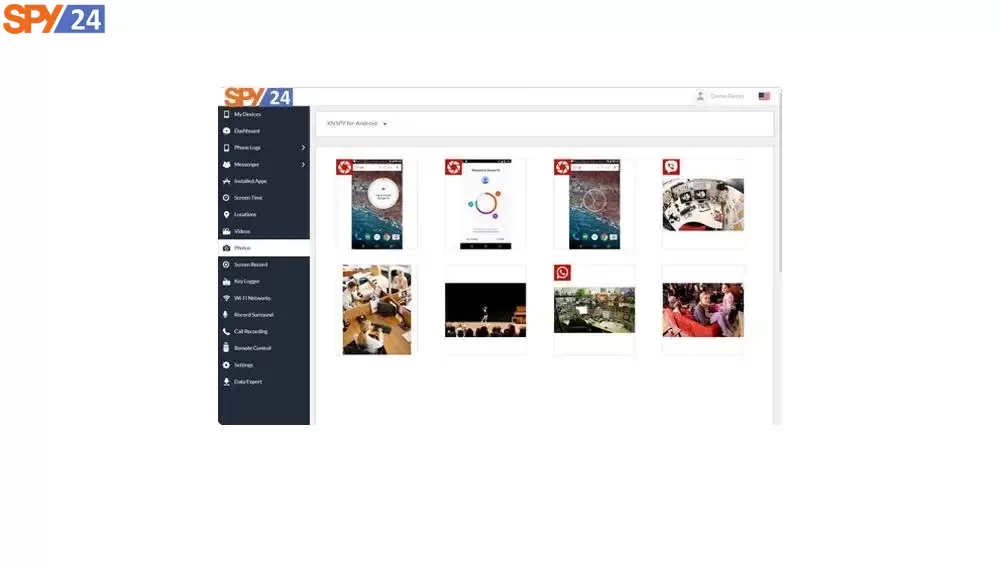 Step 3: Click on Search Click the search icon in the top right corner of your screen to find the WhatsApp photos.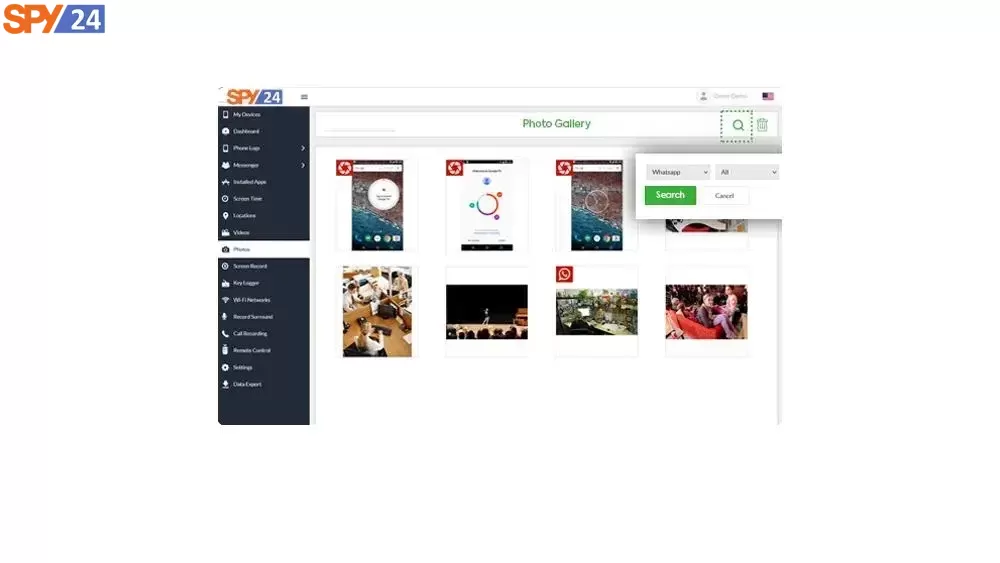 Step 4: Pick "WhatsApp" Choose "WhatsApp" from the list and click "Search."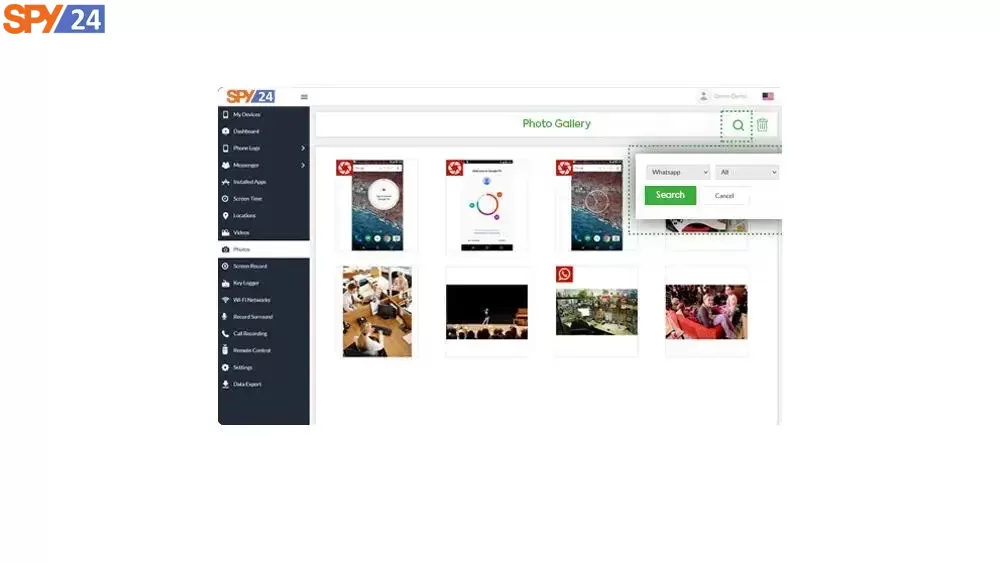 Step 5: Look at every picture
After that, all of the photos that have been shared through WhatsApp will be shown.
To Read WhatsApp Messages
If you want to use SPY24 to look at WhatsApp chats and call logs, you'll need to root the Android device. It's pretty easy and quick to root an Android device. Here, you can find out more about that.
Choose Keylogger from the menu on the side of your SPY24 Dashboard screen.
Not only WhatsApp, but also Skype, Messenger, Facebook, and Viber keystrokes can be tracked by Keylogger.
Every message has an app badge that shows where it came from.
You can also use the filter feature to show only the keystrokes used in WhatsApp.
This keylogging method will give you all the texts typed on the monitored device, whether they were sent or not. But that's not the case with the WhatsApp messages that I got.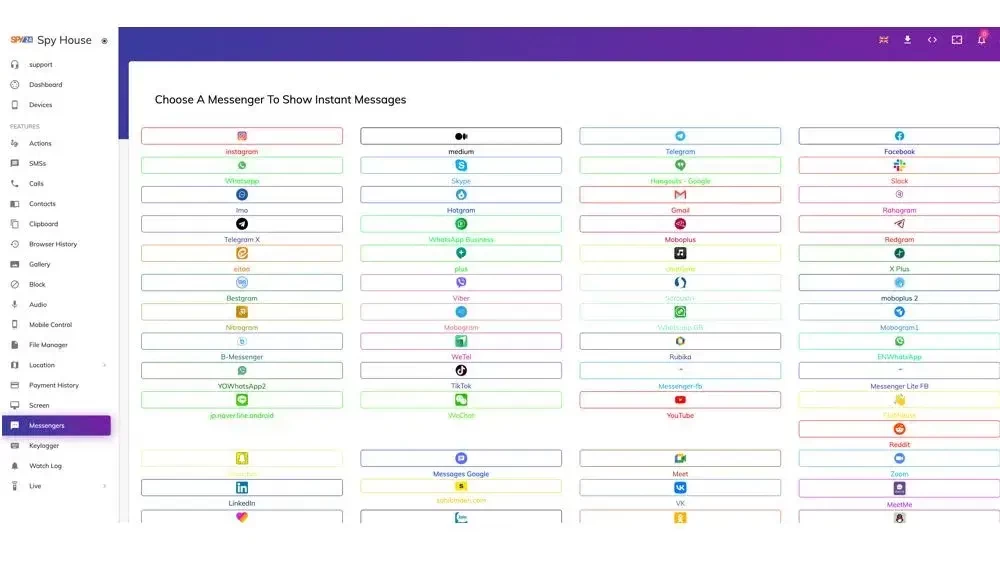 SPY24 can get the WhatsApp messages that come in, but only the ones that make it to the lock screen. When a person is using their phone, WhatsApp messages they receive don't get to their SPY24 online account.
This might sound hard, but everything is happening behind the scenes. Everything looks simple and easy from the outside. And you still have enough WhatsApp messages and photos to fill in the blanks. As of right now, there is no other app that can spy on WhatsApp without rooting that is better than SPY24. SPY24 has what you need if you want something simple.
How to keep an eye on an Android phone
Follow these three easy steps to spy without rooting:
Start keeping track of everything
It is almost as easy as downloading and installing software from Google Play. You do not need to follow a difficult guide and risk "losing" your device. Of course, you can contact the support team at any time if you have problems.
You can use the software to track any of the following:
Laws should not be forgotten. Please make sure that the following someone won't get you in trouble with the law in your country. At the same time, don't forget that spying is just one option among many. You could also talk to the person instead. But software is probably the best way because it gives you access to a huge amount of information.
To manage all data, a Control Panel is available. If you have access to the Internet and a browser, you can easily look at all the collected information from anywhere in the US, Europe, Asia, or anywhere else, as long as you are connected to the Internet. It's not a problem to keep track of two or more devices. You can buy a Family tariff or a Business tariff. Not only is it easy, but it's also cheaper!
Root or install a spy app? Which is better?
We've already talked about the pros and cons of each choice. However, questions remain. Which is better: to root your phone or to put a spy app on it?
To spy on an Android phone, you don't need to know anything special. Using the app is almost as easy as using a browser or watching YouTube. Because of this, people of any age can do it.
Parents or grandparents can, for example, keep track of their children or grandchildren. You might find out who they are talking to, what they are doing on the Internet, etc.
SPY24 also lets you find out where someone is. This means that you can find the device. This information is very helpful, both in the present and when looking at the person's past. For example, you can keep track of employees to see how much time they spend working.
The ability to track location is not available if you only root your phone. Please keep in mind that these are not the same or similar. You can solve similar problems, like finding out more about what your phone does, with both a rooted device and a device with a special app, but they are not the same thing.
If you want to:
Find out different things about how your Android device works.
Don't tell anyone what you're doing.
Collect all data in one control panel
There are other options besides SPY24. There are a lot of apps that do the same thing, and you have to choose the one that works best for you. Please keep in mind that many apps need to be "rooted" or are fake. Look at the reviews and technical requirements to find a good option.
Why do some apps need you to "root"
There are several choices:
Applications that work perfectly without rooting; Applications that have some features that work without rooting and others that require you to root your phone.
A fake application that does not work at all
The fact that there are so many choices is that technology is so complicated. Making a spy app for Android is a very hard thing to do. Some developers' products need full access to the phone to work, while others don't. It depends on what kinds of technology are used. Both options are fine. Before you buy and download an app, just find out if it needs full access to the operating system.
The last group, which is made up of fake apps, can promise you anything; their creators only want your money. There are a lot of fake offers in the spy app market. You might see the following:
You can spy on a cell phone without having the phone itself.
You can track or spy on something without touching it.
Likewise
Most of these deals aren't real. If you can't get to the device, you won't be able to track it. You don't have to "root" the device to install the app, but you do have to "touch" it. After that, you can get all data remotely. You can also change the settings and turn the tool on or off in the same way.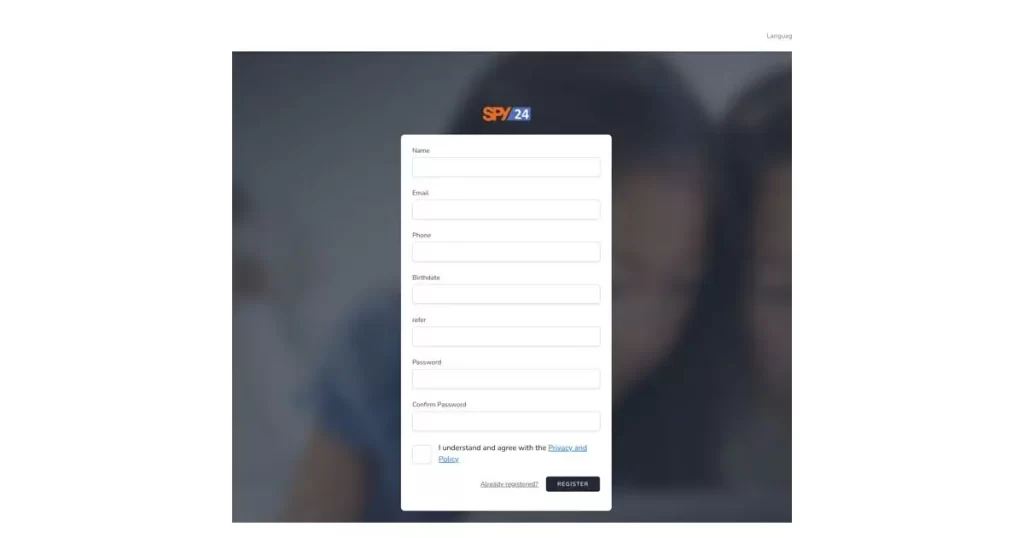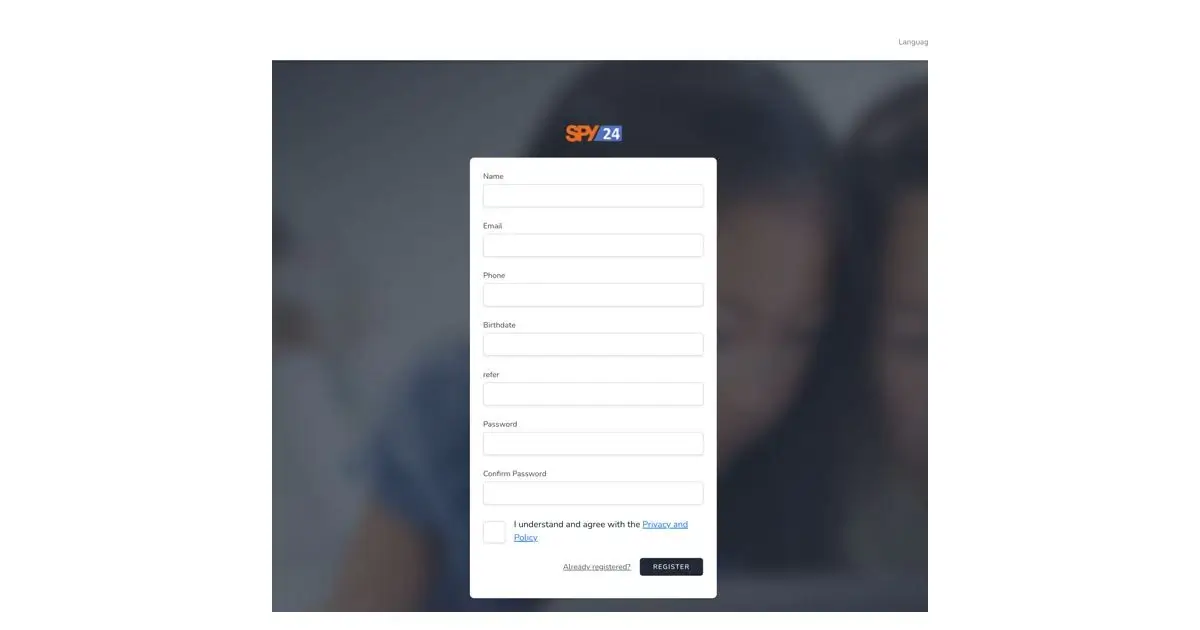 In conclusion, you shouldn't be afraid to root your device. Just do it in case you have to. Also, you don't have to do this operation to track a smartphone. You can spy on an Android phone without rooting it by signing up for SPY24 for free. This method is simple and easy to use, and it also gives you the chance to track your smartphone.
Questions People Usually Ask
Is It Possible To Use Social Networks On A Device Without Rooting It?
Yes, in the new version there is a chance that you can access the main social networks' messages without having to be root. You can also see the social networks' messages in the internal news section of the website's panel.
Why Does The Phone Need To Be "Rooted"?
The phone must be "rooted" to use the SIM card data, GPS, and social networks. The rest of the features can be seen even if you don't root.
On What Kinds Of Devices Can This System Be Put In Place?
This program can be used to manage all Android devices as of right now (with any model and brand).
Do I Need A Phone That Has Been "Rooted" To Install The Software?
No, the software doesn't have to be "rooted."
What Does "Rooting" An Android Phone Mean?
The root is the name for getting to system files and letting other people get to them. There are different ways to "root" different phones. Root lets you change system files and code to do what you want to do.
Can Someone On Another Phone Read My WhatsApp Messages?
No, WhatsApp can only be used on one device at a time with a single phone number. Someone could only get to your WhatsApp data from far away by using the WhatsApp web.
But for them to connect your device to the WhatsApp web app, they would have to get their hands on it. Or they could have used one of the WhatsApp spy apps we talked about before.
How Can You Use Android Or IOS To Spy On Someone Else's WhatsApp Account For Free?
You can't spy on WhatsApp for free unless you are a highly skilled software engineer with great hacking skills. "WhatsApp spy free apk" is not a thing. But you can always use paid WhatsApp spy apps that give you the same or even more access than hacking.
Some options to think about are the mSpy, SPY24, and Hoverwatch WhatsApp spy apps. Many of these service providers also offer free trials and demos, so make sure to check before you buy.
How To Spy On WhatsApp On An iPhone From Far Away Without Jailbreaking?
We did a lot of research and came to the safe conclusion that mSpy is the most reliable app to spy on WhatsApp messages without installing it on the target phone. It has the most features and costs the least. All you need to get started are the iCloud credentials of the person you want to hack. Just log in to your secure mSpy account and you'll have access to your phone's activities 24 hours a day, 7 days a week.
How Can I Spy On Someone's WhatsApp Without Having Their Phone?
This would be a bit harder, but it wouldn't be impossible. You can use the method for Mac phishing that we briefly talked about in this article. But you will need to get the MAC address of the device you want to connect to and change it with your own. Then, you'll need to reinstall one of the WhatsApp spy apps on your device.
With The 3 Best Spy Apps For WhatsApp, Can I Listen In On WhatsApp Calls?
When you use the 3 best WhatsApp spy apps we talk about in this article, it's easy. The ability to track WhatsApp call logs is built into SPY24, mSpy, and Hoverwatch.
Sign in to your dashboard, choose WhatsApp, and click on the Calls tab. With a spy app, you can see call lists with timestamps, and favorite callers, and even listen to and download recordings of WhatsApp VoIP call made and received.
Best Free Whatsapp Spy App Without Target Phone
WhatsApp Messenger is becoming essential to our life. However, improper WhatsApp use could endanger you or your family. Your kids may be bullied online, your spouse may be cheating, or your employees may be selling company secrets over WhatsApp SPY Apps Messenger. Thus, many desire to discover how to spy on WhatsApp communications without being caught. In certain states, violating privacy is a crime. Use these procedures at your own peril. This article exclusively covers foolproof WhatsApp spying without a phone.
Top 3 WhatsApp Spy Apps: Overview
WhatsApp is a safe messaging app that has won the hearts of a lot of people. People share a lot of secret information there because it is so safe.
🥇 SPY24
🥈 mSpy
🥉 Hoverwatch
That's why you need the best WhatsApp spy app that you can trust. Not sure what the best choice is? Please scroll down for more information.
SPY24: Spy on WhatsApp calls and messages works with all Android and iOS devices, requires jailbreaking and rooting, and has online help for jailbreaking and rooting.
mSpy works with all versions of iOS and Android, lets you spy on WhatsApp messages and calls, and doesn't need to be jailbroken or rooted on iOS devices. When you root or jailbreak your phone, you can listen to all WhatsApp calls.
Hoverwatch lets you spy on Android 4+, WhatsApp messages, and calls without having to root your phone. Even if the user tries to delete media files, the app keeps track of them.
SPY24: tool Spy on WhatsApp Messages Without Installing free
WhatsApp is becoming one of the most popular internet chat services. WhatsApp's simplicity and speed make it popular.
Up until now, adults were the ones who utilized WhatsApp the most. Due to the pandemic, kids had to use smartphones instead of school. After all, they were scared about COVID-19.
Kids play games and conduct academics on apps. One of them is WhatsApp. They send buddies music, video, and text. Sharing information might be risky. Parents would want to know what their kids are doing on WhatsApp so they can keep them safe from cyber risks.
One of the greatest WhatsApp spy applications that can be used to spy on cell phones is SPY24. You can keep track of call logs, chats, conversations, images, videos, stickers, emojis, and everything else that happens on WhatsApp and other social networking apps.
You may even keep track of chats that you have deleted. It's inexpensive and simple.
SPY24 for WhatsApp is now available for Android 4.0 to Android 13.
The software requires a SPY24 Premium subscription. The limited-time 3-day trial is also available. Read your kids' WhatsApp messages using the app's features.
SPY24 is straightforward to set up and utilize. Step-by-step instructions simplify everything. Parents can monitor WhatsApp activity after installing it.
Spying on WhatsApp with SPY24 on an Android phone is simple. Android runs on all smartphones except the iPhone. Second, setup takes roughly 5 minutes. Download, install, done. SPY24 makes WhatsApp spying easy.
Get SPY24 first. Sign up for a 3-day trial or buy it immediately for amazing discounts.
Email your login information.
Install the app on the phone (you will have a detailed step-by-step guide to follow).
Jailbreak your child's iPhone before installing SPY24 to spy on WhatsApp. Jailbreaking an iPhone is simple online. It's easy. After "jailbreaking," the iPhone can run third-party apps. You can now install SPY24 on your phone. Follow the steps.
After installation, you can track your child's WhatsApp activity on Android or iPhone.
Sign in at panel.spy24.app
Any browser works (Chrome, Safari, Firefox, etc.)
You can rapidly navigate your dashboard after logging in.
Data > IM > WhatsApp displays your WhatsApp messages.
Track your typing in Data > Keylogs > WhatsApp.
Read someone's WhatsApp messages without their phone.
Google Drive Backup is a third option to spy on WhatsApp communications without the target phone. The target phone's Google Drive can back up texts, images, and videos.
Google Drive must be synced before WhatsApp messages may be received. The phone should support all Google Play services. After this, you can back up WhatsApp to Google Drive.
After backing up, add your Gmail account to the new device to restore it. The replacement device must have the target phone's number.
Install WhatsApp. Verify with a code. Google Drive lets you download the new Gmail account's messages to the new device. After restoring WhatsApp, you can view everything, including chat history.
Why Read Others' WhatsApp Messages?
As mentioned, the pandemic has made many kids addicted to their phones. They utilize phone apps for amusement, unaware that other individuals use them for harmful purposes.
Parents must read their children's WhatsApp messages. Other grounds exist for WhatsApp spying. They include:
protect your kids.
Kids today are glued to their phones. They complete schoolwork and use their phones to kill time. They play games, use Facebook, WhatsApp, Viber, and Skype, watch YouTube videos, and more.
best free child monitoring software
These programs sometimes endanger them online. Some kids are sexually assaulted or cyberbullied. Sometimes they're too terrified to inform their parents, starting a pattern that's hard to escape.
Even if they don't know it, parents must watch their kids in these situations to keep them safe. A spy app helps you monitor your child's phone since you can't touch it.
mSpy How to check someone's WhatsApp messages
Try The Best WhatsApp Tracker App That's right. With a WhatsApp spy app, you can read their messages. We'll explain how.
Stop being worried about what they say in chat.
Get the app that makes it easy to spy on WhatsApp.
Look at all of your WhatsApp messages, media files, and calls
Keep an eye on Facebook, Snapchat, and other chat apps.
There are 25 more features besides calls, texts, media files, and GPS tracking.
Customer service is available 24/7 on Android and iPhone
With a rooted Android or jailbroken iPhone, you can keep track of every WhatsApp call you make or receive. With a rooted Android or jailbroken iPhone, you can keep track of every WhatsApp call you make or receive. In the mSpy control panel, you will be able to see all of the call logs.
From the mSpy control panel, you can keep track of every message sent, received, and even deleted. There are also timestamps and names of the people who will get the message. There are ways to track WhatsApp texts that don't require jailbreaking.
Keep track of all the photos, videos, and pictures shared through WhatsApp. Note: WhatsApp spy apps can monitor media files on Android devices that have been rooted and on iOS devices that have been jailbroken.
3. Hoverwatch – Best WhatsApp Spy App for Android
How to spy on WhatsApp WhatsApp spy with online monitoring. WhatsApp spy tracks every WhatsApp message, audio, and video file. This software records phone calls, uses the phone's camera to take pictures, spy on SMS, MMS, and Facebook messages.
WhatsApp spy is a program that can be secretly installed on the smartphones of your kids or employees
With the WhatsApp spy app, you can record their WhatsApp messages, including any audio or video files attached, as well as their phone calls, take secret pictures with the phone's camera, and spy on their SMS, MMS, and Facebook messages.
It can also save audio and video files from Facebook messages. So it shouldn't be hard to keep track of Facebook messages. The program can also keep track of everything you do on the internet, your calendar, your contacts, and even your geo-location.
The best app to spy on WhatsApp
You can read free WhatsApp messages
You can read all of their WhatsApp chats online.
Conclusion:
Spying on someone else's WhatsApp account doesn't have to be difficult or complicated—and it certainly doesn't have to involve rooting your device! With programs like SPY24 or even methods such as using WhatsApp Web or remotely accessing their device a monitoring program such as SPY24, anyone can easily keep tabs on another person's activity without having to worry about any legal repercussions or privacy violations. So if you're looking for an easy way to monitor someone's Whatsapp activities without having root access, look no further than these simple solutions! Thanks for reading our blog post about how easy it is spying Whatsapp conversations without rooting phones! We hope this guide has been helpful in helping you keep track of everyone's activities online safely and securely! If you have any questions about how our products work or would like some more information about our services please don't hesitate Contact Us. We'd love to hear from you! Thanks again for reading our blog post – until next time!