SMS Tracker
What's the Best App to Read Someone's Text Messages?
Have you ever been worried about the content of your children's text messages and the people they're chatting with using their phones? Many people want to know how they can spy on someone's phone and read their text messages without being detected. Thanks to new technologies, you can easily monitor and read text messages on your partner/kid's phone using spy apps.
The best cell phone spy app that lets you read messages on other people's cell phones is SPY24. In this article, we're going to explain how.
The Reasons You Might Want to Use Apps to Spy on Text Messages
There might be several different reasons to read other messages, including:
Tracking Employees' Activities
Many managers and employers have concerns about their employees' activities in the workplace. They want to know if they're doing their tasks or just texting and chatting with their girl/boyfriends. Also, many times companies give business phones to their employees, and they don't want them to use them for personal use. So they have to track the target phones.
Parental Control
Parental control is the other significant reason for monitoring a phone. Parents don't want their children to contact anyone. However, their kids always try to do that without informing their parents. So parents don't have any other choice but to spy on their phones and read their text messages.
Jealousy
As you know, many girlfriends are jealous, and they don't want their partners to talk to any other person. So they need a spy app to read their messages and monitor other activities.
The Best Text Message Tracking App: is SPY24
SPY24 is the best spying app out there, giving you the ability to monitor any activities of your target user, especially text messages.
You can spy text messages on an Android and iPhone smartphone with the help of the SPY24 SMS tracker. The text messages of the target users are captured and read by this SMS spying app.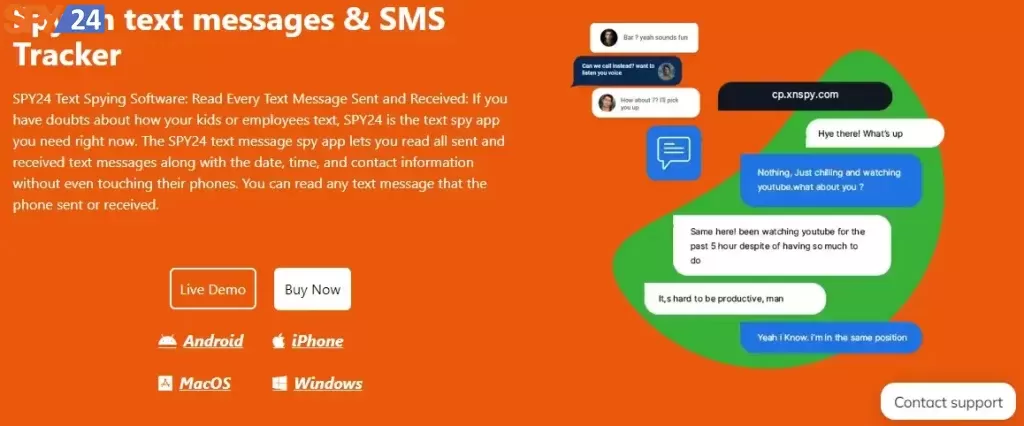 Here is a summary of the text message tracking features of SPY24:
Text Messages
View all of your kid's communications. You can remotely monitor incoming and outgoing messages with SPY24. In your personal Control Panel, you will have access to all details, even the deleted messages.
MMS
In MMS, you can view all of your kid's media. Make sure that no private photos are sent or received through each MMS. Only Android devices have this functionality.
Read Messages without Root or Jailbreak
Using SPY24, you can easily read text messages without rooting or jailbreaking. The terms "jailbreaking" and "rooting" are synonymous. Rooting is used on Android, and on the other hand, jailbreaking is used on iPhone.
Both procedures give you complete control over your device's operating system. On most devices, jailbreaking/rooting is not presently unlawful, although using illegitimate applications and software is. Only because the DMCA does not specifically cover this process is this technique legal.
SPY24 Install application free The Most Powerful Hidden Spying App to Monitor Android, IOS Cell Phone & Tablet Device Remotely. Best Android Parental Control App for Kids & Teens Online Safety.
Now take the liberty to monitor Android, and IOS devices with exclusive features better than ever before Monitor all Voice & Text Messages Communication records, Listen to & Watch Surroundings in Real-time Unleash Digital Parenting with Android, IOS Spy App Spy (Surround Listing & Front/Back Camera Bugging) IM's VoIP call recording on Android OS 13 & above With 250+ Surveillance Tools at your fingertips using Android Tracking & Parental Monitoring Software.
---
How to Set Up and Use Text Message Tracking Feature
The setting up procedure of SPY24 and using the text message tracking feature of it is so simple.
First, you need to download the app on the target phone and install it. It takes only a few minutes to do this. Remember that you might need to change the setting of the target phone so that apps from sources other than Google Play or App Store can be installed.
Then, You have to sign up on the website to create a dashboard. After login into your dashboard, you have to choose a pricing plan for your target device.
Now, you just need to choose the target device on the dashboard, and you're all set.
The Benefits of Tracking Text Messages
You might wonder what you can learn from spying on SMS text messages. Here are the benefits of tracking text messages on someone's phone:
Make Sure of Your Children's Safety
As mentioned earlier, you can spy on your kids' text messages and make sure they're not doing anything wrong. This way, you'll know who, when, and what they're communicating using messages.
Prevent Theft
Your children or employers might cause financial loss if you don't keep track of their activities. Using text message spying apps, you'll be aware of many transactions, and therefore, you can prevent any loss.
Catch a Cheater
Using SPY24's text message spying feature, you can easily figure out if your partner is cheating.
Workflow Efficiency
If you spy on your employees' text messages, you can find out if they're doing the right thing. Actually, you can prevent many irrelevant activities during working hours.
Data Leak Prevention
Using this feature, companies can prevent data leakage because whenever their employees send unwanted messages, they'll be informed.
Other Online Apps that Track Cell Phones
Now that you know the text message spying feature on SPY24, let's become familiar with some other apps on the market to see the difference.
Bark: Monitor Text Messages
The bark is one of the best comprehensive parental control apps out there. This is an affordable application for a wide range of tracking purposes, especially text messages.
Apart from monitoring text messages, you can watch YouTube activities, emails, and 30+ famous social media platforms.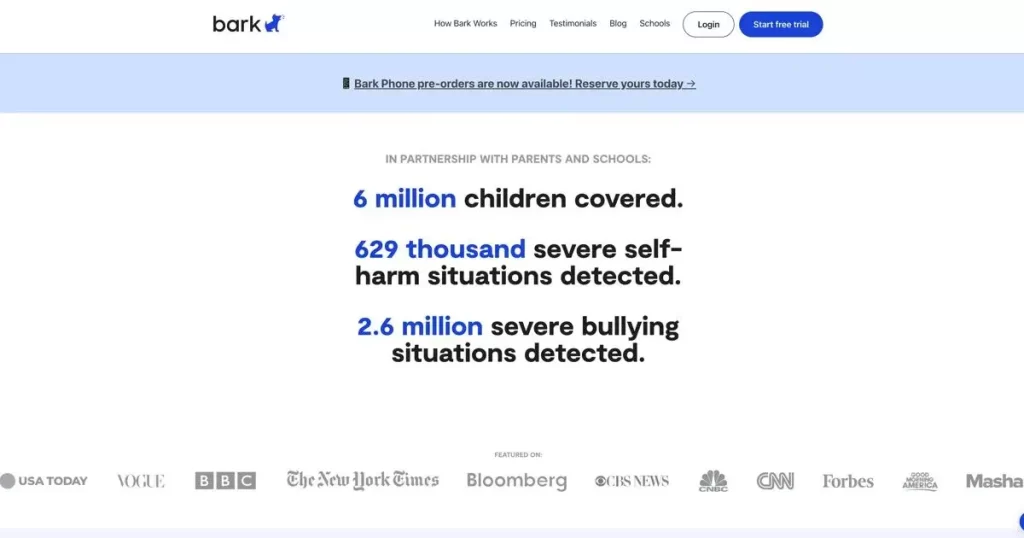 Using Bark, you can easily:
Monitor content: You'll get alerts for every issue, such as bullying, sexual content, predators, etc.
Manage screen time: You can define and customize your children's daily screen time schedules.
Filter sites: You can prevent your child from accessing specific websites or even a whole category.
Set location alerts: geo-fencing is another feature of bark.
TrackMyFone: Track Phone Messages Free
This is also a great text message tracking tool and an industry reader in this regard. TrackMyFone allows you to easily read through the target cell phones' SMSs. The app will always keep you informed about all text messages (incoming and outgoing).
And, of course, you'll have their complete contact information, including the date and time- stamps for each message, along with links to their shared photos, videos, and audio.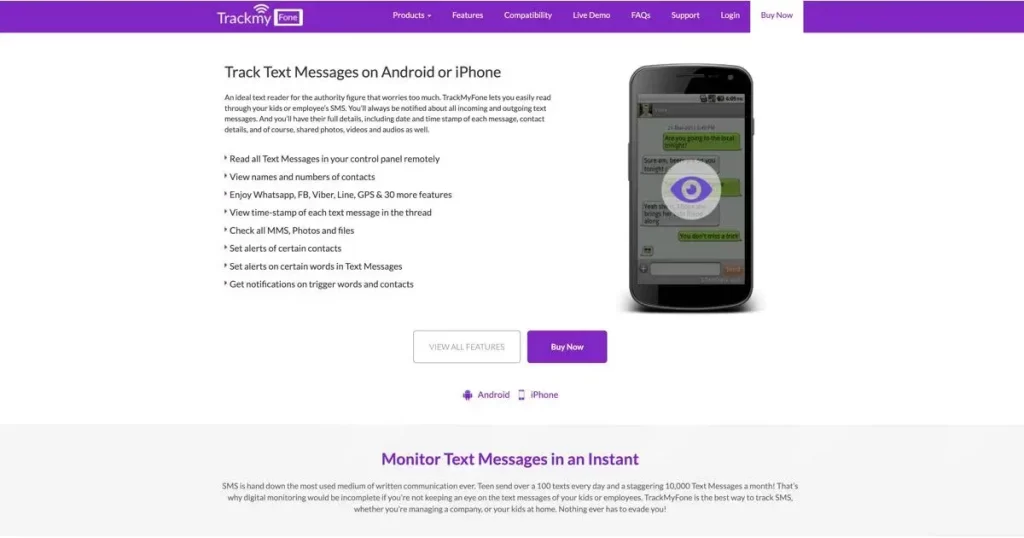 Here is a summary of other features TrackMyFone offers:
Viewing names and numbers
Monitoring 30+ social media apps, like Whatsapp, FB, Viber, and Line
Viewing the time-stamp of each message
Viewing all media messages like MMS, photos, and files
Setting alerts for specific contacts
Setting alerts for specific phrases in text messages
Spyzie: iMessage Spy App
Spyzie also provides a wide range of features, including text message tracking. Here is a summary of its features: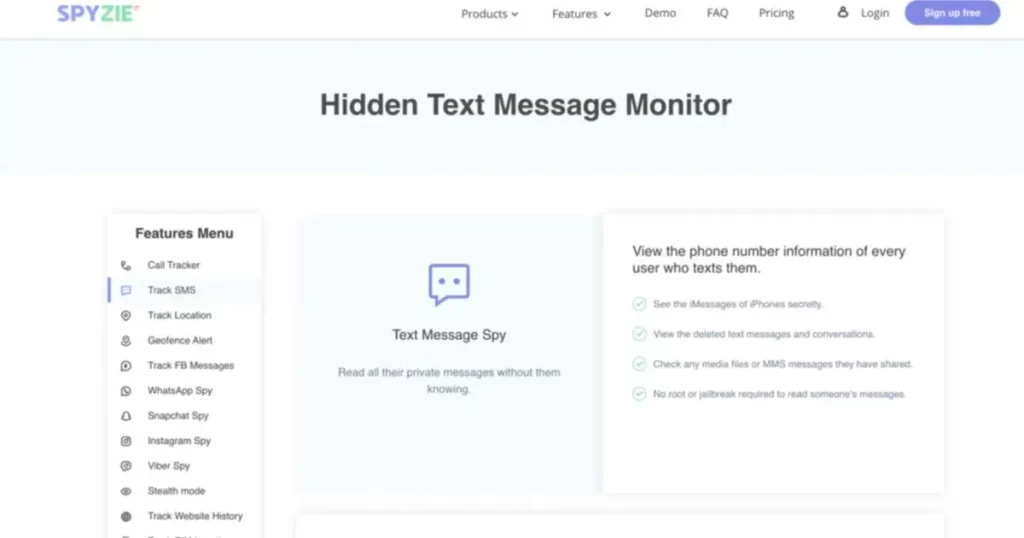 Child Monitoring: Parents may be unaware of their children's activities, which is common. With the assistance of Spyzie's Snapchat spying monitor, parents will always know what their kids are up to.
Employee Monitoring: While they should be working, employees regularly slack off at work, wasting time on Snapchat when they should. You may check if your worker is truly working or pretending to work via Spyzie simply by seeing what he or she is doing on the mobile phone.
Checking the OTPsPs: Spyzie may supply you with the passwords for every platform your kid has a presence on. You'll still need the OTP even if you have your kid's username and password. Whenever your kid gets this OTP, you may check it via Spyzie's message monitor. This allows you to access their private accounts without them realizing it.
Message Monitoring Without Root or Jailbreak: All of the functioning solutions ask you to root or jailbreak the target phone if you try looking for a message monitoring application. Spyzie, on the other hand, has a high-tech design that allows it to perfectly deliver someone's private messages without requiring root or jailbreak.
Secret Message Monitoring: To make sure that you never get detected reading someone's private messages, Spyzie has made some extra steps. The good news is that even without having physical access to the target phone or installing any app on it, you can monitor messages for iPhones with Spyzie. You need physical access to Android phones, but the app is completely hidden.
Spyera: Spy App Text Message
This app can also remotely captures all incoming and outgoing text messages on the target phone. It can upload all the data to your dashboard, and you can access it via your web account.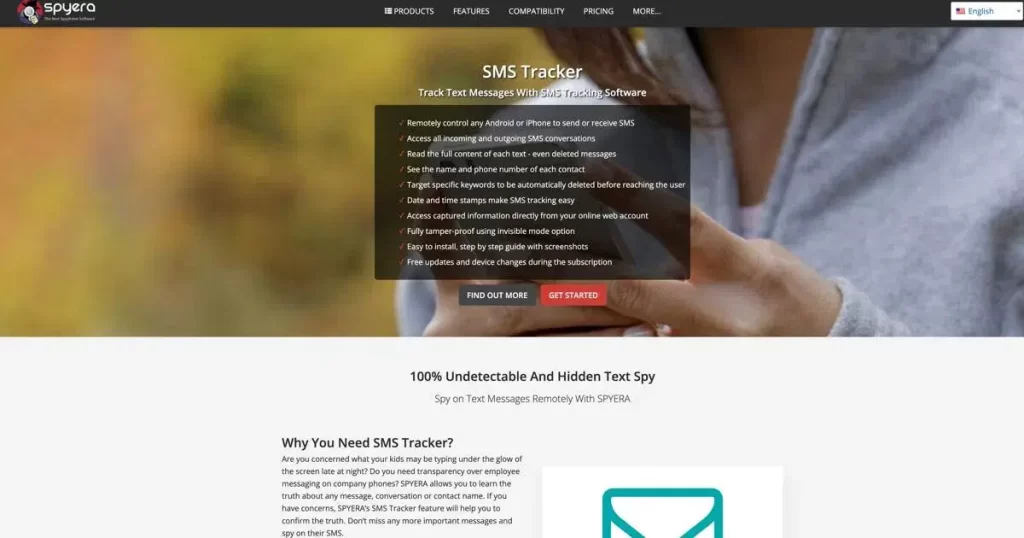 All the data, such as time stamps, details of the contacts, the content of texts and MMS, and also the deleted messages, are recorded on your Spyera dashboard.
Cocospy SMS and MMS Spy App
Cocospy also provides some great features for text messages, including: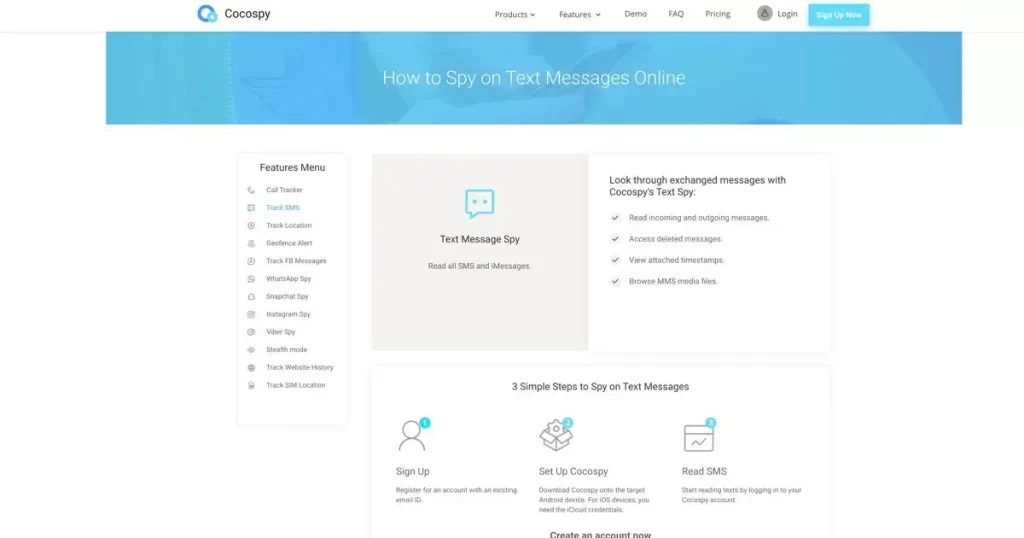 Reading incoming and outgoing messages.
Accessing deleted messages.
Viewing attached time stamps.
Browsing MMS media files.
Conclusion
In this article, we reviewed the text message spying feature of SPY24 as the best app to read someone's text messages. Also, we tried to take a look at some other apps to be able to compare. Overall, you can't find a better option than SPY24 for reading text messages on other phones. Besides, SPY24 provides you with lots of other features in an affordable package, so you won't need to install any other software.
FAQ
Here are some of the most common questions people ask about text message monitoring:
What is SPY24?
SPY24™ is the best surveillance app for monitoring, tracking, and controlling employees, family members, and children on their phones. This app will keep you updated on your target users' phones and online activities without being detected. They will never figure out that you are spying on them, making it a safe app to use for ethical hacking.
Is it easy to use?
SPY24 is an easy-to-use and user-friend spy app that gives everyone the ability to monitor someone's phone. You don't need to be an expert to use this app.
Does SMS tracking require any special hardware or software?
You don't need any special app, tool, hardware, or software to use SPY24. You just need one-time access to the target phone to install the app.
How secure is SPY24?
SPY24 is one of the safest spying apps on the market. Despite many other platforms that have a history of clients' data leakage from their company, SPY24 has never faced such issues.
How can I track and read text messages on someone's phone?
With SPY24, you can keep track of your target users' text messages on their cell phones. You may track all text messages sent and received by the target phone simply by installing the SPY24 application on the device.