Spy App Reviews
Spytech Review 2023: (Realtime-Spy) Monitor Your Child Online
Do you believe that your children are capable of using a computer independently and responsibly at all times? Do you have faith in their ability to use the Internet properly and without any restrictions? If you are like the majority of other parents, you definitely responded "No" to at least one of these questions. You have shown an interest in parental controls and surveillance if you made the same statement.
SpyAgent is comprehensive monitoring software that filters content from the Internet and includes some parental controls. Read this Spytech Review, in which we will explain how you may use SpyAgent to better safeguard your children when they are using the Internet.
| | |
| --- | --- |
| Androidi,OS(iPhone/iPad) | Yes |
| mac and PC | Yes |
| Website:  | https://www.spytech-web.com/ |
| Domain Age: | 1999-02-14 |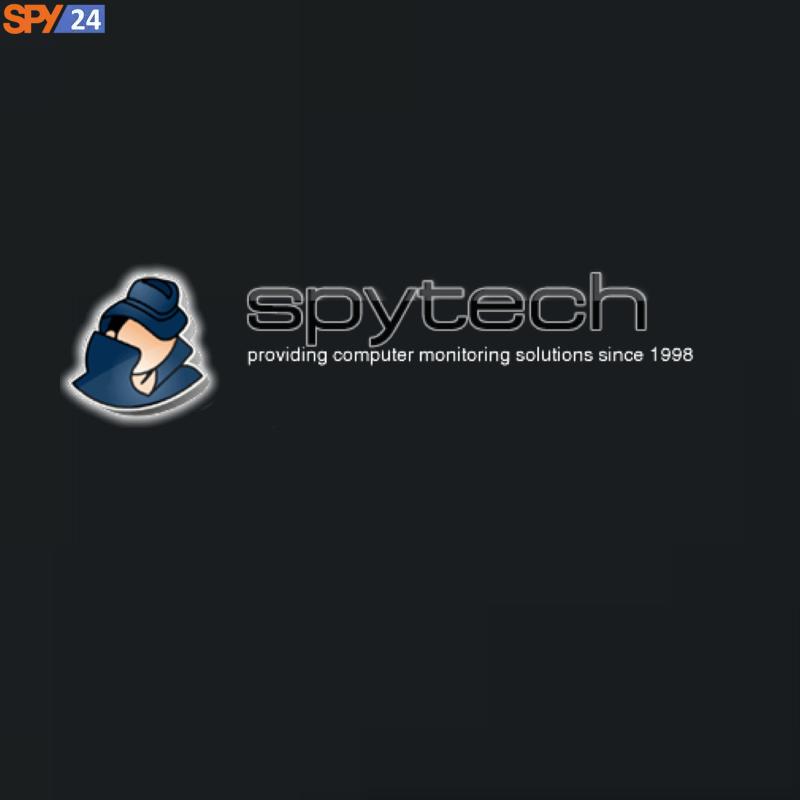 What is Spytech Software and How Does it Work?   
Spytech SpyAgent is a piece of software that gives you the ability to watch everything other people do on a computer while being completely invisible to them. SpyAgent offers a wide variety of important computer monitoring functions, including site and program material filtering, conversation client blocking, shutdown timing, and remote transmission of logs by email or FTP. 
SpyAgent also filters the content of websites and other applications. SpyAgent is the best all-in-one pc monitoring software package available because of its unrivaled feature set, which is both cutting-edge and very straightforward to use.
SpyAgent's logging capabilities are superior to those of its competitors. SpyAgent is able to log anything, including what the user has typed, the files they have downloaded, the people they have talked to and emailed, the website searches they have performed, the programs they have run, and a great deal more; all of this information is time stamped and dated for ease of viewing. 
For later usage, any and all logs may be simply stored, archived, and exported as reports with no effort. SpyAgent may be easily set to keep a track of activity for all users on your computer.
SpyAgent is a very effective software solution for spying on others that also functions as a tool for screening material. SpyAgent has the ability to prevent the user from accessing certain websites, programs, and even chat messengers while it is running in the background. This filtering may be applied to websites, applications, and chat messengers.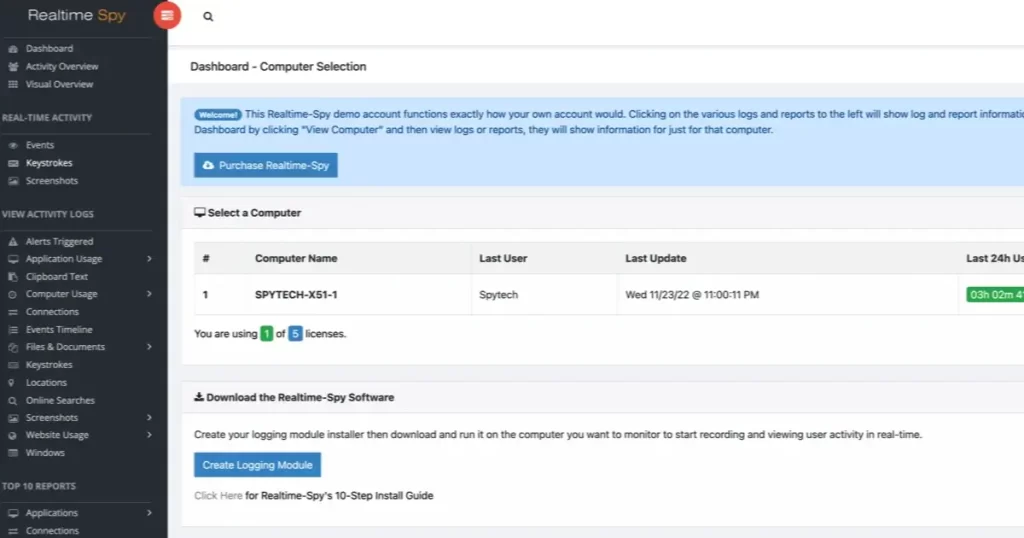 SpyAgent is equipped with a wide variety of security and covert features. It is able to avoid detection by common third-party "spyware" detectors and is undetectable in all versions of Windows (it does not even appear in the task manager on any Windows platform). 
SpyAgent has robust lockdown and logging scheduling capabilities, as well as log file encryption, optional startup warnings, and much more.
SpyAgent is capable of logging almost every action that a user does, which results in the generation of a large amount of information on user behavior. As a result, important log management and reporting tools are an absolute need. 
SpyAgent has built-in Top 10 report generators, summary report generators, log cross-referencing, filtering, and search functions. These features were designed to simplify the process of viewing and managing logs.
SpyAgent has long had a reputation for being very simple to use. With SpyAgent's built-in quick configuration wizard and its intuitive graphical interface, you may have the program up and running and monitoring in a matter of seconds. SpyAgent may even be configured to run smoothly on computers with a lower processing speed.
How to Protect Your Kids with Spytech   
SpyAgent is a monitoring software that also filters content on the Internet and includes some parental control options. It does not provide as many control options as other competing parental monitoring applications.
You have the ability to set SpyAgent to record a wide variety of actions, such as the keystrokes (text that was written), apps used, windows opened, websites visited, and chat discussions. Additionally, it is able to restrict websites and apps for Windows, including chat software.
Although SpyAgent may be used in a "stealth" mode, rendering it undetectable, rather than secretly spying on children, parents are usually advised to be open and honest with them about the monitoring they are doing of their activity. It is important for parents and children to discuss the ground rules and expectations of the family.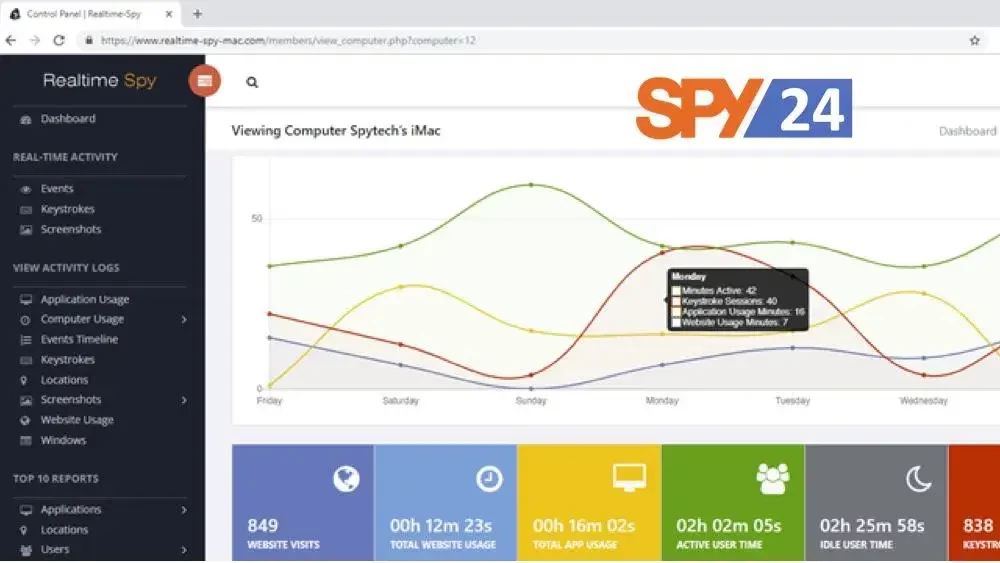 You can even have more protection over your children with the SPY24 app, the only Android spy program that records and intercepts all phone conversations, reads and writes to all applications, records all text messages, and does all of this while remaining entirely invisible. It has over 150 distinct capabilities, making it the most powerful monitoring tool for Android.
Spy on any device with the help of our cutting-edge computer monitoring software. Currently, the most flexible computer monitoring program available is SPY24, which lets you read emails and instant chats, save browsing data, and keep an eye on both Macs and PCs.
With the iPhone monitoring app, SPY24, you can spy on text messages, applications used, phone calls, and location. Because it contains a function that lets you listen in on incoming and outgoing calls, SPY24 is better than other iPhone spy applications.
What devices does SpyAgent work with?   
SpyAgent is compatible with Windows 11, 10, 8, 7, Vista, and XP, in addition to some of the earlier versions. Because previous versions of Windows are no longer supported by Microsoft and provide a potential security risk, you shouldn't be using anything older than Windows 8.1 on your computer.
SpyAgent is not currently offered for use on any other devices. You will need to utilize parental control software such as Kaspersky Safe Kids, Norton Family Premier, or iOS's Screen Time (for iPhone and iPad) in order to monitor and supervise your children when they use devices that do not run Microsoft Windows.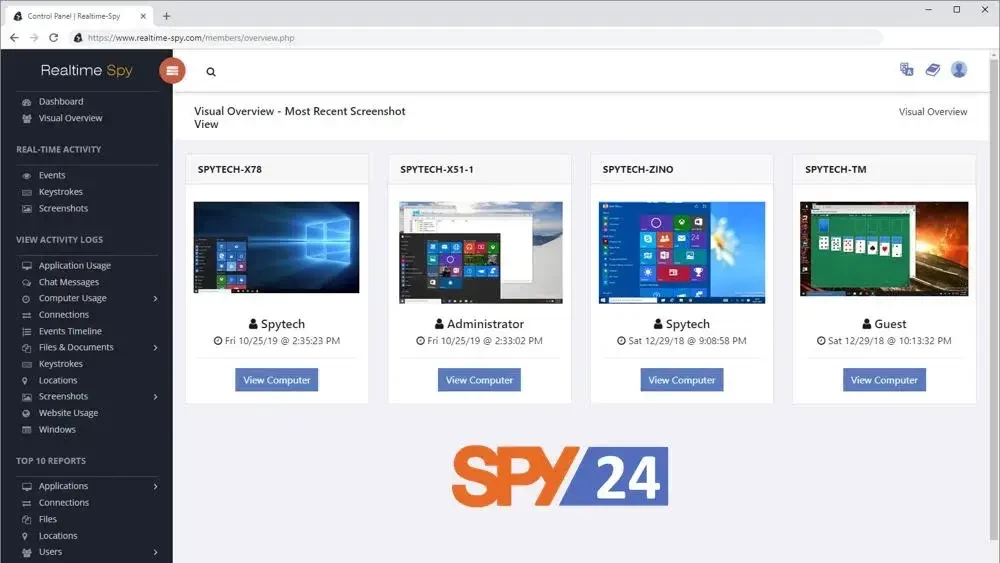 Spytech, the firm that markets SpyAgent, also markets SentryPC, a product that is compatible with Macs and has features that are similar to those of SpyAgent.
If you want a spy software that works with phones too, you should use SPY24. SPY24 app capabilities on phones include:
• A monitoring software for WhatsApp
When you utilize SPY24, you will have the ability to secretly monitor WhatsApp messages, phone calls, and multimedia files that are delivered to and received on the mobile device that you are monitoring.
• Instagram spy app
When you use the SPY24 Instagram spy, you will have access to all of the images that are kept inside the Instagram app installed on the mobile device or tablet that you have given to your kid to use.
• Checking the Twitter app
On Twitter, children often communicate in a manner that they would never dream of expressing to another person's face. On Twitter, teenagers often say things that they would never say in real life. Despite the fact that we are powerless to change the way it works, we are still in a position to forestall the most disastrous of possible outcomes from taking place.
• Blocker app for android
Your children will not be able to use any of the electronic devices that they have access to if you use the "remote application blocking" function of SPY24. This feature offers you the power to ban certain applications. With the help of the SPY24 Android App Blocker, you are able to block certain programs or all apps in their entirety, and you may unblock them whenever you want.
• Downloadable keylogger programs
If you install the keylogger software that is provided by SPY24 on your children's mobile devices, you will be able to keep a close eye on what they are doing on those devices at all times. You have the capacity to learn about their activity and ensure that they are not sending inappropriate messages or giving the passwords for your credit card to their friends or other third parties.
• Signal tracking app
SPY24 is still able to monitor the activities of the Signal communication program, despite the fact that this software is often regarded as being the most secure and private of all messaging services owing to the high degree of secrecy it provides.
Features of Spytech Realtime-Spy Software
Spytech Realtime-Spy software provides a comprehensive set of features that can be used to track and monitor activities on any device. The software can be used to monitor activity on PC, Mac, and Android devices. It can be used to monitor keystrokes, screenshots, emails, chats, web history, location, and more. The software also provides advanced features such as remote access, remote control, and remote file transfer.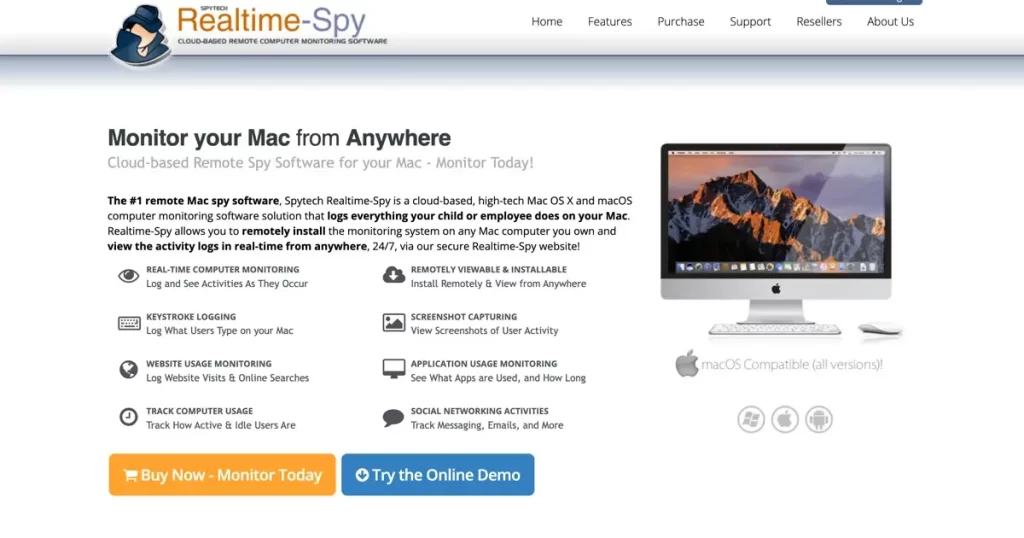 Tracking someone remotely
Realtime-Spy monitors your mobile device's location and updates your member's area whenever it changes. Your tracked locations will be mapped out.
Cloud-based device monitoring
Realtime-Spy's Android surveillance service saves all data, including text messages and photos, in a private online account. The logs are divided by the mobile device for easy reading.
Get a copy of every picture anyone takes, and see it as it's being taken, in real-time.
Document the time and date of all incoming and outgoing calls made on and through your Android device.
Look at the user's live images, messages, and other updates as they happen. Logs are updated immediately.
Identify the programs that were utilized, when they were used, and for how long users spent in each app.
Visited URLs, search terms entered, and download times will all be recorded in precise detail.
Know where your phone is at all times by following its GPS signal.
Instant Notifications of Events
Get real-time alerts on user behavior, including phone calls, texts, app usage, and website visits that you don't want to miss.
Messages Sent using Short Message Service (SMS)
Track SMS/text conversations and observe who people are chatting with.
Easy-to-understand top 10 reports on most-used apps and websites, most-visited places, most-called numbers, and more can be generated.
Communicating Via Social Networks
Check your Snapchat, Instagram, Facebook Messenger, Kik, Tinder, WhatsApp, Viber, and other app notifications here.
See how active each device has been, which apps and websites have been visited, which numbers have been texted and phoned the most, and more with Realtime-full Spy's activity overview.
Keeping Track of Your Calls and Texts
The call and text message logs provided by Realtime-Spy will reveal the phone numbers dialed, the callers' identities, and the duration of each call.
Possibility to View Activity Records
Everything from app use and notifications to photo capture and website navigation can be viewed in real-time with Realtime-Spy. All data is stored in activity reports that can be filtered, searched, and sorted with ease.
Top 10 reports are available in a variety of visual formats on Realtime-Spy, including those that show the most often used phone numbers, websites, pages, apps, duration of use, online searches, common locations, and more.
Alerts Updated Instantaneously
You may set up Realtime-Spy to keep an eye out for certain words. You can set up quick email alerts to be sent to you whenever the user of your device sends a message containing a monitored keyword or engages with that term in an app or on a website. Warnings that are triggered can be viewed at any time.
Because Realtime-Spy records your device's precise location, you'll always know where it is and when its location shifts.
If you're worried about your child's use of an Android device, Realtime-Spy can help you keep tabs on their activity. Track their whereabouts, see who they're chatting to, see what websites they visit, see what games they play, and know how much time they spend doing each. Parents can keep an eye on their kids from anywhere as long as they have access to a web browser and an internet connection.
Deploying Realtime-Spy over a business or institutional network facilitates centralized log viewing via the Realtime-Spy webspace. The network administrator may easily monitor the actions of individual devices with just a few clicks. Once in place, supervisors can keep tabs on staff without being on the premises. System managers may now keep tabs on all of your major networks from a central, secure location.
What apps can SpyAgent monitor or control?   
In this section of the Spytech Review, we introduce you to the apps that the software can monitor. It has the capability to monitor and restrict the usage of apps that have been installed on Windows. You have the ability to pick any apps that have been installed on the PC, and SpyAgent will automatically shut them once someone opens them.
SpyAgent keeps track of when a program was launched when it was closed, and how long it was really used. SpyAgent can monitor and log any apps that users use. Users are unable to trick SpyAgent by just starting a program and allowing it to continue operating in the background since SpyAgent is able to determine how long the software was really utilized.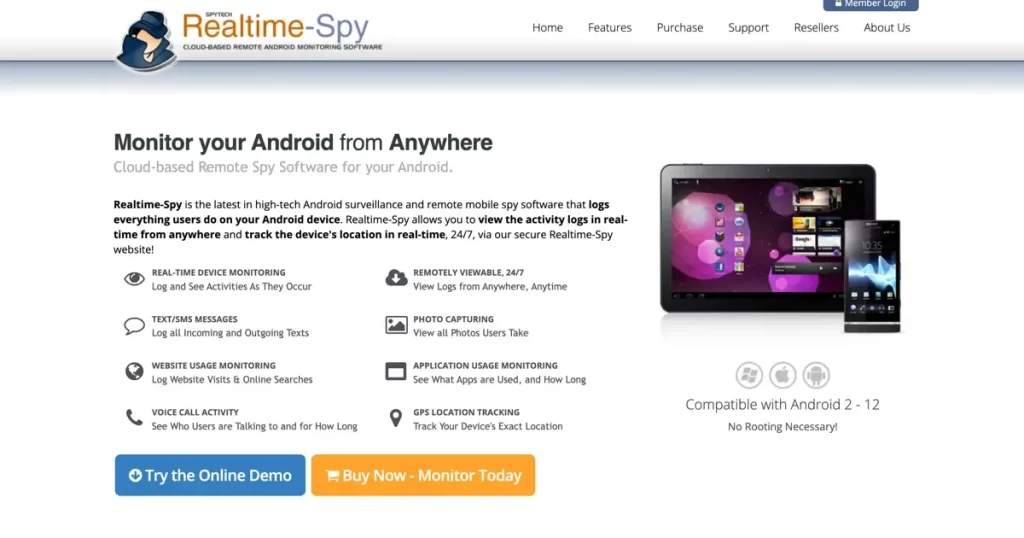 It is worth mentioning that unfortunately, you can't use it to monitor phone apps. All of the actions that are carried out on a child's smartphone may be seen by parents using parental control software like the SPY24 App. 
These actions include making calls, sending texts, taking pictures with the phone, storing contacts, and sending SMS messages. In addition to this, it monitors the videos that are captured, watched, and saved on the mobile devices children use.
Similarly, you may utilize parental monitoring to keep an eye on what your children are doing, monitor the amount of time they spend on the Internet, and gather information about the websites they visit. 
When you have this program installed on all of your devices, you will be able to check in on your children and see what they are doing from any place in the world.
Parental controls may keep a record of what your children have seen in their browsers. This record may tell you whether or not your children are seeing anything that contains violent content. By using this service, you will be able to shield your children from adverse contacts that may occur in the digital world, thus ensuring their safety.
Through the use of this app, which tracks call log data from the device that your child uses, you will be able to view incoming and outgoing texts, all of the contacts that have been saved on the device, photos and videos that have been stored and collected, connected wi-fi and hotspots, and other data made by smartphones.
Even non-technical users shouldn't have any problem browsing and understanding the underlying software since parental control apps are really simple to use.
Will SpyAgent work outside the home network?   
The program is installed directly on the device and monitors activity independent of the connection being used (that is, whether your children are using the Wi-Fi in your own house, the Wi-Fi of a friend, or their mobile data plan).
How granularly can SpyAgent filter content?   
SpyAgent filters using the categories that it has assigned to various websites. It also has the capability of filtering depending on keywords that are present in the URL. Additionally, it is able to ban websites depending on the content of such websites, and the level of sensitivity of this filter is adjustable.
There is an option called Allow Just the Above URLs, and selecting it will prevent access to any website that you have not expressly authorized (whitelisted). If your children are really young and just need to access a selected few websites, this can come in handy for you.
When a website that SpyAgent is not authorized to access is launched, you have the option of configuring it to either return to the homepage or exit the browser entirely.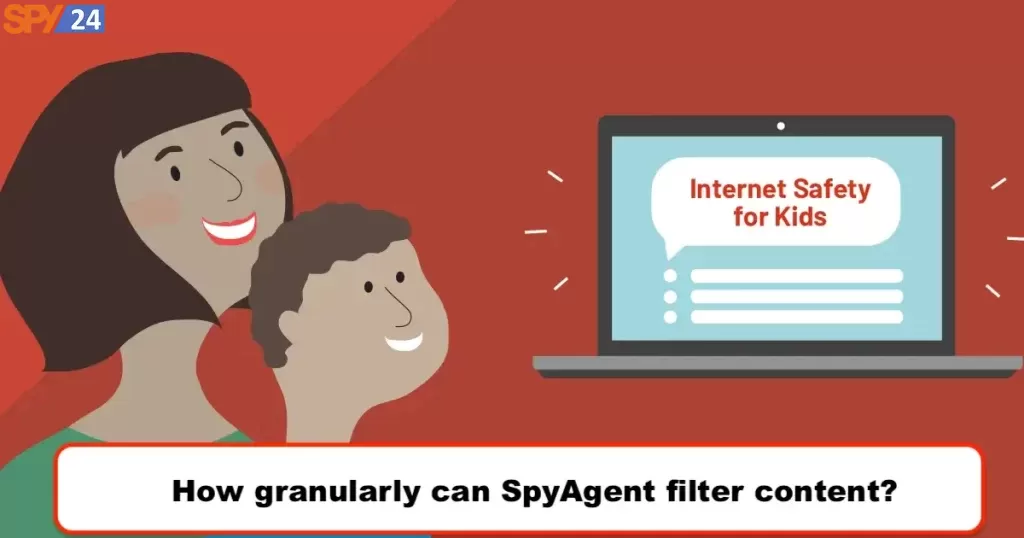 During our testing in order to write this Spytech Review, we noticed that SpyAgent reacted to surfing a little bit slower. Before SpyAgent took any action, we had a few seconds to go over each website. 
In addition, if more than one tab in the browser had websites that were not permitted, the browser would inquire as to whether or not we wanted to shut all tabs in the process of the Spytech review. If we made the decision not to, the browser would give us a few more seconds of browsing time before prompting us again.
What website categories can SpyAgent filter?   
There are ten different classifications: 
Dating
Drugs, Alcohol, or tobacco
File Sharing
Gambling
Gaming
Pornography
Sexuality
Shopping and Commerce
Social Networking
Weapons and Violence
In addition to that, the site's content may be used to apply one of the following three filters: Adult Material, Racism, and Swearing. You have control over the level of sensitivity that this filter uses.
How will I monitor my kids' activity with SpyAgent?   
There are five different methods to keep track of their activities:
SpyAgent's logs may be seen on the computer where the program is installed
Email notifications
Text/SMS notifications
FTP transmission of logs
Internet browser
Real-time activity notifications may be set up to be sent to you through email or text/SMS messages. Emails can include both a written explanation of the incident as well as screenshots of the event.
You have the option of receiving a Daily Activity Report, which details, in order of most recent action taken, everything that was tracked users did on a given day.
You have the option of receiving Top 10 Reports, which provide you with a ranked listing of the apps and websites that attract the greatest traffic.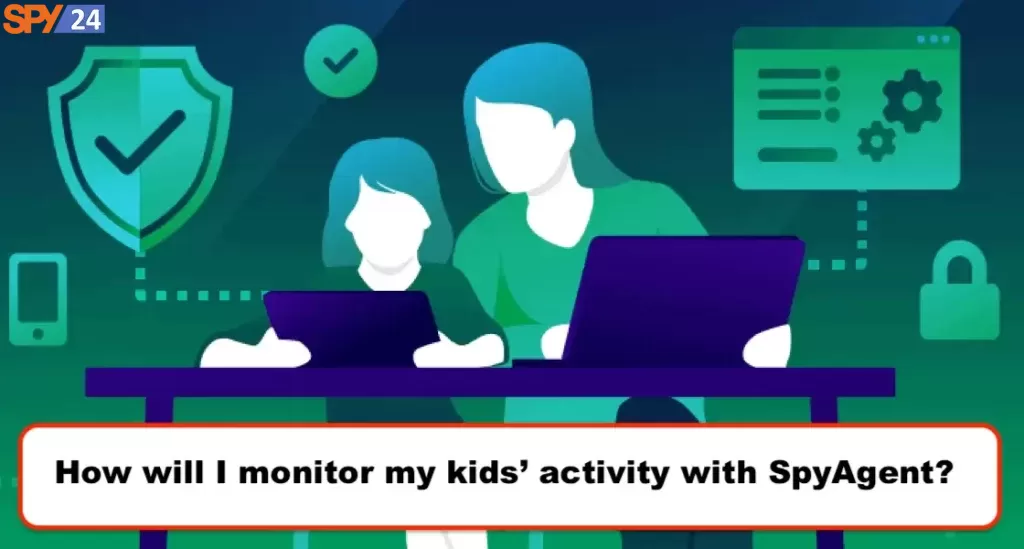 SpyAgent's SmartLogging function gives you the ability to configure the software so that it will only begin recording activity when certain keywords are found.
You have the ability to look through all of SpyAgent's logs for certain keywords or data. SpyAgent is also equipped with cross-referencing capabilities, allowing users to rapidly locate relevant information across many SpyAgent logs.
You are able to remotely see logs and reports thanks to the free companion service provided by SpyAnywhere Cloud. You can also stop and restart monitoring from distant locations. Other capabilities, such as the ability to see screenshots in real-time, are only available with a premium (paid) membership to SpyAnywhere.
SpyAgent will keep a record of the website URLs that have been navigated. You also have the option to activate the Capture Content of Webmail Sites and the Capture Content of ALL Sites features, although doing so is not required. These trigger SpyAgent to start recording the text of the websites that have been navigated.
Spytech Realtime-Spy Software Pricing Plans
Spytech Realtime-Spy software offers a variety of pricing plans to meet the needs of any user. The software is offered in monthly, quarterly, and annual plans. The monthly plan starts at $19.95, the quarterly plan starts at $79.95, and the annual plan starts at $99.95.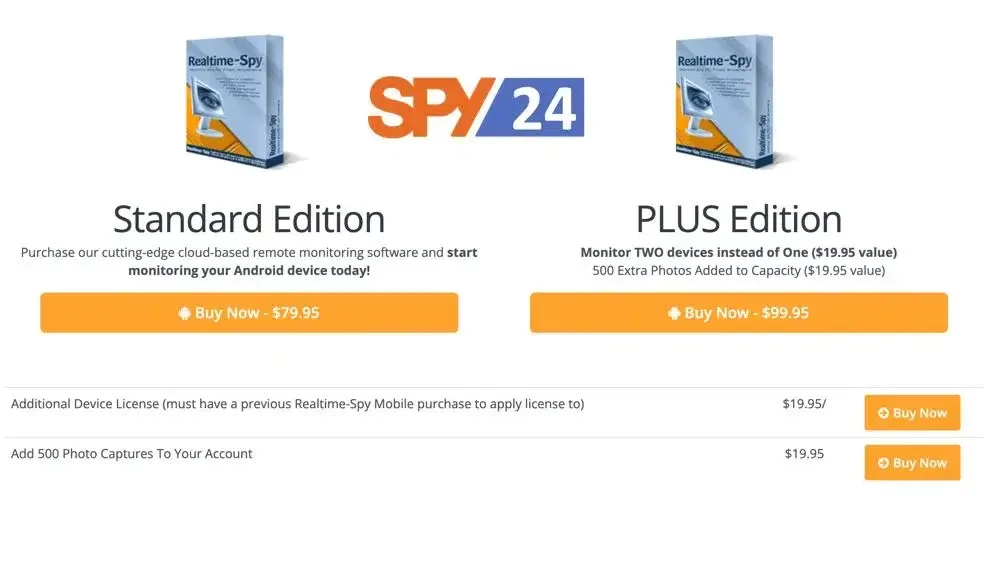 How To Install Spytech
Installing Spytech Realtime-Spy software is easy and straightforward. The software can be installed directly from the Spytech website. Once the software is installed, the user will be able to monitor and track the activity on their PC, Mac, or Android device in real-time.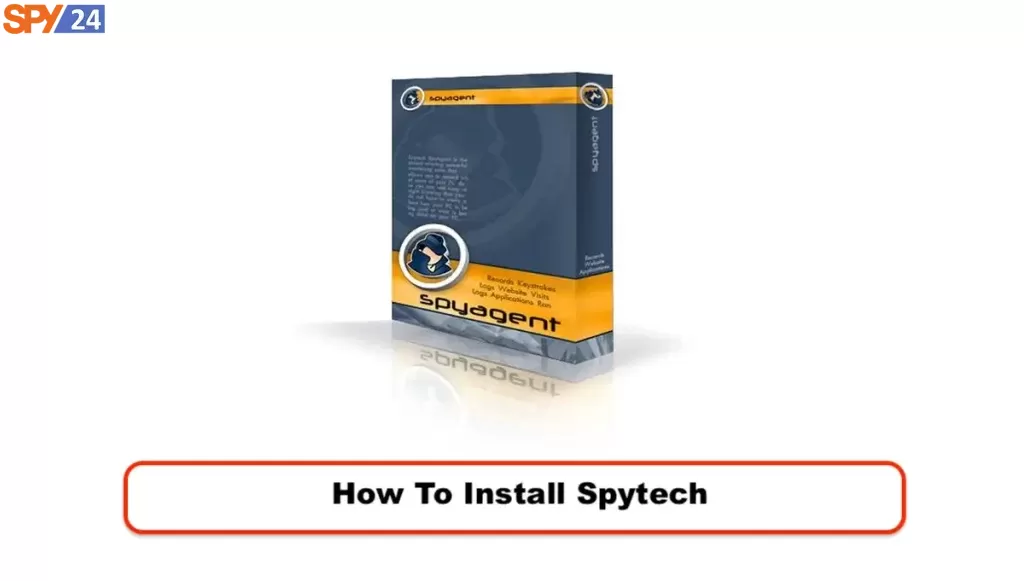 Start Monitoring in Merely Minutes!
Purchasing
Buy Realtime-Spy through our secure online ordering system and receive your account details immediately.
2. Download and Setup
Download the logging software by logging into your Realtime-Spy account. Run it on your computer locally, or send it to your computer for remote installation. As soon as the installation has been accepted and completed, invisible monitoring begins.
3. Observe Activity Logs
Login to your Realtime-Spy account from any browser-enabled computer or device and view logs from anywhere, 24 hours a day, 7 days a week. Uninstall remotely when you are finished monitoring.
Compatibility
Spytech Realtime-Spy software is compatible with PC, Macs, and Android. The software is designed to be used on all major operating systems, including Windows, macOS, and Android. It is important to note that the software is not available for iOS devices.
Does SpyAgent use a whitelist or a blacklist?   
SpyAgent employs a method known as blacklisting, which may be used for both websites and applications. On the other hand, you have the option to employ a whitelist strategy for websites if you choose the Allow just the Above URLs setting.
Does SpyAgent control screen time?   
SpyAgent control screen time; however, there aren't too many settings for the controls. You may program it to lock your computer at certain periods throughout the day, in increments of one hour each. On a daily basis, it will adhere to the same timetable. There is no way to create a timetable that is unique for each day of the week.
When we tested the software for the purpose of writing this Spytech Review, we found out that when you lock the computer using SpyAgent, you cannot choose which apps are allowed to run while blocking others depending on a schedule. It is either all programs or none at all.
What browsers does SpyAgent work with?   
SpyAgent advertises that it is compatible with "All Popular Web-Browsers" and includes logos for Internet Explorer, Firefox, Chrome, and Safari in its interface. Our tests showed that it was also functional with Edge.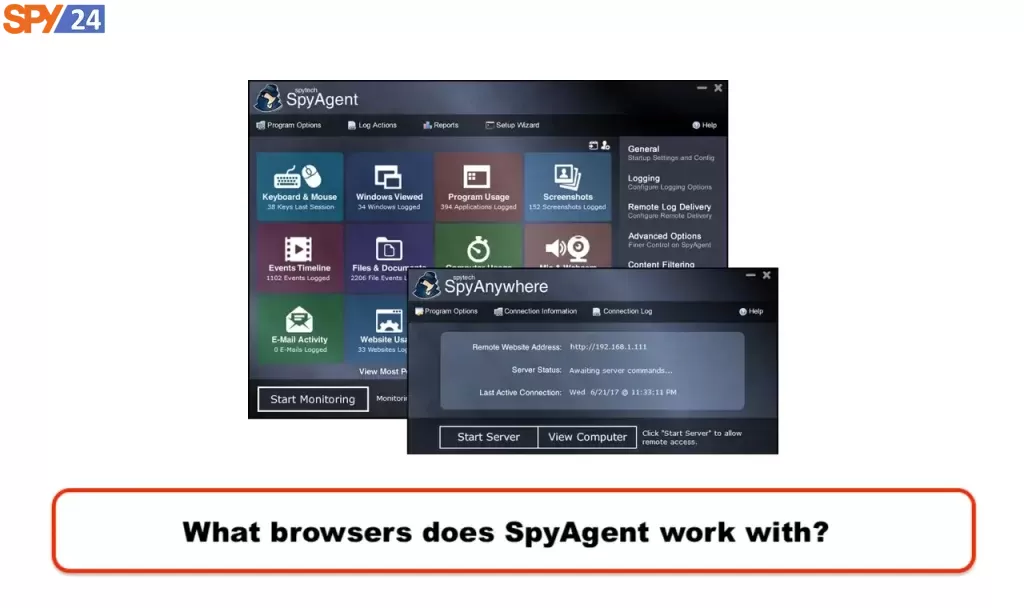 Because you do not want your children to be enticed to use a browser other than the ones that are supported, we suggest that you remove any browsers that are not supported by the platform. In order to stop your kid from running other browsers, you should instruct them to use a Windows user account that does not have administrative privileges.
Can SpyAgent filter HTTPS traffic?   
Yes, it is possible.
Can SpyAgent track my kid's location?   
No, it will not be able to monitor the location of your child. To be able to do that, we recommend you SPY24 app.
SPY24 parental control software that includes a GPS tracking feature offers you the opportunity to monitor exactly where your children are at all times. As a result, you can significantly reduce the likelihood of child kidnapping. 
You can quickly find out the whereabouts of your children at any given moment, despite the fact that you may be at a different location. It gives you information about their precise location, as well as directions and a map showing the path they followed to get there.
If you do your research, you may be able to locate software that even gives you the ability to track where your children are at any given time, owing to the fact that they own a SIM card and that it monitors data from sim cards and makes it possible for you to watch the location of the target in real-time.
Spy24 is a software that may be used to monitor location, and it keeps a record of the places that have been visited together with the date, time, latitude, and longitude coordinates of those places.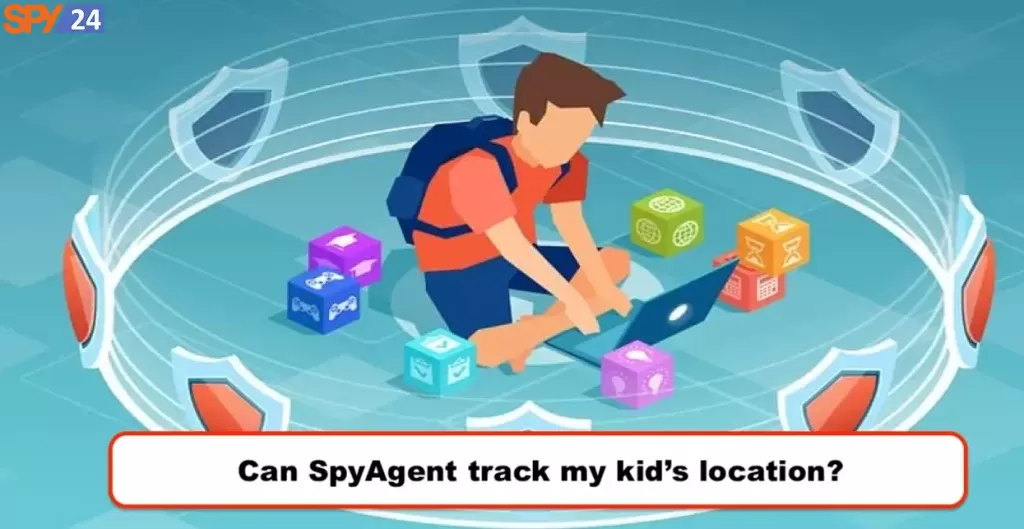 You will have the ability to track the location of your children in a covert and distant manner. You are able to analyze every piece of information using the GPS tracking tool, including an individual's address, date of visit, duration of stay, travel routes, and much more.
In addition to this, it gives you the ability to monitor the times at which your children entered and left a certain region. In addition to that, a complete address of the location along with a link to a map of the area is available.
There may be times when your kids are adamant about staying at home. You may use this tool to evaluate whether or not they are being honest with you when they are far from the home and you are in control of the situation. In addition to this, being able to monitor your child's location gives you the ability to decide whether or not they are in a secure setting.
Is SpyAgent easy to use?
The program was developed with simplicity in mind, making it accessible to users of all experience levels. The graphical user interface is easy to browse, and the menu gives you the ability to swiftly configure the essential components of the program without giving you any trouble.
The reports and log data may be obtained without much effort, and the formatting of the data is done in such a manner that the parents will not have any problems understanding what the data means. In addition, a guided tutorial is available for parents to use so that they may rapidly configure the program without having to change the settings themselves.
If a parent does not want to customize the settings, they have the option to simply utilize the existing profiles and apply them, or they may easily build new profiles that are tailored to their preferences and needs.
How can I manage the settings of SpyAgent?   
You will be responsible for configuring the settings on the computer that is currently running SpyAgent. You will need to cease monitoring in order to do this. As soon as you have finished making the necessary adjustments, you may resume monitoring.
You have the ability to remotely alter settings, halt and restart monitoring, erase logs, and remove SpyAgent thanks to the complimentary companion service provided by SpyAnywhere Cloud.
How frequently is SpyAgent updated?   
When You look at the changelog, you find that the program receives significant changes anywhere from one to four times per year. We are not aware of the frequency with which the database that is utilized for web filtering is changed at the time of writing this Review.
How easily can my kid get around SpyAgent?   
SpyAgent prompts you to create a password before allowing you to deactivate monitoring, modify settings, or remove it from your computer.
How many devices or accounts do SpyAgent cover?   
You have the option of purchasing a license for either one or three computers. I'll fill you in on the price structure later.
What else do I need to know about SpyAgent?   
It is important to note that the software that is sold by Spytech, known as SpyAgent, is not considered spyware. It explains that spyware is often placed on a computer without the knowledge or consent of the user of the PC and that the information that spyware gathers is typically sold to a third party. 
Spytech states that the installation of SpyAgent is the responsibility of the owner of the computer and that the purchaser of the SpyAgent program is the only one who has access to the data that is gathered.
The firm also mentions that the program has the option to warn users when they are being observed. This feature is known as the Splash Warning, and it may be activated by the user. Here in this Spytech Review, we strongly suggest that you turn this on so that your children are constantly reminded that they are being watched. 
You have the option of running the program in "stealth" mode, which makes it invisible. However, rather than secretly watching your children's activities, we suggest being open and honest with them about the monitoring you are doing.
According to Spytech, "Our monitoring software is lawful as long as the customer puts it on a computer they own. If the program is purchased and subsequently installed on a computer that the purchaser does not own, then the purchaser may be in violation of both state and federal laws.
SpyAgent gives you the ability to choose which PC users it will monitor, allowing you to protect your account or the accounts of other adults from being spied upon.
It is possible to utilize SpyAgent as a keylogger, which is software that records everything that is entered on the device. As a result, it is able to capture the contents of any software's input.
SpyAgent is going to be flagged as malware by certain security products due to the fact that it is a keylogger. keyloggers have the potential to be misused for illegally eavesdropping on individuals. If your security program detects SpyAgent, you must either verify that it is safe to use or instruct the security program to disregard its presence.
SpyAgent is capable of recording text conversations carried out in a wide range of instant messengers (WhatsApp, Skype, etc.). It is able to capture sound by making use of the microphone on a personal computer. You may also program it to capture pictures at a certain time using the camera on your own computer.
SpyAgent is equipped with a remote desktop client that enables you to keep control of a computer from a remote location.
Even though the software itself isn't that old, the SpyAgent program features an outdated graphical user interface.
SpyAgent provides remote support in addition to their in-depth online documentation, online helpdesk, and online support forums. Spytech, which has its headquarters in Minnesota, is the company that is responsible for developing SpyAgent. 1998 marked the beginning of operations for the firm.
What does SpyAgent cost?  
Although the license you purchase covers the version that you purchase for as long as you use it, you have the option to pay additional fees in the future to upgrade to a newer version of SpyAgent.
If you decide to utilize the companion service offered by SpyAnywhere Cloud, you have the option to pay for a premium membership in order to access extra services, such as the capability to examine screenshots in real-time. This costs $19.95 on an annual basis for each PC.
Who Is SpyAgent Best For?  
SpyAgent is particularly helpful if you wish to limit your children's activities on a Windows computer while still keeping a careful eye on what they do on the computer. It is impossible for it to assist you with any of those other devices since it does not function on any other devices.
If your children use electronic devices other than a Windows PC (which is very likely the case!) you will almost surely find that you want more comprehensive parental controls that are compatible with a wider variety of electronic devices, such as SPY24. Even if your children solely use Windows, you are likely to be happier with one of the aforementioned alternatives than you are with SpyAgent.
What you need to get done:
Define the functions that you want from software designed for parental control and Internet blocking. Begin by applying what you've learned from going through this review.
Determine whether or not you and your children will benefit from using SpyAgent.
If you decide to go with SpyAgent, you will need to install and configure it. Take into consideration the suggestions provided here as you go through this review.
Have a conversation with your children about the settings that you set up. Talk to each other both during the initial setup of SpyAgent and on a frequent basis thereafter. Parenting cannot be replaced by technology in any way.
Conduct regular assessments to see how well the software is serving your family's needs. Make the required adjustments to both the program and your settings.
If you need software with more options, we recommend you SPY24. 
SPY24 or Spytech? Which is Better for You?
Although Spytech can help you monitor everything on a PC, as we mentioned in this Spytech review, there are better options available, such as SPY24. Tracking the desktop and laptop computers of your workers and youngsters who use the Windows operating system enables you to remotely monitor and manage how they use digital media. 
With the help of the SPY24 Windows monitoring tool, you can sneak into Samsung, Dell, HP, Acer, LG, or any other Windows PC. Software that can remotely monitor Windows computers, such as desktops and laptops, is referred to as "Windows monitoring software." Using a Windows spy program, one may covertly observe what's going on.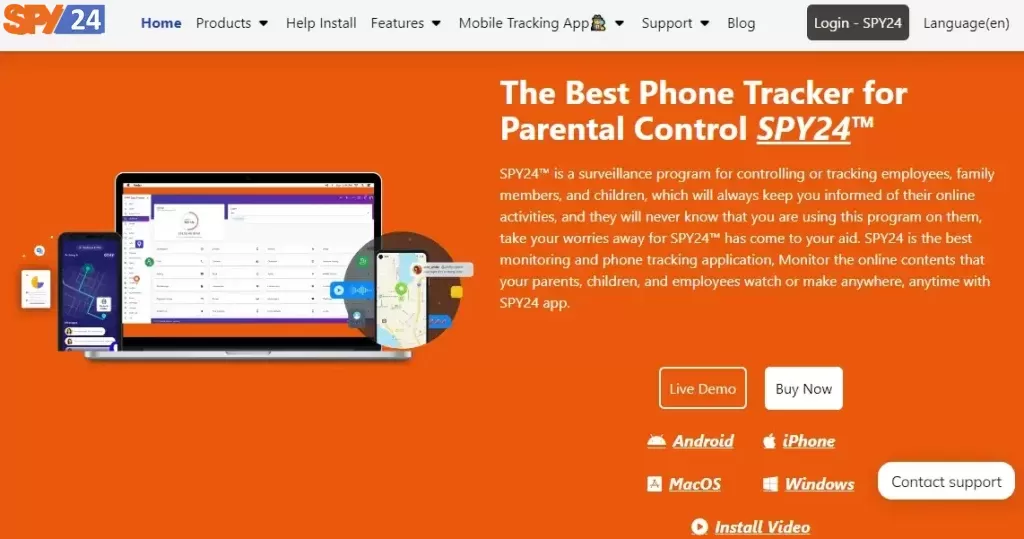 You may spy on any computer or laptop using the cutting-edge capabilities of SPY24 computer monitoring software, which is accessible from anywhere and at whatever distance you want. The MAC and PC monitoring program, SPY24, may carry out covert actions without the target's knowledge. You may, for instance, see the precise moment that each action on a PC or MAC device will occur online.
SPY24 Install application free The Most Powerful Hidden Spying App to Monitor Android, IOS Cell Phone & Tablet Device Remotely. Best Android Parental Control App for Kids & Teens Online Safety.
Now take the liberty to monitor Android, and IOS devices with exclusive features better than ever before Monitor all Voice & Text Messages Communication records, Listen to & Watch Surroundings in Real-time Unleash Digital Parenting with Android, IOS Spy App Spy (Surround Listing & Front/Back Camera Bugging) IM's VoIP call recording on Android OS 13 & above With 250+ Surveillance Tools at your fingertips using Android Tracking & Parental Monitoring Software.
Conclusion
Spytech is an extremely useful application that gives parents the ability to keep track of all of their children's activities on the Internet. The program comes with a robust selection of functions and offers parents complete control over their kid's computer in terms of restricting access to inappropriate content and keeping tabs on what the youngster is doing online. 
Because it enables parents to successfully prevent access to information that is deemed improper for children, Spytech is unquestionably among the most complete parental control software currently available on the market. 
FAQ
In the final part of the Spytech review, you can read the most asked questions regarding the software:
Does SpyAgent become inoperable after a year? Do I need to renew it or pay for it again at some point in the future?
Not at all.  Your purchase is a one-time fee that enables you to use SpyAgent for as long as you want without incurring any further costs. As long as you continue to use SpyAgent, you won't be charged any further fees on a recurrent basis, and you'll get any minor upgrades that are released at no additional cost. 
Current users may take advantage of a significant price reduction for the purchase of major version upgrades. However, the SpyAgent software license will never expire despite the fact that Remote Spy Suite, which includes our SpyAnywhere Cloud service, costs $19.95 to renew after a year of use.
Does the SpyAgent process operate invisibly? Will it be obvious to users that it has been installed?
When installed in stealth mode, SpyAgent operates discreetly; that is, it does not manifest itself on the desktop, the taskbar, the task manager, or the start menu. 
SpyAgent has the ability to conceal its software install and log directories, making it impossible for other people to find them. SpyAgent was developed to make the absolute least amount of demand on your computer's resources so that it would have no effect whatsoever on the speed of your machine.
After making a purchase, how soon will I be able to download my purchase?
After the payment has been processed, you will be able to download any orders that you have paid for using PayPal or a credit card. 
Coinbase orders that were paid for with cryptocurrencies are handled manually, so there may be a little wait after the money has been verified before you get the download information. However, after your order has been completed, you will receive the download instructions.