Spy App
App for spying on phone (Mobic Spy App) 2022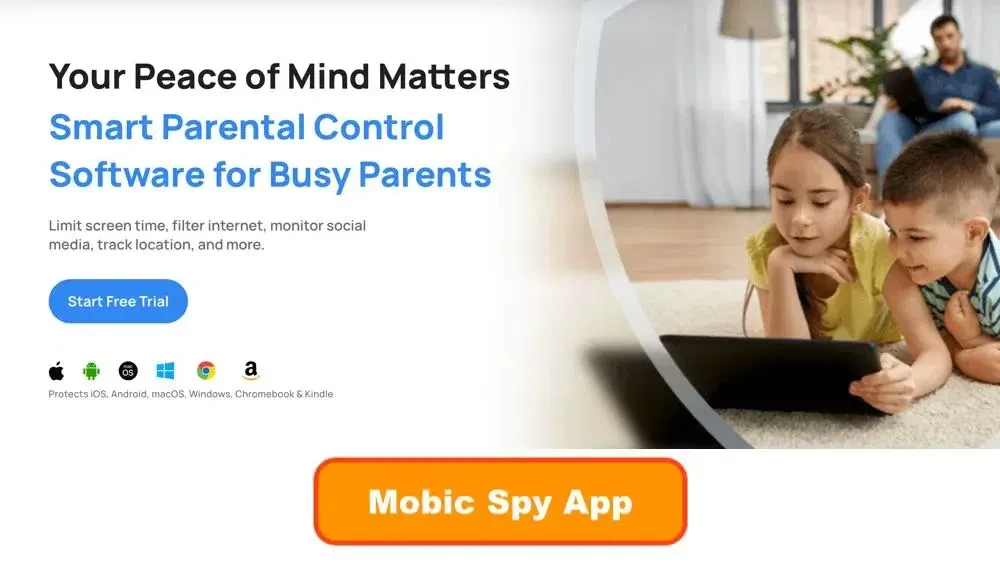 Best Phone Spying Apps Android/iPhone Mobic Spy Apps or Spyware Apps are smartphone surveillance software. These types of apps help you to track incoming and outgoing phone calls, SMS, and locations. These apps are hidden and undetectable to the end-user. This software also tracks GPS locations, browser activity, and messages from applications like WhatsApp, Facebook, Snapchat, etc. app for spying on phones:
Following is a handpicked list of Top Spying Apps with popular features and website links. The file contains both open-source (free) and commercial (paid) software.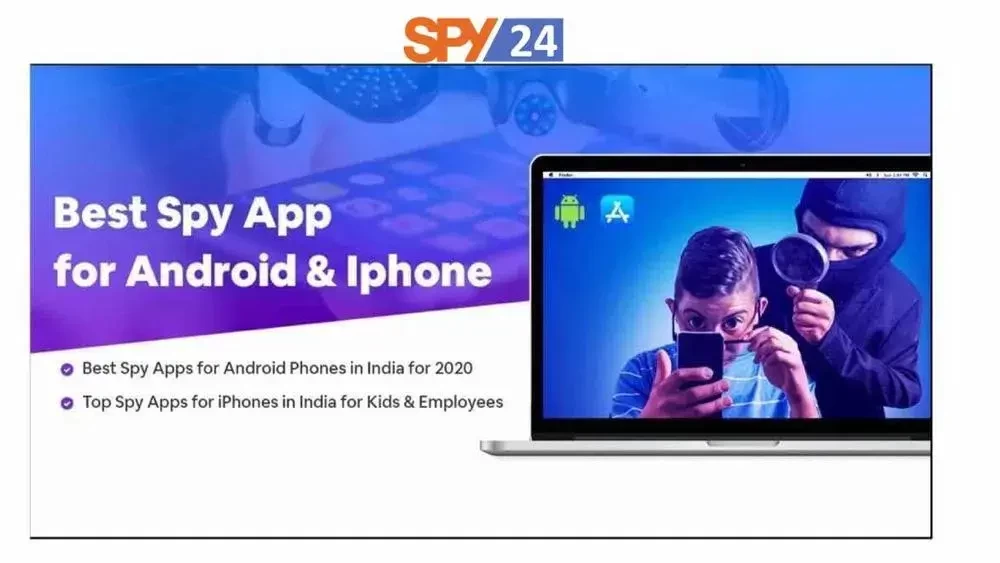 SPY24
SPY24 World's Most Powerful Monitoring Software for Computers, Mobile Phones, and tablets. The tool allows you to spy on a computer or mobile phone. It also offers a mobile viewer app for Android and iPhone.
Spy apps for android phones Monitor Any Android Phone
Features:
Offers Parental Control Software
Allows you to track the online activities of your employee
No Hassle Remote Installation Service
Track user's log on/off activity
Remotely uninstall or deactivate the software
Run in Hidden Mode
Stop software from being uninstalled
Access by a secure key combination
Provide dashboard alerts
Send Remote Commands from the Web
Automatic Remote Updates
Supported platforms:
SPY24 Install application free The Most Powerful Hidden Spying App to Monitor Android, IOS Cell Phone & Tablet Device Remotely. Best Android Parental Control App for Kids & Teens Online Safety.
Now take the liberty to monitor Android, and IOS devices with exclusive features better than ever before Monitor all Voice & Text Messages Communication records, Listen to & Watch Surroundings in Real-time Unleash Digital Parenting with Android, IOS Spy App Spy (Surround Listing & Front/Back Camera Bugging) IM's VoIP call recording on Android OS 13 & above With 250+ Surveillance Tools at your fingertips using Android Tracking & Parental Monitoring Software.
HighsterMobi
Highster Mobile is easy-to-use monitoring software. The tool records activities such as phone calls, messages, photos, GPS locations, browsing history, etc. This software also allows you to view phone records from anywhere, anytime.
Features:
No rooting required
Offers live control panel
Monitor phone calls
Read text messages
Track GPS locations
Allows you to monitor browsing history
View Pictures and Videos
Supported platform: Android, iOS
Highster Mobile
Mobic SPY APP
Mobil is a monitoring app for mobile devices, compatible with iOS and Android. It tracks almost all activities of the target phone: phone calls, SMS messaging, GPS locations, web history, messengers, social media, etc. It gives access to the target devices in real time and lets users record screenshots on the target phone.
Features:
Live control panel
Phone calls tracking
Text messages monitoring
An advanced GPS-tracker
Browser history tracking
Access to the photo gallery
Mobile Spy App – Parental Control, Site Blocker & Screen Time Manager.
MOBIC SPY APP parental control software has been used by over 2 million parents to keep their children safe and responsible on all of their gadgets. It's completely free to give it a go!
Parenting in the Digital Age Made Simple. Use the Best App for Parental Control In just four simple actions, you can keep your children safe online, have fun together, and remain connected!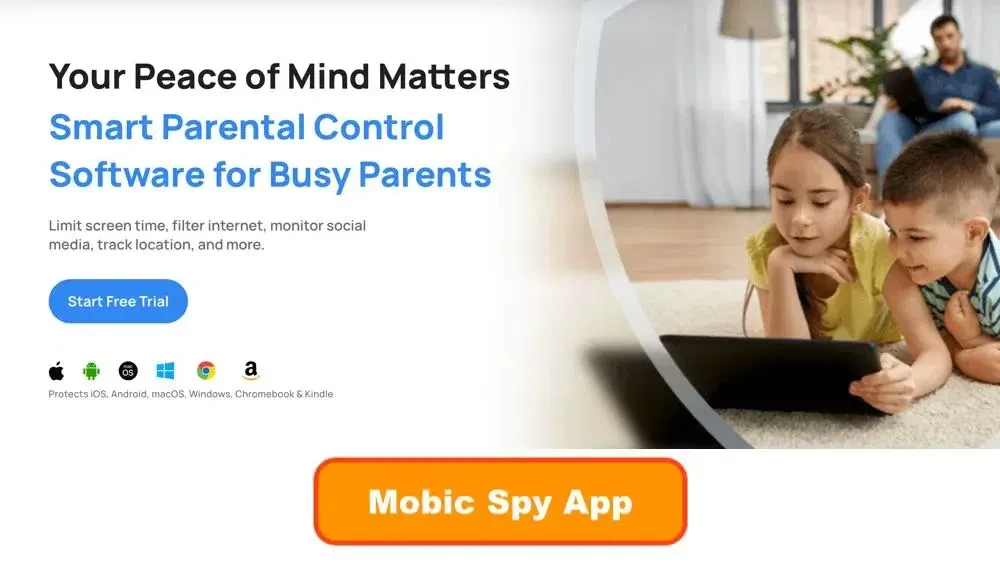 Personalized Parental Control Software
Limit :
Make a plan for your child's use of videos, games, and social media, and stick to it.
Protect yourself from hazardous stuff on the internet and in apps.
Monitor :
Monitor internet activity and keep track of where you are to avoid dangerous habits.
Collaborate :
Motivate your youngster to increase their self-esteem by setting attainable goals.
Prevent problems from occurring by keeping tabs on your online activities.
MOBIC SPY APP for Social Media
checks social media for potentially hazardous content regularly.
Search Engine for Relatives
See where you're at in real time. Using geofences, you can keep tabs on your child's whereabouts at all times.
Spyera
Spyera is a monitoring software for mobile phones, tablets, and computers. It allows you to remotely monitor your Android Phone, Android Tablet, iPhone, or iPad.
Features:
Allows you to monitor your kids and understand their world
Track your employees to protect your business
Easy installation and user-friendly web control panel
Supported platforms: Remotely monitor Windows PC and Mac OS
Spyera
Auto Forward
Auto forwarding is a Mobile phone monitoring tool for Android and iPhone. The tool allows you to see texts, calls, Facebook, Instagram, and more without having the phone in your possession.
Features:
Remote Access with OTA (over-the-air) link
Allows you to text message exactly as it appeared
View the complete list of contacts and their information
You can check every file and every activity that occurs on the target phone.
All text (SMS) messages are logged even if the device logs are deleted.
Easily track the phone on Google Maps at regular intervals.
Supported platforms: Works With All Androids and iPhones
Auto Forwar
iKeyMonitor
iKeyMonitor is an easy-to-use Tracking App, which is widely used as a parental control App to record keystrokes, calls, SMS, chat messages, website visits, screenshots, and more.
Features:
iKeyMonitor spies SMS text messages on the targeted iPhone and Android phone
Monitor WhatsApp messages sent and received on the targeted device.
Allows you to take screenshots of mobile activities periodically, including photos, videos, chat apps, and websites visited
Blocks specific apps and games on your iOS and Android devices
Backs up contacts on the target device
Supported platform: Supports Windows, Mac & Android.
Google Family Link
Google Family Link is a spyware and monitoring tool. You can use this tool to stay in the loop as your child or teen explores online. It helps you, the child, to make the correct decision about what they do on their device.
Features:
Allows your family to create healthy digital habits
Manage the apps your child can use.
Approve or block apps your child wants from the Google Play Store.
It allows you to keep an eye on screen time.
See how much time their child spends on their apps with weekly or monthly activity reports.
Provide a feature to set daily screen time limits for your child's device.
Keep an eye on screen time.
Supported platform: Android
XNSPY
XNSPY is the most comfortable and safest mobile application that allows you to monitor cell phones and tablets. The tool lets you remotely check all call logs and contacts lists.
Features:
Check your kid's and employees' locations on the map.
Record and listen to their phone recordings.
KeyLogger feature allows you to monitor keystrokes from an instant messaging app.
Allows you to spy on all their emails and keep tabs on which sites your employee and kids visit
Supported platform: Android, iPhone
Spyzie
Spyzie is a highly advanced Phone Monitoring Solution. The tool allows you to export all monitored data as you need. It also allows you to monitor all your Kid's activities on WhatsApp.
Features:
Check the Browser History of your kids and employees.
View Your target's Screen with A Simple Click
Able to Access The Detailed Call log of the Target Device
Remotely find all the photos saved on your Kid's phone.
View All Phone Activities at A Glance
Supported platform: Compatible with Android and iOS
Truth spy App
The truth is an Android spy app, which helps you get all the details of all the activity done on the phone of the target person's device. It allows employers to keep an eye on their employees.
Features:
Provide all the information about the location in real-time.
It helps you to get all the information about the text message that is being done or received by the target person.
You can get all the details like the date on which the call was made.
Get complete details of the call duration.
Supported platform: Compatible with Android and iOS
Truth spy App
Appmia
Appmia is the cell phone spy and tracking software that lets you spy on ALL activities of any iPhone or Android mobile device. It is easy to install on the mobile phone you want to spy on.
Features:
Appmia is a powerful spy phone software with highly innovative features.
A 24/7 customer support team is which helps you at every step of the way
You can spy on virtually any mobile phone remotely and invisibly.
It has been featured by several popular media outlets.
Supported platform: iOS & Android
Appmia
MobiStealth
Mobistealth is a spying app that remotely Monitor Mobiles & Computers. It allows you to track SMS, Calls, and Location. You can also monitor all the calls received and made from their phone.
Features: Mobile Spy Apps
Helps you to record all sent and received text messages on your phone with their date and time
Monitor Snapchat, Facebook, WhatsApp, and other messengers
Track the Internet activity of your Kid or employee, so you will know what sites they are visiting.
Mobile Tracker Free
Supported platform: Compatible with iOS, Android, Windows PC, and MAC
Spyic is a Definitive Parental Control and Remote Monitoring App. It offers real-time location updates for your child. It also enables you to track all calls being made/received by someone remotely.
Features:
It helps you to read incoming and outgoing messages, including deleted ones.
Allow unrestricted access to a person's browser history.
It allows you to see details like a contact overview.
View all incoming and outgoing calls.
Supported platform: Android 4.0 or higher versions and iOS devices
FAQ  
Is there an app I can use to spy on a phone?
Spy on Someone's Cell Phone Without Possession. Mobistealth is an advanced and powerful cell phone spy app designed to monitor someone's computer or cell phone device. The app enables a person to monitor someone's cell phone or computer without having the device in their possession.
What is the best app for spying?
Best Hidden Spy Apps For Android
SPY24. Spyic will always make its place in the list of best-hidden spying apps for Android for sure. …
SPY24. The next one on the list is SPY24, an app that provides advanced-level features even when the phone isn't rooted. …
CoCoSpy….
iKeyMonitor…
Hoverwatch. …
mSpy…
Spyera…
Spyware Apps.
How to select a Spy Phone App?
You should always check with Customer Support to check whether your phone is supported.
Do you need physical access to the phone?
Yes. For most Android and iPhone versions, physical access to the Mobile is required. You may also need to root the phone to use advanced surveillance features.
What is a Spy Phone App?
Spy Phone Apps help you to track incoming and outgoing phone calls, SMS, GPS locations, browser activity, and messages from applications like WhatsApp, Facebook, Snapchat, etc.
Spyfone
Spyfone is a cell phone monitoring application. The tool allows your call, message, and GPS monitoring.
Features:
This software also helps you to monitor kids or your employees.
SpyFone lets you monitor incoming and outgoing messages from popular messaging apps like Facebook and WhatsApp.
Allows you to browse the file directory on the device to check all downloaded files, images, videos, and documents.
View Location In Real-Time
Mobile Spy Apps
Spyfone