Spy App
HOLLA Spying App for Android and iPhone
Don't go anywhere else if you want to monitor your kids' HOLLA chats. SPY24 is the best HOLLA spying app for Android and iPhone.
As you know, HOLLA is becoming one of the most sought-after social media apps these days. Its different approach to connecting users is the main reason why people, especially teens, want to use it.
Despite other social media apps, like Instagram and Facebook, you don't have to connect with those who you already know them.
Of course, this could be both fun and dangerous, particularly for your kids. That's why many parents want to monitor their children's activities on this app.
In this article, we're going to introduce the HOLLA app and the best app to spy on HOLLA, SPY24.
What Is HOLLA App?
HOLLA is a free app that lets users connect randomly via live videos and texts. Using this app, you'll have the chance to get to know people across the world and become familiar with other cultures and have fun moments together.

HOLLA is available on Android and iOS phones and is the most popular social media platform for random live video chats.
Here is what you get when using the HOLLA app:
Finding new friends all over the world
Having Live video chats
Having text chats
Becoming familiar with new cultures
Real-time translation
Selecting the region
Choosing the gender of your audience
Of course, it's an 18+ app because the live videos might bring some sensitive content to your smartphone.
They claim that the app has over 30 million users in 190 countries. However, Google Play stats show 10 million downloads with 439K reviews and a rating of 4.1, which is excellent.
How Does HOLLA App Work?
Although the HOLLA app was removed from App Store, it is available on Google Play, so you can easily download it to your phone.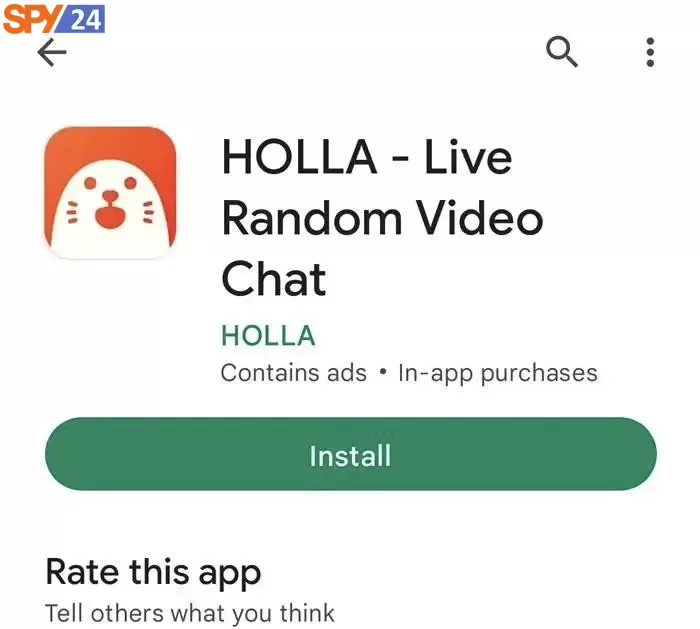 After the installation process, the app asks you to sign up for free. Of course, just like many other apps, HOLLA lets you register using your Gmail or Facebook accounts or even using your phone number.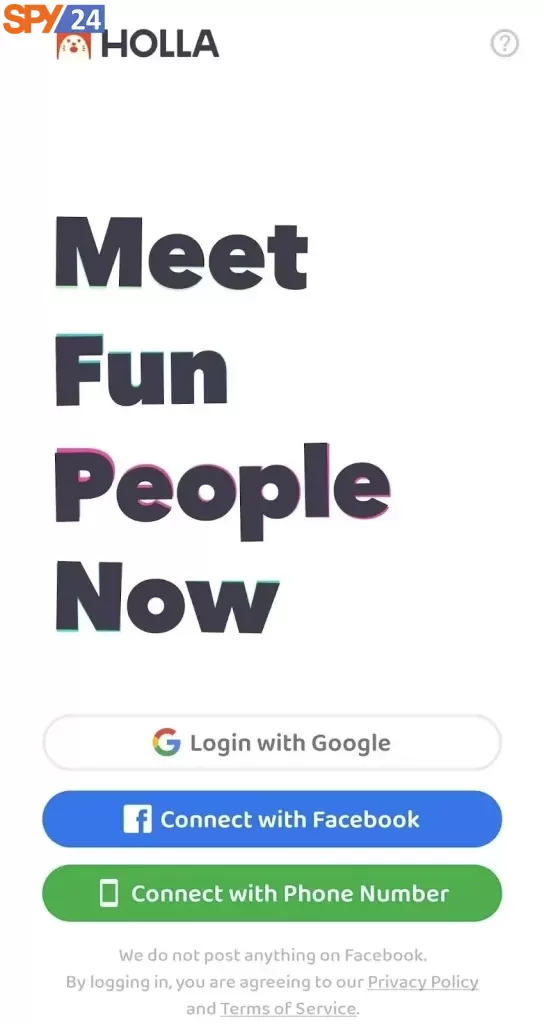 Then, you have to enter your gender and age.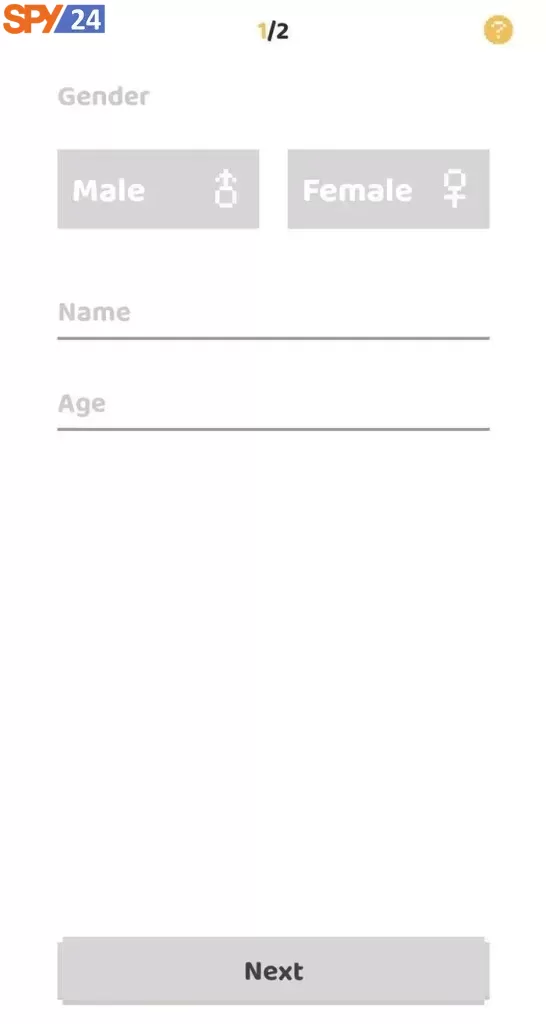 After that, the app asks you to upload a clear image of your face. There are several examples of bad and good images so that the user understands what they're expected to upload.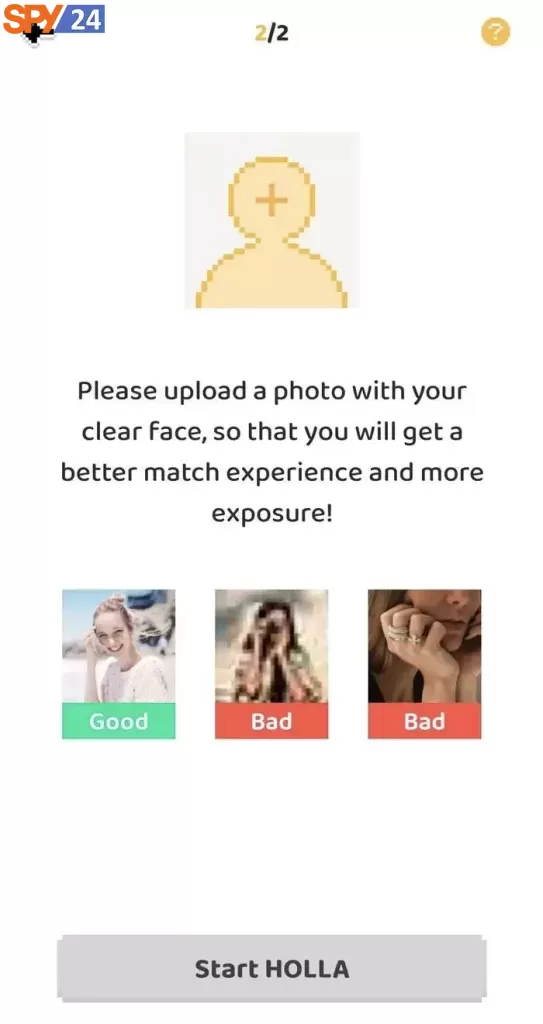 At this step, the HOLLA app asks you to allow it to access your photos and camera.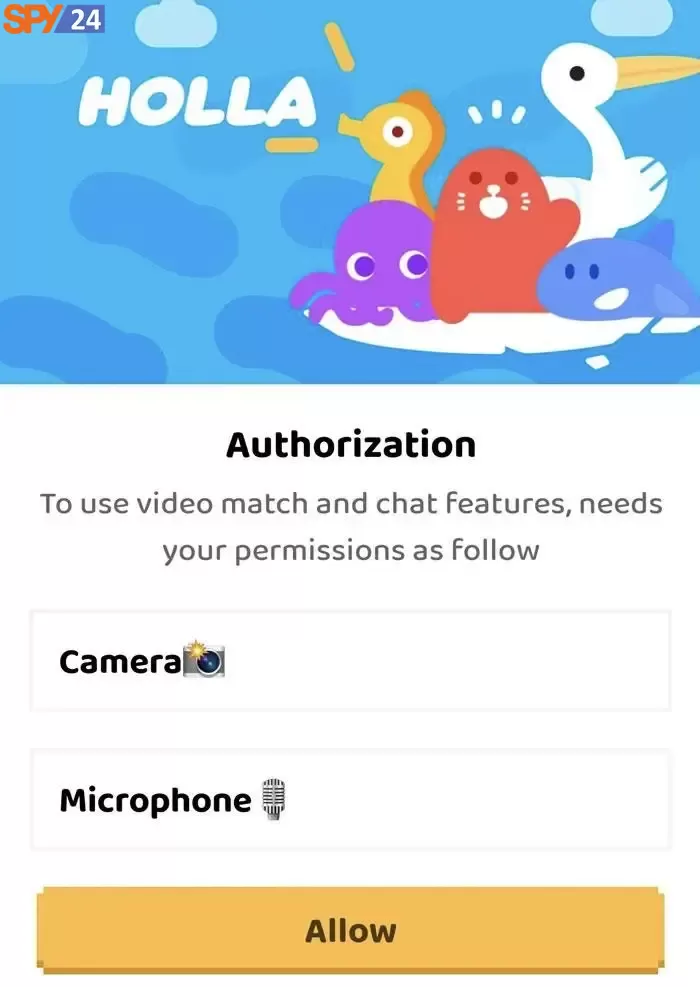 Now, you can find a random person and have video or text chats.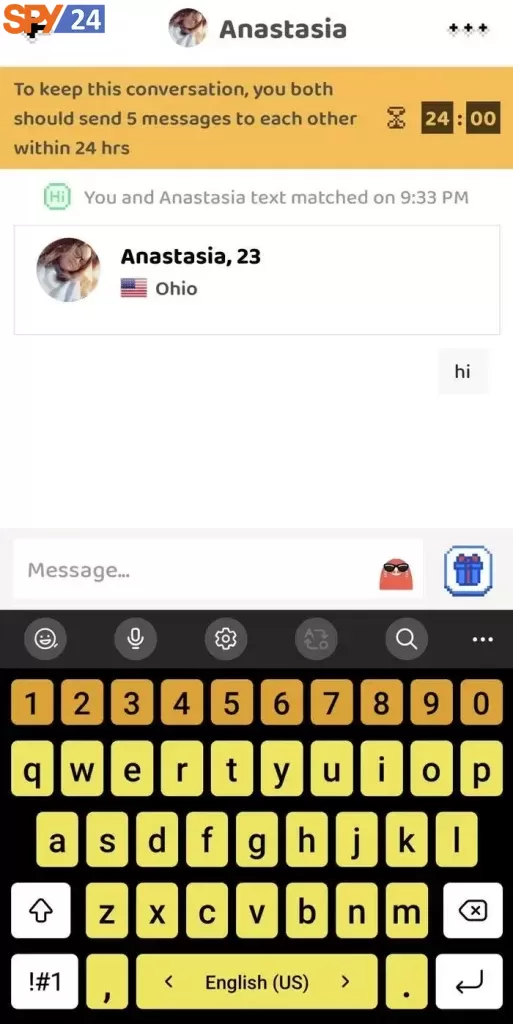 As you see, your children can find any person without knowing who they are and if they're good or bad people.
Why Do You Need a HOLLA Spy App on Your Kids' Phones?
The app is intended for users aged 18 and older, but it is simple to make phony profiles without paying attention to this regulation.
Parents should be aware of the dangers of meeting strangers online, especially when it comes to video calls.
Bullying, trolling, sexual harassments, and racism are the most common dangers people face when using HOLLA. Many online reviews have frequently reported the app's interactions as harmful.
Here is a summary of these dangers:
Sensitive Content and Sexting
Nudity, weapons, and other items have been banned in HOLLA's terms of service, but there is little ability to regulate what occurs during a live video chat.
Predators Danger
Users' age, location, gender, several photographs, and a brief description of interests and other personal information are all included in profiles.
Most users swipe to the left or right depending on the photos, while Prime subscribers can see complete profiles.
Online predators may use the app's "Nearby" functionality to try and meet with youngsters in real life, which is potentially dangerous.
Privacy Invasion
As stated in their official privacy policy, HOLLA collects data for a variety of uses. Although they are not allowed to use it and reveal it to the public, you can't be sure about that.
The Best App To Spy on HOLLA: SPY24
As mentioned in the previous section, despite all the benefits the HOLLA app offers, it might be harmful to children. So if you want to be sure about your kids' activities on the platform, you have to use a spying app to monitor their HOLLA app's activities on their phones.
SPY24 is the best spying and monitoring app that offers a variety of social media tracking services.
You just need to have one-time access to the target phone and install the app to be able to spy on every social media activity, especially on HOLLA.
The good news is that it's completely hidden, and the target user won't figure out about SPY24 on their phone. Also, it's really user-friend, and you don't need to be tech-savvy to use it.
So let's review what SPY24 offers apart from HOLLA spying options.
SPY24 App Features
If you install SPY24 on your children's phone, you'll get lots of other features along with HOLLA spying.
Here is a summary of features offered by SPY24:
Social Media Tracking
Apart from HOLLA, you can track your children's activity on every social media you know using SPY24.
Here are some of the Social media features SPY24 provides:
WhatsApp Tracking
Instagram Tracking
Facebook Tracking
Twitter Tracking
Telegram Tracking
Skype Tracking
Signal Tracking
Snapchat Tracking
ViberTracking
KIK Tracking
KakaoTalk Tracking
LINE Tracking
Hike Tracking
IMO Tracking
Tango Tracking
TikTok Tracking
Tinder Tracking
BBM Tracking
iMessage Tracking
QQ Tracking
Odnokalassniki Tracking
Hangouts Tracking
WeChat Tracking
Zalo Tracking
As you see, you'll have the chance to track every social media activity of your children on social media using SPY24.
Monitoring and Recording Calls
Many times, your children might get in touch with the HOLLA audiences using other channels, like phone calls.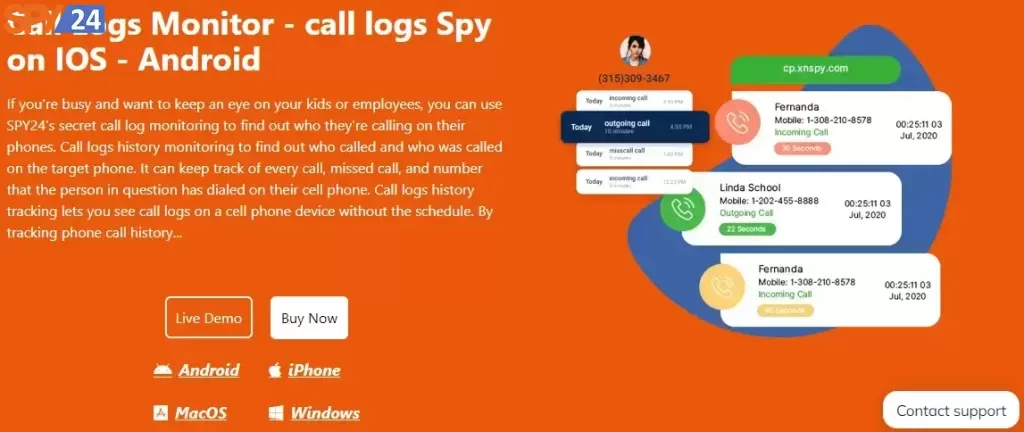 This might be even more dangerous than the app itself because your kid will be vulnerable if that person has malicious intent.
You can use SPY24's covert call log monitoring to find out who your kids or employees are calling on their phones if you're swamped and want to keep an eye on them.
Who called and who was called on the target phone can be determined using call logs history monitoring.
Every individual's phone may be monitored for every call, missed call, and number dialed. Using call logs history tracking, you can see call logs on a cell phone without having to set up a schedule.
Recording Voices and Videos of the Ambient 
Sometimes, children will have dates with the people they find on the HOLLA app. Ambient recording lets you know if your children are at some slumber party with them.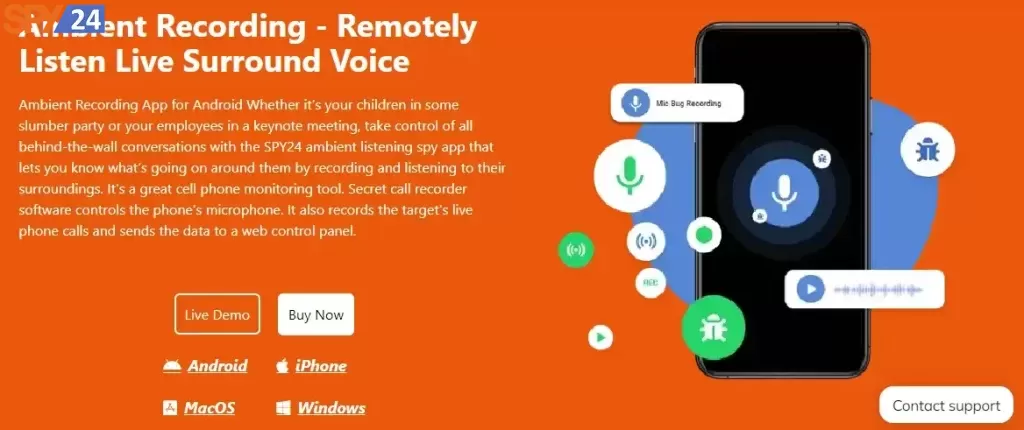 SPY24 ambient listening and viewing app allow you to know what's going on around your children.
This is the most advanced feature parents can have when it comes to controlling their children's activity.
VoIP Call Recording
Voice over Internet Protocol (VoIP,) is one of the most recent technologies that can be both useful and dangerous. If your kid wants to be undetected by you, they'll go for virtual numbers on the internet.
They'll give the number to the person they've found on HOLLA, and this might be dangerous for him/her.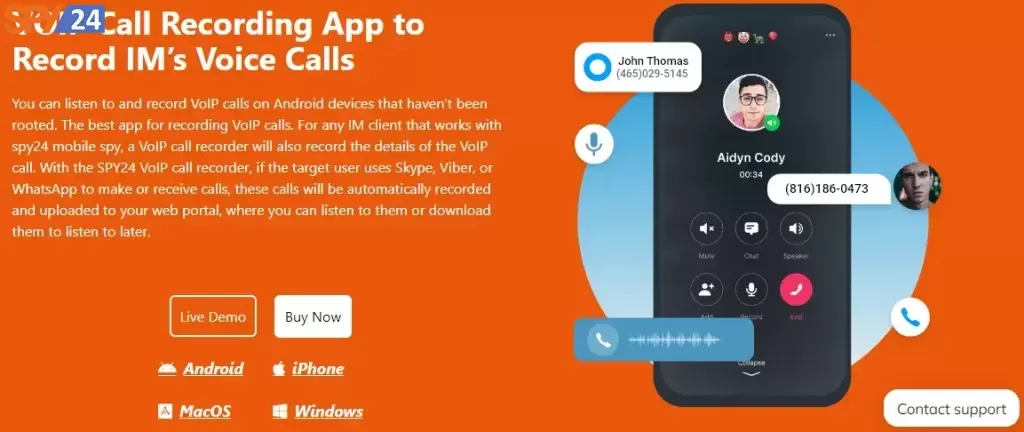 VoIP allows them to make voice calls using an Internet connection rather than a regular phone line. This way, even if you remove the HOLLA app or check their phone calls, you can't be sure if they are in touch with a person.
Fortunately, there is an app for everything, and SPY24 is the best app for recording VoIP calls.
Gmail Tracking
Mailing is another way that your children can be in danger. You can use SPY24 to track their sent and received emails and be sure about their safety on the internet.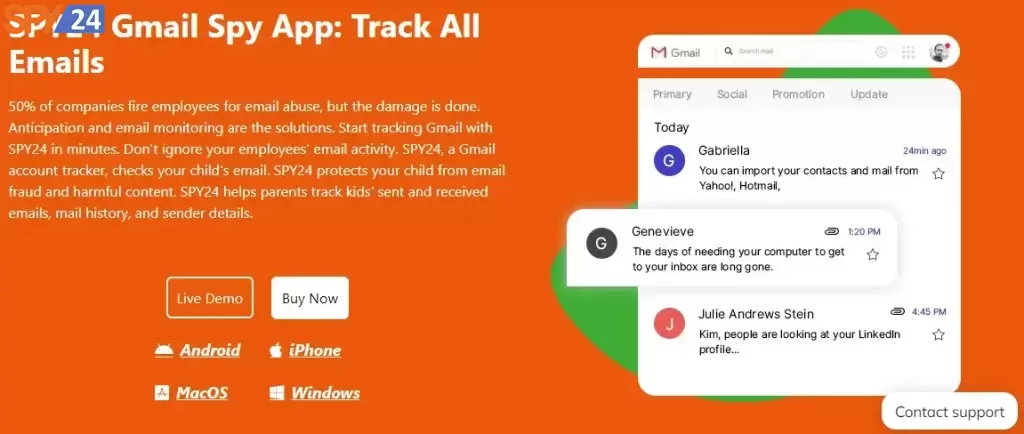 Location Tracking and Geo-Fencing
This feature is also a great tool for parents to be sure their kids are in a safe place. Using the location-tracking features of SPY24, parents are able to check
The current location of their kids
The history of the locations their kids have gone
The specific places that they don't want their kids to go

Using these features, your concerns about your kids will decrease.
Viewing Installed Apps and Blocking Unwanted Apps
Sometimes your kids don't listen to your words and try to install some dangerous apps or use an app, like HOLLA, in a bad way.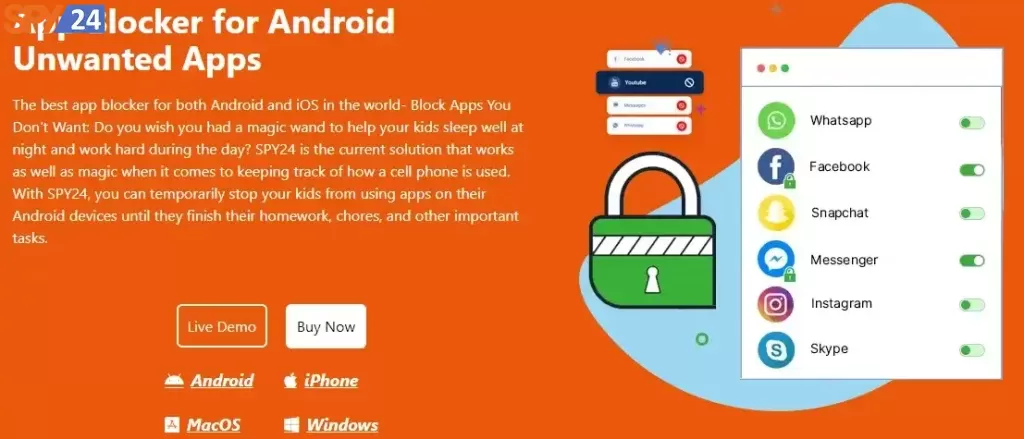 SPY24 lets you see all the installed apps on their phones and even remotely block some of them.
SPY24 App Cost
SPY24 offers different pricing and plans. Here is the list of plans:
Android Plans
1 month – $0
3 months – $50
6 months – $76
12 months – $120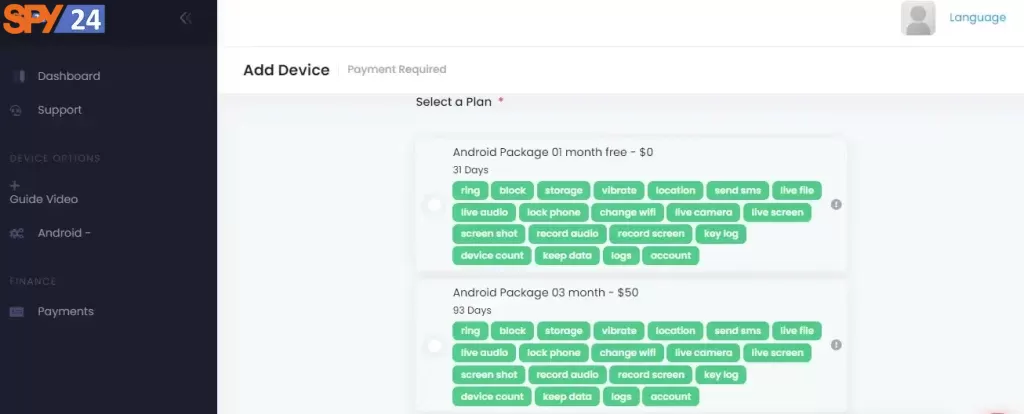 Windows Plans
1 month – $25
3 months – $46
6 months – $60
24 hours – $0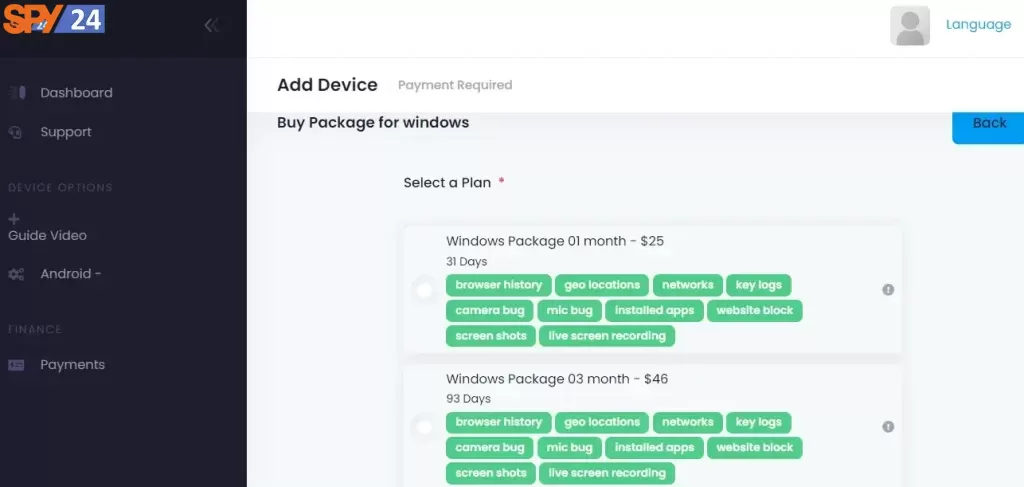 MAC Plans
1 month – $25
3 months – $46
6 months – $60
24 hours – $0

SPY24 Install application free The Most Powerful Hidden Spying App to Monitor Android, IOS Cell Phone & Tablet Device Remotely. Best Android Parental Control App for Kids & Teens Online Safety.
Now take the liberty to monitor Android, and IOS devices with exclusive features better than ever before Monitor all Voice & Text Messages Communication records, Listen to & Watch Surroundings in Real-time Unleash Digital Parenting with Android, IOS Spy App Spy (Surround Listing & Front/Back Camera Bugging) IM's VoIP call recording on Android OS 13 & above With 250+ Surveillance Tools at your fingertips using Android Tracking & Parental Monitoring Software.
---
SPY24 App Pros and Cons
Here are some of the most important advantages and disadvantages of SPY24 according to customers' reviews:
Advantages
SPY24 is compatible with all Android and iPhone devices.
SPY24 offers numerous advanced features like call recording, geofencing, ambient recording, etc.
The dashboard of SPY24 gives you access to tons of analytics reports.
Disadvantages
It's a bit expensive for those who want to track multiple devices.
It needs physical access to the target devices.
SPY24 App Customer Services
SPY24 has a great team of customer service to answer your questions and remove any problems 24/7.
You can use the chatbot on the website to receive answers from their responsive customer service team members.
We also offer a 100% satisfaction guarantee and have a refund policy. If your reasons don't contradict our Refund Policy Conditions, you may be eligible for a refund within 10 days from the date of your purchase. Of course, once the refund period has passed, no refunds will be issued.
Conclusion
In this post, we introduced HOLLA as an interesting live vide-streaming app that lets you connect randomly to other people across the world. Along with all the useful features it has, the app can be a bit unsafe, especially for kids. To resolve the problem of unwanted sensitive content on your kids' HOLLA app, we recommended using SPY24 as a HOLLA spy app. SPY24 provides a wide range of spying and monitoring features, allowing parents to have full control over their children's phones. Therefore, you can be sure that your children are using the HOLLA app in the right way. So don't waste your time searching for HOLLA spying apps.
FAQ
Here are some common questions about HOLLA and spying on it.
Is HOLLA Still an App?
The app was last updated on Feb 7, 2023, so it's still working.
What Apps Are Similar to HOLLA?
The best HOLLA alternatives are Stealthy, Meerkat Roulette, and 7-Minute Chat.
Who Made HOLLA App?
The team members of HOLLA group are Eric Tao and Allen Loh. HOLLA Group is one of the best startups in the world.
Is Hola a Dating App?
HOLLA is a free video-streaming app that is used to connect randomly with other people in the world. It's not a dating app, but it can be used to find a good match.
Is HOLLA App Safe?
Just like every other app, HOLLA can also be hacked and tracked by spy apps. Also, HOLLA is not safe for children.
Unfortunately, there have been several serious complaints about unsolicited sexual demands on the app, making users unsatisfied with HOLLA. As a result, the HOLLA app was removed from App Store, but it's still available on Google Play.
That's why parents should monitor their kids' HOLLA activity to know with whom they're chatting. SPY24 can be used as a HOLLA spying app, but not in a malicious way.
How Can I Spy on HOLLA?
There are many HOLLA spying apps for Android and iPhone. The app to spy and monitor HOLLA is SPY24.