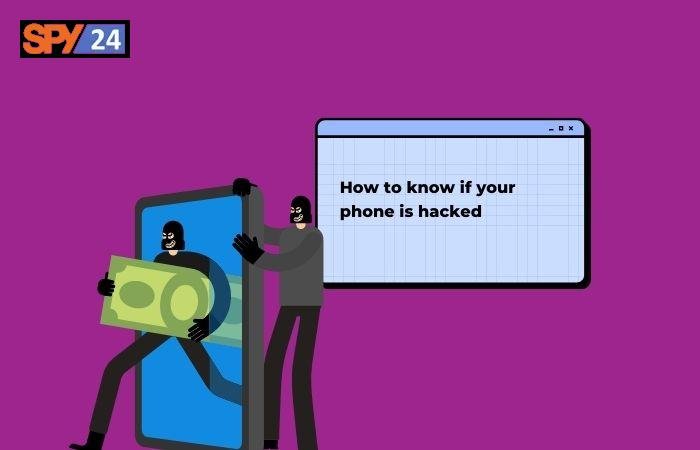 Nowadays, smartphones are our most important devices. We use it for texting, saving important pictures, checking social media, writing notes, ordering food, or even doing our job. So with all this various information, we keep on our phones, safety comes first. No one wants others to get access to this information. Who may want to have access, and how can we avoid it? Before taking steps to get back your privacy again, the first thing to do is to make sure whether your phone is hacked or not. But how to know if your phone is hacked? It's not that simple, but don't worry, We are here to help. SPY24 will give you everything you need.
What is phone hacking?
Phone hacking includes any way someone gains access to your phone or its communications. It ranges from advanced security breaches to simple wiretapping of unsecured internet connections. Phone hacking can happen on all phone types, including Androids and iPhones. Anyone can be vulnerable to phone hacking, so we encourage all users to learn how to identify compromised devices.
If your phone is hacked, don't ignore it. It may cause lots of problems not only for you but also for your contacts. But first, we should see how to know if your phone is hacked. Sometimes the shreds of evidence are simple and easy to find out, but some hackers may behave more complexly.
Also Read: Hacking a Smartphone by simply sending an SMS
How to know if your phone is hacked?
Have you ever seen something suspicious on your phone? Then you should check if your phone has been hacked. If you notice multiple issues, it may indicate that your phone is damaged.
Are you eager to learn how to know if your phone is hacked?
Follow along with spy 24 to check the most important points together.
Inappropriate pop-ups
If your phone displays inappropriate or adult ads, your phone may be compromised.
Despite using an ad blocker, red flags keep showing inappropriate pop-ups on your phone, indicating malware on your phone that is trying to steal your information. This pop-up is known as phishing.
Calls or messages you have not initiated
Calls or messages you have not initiated may indicate that your the device has been hacked.
Hackers can send messages and calls directly to your contacts if they get into your phone. If your contacts receive a message you don't remember sending, it might be a sign of being hacked.
Exponentially high data usage
One of the signs that you have malware on your phone is a sudden increase in the extent of data your phone uses. Exponentially high data usage may be due to the app monitoring your activity and uploading data to the server.
If you haven't increased your online activity and your data charges are higher than usual, it might indicate that hackers have access to your phone and scammers are using your phone's data.
Draining of battery
How to know if your phone is hacked by checking the battery?
Your phone's battery life will decrease over time, but you should be careful if your battery is draining at an alarming rate.
Quick draining of the battery without doing anything special, shows that hackers are using it. Draining a battery even when you're not using your smartphone is concerning.
Poor performance
If your phone suddenly noticeably slows down or keeps crashing, it could be that someone is stealing your credentials. At the moment, malware apps running in the background can slow down your phone or restart it automatically.
App crashes, screen freezes, unexpected restarts, and other poor phone performance is signs that your device has been hacked.
Unrecognised apps
How to know if your phone is hacked by checking unrecognized apps is simple. If you notice that an unrecognized application has been downloaded to your device, it could be the work of a hacker. The solution is to uninstall these apps immediately.
Unusual activity on social accounts
Do you see strange activity on one of your accounts? Then you may be in serious trouble. Unusual activity on social accounts indicates hackers have access to your phone and accounts, putting your personal information at risk.
Any undetected activity on social media or email accounts connected to your phone could mean that a hacker has gained access to your device, leading to identity theft.
No calls or messages
If you stopped receiving calls and messages, get it serious. With no calls or messages, there is a chance that a hacker may have duplicated the SIM card from the provider.
What can you do if your phone is hacked?
Being a victim of phone hacking is an absolute nightmare and can put you and your personal information at risk. We'll show you how to kick it out of your phone. Before you start, check spyware to see if is someone spying on your phone. Prevent cybercriminals from accessing your smartphone.
Now that we reviewed how to know if your phone is hacked, it's time to fix it.
Time is of the essence when your phone is hacked. Cybercriminals can wreak havoc not only on your devices but also on your bank accounts, online accounts, and even the people on your contact list. Waste no more time and find out how to keep hackers away from your phone.
If your phone's data usage suddenly spikes and you notice strange activity in your online accounts, your device may have been hacked. Luckily, there are ways to regain your privacy.
What can you do if your phone is hacked? Go through these steps.
Also Read: How to Hack Mobile Phones with a Computer
Delete unrecognised applications
By installing apps from outside the Play Store, you are giving up security measures implemented by Google. There is no guarantee that an unverified app is safe. Some have secret backdoors that hackers can use to access your phone.
If you recently loaded apps on your phone, they could be the source of the hack. So, to regain your privacy, delete unrecognized apps. Also, look carefully at your apps and search Google for apps you don't remember installing. A suspicious app that mysteriously appeared on your phone could be the cause of the security breach.
Run anti-malware applications
Few methods are more effective than using an app specially designed to exterminate hackers. Android antivirus immediately quarantines the malicious code hackers use to compromise your smartphone. The malicious code is then removed without a trace. So seize the day and run anti-malware applications right now.
Reset your phone
Resetting your phone is the easiest way to get rid of the malware. A factory reset is a simple procedure that completely wipes your phone's internal storage. A factory reset not only erases your photos, videos, messages, and other personal data but also removes malware that allows hackers to get in Note that a factory reset does not always affect SD cards. To be safe, we recommend formatting your SD card to remove any potential threats it contains.
Also Read: How to Secure My Phone from Hackers?
How to reset your phone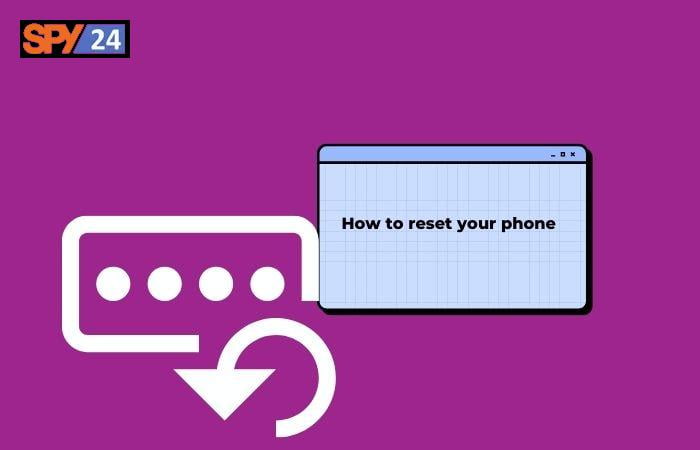 From the setting menu, tap the system
Tap reset options
Tap erase all data or factory reset
In the confirmation window, tap reset the phone
Enter your password to continue
Wait until the factory reset is complete before using your phone as usual
The hacker should now be gone Reset your passwords
If your phone is hacked, hackers can access every part of your phone and steal your data. In such conditions, the first thing to do is reset your passwords.
Change the account password connected to your phone to prevent hackers from collecting your personal information.
Inform your contacts
Your hacked phone can also put your contacts at risk. Tell your contacts that your phone has been compromised.
Inform your contacts and make sure they stay vigilant and don't click on links sent from your phone.
Unroot your phone
If you're using a rooted version of Android, you'll need to unroot your phone using the SuperSU app
Contact service-provider
If you realize your phone has been hacked, ring the alarm immediately. Contact service-provider and report a phone hack to the authorities. It not only makes it easier to resolve the problem but may also help others avoid the hack, especially if the cybercriminal is caught. So be sure to file a complaint with IC3 and the Department of Justice.
Keep hackers away from your online accounts
If you suspect your Facebook, Instagram, or other online accounts have been hacked, take immediate action to get your assets back. To keep hackers away from your online accounts, follow these steps:
Step 1: Check your account login activity to see where and what device was used to access your account to confirm it was hacked
Step 2: Log out of your account and change your password
Step 3: Revoke access to the app to permanently log out of your account. Make sure the email you use to access your account is secure. Change the email if necessary
Step 4: Protect your account with two-factor authentication or 2FA
Helpful Codes to Find out that your phone is hacked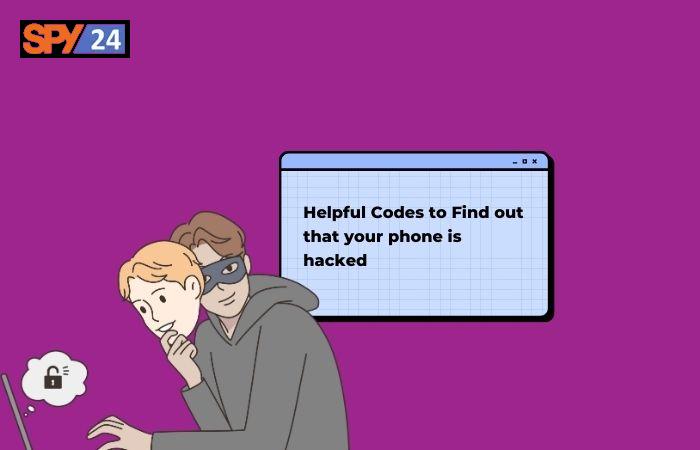 Unstructured Supplementary Service Data (USSD) is a Global System for Mobile Communications (GSM) protocol. It is used to communicate with mobile network operators via text messages.USSD codes are alphanumeric codes programmed to provide a specific response or information to the sender. I guess you wonder how to know if your phone is hacked by these codes. Here are USSD codes you can use to check if your phone has been hacked
For IMEI Check: Code *#06#
IMEI is an acronym that stands for International Mobile Equipment Identity. A unique 15-digit number for your mobile phone. We won't give you information about whether your phone has been hacked, but that doesn't mean it's useless
The IMEI number is a code you can use to locate your phone. It helps you track your phone. All you need to do to find the IMEI number. If your smartphone has a removable battery, it might be there. For IMEI check, use code *#06#.
Also Read: How Can I Hack My Husband's Phone for Free?
Redirection: Code *#062#
Whenever you find yourself not receiving all the calls and text messages your contacts are sending, chances are that hackers are tapping your phone and redirecting everything. You can use the code *#062# to check if your calls are being forwarded when your phone is off. If this code returns a phone number, the call will be forwarded there.
Show who catches my phone data when I'm busy or reject the call: Code *#67#
Similar to redirect hacks, hackers may pick up calls that you've rejected or received while you were on another line. Currently, you can use the code *#67# to view the number that receives your missed calls. If you want your phone to show who catches your phone data when you are busy or reject the call, use the code *#67#. If the number displayed is not yours, dial the code ##67# to reset your settings.
If Someone Catches My Unanswered Calls: Code *#61#
Scammers can use conditional call forwarding to redirect calls to another phone. One of the signs of being a victim of this attack is the phone ringing without any other indication of incoming calls.
You can use the code *#61# to check your call forwarding settings. If you do this and find that calls are being forwarded, use code ##61# to disable them.
The catchall code: ##002#
Code ##002# is the anti-redirect code. It works as a universal code to disable all forms of phone redirection. It will delete all forwarded calls, messages, and other data and reset the forwarding settings on your phone.
We recommend using this code before using roaming. It will prevent loss if the call is automatically forwarded to voicemail.
Also Read: 10 Best Free Text Message (SMS) Hacking without Target Phone
Important codes to check if a phone is tracked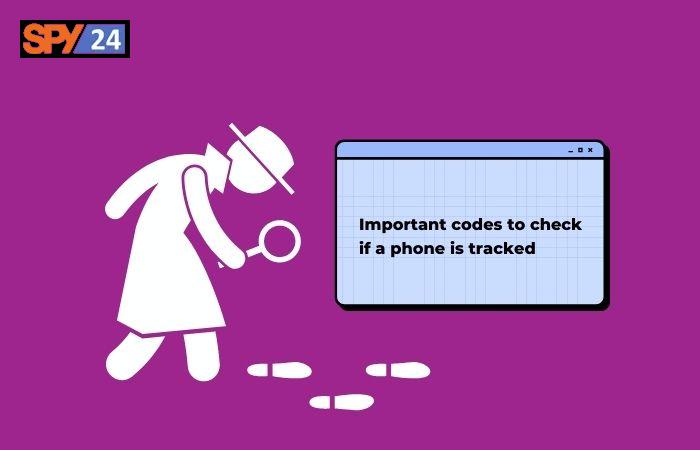 *#21#
It's reasonable to worry about someone else tracking your phone. There are countless stories of hackers ruining innocent lives with stolen information. Use the code *#21# to check if hackers are maliciously tracking your phone. But how to know if your phone is hacked by this simple code?
You can also use this code to check if your calls, messages, or other data are being redirected. It also shows the status of redirected information and the number to which the information was forwarded. Dial *#21# immediately if you see your call being forwarded.
*#004#
Code *#004# gives all the information about the call forwarding status of the phone. It includes being on a different line, missing a call, rejecting a call, or simply not answering. You can use this code ##004# to remove all conditional call forwarding on your phone at once
*#*#197328640#*#*: utility net monitor code
The code *#*#197328640#*#* gives information about what data the phone has retrieved from messages, calls, etc., and where the data was retrieved. This code navigates to the main menu.
Other well-known USSD code numbers
How to know if your phone is hacked by some other useful codes?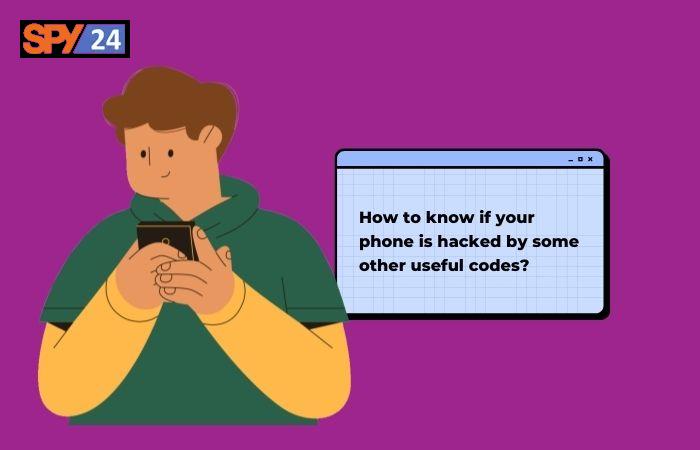 *#*#1472365#*#*
Hackers can use your phone's GPS to track your location. This code will help you locate your phone if it is lost or stolen. You can use this code to check the GPS validity of your phone.
*#*#7780#*#*
A factory reset may be the only option. It could be due to bugs, malware, or other issues affecting the performance of your phone. A factory reset may be the most effective and only solution.
Please note that using this code will erase all your information, settings, and data from your phone. The only way to recover your information after a factory reset is to back it up before deleting everything.
*#*#34971539#*#
Most people fear that someone is spying on them through their cell phones, and the fear is justified. With this code, you can identify if your phone has been hacked.
*#*#232338#*#*
This code will help you check if your Mac device has been hacked. The MAC address of a virtual private network interface controller is its unique identifier (NIC). Necessary for protocols such as TCP (Transmission Control Protocol) that require a MAC address to function.
This secret security code contains MAC address information. You can check if it still matches your phone's network. If not, it's a good idea to check for possible errors.
*2767*3855#
The only way to fix cell phone problems is to wipe everything on the device. The easiest way to do this is with a hard reset. Make a backup copy of your data before using this code. Once you are sure all your important information is safe, you can use this USSD code to wipe all data from your smartphone
Here are the steps to find out where the hackers are
We reviewed how to know if your phone is hacked and what can be done to take back stolen privacy. Now let's go further
Step 1: Enter your code
After entering the code, the first thing you should do is select the UMTS Cell Environment option
Step 2: Select UMTS RR information
After selecting the UMTS RR information, you must write the Cell ID number
Step 3: Return to the main menu
Then you must select the back button to return to the main menu
Step 4: Select Serving PLMN
You can see the area code displayed on the screen by selecting your PLMN
Step 5: Use a Power Monitor
To check if your cell phone connection is unknown, go to the Net Monitor website and enter your cell phone ID and area code
Do Pop-ups Always Mean Your Phone Has Been Hacked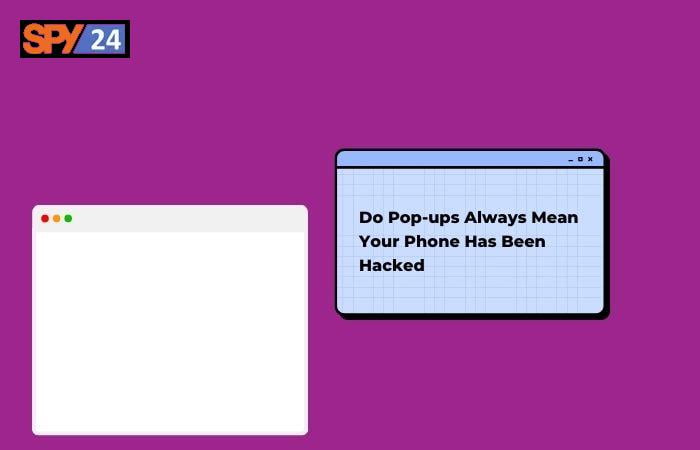 You may have experienced this, As you browse the internet on your smartphone, you'll see pop-ups on your screen claiming you've won prizes or you've been infected with a virus and that you should call a tech support number. Or maybe it's an annoying pop-up ad that won't go away. Has your phone been hacked or infected with malware?
It is possible, but it's unlikely that you'll see a ton of pop-ups. Most people don't realize their phone has been hacked until they see evidence of personal information being used, such as debit to your bank account or a new line of credit opened in your name. It is because hackers run scripts to scan phones for user data and collect it without showing any evidence. We talked about pop-ups previously and explained how to know if your phone is hacked by checking them.
However, there are several other reasons why a window without confirmation appears on your smartphone. Yes, some of them are malicious. Here's how to stop them.
Fake virus alert
A common scam prevalent among Android and iOS users is fake virus alerts, which are pop-up windows informing users that their device is infected. These alerts often appear to come from Google or Apple and usually include a "Remove Virus" button that connects you to a rogue security app and a phone number where you can call for help. The purpose, of course, is to trick users into downloading malware. In the case of phone numbers, it's about exposing valuable personal information to tech support.
How to fix
Close your browser window or tab. Beware of pop-ups and bad ads containing fake buttons that look like regular close buttons. Clicking on them can download malware. We recommend that you do not manipulate alerts at all.
Or, if your browser isn't locked, tap the new URL in the toolbar to leave the website.
Check the websites you visit and consider not using them for a while. It may have been hacked to deliver these malicious alerts. Finally, enable protection in your browser to prevent accidental visits to sketchy websites.
In Chrome: go to Settings > Website (or content) settings > Block Pop-ups.
In Safari: go to iOS Settings > Safari and turn on Block Pop-ups and Fraudulent Website Warning.
Hijacked website
Unfortunately, it's also possible that the pop-up you see is part of a "malvertising" trend. In other words, malware enters the advertising network and proliferates on the network's myriad of websites.
Even a legitimate website can be hijacked without the website owner's knowledge. A hijacked website also can redirect you to a webpage you never clicked on. These pop-ups and misdirections can continue to affect your browsing experience even after restarting your browser.
Also Read: Easy Ways To Hack IOS Phones
How to fix
First, don't enter the information requested by pop-ups or websites you don't specifically visit. If pop-ups or redirects to another website continue to occur, close your browser.
On iOS, swipe your iOS device half up (or double-tap the home button) to see all open apps, then slide the browser app away.
On Android, tap the rightmost square to see all open apps and swipe through the browser app.
It also clears your browser data
In Safari: go to iOS Settings > Safari > Clear History and Website Data.
In Chrome: open the menu (three dots) > Settings > Privacy & security > Clear browsing data.
Adware infection
If you continue to see warnings on your smartphone's browser even after taking the above precautions, your smartphone may already be infected with malware known as adware. Adware drops advertisements on infected phones to force users to view certain pages that generate revenue based on clicks. They may also display advertisements for downloadable content, such as games. Installing it can have an even better impact on users' data and finances.
Malware can get onto your phone by downloading bad apps or visiting websites vulnerable to "drive-by downloads." It installs malware on the user's device without the user having to click anything
How to fix
The easiest way to remove malware from your Android smartphone is to run an antivirus scan using a mobile security app such as: From Avast or Norton
However, if the pop-up issue persists, you may need to perform a factory reset. It will wipe all data from your phone, including problematic apps and malware.
To reset your iPhone, go to Settings > General > Reset and select Erase All Content and Settings
To reset your Android phone, go to Settings > System > Reset Options > Erase All Data
Once you are free, you can focus on prevention.
Update your browser and smartphone operating system regularly. Updates usually fix vulnerabilities that can be exploited by malware.
Offensive advertising
Giant banners, obscene autoplay music, and annoying pop-up windows are all examples of intrusive ads that disrupt users' browsing experience and do nothing for the provider. If you don't like it, don't click it
How to fix
Chrome Browser for Android features a pop-up and ad blocker that selectively prevents intrusive ads from appearing using standards set by the Coalition for Better Ads. It should be on by default, but if you're still seeing nasty pop-ups or ads, go to Settings > Website Settings and turn Pop-ups & Redirects and Ads off. Tap to turn off. Please note that the blocker does not block all ads, only irritating ones
Chrome on iOS does not have the same ad filtering capabilities, but iOS users of Chrome or Safari can avoid pop-ups
In Chrome: go to Settings > Content Settings > Block Pop-ups
In Safari: go to Main Settings > Safari and turn on Block Pop-ups
iOS users can also try ad-blocking apps such as AdGuard (free). Once downloaded, you can enable them in Settings > Safari > Extensions and enable the filters you want
Website notice
The most harmless reason for pop-ups is allowing websites to send you alerts. Sites often ask permission to send notifications of new posts, and you may have consented at some point. But don't worry.
How to fix
In Chrome: tap the three dots in the upper right, then tap Settings > Notifications > Websites to see a list of websites that can send notifications. You can opt out of specific websites or not see any at all
Safari and iOS do not allow websites to send these push notifications
Conclusion
We use our phones to do most of our tasks online and put our privacy and data at risk. Scammers can compromise cell phone security to track user activity or extract sensitive data from the device to hold the victim's ransom or monetize in other ways. They can be sold or stored. So the big question is how to know if your phone is hacked?
Hackers can spy on you and tap your phone to access your most sensitive information. That's why mobile phone security is of utmost importance. So why we highly recommend finding a hacked phone and learning how to keep hackers away from your phone.
Phone Hacking Software
It is one of the best hacking apps for phones and tablets. We recommend you go through the entire article.
In the era of technology, the workload is reduced, and you can do a lot with just a few clicks using your smartphone. On the other hand, apps can be used by hackers to do strange activities.
Our goal is not to promote these apps for illegal activities but to use them to control children and workers and see if they are doing well.
SPY24 is a software company that develops software for tablets and smartphones that allows parents to monitor children under 18.
It also offers a great app for catching cheating spouses and partners, with features like a GPS finder, message monitor, and more.
The best features are
Affordability is bolstered by a 7-day free trial
Easy to use interface
App usage is displayed in real-time
Barely noticeable
Tracking phone without installing software
Equipped with screen recording function
Unable to restore message
SPY24 strengths
SPY24 offers parents more features than any other phone monitoring app. For example, monitor your web history, phone history, text messages, and more
This software is perfect for parents who are concerned about where their teens are, who they are in contact with, and what they are doing
SPY24 also offers a spy app specialized in catching cheating boyfriends and girlfriends
SPY24 is a spy app without target phone, so you don't need to have access to your child's smartphone
FAQ
What is the code to check if my phone has been hacked or tapped?
The best code for this is *#*#197328640#*#*. This utility NetMonitor code shows unknown connections and traces.
How can I block hackers from my iOS or Android phone?
To prevent hackers from blocking your phone
Complex passwords are necessary for mobile phone security. Avoid repeating account passwords to make it harder for hackers to access your banking information, contacts, and social media accounts if they can't guess your password
Using separate pins also prevents hackers from accessing all your information simultaneously
You should always check the rating of the app before downloading
can also use Antivirus software, apps, and VPNs to evade tracking
Be mindful of storing your passwords in one place, and keep investigating the apps you use to store passwords
How to check if your camera has been hacked?
Make sure the camera indicator light is on
Check your browser extensions
Check for known and unknown applications
Check if the webcam process is running
Try running your webcam
Search audio and video recordings
Run a malware scan
Enable firewall
Will resetting my phone stop hackers?
Yes, you can enable the hack by factory resetting the phone. Please note that this solution will delete all data, including contacts, third-party apps, photos, and other files. You must completely set up your phone from the beginning
Can hackers hear you?
Yes, if a hacker has access to your phone's camera and microphone, they may be able to hear you.
What's the first thing to do when you are hacked?
Update your security software and run a scan to remove malware. Start with this primary step, especially if you don't know how someone hacked into your account. Use the security software on your computer, phone, or tablet, or download it from a well-known and reputable security company