Spy App
TrackMobile Free Download by Number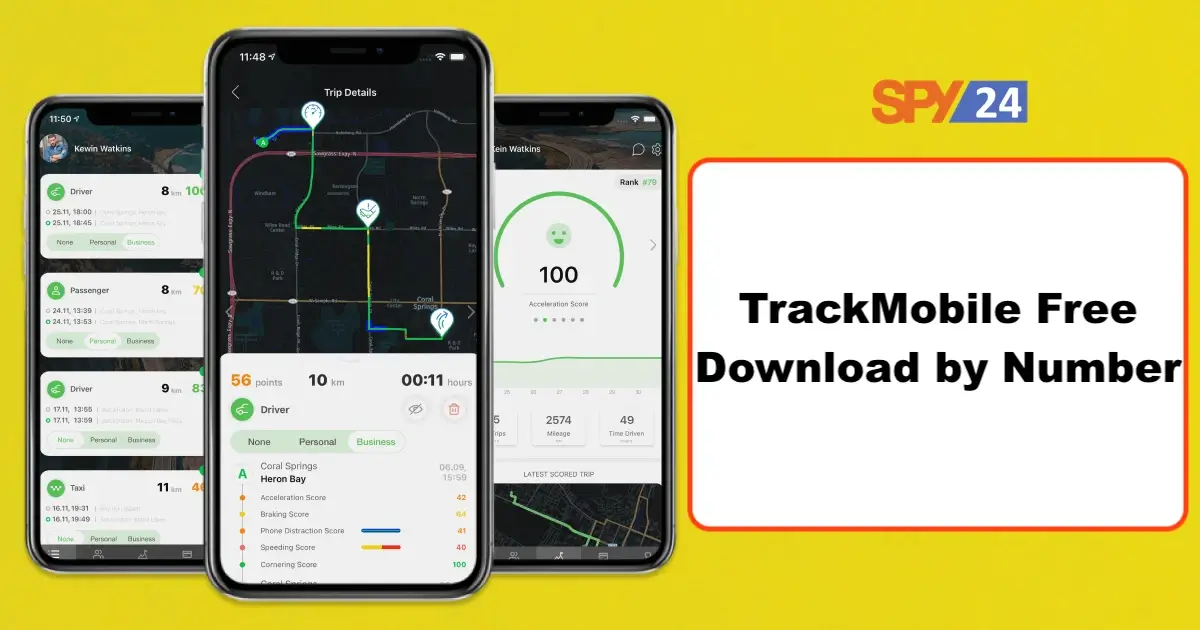 Do you ever feel like you're always on the go and don't have time for anything? If so, TrackMobile may be the solution for you. With this app, you can track your mobile devices and keep track of your whereabouts. No more wondering where your phone is or if you left it at work. TrackMobile will tell you!
Trackmobile your cell phone for free with SPY24 Now you can keep track of your kids and employees. Android Phone Tracker The phone tracker app by SPY24 is a free monitoring program that lets you record calls, track phone locations, view text messages, cameras, internet activity, screenshots, Instagram, WhatsApp, Viber, Facebook, Skype, and Telegram.
SPY24 Install application free The Most Powerful Hidden Spying App to Monitor Android, IOS Cell Phone & Tablet Device Remotely. Best Android Parental Control App for Kids & Teens Online Safety.
Now take the liberty to monitor Android, and IOS devices with exclusive features better than ever before Monitor all Voice & Text Messages Communication records, Listen to & Watch Surroundings in Real-time Unleash Digital Parenting with Android, IOS Spy App Spy (Surround Listing & Front/Back Camera Bugging) IM's VoIP call recording on Android OS 13 & above With 250+ Surveillance Tools at your fingertips using Android Tracking & Parental Monitoring Software.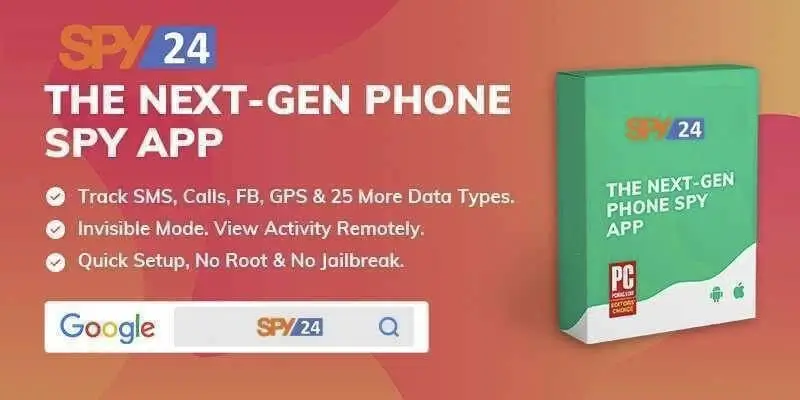 1. Sign Up
How can the cell phone tracker be used to keep track of cell phones?
Sign up first. Set up a free online account using your email address and any password you want.
2. Install
Install an app from your account on the phone of your child or another person you want to spy on. It won't take more than a minute.
You can track the phone's location, calls, messages, SMS, web history, screenshots, and other things by logging into your online account.
Cell Phone Tracker App: Find Out the Location of a Mobile Phone for Free
This cell phone tracker is so easy to get and use. Choose an app like SPY24! It works well with Android and other devices.
Follow calls
The cell phone tracker saves the conversation and the exact times and dates of outgoing, incoming, and missed calls.
Save calls
Using the app, you can record the sound of any call or voice message.
Manage SMS
The SMS and MMS conversations can be saved on any device with the text message spy app.
Cell Phone Spy Software like SPY24 is used to track an Android phone without the owner knowing.
With this solution, you can keep track of anyone's messages, calls, and images on Viber.
You can track someone's Facebook messages, videos, and audio files without them knowing.
The app keeps track of everything that goes on on WhatsApp, including messages sent and received, as well as audio and video.
With this tool, you can keep track of what someone does on social networks.
Screenshots
This program is made to make screenshots for Android. It is a chance to find out important things.
Check your contacts
This cell phone tracking software can help you save all of your contacts if you want to.
Stealth Mode Stealth mode
Any Trackmobile device can have an invisible tracker turned on without much trouble. No one will know you are keeping an eye on them.
Keep track of tasks
The free Android tracker saves the user's calendar notes and to-do lists.
Follow a camera
When someone unlocks their tablet or phone screen, the tracker takes a photo or screenshot from afar.
Keep track of what you've done on the Internet
SPY24 saves information about every website that the target device is used to visit. It also keeps track of the browser history.
Detect SIM Card Replacement
Even if a person changes their SIM card, this app will still work.
What People Say About Us
Do you want a peaceful and happy life? If so, use SPY24! You can read the reviews and comments from other users if you want to:
This app is good. It's a great thing. To be honest, I didn't think it would be so simple to set up and use. I like every feature. No longer do I need to worry about my husband. I am sure that he doesn't lie to me. So, I would suggest this app. Use SPY24 if you're jealous of your partner.
Linda, USA
It's the best free phone tracker I could find. I've looked for many of them. It gives me all the information I want and is so easy to use. On the website, I can always see where I've been, what messages I've sent, and who I've called.
Michael, FR
When I started a business, I hoped to make a lot of money. But they can't do that if they don't do their jobs well. This app, SPY24, helps me find the best people to hire. Now I have a business that does well. SPY24 has taught me a lot. I don't have to watch my employees all the time. I can keep track of them from my cabinet and tell my team how to improve. Thanks for making such a useful tool.
Mila, DE
Most of my friends who use SPY24 are happy with it. Why?
First, it helps them keep track of everything their kids do. Now I can find out where my kids like to go when they have free time. I couldn't find a better tracker app. It's not hard to keep an eye on what kids do online. They don't know about it, of course. My kids think I believe in them. And now I don't have to fix anything else.
FREQUENTLY ASKED QUESTIONS
Why do I need an app that can track a phone?
The SPY24 Android keylogger works well at home and at work. It can be used to keep an eye on employees and children.
How do I set this up?
Enter your email address and choose a new password to install. You will sign in to your account and be able to download installation files for the target device.
Can this service and app be found?
During the installation process, you can choose to hide the free Android tracker. In stealth mode, it lets you stay out of sight.
What if this Trackmobile spy doesn't work or I don't know how to use it?
Our customer service team works around the clock. You can ask for their help at any time.
Can I set this up from afar?
Only if you have physical access to that Android phone or tablet can you set up monitoring. Any other way you might have heard of keeping an eye on someone is a scam.
What versions of Android can be used?
The free phone tracker can be used on any Android device with version 4 or higher.
SPY24 is a modern, free app that lets anyone keep track of anyone else's Android phone.
What is a tracker for a phone? It's a program that lets you find a lost cell phone. You can get an up-to-date and useful tool by downloading the free SPY24 phone tracker. This Trackmobile tracker can help businesspeople, families, and anyone else who wants to find the location of a phone. A free GPS phone tracker like SPY24 has a lot of useful features, but it is also easy to use.
SPY24 makes it easy to find out where a cell phone is.
SPY24 is a smart app for finding people. It's strong, but also very simple and impossible to figure out. In spy mode, you won't be found out, and you can use all the features. With this tool, you can:
MMS and SMS calls; pictures and photos;
The app is made not only to show the current location or history, but also to spy on chats, phone calls, and other things. For instance, you can spy on Viber or even take screenshots from far away.
There are three good reasons to use the free online GPS phone tracker.
SPY24 is more than just a free app that lets you track a phone online. It's a real online "friend" that has a lot of useful features. If you choose this software, you'll be able to keep an eye on the phones of your coworkers, employees, kids, and people you care about.
Customers are happy in the thousands. Do you want to be like them? It's easy to get started. Don't worry, in five to seven minutes you'll know how to track a cell phone. Everything is easy to understand. This tool will show you a whole new world. Don't waste your time on another idea. Here are 3 reasons why you should choose SPY24:
Has a lot of different functions and is completely hidden; works in a secret mode.
Features of the Trackmobile tracker for Android: SPY24 can record text messages, control call history (it's a real history tracker), track locations, help secure the target device, record videos, and audio files, and take pictures with the camera (it's also a photo tracker), check internet activity, look at calendars and contacts, and make a copy of all important information.
This program works on Windows PC, Mac OS X, and Android. It stays hidden, so you can really be a spy.
The geolocation feature, which tells you where the device is, is also helpful. You'll get a real GPS locator when you download the secret cell phone tracker SPY24 and start using it. The application is used to find out where the phone or tablet in question is. This is possible because of both Wi-Fi and cell tower signals.
If someone steals your device, you'll find the person who did it very quickly. On the map, you can see where your device is if you lose it.
Can I find a phone even if the SIM card has been changed?
There is one more important thing about SPY24. This app can find a cell phone even if the SIM card is changed. So, replacing the SIM card is not a problem; you will still be able to find your device. As you can see, this tool is useful no matter what.
Another useful feature is that you'll get a special alert when a user starts taking out his SIM card. With this spy phone tracker, you can control the device 24 hours a day, and you don't have to keep an eye on the process all the time. You can also read about its past.
How does this Android app track people's work?
You don't need to know anything about tech to use the app. It has an easy-to-use interface, so you don't need any special skills to use it. But for those who are interested in how it works, here is a full explanation.
First, you must do three things: 
Make an account for yourself on the website. Just put in your email address and password.
Get the secret GPS tracker from the Internet and put it on the mobile device. It will take less than five minutes to set up.
Check out how the tracking went. Check all the information on the website.
Your web account will be accessible from any Internet-connected laptop, tablet, or computer.
Tracking the location of a cell phone: how to find any phone in the world
You can find any smartphone in the world online, no matter where you are. You need SPY24 for this.
With SPY24, it's easy to track a Trackmobile phone for free. You can use it to track down your lost or stolen device. Less than three minutes will be enough. At the same time, it's a good way to find out how your kids, boyfriend or husband, girlfriend or wife, or boyfriend or wife spend their free time.
If you use this app, it can help your business. How? Just tell your customers where your workers are. They will be able to know when the mailman or someone else comes to their house. You will also know where your workers are when they are at work.
These are just a few ways that the free phone tracker for Android can come in handy. You can figure out how to use this phone tracker in your way. You can use this useful and free app to find out where any Android device is.