Instagram is a powerful social media platform with over 1 billion active users. While it can be used for good, it can also be used for evil. That's why it's important to know how to spy on Instagram accounts. In this blog post, we'll show you how to do just that. Stay safe and stay informed!
Spy human Instagram is without a doubt the most popular social media site right now. Almost everyone, whether they are old or young, has an Instagram account. And it's important to know how to deal with the world. Instagram is not only a must-have, but it's also a great place to learn and have fun. But things aren't as great as they sound.
Whether it's Instagram or another Spy app social media site, there are people on all of them that your kids should never talk to. These people might be able to get your child to do something bad for you and your other children. For example, they might ask for account information, photos of the parents' bank information, or other personal information. And these people have been taught how to get kids to do it.
Because of this, it's the parents' job to always keep an eye on what's happening on their child's Instagram account. And it's impossible to do without a spying app. You can't always be there for your child to take care of him or her. But spying apps can keep you up to date on everything your child does on Instagram on their phone, including the direct messages they get.
SPY24 Install application free The Most Powerful Hidden Spying App to Monitor Android, IOS Cell Phone & Tablet Device Remotely. Best Android Parental Control App for Kids & Teens Online Safety.
Now take the liberty to monitor Android, and IOS devices with exclusive features better than ever before Monitor all Voice & Text Messages Communication records, Listen to & Watch Surroundings in Real-time Unleash Digital Parenting with Android, IOS Spy App Spy (Surround Listing & Front/Back Camera Bugging) IM's VoIP call recording on Android OS 13 & above With 250+ Surveillance Tools at your fingertips using Android Tracking & Parental Monitoring Software.
SpyHuman can be used to keep an eye on a child's Instagram direct messages.
So let's start with SpyHuman, which is software that makes it easy to keep an eye on Instagram messages.
Why should you do it this way?
SpyHuman will let you try out its premium pack for free for 7 days. So, if you're the kind of person who doesn't buy things before trying them out, SpyHuman is definitely for you.
Second, SpyHuman can be a great choice if you don't have any money but need to get a spying app. You can use the app for free for a week and then buy it when your finances are better.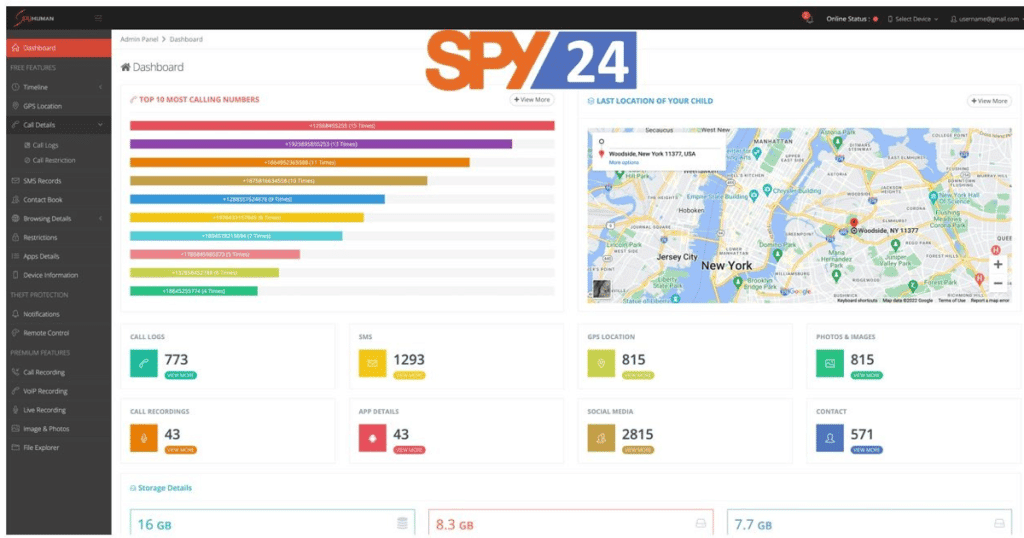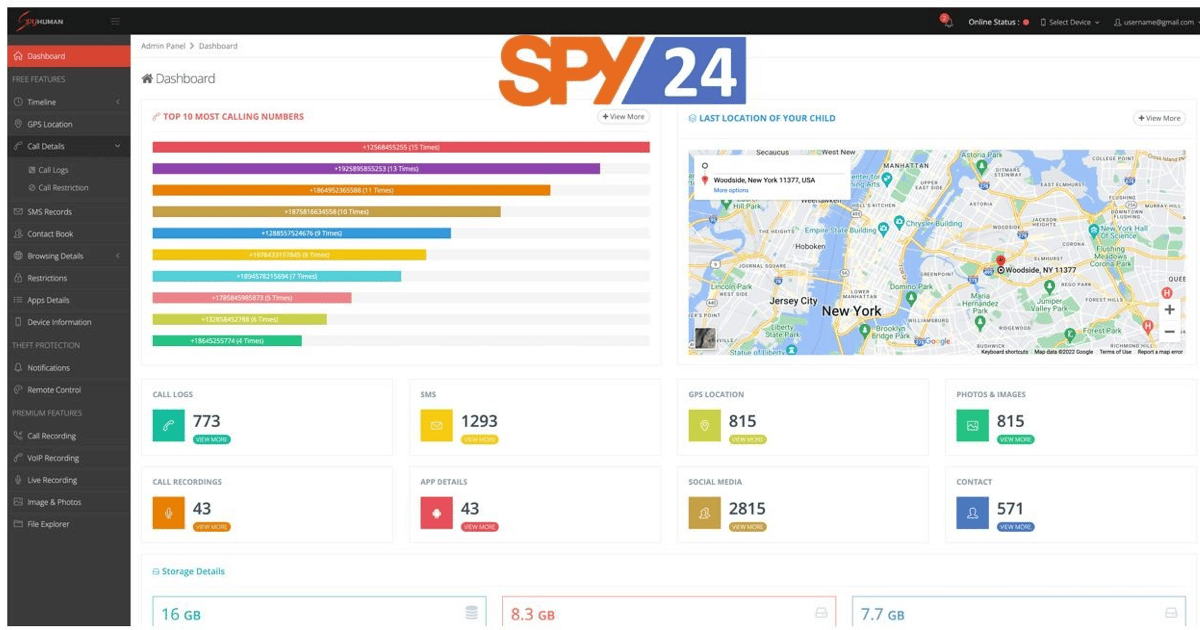 How to keep an eye on your kid's Instagram messages and activity
Why shouldn't you do it this way?
Even though you can try SpyHuman for free for 7 days and it's cheap compared to other spying apps, it doesn't have enough features. With SpyHuman, you can only keep an eye on the Instagram messages you get. You can't keep track of the messages sent and other things that happen on Instagram. If you want to do this and more advanced tracking, go to the second method in this tutorial, Monitor Child's Instagram Account Activity.
1. Using your child's cell phone, go to the SpyHuman website and click on the Download button.
Then, tap "Download SpyHuman App" to put the app on your child's device.
3. Tap Install on the page that comes up next.
4. You must now agree to the rules for using the site. To do that, check the box and then tap the AGREE button.
Then, tap ACCEPT to agree to the terms of the user license agreement.
6. On the next page, you have to choose the reason you want to monitor. In our case, we do it for the kids who are still young. Tap CONTINUE once you've made your choice.
7. You have to turn off the Play Protect option for the SpyHuman to work right. To do that, tap PROCEED TO SETTINGS, then tap the settings icon and the button.
Then it's time to make things accessible. Tap on PROCEED TO SETTINGS, go to SAFE SERVICES, and turn on the button.
9. Check the box and tap START NOW to let safe services record everything on the device's screen. In the same way, permit access notifications and manage the device.
10. In the next step, tap ALLOW to let SpyHuman handle your phone calls. Allow access to the call logs in the same way.
11. Tap ALLOW to give the app permission to take pictures and videos. In the same way, give the app all the other permissions it needs.
12. Tap ALLOW to let the app run in the background.
13. Now is the time to sign up for SpyHuman. Tap on REGISTER and then enter your credentials.
14. Once you have signed up, SpyHuman will send you an email. Open that email and click on the Activate Now button.
15. The account has been checked. It's now time to sign in.
The device for the kid has finally been set up. Now it's time to keep an eye on the child's Instagram messages.
16. Now, use your device to open the SpyHuman website and click the Login button.
17. On the next page, use the same login information you used to get into the kid's device and click "Log in."
18. On the left, you can see a list of choices. Click on Social Media Received, then click on Instagram.
All done. With these easy steps, you can now see all of the Instagram messages your child has received. The problem with SpyHuman is that you can only see the messages you receive. SpyHuman can't keep track of the Instagram messages your child sends from their phone.
Use Spyhuman to keep an eye on your child's Instagram account.
Now, let's talk about a more advanced way to keep track of your child's Instagram messages (sent and received) and all of their Instagram activities. Spy human is part of this method. It costs money and doesn't have a free trial like SpyHuman does, but it's easy to track both the messages you send and the ones you receive.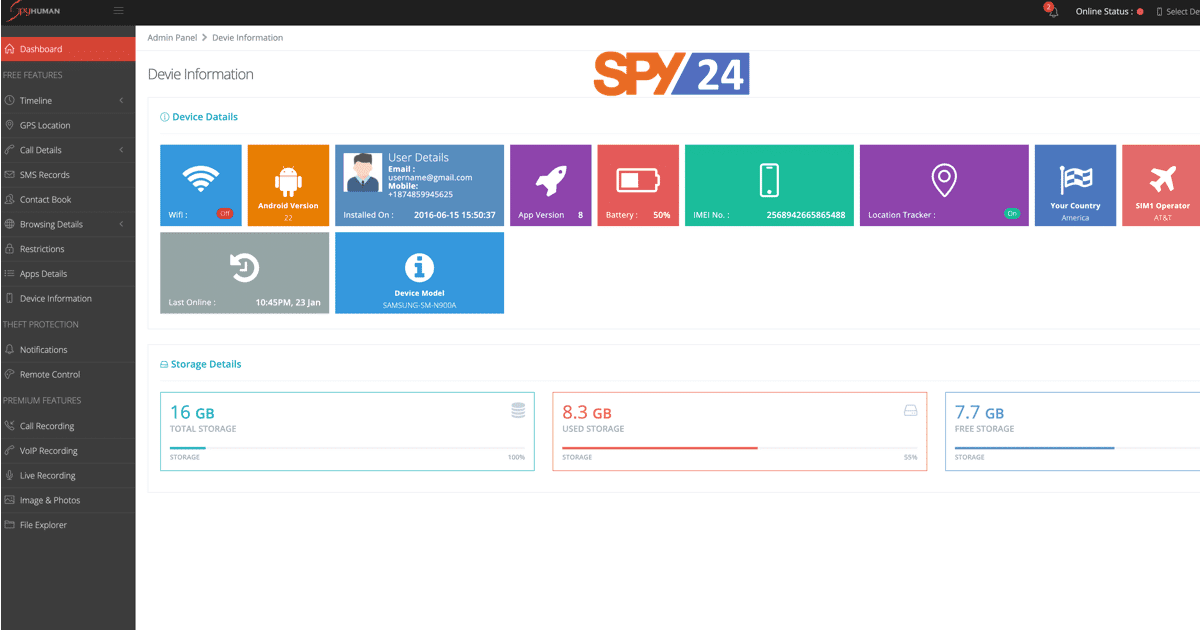 1. Open the Spyhuman website on your device and click "Login" in the upper right corner.
2. If you don't already have an account on Spyhuman, click "Register" and sign up as you normally would. If you already have an account, sign in.
3. Now, go to the device that the child is using and turn off the Play Protect feature. Then, use this link (https://spy24.pro/) to install the Spyhuman app on your phone. Swipe right on Slide right to download the app.
4. Then, sign in to your Spyhuman account on the device you want to spy on. As with SpyHuman, you have to give the app permission to do things like access your media, know your location, etc. This will make it easy to track the kid's device.
You can read our full review of the Spyhuman app to find out how to set it up and install it.
5. On the parent's device, choose "Data" from the list of options. After that, click on Social Apps and then Instagram.
After that, all the Instagram messages you've sent and received will show up on the screen as text or a screenshot.
You can keep track of everything that happens on an Instagram account, not just the messages. Like other Instagram notifications, liked photos, and other people's Instagram stories that show up on the target's Instagram account.
Final Verdict
Parents often worry about their kids when they are using Instagram. And they always think something is off about what their kids post on Instagram. With these apps, you can track not only Instagram messages and activities, but also messages from other social media apps like WhatsApp, Facebook, etc.