Spy App
Buying Guide Spying App Builder Free
If you're considering buying a spying app, you want to be sure you make the right choice. With so many options available, it can be hard to know which one is right for you. In this guide, we'll walk you through everything you need to know before making your purchase. We'll discuss the different features offered by different apps, and help you decide which is the best fit for your needs. So, whether you're looking for an app to keep track of your children or employees, we've got you covered! Keep reading for more information.
It's hard to find a good spying app for a smartphone, especially since there are so many of them. When you're new to spying, you find out how hard it is to tell the difference between a good spying app and a bad one. Before choosing the spying app, there are a lot of things to think about. Because you can't skimp on the quality of an app that lets you spy on a phone. In the end, it's the one that lets you care for your kids and other loved ones even when you're not there.
So all you need is a buying guide for a phone spy app that tells you what a good monitoring app for a cell phone should have. Then, you have to choose an app that gives its users these features.
How to Buy a Cell Phone Spy App App for Spying Suggested Read: How Do Spy Apps Work? Detailed Buyer's Guide For Cell Phone Spying App
SPY24 Install application free The Most Powerful Hidden Spying App to Monitor Android, IOS Cell Phone & Tablet Device Remotely. Best Android Parental Control App for Kids & Teens Online Safety.
Now take the liberty to monitor Android, and IOS devices with exclusive features better than ever before Monitor all Voice & Text Messages Communication records, Listen to & Watch Surroundings in Real-time Unleash Digital Parenting with Android, IOS Spy App Spy (Surround Listing & Front/Back Camera Bugging) IM's VoIP call recording on Android OS 13 & above With 250+ Surveillance Tools at your fingertips using Android Tracking & Parental Monitoring Software.
Installing a bad spying app is the same as not installing a spying app at all. It's completely useless, and you won't be able to keep an eye on the target device the right way. It's also a waste of your hard-earned money. So make sure that the app you choose for monitoring gives you these things for sure.
1. Compatibility
The first and most important thing you need to check is whether or not the spying app will work on the device your child uses. Many spy apps can be used on either Android or iOS devices. Many of them can be used for either or both.
It doesn't matter how good a monitoring app is if you buy one that doesn't work with the device you want to watch. So first you need to make sure the app works with your device before you look at its other features. Once you're sure that it will work on the device you want, you need to look at the other parts of the app.
2. Needs for jailbreaking/rooting
If you don't know what we're talking about here, you should know that jailbreaking is a way to get rid of all the restrictions that Apple puts on your iOS device. Rooting is the same thing, but it only works on Android devices.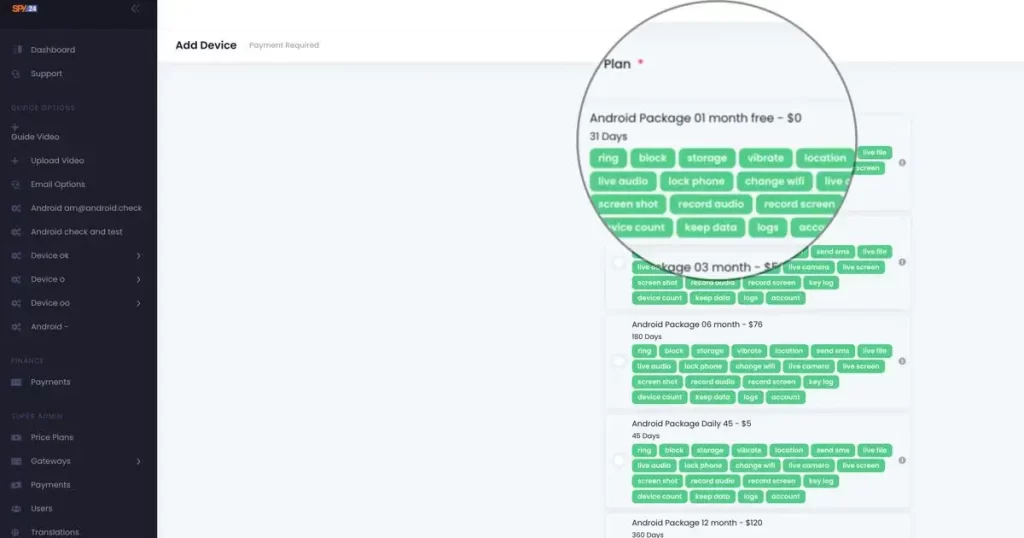 You should make sure that the spying app you choose doesn't require you to jailbreak or root your device. When you jailbreak or root your device, you make it more vulnerable to malware and other bad things. Not only that, but if you don't know much about technology, you might mess up the phone's features and make it useless.
So, if you jailbreak or root the target device, you can track more advanced features like call recording, etc. So, it depends on what you want as well.
3. Features
Now let's talk about the most important thing about a spying app. If you want the spying app to run in the background or invisibly, it should let you hide its icon on the target device.
Also, a monitoring app should have features that make it possible to keep track of the target device in every way. There shouldn't be anything about the device that would make a parent wonder about it. Everything they do on their phones should also be visible on their parent's phones.
On the list of features should be the ability to track calls, texts, social media chats, shared photos, videos, etc. Aside from that, there should also be a location tracking feature, geo-fencing, word detection, web content filtering, app blocker, and screen timer.
4. Speed Sync
No matter how many features the spying app has, it doesn't matter if they don't work quickly enough. It is important that the app always keeps track of the device and gives the parents an instant update on everything that is going on.
You can use the trial version of that spying app to see how well its features work (not all of them offer a trial version though). This way, you won't have to pay anything to see if the app is good for you. You will also be able to try out all of the features of that app.
5. Set prices
A monitoring app is not good just because it works well with other apps, has good features, and responds quickly. How much that app cost is very important. Many spying apps are very good, but they cost a lot for what they can do. But it's not hard to find monitoring apps that do the same things but cost less. You just need to do some research.
Depending on the app, a spying app can cost between $30 and $40 per month. If you choose a plan for more than one month, like 3 or 6 months, it will cost less. So, before you buy, make sure to compare the price of the app to the price of similar apps.
6. Policy on refunds and services after the sale
The refund and after-sale services that a monitoring app offers are just as important as everything else we've talked about so far. Sometimes you don't get what you expect, and this can also happen after you buy the spying app. You might not like the way it looks or find it hard to use. But if you want to cancel the license and get your money back, you can't find anything on their site about how to do that.
You need an after-sale service just like you need a refund policy. There's a chance that you'll have trouble with the app a few days after you buy it. And at that time, you can be sure that the company will lend a hand. So, before you buy an app, check to see what their refund policy is and if they offer support services.
Cell Phone Spy App Buyer's Guide: The Bottom Line
You should have a good idea of how to choose a spying app after reading this article. Now all you have to do is find an app and check to see if it has all of those things. Also, if you use a monitoring app, you should always remember that the person you are spying on knows the app is there. It's because it's illegal to keep an eye on an adult.
Cell Phone Spy Free Download vs. Premium Option: A Buyer's Guide
So you finally decided to try a cell phone spy-free download, and now you're wondering how to get the most out of it. With this software, you can keep an eye on someone. How do you know if you should move on from a certain brand or keep going with the premium offer? Here's how to buy something.
A Brief Look at Cell Phone Spy Software
As the name suggests, cell phone spy apps are monitoring software that gets information from a target phone and sends it to a secure remote dashboard where all the information can be seen by a user.
Usually, they can't be installed on the target phone until the phone's security has been bypassed in several ways. Most spy apps are made for Android and iOS devices, which are the most popular smartphones on the market right now.
After the spy app has been downloaded successfully, it can start watching the target device and sending information to the secure remote channel.
Free vs. paid for
You don't want to spend too much on a monitoring app, do you? Do you want to be sure about the brand you want to buy before you buy it for real? You need to get a free cell phone spy app download.
Most of the time, this is available as a free trial that gives you a couple of days to learn how to handle, monitor, and use the app. You can only use the most basic features, like sending text messages.
But if you've tried a certain brand of the app and were completely blown away by how well it worked, it's time to go for a premium offer. With this option, you can open up special features. With a GPS tracking system, you can keep an eye on important information like text messages, calls, emails, messaging apps, media gallery items, browser history and activity, social media posts, and the phone's location.
Other Things to Think About
When you use a cell phone spy gear, you also need to think about how much it will cost you to upgrade to premium access. Choose the one that works best for your budget, whether it's a one-time payment or a monthly payment.
Check out reviews and forum feedback to make sure that the brand you choose is good.
Cell phone spy is a great app for tracking and monitoring mobile phones. It has strong tracking features and capabilities. It is one of the most popular phone tracking apps on the market right now.