Spy App
Spy App Free Trial No Credit Card for 30 Day
Do you want to be able to keep track of your children, spouse, or employees? If so, you need a spy app. These apps allow you to see all the activity on a phone, including text messages, calls, emails, and more. But how can you be sure that the app is right for you? One way is to try it out for free first. Here we'll tell you about some of the best spy apps available and how to get a free trial.
SPY24 is a Mobile spy App with a free trial.
With millions of users and more 5-star reviews than we can count, SPY24 is the best spy app. SPY24 is a spy app that is very reliable and easy to use. You can set it up on your Android phone or iPhone in less than 5 minutes, and then you can sit back and relax while it sends you everything from texts to social media messages to your GPS location.
We put SPY24 on three different devices, and it took an average of 3.5 minutes to do so. Every time, SPY24 was able to send all of the target's messages on WhatsApp, Facebook, and Instagram. The target's browser history and call logs were also easy to get to. If you want to know what your partner or child is doing, SPY24 is a great choice. This app is great for people who are just starting, and once it's set up, it will automatically record everything. You don't need to do anything!
SPY24 Install application free The Most Powerful Hidden Spying App to Monitor Android, IOS Cell Phone & Tablet Device Remotely. Best Android Parental Control App for Kids & Teens Online Safety.
Now take the liberty to monitor Android, and IOS devices with exclusive features better than ever before Monitor all Voice & Text Messages Communication records, Listen to & Watch Surroundings in Real-time Unleash Digital Parenting with Android, IOS Spy App Spy (Surround Listing & Front/Back Camera Bugging) IM's VoIP call recording on Android OS 13 & above With 250+ Surveillance Tools at your fingertips using Android Tracking & Parental Monitoring Software.
---
How to use SPY24 to spy on another iPhone from afar?
The best iPhone spyware can track people without having to install software on the iPhone. They work without having to jailbreak, so all you need to start tracking a device is its iCloud credentials.
Here is a step-by-step guide to installing monitoring software on an iPhone or iPad:
Set up a web account for the spying app by entering your email address and a password.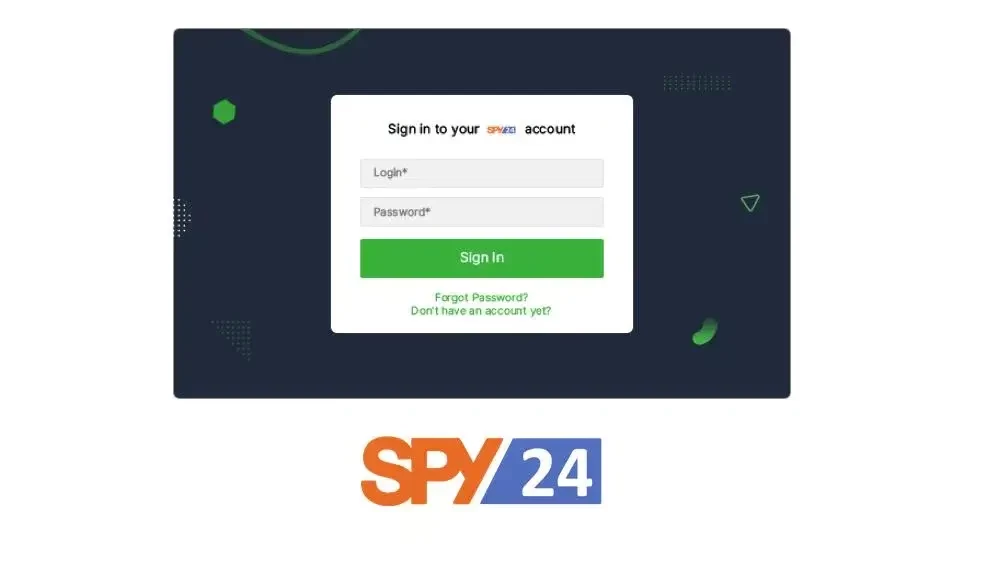 Choose the device's operating system.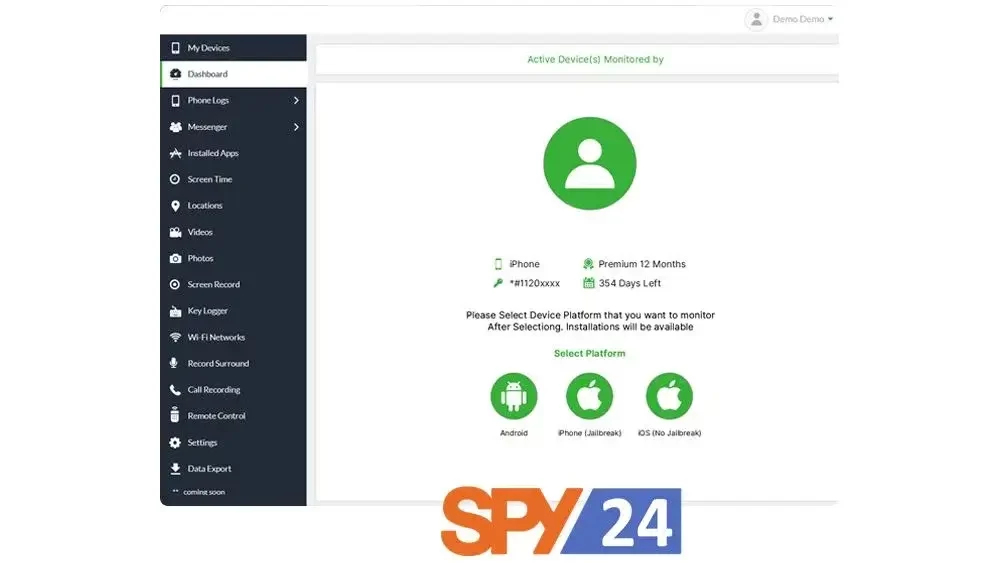 Pay for the subscription plan you chose.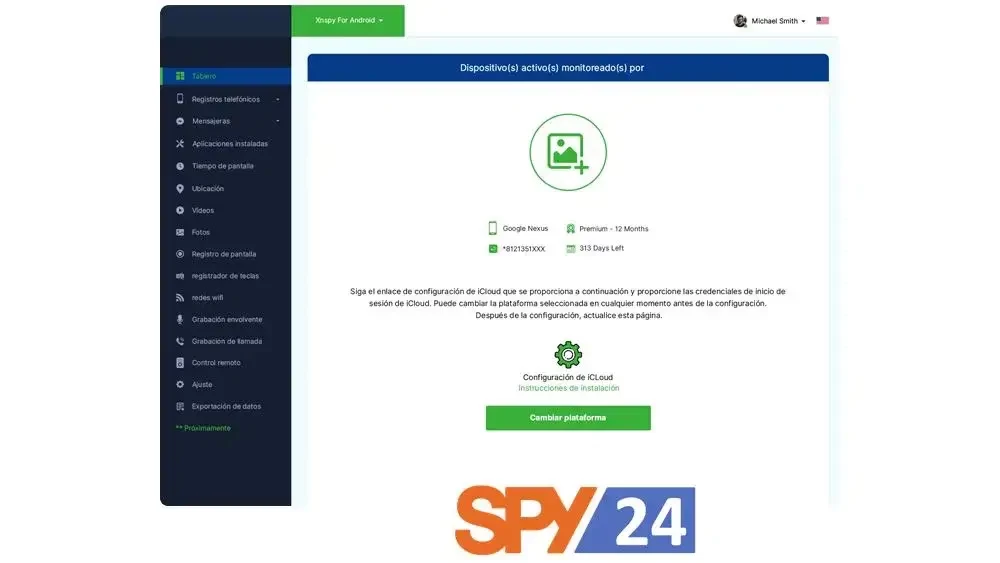 Sign in to the website for the app and click "Start Monitoring."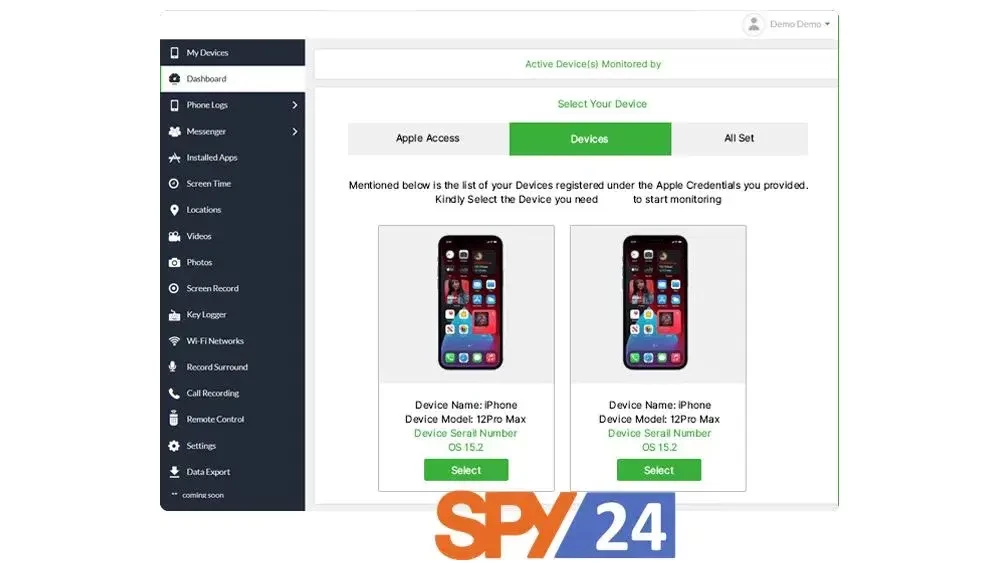 Enter the iOS credentials of the target and check them.
If the target phone has two-factor verification, turn it off.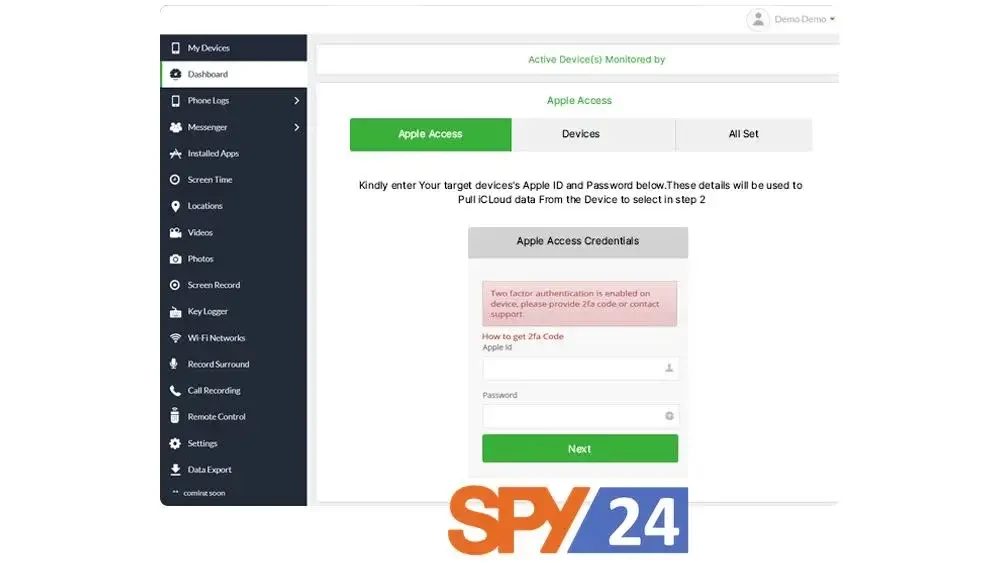 Choose the device you want to keep an eye on.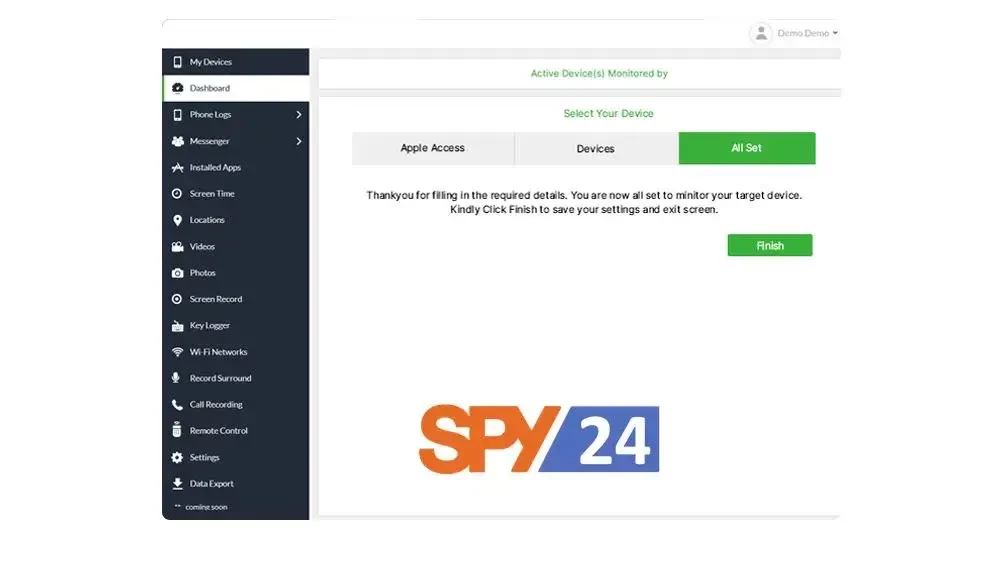 Finalize installation.
How to Keep Track of a Phone?
Here are the steps you need to take to use the SPY24 app to read someone's text messages without having to install the software:
1) Start up your Internet browser.
Go to the website www.SPY24.pro.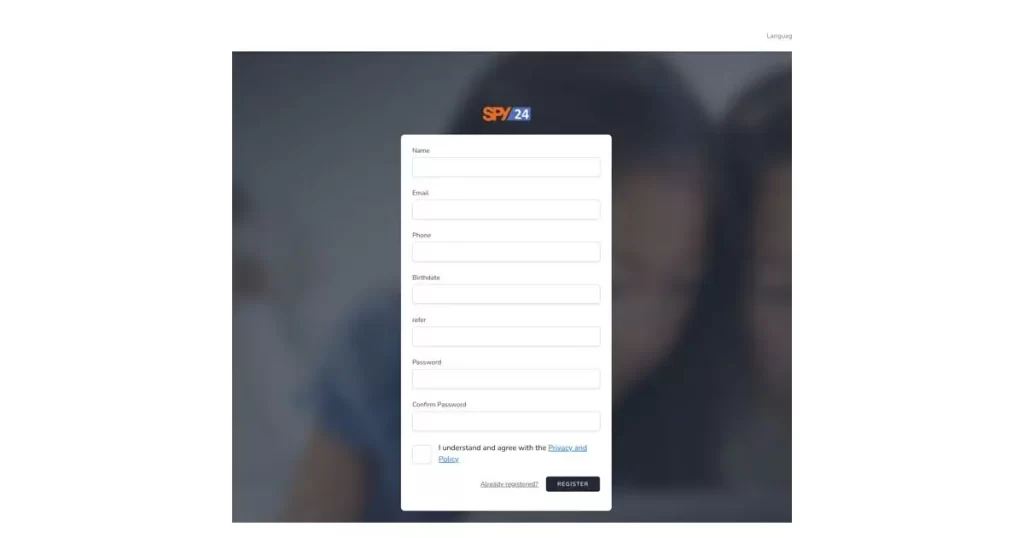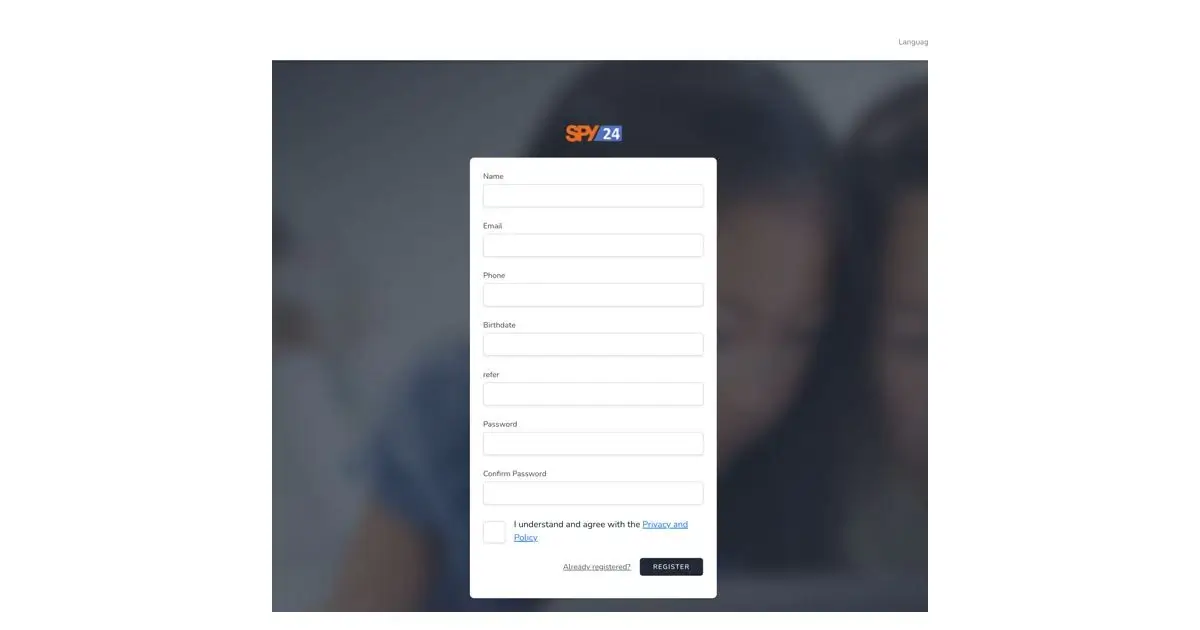 2) Sign in to your SPY24 account.
Then click the button that says "Sign In."
Step 3: Choose the language you want.
Choose English as the language and click the Confirm button.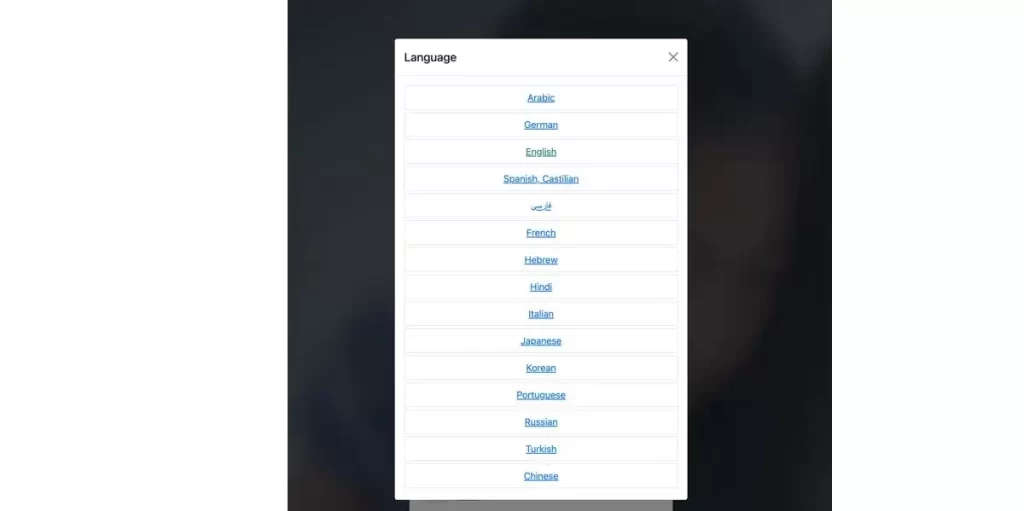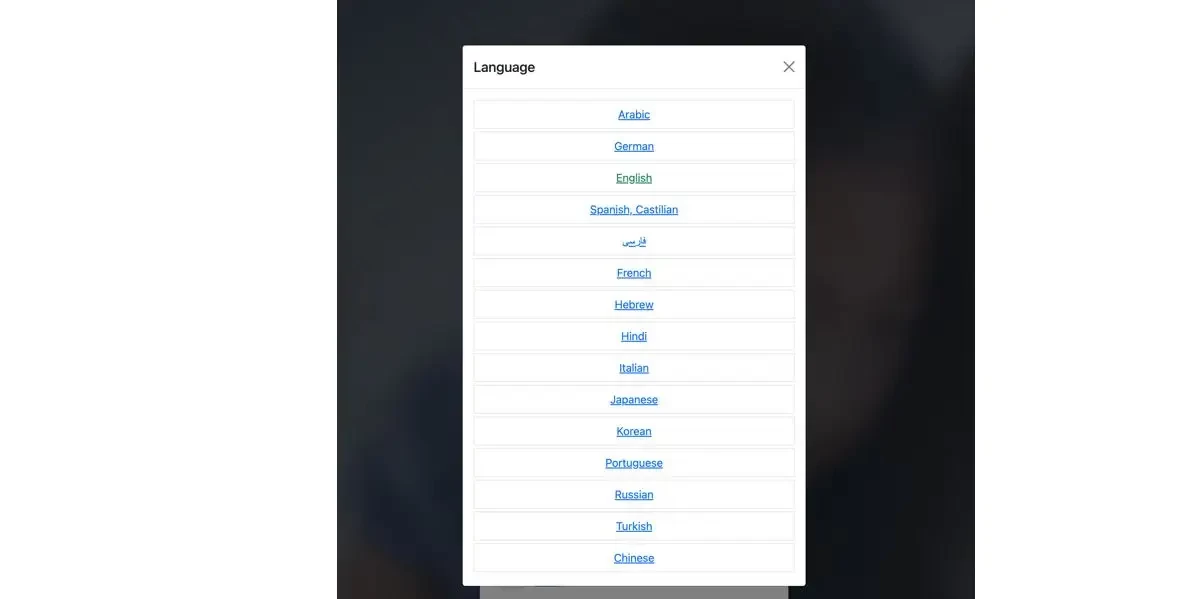 Step 4: Set up a device to be watched.
Click on the "Start" button.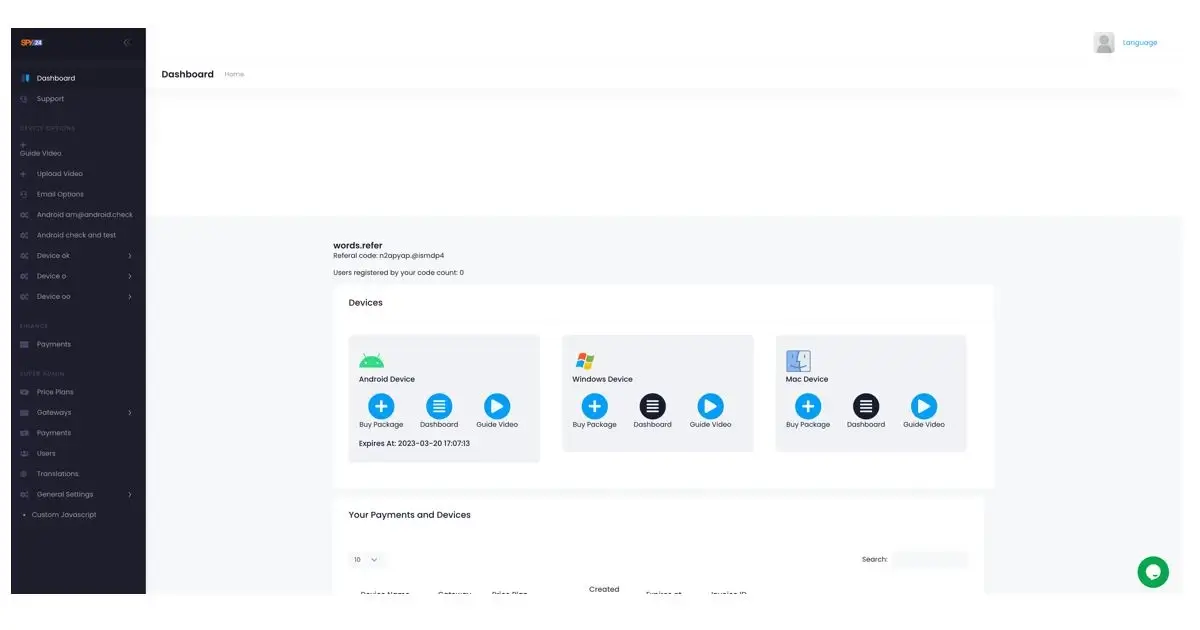 Step 5: Choose the kind of device you want to keep an eye on.
You can choose between an Android or an iOS device. Here, we've gone with the Android phone.
Step 6) Choose "I have full access to the device."
Make sure you can get into the device you want to spy on. By "full access," SPY24 means you have to be "physically" near the phone.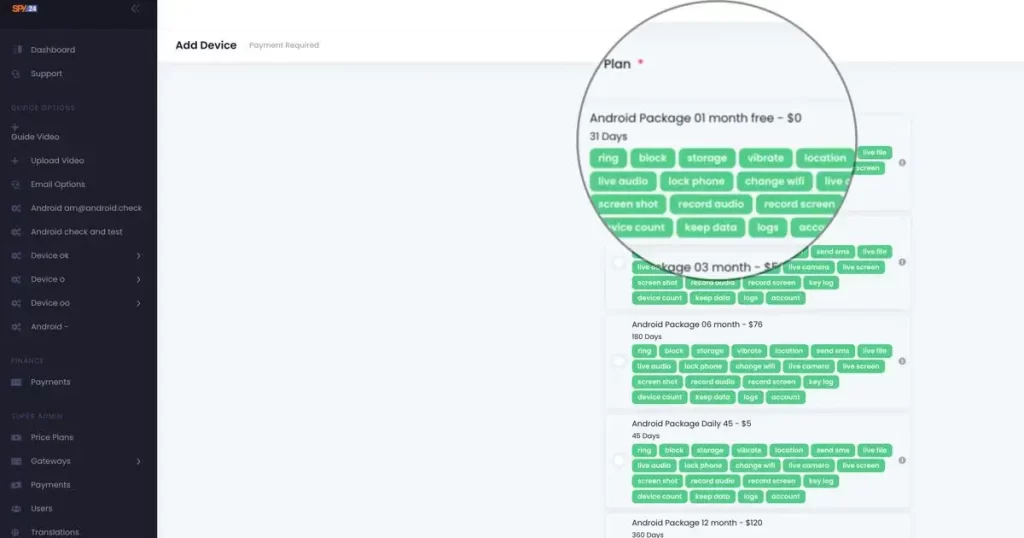 Choose "Yes" and then click "Proceed."
Step 7: Choose the company that made your phone.
Here, you can choose from many different brands of devices, like Samsung, Huawei, Xiaomi, Moto, Google Pixel, LG, or any other brand.
In this case, we chose Samsung. Then, press the button that says "Proceed."
Step 8: Choose the version of Android you have.
Choose Android Version in the next window. Below is a way to find the Android version.
Step 9: Turn off the PlayProtect feature.
PlayProtect needs to be turned off. On the device, you want to keep an eye on it.
Open the Play Store. Then, tap the three dots in the upper left corner of the profile icon in the upper right corner. Search for Play Protect and click on it.
Next, you need to tap the Settings icon in the upper right corner.
Turn off the Play Protect option to scan apps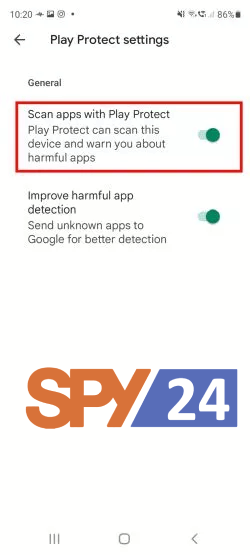 Step 10) On the device you want to use, open the browser.
The next step is to open the mobile browser on the device you want to use.
Fill in the Captcha.
Click on the "Download" button.
To ignore the warning, press OK.
Step 11) Once the APK is downloaded, open it.
Click the box next to Allow from this source.
Step 12: Set up how SPY24 Process works.
SPY24 will start up. After this, you can keep going with the process of setting up.
Step 13) SPY24 Configuration done.
Give SPY24 a little bit of time (about 1-2 hours) to record the activity and send it to the server. This synchronization time also depends on how fast the target device is connected to the internet.
Step 14: Look at the past.
You can also look at important information like SMS, social media, calls, photos, etc.
Text messages: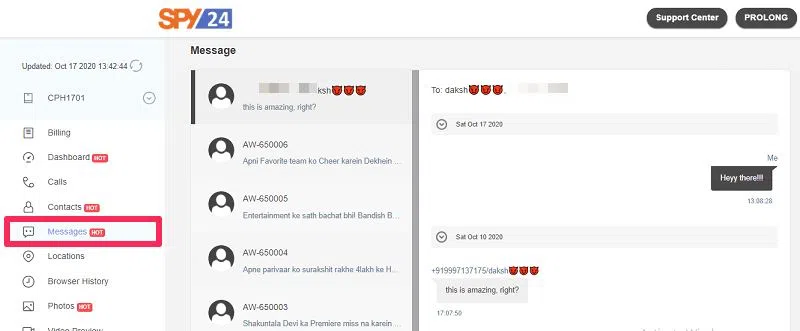 Calls: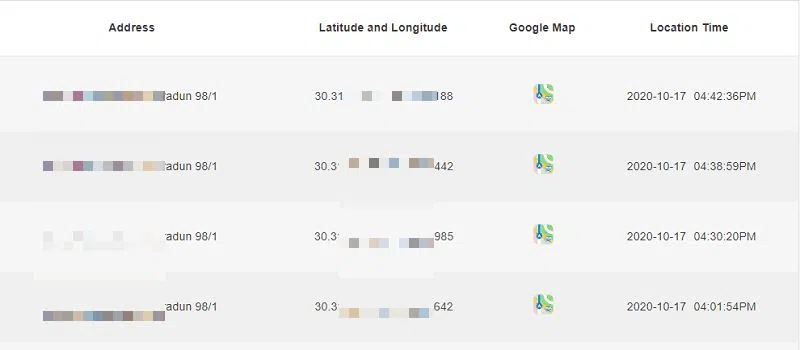 Photos:

Also, click here to read our article on how to hack a Snapchat account.
Sign up for SPY24's Free Cell Phone Tracker and Try the Best Spy App!
Still, debating whether or not to use a surveillance app? Use the free SPY24 parental control software to get a taste of the latest monitoring capabilities and see what it has to offer.
Try Our Free Mobile Tracker at SPY24.
Make use of the whole collection of premium features offered by the best cell phone tracker!
Disclaimer: We've surpassed our maximum number of free trial requests, so the trial is no longer available. However, as a bonus, we'll give you 30% off any plan if you join right now.
With the Free SPY24 Phone Tracker, you can Know and Prevent.
Section for Phone Tracking
Remote Monitoring with Simple Setup
In less than 10 minutes, you can set up SPY24 and begin monitoring your target device from your Control Panel.
Every piece of information is safeguarded.
SPY24 employs the most up-to-date encryption algorithms to ensure that you are the only one who has access to the information.
iPhone and Android compatible
Both iOS and Android devices are supported by our free cell phone tracking software.
Features for On-Demand Monitoring
Test out the best features of cell phone tracking software.
GPS Phone Tracker for Free
With the built-in GPS tracking and Geo-fencing functions, you can track your child's phone position for free. Set location limitations on the map and receive notifications when the device enters the restricted zone.
Social Apps Surveillance
Protect your children against cyberbullying and online predators by keeping track of who they are chatting to on the Internet. Keep an eye on their Facebook, Instagram, Viber, Snapchat, Kik, and other popular social media platforms for messages.
Keylogger
With the Keylogger tool, you may keep track of every keystroke made on your device. View text input in web browsers, login boxes, chat apps, calendars, and notes, among other places.
SPY24 Free Phone Tracker App Call Logs Contacts
SMS Spy
WhatsApp Spy
Skype Spy Snapchat Spy Facebook Messenger Spy
Telegram Spy
Tinder Spy
Line Spy
Viber Spy
Kik Spy
Instagram Spy
GPS Positions Right Now
Geofencing
Applications that have been installed
Websites are being blocked because a keylogger has saved their media browsing history.
"SPY24 is on the verge of becoming the best parental control tool available anywhere in the globe, as it is specifically developed for guardians and parents to monitor and control their children's online activity before they become victims of online harassment."
SPY24 Free Mobile Tracker Frequently Asked Questions
Have questions about free cell phone tracking?
Consult our FAQs or call customer service.
SPY24 free trial duration?
SPY24's free phone tracker is unavailable due to a limit on trial requests. Sign up now for a 30% discount on any plan or to be notified when the free trial period resumes.
How do I free phone trace?
Free cell phone tracker apps are online. Most are scammers or virus spreaders. Select the cheapest or shortest membership option for commercial software like SPY24 to avoid online scams. If the app's features meet your needs, you can upgrade.
Free cell phone tracking involves what?
After signing up, you'll have access to SPY24's features, including WhatsApp and Facebook monitoring. To track a phone, download SPY24 or sync it remotely through iCloud.
Free cellphone trackers: safe?
Most free spy apps or mobile trackers are gimmicks or don't work until you pay (if they do work at all). Many reputable tracking apps offer a free trial or live demo so you can test it before buying.
How do I secretly track a cell phone for free?
Installing a tracking program on someone's device is the best way to spy on them. SPY24 subscriptions include GPS tracking. With SPY24, you can track someone's location in real-time and set safe and 'dangerous' zones on the map to receive alerts.
How can I track a free Android phone?
SPY24 isn't free, but it offers advanced monitoring tools for a reasonable price. First-time buyers get 30% off. Install the program on the target Android to track calls, GPS location, social messages, and browser history.
How do I track a free iPhone?
SPY24 tracks a phone easily. The remote app install takes less than 15 minutes. You can install the program using iCloud or official shops.
Free phone number tracking?
It's hard to trace a phone number alone. Install a tracking app to view the device's activity.
Can I track my daughter's phone for free?
The SPY24's built-in GPS tracker shows its location and routes. Geofencing lets you place restrictions on a map and receive notifications when a device enters the restricted area.
Can one subscription monitor multiple devices?
SPY24 allows unlimited device switches within a single subscription without additional fees. Family Kits can monitor multiple devices at once. You can monitor your children, spouse, grandparents, etc.
SPY24 is a genuine spy gadget that you may have for free.
SPY24 offers authentic SPY24 spy software for smartphones for free. Do not be fooled or download a virus; instead, go to a genuine website.
SPY24 is available for a free trial period of 24 hours.
There are no credit cards, no terms, no stress, and no issues!
To be notified when the program begins, sign up for our mailing list.
SPY24 will only ever be available as a FREE TRIAL on this page.
It's almost probably spyware if you encounter another site advertising our SPY24 as a free trial.
Please do not obtain this file from any other source.
What Is The Free SPY24 Trial?
You may try out all of the features of SPY24 PREMIUM for free for 24 hours, with no bother, fuss, or need for a credit card. The SPY24 free trial is designed to get you up and running with SPY24 as quickly as possible so you can see what it can do and why it's the greatest spy phone software on the market, with more capabilities than any rival.
To continue using SPY24 after the trial period has ended, you must upgrade your SPY24 PREMIUM subscription to a SPY24 Extreme license. When you upgrade to SPY24 EXTREME, you will no longer require the TARGET device to use SPY24.
Your license can be upgraded straight through your website.
To install SPY24 and start your free trial, you'll need the TARGET device.
If the trial account is not renewed or activated within 7 days, it will be erased from our systems. For the SPY24 Free Trial, we exclusively provide SPY24 Premium. Only one TARGET device and one registered email address are allowed in the SPY24 free trial.
What are the best spy apps for Android that can't be found?
Here are the unchangeable Best Free Spy Apps for Android:
SPY24 is the best for both Android and iOS.
uMobix is the best social media tracking and monitoring tool for kids.
Clevguard is the best way to keep track of what your kids are doing.
Hoverwatch is best for Windows, Android, and iOS
eyeZy is the best way to get contact information
Cocospy is the best way to track a person's location, texts, calls, and apps.
FlexiSPY – Best Overall
Spyera works best on devices that have been "rooted."