Spy App Reviews
Kidgy Parental Control App Review – All You Need to Know 2023
In this article from SPY24, we brought you to the full review of the application for controlling and monitoring the children of Kidgy and checked what features this application has. we will quote from the feedback and reviews of its users and customers and we will compare it with similar applications in the market like SPY24.
But before introducing the application, is it necessary to know what is the function of these types of applications?
What facilities do these types of applications, which are called parental monitors and trackers, give to their users?
Are these applications reliable? Do they really work? Is the information collected for you visible only to you, or is it stored in other database applications and given to their users?
Parental control applications are actually an important necessity in today's world for users who are concerned about their children.
Considering the growth and convenience that it provides us every day, the Internet world is also a very suitable place for individuals, organizations, and criminal groups. These groups and people can do a lot of harm to our children by using malware and producing inappropriate content, including violence or using the porn industry, etc.
Also, indirect supervision in the form of children or friends that we are worried about is considered the most correct type of supervision from the point of view of sociology, and it makes us take care of the potential dangers that may exist for the children, and on the other hand, With direct supervision and control, we should not limit and form hidden behaviors of our children or friends and relatives.
You can do the following prevention methods with parental controls like Kidgy:
Control or block the video games your child can access.
Filter web browsers and only show pre-approved websites.
Prevent children from using some services.
Manage search engines to limit what a child can search online.
Manage all types of searchable videos.
Parental control apps are essential to keep your child safe when they spend time online. Because of the variety of Internet devices and operating systems your child may be using, it is important to always keep your parental controls up to date-and active.
 Parental control programs generally fall into two categories. The first category is programmed with many features and a difficult process to use. The second category is programs that are simplified as much as possible. These programs usually have more graphical appeal. But before we go to such software and buy them, it is necessary that we ourselves have all the necessary checks related to these applications. In this article, we will review the Kidgy parental control application.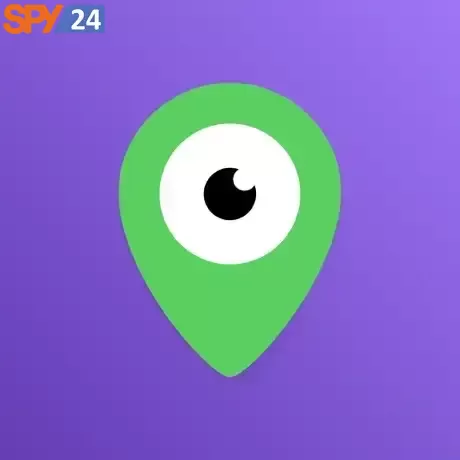 | | |
| --- | --- |
| Android | Yes |
| iOS(iPhone/iPad) | Yes |
| Website:  | https://kidgy.com/ |
| Domain Age: | 2014-02-09 |
What is Kidgy?
Kidgy was developed by a company called Digital Parents and claims that it aims to make modern parents feel at ease.
 Designed as a digital assistant, this parental control app allows you to remotely monitor your child's online activity. View and block websites and apps that promote harmful behavior. Monitor your child's current GPS location and also designate safe areas (school or home, for example). You will get alerts every time they log in or out. Also, set simple tasks and get notified when they're done with Kidgy's daily schedule. Kidgy parental control software works within the framework of strategies of international organizations such as UNICEF, which advocates creating a safe online environment for children.
Feauters :
The application allows you to :
Сheck GPS location of your kids in real-time and view the list of visited places during the day
Create geo-fences and get immediate notifications when your kids breach them
Let your kids inform you in case of emergency or danger
Monitor contact list
Assign tasks remotely and get notified once they are done
View the list of installed apps (if the monitored device is being run on a different platform)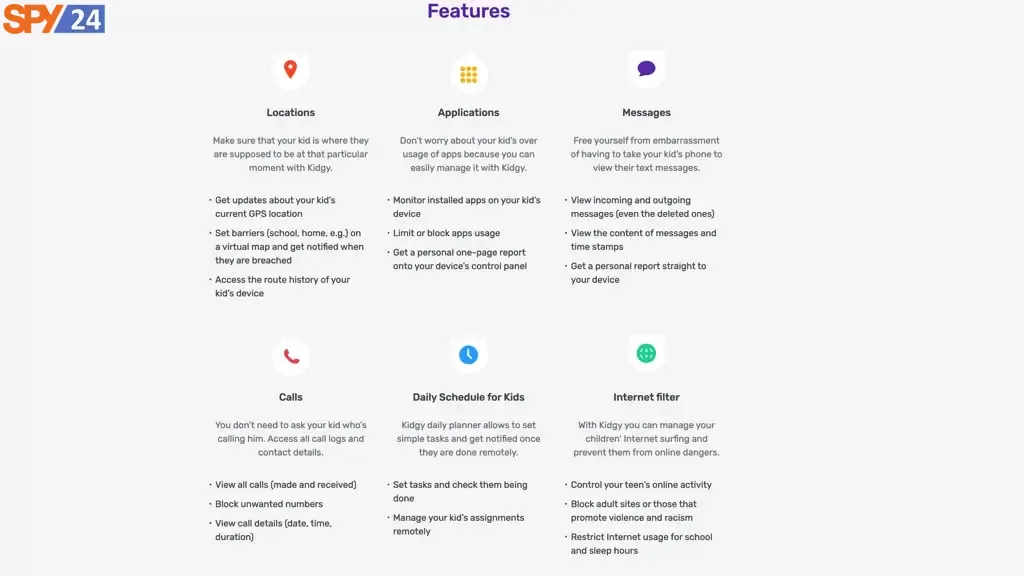 How does Kidgy work?
Kidgy works through Android and iOS applications that you install on your children's device and a special profile that you create for it.
Then after installing these applications, it allows you to track and monitor your children.
What Activities Can I Monitor With Kidgy?
This app can Track your child's location and history of movements throughout the day on the map using a GPS locator. With this, you can make sure your child is where he needs to be and not in dangerous places. Kidgy has other facilities that we will mention below: 
Listening – Hear everything that is happening around your child to make sure he and those around him are doing well.
Loud signal (calling) – When your child is difficult to locate or is in silent mode and they are not responding, you can call them through loud notification.
App Control – Find out about all the apps that are being used in the school and how long they are being used. Now you can find out what distracts them from paying attention in the classroom.
Security control – check your child's arrival time at school! Get notified when they arrive at school, home, and other places. Add as many specific locations as you like for added security.
How Do I Install Kidgy?
Based on the investigation we had on SPY24 and the Kidgy website, we found that this application was published in the App Store, The link to this company's Android application was not included on its official website. with the search we did, we were able to find it on Google Play as well.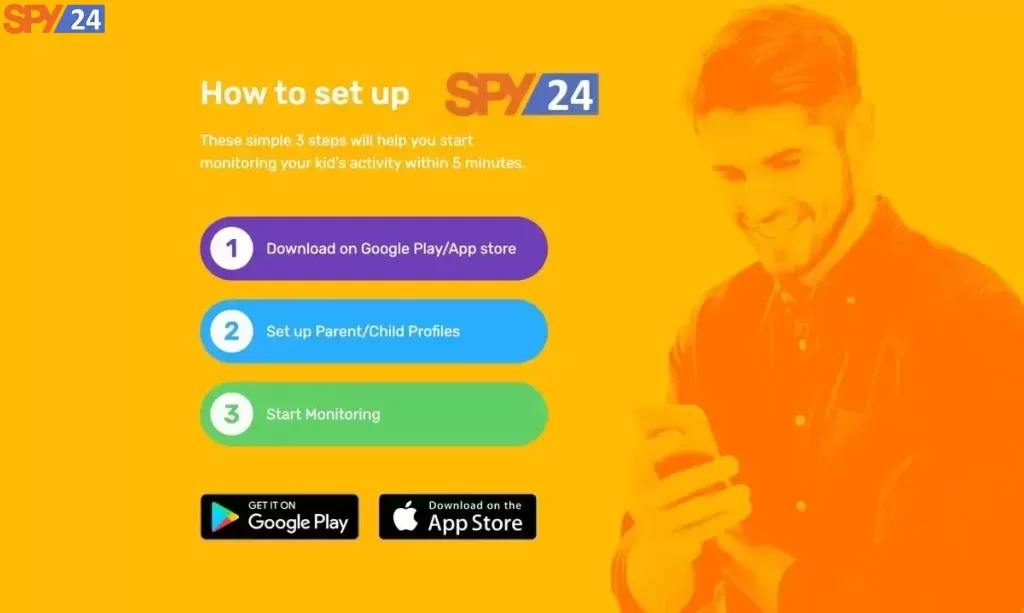 ---
---
What is the price of this application:
• You have to pay $9.99 per month for this app
• Payment will be charged to the iTunes account at confirmation of purchase
• The account will be charged for renewal within 24 hours before the end of the current period and will specify the renewal fee.
• Subscriptions may be managed by the user and auto-renewal may be disabled by going to the user's account settings after purchase.
Feedback and reviews about the Kidgy application
We fairly looked for positive and negative feedback on Kidgy application on various websites, and below are some of the selected comments on this application for you:
Positive comments:
One of the comments published by a user in the App Store in 2018:
As a techie dad without the internet and such high-tech gadgets, I was nervous about my kids taking tablets from their grandparents. I've had limited success with other apps that are no longer available and aren't compatible with phones, so discovering Kidgy made me very happy to know I could tap for website apps, GPS tracking usage hours, and more.
Also, another user gives his feedback in the comments:
This program can save lives and give parents peace of mind
Great app, perfect for the peace of mind that I know where my teenage daughter is at all times without her dad calling her every 5 minutes in front of her friends, with this app I know when she is with her. On the way home or getting to his friends etc, I would love to recommend this app to any parent as it helps keep stress levels down.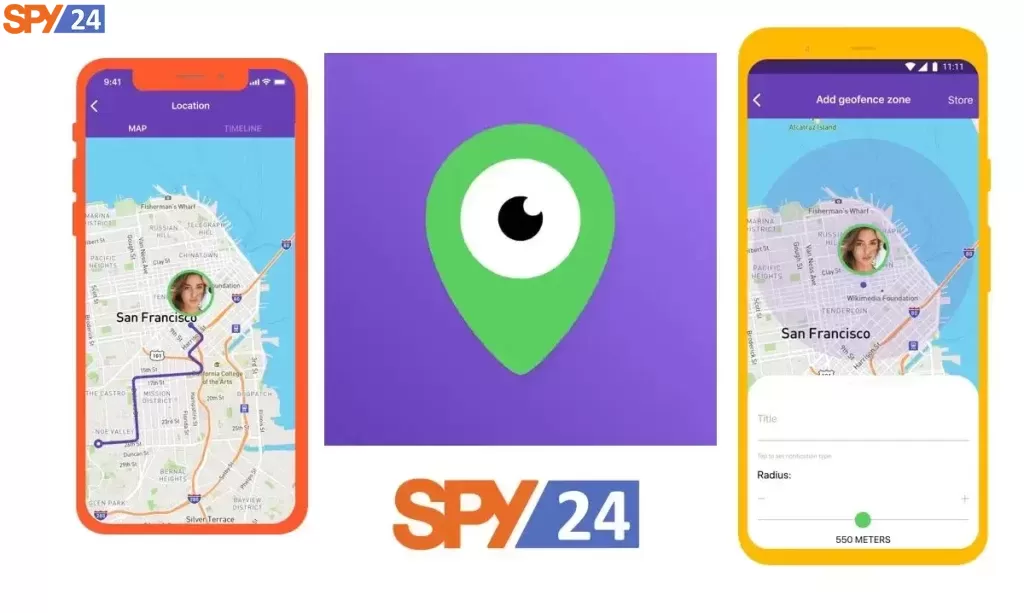 This opinion was also registered in 2018 and it is about 5 years ago.
Negative Comments:
Would give it a zero
I purchased this app and then discovered it does not offer all that was stated in the ad. I cannot check my son's messages and I cannot limit internet usage. Internet usage was my main reason for purchasing. I called company 6x and never got an answer, it would just ring and ring and then hang up.
I emailed about my frustration and requested a refund and did not get a response. Mind you I paid for three months, which was my mistake, but I had the app for a total of 6 hrs before requesting a refund.
Bad app and has no customer support services.
This opinion was also registered in 2018 and it is about 5 years ago.
Also, in Google Play, you can see different opinions of users, in Google Play, users have given this application a score of 2.8.
Often, the negative point of this application is that it does not have a free version, and all its features are paid for.
Also, in 2020, a user on Google Play wrote:
I accidentally ordered this app. They won't give my dollar back. As soon as I realized that this app was purchased by accident, I started requesting my refund.
In any case, SPY24 always suggests that before buying any type of tracking application, you must read the comments and reviews and then go for that application.
Kidgy App Pors Cons
In this section, we tried to review the strengths and weaknesses of the Parental Tracker app fairly and without prejudice.
Strengths :
Relatively simple user design.
The application is available on both Android and iOS platforms.
The availability of Kidgy application in Google Play and App Store, which are generally among the largest Android and iOS markets.
weak points:
Not having a trial and free version of the program
Lack of updates in the markets
Absence of online support and unresponsiveness of the listed numbers.
Uncertainty of the manufacturer
There is many of negative feedback on the page of the Kidgy application in the App Store and Google Play.
Kidgy vs. SPY24: Basic features or advanced functionality?
In this section, try to compare the two applications SPY24 and Kidgy, and come to the conclusion that which of these two will be suitable for the users who need you.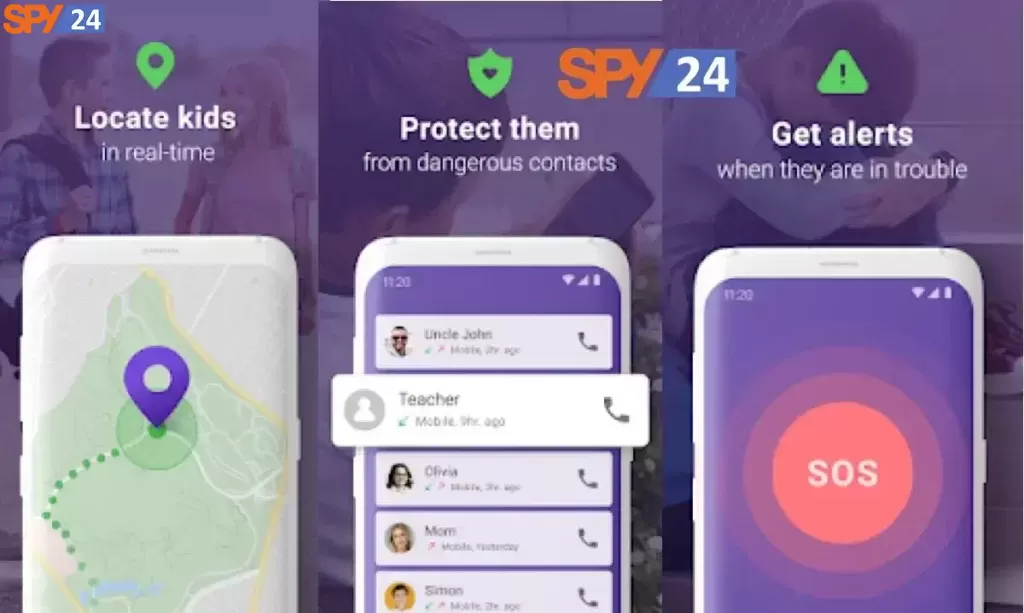 Kidgy
Check your kid's GPS location in real-time and see the list of places visited during the day
– Create geo-fences and get instant notifications when your kids are taken out
– Let your children inform you in case of emergency or danger
– Monitoring the list of contacts
– Set tasks remotely and get notified when they are done
– View the list of installed programs (if the controlled device runs on another platform)
SPY24:
Control of sent and received SMS
Control and tracking of all social networks
Real-time tracking and location
Remote storage of mobile data: installed applications
Control of multimedia files
Call recording Ambient sound recording
Internet access control
Full call control and reporting
WhatsApp control and tracking
Telegram control and tracking
Completely hidden installation in the device
Instagram control and tracking
Cheap packages and different payment options for more convenience.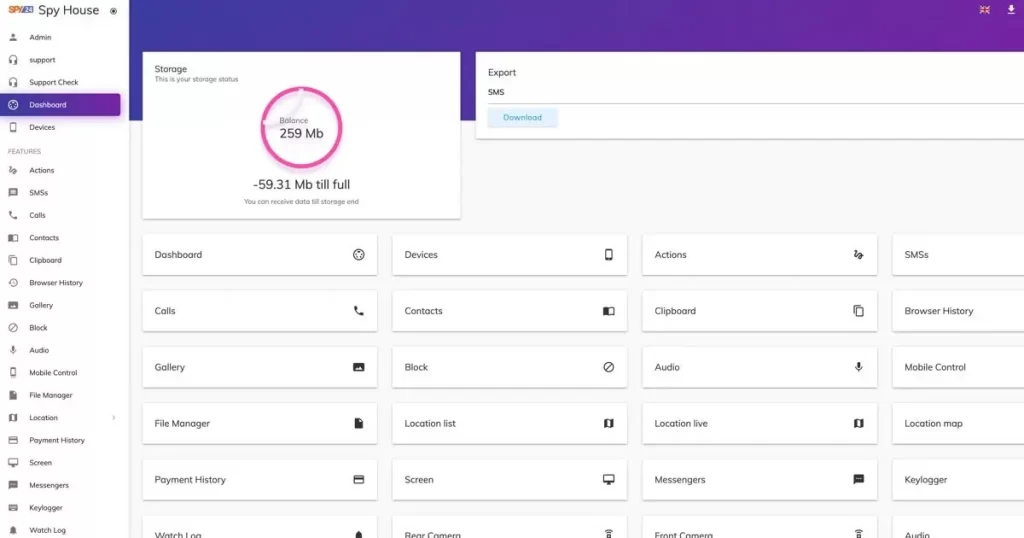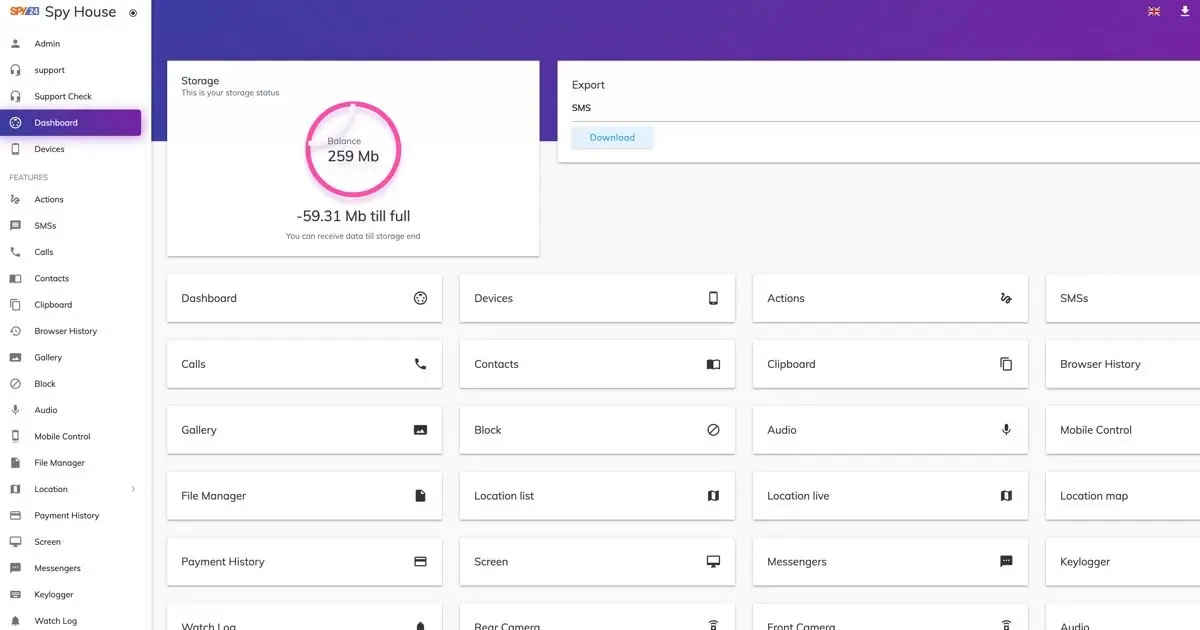 ---
SPY24 Install application free The Most Powerful Hidden Spying App to Monitor Android, IOS Cell Phone & Tablet Device Remotely. Best Android Parental Control App for Kids & Teens Online Safety.
Now take the liberty to monitor Android, and IOS devices with exclusive features better than ever before Monitor all Voice & Text Messages Communication records, Listen to & Watch Surroundings in Real-time Unleash Digital Parenting with Android, IOS Spy App Spy (Surround Listing & Front/Back Camera Bugging) IM's VoIP call recording on Android OS 13 & above With 250+ Surveillance Tools at your fingertips using Android Tracking & Parental Monitoring Software.
---
Platforms and operating systems
Both applications i.e. SPY24 and Kidgy run on Android and IOS, the biggest difference is that SPY24 can be used online on all kinds of browsers such as Windows, Mac, and Linux operating systems.
 Price and comparison
Kidgy application has monthly plans with a price of 9.99 dollars, that is, 120 dollars annually, and it also does not have any free or non-paid plans for its application.
SPY24 offers all its main features in full at the price of $4.99. It also considers various cheaper plans for users.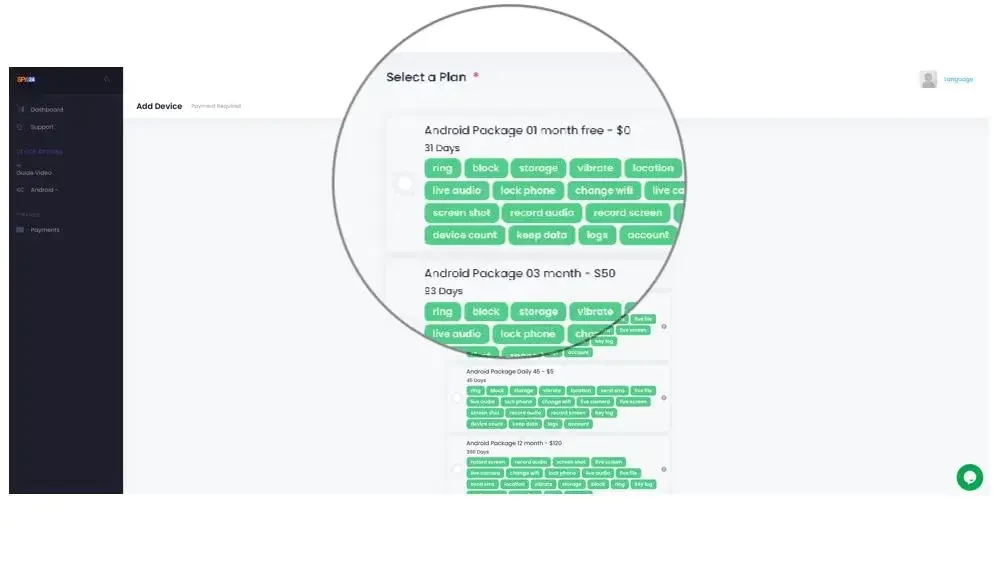 User access to features
Users must pay for the service to use the feature, and there is no possibility of testing for the user.
But in SPY24, you can use all the features for free for 48 hours and then use various other features for free for one month.
Reliability
Kidgy does not provide you with any explanation regarding the privacy of users' data. Will the information extracted from your child's phone be recorded in databases? Or is there a possibility of your child's phone information being leaked due to the weak security protocols of the Kidgi website?
In SPY24, your information is exchanged under an encrypted security protocol, all user information is exchanged in high-speed and secure cloud services, and no information is stored in a third-party database. You can easily use the SPY24 application and services.
Conclusion
SPY24 and Kidgy are both applications related to tracking and controlling as well as monitoring children and friends. you can see the full comparison of these two applications above. We suggest that you read the features you want before buying. SPY24 with a professional team of security experts and relying on privacy laws and regulations can be an excellent choice for you.
The positive and negative points of SPY24
positive
The best spying solution for Android and iPhone mobile phones with a strong support
Reliable using HTTPS security protocols and cloud servers that exchange data encrypted.
It covers most of the social media monitoring capabilities of each app
Hidden mode so that it is completely hidden on the host device and does not cause any slowness in the person's phone
Mobile call report from a mobile number with a name
Easy installation on all operating systems
Best support in the industry
Great for business owners to monitor employee activity or parents to monitor children
GPS tracking function in real-time and find the exact location of child or employees.
Negative
Requires a "full" subscription plan to monitor all social networks
No intercepting calls or listening to live calls
Requires physical access to the target Android device (all Android spy apps require it)
Frequently asked questions
Does the cheat app really work?
Yes, this application is available in different markets and after paying the amount of 10 dollars which is in the form of periods of 3 months, 6 months, and one year, you can see its features and use it.
Is Kidgy reliable?
Before using the Kidgy application, we suggest that you read the SPY24 article and study the weaknesses and strengths of this application.
What are the best parental control and monitoring applications?
SPY24 introduces you to all kinds of parental control and monitor applications. You can reach a favorable conclusion about the best possible choice by reading our articles.
How much is the charge?
The charge amount of the Kidgy parental control application is $99.90 per month, which is more expensive than its competitors compared to the features provided.