Spy App Reviews
FamilyTime Parental Control Review 2023: An In-Depth Comparison with Its Top Competitors
FamilyTime is a parental control app designed to restrict children's online presence. As of 2023, here are some of the key features and benefits of FamilyTime:
| | | | | |
| --- | --- | --- | --- | --- |
| Features | Ease of Use | Support | Installation | Pricing |
| 8.0 | 8.0 | 9.5 | 7.5 | 8.0 |
| | |
| --- | --- |
| Content blocker | Yes |
| App blocking | Yes |
| Location tracking | Yes |
| Devices | 1 – 5 Devices |
| Money-back | Guarantee No |
| Starting price | $27/Year |
| Supported Devices   | iOS and Android devices |
| Free trial of | 3 days |
| Available in | 12 languages |
| GPS accuracy of ~30 meters | Yes |
| Instant response time | Yes |
| Low battery consumption | Yes |
| Includes message and call tracking | Yes |
---
| | |
| --- | --- |
| Android | Yes |
| iOS(iPhone/iPad) | Yes |
| Website:  | https://familytime.io/ |
| Domain Age: | 2014-12-15 |
FamilyTime is a product with both strengths and weaknesses. On one hand, it offers a lot of great features for both Android and iOS devices, such as application monitoring and blocking, which is considered one of the best in the market. It also allows the blocking of videos based on their ratings.
 However, it lacks Windows support and on iOS, granular app blocking is difficult to achieve and can only be done in groups. Additionally, the user interface is confusing and it can be hard to tell if a feature is enabled or disabled. Live chat support is a positive aspect of the product, but it may not always provide the answer to a specific concern. The site also has some instances of poor spelling and grammar. Despite these drawbacks, FamilyTime is still a worthwhile consideration for its mobile monitoring capabilities, which are better than average on iOS and pretty excellent on Android, and its $2.25 monthly fee.
| | |
| --- | --- |
| Pros of FamilyTime: | Cons of FamilyTime: |
| Notification support precise location tracking free version available rich in features easy to install and configureEquipped with features like geofencing, location tracking, all logging, web time scheduling, app blocker, etc. Can monitor SMS Great customer support | Cumbersome setup process prone to bugsUnclear interface design confusing pricing plans relatively expensiveGeofencing alerts only work with cellular connectionSeparate versions for parents and kids can be easily disabledLack of  Windows support. |
No web content filtering.
Features
List of FamilyTime Features:
Screen Time Limits
App Usage Limit
Inappropriate App Block
Real-Time Location Tracking
Total Phone Usage Monitoring
Incoming and Outgoing Message and Call Viewing
Access to Target Phone's Contacts
One-Press SOS Alert
Remote Monitoring
Teen Driving Speed Alerts
The features of FamilyTime app evoke mixed reactions. While it offers distinct features such as the PickMeUp button and Speed Limit Monitor (exclusive to iOS), which are not available in other parental control apps, its basic features such as web filtering and app monitoring are not remarkable.
Effective Screen Time Management Tools
Constant debates over phone usage with children can now be avoided with the use of FamilyTime. The app offers several tools designed to limit the amount of time children spend on their devices, including Screen Time Schedules and Internet Access Schedules. These tools provide a convenient solution for managing and monitoring children's phone usage.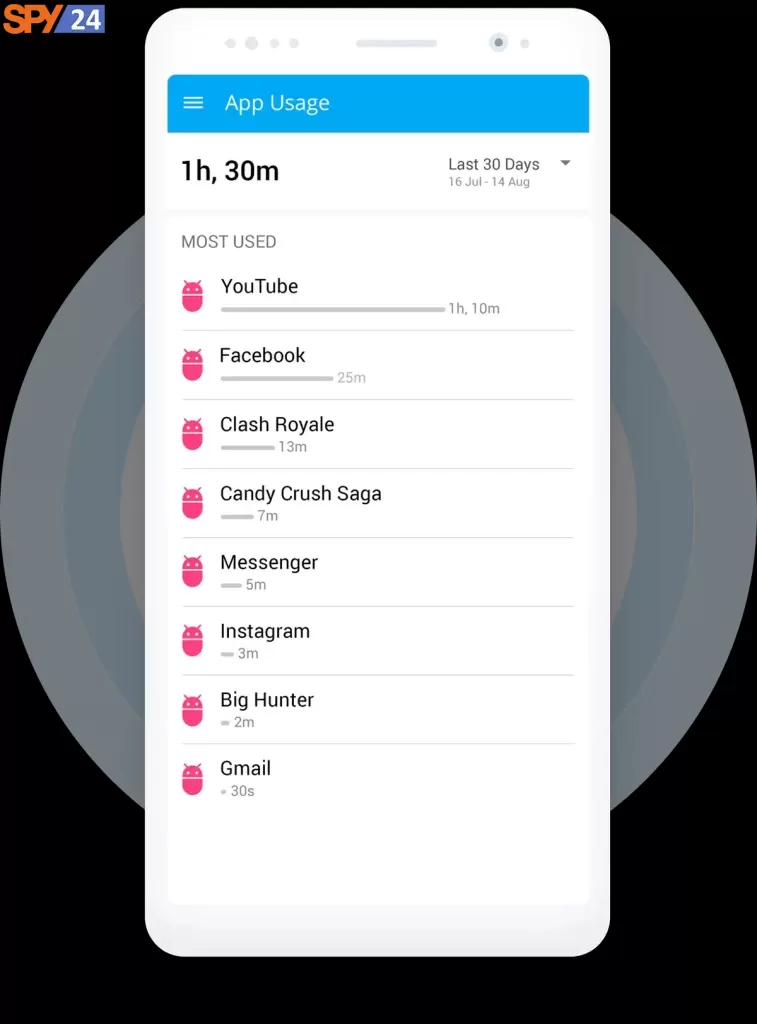 Two tools, the Screen Time Schedule, and Internet Access Schedule provide the ability to allow usage of the phone for activities such as calling friends, taking photos, and playing games not requiring internet access.
With the Daily App Limit feature, one can set a time limit on certain apps, like Netflix, YouTube, TikTok, and Instagram, with a limit of two hours, for example. At the end of the time, the selected apps will be blocked but others can still be used. Any unused time can be saved in the TimeBank.
Additionally, the Pause Device button allows for all devices to be locked at any time desired. This was found helpful even when the allotted screen time has not been used yet.
A Limited Web Filter
The FamilyTime web filter is rather basic compared to some of the other parental control apps available. Other apps, such as SPY24, and Qustodio, offer more robust and customizable web filters for each child. FamilyTime's filter only has three categories – Porn, Drugs/Abortion, and Dating/Gambling. However, it does enforce SafeSearch on Google, Bing, and YouTube to prevent any inappropriate search results from being displayed.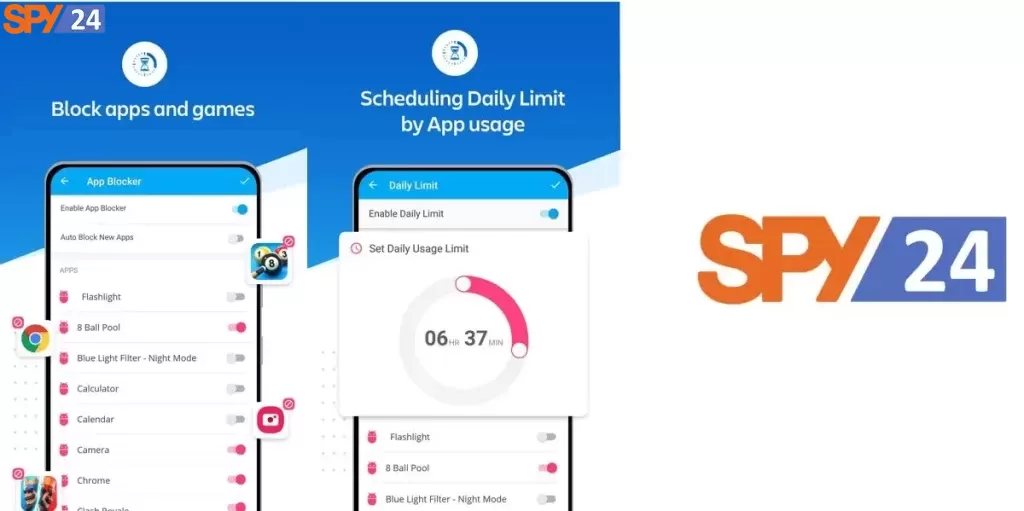 The web filtering feature is basic, blocking only three categories of websites. Although it effectively prevents access to gambling websites, the limited number of categories and lack of customization options leave something to be desired. It would be preferable if the categories of drugs/abortion and dating/gambling were split up, providing more flexibility for parents to set specific rules for their home internet use.
Track Your Child's Location 24/7
By enabling the GPS feature on the child's device, you gain the ability to continuously monitor their location through the parental dashboard. This can be accessed from either your phone or computer and provides a real-time update of your child's location. This feature provides parents with peace of mind and a sense of security, as they can always know exactly where their child is at any given moment.
FamilyTime also stores the location history of your child for up to 30 days. This means you have the ability to verify if your child went to places like school, the mall, or a friend's house, just as they said. Additionally, there is a geofencing feature that allows you to set up specific areas by inputting an address or placing a location pin and determining a preferred radius, which can range from 150 meters to a kilometer. You will receive notifications when your child enters or leaves the geofenced area.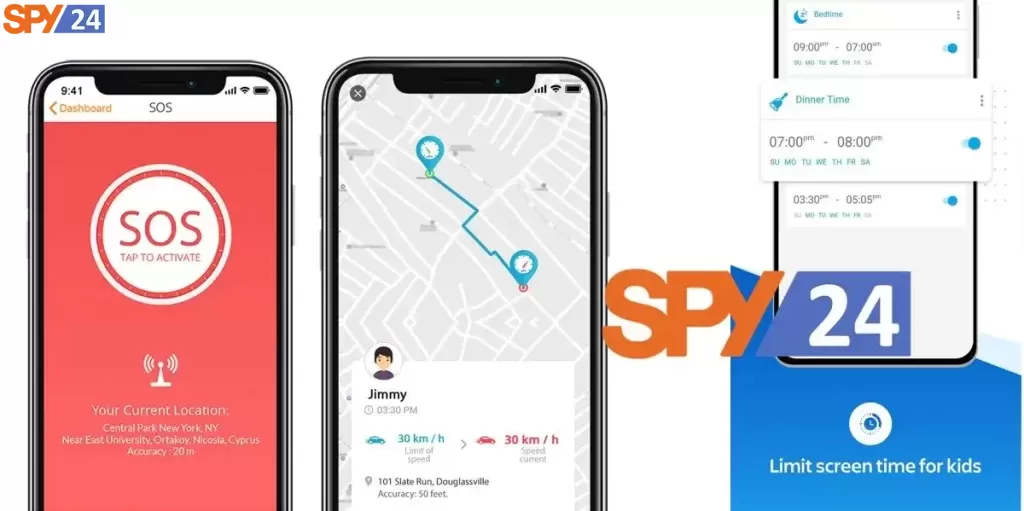 To set up a geofence, go to the "Settings" option on the dashboard, scroll down to "Places (Geofence)," enter the address or location pin, select the radius, and choose if you want notifications for entering and leaving the geofence. There is no limit to the number of geofences you can create.
Special Features for Your Children to Reach Out to You
The FamilyTime app has two very useful features designed to ensure the safety of your children, the PickMeUp and SOS Alert buttons.
These buttons are essential in emergency situations when your child is unable to make a phone call, but can access their phone. The parent's mobile device will receive a live location alert as soon as either button is pressed, allowing you to quickly reach your child in an emergency.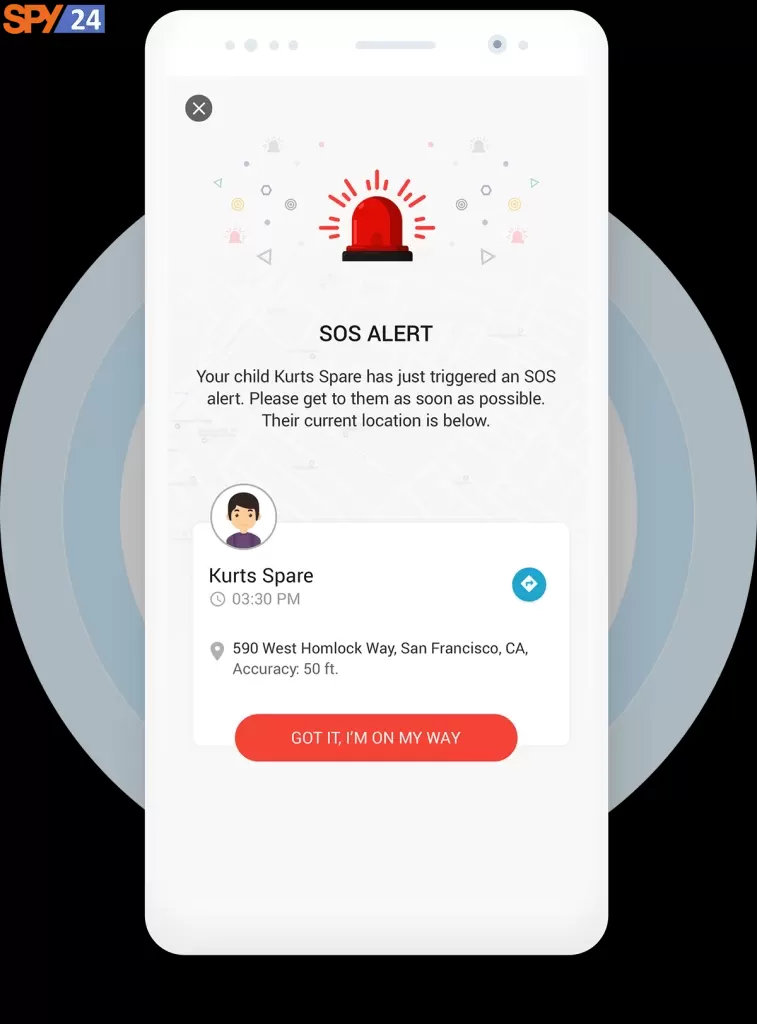 One key aspect of these buttons is that they remain accessible on the child's device screen, even if it is locked. This means that your child can still send an SOS alert even if their phone is locked, making it a crucial safety feature in an emergency. However, it's important to note that these alerts are push notifications and will only work on mobile devices, as per information received from customer support. The parent dashboard may not display these alerts, so it's best to rely on mobile notifications in case of an emergency.
Teaching Children Time Management Skills with FamilyTime
FamilyTime has two features designed to educate kids on the importance of managing their time effectively.
The first feature is called TimeBank, where if a child is given an hour to spend on a specific app like YouTube, and they only use 30 minutes, the unused 30 minutes will be saved in their TimeBank and can be redeemed later. Parents have the option to set limits on the TimeBank, so kids don't accumulate excessive amounts of time.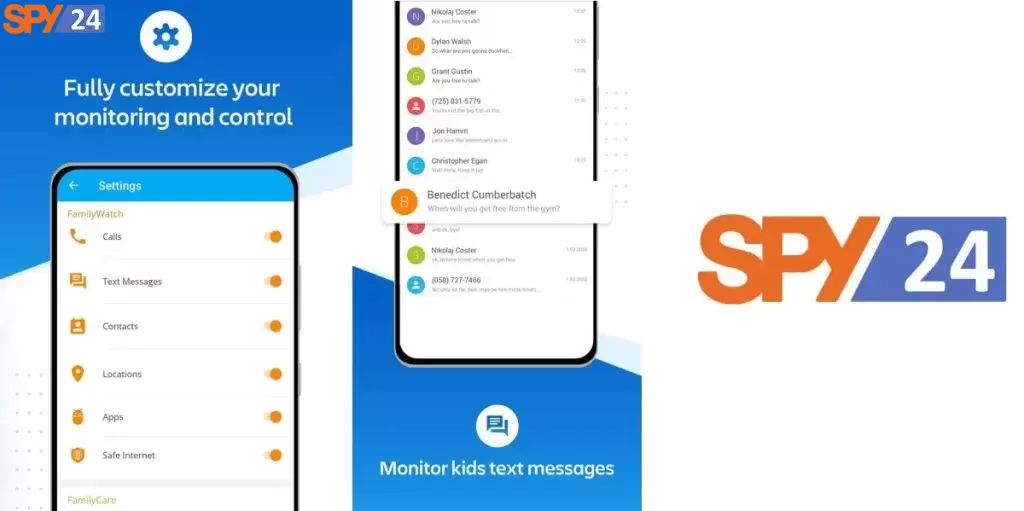 The second feature is called FunTime, where kids are given a designated day each week to have unrestricted access to any app they choose, using the unused time from their daily limits or manually set by the parent. This feature serves as a reward system for good behavior and can also be used as a distraction during specific times.
You Have Total Control Over Your Child's Phone
Through the FamilyTime dashboard, you have the ability to not only monitor your child's device usage but also control it remotely. With the app blocker, you can prevent your child from accessing apps that you deem inappropriate. Additionally, you can block the download of any new apps until you've given your approval. The SpeedLimit feature, which is currently only available for iPhone users with a driver's license, can alert you if your child is driving at an excessive speed. This is a great feature, but it's unfortunate that it's not yet available for Android devices.
Installation FamilyTime
The installation procedure for FamilyTime requires a subscription package purchase, after which an email containing the password, links to the Google Play app, and instructions for installation will be sent. To complete the installation, it is necessary to download and install the app on the child's device. The creation of a child profile involves entering a confidential 4-digit PIN code, which must be kept secure as it can be used to disable restrictions or delete the app.
During testing, some features such as the SOS and PickMeUp buttons were found to be non-functional. Upon contacting customer support, it was advised to download the .apk file from the FamilyTime store instead of using the Google Play app, as there are limitations with the latter. It would be beneficial for the welcome email to include a direct link to the FamilyTime store for easy accessibility.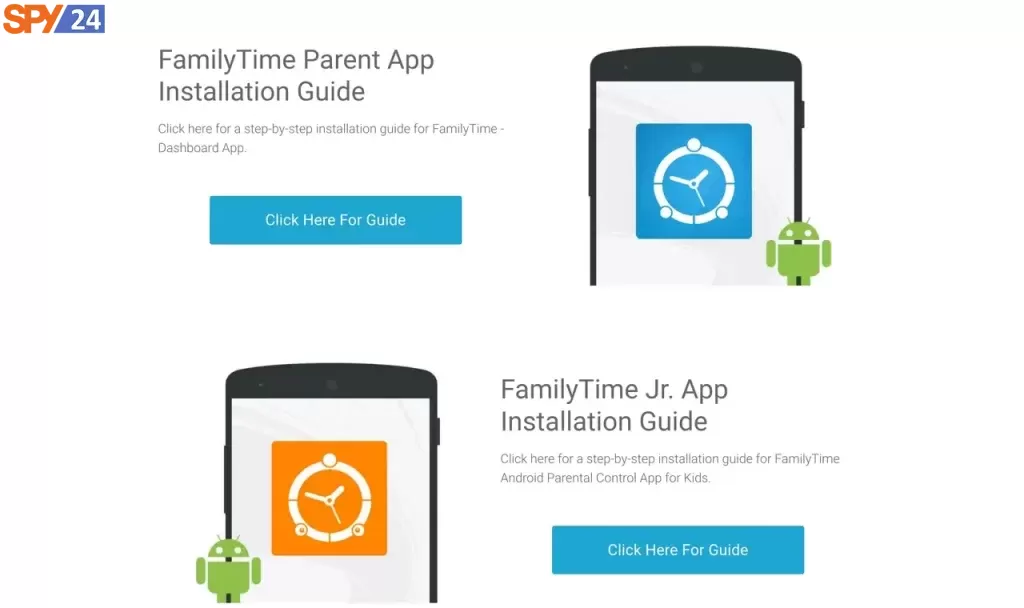 To get the app from their store, you'll need to change your Android settings to allow for installations from sources other than the Play Store. Once the app is installed on your child's phone, you'll need to grant it various permissions for the monitoring features to function. For example, without permission to overlay over other apps, you won't be able to lock the phone or enforce web filtering. To receive warnings when someone on your watchlist contacts your child, you'll also need to grant the app access to contacts and SMS. Additionally, you must give the app Device Admin Rights, or your child could easily remove the app without your knowledge.
The setup instructions are clear and easy to follow, and if you need to adjust the settings again in the future, the "Take Me There" link will direct you to the correct section of your settings menu.
The parental app is straightforward to install, and you can download it directly from the Play or App Store without any problems.
To install FamilyTime, you can follow these steps:
Go to the app store on your device (Google Play Store for Android or App Store for iOS)
Search for "FamilyTime" in the search bar
Select the app from the search results
Click on the "Install" or "Get" button to download and install the app
Once the app is installed, open it and sign up for an account or sign in to an existing account
Follow the on-screen instructions to set up the app on your device.
After installation and setup, you can start using the features of FamilyTime to manage and monitor your family's device usage.
FamilyTime for Android and iOS
The FamilyTime app for Android comes in two separate versions, one for parents and the other for kids. While the installation and configuration process for both versions is straightforward and simple, having a single version for both parents and kids could have made the experience more streamlined.
When it comes to FamilyTime for iOS, the design of both versions for parents and kids is almost identical to the Android version. However, the iOS version is more stable. On the downside, some features like text and call monitoring are missing on the iOS version and it does not allow you to block content either.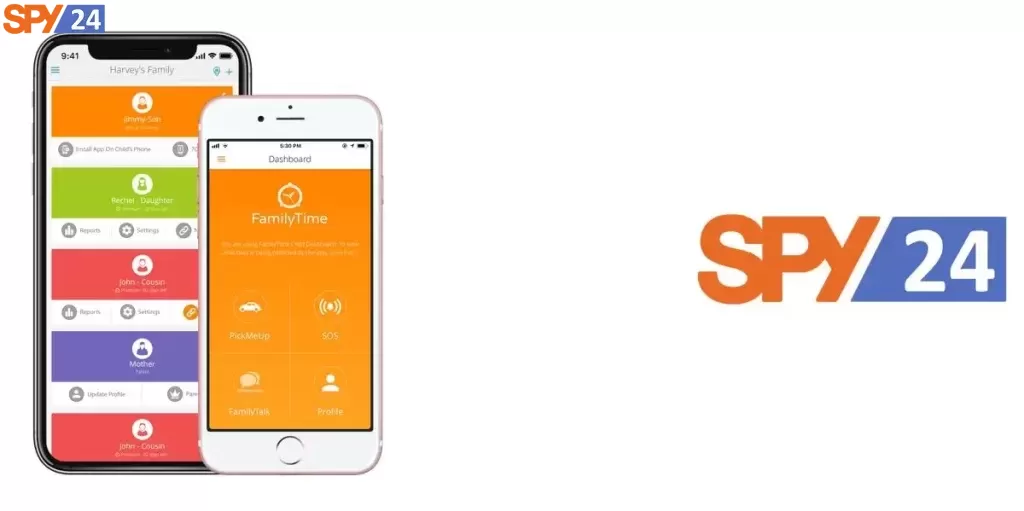 The software does offer some control options, like disabling the camera app, Safari, and Siri, as well as restricting access to the iTunes store and disabling in-app purchases to prevent a child from installing any apps.
Although there are some missing features on the iOS version, it does come with a few unique features not found on Android, such as the content filters section and the speed limit feature.
Ease of Use
You can access the dashboard from anywhere using a PC or by downloading the parental app on your phone. The mobile version has a more modern design and is easier to use.
The dashboard displays a list of all monitored devices, showing the total time spent and remaining time on each device when first opened.
To view additional information, click on the Reports button. This provides quick access to important stats such as the number of SMS messages received, time spent on calls, app usage, saved time in TimeBank, and more. Each category can be clicked on for further information, and the data is stored for seven days.
To make changes to the filter, screen time limits, and other settings, simply click on the Settings button. The list of features is divided into three sections for easy navigation.
FamilyWatch: You can enable or disable monitoring of phone calls, texts, contacts, live location, and apps.
FamilyCare: This is where you can set limits and restrictions on time and app usage.
Notification: Choose whether you want to receive alerts based on location, apps, or designated contacts.
For children, the app is user-friendly. They can access the app at any time to see their remaining time and save TimeBank. They also have the option to press the PickMeUp or SOS alert buttons in case of an emergency.
The child's app cannot be removed or deactivated without entering the 4-digit PIN code that you set during the installation process. Be sure to choose a secure number that is not easily guessed, such as a birthdate or anniversary.
Support for FamilyTime
The 24/7 live chat customer support offered by FamilyTime is truly outstanding. The support team was consistently accessible and ready to assist with any questions or concerns, including installation issues, features, and account cancellations. The team was not only knowledgeable but also professional in their approach to customer service. In addition, to live chat, the company provides a robust FAQ section and a ticket system with a prompt response time of one business day. Overall, the level of customer support offered by FamilyTime is highly commendable.
Pricing For FamilyTime
FamilyTime has four different subscription plans that provide access to all of its premium features. The only difference among the plans is the number of devices that can be protected, with options for unlimited devices or 1, 2, or 5 devices. The cost of the plans is quite affordable, with monthly fees that range from a few dollars.
Every plan comes with a free 3-day trial period, during which you need to enter your credit card information. This can be seen as a drawback as it puts pressure on you to remember to cancel the account before the trial ends. Unfortunately, the option to cancel the account is not readily available on the parental dashboard and cannot be done through the dashboard.
To cancel the account, you can either send an email to the billing department or follow the instructions provided in the original email when you signed up. In this email, you will find a "Review your subscription" link, which will take you to a new page. From there, you can simply click the "Cancel Account" button to immediately close your account. This was a relief, as it eliminated the need to speak with a retention agent who may try to convince you to keep the account.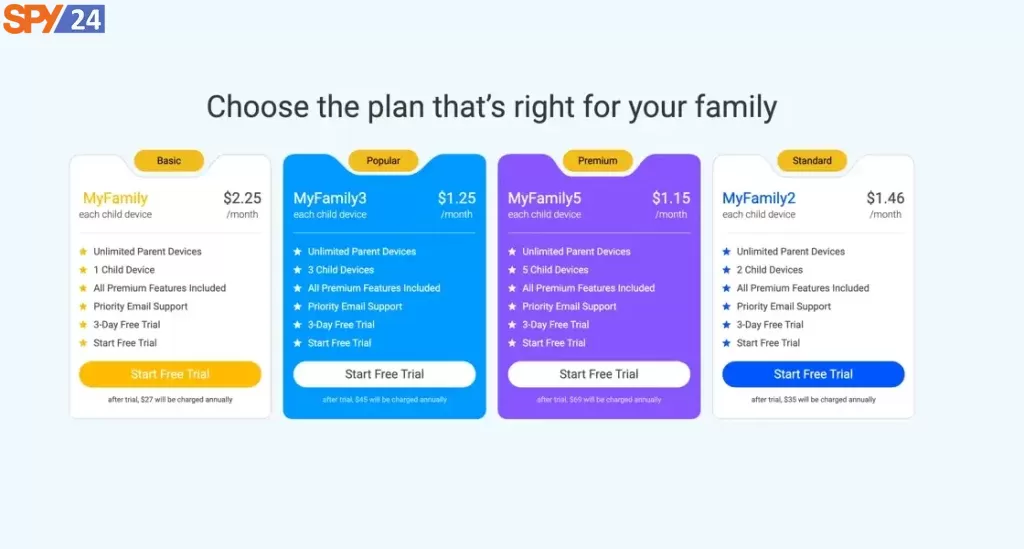 Alternatives to FamilyTime
FamilyTime is a popular parental control app that provides parents with the ability to monitor and regulate their children's digital activities. However, there are various alternative solutions available in the market that offer similar or additional features.
SPY24 VS FamilyTime
SPY24 is a comprehensive and reliable monitoring solution that is designed to meet the needs of individuals, families, and businesses. It offers a wide range of features, including keylogger, screenshot capture, ambient recording, and more, that make it a one-stop shop for monitoring and protection devices and loved ones.
One of the major advantages of SPY24 is its affordability. With monthly, quarterly, and yearly subscription plans, users can choose the option that best fits their needs and budget. Additionally, each plan comes with a comprehensive set of features and a robust customer support system, ensuring that users get the most value for their money.
Another advantage of SPY24 is its ease of use. The software is designed with a user-friendly interface that makes it simple for anyone to set up and use, regardless of their technical knowledge. The software is also designed to run in the background, so it does not interfere with the normal use of the device being monitored.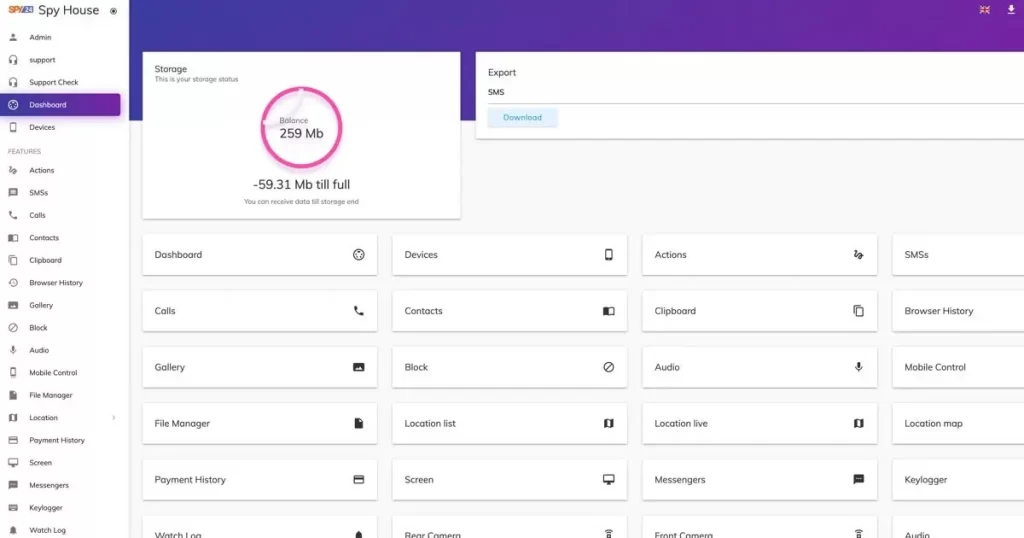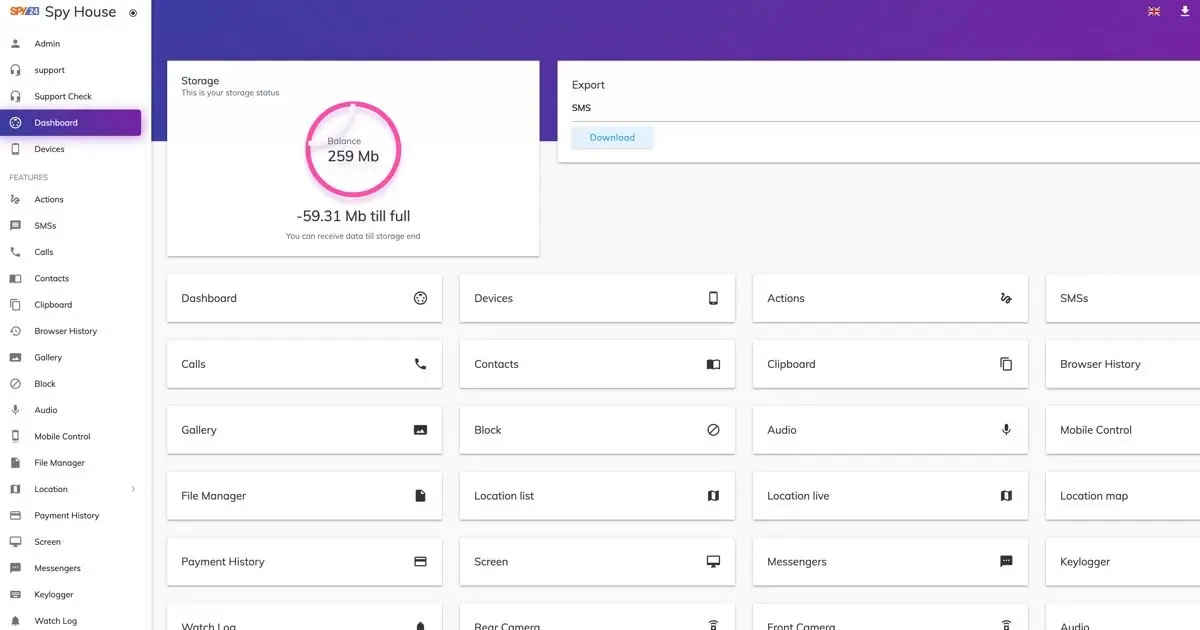 When it comes to reliability, SPY24 stands out from the crowd. The software is designed to work seamlessly on a range of devices and operating systems, ensuring that it works as expected even in the most demanding environments. The software also comes with a strong customer support system, with 24/7 live chat and a comprehensive knowledge base available to users. This means that users can get help whenever they need it, making it a reliable and dependable choice.
In conclusion, SPY24 is a comprehensive monitoring solution that offers a range of features, affordability, ease of use, and reliability. Whether you are a parent looking to keep track of your children's online activity, or a business owner looking to protect your company's assets, SPY24 is a great choice. With its cost-effective pricing structure, comprehensive features, and robust customer support system, SPY24 is a reliable and dependable monitoring solution that can meet your needs and exceed your expectations.
SPY24 Install application free The Most Powerful Hidden Spying App to Monitor Android, IOS Cell Phone & Tablet Device Remotely. Best Android Parental Control App for Kids & Teens Online Safety.
Now take the liberty to monitor Android, and IOS devices with exclusive features better than ever before Monitor all Voice & Text Messages Communication records, Listen to & Watch Surroundings in Real-time Unleash Digital Parenting with Android, IOS Spy App Spy (Surround Listing & Front/Back Camera Bugging) IM's VoIP call recording on Android OS 13 & above With 250+ Surveillance Tools at your fingertips using Android Tracking & Parental Monitoring Software.
---
Advantages of SPY24 Monitoring Solution:
A comprehensive set of features:
Keylogger
Screenshot capture
Ambient recording
And more
Cost-effective pricing structure:
Monthly, quarterly, and yearly subscription plans
Each plan comes with its own set of features and customer support system
Easy to use:
User-friendly interface
Runs in the background without interfering with device usage
Reliable performance:
Works seamlessly on a range of devices and operating systems
Strong customer support system with 24/7 live chat and comprehensive knowledge base
Affordable:
Cost-effective pricing structure with various subscription options
Provides users with the most value for their money.
Reliable customer support:
24/7 live chat and comprehensive knowledge base available to users
Ensures that users can get help whenever they need it.
All-in-one monitoring solution:
Suitable for individuals, families, and businesses
Meets the needs of different users with a range of features and robust customer support.
EyeZy VS FamilyTime
EyeZy: This app offers similar features to FamilyTime such as text monitoring, location tracking, screen-time restrictions, and internet controls. Additionally, EyeZy allows the monitoring of social media activity on platforms like Facebook Messenger, Google messages, TikTok, Snapchat, Instagram, and more. The prices for EyeZy plans range from $9.99/month to $47.99/month and have received an overall rating of 5/5 from the App Store and 3.1/5 from Google Play.
FamiSafe VS FamilyTime
FamiSafe: This app has similar features to FamilyTime, and also provides the ability to block specific websites and search terms. FamiSafe also sends alerts if your child sends or receives words marked as "suspicious." The pricing for FamiSafe plans ranges from $10.99/month, $20.99/3 months, and $60.99/year, and have received an overall rating of 4.6/5 from the App Store and 5/5 from Google Play.
Qustodio VS FamilyTime
Qustodio: This app offers similar features to FamilyTime such as text and calls monitoring, SOS notifications, and screen time limits. However, it gives more control over restricting specific websites and monitoring social media posts. Qustodio also works on PCs and Macs and sends alerts if your child searches specific keywords. The prices for Qustodio plans range from $54.95/year for up to 5 devices, $96.95/year for up to 10 devices, or $137.95/year for up to 15 devices and have received an overall rating of 4/5 from the App Store and 4.4/5 from Google Play.
FAQ
Does FamilyTime have a free app?
There is a limited free version with basic features, but a subscription is required for the premium features. The company offers a 3-day risk-free trial.
Is FamilyTime secure?
Yes, the company has a strong privacy policy and data servers are encrypted to prevent unauthorized access. It is recommended to download the app from their official site to ensure security.
Is FamilyTime compatible with both iOS and Android devices?
Yes, The app can be downloaded from the Apple Store and the Google Play Store.
What are the TimeBank and FunTime features?
TimeBank and FunTime allow kids to budget their time and reward them for good behavior. Kids can save unused time and access it at a later time, and FunTime grants them access to all apps on a chosen day.
What kind of reporting can I see on the parental dashboard?
You can see phone usage, app usage, call logs, SMS messages, live location, installed apps, and time stored in the TimeBank. More advanced monitoring features are not available.
Can I lock my kids' phones remotely?
Yes, you can pause all devices, create schedules, set daily limits, and restrict app usage from your parental dashboard.
Final Thoughts
FamilyTime is an all-encompassing parental control app with a wide range of features to keep track of your child's screen time activities. Although its web filter might not be as robust, it is still a solid choice for families. With customizable screen time management tools, innovative contact options like PickMeUp and SOS, and time-budgeting features, FamilyTime is a dependable solution. You can try out all its premium features through the 3-day free trial before subscribing. But if a robust web filter is a top priority for you, then SPY24 might be the better option.