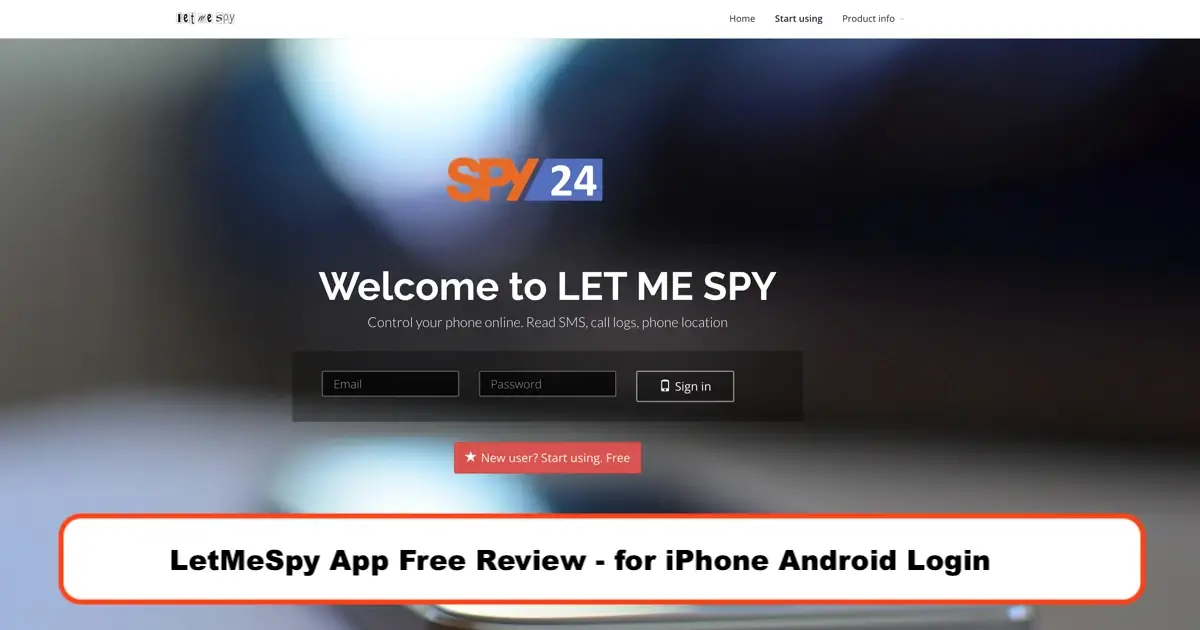 There's a new app on the market that is shaking up the way we look at surveillance. LetMeSpy is an app that allows you to spy on anyone, anytime, from anywhere. With LetMeSpy, you can see what your spouse is doing online, track their movements, and even read their text messages. Whether you're looking to keep tabs on your children or just want some peace of mind, LetMeSpy is the perfect solution. So what are you waiting for? Download LetMeSpy today!
Android spy app Letmespy. online phone control. read text, call, and phone location. Your phone's SMS, call logs, and texts can be viewed online. geolocation. orders remotely. phone spy: LetMeSpy is an Android-only spy app. After installation, it tracks calls, SMS, and GPS locations. Its data is accessible via the phone, computer, or browser. LetMeSpy is a compact spy app.
It works quietly in the background so the phone's user doesn't notice it. This app's best feature is a free registration. Before buying, indecisive users can try out all its features in the free version.
Features: LetMeSpy
Employee and Parental control.
Tracking your location in real-time.
The installation process with 3 steps.
You can track up to 5 calls, texts, and locations for free with a full-featured subscription.
Verdict: LetMeSpy is the only phone spy app that puts ease of use first. It is easy to set up on any Android device, and the information it tracks is easy to access through its web-based dashboard. We suggest that you use its free plan to see if the app is right for you.
Android spy apps monitor and prevent phone addiction in children. They can also track employee activity. These apps track your child's phone calls, texts, emails, and other activities.
Top Free Hidden Spy Apps with popular features, website links, and how-to guides are listed below. These spy apps enable covert surveillance. All products have free trials or money-back guarantees.
Price: There is a free plan, LMS STD is $6 a month, and LMS PRO is $12 a month.
Please let me, snoop
Online, you can control your phone. read text messages, call logs, and the location of the phone.
From anywhere, using a phone, computer, or tablet
With a free subscription, you can try out all of the features.
Putting an app on a phone that can be tracked is as easy as pie.
SPY24 Install application free The Most Powerful Hidden Spying App to Monitor Android, IOS Cell Phone & Tablet Device Remotely. Best Android Parental Control App for Kids & Teens Online Safety.
Now take the liberty to monitor Android, and IOS devices with exclusive features better than ever before Monitor all Voice & Text Messages Communication records, Listen to & Watch Surroundings in Real-time Unleash Digital Parenting with Android, IOS Spy App Spy (Surround Listing & Front/Back Camera Bugging) IM's VoIP call recording on Android OS 13 & above With 250+ Surveillance Tools at your fingertips using Android Tracking & Parental Monitoring Software.
---
DOWNLOAD THE APPLICATION Letmespy
Download the app installer from our website.
The file is named lms4.apk (LMS4 in lowercase).
The fastest way: On your phone's browser (on the phone you want to track) go to this web address and download the installer:
Welcome, To Let Me, Spy Your Phone Can Be Managed Online.
Letmespy (LMS) is a free app for your android phone that lets you spy on other people. It keeps track of the phone's calls, texts, and GPS locations. This program doesn't take up much space and can be hidden from the user.
Just get the file to install the app and put it on the phone you want to track. Letmespy lets you keep an eye on your tracked phone 24 hours a day from your computer.
Please be aware that it may be against the law in your country to control your phone without your knowledge or permission. If you use the let me spy software on someone else's phone, you should always let them know about the privacy rules.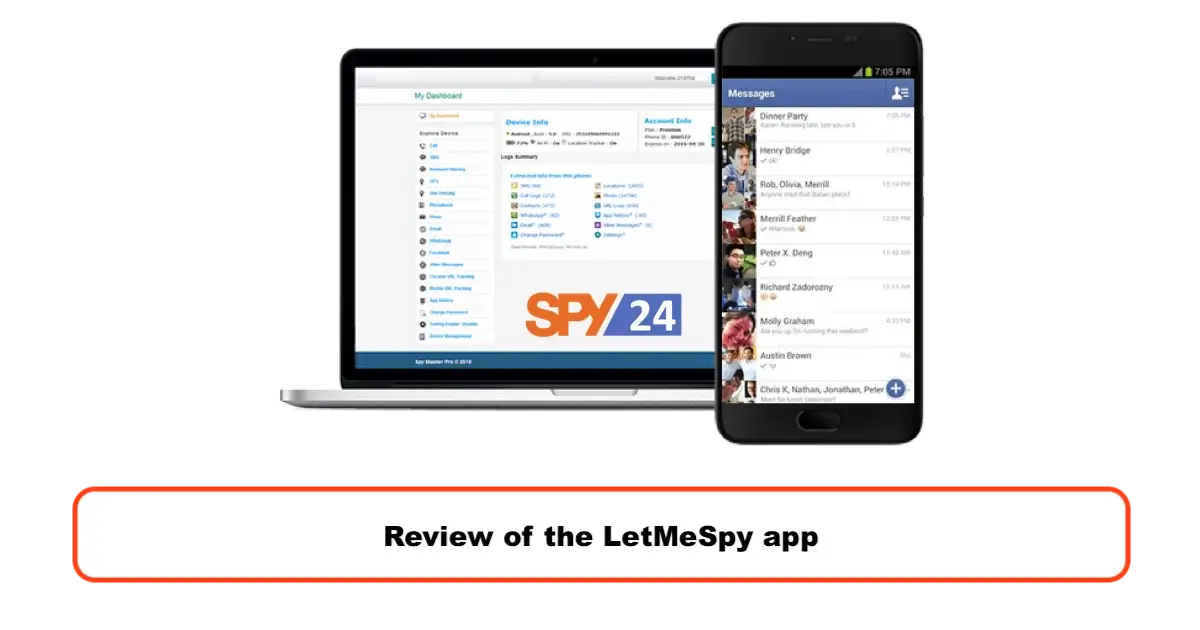 Why should I LetMeSpy?
Read all of your child's text messages to find out who they're talking to and how long they're talking for. see where your children are. Keep your kids from being affected by the dangerous things around them.
It gives you more control and makes your business safer. reduce the costs for professionals who use their phones for personal use.
Forgotten your phone?
Even if you don't have your phone with you, you can check all your text messages and call logs. Checking where a cell phone is on a map lets you always know exactly where it is.
If you need help, read this.
If your phone hasn't sent you any information in a long time, check the following:
The phone doesn't connect to the internet.
The phone is not working.
There are no cell phone networks where the phone is.
The app was uninstalled or turned off.
Around the world, there are a lot of different kinds of android phones. How well the software works on your device may depend on what kind of device you have. We can't promise that all of your device's functions will work. Before you choose a paid subscription, please use a free subscription to try out all of the app's features.
Review of the LetMeSpy app
Easy and free
to put together and use.
All data can be seen on your browser.
Log in to any web browser and you can see phone information.
Logs phone calls that come in and go out.
With the phone number, the date, time, and length of each call.
Messages that come in and go out are recorded.
Phone number, date, and time are all included.
Finds out where you are.
If the phone doesn't move for 20 minutes or less, it rings. by data from a network or GPS.
All data is sent thru the SSL protocol
Which is made to make sure that communication over the internet is safe.
Advanced encryption standard is used to store the database records.
The U.S. government has adopted Aes, and it is now used all over the world.
The application icon can be hidden in the launcher.
Just click the "Hide Icon" button on the application screen.
You won't miss anything.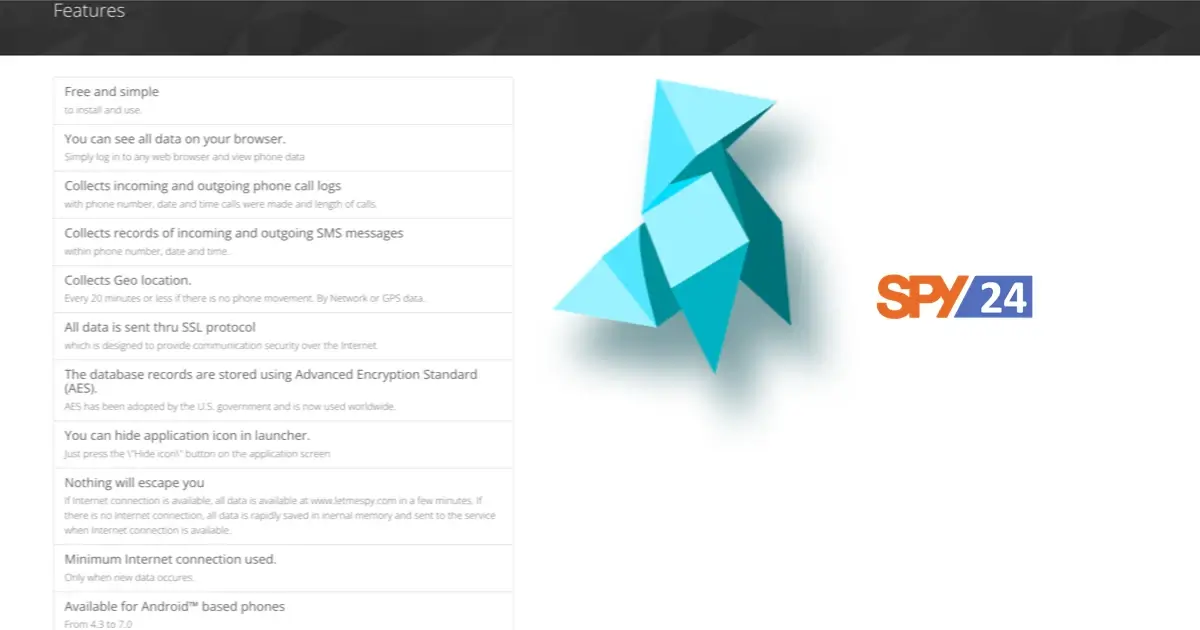 If there is an internet connection, letmespy will have all of the information in a few minutes. If there is no internet connection, all data is quickly saved in the device's internal memory and sent to the service when an internet connection is available.
Use the internet as little as possible.
Only when new information comes in.
Phones with Android can use it.
Between 4.3 and 7.0
You can get the letmespy app for free by going to the
Note: Do what it says to do on the phone you want to control. It takes a short time.
Getting your thing set up
First, you need to be able to put apps on your phone from places other than the Google Play store, but make sure you know what you're putting on your phone and where it came from!
Click on settings. Click on "General," scroll down to "Security," and then click on "Unknown Sources."
Click on settings. scroll down to "lock screen and security" and click the box next to "unknown sources."
Get the application here.
You can get an installer for an app from our website. The name of the file is lms.apk (LMS in lowercase).
The fastest way is to go to letmespy on your phone's browser and download the installer.
The file you downloaded is in your app drawer in a folder called "downloads" or "my files."
Put the program in place.
Click on the lms.apk installer file and let it do its thing. After the app is installed, run it.
All security questions should be checked. If you don't have this app, you won't be able to work.
Sign in or sign up for a new account. Then press the button that says "Work."
Start the machine (android LetMeSpy and above)
The Android system saves power by turning off applications that are running in the background. Follow these steps to stop the LMS application from closing too often.
Go to settings >> maintenance on the device (battery, storage, memory)
Slide to the bottom when you go to the battery.
Press "apps not being watched" and then "add apps."
Find LMS, then choose it. Press "done"
Exit settings.
So, that's it. The app icon can also be hidden from the main screen.
Help letmespy app
No activation email has been sent to me.
Sign up using the same email address. We'll send you another activation email.
Look in the spam folder. If not, please send us an email.
Do I have to delete old text messages or call logs to get new ones?
You don't have to delete any information by hand. When new messages come in, the old ones will be deleted automatically.
Does the account cost money?
No, it's not a cost. you can only do what your account settings let you do.
Look at both paid and free subscriptions.
I've put the app on my computer, but I'm not seeing any data…
You will see the new data when it happens.
The app doesn't send information from before it was installed. Sometimes, you need to restart the device. The program starts on its own.
My phone says "idle" or "inactive" on the screen. why?
It means that the phone hasn't sent any data in more than an hour. Check to see if the phone is on or if the app is still installed and the phone can connect to the internet.
I can't see where the phone is.
Please turn on your phone's "location services" or at least "use wireless networks" if you want to see where the phone is right now.
Sometimes the system shows the wrong location of the phone…
When the phone is in a house or other building, it can't get information from GPS satellites. Then, the location will depend on gsm and network location providers. GPS is most accurate (about 10 meters), but it only works outside. An indoor system uses a cell tower or Wi-Fi signal to figure out where a user is, and it's more than 100 meters accurate (depending on signal strength).
Do I need to put it on the other person's phone?
Yes, if you want to track someone's phone, you have to put the let me spy app on that phone. The website letmespy is used to keep track of what is going on.
Is it an app you can't see?
It's possible. You can choose to hide the icon that lets you start an application from the main window.
Is it on "my app list" on the Google Play store and does it show new updates?
No, because the LMS app can be downloaded outside of the google play store. Updates are not shown either. It's done by hand.
How do I run the apps that are hidden?
If your app is set to be hidden, you can just type 123456# and press the call button to run it.
I haven't heard anything new in a long time…
If your phone doesn't connect to the internet, a report will be sent as soon as it does.
New! Phone tracker 2.2.9 The phone parent® phone tracker lets you track a phone's GPS, installed apps, contacts, and location activity for free. spy phone labs LLC is the leader in the world when it comes to giving away free phone tracking software that lets parents keep an eye on what their kids do on their android® smartphones. For emergencies, a new panic button has been added. I added find phone and beep phone. added a way to find out who called you. and added a way to look up apps already on the phone.
Our free phone tracking apps have been downloaded by millions of people all over the world. In version 2.2.7, you can now see free GPS and location activity data for your contacts. Parents can keep an eye on their child's safety and security by installing a phone tracker on their child's smartphones. From their home or office computer, parents can see where their child's phone is, who they have been talking to, and what websites their child has been visiting.
This is a free download from spy phone labs LLC that can be used to keep an eye on up to five different smartphones from the same account.
How it works: After installing phone tracker software on your child's Android® smartphone, which takes about 30 seconds, you can track the following information:
Location information from a GPS on a map (updated every 30 minutes). 2. When the installation is done, your phone contacts, including names and phone numbers, are copied from the phone and sent to your control panel account. All of this information is sent to our servers at phonetracker.com and can be accessed 24 hours a day, 7 days a week from an account that can be set up on our secure website at phonetracker.com.
Software details: spy phone labs NJ-based LLC makes phone trackers. phone tracker shouldn't be used to access a mobile phone's data without the user's consent. Unauthorized phone tracking is illegal. This may violate federal and state privacy laws. Phones with phone tracker software will display an icon and notify the user at regular intervals that their location and smartphone activities are being monitored, recorded, and stored remotely to deter illegal and unauthorized use. Spy Phone Labs, LLC is not liable for phone tracker software use or non-use. Call the police if you think someone stole your phone data using phone tracking software.
To prevent illegal and/or unauthorized use of the phone tracker software and/or the secret or sneaky gathering of data without the user's permission, an icon will appear on any smartphone on which the phone tracker has been downloaded, and notifications will be sent to the smartphone to notify the user that the phone tracker is running on the phone and that certain data from the phone is being monitored and collected remotely. This app lets you see the data it sends to spy phone labs LLC (SPL) and phonetracker.com. By logging into phonetracker.com, you consent to receive this data and confirm it is not spam.