Laptop Tracker
How is a Remote Listen Laptop PC (MAC) Microphone Possible? (Laptop Microphone Spy Software)
Have you ever wondered if it is really possible to remotely listen to someone's laptop microphone? It might sound like something from a spy movie, but the truth is that this form of digital espionage is becoming more and more commonplace every day. With advances in technology, private information can be leaked with unsuspecting individuals unaware of what may be happening behind their backs. In this blog post, we will shed some light on how listening to laptop microphones remotely has become a reality for so many people in our increasingly connected world.
Remotely Listen to a Laptop Microphone with SPY24
Have you ever wondered how to listen remotely to laptop microphones? It may seem like an impossible task, but it's actually possible. In this blog post, we'll discuss why it can be helpful for parents and employers to listen to a laptop microphone, how remote listening is possible and which application to consider for remote listening. We'll also talk about SPY24 and how the app works in order to record and listen to a laptop microphone.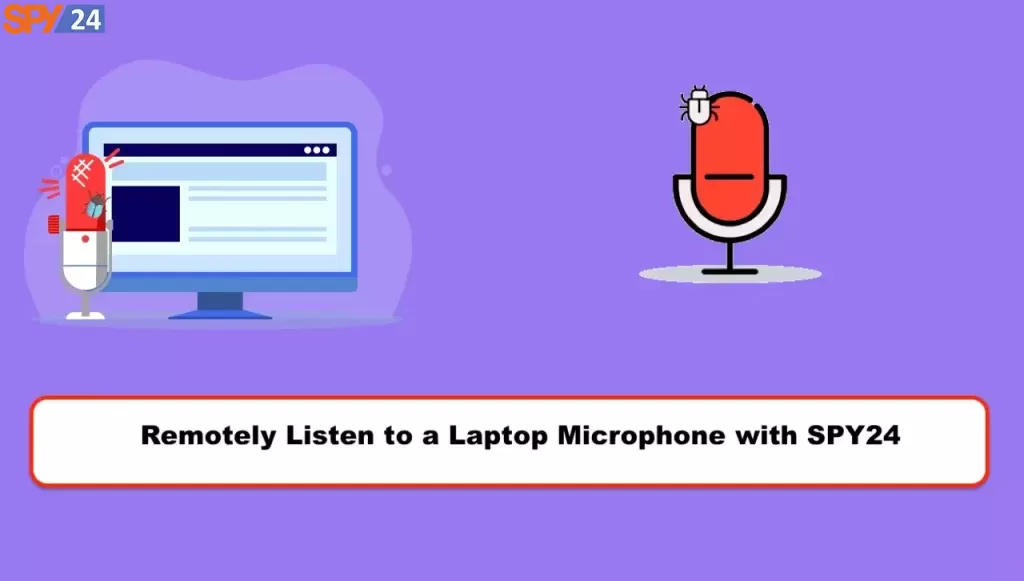 Why Listen To A Laptop Microphone?
Listening to a laptop microphone can be very helpful for both parents and employers. For parents, it can help them monitor their children's online activities. They can make sure that their kids are not engaging in any harmful or dangerous behavior online. For employers, it allows them to keep track of their employee's work performance and work habits while they are working from home or using company laptops.
You can hack laptop surroundings to listen to teen's voice conversations
Listen to what kids are talking about in the surroundings of laptop devices
Secretly monitor why teens spend so much time in laptop communication using IM's VoIP calls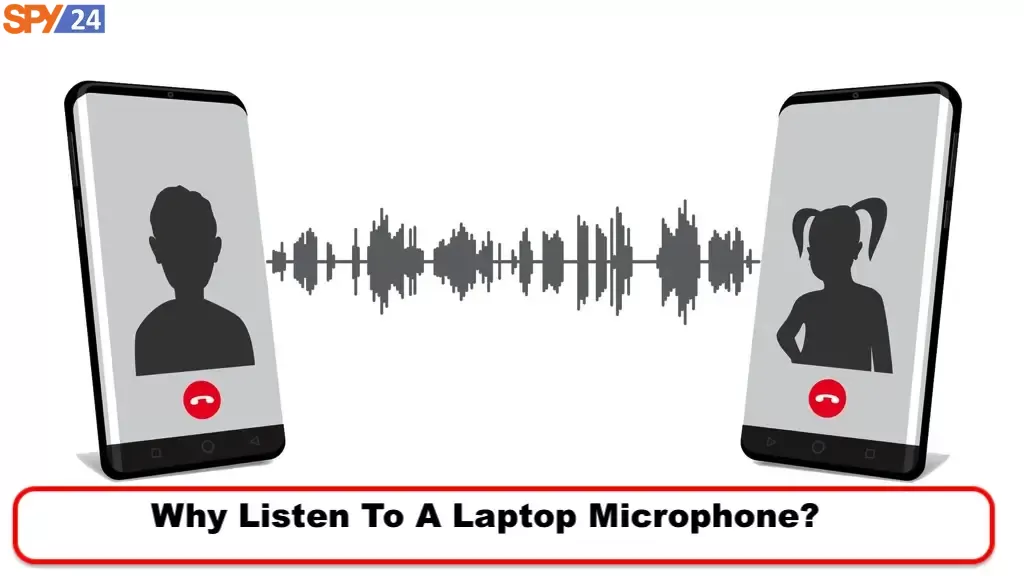 How Is Remote Listening To The Microphone Possible?
Remote listening is possible through the use of software applications such as SPY24. This type of software allows users to remotely access the audio feed of any device with a microphone (e.g., laptops, computers). This means that parents or employers can listen in on conversations taking place near the device without being physically present.
Record & listen to secret conversations of employees
Listen to the disgruntled voices during working hours
Bug laptop microphone to listen to what they talk behind your back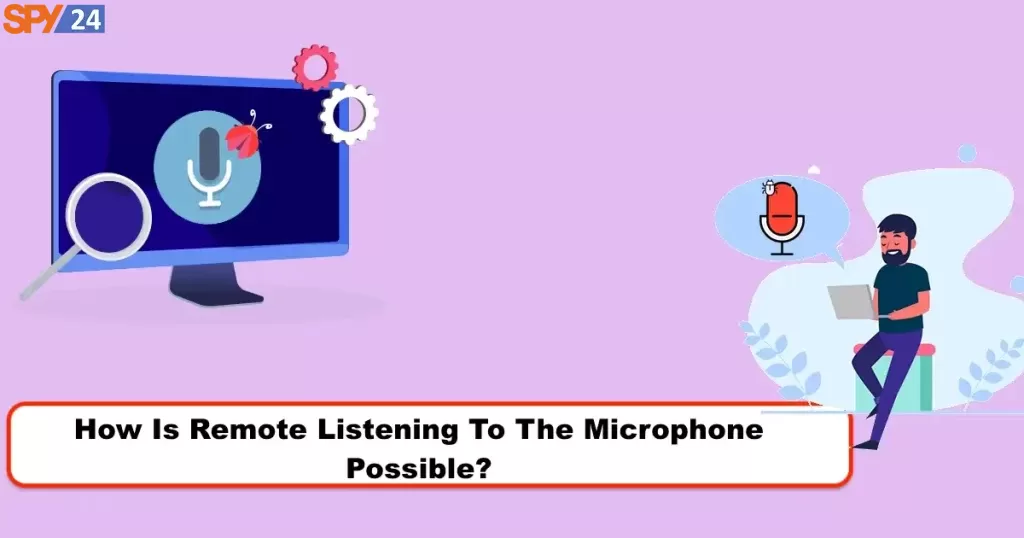 What Application To Consider For Remote Listen To Laptop Microphones?
There are many different applications available that allow users to remotely access microphones on devices such as laptops. However, one of the best options is SPY24 – a powerful app designed specifically for recording audio from any type of device with a microphone installed (including Windows and Mac laptops).
Step 1: Register for the SPY24 monitoring software
You must visit the website for computer spy software and purchase a subscription for Windows and Mac devices. Moreover, log in to email and obtain a password and identifier.
Step 2: Obtain Physical Access to the laptop
You must possess the target laptop for some time before initiating the installation process. Additionally, successfully complete the installation and activate the application on the target device.
Step 3: Enable web control panel for MIC Bug
Obtain the credentials and use them to log in to the web-based control panel. Additionally, you can use a variety of tools to hack and track laptops without their knowledge. The MIC bug app can be activated to send bugs to the target device to record and listen to the environment.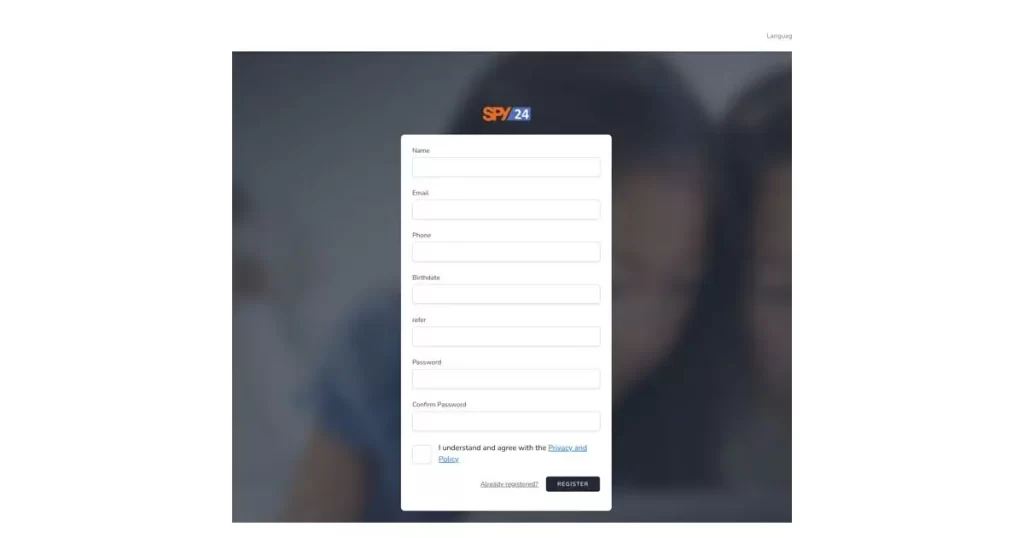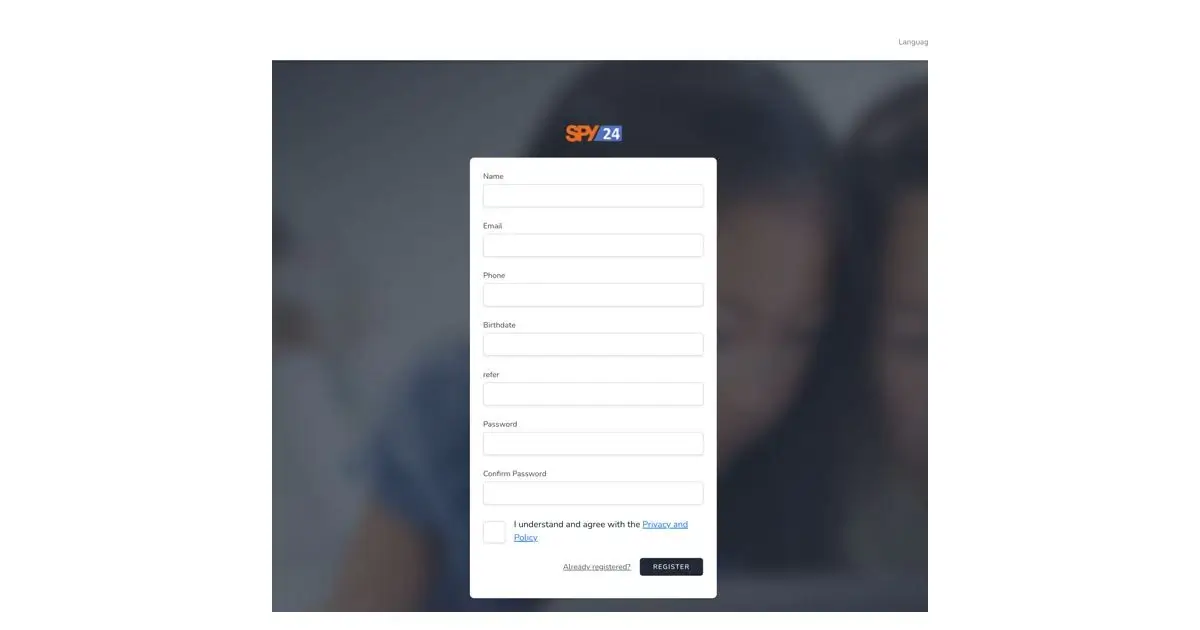 ---
Listen to the conversations and voices you have recorded remotely
It can record and monitor every verbal communication in the surroundings of the laptop
It can remotely activate the target computer device's MIC
Record the voice, chat, discussions, and gossip of employees and kids
Let you know what your kids and employees are talking
Catch your employees red-handedly if talking against your business
Catch your teens if they are talking with someone for a blind date
How Does SPY24 Work To Record & Listen To A Laptop Microphone?
SPY24 is an easy-to-use software that records audio from any type of device with a microphone installed (including Windows and Mac laptops). The user simply needs to install the app on the target device, set up an account on its website, enter the target device's credentials into the account setup page, then start recording audio from anywhere in the world! Once recorded audio is uploaded onto SPY24's server, users can then access it at any time by logging into their account online or downloading it directly onto their computer via USB cable.
SPY24 Install application free The Most Powerful Hidden Spying App to Monitor Android, IOS Cell Phone & Tablet Device Remotely. Best Android Parental Control App for Kids & Teens Online Safety.
Now take the liberty to monitor Android, and IOS devices with exclusive features better than ever before Monitor all Voice & Text Messages Communication records, Listen to & Watch Surroundings in Real-time Unleash Digital Parenting with Android, IOS Spy App Spy (Surround Listing & Front/Back Camera Bugging) IM's VoIP call recording on Android OS 13 & above With 250+ Surveillance Tools at your fingertips using Android Tracking & Parental Monitoring Software.
---
Other features of the mac tracking app that you need to know:
Block websites
Camera bug
MIC bugging
Screen recording
Screenshots
Keystrokes
Other Features of SPY24 windows tracking application:
Real-time monitoring
Online and offline tracking
Invisible tracking mode
Surround recording
MIC bug
Screenshots
Live screen recording
On-demand screenshots
Is It Possible To Listen To A Windows Device Microphone?
Yes! With SPY24 installed on your windows device, you will be able to record all incoming audio from your laptop microphone!
Is It Possible To Bug Mac Laptop MIC Secretly?
Yes! With SPY24 you can easily bug a mac laptop mic secretly so no one will know what you are doing!
Best Laptop Microphone Spy Software
best spy microphone SPY24 for all your laptop microphone spy software needs!
Laptop microphone spy software is a powerful and versatile tool for monitoring conversations, capturing audio, and controlling audio capture remotely. This type of software can be used for a variety of purposes, including but not limited to surveillance, parental control, and employee monitoring.
With SPY24, you can keep tabs on conversations in the home or office, monitor employees while they are on the job, and even track conversations taking place in public spaces. Our software is designed to be discreet, reliable, and easy to use.
By installing SPY24 on your laptop, you can control the microphone and other audio devices connected to the computer. You can set up the software to capture only specific conversations or to record all conversations. The software can also be used to control the playback of recorded audio and video, allowing you to review conversations at your leisure.
The software can also be used to capture sound from other sources, such as webcams, security cameras, and even phones. You can configure the settings to record only specific conversations, or to capture audio from all sources.
SPY24 also offers a range of advanced features, including remote access, which lets you monitor audio capture from anywhere in the world. You can also set up automatic alerts to receive notifications if certain conversations or audio sources are detected.
Whether you're a parent looking to monitor your children's conversations, an employer looking to keep tabs on employee conversations, or an individual looking to protect your privacy, SPY24 can help. With our powerful and user-friendly software, you can monitor conversations and capture audio without ever leaving your computer.
---
Q1: What is Remotely Listen to PC Microphone? 🤔
A1: Remotely Listen to PC Microphone is a powerful SPY24 feature that allows you to eavesdrop on audio conversations taking place near a PC or laptop remotely.
Q2: How does Remotely Listen to PC Microphone work? 🤔
A2: Remotely Listen to PC Microphone works by using SPY24's advanced technology to capture audio from a computer's microphone, and then transmit it to a secure server, allowing you to listen in from any location.
Q3. What is Listen to Remote PC Microphone? 🤔
Answer: Listen to Remote PC Microphone is a powerful and user-friendly tool that allows you to remotely record audio from any computer. With SPY24's convenient online interface, you can access and listen to recordings from any device.
Q4: Is Remotely Listening to PC Microphone safe? 🤔
A4: Absolutely! SPY24 has implemented advanced encryption technology to ensure that your conversations remain secure and confidential.
Q5. Where can I find more information about Listen to Remote PC Microphone? 🔎
Answer: You can visit the SPY24 website for more information about listening to a Remote PC Microphone. You can also find helpful tutorials and FAQs in the Help Center.
---
Conclusion: Listening in on conversations taking place near laptops has never been easier thanks to applications like SPY24. This powerful app allows users to remotely access audio feeds from any type of device with a microphone installed (including Windows and Mac laptops). With just a few clicks of a button, users can easily record incoming audio from their target devices without being physically present! So if you need an effective way of monitoring conversations around your laptop without anyone knowing – look no further than SPY24!