Spy App Reviews
Download Kidslox App Review For Pc & Mac – Android – iPhone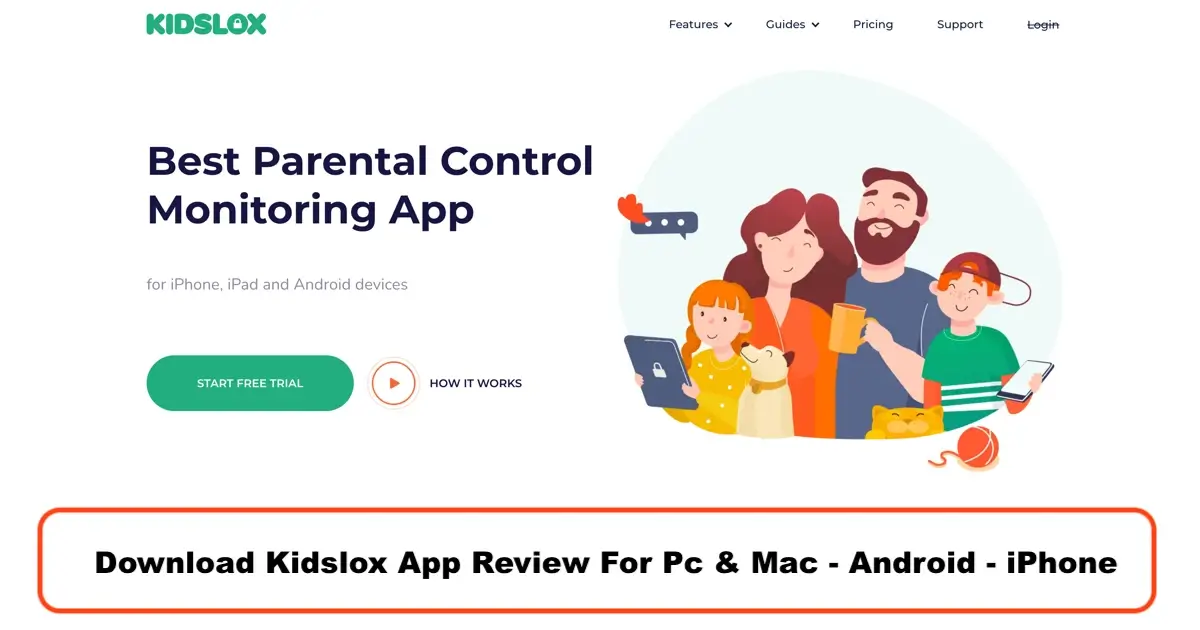 Do you want to keep your kids safe online? Do you want to know what they are doing on their devices? Then you need KidSLOX! KidSLOX is a parental control app that lets you see what your kids are doing, set time limits, and even block websites. It's great for parents who want to make sure their kids are safe online without having to constantly monitor them. Kidslox is available on Android and iOS devices. Give it a try today!
How to Use Kidslox to Manage Your Family's Digital Life
Parenting in the digital age can be overwhelming. With so many ways to access digital media, it can be difficult to manage what your children can and cannot see. Fortunately, there is Kidslox, a digital parenting app that has been designed specifically for parents. Let's take a look at how this app works and why it is one of the best tools for managing your family's digital life.
What is Kidslox?
Kidslox is an app that allows you to control your child's devices from anywhere. It helps you keep track of which apps and websites your kids are using and blocks content that you don't want them to view or interact with. You can also set time limits on device use, block dangerous websites, and even remotely lock their devices if they get out of hand. It works on iOS, Android, Kindle Fire tablets, Mac computers, and other smart devices.
Features & Benefits
Kidslox provides parents with a variety of features that allow them to customize their children's online experience. These include setting time limits on device use; blocking access to dangerous websites like pornography; monitoring activity on social media platforms; and setting up remote locking of devices when necessary. The app also allows you to receive alerts when certain activities occur, so you can stay informed about what your kids are doing online. Additionally, the app provides detailed reports about device usage patterns so that parents can better understand how their kids are using their devices and make informed decisions about how best to manage them going forward.
The biggest benefit of using Kidslox is that it gives parents peace of mind knowing that their children are only accessing content appropriate for their age group. It also helps promote healthy device usage habits by allowing parents to set boundaries around when and how often their children use digital devices. Finally, Kidslox keeps kids safe by helping protect them from cyberbullying and online predators who might try to target vulnerable young people online.
Kidslox(opens in a new tab) is an interesting parental control system that has a lot of features on iOS and Android and fewer features on desktops. Built-in content filtering blocks inappropriate sites automatically, and support for Google's Safe Search and YouTube's Restricted Mode limits what your child can find. You can quickly block access to groups of apps, and the Daily Limits feature limits device use to a set amount each day. The features of the location are a highlight. Kidslox is different from many of its competitors because it doesn't just show you where your child's device is right now. Instead, it also shows you where it has been in the last 24 hours and for the last week.
Geofencing lets you set up custom areas for your home, school, and as many other places as you want. When your child leaves or enters a region, Kidslox sends you an alert.
Gets kids involved and has an easy-to-use interface
No call/text monitoring
Kidslox Review: The Start
We live in a digital age, which makes it harder for us to keep an eye on our kids. Most kids have access to computers, smartphones, and tablets, so we might not always know what they are doing online. A parental control app is a must-have if you want to feel safe. Kidslox is one option you might want to think about, and we'll talk more about it in the rest of this short review.
With Kidslox, it will be easy to tell your kids what they can and can't do online. You can control the device being watched from afar. Kidslox can be useful in more than one way. For example, it can track where your child is and block content.
Want to learn about Kidslox? Look at the site here. (opens a new window)
The versions for Windows and Mac are much simpler. The Windows edition, for example, lets you control what apps are installed on a PC or laptop, but it doesn't filter content and you can't manage the device from the Kidslox app for parents. We're glad to see that a company that makes parental controls has at least some desktop support. Kidslox says that its Windows and Mac versions will have more features "coming soon," but right now, there's not much here.
At $50, you can protect up to ten devices for a year, which is not bad (opens in a new tab). That's cheaper than most, but Kaspersky Safe Kids only costs $15 a year and works on as many devices as you need.
Kidslox's lifetime plan(opens in a new tab), which lets you use the app for as long as you want for a one-time payment of $80, is an unusual plus. If you have many children, this could protect you for a long time and keep your costs low.
A free trial (opens in a new tab) that doesn't require payment information is a risk-free way to learn more. It's only good for three days, but you don't have to give any payment information, and when it's over, it automatically changes to a free version. This means you can only manage one device and make five mode changes a day, like switching a device from parent mode to child mode. However, this is enough time to try out Kidslox more and see how it works for you.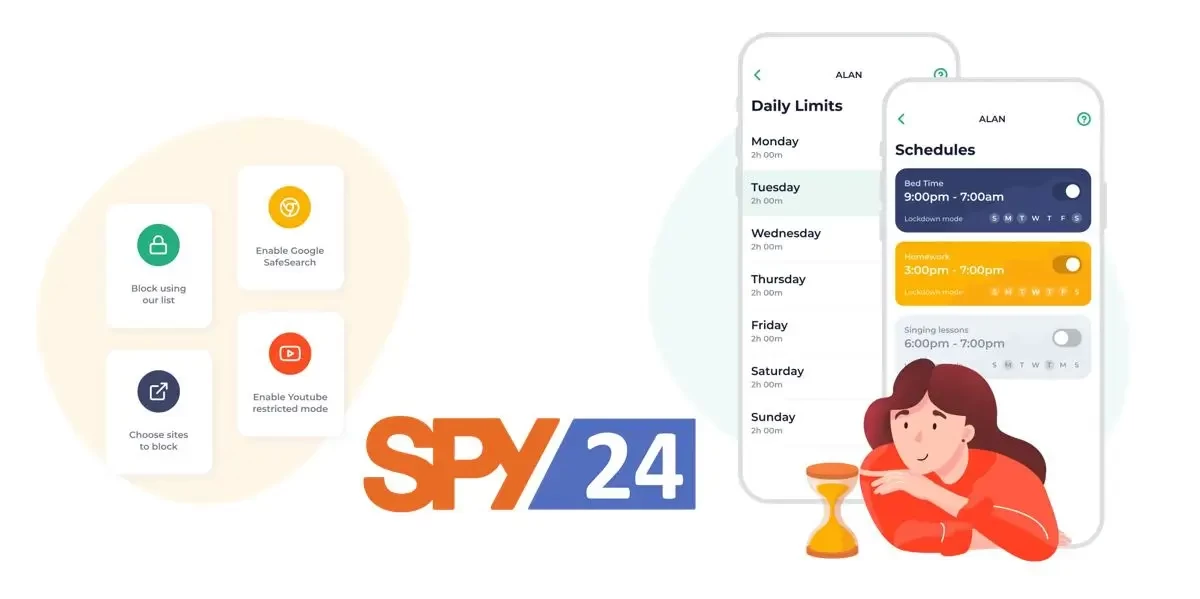 Be aware, though, that when you install the app, it will tell you to "Start Premium Now." Ignore that and click "Skip" to get the trial.
Setting up apps for parental controls is usually a lot of work, just because you have to pair devices and apply for permissions. Kidslox does more than most to help you out.
We put the app on our Android device and chose the Parent Mode option (Kidslox uses the same app for parents and kids.) The app told us to install it in Child Mode on our child's device. It then looked for the device on our Wi-Fi network, recognized it, and connected to it when it was found. But if that doesn't work, a backup method lets the child's device scan a QR code on the parent's device.
As soon as the parent and child recognize each other, you'll be asked to start setting up. The wizard has a quick video tutorial that goes over the basics, but it's just approving the usual Android permissions, so experienced users can skip this and get started right away.
The process is well thought out and does its best to tell you what you need to know. Instead of just taking you to the "Device admin" permission screen, Kidslox tells you what's going on and why: "Kidslox needs administrator access so you can use it to lock your child's device and block access to the camera."
It's all very easy, and it only took us a few minutes to set up both the parent and child devices. This good news was kind of ruined when we saw a flashing animated banner that said "Upgrade to Premium" and "Free trial ends in 3 days." Yes! Thanks. We get it. When and if parents are happy, they will upgrade, and annoyingly pushy marketing doesn't help.
Screen time Advertisement
By default, Kidslox only lets your child use their device for two hours during the week and three hours on the weekends, but this is easy to change.
You can set the limit for each to whatever you need, and we mean "whatever." Kidslox lets you set usage times to an exact number of minutes, not just 15-minute increments like most other sites.
You can also set time limits for each app. For example, you could only let your child use YouTube for 30 minutes a day.
The ability to limit app use by a whole category is an interesting extra. If you want to control how much time your child spends playing games, for example, you could set a time limit with just a few taps. The rest of the time, they could do whatever they wanted.
If you need to, you can change these time limits in a more creative way than we've seen with other apps. Kids can usually just ask for more time if they run out, but Kidslox has a "Rewards System" that lets you give your kids more time when they finish a task.
If they do their homework or clean up their room, they get an extra 30 minutes. Your kids do the job, tap that button on their Rewards screen, and you get a message. Check to see if it's done, or just tap the right button on your app and the extra time will be added right away. But you can change the reward times or make up your rewards or tasks if you want to.
Kidslox can block Android apps one at a time or by type (Games, Browsers, Social, Lifestyle, and so on.) On iOS, you can block all third-party apps or just block internet access for a set list of popular apps. (You can see the full list here.)
System settings let you block access to app stores, so your child can't install something new to get around the restrictions. That works, but it's kind of too much. Boomerang and Google Family Link are more gentle. They let you use the Play Store, but you can choose to have to approve every new app installation by hand.
If you don't want to stop your child from installing any apps, you could let them use app stores but keep an eye on what they do. In Parent Mode, Kidslox shows you what new apps have been installed almost as soon as they happen, so you can block anything that seems inappropriate right away.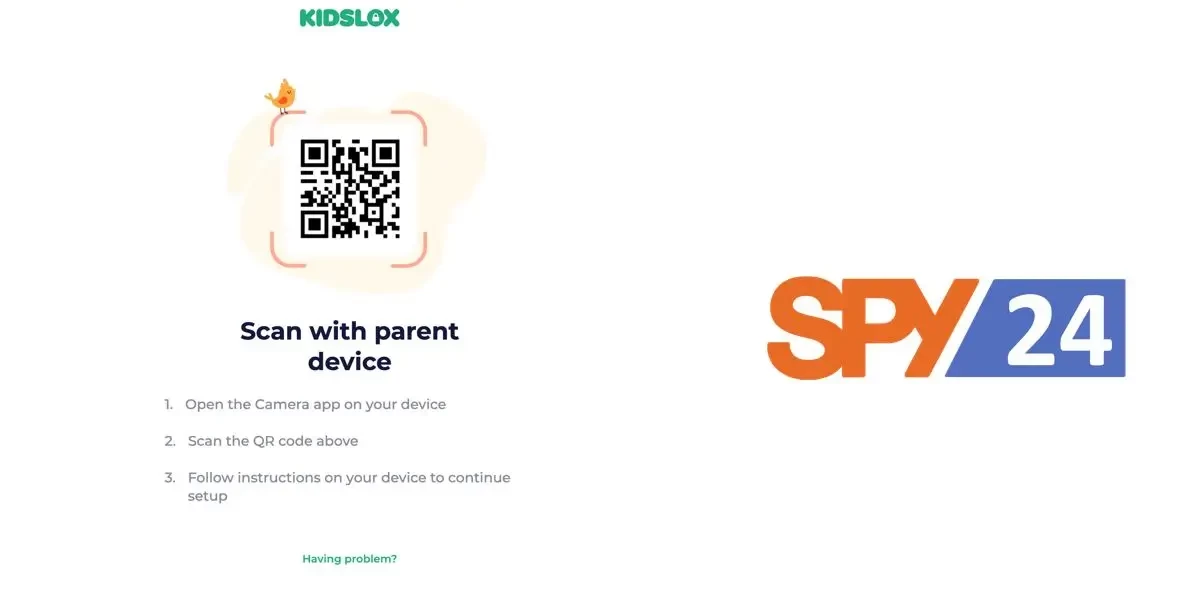 Your child won't be able to delete any apps from their device if you use Kidslox. That could be helpful if you have other parental control apps on your phone that don't do a good job of keeping your kids safe.
All of this works as promised, but it doesn't give you as much control as the best apps do. You can encourage your child to use educational or other apps with ESET Parental Control and Google Family Link. For example, you can set them as "unlimited," so that using them doesn't count against your child's time limit. Boomerang goes even further by letting apps be set as "always allowed," so they can be used even when the device is locked.
Content filtering Advertisement
Kidslox uses a variety of ways to keep your kids from seeing inappropriate content on the web. By default, it blocks access to over 5 million sites on its blacklist, and new ones are added every week. Enforcing Google and Bing's Safe Search will make it less likely that they'll find inappropriate sites in the first place, and letting them use YouTube's Restricted Mode will stop them from seeing content that says it's for people 18 and over.
You can tweak this by making your blacklist of sites to block, and you can even block anything that needs internet access, like browsers, social media, online games, streaming sites, and more. (This stops the app, not the device, from using the internet, so Kidslox can still use the internet as usual.)
This works in a very simple way, but you don't have much control over it. Most apps let you customize their content filter so that you can block sites based on age. For example, you could block all sex education sites for a 5-year-old but let 12-year-old access them. With Kidslox, you can only turn the filter on or off. This doesn't give you much room to make it fit your needs.
If you tap the "Geo" icon on Kidslox, the location of your child's device at that moment will show up on a Google map. That's not a surprise, but Kidslox doesn't stop there. It can also show you where your child has been in the last week and the last 24 hours.
With geofencing, you can set up multiple areas that you want to keep an eye on, like your home, school, sports field, or your grandparents' house. Zones can only be round, but the size of a zone can be controlled well, with a range of 50 to 1,000 meters. You can also choose whether you want to know when your child enters a zone, leaves it, or both. This isn't something most apps let you do.
Kidslox even has a zone edit feature, so if you need to, you can move a zone without having to delete it and start over (your only choice with most of the competition.)
All of this might seem a little creepy, especially to older kids who might not like the idea that you can track almost everything they do. You can turn off the feature, though, by turning off or never giving Kidslox permission to use your location in Settings. And if you need this level of tracking, you'll love Kidslox's level of detail, which is much better than anything else we've seen.
Kidslox Set Up
Go to the website and look for the download link to set up Kidslox. You can also go to the AppStore or Playstore, depending on what kind of operating system your device has. Once you're in the app, you'll see a short guide that shows you how to use it step by step. You will also need to sign up to get your login information. From here, you can find out about the app's different features and set the restrictions you want.
---
Kidslox: Web Filters for Families to Filter, Block, and Keep an Eye on
Kidslox is a powerful parental control app that lets you block and filter content so that kids can't see things that aren't appropriate for their age, like pornographic, violent, or drug-related content.
There are six options under "Content Filtering," and four of them are turned on by default. When you use this app, you can choose from the following filters.
Blocked by Kidslox: By default, Kidslox blocks four million URLs from websites around the world that the company thinks are not appropriate for young users.
You've blocked: With this feature, you can type in the URLs of the websites you want to block.
Access to the Internet: You can stop the device from being able to connect to the internet.
YouTube Restricted Mode: With this setting, kids won't be able to watch YouTube videos that say they are for people 18 and over.
Google Safe Search: This will keep kids from looking for content that isn't right for their age.
Bing Safe Search: If Bing is their default browser, this will keep them from seeing things they shouldn't.
One of the worst things about Kidslox is that it doesn't have any ways to record different kinds of activities. For example, we've seen a lot of parental control apps that let you see a log of social media messages, calls, texts, and even pictures that are saved and deleted on the device being monitored.
With Kidslox, you will only be able to see the history of where your child has been. There is a report that makes it easy to see where your child has been for a certain amount of time. This will help you understand what's going on with your child.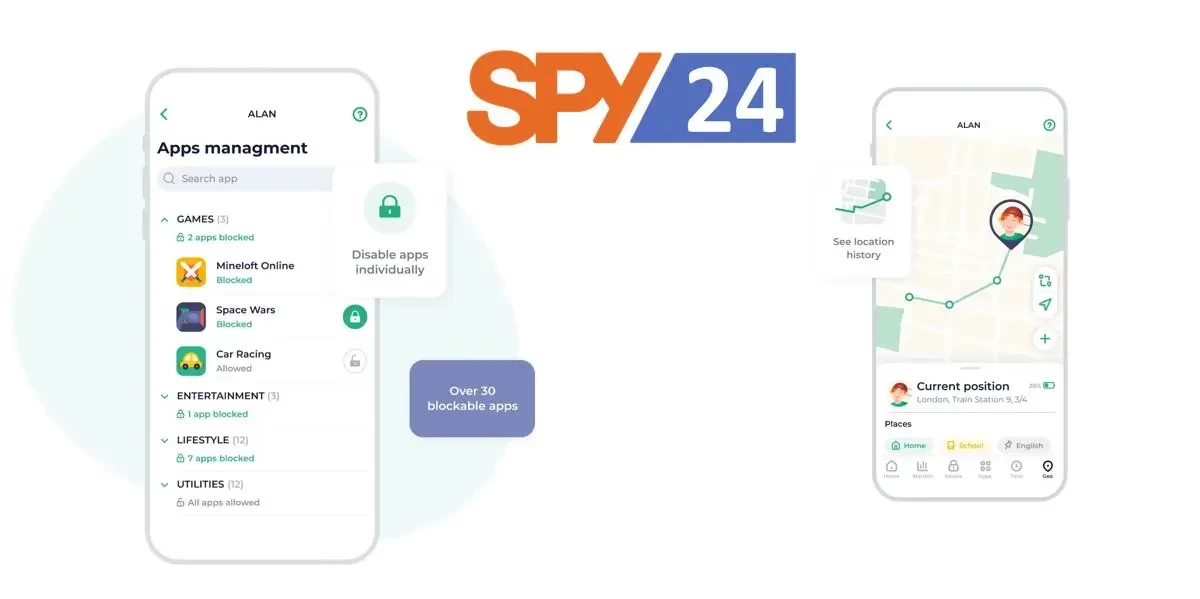 Pros and cons of Kidslox
Quite easy to use;
Good for basic things and blocking websites
You can put limits on certain apps;
Notify when the limit is reached;
No social monitoring;
No history of searches;
No spying on SMS and phone calls. No spying on messaging apps.
Kidslox – Mobile Support
Both iOS and Android can run Kidslox. You can unlock your child's phone and use all of its features and benefits, no matter what kind of phone he or she has.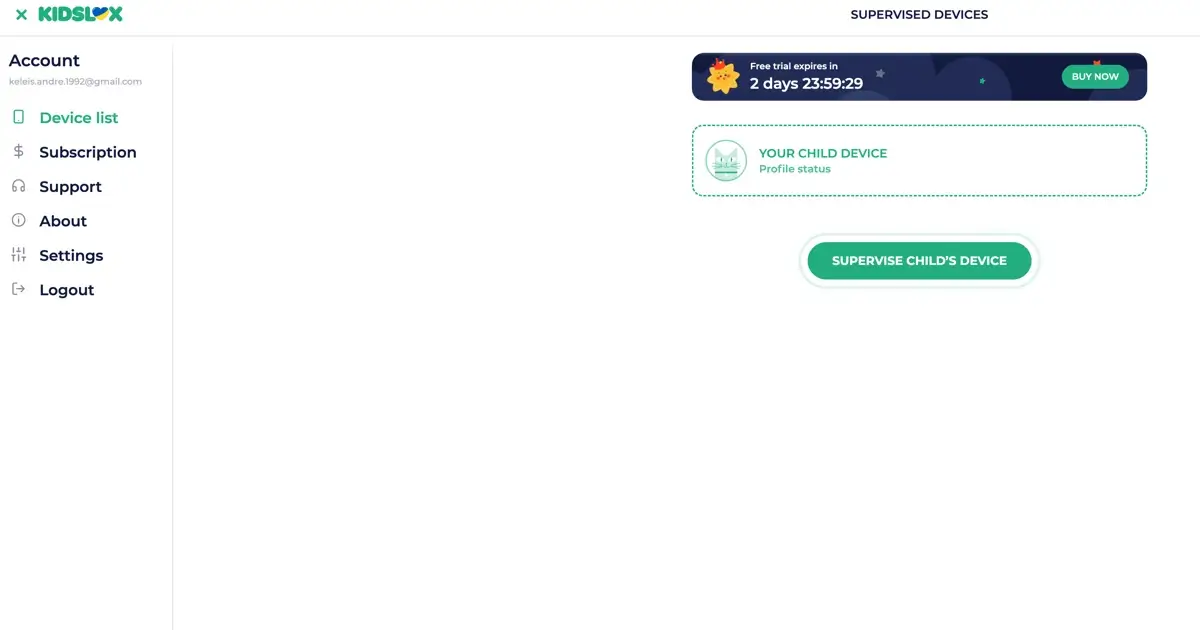 Kidslox also has a Mac app that is easy to put on your Mac. There is also a Windows app.
Any parent would be frustrated if they didn't know where their child was. That should never happen with Kidslox. Like most parental control apps, this one lets you keep track of where your kids are. On a map, you can see where they are right now. You can also make your zones and see where they have been in the past.
Cellular networks, Wi-Fi, and GPS are used by Kidslox to find out where your child is. Even if there isn't a connection to the internet, the app will still track location. Once the device is connected to the internet, it will put all the recorded locations together and show them. If the monitored device is an Android one, the location information will be updated every minute. If the device being tracked is an iOS device, on the other hand, the location data will be updated every 100 meters.
Kidslox is also great because you can set daily limits based on what you think is healthy for your child. You can set how much time kids can spend in front of a screen on any given day. When the time is up, the phone or tablet will immediately go into Lockdown Mode and can't be used anymore.
When it comes to managing your time, setting up a schedule is one thing you can do. This lets you set a time session ahead of time during the day. For example, if kids are supposed to be studying from 6 to 7 pm, you can put the device in Lockdown Mode so they can't use it. This is easy to do. Go to the app, click the Time tab, and then click Schedule. Press the button that says "Add Schedule," and then set the time as you want. You can also change what the schedule is called.
Putting a time limit on each day
In addition to making a schedule, you can also tell your kids how long they can use their phones. To do this, open the Time tab in the app. Tap "Edit" and change the time to suit your needs. The timer works when the screen is on. The timer stops when the screen is turned off. After the time limit is up, the phone will be locked.
You can choose from three Kidslox plans based on your budget and the features you want to use. Start with their free version if you're not sure if you should try it. This will only work on a single device. If you want to pay for a subscription, you can choose between the Basic and Premium plans. The Basic Plan costs $3.99 a month, $39.99 a year, or $79.99 for the rest of your life. It talks about five things. On the other hand, the Premium Plan costs $5.99 per month, $59.99 per year, or $99.99 for a lifetime membership.
If you think this is too expensive, check out our list of free parental control apps and reviews of them.
In conclusion, Kidslox is one of the most reliable apps you can choose if you want to keep an eye on your kids. It can, among other things, limit access to a certain device, set time limits, and keep track of the location. There is a free version, but it doesn't do as much as the paid version. The paid plans give you access to a wide range of features and benefits that will help you keep track of where your child is.
Kidslox is a love-it-or-hate-it app because it has some great features (the most complete location monitoring tools out there) and some really bad ones (you can't change the web content filtering by category? Really?) We gave it an above-average score because the best parts are so good. During the trial, try it out carefully to see what works for you.
Kidslox – Parental Control App Pricing For All Price Plans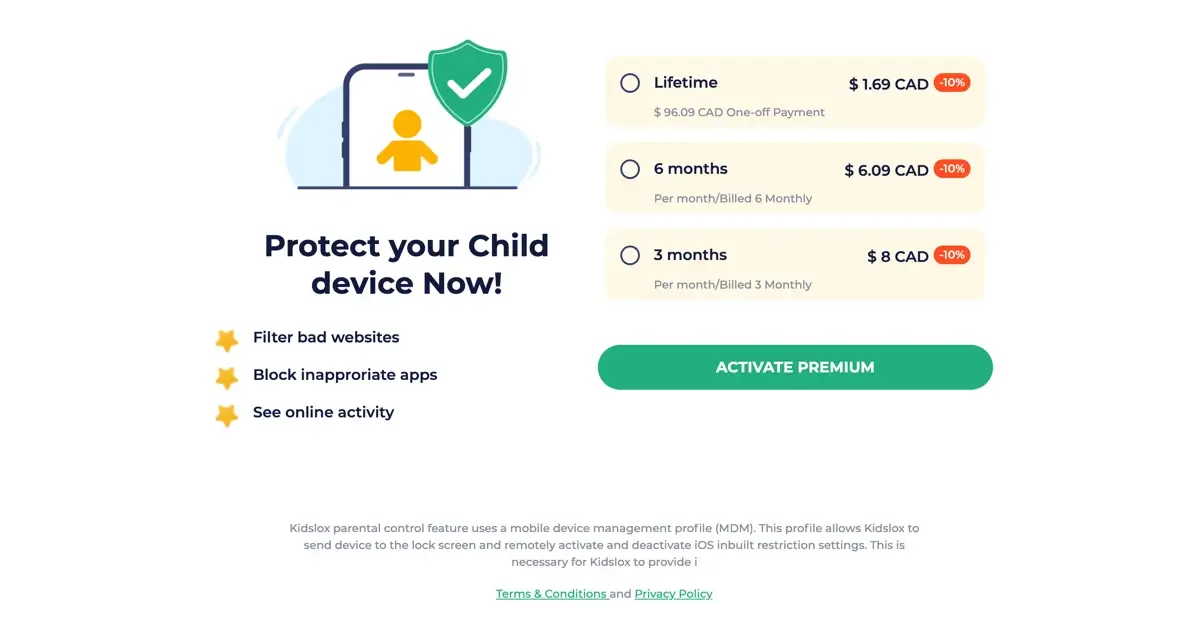 Conclusion:
Kidslox is an excellent tool for managing your family's digital life while keeping your children safe online. With its customizable settings and numerous features, Kidslox makes it easy for parents to monitor what their kids are doing while still giving them freedom within appropriate boundaries. Whether you need help managing multiple devices or just want some peace of mind knowing that your kids aren't accessing inappropriate content online, Kidslox offers a comprehensive solution for parents who want more control over their family's digital lives without sacrificing safety or privacy in the process.
SPY24 Install application free The Most Powerful Hidden Spying App to Monitor Android, IOS Cell Phone & Tablet Device Remotely. Best Android Parental Control App for Kids & Teens Online Safety.
Now take the liberty to monitor Android, and IOS devices with exclusive features better than ever before Monitor all Voice & Text Messages Communication records, Listen to & Watch Surroundings in Real-time Unleash Digital Parenting with Android, IOS Spy App Spy (Surround Listing & Front/Back Camera Bugging) IM's VoIP call recording on Android OS 13 & above With 250+ Surveillance Tools at your fingertips using Android Tracking & Parental Monitoring Software.