Kidsguard Pro is the ultimate parental monitoring solution for mobile devices. Kidsguard Pro boasts powerful features that allow parents to track and monitor their children's activity on their mobile devices – from calls, texts, and web activities, to social media and even GPS location. With Kidsguard Pro, parents can rest assured that their children are safe and secure when using their mobile phones. Read on for our comprehensive review of Kidsguard Pro and find out why it's the go-to parental monitoring app for parents around the world.
What is Kidsguard Pro and How Can it Help You?
Kidsguard Pro is an app designed to help parents monitor their children's online activities. It provides features like real-time location tracking, recording of incoming and outgoing calls, access to browsing history, and more. It allows parents to have peace of mind knowing that their children are safe while they are away from home. In this blog post, we will review the features of Kidsguard Pro and discuss how it can help you protect your children online.
How To Use KidsGuard Pro
Are you worried about what your kids are doing online? Are you looking for a way to keep track of their activities and protect them from potential dangers? KidsGuard Pro is the perfect solution for you!
KidsGuard Pro is a comprehensive parental control solution that enables parents to monitor their child's device activity remotely. With KidsGuard Pro, you can easily keep track of your kid's online activities and protect them from potential dangers. It's the perfect way to ensure the safety of your child while they're online.
In this blog, we'll discuss how to use KidsGuard Pro to keep your kids safe online.
First, you need to install the KidsGuard Pro app on your child's device. The app is available for both iOS and Android devices. Once installed, you can use the app to monitor your child's activity remotely. You can access a range of features, including real-time location tracking, app activity monitoring, and website filtering.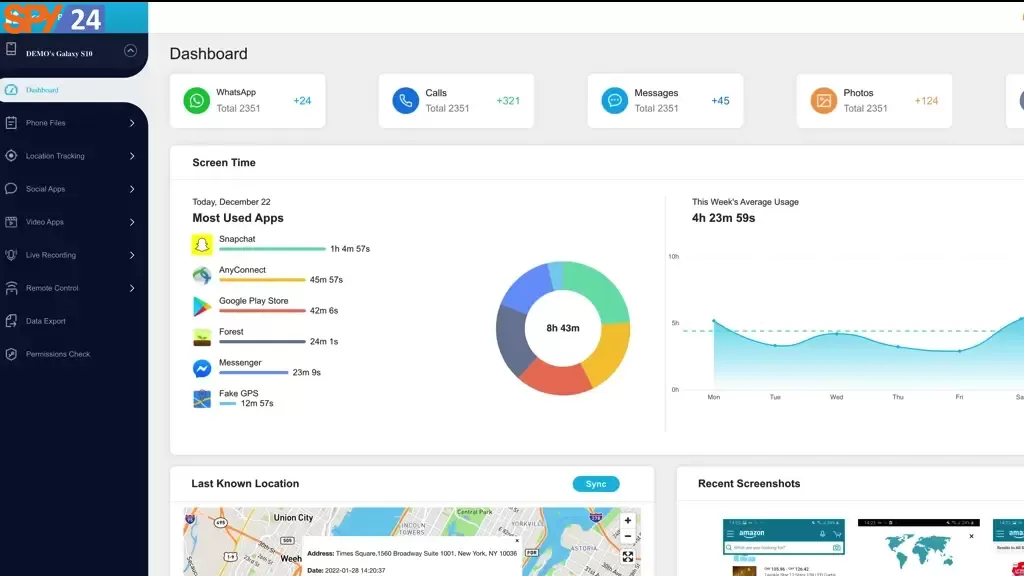 Next, you can set up the various functions of KidsGuard Pro. For example, you can set up an app to alert you whenever your child visits a suspicious website or downloads an inappropriate app. You can also set up the app to restrict your child's access to certain websites or apps. This ensures that your child doesn't access any inappropriate content online.
Finally, you can use KidsGuard Pro to view detailed reports of your child's activity. The reports provide information such as which websites they visited and how long they spent on each website. This helps you to identify any potential risks and take action to protect your child.
KidsGuard Pro Products
Monitor Android Devices
Monitor iOS Devices
Monitor Computers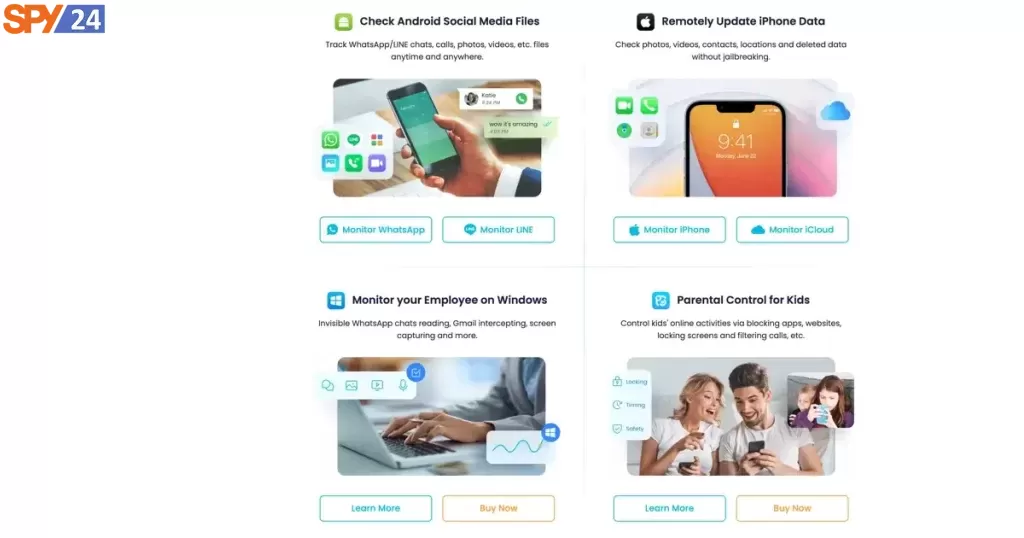 What are the Requirements for Using Kidsguard Pro?
KidsGuard Pro parental control enables you to monitor your child's phone activity. Here are the requirements:
KidsGuard Pro for Jailbroken iOS Devices
You should have the latest running iOS device such as iOS 6 to 8.4 or 9 to 9.1.
The device should have an internet connection.
Your device must be jailbroken.
You need to access it physically to install the KidsGuard Pro.
KidsGuard Pro for Non-Jailbroken iOS Devices
Capable for all iOS devices.
An iCloud account with Find My Phone activated.
You have to turn off the 2-factor verification for Apple ID.
You need to turn on iCloud backup from settings.
An internet connection with the iOS.
KidsGuard Pro for android
You must have Android 4.0 or the latest.
Must have an internet connection.
You should have access to the phone physically first to install the app.
If you would like to track instant messages on WhatsApp, Messenger, Skype, and others, you should have a rooted phone.
KidsGuard Pro Features:
Make the Most of Android Monitoring Features:
Real-Time Location Tracking
One of the most useful features of Kidsguard Pro is its real-time location tracking. This feature allows parents to keep track of their child's whereabouts at all times. Parents can view their child's current location on a map or set up alerts when the child enters or leaves specific locations. This feature helps ensure that kids are where they should be at all times, keeping them safe from potential danger.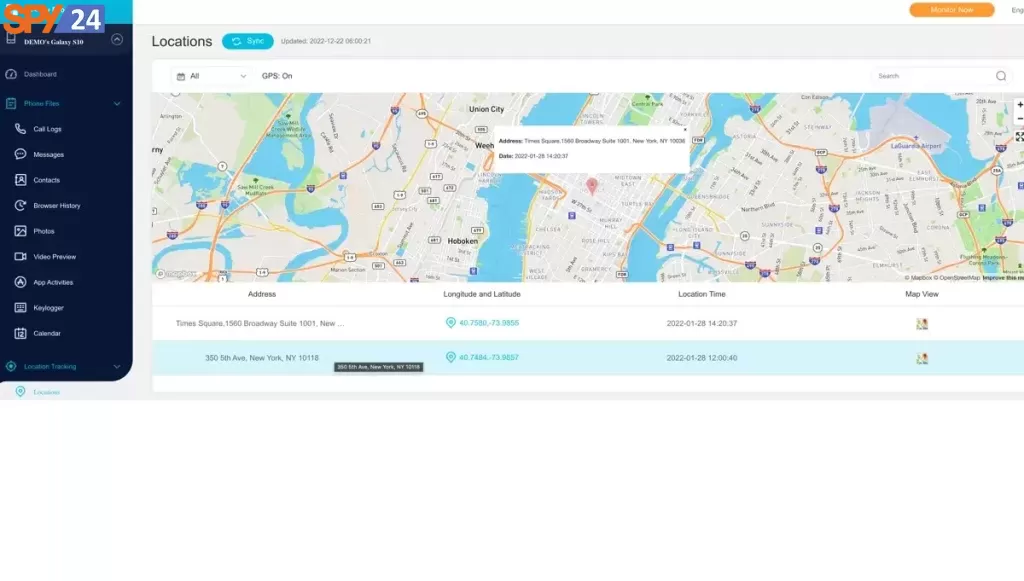 Browsing History Monitoring
Kidsguard Pro also allows parents to monitor their children's browsing history. They can view which websites have been visited on the device as well as what videos have been watched on YouTube. This feature also gives parents insight into what content their child is being exposed to online and allows them to intervene if necessary.
Call & SMS Logging
Kidsguard Pro has a call-logging feature that records incoming and outgoing calls made by your child's device. Parents can use this feature to monitor who their children are talking with over the phone and make sure they're not engaging in any activities that could put them in danger. Additionally, this feature logs messages sent via text messaging apps such as WhatsApp, allowing parents to see what conversations their children are having with friends or strangers online.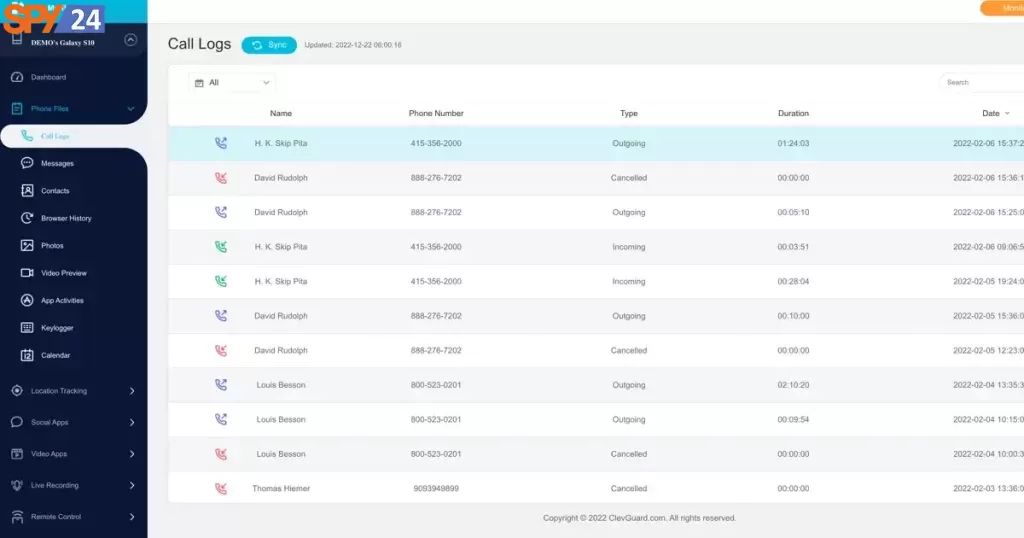 Social Media Spy
Read every private conversation message on Facebook, WhatsApp, Snapchat, Instagram, LINE, Telegram, Kik, Tinder, Skype, Discord, and other popular social media apps.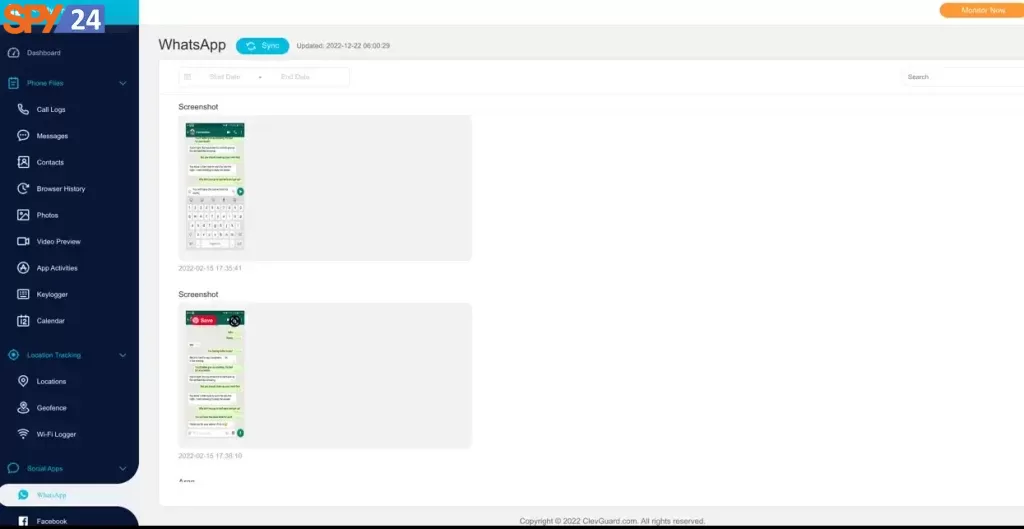 Keylogger Analysis
Track each keystroke to determine whether the conversations they're having are safe. To ensure that every conversation they have is secure at all times.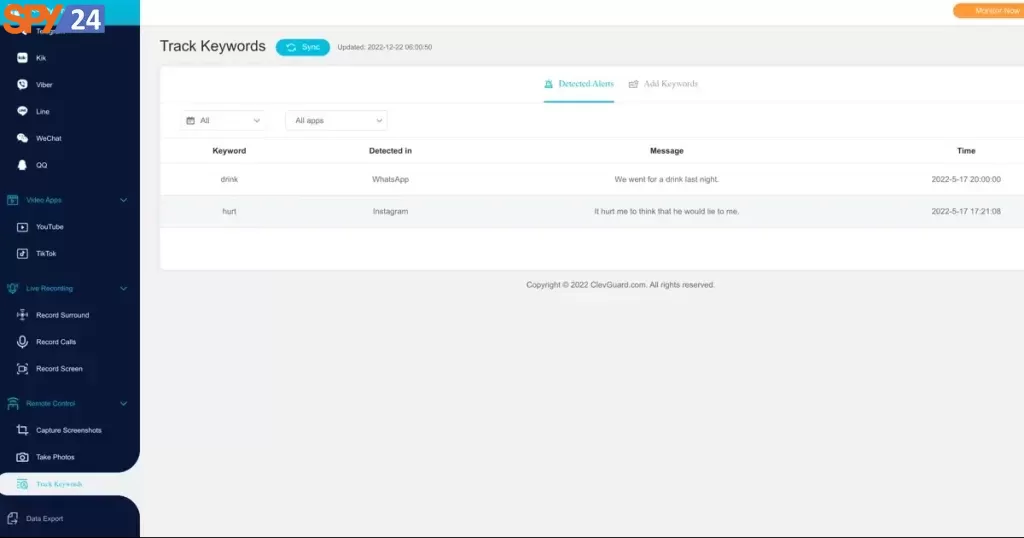 KidsGuard for WhatsApp
KidsGuard for WhatsApp Monitoring App with No Need to Root: Monitor 10+ WhatsApp data, like WhatsApp chats, status, calls, voice messages, etc.
How to Use Kidsguard Pro Parental Control App
---
Step 1: Select a subscription
After completing the KidsGuard Pro login, go to the official website and select the subscription package that best meets your family's needs. Fill in the billing information; after payment is confirmed, you will receive a welcome email with your personal credentials.
Step 2: Download and install KidsGuard Pro on the target device.
Verify your email address for installation and configuration. Open the letter from the KidsGuard Pro customer service team and click on the KidsGuard Pro app download link. After downloading the app, use the instructions above to install KidsGuard Pro. It only takes 5 minutes.
Step 3: Begin tracking
You can begin monitoring your target device once the app has been fully installed. You can see sent and received texts, read them individually, incoming and outgoing calls with full contact information, browsing history, installed apps, and much more.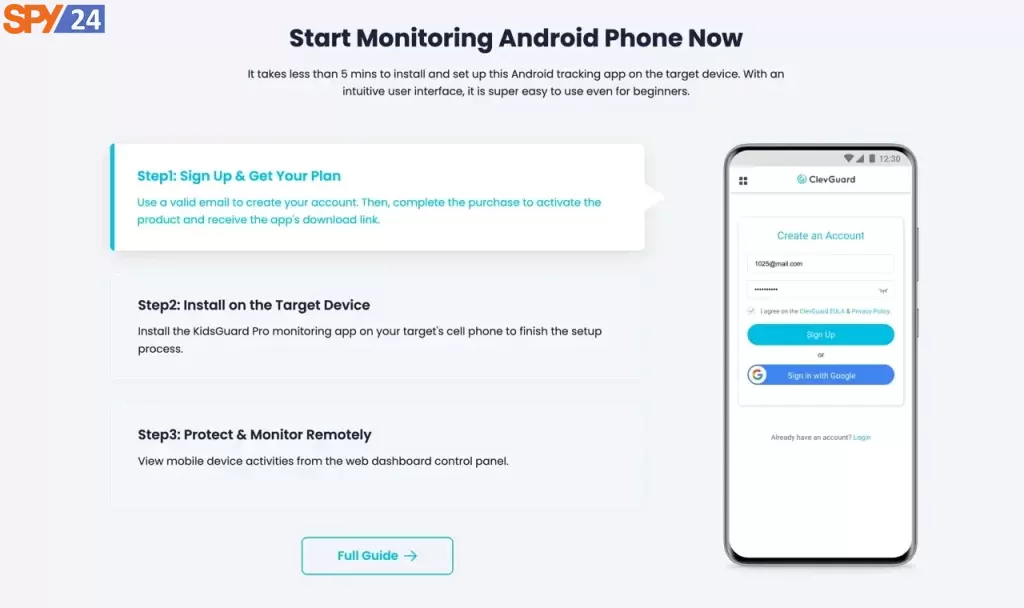 How To Install KidsGuard Pro On The Target Android Phone?
We know that you're probably eager to get started, so we've created this guide to help you with the installation process. Whether you need help installing KidsGuard Pro, or you'd like to know more about the features, this comprehensive guide has you covered.
Installing KidsGuard Pro is more difficult than usual because it is not available in app stores and must be configured manually.
On an Android device, for example, Google Play Protect must be disabled. If you did not, KidsGuard Pro would be identified as a privacy threat and but it is required to run KidsGuard Pro.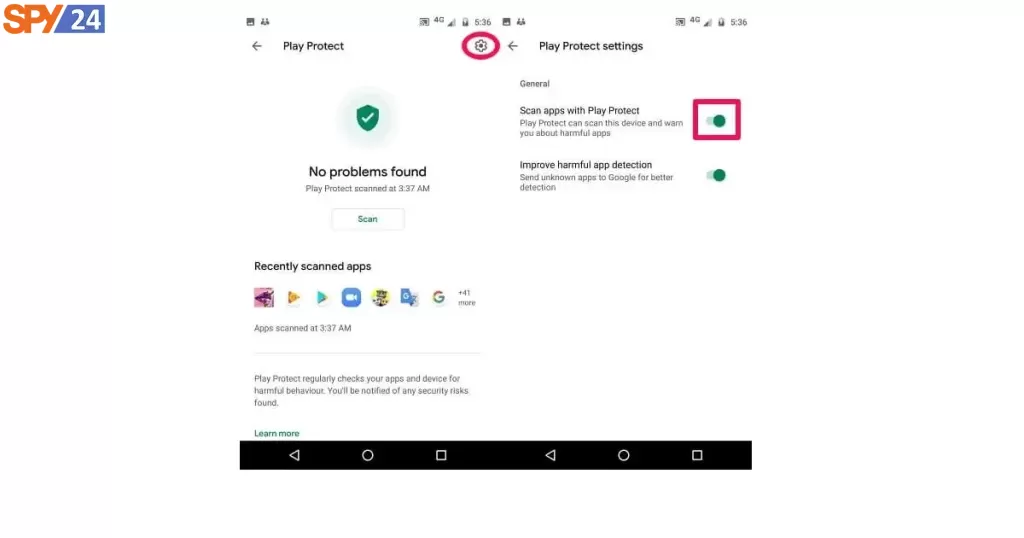 (If you're wondering whether disabling Play Protect makes the device more susceptible to malicious apps, the answer is no. Yes, that is precisely what it does. This is not a good security measure, but it is required for KidsGuard Pro to function.)
Disabling Play Protect is followed by manually downloading the app file from a KidsGuard Pro link, opening it, and installing it.
Let's get started.
First, you'll need to purchase a KidsGuard Pro subscription. Choose the subscription plan that best suits your needs, and follow the instructions on the website to purchase.
Once you've purchased a subscription, you'll receive an email with a download link. Follow the link to download the KidsGuard Pro app to your computer.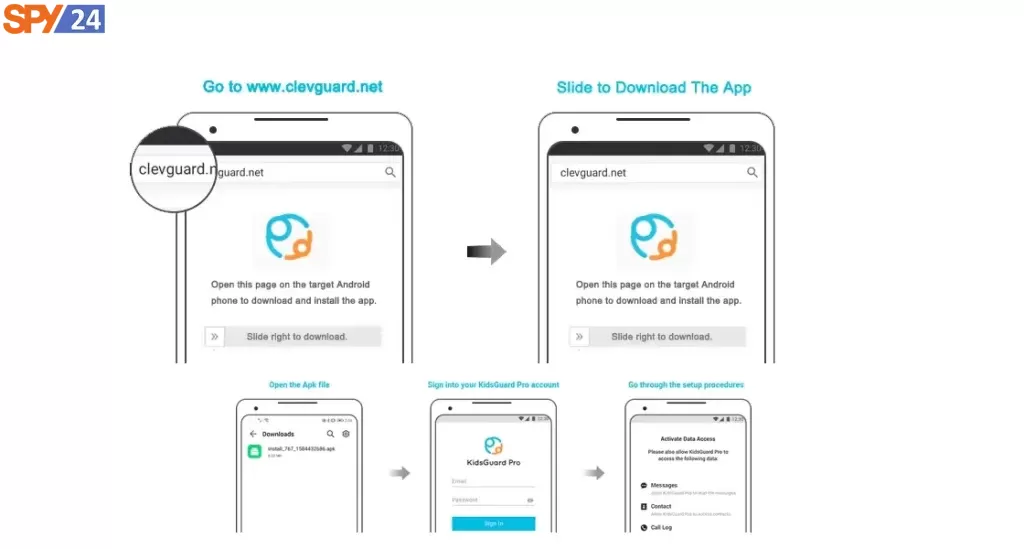 Now, it's time to install KidsGuard Pro on the target device. To do this, you'll need to access the target device's Settings > Security > Unknown Sources section. Under this section, enable the "Allow installation of apps from unknown sources" option.
Now, connect the target device to your computer and copy the KidsGuard Pro app to its storage.
Open the app on the target device and enter your KidsGuard Pro account details.
Follow the on-screen instructions to complete the installation process.
Once installation is complete, the monitoring and control features of KidsGuard Pro will be enabled. You will now be able to monitor and control the target device remotely from your KidsGuard Pro dashboard.
We hope that this guide has been helpful in getting you set up with KidsGuard Pro. If you have any further questions, please don't hesitate to contact us. We'll be more than happy to help.
How To Install KidsGuard Pro On iPhone?
IOS installations vary greatly, each with its own set of rules. Non-jailbroken devices may only require iCloud credentials for installation, allowing you to install the app without having physical access to the phone. However, if two-factor authentication (2FA) is enabled, this will not work (you have to enter a verification code on the target device.)
Once setup is complete, log into your KidsGuard Pro control panel, enter your phone's details (model, phone number, etc.), and you should start receiving device information.
Even when KidsGuard Pro is installed, up and running, the phone user won't see what's happened. There's no KidsGuard Pro icon on the phone, no notifications or alerts, no sign anything has changed. Even relatively technical kids are unlikely to realize they're now being monitored.
Installing KidsGuard Pro on your child's iPhone is quick and easy. In this blog post, we'll walk you through the process step-by-step.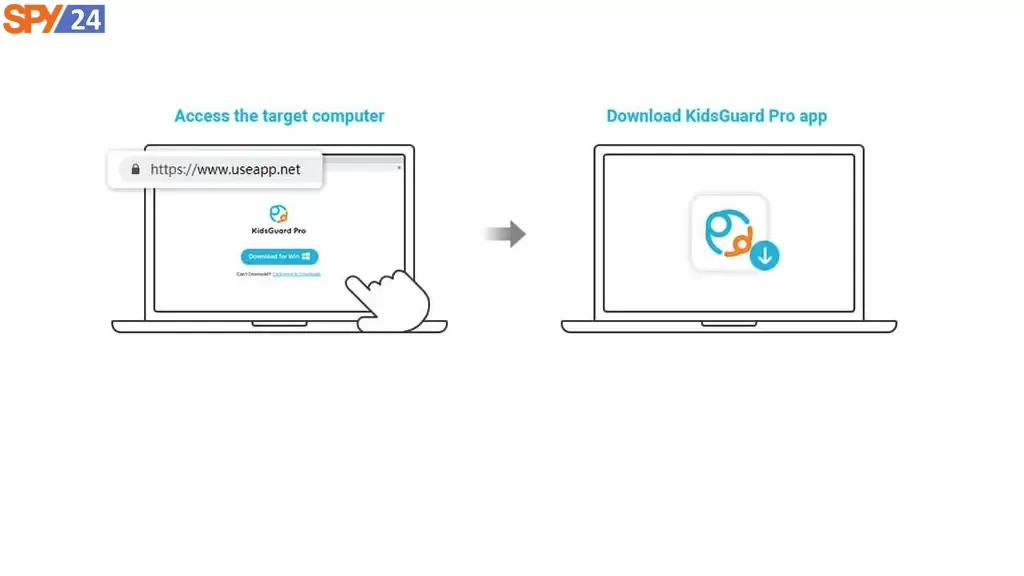 Step 1: Download the KidsGuard Pro App
Head to the App Store and search for "KidsGuard Pro". Select the correct app, and tap the "Get" button to start downloading it onto your device.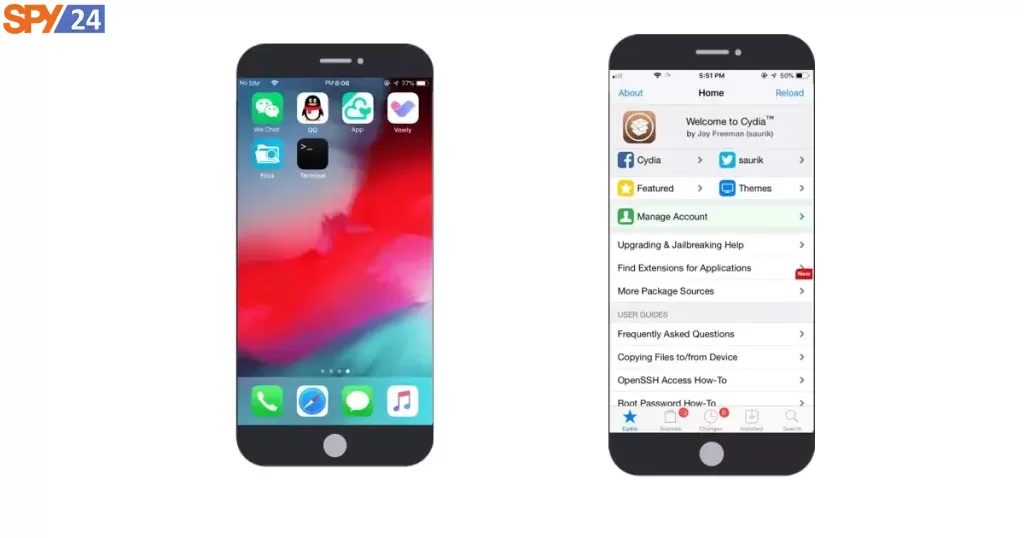 Step 2: Create Your KidsGuard Pro Account
Once the app is downloaded, open it and create an account. You'll need to provide your name, email address, and password to proceed.
Step 3: Activate the App
Once your account is set up, you'll need to activate the KidsGuard Pro app. On the app's home screen, tap on the "Activate" button and then follow the on-screen instructions.
But what if you don't want to install any app and want to track the target iPhone remotely? Then you can opt for the iCloud monitoring solution of KidsGuard Pro.
For iCloud monitoring, you will require a couple of things before setting up KidsGuard Pro.
The first thing you'll need is their iCloud credentials. To monitor the target iPhone/iPad you have to make sure that the iCloud backup is turned on.
Plus, you need to make sure that two-factor authentication is turned off on their phone. If 2FA is enabled, in that case, you might have to take physical access to the target iPhone, and the reason the 2FA code required to complete the setup process will be received on their phone.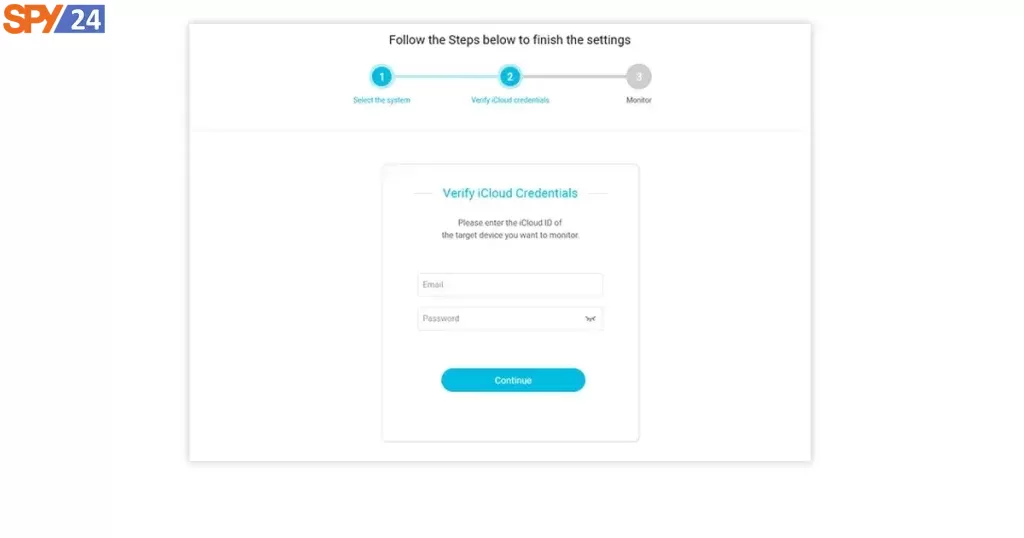 Step 4: Add Your Child's Device
From the KidsGuard Pro home screen, tap on the "Add Device" button. You'll then be prompted to enter your child's device information. Once you've done that, you'll be able to monitor your child's activity from the KidsGuard Pro dashboard.
Step 5: Monitor Your Child's Activity
From the KidsGuard Pro dashboard, you'll be able to view all the activities that your child is doing on their device. You'll also be able to set up alerts, so you can always be informed of any suspicious activity.
And that's it! Installing KidsGuard Pro on your child's iPhone should only take a few minutes. With KidsGuard Pro, you can ensure that your child is safe and secure online.
Pricing and Plans
---
Plans
Different KidsGuard Pro plans provide varying degrees of features and functionality. The Starter plan is the most basic, while the Pro plan includes additional features such as daily reports, advanced logging, social media monitoring, live chat support, website screenshots, and much more.
Pricing
The cost of KidsGuard Pro plans varies according to the level of features included. The Starter plan is priced at:
plan for 1 month is $29.95 per month. (You will be billed at $29.95 / $49.95)
Plan for 3 months: $16.65 per month. (You will be billed at $47.95 / $69.95)
Plan for one year: $8.32 per month. (You will be billed at $97.95 / $139.95)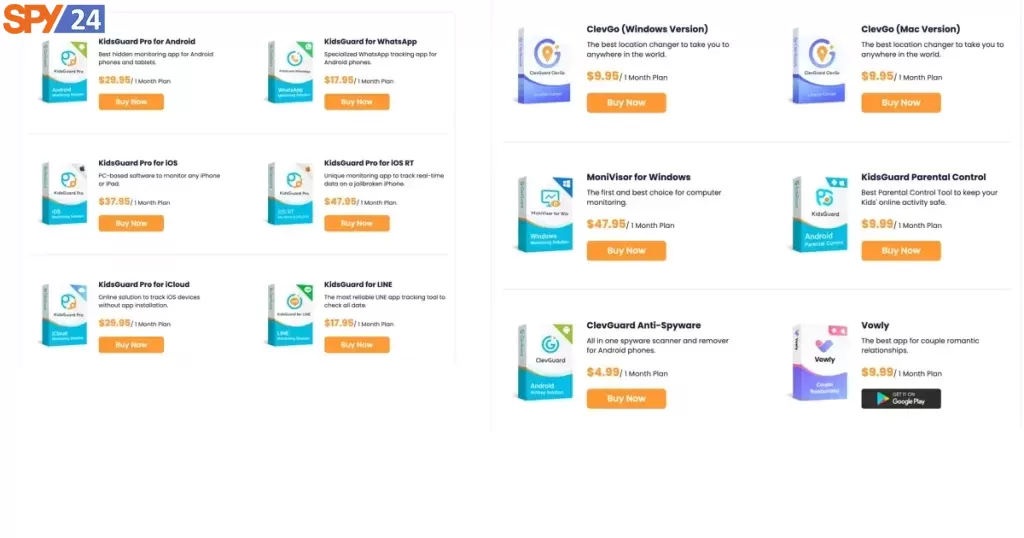 Pros and Cons
---
Without a doubt, KidsGuard Pro is one of the best monitoring apps for children's activities. You can read the official KidsGuard Pro app review, but a few pros and cons are listed below.
Pros of KidsGuard Pro
Keylogger: One of the best features of KidsGuard Pro is the key logger, which provides detailed information about what children type on their smartphone keypad.
This incredible feature detects inappropriate words and notifies parents.
As a result, this advanced feature allows parents to see what kind of chatting their child is doing.
Advanced tracking: KidsGuard Pro is the best for tracking location because it has a more advanced Geo-Facing feature that allows parents to track their children's current location.
It also tells you where the kids went throughout the day.
Cons of KidsGuard Pro
---
Only rooted or jailbroken devices have access to advanced features.
One of the main disadvantages of KidsGuard Pro is that it only works on rooted and jailbroken devices.
If you are using a non-jailbroken iPhone or an unrooted Android, you will not be able to access advanced features because advanced features are only available to jailbroken or rooted devices.
The target phone's supporting data cannot be exported.
People frequently want to export daily or weekly reports from spyware for legal purposes, but they are unable to do so.
For example, if an office uses spyware to protect its data and wants to export the weekly report to keep it in a record file, the KidsGuard Pro app does not provide the option to export data.
As a result, people preferred the KidsGuard Pro app less than other apps.
High price
---
Because KidsGuard Pro is so expensive, people prefer other monitoring apps.
Its basic package costs $29.95 per month and includes few features and only allows you to monitor a single device.
KidsGuard Pro, on the other hand, offers advanced features in the premium package, and people prefer the premium package over the basic one because of the features, but the KidsGuard Pro cost $47.95 per month.
It is costly, and people cannot afford to purchase KidsGuard Pro on a monthly basis.
Pros:
Logs the content of SMS and instant messages
Location history and geofencing support
Supports viewing browsing history
Can be run without the target user noticing
Cons:
High price
Each device requires a separate subscription
Can't control screen time
Weak app and internet access controls
KidsGuard Pro VS SPY24 Parental Control Software
Are you looking for the best parental control software? If so, you've probably heard of both SPY24 and KidsGuard Pro. Both tools offer great features to help you monitor your kids' online activities and keep your family safe. But which one is right for you?
SPY24 and KidsGuard Pro to help you decide which parental control software is best for your family. We'll cover the features, pricing, and customer service, so you can make an informed decision.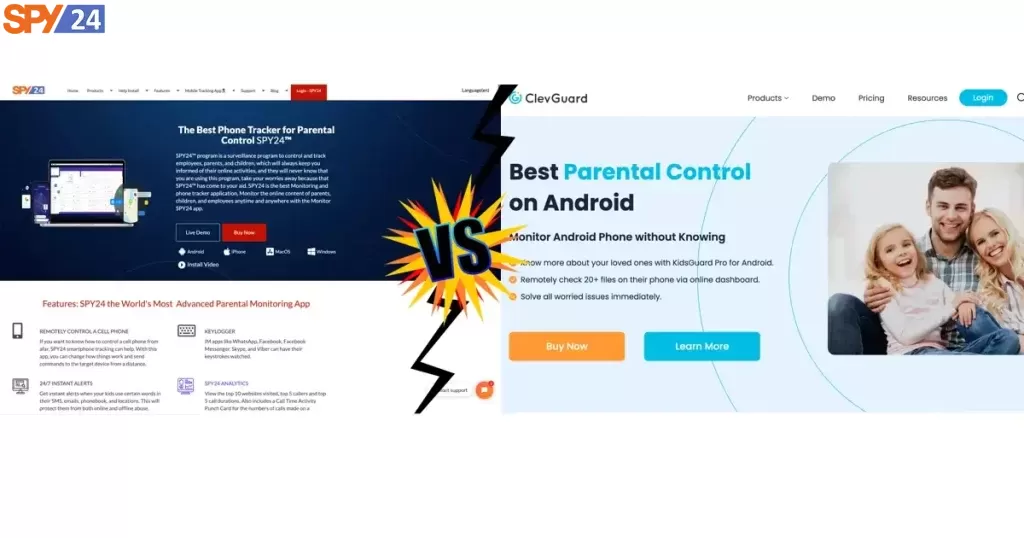 Features
Both SPY24 and KidsGuard Pro offer comprehensive parental control features. SPY24 allows you to track your kids' locations, monitor their social media activities, set time limits, block inappropriate content, and more. KidsGuard Pro also has these features and more, including the ability to view app activity, set keyword alerts, and remotely lock devices.
Pricing
When it comes to pricing, SPY24 is the more affordable option. SPY24 offers monthly and yearly plans, starting at just a free 1 month or $65.99/year. KidsGuard Pro is a bit more expensive, with monthly plans starting at $29.95/month or $97.95 /year.
Customer Service
Both SPY24 and KidsGuard Pro have excellent customer service. SPY24 offers live chat, email, and phone support. KidsGuard Pro has a knowledge base with detailed tutorials, as well as email and phone support.
Which Parental Control Software Is Best?
Both SPY24 and KidsGuard Pro offer great features and customer service. Ultimately, the best parental control software for your family depends on your needs and budget. SPY24 is a great option if you're looking for an affordable and comprehensive parental control solution. KidsGuard Pro is a great choice if you're looking for more advanced features.
---
FAQ:
What is KidsGuard Pro?
KidsGuard Pro is an all-in-one parental control app that allows parents to manage their children's digital activities. It provides powerful monitoring, filtering, and control features to help parents protect their kids from online dangers.
What are the features of KidsGuard Pro?
KidsGuard Pro offers a range of features to help parents keep their kids safe online. These features include app and website filtering, screen time limits, location tracking, and more.
How does KidsGuard Pro work?
KidsGuard Pro is an app that runs on the parent's device and can be installed on each of their child's devices. It allows parents to monitor activity on all of the child's devices, set rules and restrictions for them, and view their location.
Is KidsGuard Pro free?
No, KidsGuard Pro is a paid subscription service. We offer monthly and yearly plans.
How do I contact KidsGuard Pro customer support?
If you need help or have questions, you can get in touch with our customer support team via email or live chat.
How can KidsGuard Pro help protect my child?
KidsGuard Pro can help protect your child from online dangers such as pornography, cyberbullying, predators, and inappropriate content. It also provides real-time web monitoring, app control, location tracking, and more features to ensure your child's safety.
What devices are compatible with KidsGuard Pro?
KidsGuard Pro is compatible with both iOS and Android devices.
---
Conclusion:
Overall, Kidsguard Pro is a great app for monitoring your children's online activity and keeping them safe from potential harm. With its real-time location tracking, browsing history monitoring, call logging, and SMS logging features, it provides an easy way for parents to stay informed about what their kids are doing online without intruding too much into their lives. If you're looking for a way to keep tabs on your kids while they surf the internet or use social media apps, then Kidsguard Pro might be just what you need!