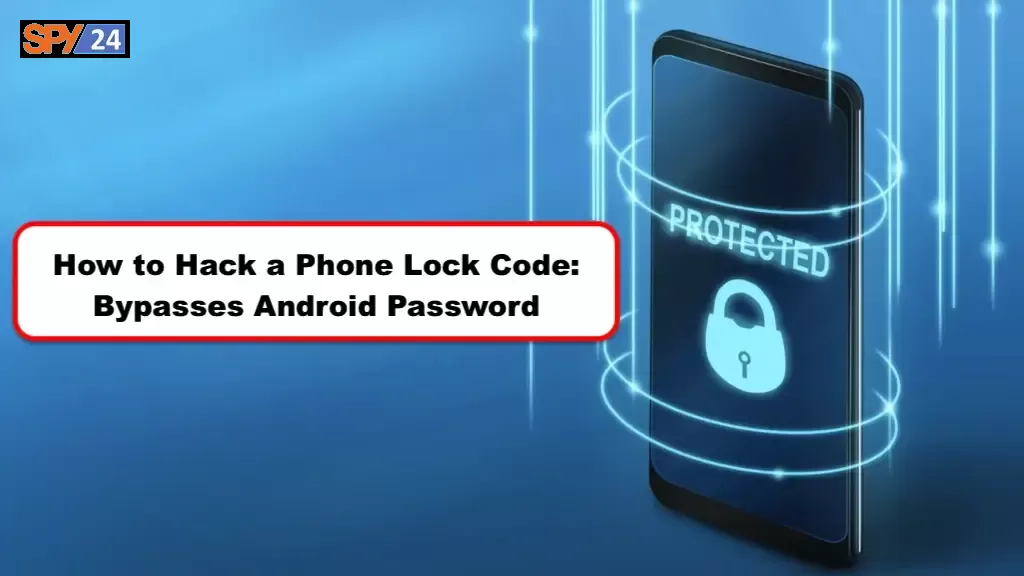 Is It Possible to Hack Phone Password Without Erasing Data? Surely, you have thought about hacking other people's phones, especially controlling your children's and spouses' phones, and you want to have all the information on their phones.
These days, hacking a phone or computer has become a widespread discussion that you probably hear about it every day. You must be asking questions such as whether it is possible to hack an Android or iPhone mobile phone. Is it possible to hack other people's phones without their permission?
Now, how do you really hack an Android mobile phone or an iPhone? In this article, we will fully discuss phone hacking and its methods, and we will tell if there is a program to hack other people's phones without their permission, and if there is, we will introduce it.
If you are looking for a way to unlock your locked Android phone, but at the same time you don't want to lose the data on the device, you can read this guide to learn how to unlock your phone with and without data loss.
Most people prefer to set a password, PIN, or pattern lock so that only they can access their phone and device data. However, if they forget the password, pin, or pattern lock, the phone will remain locked this situation.
Normally, when this situation happens, a factory reset on the device is one of the recovery options. But this will cause the loss of all data on your phone. There are efficient methods in the article from SPY24 that will show you how to unlock a locked phone with or without data loss.
How to Hack Phone Password [with Software]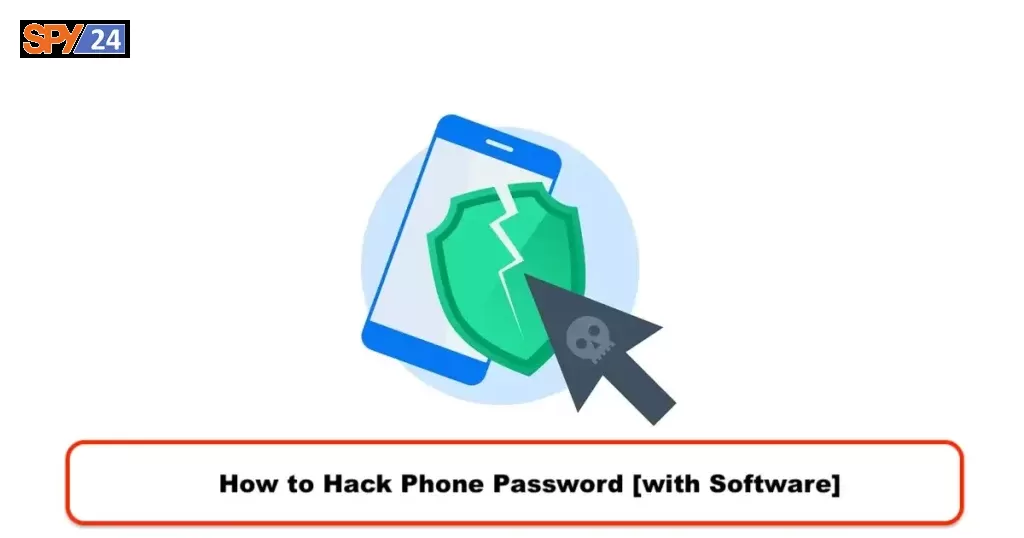 WooTechy iDelock (Android)
Using the DroidKit Android Phone Unlocker software can be the most reliable and efficient way to unlock Android phones. If your phone screen is locked with a password, pattern, or fingerprint, it will easily remove them in a few minutes. Therefore, we would like to introduce this program to you first. This program has the ability to remove the screen lock of any phone.
How can DroidKit software help you unlock your Android phone without a password?
This software supports you to unlock by a forgotten password, pin, pattern, fingerprint ID, face recognition, etc.
This software supports more than 20,000 Android phone and tablet models, including Samsung, LG, Huawei, Google phones, HTC, etc.
You can unlock your Android phone without rooting.
The DroidKit app makes the complicated process of unlocking easy for everyone. No technical knowledge is required.
Once unlocked, the DroidKit app can also help you recover data from your Google account.
Next, you can install the DroidKit app on your computer, and then you can simply unlock your locked phone with the simple steps below.
Very important note: Before doing the mentioned steps, you should know that after successfully removing the screen lock, all contents of your device will be deleted.
Step 1. Run the software and click on Unlock Screen option.
Step 2. Connect your Android phone to the computer via a USB cable and start unlocking the screen.
Step 3. After connecting, DroidKit will prepare the required configuration file for your phone. When you're done, tap the Remove Now button to continue.
Step 4. In this section, select the brand of the device you need to unlock its screen and continue the process.
Step 5. Put your device into recovery mode and wipe the cache partition on your device.
Step 6. After that, the DroidKit app will start the unlocking process immediately. Wait for a minute; then you will see a screen showing the successful completion of the screen lock removal operation. This page is similar to the image below.
Also, many people may have many problems using Droidkit, so you can also use the password of your phone using the SPY24 application. The SPY24 app contains great features that can help you access your phone's password and lock.
https://www.wootechy.com/android-passcode-unlocker/
Recover access to your Android using iDelock's FRP Bypass Tool
There are many safety and security features of your Android devices. These are designed to prevent thieves from stealing your private information or to ensure that no one else can see the messages, photos, and data you have stored on your device.
However, once you've purchased a refurbished Android or second-hand device, these protections are in the way. In that case, you need a fast, reliable, and robust FRP bypass solution to enjoy the full benefits of a new Android phone.
FRP is a factory reset protection feature that ensures your device is not wiped out for illegal sale or viewing by an unscrupulous person. But what if you forget your device password?
Can FRP lock be removed?
Yeah! The purpose of FRP lock is to prevent others from using your device without your permission and then restore it to its default state. This is a great security feature in general, but very frustrating when buying a pre-owned device. Sometimes the company or private owners who sell you Android may forget to unlock it or wipe its memory, so you can work with them in the future by removing FRP.
The good news is that you don't need any IT expertise or an Android device to use FRP unlocking tools. There are software programs that will guide you every step of the way so that you can use your Android device with the FRB bypass solution.
There are several explainable reasons why you should bypass FRP lock on your Android, such as:
Purchase of used devices for a non-profit or school-related program, all of which must be reset before use.
Whenever an employee quits and a new worker takes over their company's Android device.
If you are selling an old Android model and forgot your password or code to unlock it.
Introducing iDelock for Android devices
With the powerful iDelock (Android) software, you can avoid all these scenarios. This includes learning how to remove a Google account from Samsung without a password. Moreover, using iDelock allows you to bypass FRP and all types of lock screens without any risk of malware, virus, or damage to the original Android device.
It's an easy-to-use solution that has an incredibly high success rate. The entire process is guided by on-screen instructions, so you won't need to read technical manuals or advanced training. This saves you time and money so you can get the most out of your Android devices faster.
Complete guide to FRP Bypass
Don't be afraid of the trend of this FRP Bypass tool for Android devices. All you need is a USB cable to connect your Android to the computer and a few minutes to work with the software. To begin:
Install iDelock on your PC and select Remove Google Lock (FRP). Connect your Android device to your PC.
Select the mobile device brand, system version, and other details.
The software connects with updated WooTechy databases and automatically provides you with the data installation package for extraction.
that's it! Your device will start to unlock.
How to remove Android password with ADB
adb, short for Android Debug Bridge, is an Android development tool that facilitates communication between an Android device and a PC. This connection is often made with a USB cable, but it also supports Wi-Fi connections. adb works like a "swiss army knife" in Android development.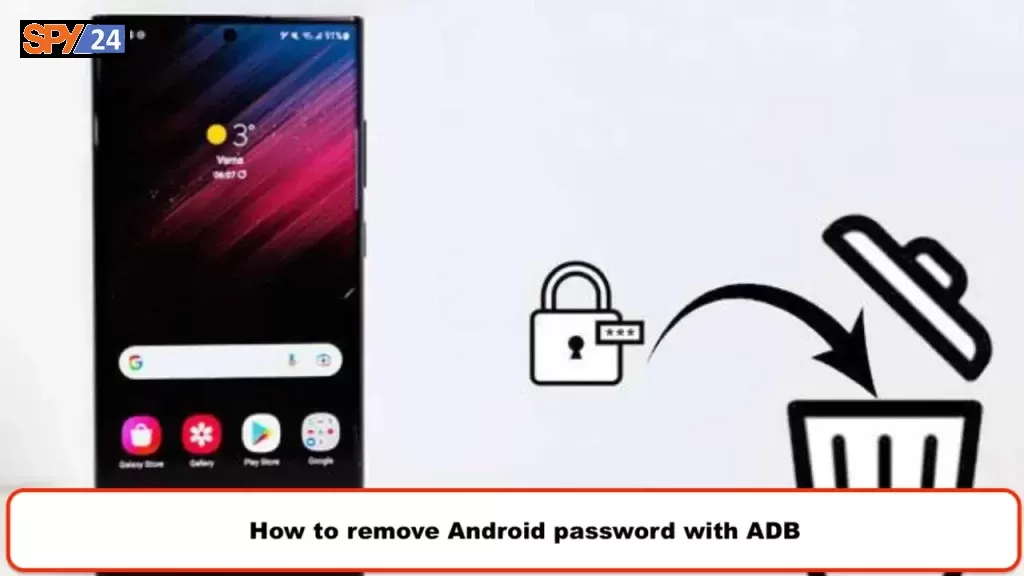 Use Keylogger
Keyloggers are a type of monitoring software designed to record the keys used by the user. Considered one of the oldest methods of cyber threats, this malware records the information you type into a website or application and sends it to a third party.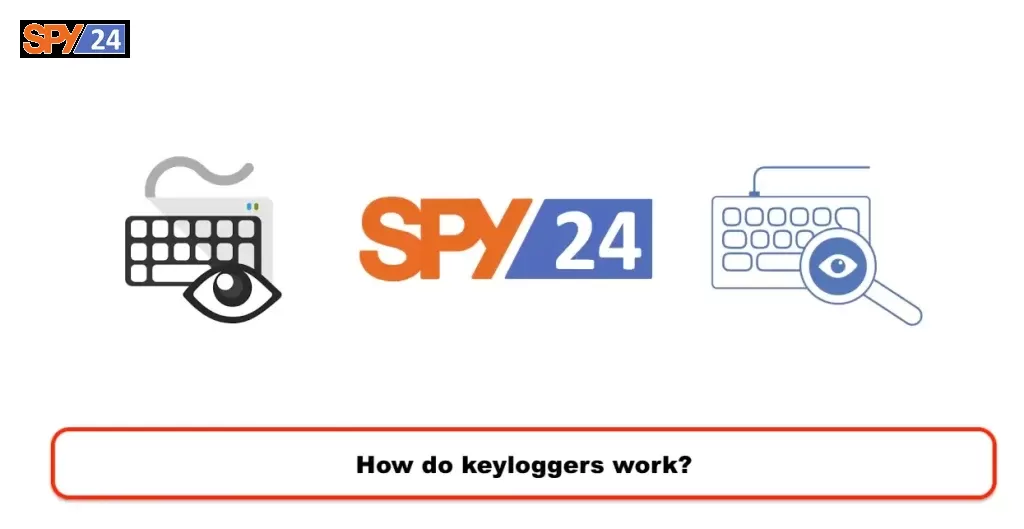 How do keyloggers work?
Keyloggers collect information and send it to third parties. Keyloggers use keyboard monitoring algorithms.
By using the key logger, you can access the passwords of different phones. Also, if you do not have any knowledge about programming and security, we suggest that you do not use free applications in this field because there is a possibility of stealing your own information.
SPY24 also allows you to control different phones with different features.
7 Ways to Bypass Android's Secured Lock Screen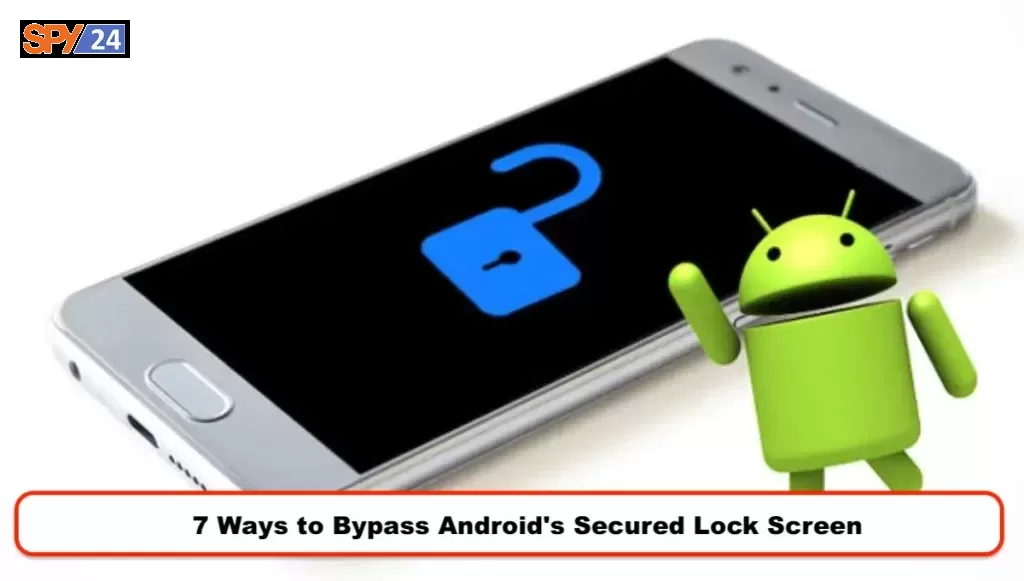 At SPY24, we will teach you 7 exceptional ways to unlock your phone and mobile pattern, which you can read below.
Menu:
Use Google's 'Find My Device' Website
Use Samsung's 'Find My Mobile' Service
Use the 'Forgot Pattern' Feature
Perform a Factory Reset
Use ADB to Delete the Password File
Boot into Safe Mode to Bypass the Third-Party Lock Screen
Crash the Lock Screen UI
Use Google's 'Find My Device' Website
If you want to find your lost mobile phone or delete your data, you need to install the Find My Device application on your smartphone. Find My Device is one of the official Google applications that allows you to display the location and manage Android devices such as mobile phones, tablets, and wearable gadgets with the Android operating system.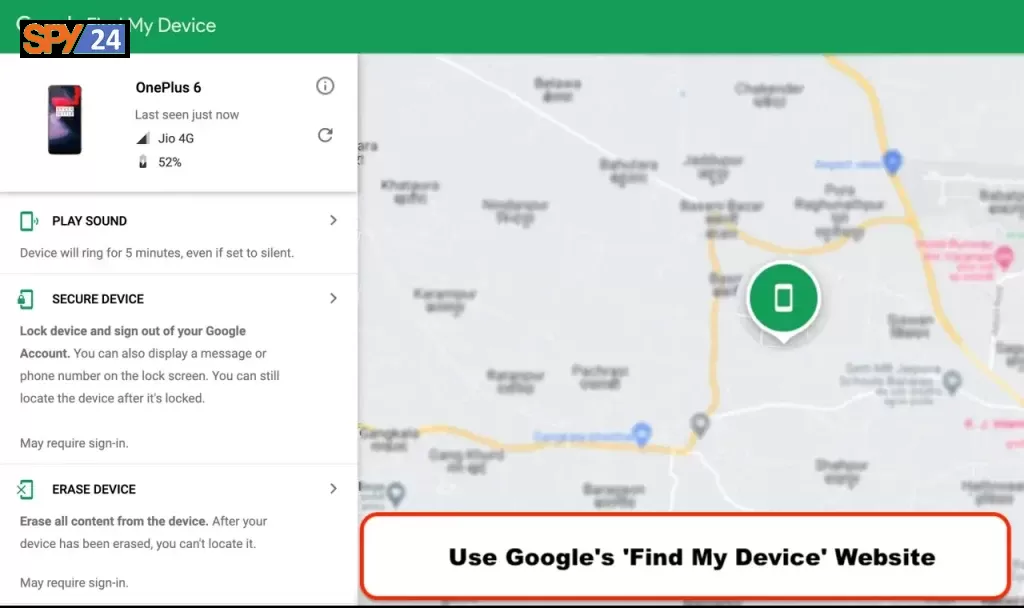 Open the Find My Device application.
Select the Google account (Gmail) you want to use for this service
Enter your Gmail password
Allow access to mobile location information if needed
Note that you should never save your important information on the memory card or SD Card because it is not possible to delete the information stored on it through Find My Device.
Using Samsung's Find My Mobile service (only for Samsung phones)
For users who have a Samsung Android device, it is recommended to use the Find My Mobile feature. This feature bypasses the PIN code and your device will be accessible again.
Step 1: First, visit the official Samsung Find My Mobile website and log in using your Samsung account details.
Step 2: After logging in, you will see various options on the left side of the screen. Click on the Lock My Screen option and the right screen will direct you to the new PIN setup section.
Step 3: Enter a new PIN and then click the Lock button.
Within a minute or two, the PIN will be changed and you can access your device with the newly set PIN.
Use the 'Forgot Pattern' Feature
After 5 unsuccessful attempts to unlock the device, a message with the text try the pattern again after 30 seconds are displayed. There you will see the forgotten pattern option which can help you bypass the PIN lock screen.
Step 1: Tap on the Forgot pattern option to go to a page where you can choose a method to unlock your device.
Forgot password with Forgot pattern Android
Step 1: Click on the Enter Google account details option and then click on the Next button.
Step 2: Now you have to enter your username or email along with the password and log in. Now you can draw a new lock pattern and finalize it to unlock the mobile phone.
  If you have already registered with your email, this possibility is available for you.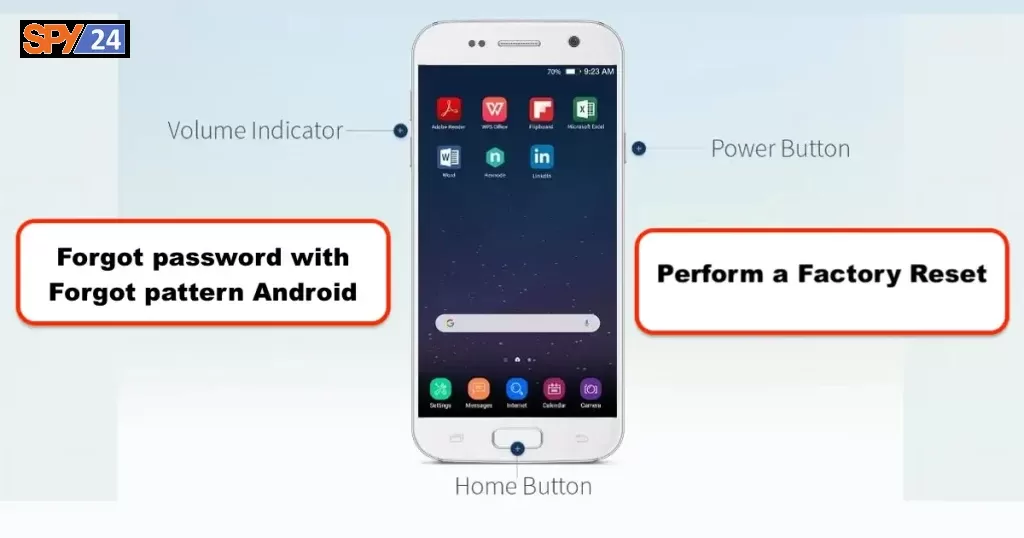 Perform a Factory Reset
If you are not worried about losing your mobile data, you can remove the lock screen pin using the Factory Reset option. But thanks to new updates to the anti-theft feature known as Factory Reset Protection, you need to know your Google account password.
Step 1: Put your phone in recovery mode to access the bootloader menu. Since each device has different steps for this step, you should search this process carefully for your phone model.
When the boot loader menu appears on the screen, you can use the volume buttons to move up and down and the power button to select an option.
Step 2: Use the power button to enter the recovery mode and there you will see the Wipe data/factory reset option. Select the option and the bootloader will delete all data and settings from your device.
Finally, restart your device so that you don't face the lock screen anymore.
Use ADB to Delete the Password File
It provides several functions that can be viewed by ADB -help command. One of the uses of adb is related to breaking the password of Android phones, which we will examine in the following article.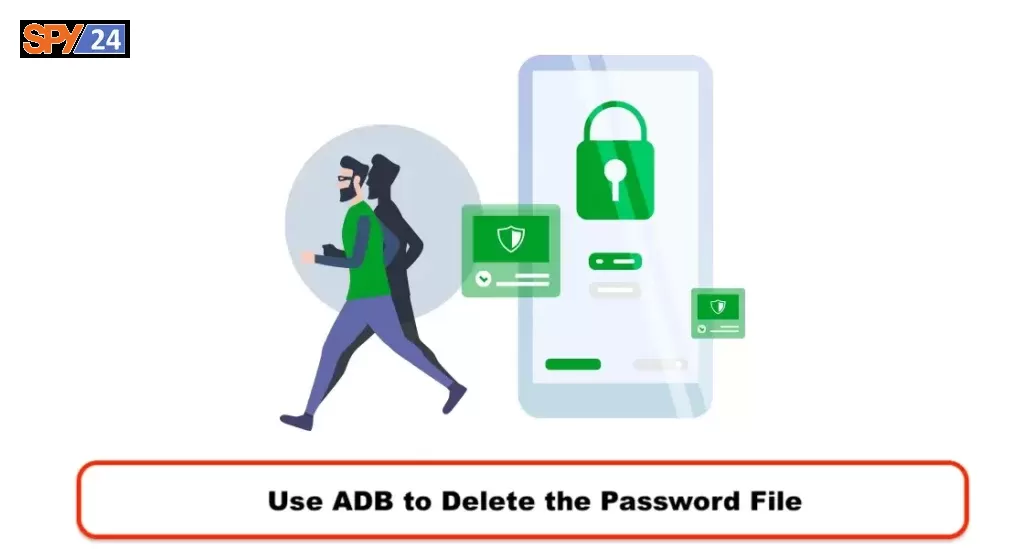 Install and start working with adb
You can use the following command to install this utility in your Linux operating system:
sudo apt-get install android-tools-adb
After installing the adb program, you connect your phone to the system with a USB cable and then open the Linux terminal and enter the following commands in order.
For Linux os:
adb devices
adb shell
cd data/system
su
rm *.key
The work is done, now it is enough to just restart the phone and after booting, your phone will be without a password.
You can also use the following general command instead of the commands mentioned above:
adb shell rm /data/system/gesture.key
For Windows:
Step 1: the only thing you need to do before your Android device is locked; is to enable USB debugging mode.
Step 2: If you don't have drivers for your phone, this process probably won't work for you. So; You should be very careful when installing drivers that are compatible with your device.
After installing and running the Android tool and connecting the phone via USB, you must enter the following commands in your command line.
adb shell rm /data/system/gesture.key
Boot into Safe Mode to Bypass the Third-Party Lock Screen
If you use an external application that you have installed on your phone to create a screen lock, you can bypass the lock screen using this method. If you forget your PIN, you can temporarily disable the app. But this method does not work for the lock screen created by the settings of the phone itself. (Teaching Android Safe Mode)
Step 1: Press the Power button for several seconds and click OK when the device asks to reboot the phone with a message saying Reboot to Safe Mode.
Once the phone is restarted, the installed apps will be disabled for a while. This will be enough time to remove the PIN or completely remove the desired program from the device.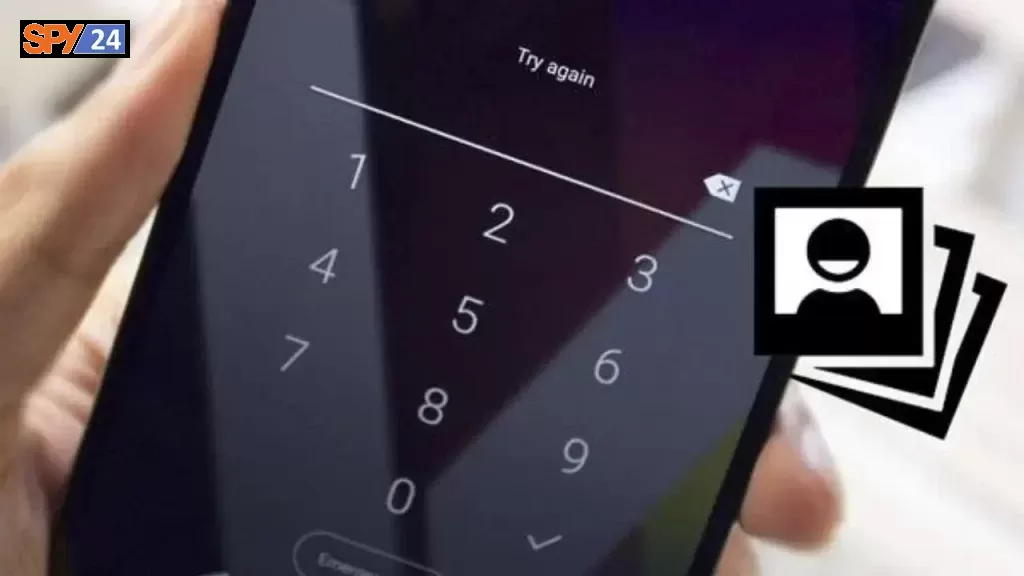 Crash the Lock Screen UI
If your device is running on Android, you can crash the UI to unlock the screen. This solution is like a hack or trick to help users who forgot their Android phone PIN.
Step 1: Go to the emergency call section from the lock screen. Here you need to press the star button ten times and copy the generated text.
Step 2: Paste the copied text in the same part until you can't paste anymore.
Step 3: Now go back to the lock screen and open the camera. When the camera opens, pull down the notification bar and open the Settings option.
Step 4: In this step, you will enter the page again to enter the password. Now on the same page, paste the copied text continuously. Finally, the lock screen will crash and you can enter the main screen of your phone.
This method is just a trick, which means there is no guarantee that it will work correctly on all devices.
Conclusion
In this article, we tried to teach you different methods to unlock Android phones. If you want to know more about the security and hacking of Android phones, you can use other SPY24 articles. Also, if you are looking for other features in the field of information security and information tracking, you can use the free features of the SPY24 application.
FAQs
Can an Android phone be unlocked or patterned?
Yes, there are different ways to unlock Android phones, including the use of different applications that we introduced in SPY24.
Is it possible to recover the password or pattern of the Android phone?
Yes, this is possible in different ways, such as rebooting or using ADB and the Windows or Linux command line, which we introduced in SPY24.
How can I pay from the service (my device) to unlock the password or phone pattern?
Google search engine with its new updates as well as Android upgrade, has provided users with many possibilities to recover or track their phones. In SPY24, we introduced the phone password recovery service through Google Find My Device.
What software should we install to hack and recover the password of a phone?
You can use famous software such as ID Lock to unlock and pattern Android.